Karen Gables Review: This October was my fifth visit to the country of Kenya in eight years. Gazing at the endless starry sky at night without another distraction in sight, hearing the calls of hyenas and hippos beyond my tent, sipping a cocktail at dusk while the sun sets (or coffee as the sun rises as in the photo below) against the magical backdrop of the African plains, spending hours searching for the pride of lions that we were tracking the day before – all of that is my annual detox. Kenya is the place where I go to clear my head from all the clutter around me and escape the frantic pace of the city. It is where my phone primarily becomes a camera for taking wildlife photos (All 2,000 on this last trip) rather than a communication tool.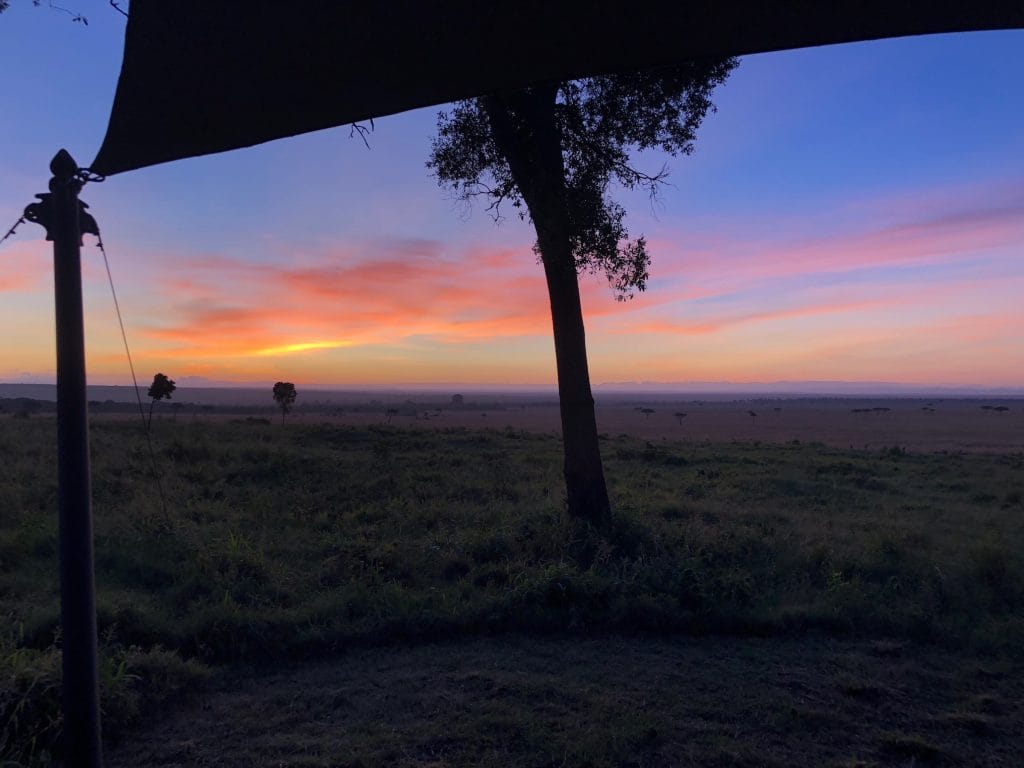 It's only a few weeks since I have been home and I am already counting the days until I return this March to introduce Kenya to my daughters.  The new direct JFK-NBO Kenya Airways flights that commenced in late October is a game-changer, for sure: it means that you can leave your home in New York in the morning and 16 hours later be in a land rover searching for any of the big five on your first bush game drive.
Undoubtedly, any time spent in Kenya will typically require one night in its capital, Nairobi – either in between safari camps or flying to or from a different country.  Nairobi is a worth a stop regardless to visit The David Sheldrick Wildlife Trust, the Giraffe Centre, Nairobi National Park and the Karen Blixen Museum (her home which was famously depicted in the film 'Out of Africa'). Unique accommodation options in Nairobi until recently has been limited.  Giraffe Manor, an English Manor where you can have breakfast or tea with the reticulated giraffes on the property, is one of my favorite all-time places (see past reviews here). It has a select number of rooms that are often booked out a year in advance and is quite expensive, making it inaccessible to some travelers. Hemingways, a five year old property popular with business travelers in the suburb of Karen is fine but frankly lacks soul.
I am happy to see a new crop of independent luxury boutique hotels such as 148, The Emakoko and The House Of Waine.  And my newest find on this trip where I stayed three nights, Karen Gables.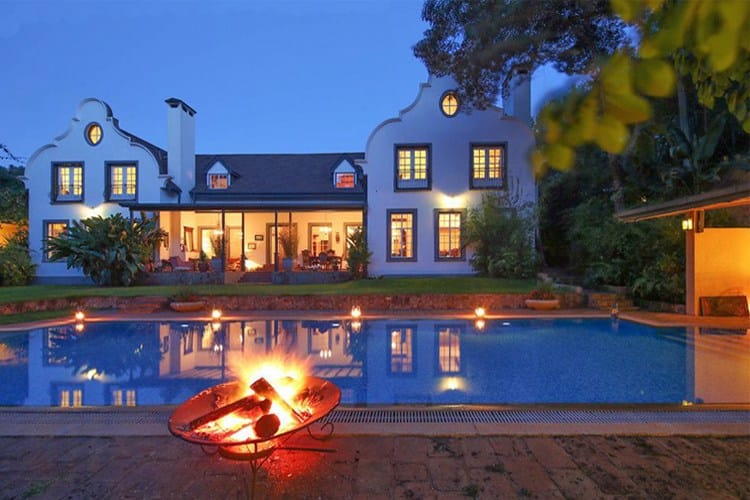 Just a 30-minute drive from the airport, in the upscale neighborhood of Karen is the new privately-owned boutique guest house of Karen Gables. Styled in the manor of an old Cape Dutch home, similar to the style of the Karen Blixen House, the seven-bedroom hideaway was built and thoughtfully decorated by Netherlands farmer, Christian.
Karen Gables: FIRST IMPRESSIONS
Karen Gables was just what I was seeking for a relaxing few nights in between safaris. I was greeted by the small but warm staff headed by Manager, Clemence who also was my liaison over email for reservations. Also sniffing me was the resident Belgian Malinois canine (whose name I still can't pronounce) who serves as both watch dog (he is highly trained to sniff out any trespassers) and foot warmer during dinners. With a private security guard on the gated property and my canine buddy guarding the front door, I felt completely secure.
In advance, I booked one of the two spacious King bed Junior Suites for my stay. While all the rooms appeared spacious and attractive, the vaulted ceilings and French doors of the 2nd floor Junior Suites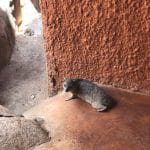 opening to the lush grounds was a key selling point for me. I thought it was a great idea at first to keep the doors open at night to enjoy the fresh air until the shrilling sounds of the cute hyraxes who live on property kicked in and some unidentified flying mosquitos were enticed to join me in my room. Ahem…the mosquito nets that drape your bed at night are not there to just make it look romantic. They serve a fully functional purpose!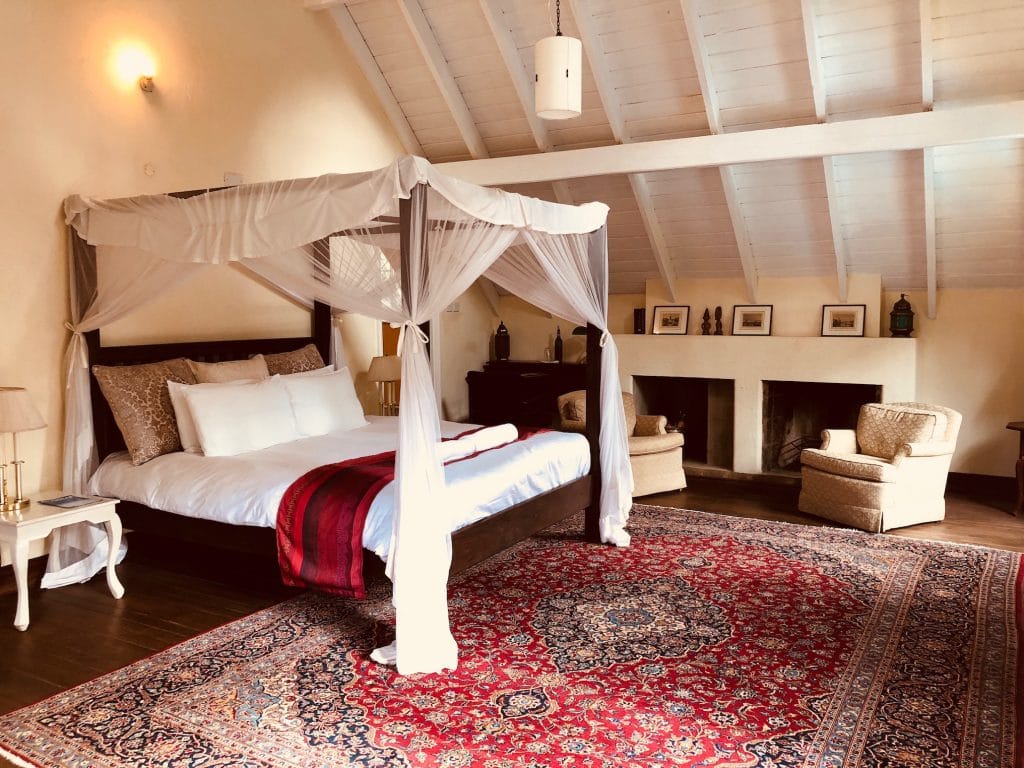 My first night I was the sole guest and seemingly had the whole place to myself to freely explore the house and 1.5 acre property. It is a delightful one at that with lush greenery, a terraced lawn that slopes down to a winding stream, plenty of places for guests to linger with a cocktail and a solar-heated pool. After checking out the interesting antiques throughout the various rooms (all hand-picked by the owner), I enjoyed one of the best meals during my entire trip: a delicious home-cooked dinner (upon request and at a small extra cost) by the very talented chef in residence. I didn't leave a crumb on my plate – dinner or dessert.
Full breakfasts, cooked to order, are included with your rate here and were equally impressive. The following two nights after safari, I was joined by other interesting guests – a wildlife photographer with his own tour company and his wife (who happens to be the Manager of the Ellerman House, the most luxurious property in Cape Town, South Africa), a family from Australia, and a staff member of Africa Wildlife Foundation. Dinners were equally delicious these nights at the communal table with lively conversation, including an improvised game of 'whose country is worse'. I won't tell you who won.
Karen Gables is discreet, comfortable and very charming. It's intimate size makes it perfect for a large family or group buyout. It feels like a private home away from home that has been around forever even though it is only a year old.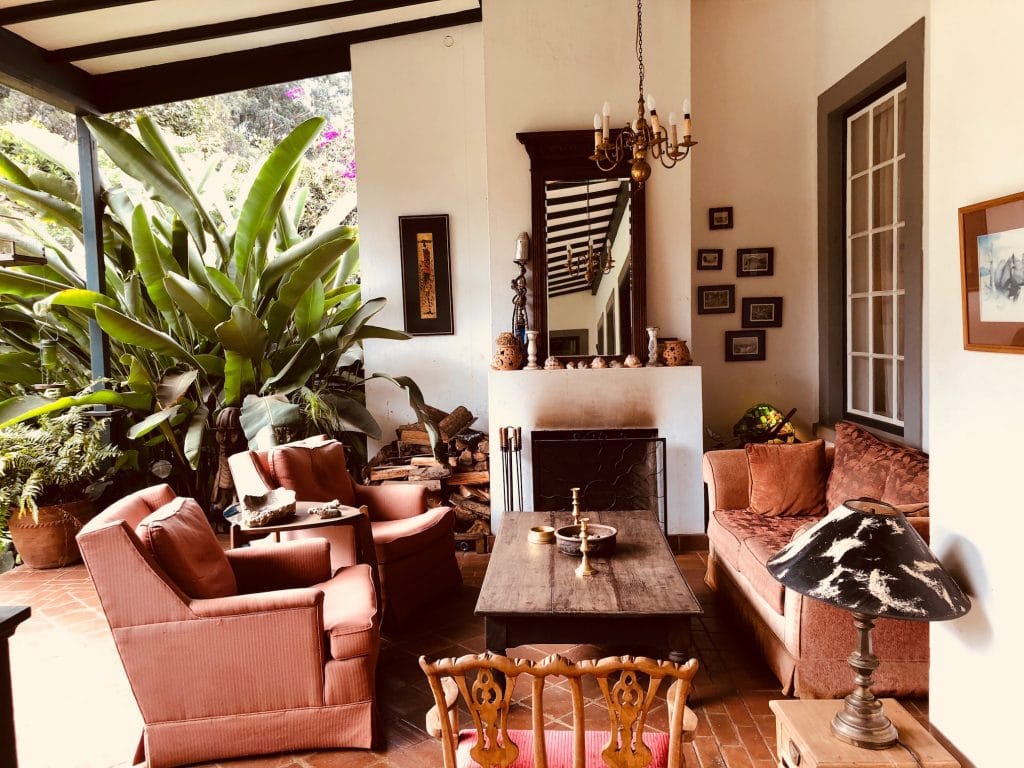 As a new and small property, there are still some minor tweaks that need to be fixed such as a no-show of transportation that was supposed to be arranged upon arrival, lapse in communication during the reservation process (this could be better improved overall) and some hospitality training (at night, sometimes there was no one around or some things forgotten to be placed in the room). A few extra minor touches in the rooms would go a long way such as softer towels (please!) and robes, water by the bed and air conditioning (which the owner told me would be installed soon).  It is still a work in progress and the staff is eager to please and make it right.
Still, the value, location, cuisine and outright charm of this place are undeniable. Without a doubt, I will return here and heartily recommend this lovely hideaway.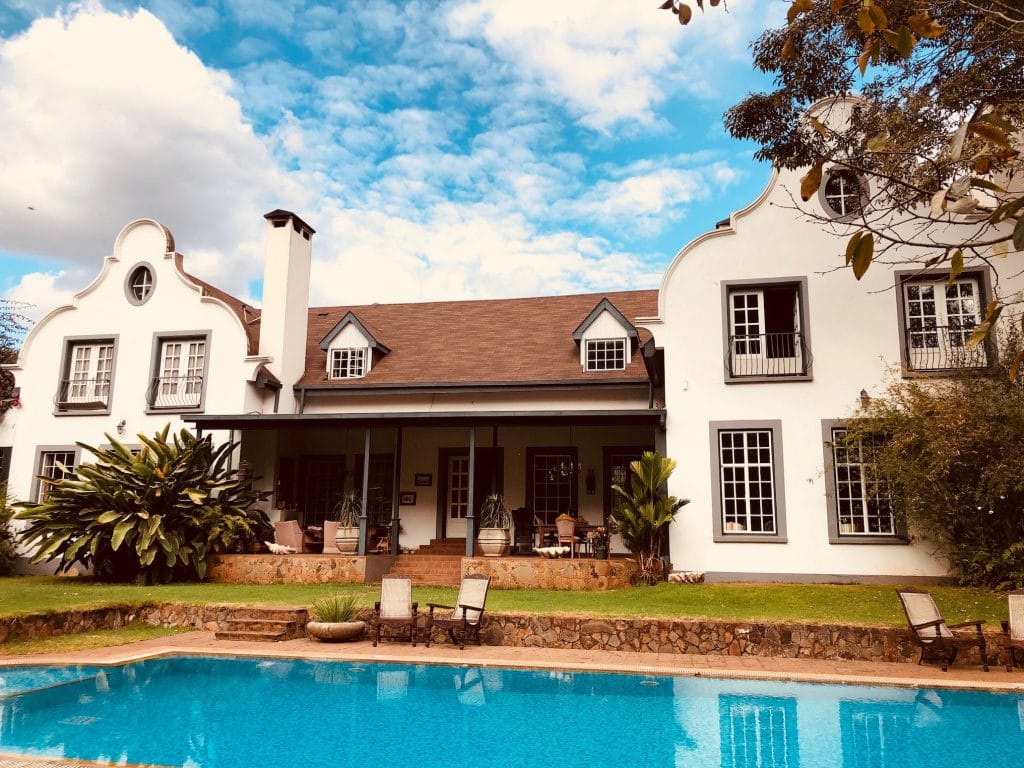 Loved
Didn't Love

The location in Karen is ideal and the lush grounds are well cared for with ample areas to linger.
The solar-heated pool is an added bonus in the summer.
The breakfasts and dinners were incredible. The chef is amazing!
The small but warm and caring staff starting with the hotel manager, Clemence.
The interiors and architecture is charming and thoughtfully designed to look as if it has been around for decades. Antiques are placed throughout the public rooms.
The atmosphere is calming, quiet and I felt secure here – a nice respite in contrast to its larger and more formal neighbor, Hemingways.
The rooms are spacious and attractively decorated with comfortable beds and high ceilings.

The towels and robes in the bedrooms are very scratchy and more are needed in the bathrooms.
The safe in my room was not working.
The bathrooms could use more amenities.
While there are several light sources in the room, my Junior Suite was still dimly lit.
Sometimes there seemed to be no staff on hand in the late evening.

Don't Miss
Skip

Having dinner when you are staying here.

Rooms to Get
Tips

There are seven guest accommodations at Karen Gables, ranging from a single/double room ($220 USD) to Junior Suites ($415 USD) to the Main Suite ($550 USD). Rates include tax, service charge and breakfast. There is one connecting arrangement for families and two Junior Suites with french windows looking out to the back lawns and gabled ceilings.

Uber in Nairobi is very efficient and inexpensive. Getting one from the airport to Karen Gables, about 19 miles away, cost about $12.

The new Kenya Airways flights (

dream liner body)

 are Delta codeshare! 

Apply for your visa online to avoid spending extra time in the airport upon arrival. While you can still get a visa at the airport, it was a very slow, long line.
Visits to the Giraffe Centre, Karen Blixen Museum and The David Sheldrick Wildlife Trust elephant orphanage (public viewings are at 11 a.m. and foster parent visits are at 5 p.m.) are all within a 15 minute drive.
Related Reviews