On my recent trip to Kenya, I had the pleasure of experiencing Ol Donyo Lodge, a superb safari lodge in the Chyulu Hills. I had two nights on my own to recuperate from the long flight from New York and was eager to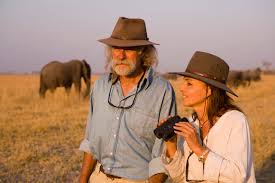 discover a new camp. Ol Donyo came highly recommended by many safari experts and colleagues whose opinion I respect greatly. Being part of the Great Plains Conservation (GCP) family of safari camps factored greatly in my decision to come here as I had an amazing experience at one of their other camps in Kenya, Mara Plains (you can read my review here). As far as I'm concerned, anything that Dereck and Beverly Joubert  (the incredible National Geographic documentary film-makers known for their heart-stopping and thought-provoking films such as The Last Lions and The Soul of the Elephant and the driving force behind GCP) is involved in is where I want to be.
In contrast to many other safari lodges that are travel businesses that support communities and conservation in varying degrees, Great Plains is first and foremost a conservation organization that uses eco-tourism (low-volume, low impact safari lodges) in threatened environments as a means to protect wildlife and support communities.  What that means to you as a guest at Ol Donyo is that just by staying here you are directly and significantly contributing to the community and the wildlife that call this National Park home.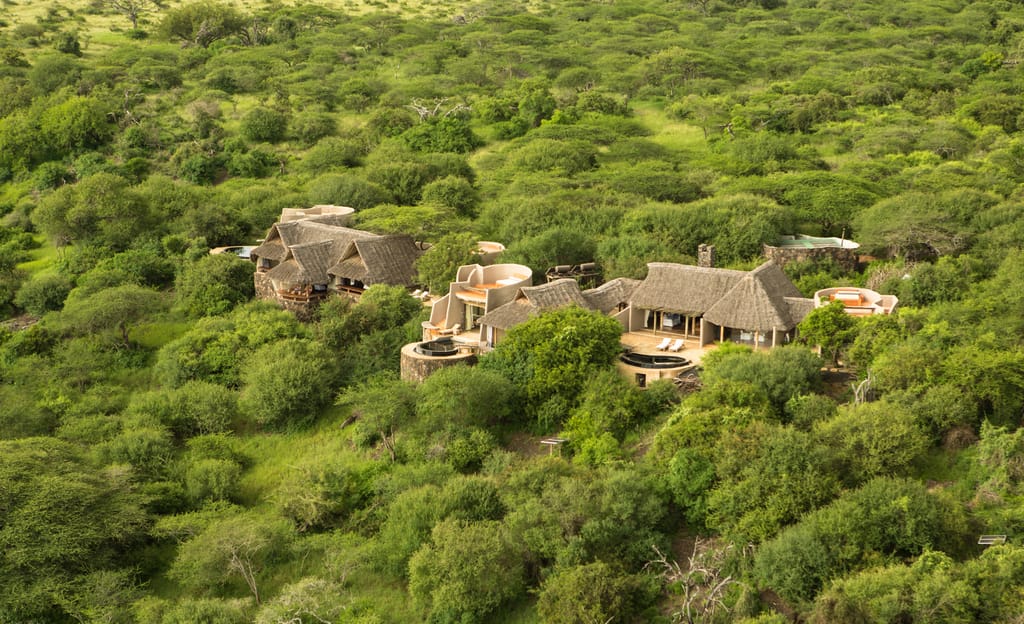 Ol Donyo, a short 45-minute flight on charter plane from Nairobi and then a 30-minute drive from the nearest air strip, is located in the volcanic hills of Chyulu Hills National Park. The lodge itself is situated on a 275k-acre group ranch that is home to over 10,000 Maasai. The camp is the only one in the area that leases land from the Maasai which means you will likely never see another safari vehicle on a game drive (unlike the Mara where you often will be competing with other vehicles). It also means the lodge, through its lease and guest conservancy fees ($116 per guest per night), supports many community and conservation programs while employing 90% of its staff from the community. Mt Kilimanjaro, the highest mountain in Africa, is only 40 miles away and on a clear day you can see its jaw-dropping vistas.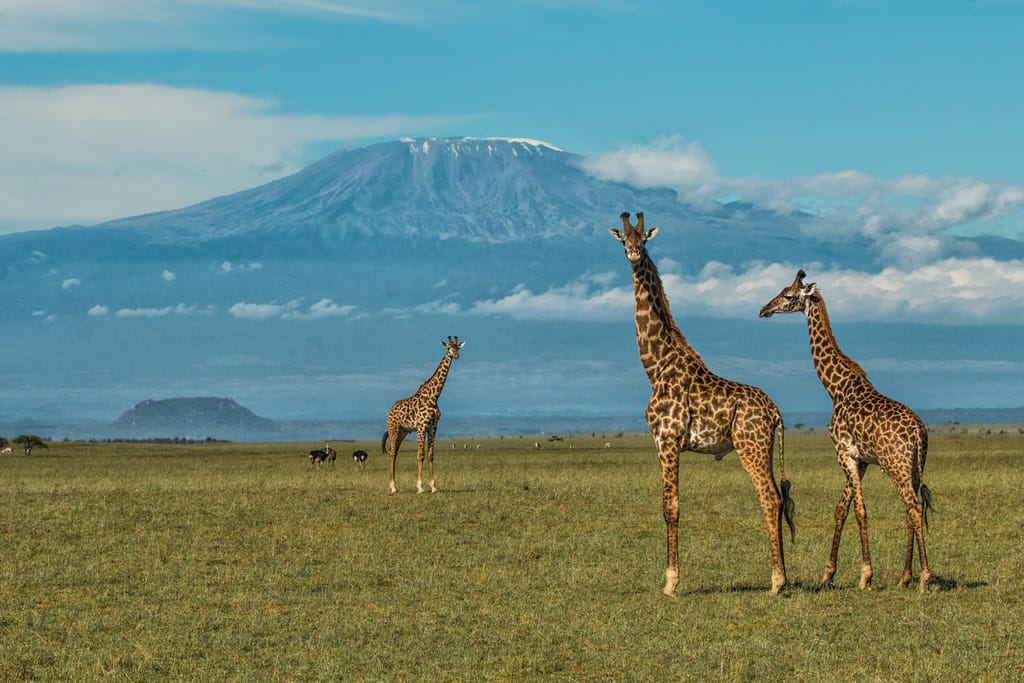 I arrived at Ol Donyo at the tail end of a very hot and dry season which usually lasts August through October. There were few signs of the lush 'Green Hills of Africa' as once described by Ernest Hemingway and which the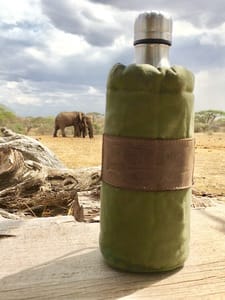 Chyulu Hills are known for. I am told it is quite spectacular after the rainy season. However, coming during this time of year means you are virtually guaranteed to see wildlife as there are very little other natural water sources in the area.
Which makes Ol Donyo a favorable spot to be in. Right in front of the camp is a large open-air watering hole – aptly named 'The Hide' – which provides guests unobstructed views from anywhere in the camp as well as a viewing area right in front of it (talk about prime seats!), less than 20 feet away. I was mesmerized watching (with a Tusker beer in hand, of course) two massive and very thirsty large bull elephants peacefully and (and endlessly it seemed) drink water at the watering hole while the other animals – mostly gazelle, warthogs and baboons – patiently waited (and most often gave up) for their turn. I really thought there would be no water left by the time the two bulls had their fill. Where did it all go?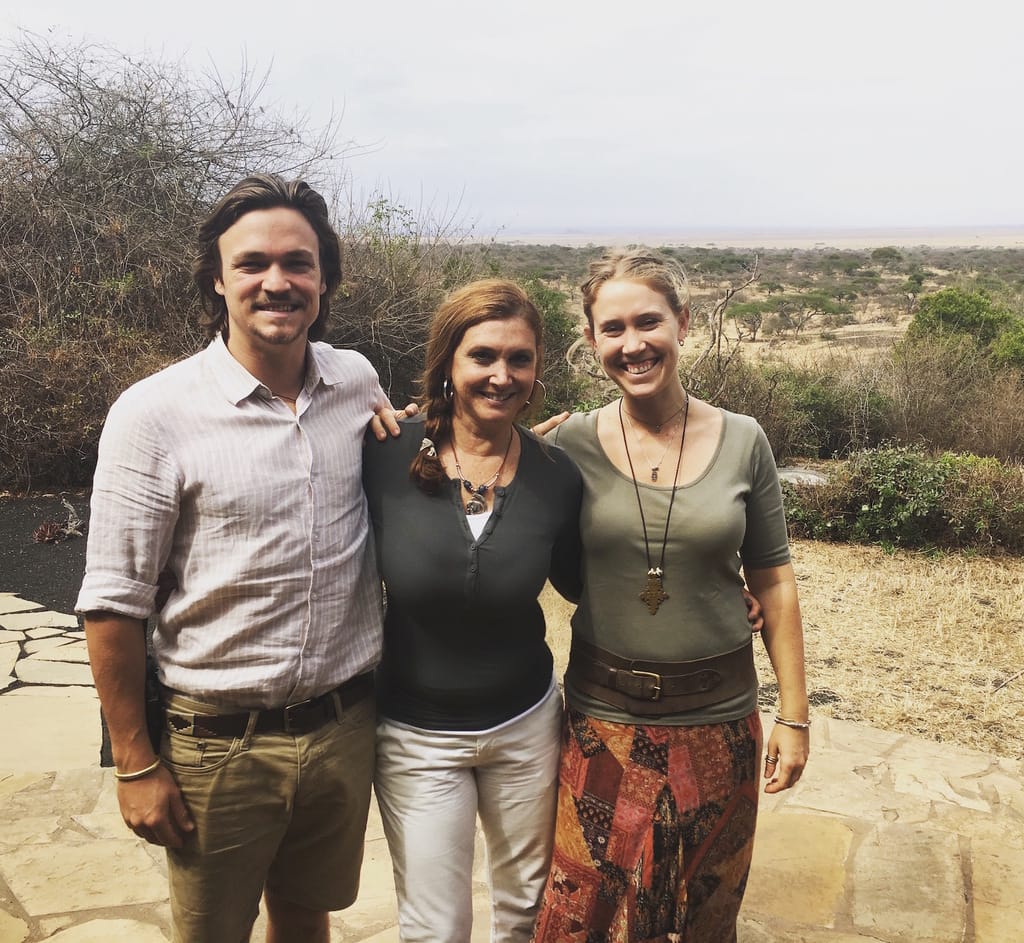 My first night at Ol Donyo, I had the whole camp to myself. The lodge's managers Sean and Amy were gracious and friendly, making me feel instantly right at home.  After a sunset downer with both of them (they intermittently each play bartender and Sean is the go-to to fix any camera issue), I got to experience a wonderful meal with Nikki and Jeremy of the Big Life Foundation, an NGO that partners with GCP in this area, and learn about their critical conservation work to protect the endangered lions and elephants in the neighboring Amboseli National Park, thanks to a successful community-based model.
All of the meals that would follow during my stay were equally incredible – fresh, delicious and creative. Not surprisingly, Ol Donyo is one of only two camps (Mara Plains is the other) in all of Kenya that have earned the coveted Relais & Chateaux status.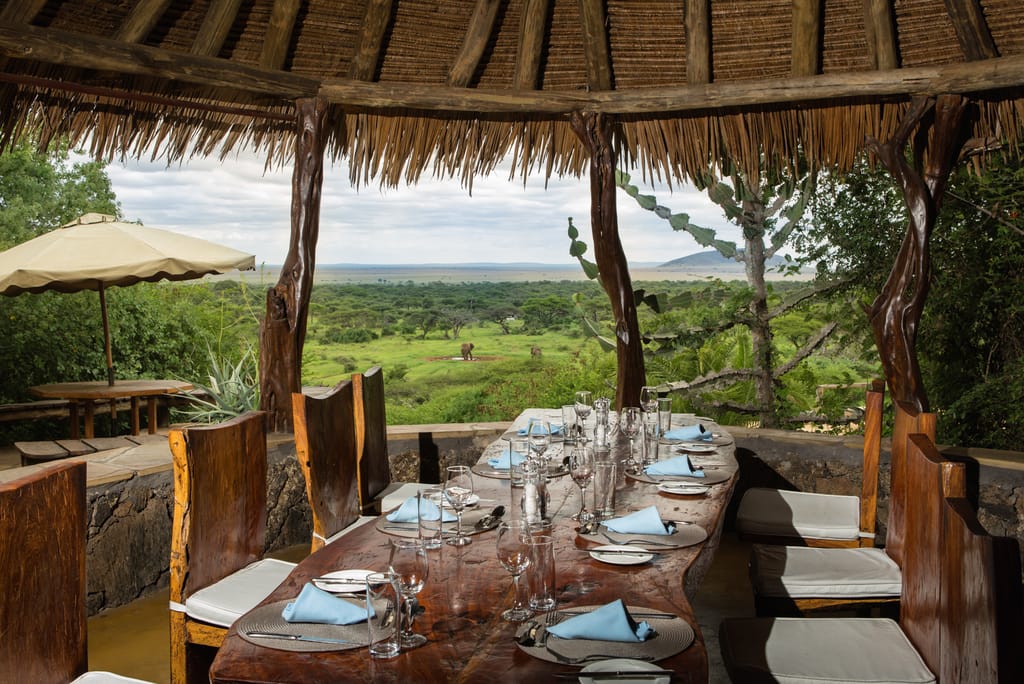 The lodge itself is simply romantic (alas I was without my husband on this trip). Perched on a hill, Ol Donyo is in the perfect spot to take in stunning views of hills and seemingly endless plains. A nightly bonfire lures guests to congregate before dinner as I did with a wonderful family from California who arrived the second night. I loved that each meal had a different setting/location and that guests (including the hosts) eat together.  Lots of stories, and lots of laughs as the wine kept pouring!
The lodge itself is beautifully decorated by Dereck and Beverly Joubert in a colonial/vintage safari style evoking 'Out of Africa', with Beverly's stunning over-size wildlife photographs adorning the walls. At night, the lanterns come out and everything takes on a beautiful glow. You really feel removed from it all. In this aspect, Ol Donyo reminds me very much of the GPC' Mara Plains camp (Beverly designs all the lodges) – it feels 'worn' (in a complimentary way) and authentic. While I did not see a need to change anything, my understanding is that the camp will be undergoing some soft renovation touches soon.
Built in 2008, Ol Donyo is an intimate lodge with accommodations for only 20 guests in its 10 suites and villas. I had the pleasure of staying in Suite 1, which was the closest to the main lounge.  My suite was massive with an outdoor/indoor living room, bedroom and oversize bathroom (clawfoot tub included) – all with floor-to-ceiling glass doors opening to a spacious stone patio and infinity pool overlooking the plains.  Lounge outside for a bit and you will definitely be entertained by the velvet monkeys who like to hang out in the trees (watch your stuff, they are thieves!). I glanced wistfully at the 'Star Bed' on my roof terrace that encourages guests to experience sleeping under the stars (they will set up your bed with a mosquito net so you don't need to worry about bats). I was not confident to do that on my own!
The first night in my suite, I heard all the sounds I love to hear when I am in Africa – everything amplifies at night and I fell asleep to sounds of hyena calls and elephant rumbles (I swear one was drinking out of my pool!). Despite that the camp is fenced, the elephants break in almost every night and it is not that unusual to see cheetah having an evening drink at the camp's main pool.
Here at Ol Donyo, its about making your own plan – every guest has a customized stay based upon what they want to do. You can, of course, do game drives to your heart's content including visiting Amboseli Park nearby. I went on one drive with my Maasai guide, Kirisia (otherwise known as John to us Americans), who provided me with a wealth of information about the Maasai culture.  We had an interesting conversation about polygamy!  During our drive, I was hoping to get a glimpse of Tom, a well-known 35-year old Tusker in the area (there are less than 100 Tuskers left on the whole continent of Africa), whose massive tusks almost touch the ground. I missed him but did get to encounter this little fellow (no zoom lens here) departing from The Hide and checking us out. I am always in awe of these majestic animals. Each encounter simply takes my breathe away.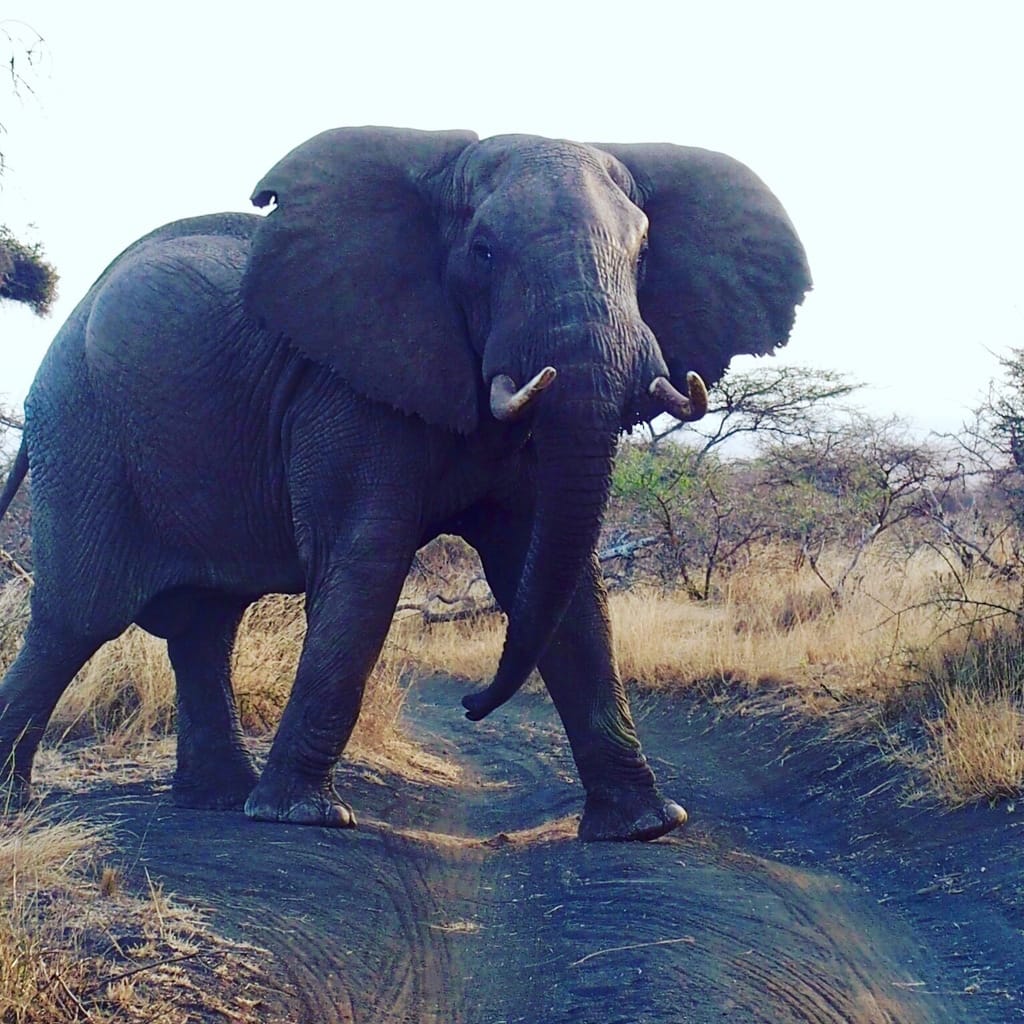 It is true that you likely will not see as abundant game here as other parts of Kenya such as the Mara or Lewa.  But what sets Ol Donyo apart from other lodges is the abundance of alternative activities you can do such as bush walks and breakfasts, hiking, drives to nearby Amboseli National Park (where you will likely see several old magnificent 'tuskers'), visits to a Maasai village or to the headquarters of conservation partner, Big Life Foundation. I was fortunate to be able to spend a few hours with members of the Big Life team there to see first-hand their incredible work to protect two million acres of wilderness by working with the neighboring communities to help reduce poaching and human-wildlife conflict, two serious issues facing Kenya and the continent at large.
Aside from this, one of my highlights at Ol Donyo was doing a horseback safari. A stable of 14 horses is run by one of the staff, Annie, who will take guests on early morning or sunset rides during the dry season and longer rides with bush lunches or sundowners when it is cooler out. If you are an experienced English rider, you can go at a faster pace. And that we did! There is nothing more exhilarating (with exception of maybe being in a two-seater Cessna, which I did on this trip too!) than cantering through the plains of Africa with a majestic landscape and wildlife surrounding you. Definitely one scratch off my bucket list but I'm certainly ready to do it again.
Photos courtesy of Great Plains Conservation and myself!
Loved
Didn't Love

The suites. The spacious suites and villas have an indoor/outdoor feel with floor-to-ceiling glass doors that open up to a large patio and pool. Accommodations are spaced well from each other but are all within short walking distance from the public areas. Next time I will definitely try the roof-top 'star beds'.
The stunning vistas. As Ol Donyo is perched on a hillside, you have magnificent views. On clear day you might see Mt. Kilimanjaro.
The open-air

Hide

with unobstructed views of wildlife from the lodge and viewing area.
All the meals were delicious and healthy at this Relais & Chateaux lodge and served in different settings each day.  Dinner and lunch is often communal with other guests.
It's Green! The lodge generates most of its electricity using solar technology, recycled water and all natural materials.
The staff. 90% of the welcoming staff is from the community. My guide John imparted so much knowledge about the traditions and heritage of Maasai culture. Sean and Amy were gracious hosts.
A community-based collaborative conservation model: The lodge's lease and guest conservation fees help the communities and its wildlife.

I needed another day here to really take advantage of all the lodge had to offer.

Don't Miss
Skip

A drive to neighboring

Amboseli National Park

, an hour journey by jeep where you increase your chances of seeing Tuskers (big old elephants with tusks almost dragging to the ground – less than a 100 are left on the continent) such as Tim or Tom.
An early morning or late afternoon ride on one of the 14 horses in the stables.
A visit to 

Big Life Foundation

's headquarter operations to learn more about the great work they are doing to protect the 2MM acres land and wildlife in it.
A early morning hike coupled with a bush breakfast or late afternoon hike with a sundowner.
Afternoon tea at '

The Hide

', steps down from the lodge.

Rooms to Get
Tips

All nine suites are incredibly spacious.

If you are a first-time safari goer, I recommend Ol Donyo after going to a more traditional camp where game is more abundant and you can get your fix of game drives and spot the Big Five. Ol Donyo is ideal to relax afterwords and offers alternative activities to a traditional safari camp. Here it is about hiking, riding, relaxing and taking in the breath-taking vistas.
You can leave all your gadgets at home – almost everything here provided for you from blow-dryers to Swasoravski binoculars on your drives to complimentary Canon cameras ( images are burned on a DVD for you or transferred to a memory card).  No need for converters either as U.S. outlets are provided (all rooms have wi-fi).
While the dry season (August – October) is not as pretty as other times when the landscape is lush, your chances of seeing wildlife increases as elephants come to the  lodge and watering hole.
A wonderful boutique at the lodge is stocked with photography books, beautiful local handmade blankets and jewelry. The all-natural locally-made shampoos, conditioners and soaps that are provided in your bathrooms can be found here too.
You have no need to fear traveling to Kenya – there is no better time to go than now. A beautiful new airport, paved roads and lack of mandatory immunization shots! I felt completely safe at all times.