As the U.N. has declared 2017 as the international year of sustainable tourism, it is only fitting that my first review this year would be the eco-focused 1 Hotel in South Beach.  Housed in the former space Gansevoort Hotel, the South Beach hotel opened in March 2015 as the first hotel of the new 1 Hotels brand founded by Barry Sternlight, former Chairman and CEO of Starwood Hotels.
This new lifestyle brand is creating something truly exciting with the mission to be the 'ultimate eco-focused' hotel with a low carbon-footprint – taking eco-consciousness to a level that I've only seen myself employed at boutique safari lodges in Kenya and Tanzania. And they are doing it an away that makes it hip and trendy.
Mind you, to execute such a concept is no easy task. It was a massive undertaking to develop the South Beach hotel, costing $500 Million along with thoughtful design and implementation.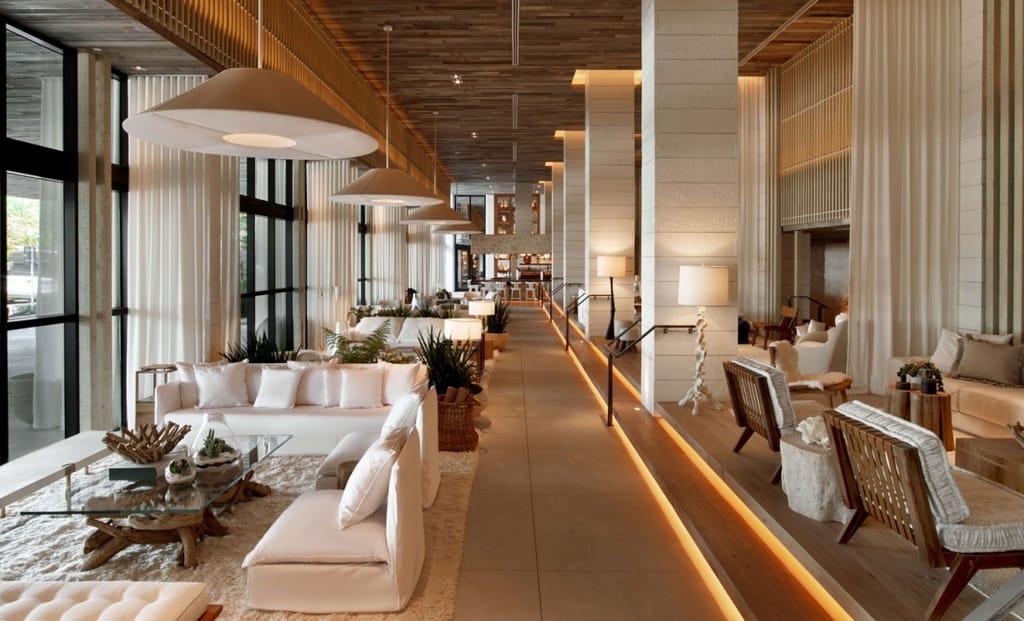 When we had an opportunity for a quick family trip over MLK weekend to Miami, I set my sights instantly on this 425-room hotel, eager to see what it was all about. I've stayed in South Beach several times before on girl weekends at the Setai, W and Shore Club along Collins Avenue but this would be the first time visiting with my family and I was not altogether sure if South Beach was going to be 'family-friendly'. But I was won over by the whole concept of the hotel and the fact that this beach-front property had four pools. I found the room rates more reasonable than some other luxury neighboring properties on the strip such as the Faena, Soho House, and Edition.
FIRST IMPRESSIONS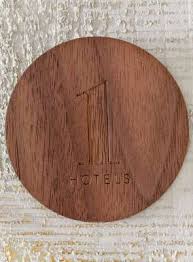 Upon arrival at the 1 Hotel South Beach, we were greeted warmly by attendants at the front entrance and hosts at the front desk and check-in was a quick and easy (and most notably, paperless) process. I instantly loved the Zen-like lobby accessorized with bleached driftwood, oak and teaks and furnishings in varying shades of ivory. The airy light-filled interiors with plants and terrariums nestled throughout set a calming tone and is a refreshing change from the art-deco and club-like lobbies you typically see in other hotels in South Beach. People were lounging on the couches listening to live music as we passed by (there was live music each night).
We were introduced to the elevator system which requires you to take a recycled wood chip that is your guest key and tap it to be assigned an elevator.  It took a bit to get used to this but it is really an efficient system. If only we didn't lose these small, round keys so many times during our stay. I just found one in one of my pockets, two days after I returned home!
THE ROOMS
Seeing pictures of the accommodations prior to our stay, I had booked a 1-bedroom suite for our family. We were thus surprised when we were shown to a much smaller suite than we expected – nothing at all like the photos on the website. While we were upgraded to a suite with a balcony with partial ocean views, it was obvious this confining layout would not suffice for our stay (in addition, we were told we would need to pay $100 per cot for each child).
After a pleasant conversation with the hotel manager, we were offered a different suite in the same category. We were much happier when we moved to a much more spacious and inviting corner suite with kitchenette. Our corner unit #423 had a generous living area with 1 1/2 baths, floor-to-ceiling windows (2 sides in the spacious master bedroom), a terrace and a small open kitchen with Nespresso maker, water filter/tap and flat screen TVs in both the living room and bedroom – perfect for a family of four.
The same design aesthetic was carried over from the lobby. The master bath had a long teak vanity with concrete trough sink (although not much room for cosmetics and such) and a wonder rainfall shower.  Although we didn't have an ocean view, we were delighted with our new setup (similar to the photos below).
We only had two full days to acquaint ourselves with the hotel and honestly needed a lot more time to thoroughly investigate what the 1 Hotel South Beach had to offer. The hotel impressively occupies a full city block although it never felt massive. Only when I was strolling on the beach looking back at the hotel from a short distance, could I get a sense of how expansive the 425-room/155-residence hotel truly is.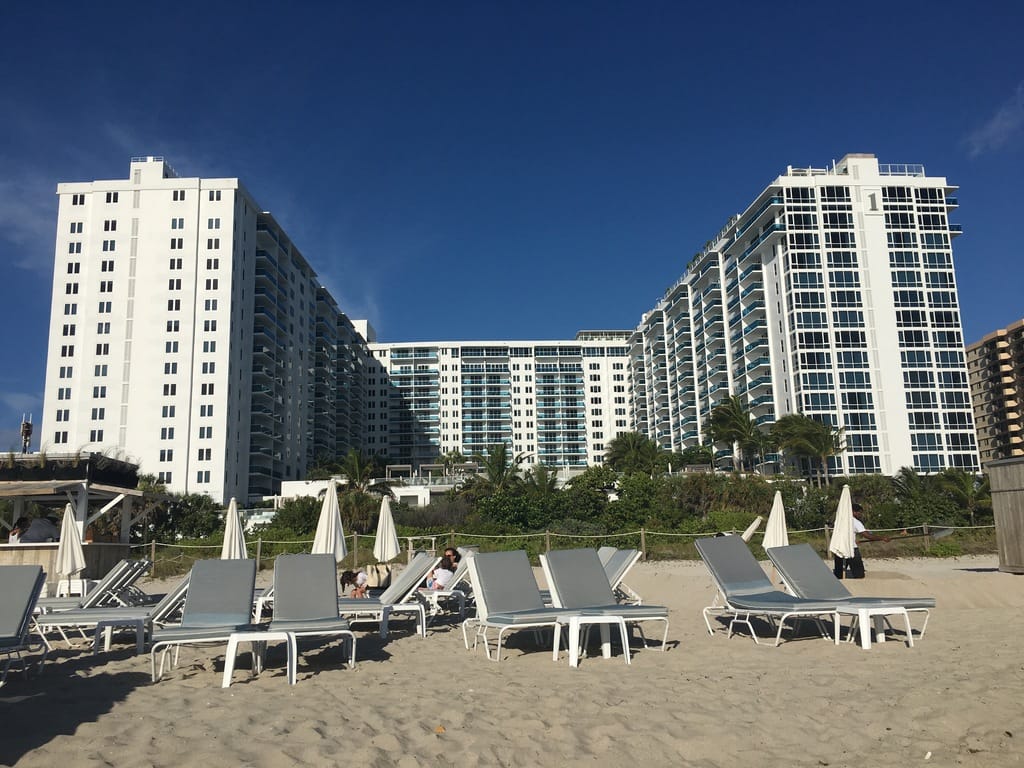 WHAT ABOUT THE FOOD?
At the Lobby level, you have a wonderful Tom Colicchio farm-to-table restaurant Beachcraft that also serves delicious continental and buffet breakfasts (included with our rate). We had dinner the first night by the restaurant's open kitchen and everything was delicious. Unfortunately we were paired with a server an attitude who was more interested in himself than us. I'm happy to say that was an exception to the rule as the hotel's staff was otherwise extremely friendly, eager to engage and accommodating during our stay – whether at breakfast, the pool or front entrance. You also have two boutiques (Big Drop being one of them) and lobby bar Tom on Collins, an inviting area to lounge with live music in the evenings.
During the day, fresh fruit from local farms is offered daily and complimentary from the Farm Stand. Right across, café Nativ Made, serving light bites, juices and coffees, is particularly busy in the mornings post-pre workouts. Instead of the typical gift shop, Plant The Future store features terrariums, plantings and moss wall art that I wanted to take home with me. I was particularly happy to see (and others were too, judging by the logo outfits in the lobby) a Soul Cycle studio onsite.  Lastly is the popular eatery STK where Sasha Obama visited (along with her secret service) during our stay. And this is just in the lobby!
AH THE SPA
On the 2rd floor, guests will find the  24-hour 14,000 square foot Spartan Gym (available only to guests) featuring Peloton bikes and classes, and the newly opened Bamford Haybarn Spa, the first U.S. offspring of the delightful English country holistic spa brand.  Sadly, I was too limited in time to go to either other than to take a quick peek inside.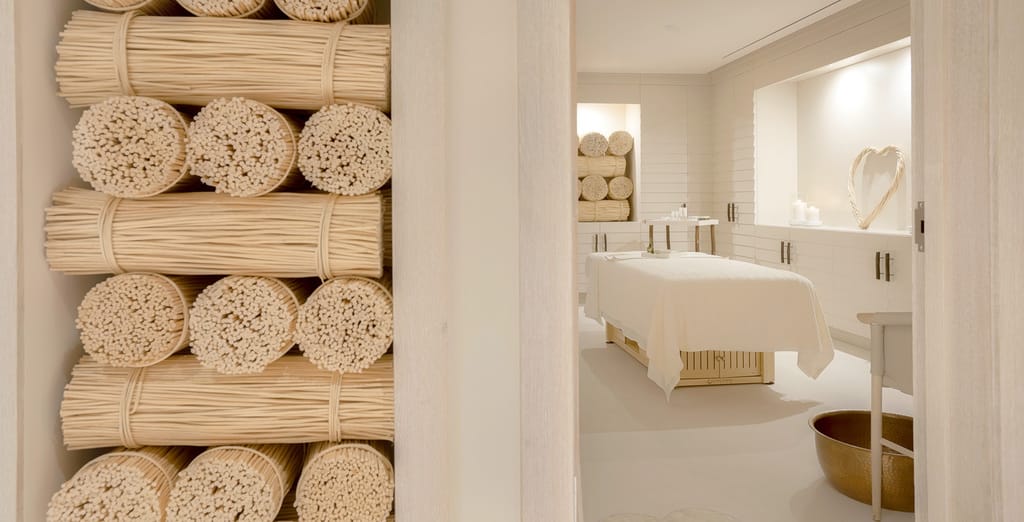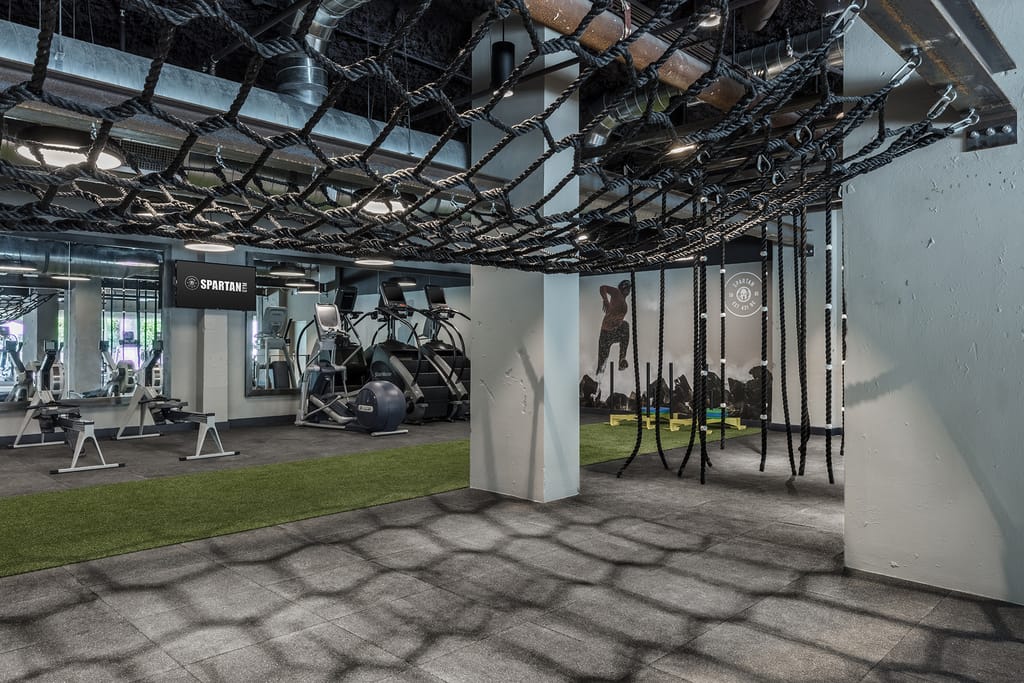 WHERE THE ACTION IS
The 3rd floor is pretty much the outdoor hub of the 1 Hotel South Beach (particularly for guests with children) – this is where you access the beach club and three of the four hotel pools along with the myriad cabanas, daybeds (which also purposed as diving boards for the kids when not occupied!) and lounge chaises. The Sandbox, the poolside cantina, serves up excellent tacos, guacamole and cocktails.  We saw equal amounts of champagne in ice buckets as we did ice teas and waters besides lounging guests. Additionally, there is a small beach boutique (teen daughter-approved) and Seedlings kids club for the younger set (younger daughter-approved).  The whole area is generously laid out and only steps away from the beach and private hotel beach club. A running path along the length of this strip was perfect for a morning run.
You will find the hotel's fourth pool on the rooftop – one of the signature spots of the 1 Hotel – along with a very good (so I'm told) seafood and sushi restaurant, Watr, and bar (a subsequent visit here was NOT good). Note: the rooftop is open to guests only 21 and over. I tried unsuccessfully to sneak my 13-year old in but no dice. Next time.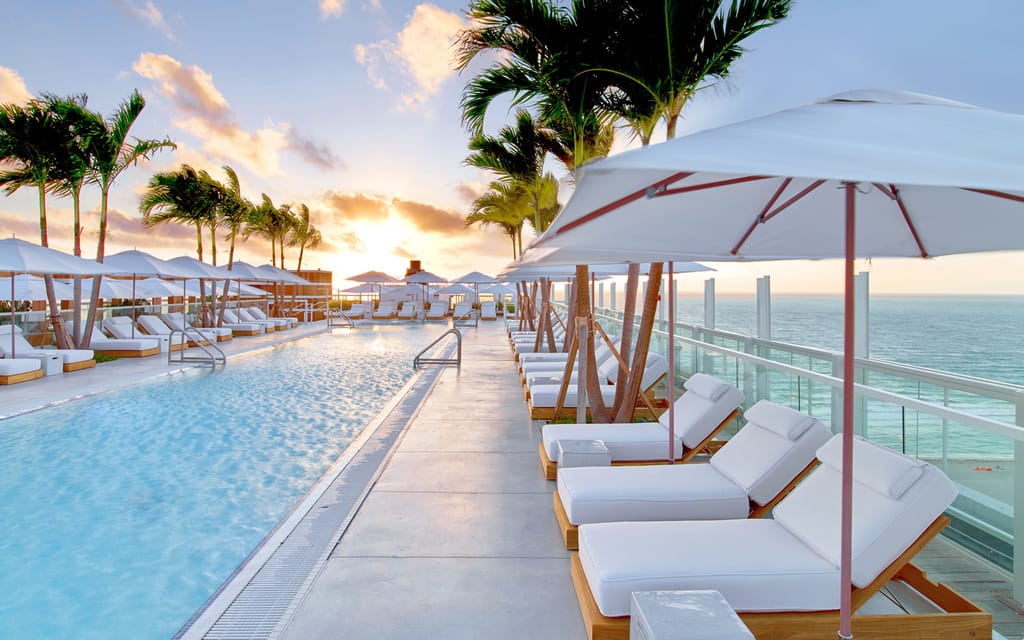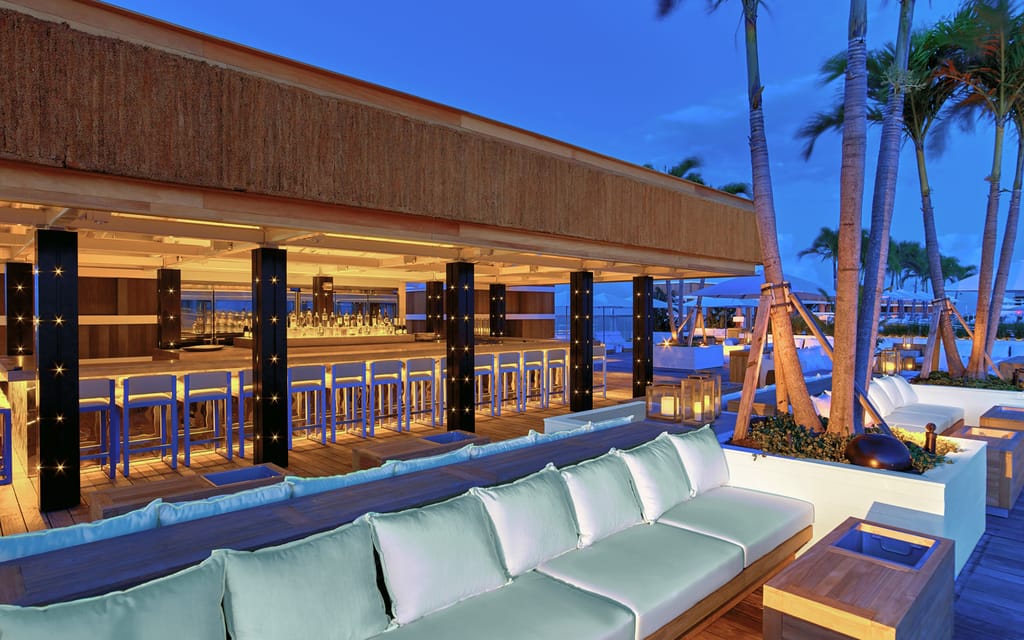 THE LAST WORD
Our whole family equally loved the look, vibe and energy of the 1 Hotel South Beach – it was hip for sure but not overly so that any guest would feel out of place. I loved that the hotel partnered with specialty brands (Soul Cycle, Spartan, Bamford Haybarn etc.) inside the hotel, each unique in their category. You can stay here for a long weekend and never feel the need to leave with so many excellent options at your disposal.
LETS TALK ECO
But let's get back to 1 Hotel South Beach's eco-consciousness because to me this is truly what sets this hotel apart from others. It's not treated just as a term to proudly boast on their website or press materials but put into action everywhere you are as a guest. In your room, not a plastic or piece of paper is in sight. Instead you will find cardboard hangers, reclaimed wood keys, reusable socks instead of slippers, 'Do not disturb' signs made out of cardboard boxes, chalk notepads on the nightstands, and large toiletry dispensers (instead of the small bottles we are all used to and often steal!) in the bathroom.  Triple clear water filters in the kitchen replace plastic water bottles you typically would find on your nightstand. A mobile '1' guide' serves as both an in-room 'do it all' (ie. thermostat, TV) and a communications tool with hotel staff. I am still old-fashioned in this respect and never used it – instead sticking to the remote control and phone.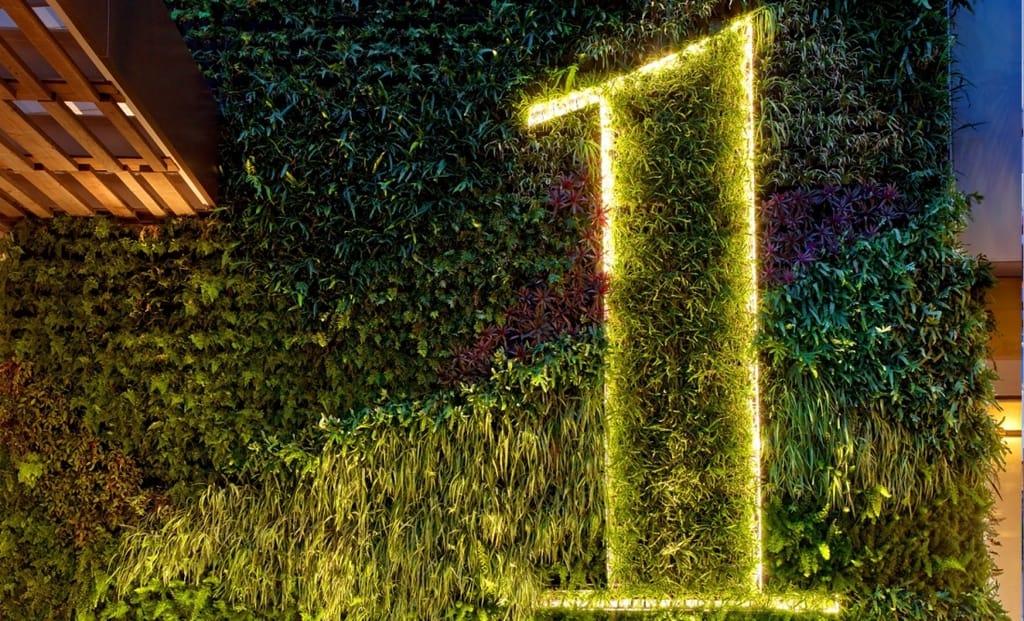 In the public spaces, the thought and care is evident as well – from the 3,000 foot 'living' wall of 11,000 green plants at the front entrance to the fleet of Tesla electric vehicles standing by which guests can use for a 3-mile radius (ironically placed next to two Ferraris I saw out front – a bit of an oxymoron).  Ceilings, walls and furniture are made from reclaimed and salvaged wood and terrariums and plants are placed throughout instead of cut flowers.
LAST THOUGHTS
All this really made me aware of how much waste there is in the hotel industry and how it can and needs to do better. While plenty of luxury hotels are 'eco-friendly' (more and more I'm pleased to say), they are not necessarily eco-focused. I hope the new 1 Hotel brand will serve as a model and source for inspiration for other properties to follow. Sternlicht's vision for 1 Hotels to be places 'to celebrate and protect nature' has already extended beyond South Beach with  the recent opening of the 1 Hotel Central Park in Manhattan and a 1 Hotel Brooklyn Bridge (in the former Domino Sugar factory).  More locations are in the pipeline. It's simply time be more green and help protect our planet.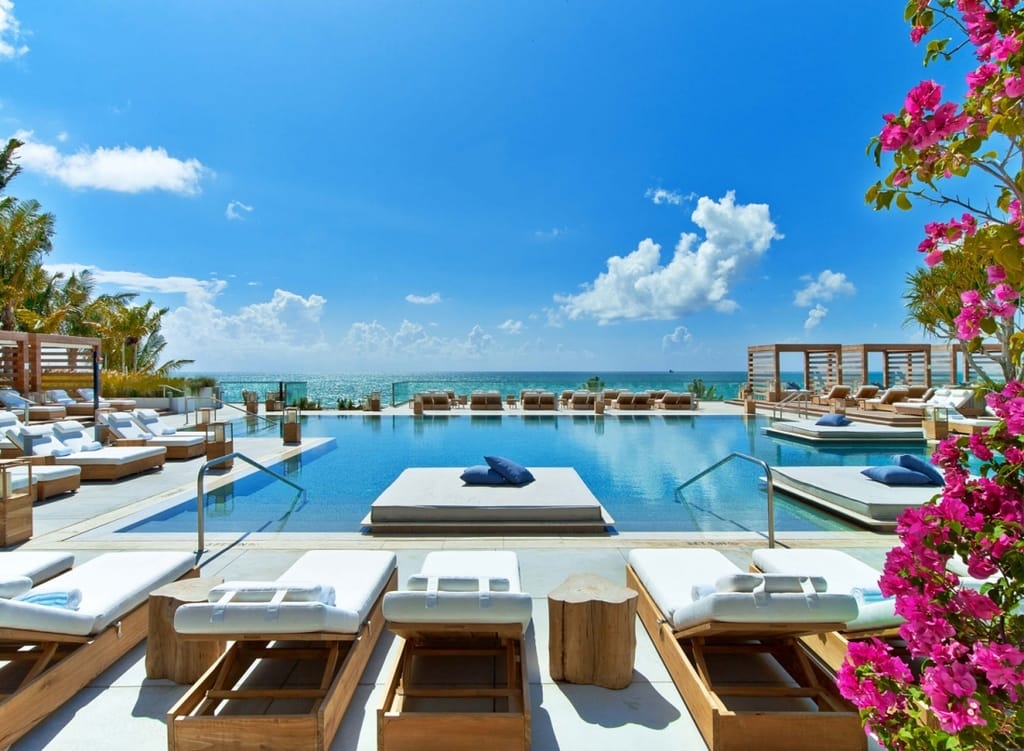 Loved
Didn't Love

The true eco-consciousness of the hotel. You leave the hotel wanting to be a better citizen on the planet.
Aesthetically beautiful interiors both in the public spaces and guest rooms – the combination of greenery from the many plantings (terrariums or otherwise) with white-ivory fabrics and driftwood creates a serene environment saying 'Vacation' immediately.
Options: beach club, pools, spa, fitness center, restaurants, boutiques and Soul Cycle are all here- you can come here for a long weekend and feel no reason to leave at all.
The hotel layout – The many areas (see above) of the hotel were spread out nicely but easy to access. Despite being a large hotel with full occupancy on holiday weekend, it neither felt crowded or colossal.
The Location – at 23/24th and Collins, the hotel is far enough from the noisy center of South Beach but close enough to walk or drive 10-minutes (Uber is very easy here) to the best restaurants or bars.
The bed was really comfortable – a Keetsa mattress with organic linens.

While there is mobile tablet in your rooms to communicate with staff, we stuck to the old-fashioned phone. There are only two numbers to press to call – the front desk and room service. Requests to bellman, housekeeping or the spa all goes to one desk. As such, it sometimes took a few tries to get someone and then requests were often delayed where we had to call again.
Service the first night at Beachcraft for dinner by one waiter with an attitude was not the ideal way to start off our vacation (the rest of the staff was excellent). Surprisingly an 18% tip was automatically included in our bill.

Don't Miss
Skip

South Beach has an incredible array of restaurants with something for everyone. Two restaurants recommended to us were both excellent:

Prime Italian

(not to be confused with Prime 112 across the street which is also excellent but for steaks) on Ocean Avenue on the other end of South Beach, serves excellent family-size portions of Italian food. The other was Yardbird, a Southern bistro with an endless list of

Yardbird

bourbons, to die for fried chicken, fried green tomatoes and fried oreos. Fried being the operative word here. Definitely go to both with empty stomachs and book a spin in the morning after each of these.

Shopping along Lincoln Road – very disappointing. Head to the nearby Bal Harbour shops instead.

Rooms to Get
Tips

Of the 425 rooms in the hotel, 168 are suites, most over 700 square feet. For small families, connecting rooms or 1 BR-suites are ideal but, as we saw, vary widely.  The '36' line was small while the '23' line corner units are incredibly spacious. If you can get a corner unit, ocean-view high floor, you are money!
There are also 155 residential units, most of which are placed in the hotel rental program.
Avoid low floor, North-side rooms which face the street as can be noisy at night.
1 Hotel South Beach
When you Book the 1 Hotel South Beach with Inviato, You Receive the following perks:
Upgrade on arrival, subject to availability (not applicable to Ocean Front One Bedroom Suites, Homes and higher categories)
Complimentary Full American Breakfast for two per bedroom daily
$100 USD Hotel credit
Early check-in subject to availability
Guaranteed 4pm late check-out for Premium Suites and Penthouses with all other room categories subject to availability
VIP Welcome Amenity
Complimentary Wi-Fi
Book This Hotel
Why book Virtuoso?
Personalized travel assistance
24/7 online booking
Special rates & exclusive offers
Guaranteed Room upgrade*
Complimentary full American breakfast
Early check-in, Late check-out*
Exclusive on-site amenities (varies by hotel)
* based on availability on time of arrival
Related Reviews