The Palm Beach International Film Festival gave me an excuse to depart for a two-day getaway in the sun and also check in at the Eau Palm Beach in April. Reviewed here just about a year ago by contributing editor Christina Kim (see here for a comprehensive review of Eau), I wanted get my own take on this hotel that was formerly a Ritz Carlton property and reopened as an independent hotel in 2013.   I twisted the arm of my friend to join me – that took all of about four minutes.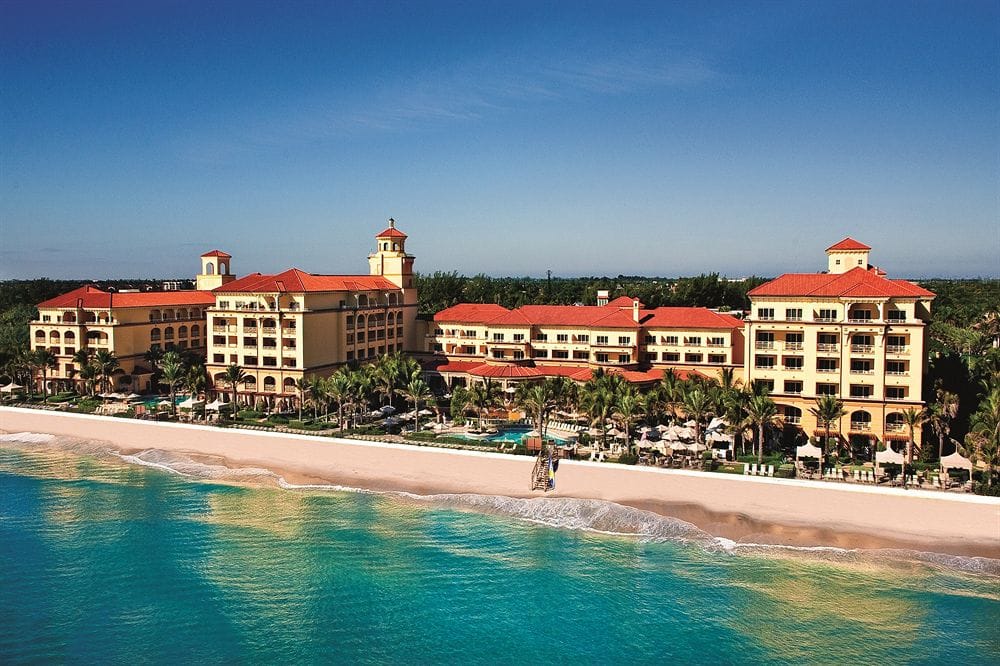 FIRST IMPRESSIONS:EAU PALM BEACH
During our brief stay, I got a taste of what the hotel had to offer. The tone was immediately set the moment we checked in and were offered champagne at the front desk. During the day, the lobby deceivingly appears as a traditional Palm Beach living room (with some quirky decorative objects when you look close enough). But, at night the lobby becomes a social hub each evening to begin your evening activities. Crystal chandeliers glow a neon blue/purple and candles are lit everywhere to set the mood.
As I walked to our room, we passed by an exercise studio (where pilates and other classes are held throughout the day) and state of the art fitness center, both with floor-to-ceiling glass walls facing the ocean. And then we passed the doors to the undisputed star of the resort, the 42,000 square foot Eau Spa. More on the spa later as it deserves special attention.
We stayed in room #265 in the South Tower which was decorated in bright blues, whites and yellows – very nautical and cheery as if to say 'you're on holiday, be happy!". Designed by Jonathan Adler, each one of the 309 guest rooms in the hotel is styled exactly the same to evoke a 'Capri meets Santorini meets Palm Beach' vibe. I felt like I was living in a Jonathan Adler store as I recognized almost every piece of furniture and pillow from my visits.
As with all the other guest rooms, our room had direct views of the ocean with a narrow balcony.  Greeting us on the bed were flip flops and beach bags and a welcome tray of chocolates – beckoning us to take a bite and get to the pool (or pools rather as there are two) or beach already- after all, that is what you are here for.
Not surprisingly, we saw a lot of women at the pool – both intimate and large groups of girlfriends, moms and daughters seeking a quick escape from wherever to take advantage of the spa, sun and sea.  There were also some business events being held (there is 30,000 square feet of indoor and outdoor meeting and event space on the property – in case you are looking for the next place to have a meeting) as well as what looked like the beginnings of preparation for a weekend wedding on the lawn.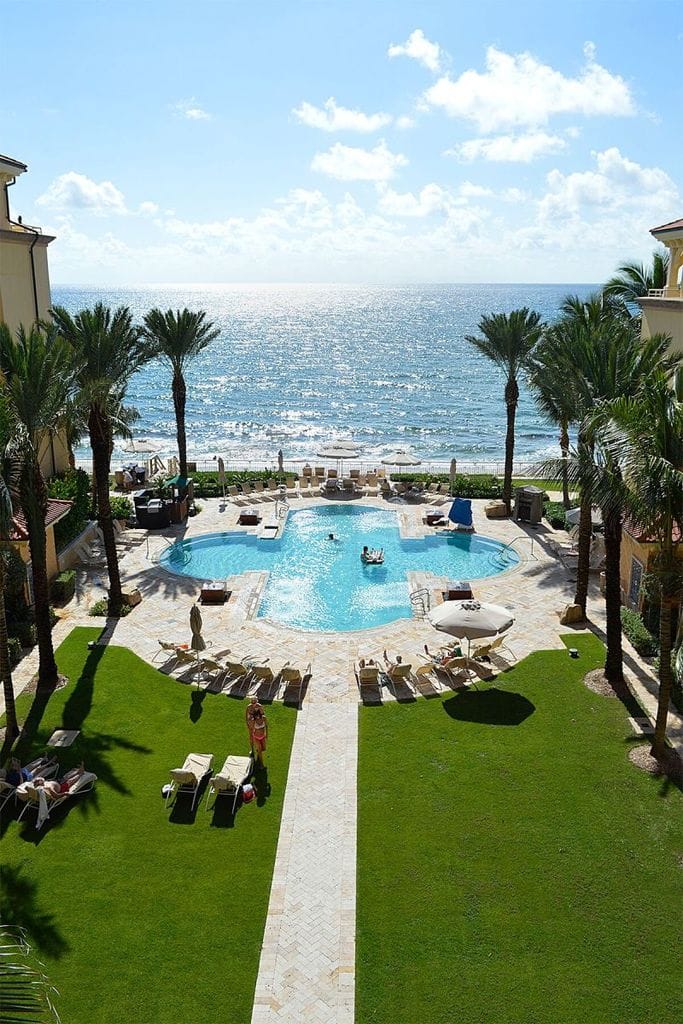 ABOUT EAU PALM BEACH
Being an independent hotel is part of Eau's charm. I learned that the owners of Eau Palm Beach is a family who has in fact owned the hotel since 2002  (incidentally they own 17 hotels in Israel, including a new one opening in Spring 2017 called the Orient in Jerusalem) with the Ritz managing the property. They took over the management of the hotel with a grand renovation and rebranding effort to become the stylish and unique hotel it is to day. Since it opened, the hotel has made quite a splash (pun intended), providing a fresh new alternative to the traditional and more expensive to other Palm Beach lodgings. And it has impressively gathered many accolades in a short time period, racking up a AAA-five diamond rating as well as receiving Conde Nast Traveler's ranking of #1 resort in Florida for the 2015 Readers Choice Awards.
Rightfully, the resort is proud to boast that Forbes recently added Eau Palm Beach as a new 5-star hotel for 2016 (it is the 2nd year in row that the Eau Spa has received this accolade), making it one of only 21 hotels in the U.S. to hold a five-star rating for both hotel and spa. Not too shabby. Breakers, you better take heed!
LOCATION
While Eau Palm Beach feels like an intimate resort, it is actually spread on seven acres with two pools and three tennis courts, which we unfortunately didn't get a chance to experience (staying horizontal on the beach chair sipping cocktails was more our speed for the limited time we had). However, I did get to take one of the complimentary bikes down the bike lane for a leisurely ride. Admittedly, there is not too much to see as the hotel is in the middle of many residential towers (the town is a 20-minute drive away) but it a nice diversion.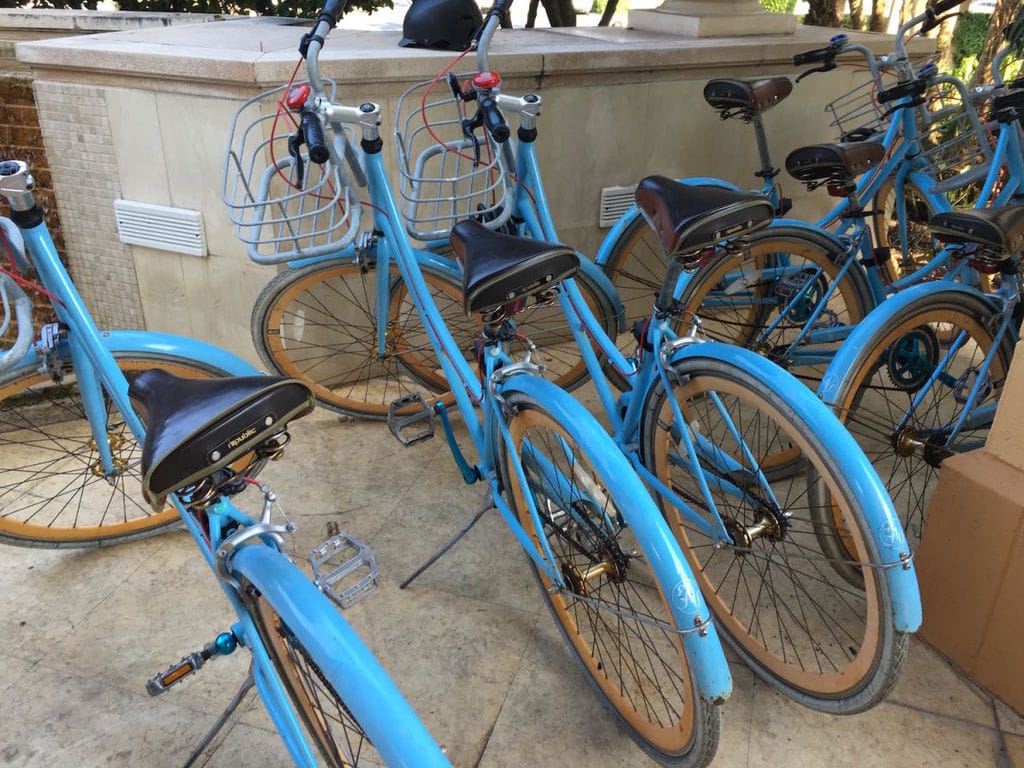 THE ROOMS
All the hotel rooms at Eau Palm Beach have frontal ocean views, but there are a few options to note. The South and Central towers are the most desirable as the other towers are often reserved for business travelers and those at the hotels for corporate events. Suites are the most spacious option at 820 square feet of which the Lanai Suites are the most convenient as they are on the ground level, adjacent to the lobby and with patio access directly to the courtyard pool (although it can be noisy if there are events held there during the evening). For those seeking extra amenities, go for the Club level rooms offer a private lounge with a special concierge, complimentary food and beverages during certain periods and complimentary daily pressing.
THE SPA
The 42,000 Eau Spa is without a doubt the pièce de résistance of the resort. Inspired by their travels to India, the owners wanted the spa to be a fun, sensory experience and they definitely completed their mission.You might find rubber ducks drifting in the hammam or jacuzzi. The 19 treatments rooms have a 'add on' check list for extra features like a foot rub or scalp massage in addition to a choice of mood lighting and scent choices to select during your massage. Like a child in an ice-cream store choosing toppings, I had fun concocting my own body scrub from the 'scrub and polish' mixologist bar.  The 'self-centered' garden with its human-size chess set on display and floating swings begs you to linger.  And the LED light display in the hammam kept me entranced with champagne and cupcake (complimentary in the spa) in hand. Needless to say, the Spa alone is worth a trip to visit. 
THE RESTAURANTS
What's new from our last Eau review is the Breeze Ocean Kitchen, open since March. Breeze is the outdoor restaurant by the pool that also serves both pools should you find it hard to leave your chaise. A GPS-controlled slat roof that senses rain conveniently opens and closes so your blowout from the salon doesn't get ruined. We enjoyed our lunch time meals here but some dishes were better than others. The tacos, ceviche and shrimp skewers were winners as were the cocktails and 'spiked' milkshakes.
Since it opened, Eau Palm Beach has succeeding in providing a fresh, intimate, stylish and more relaxed alternative (without breaking the bank) for those seeking a Palm Beach getaway. Take advantage of the various special offers (3rd Night Free or Suite Escape) in addition to Virtuoso amenities Inviato offers at this resort and get involved!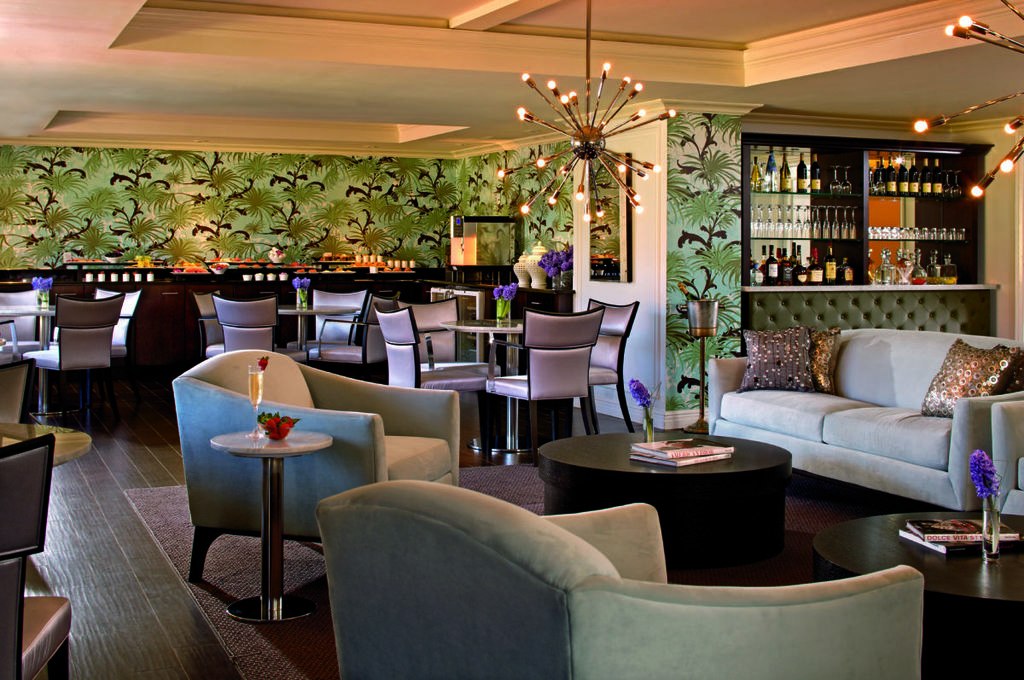 Loved
Didn't Love

The Buffet breakfast was nice – lots of fresh fruit, yogurts and made-to-order omelets.
The beds were really comfortable.
The fitness center had all the latest equipment.
Fun vibe. While it was quiet during our stay (being mid-week and on the shoulder of high season),  the mood was fun and young compared to the other traditional Palm Beach lodging establishments in the area.

The hotel is not in Palm Beach proper and a bit removed from the action – the town and restaurants are all a 15-minutes drive away.
There was light construction and drilling around the pool during our stay which can sour the mood a bit while sunbathing or eating breakfast.

Don't Miss
Skip

The Eau spa. Truly an unique and fun sensory experience.

Rooms to Get
Tips

The Central and South towers – ocean view or ocean front.
The Lanai Terrace Suites on the ground floor opens directly to one of the hotel's pool – this can be an advantage, especially if with kids or a disadvantage (weddings and corporate events tend to take place here so probably not the quietest option).

Although Eau includes valet parking, we didn't want the hassle of a rental car. Uber is easy and fast here.
Fitness Classes cost extra (assortment) but bikes, located in front of the hotel,  are complimentary.
Restaurants: For a classic dinner, go to Bice (ask for courtyard seats). For hip and trendy, we loved the lively restaurant, 

Buccan. Old Key Lime House

 on the water near the hotel was perfect for a casual lunch
Eau Palm Beach
When you book the Eau Palm Beach with Inviato, you receive the following benefits: 
•  Upgrade on arrival
•  Daily Breakfast for two per bedroom in Temple Orange Mediterranean Bistro
•  $100 USD Resort/Hotel credit to be utilized during stay
•  Early check-in/late check-out, subject to availability
•  Complimentary Wi-Fi
Book This Hotel
Why book Virtuoso?
Personalized travel assistance
24/7 online booking
Special rates & exclusive offers
Guaranteed Room upgrade*
Complimentary full American breakfast
Early check-in, Late check-out*
Exclusive on-site amenities (varies by hotel)
* based on availability on time of arrival
Related Reviews