When I told friends I was going with my family to Tennessee for the Thanksgiving holiday, the first reaction was a suspicious "Do you have family in Tennessee??" The unanimous response to the shake of my head was "What the hell is in Tennessee??" (other than the Grand Ole Opry and Graceland, of course).  Well, Blackberry Farm is in Tennessee.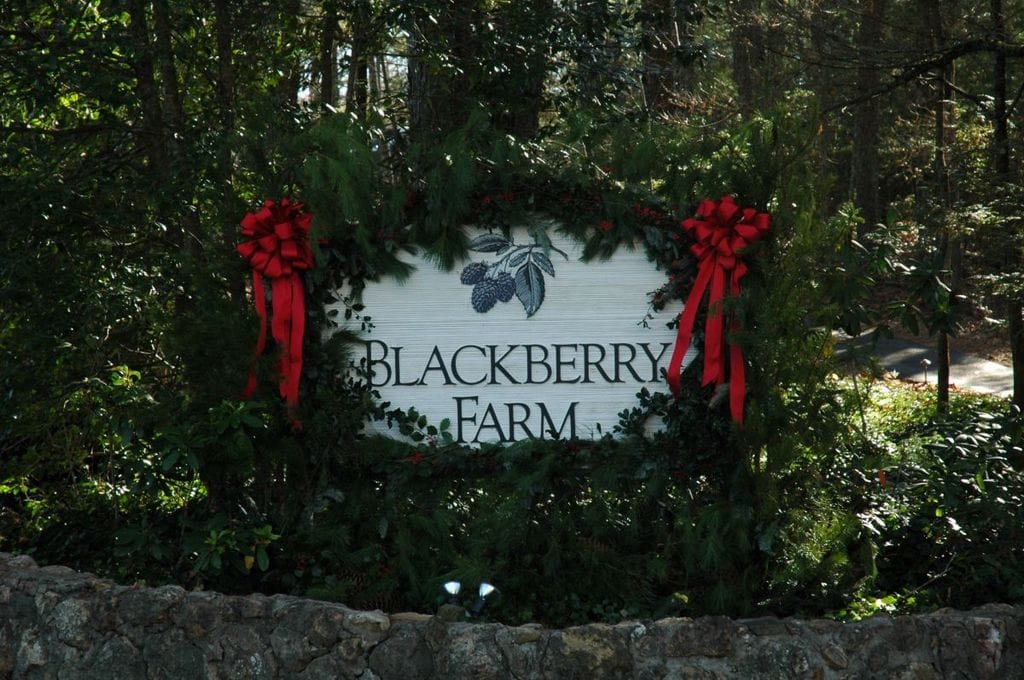 Wanting to get a little country into my city girls (and no, the Hamptons does not constitute country in my book), Blackberry Farm was my prey. Consistently rated in the top of all annual travel award lists such as Zagat Survey, Conde Nast Traveler, Travel & Leisure and Departures), this Relais & Chateaux property has been on my personal travel wish list for a long, long time.
Finally getting my husband to forego his annual football scrimmage (as the guys get older, the group seems to be dwindling with various ailments) the day after Thanksgiving, I booked our stay at the luxury Relais and Chateaux property. The short flight from La Guardia to Knoxville, special holiday schedule and all-inclusive price sealed the deal for our four-day getaway. (Note: Blackberry Farm is primarily an adult hideaway for most of year except summer and major holidays when children are accepted).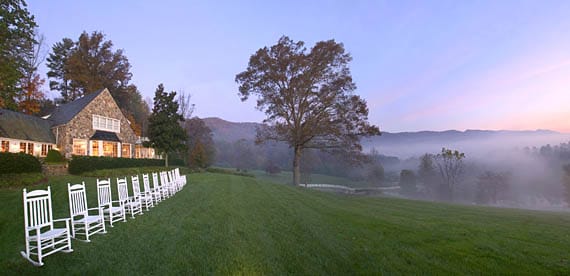 There are a lot of things that makes Blackberry Farm special — the delicious food (fresh and grown on property), the wealth of outdoor activities, the luxurious accommodations, even the weather cooperated..but it is the southern hospitality and graciousness that appealed most to us jaded New Yorkers. Blackberry Farm takes guest service to a new level. Want to deviate from the menu? Sure we can do that. Need someone to watch the kids for an extra hour or two? We would love to.  Late for your activity? No problem, we can wait.  The Staff is there on your time — and you sense this from the moment you arrive.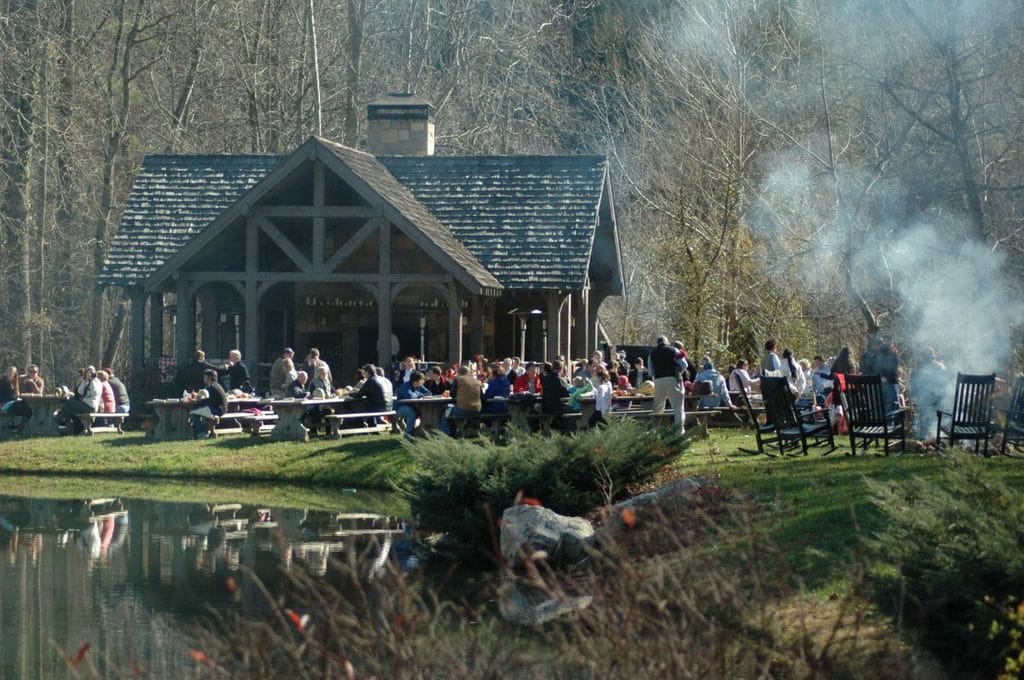 In sum, the place is near perfection.
Highlights of our stay went something like this:
Day 1:
Have quick lunch at the main house. Family next to us holding hands and saying grace, the other diners seem very quiet and well-behaved. Have a feeling we NYers are going to stir things up around here with our "lively" girls. Check into our wonderful cottage, Leather Britches. Girls rush to claim their beds.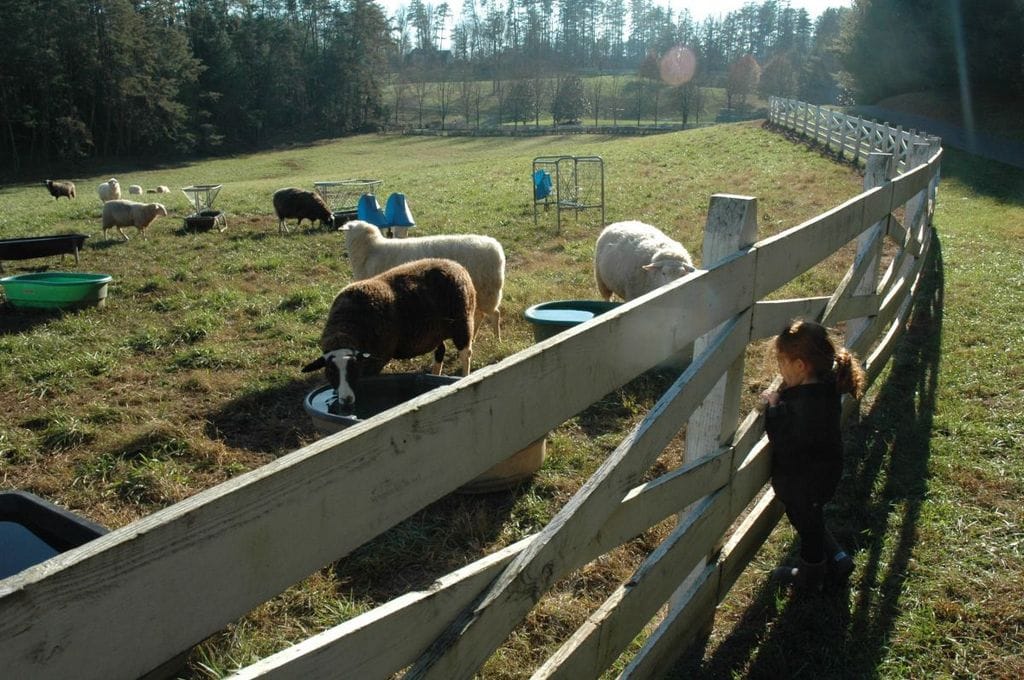 Do a tour of the Dairy Barn and meet all
the resident sheep, llamas, chickens and guard dogs (there are coyotes in the mountains). My 6-year old daughter meets Libby, a 13-year old guest from Georgia who she will be obsessed with for the rest of our stay. Girls do Pony Camp for hour while my husband checks outs the fly fishing situation. Eat dinner at the barn. Girls can't sit still. Neighboring diners ask to be moved away FAR away from us. Drive back to cabin in our golf cart. Get lost in the woods.
Day 2:
Husband does skeet shooting while I explore the property. Girls check into camp to make "hunt" baskets and design a Tee-Pee.  Husband and I go hiking. Lose trail map in first 2 minutes. Argue what the protocol is if you encounter a bear. Manage not to get lost.  Go to Thanksgiving Turkey Fry lunch on main house lawn overlooking the mountains.  Channeling Johnny Cash and humming "Folsom Prison" as Reese Witherspoon and her family pass by. I'm digging the Southern vibe!  Onto the Pumpkin Hunt to search for 150 hidden pumpkins. We get massages at the Spa. Have no idea where kids are…or care. Dinner in barn. Food coma. We all pass out at 9:30.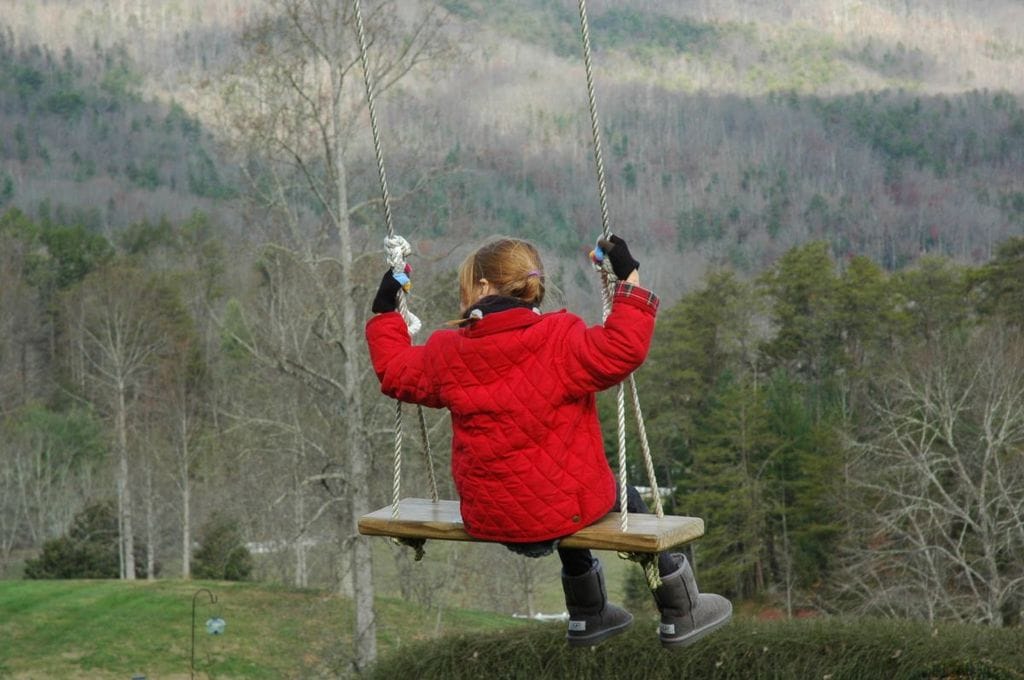 Day 3:
Oversleep. Kids restless at breakfast. Husband and I take turns taking them outside and bribing them. Discuss merits with husband of sending them to boarding school in the South at 6th grade. Decide against it. Girls go to camp to shell peas and go pumpkin hunting on the lawn. Skip lunch and steal chili from kids camp barbecue. Delicious!  Learn what a Predo is (a concoction of fritos, chili, cheddar cheese and sour cream) – a U. of  Tennessee staple. All guests participate in making gingerbread houses…gets competitive.  Girls go to Kids movie night while we enjoy 5 course tasting at the Barn. Go to bonfire with the kids. Food coma again. We all pass out.
Day 4:
Husband goes fly fishing (very proud he catches two trout) while I do 2-hour horseback ride with instructor. Do a little posting. This is easier than I thought. Kids learn how to make apple cider in camp. Allmeet up for Fall Harvest barbecue at the pavilion with bluegrass band. Perfect weather. Pure Heaven.  Everyone too tired to go out to dinner – order in burgers and popcorn and watch a movie. We are all very content.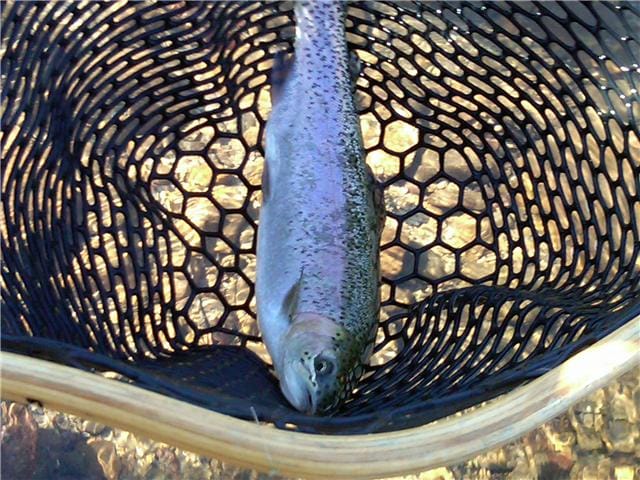 Day 5:
Departure Day. Start thinking about how much I will have to diet once I get home and get depressed. Crazy sore from horse. Time to go but no one wants to leave. Girls want to know when they coming back. So do we.
What We Loved: Pretty much everything but the standouts were: Outdoor cookout lunch at the Pavilion with   group playing bluegrass,  our Singing Brook cottage "Leather Britches", driving to breakfast every day with a blanket over us to breakfast, all the animals — from George the Llama herding the sheep, to the truffle-sniffing dogs (Tom and Lucci), Harlan and Little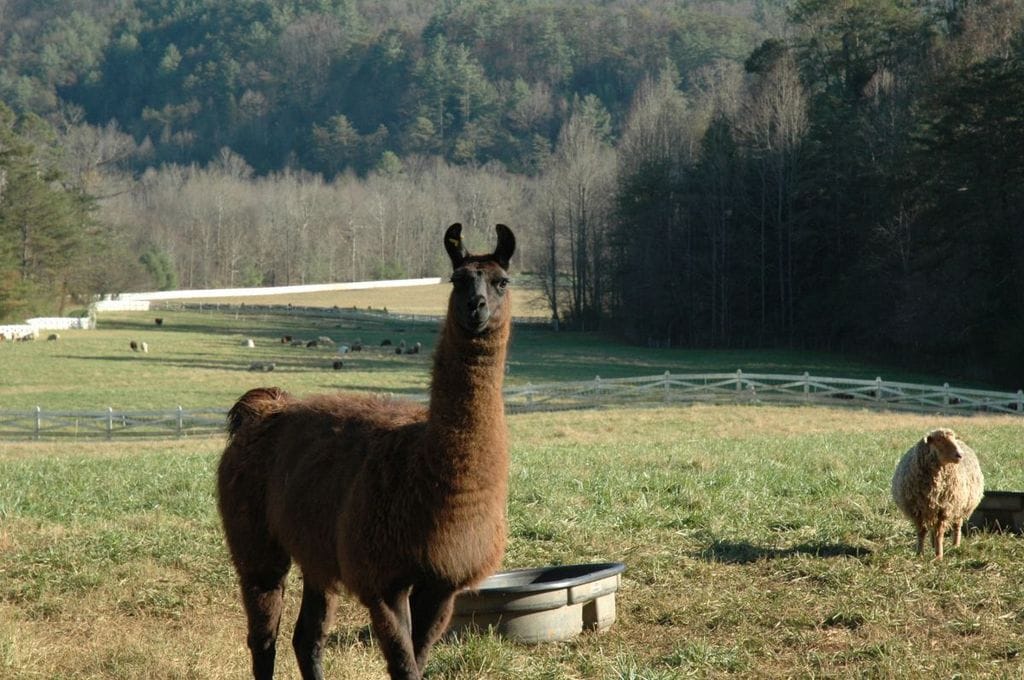 Chef (two of the 13 horses in residence) and resident cats (which Justine liked to lift and turn upside down).  Skeet shooting, Fly Fishing, Horseback Riding…oh yeah the food!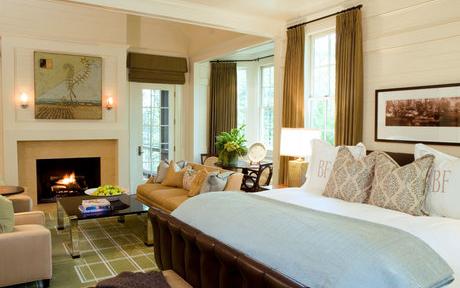 What the Kids Loved:  Camp Blackberry for all the unique and fun farmstead activities! Gingerbread House-making,  the swing overlooking the Smoky Mountains (a favorite hangout after breakfast each morning), taking turns driving the golf cart around the property.
What We Didnt Love:  Our only recommendation is we would have liked a casual, quicker alternative for dinner with the kids. An onsite pub would be great.  Gourmet dinners too much for our stomachs after 3 nights (but they will make anything for you off the menu). Having to pay the bill.
Don't Miss: Nightly s'mores and stories at bonfire, The spa, The barn for dinner, tours of the dairy farm and garden.
What we missed:  Sheep shearing, gathering chicken eggs, truffle hunts — all to be enjoyed at other times on the farm based on the season.
Skip:  The 5-course tasting menu if you have young kids with you. It is meant to be savored!
We went back! Read our more recent review of Blackberry Farm here.
Blackberry Farm
Your Virtuoso Rate at Blackberry Farm With Inviato Travel Includes:

• Upgrade on arrival, subject to availability
• Daily full breakfast, for up to two in room guests, served in restaurant
• $100 USD Equivalent Spa Services credit, to be utilized during stay
• Welcome Amenity
• Early check-in/late check-out, subject to availability
• Complimentary Wi-Fi
Book This Hotel
Why book Virtuoso?
Personalized travel assistance
24/7 online booking
Special rates & exclusive offers
Guaranteed Room upgrade*
Complimentary full American breakfast
Early check-in, Late check-out*
Exclusive on-site amenities (varies by hotel)
* based on availability on time of arrival