After a whirlwind three-city Europe tour over ten days in June this summer, during an unusual heat wave over most of Europe, my only goal was to decompress somewhere by the sea before we flew back home. While my husband departed with our older daughter to hand her over to summer camp, I stayed on with my younger daughter to enjoy a few last days on the Amalfi Coast. The last time I stepped foot in this scenic area of Italy, I was a college student (and on a much smaller budget, mind you). A reunion was long overdue.
Choosing the luxury hotel Hotel Santa Caterina over other choices on the coast or the island of Capri for four nights was an easy choice. Santa Caterina, a grand and classic hotel, is a long-time favorite among many friends and the hotel is known for being particularly family-friendly. I also loved the fact that the Santa Caterina is one of the few hotels that is still family-owned since this it was purchased in 1880 and opened as a hotel in 1904. In fact, we had the pleasure of meeting three generations of the Gambardella/Gargano family, who still own the hotel, during our stay.
FIRST IMPRESSIONS
I vaguely remembered the hair-raising turns on the 90-minute drive to Amalfi from Naples airport the first time I came here. The winding roads, particularly during the last 45 minutes, will make even the most stoic person queasy, especially as you ascend the cliffs towards the hotel.  But trust me, once you arrive at the hotel, any grumpy thoughts will disappear instantaneously as you take in the jaw-dropping scenery before you. Perched cliffside, Hotel Santa Caterina feels as if it is suspended over the Mediterranean sea and the Gulf of Salerno. It's postcard-perfect (or more appropriately, Instagram-perfect).
But it was the tiered tree groves of lemons, limes, apricots, oranges and bougainvillea, not the views, that won me over. Each morning, as we walked under the groves from our room to breakfast, I reveled in the intoxicating scents of the fruit and flowers. I want to bottle that smell. The visual combination of turquoise sea, dramatic cliffs, and fruit groves makes the Hotel Santa Caterina a Instagrammer/selfie-taker's dream come true. Not surprisingly, there were plenty of poseurs with their iPhones at the resort.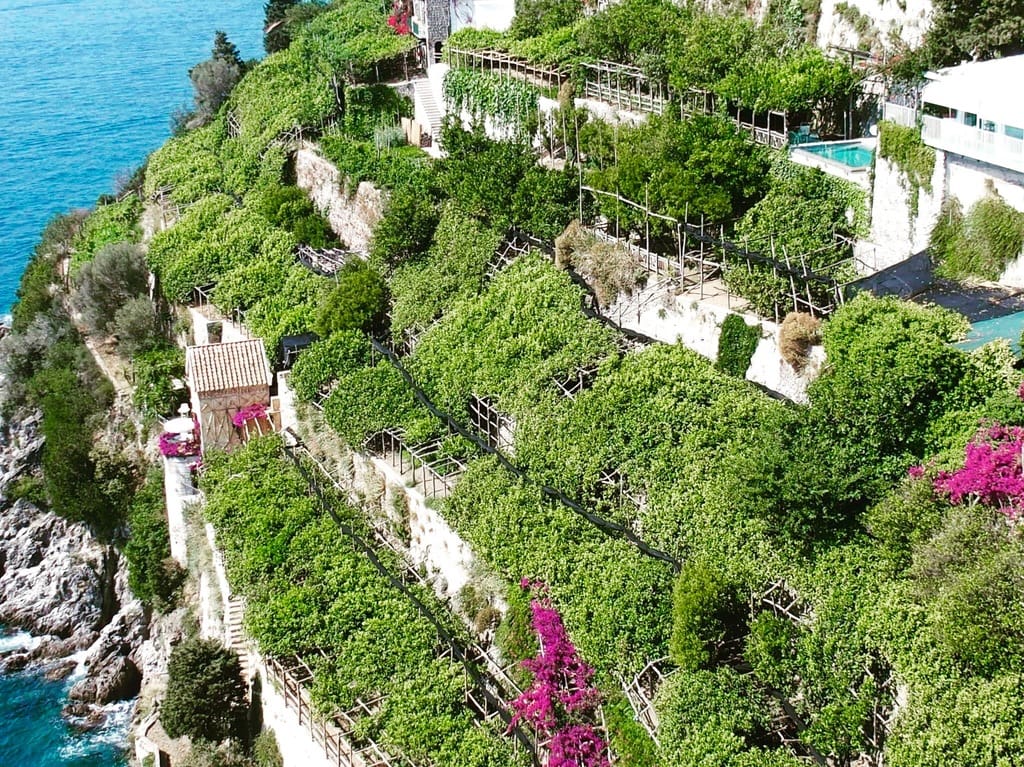 As it was just my daughter and I, we booked one of the more basic rooms at the hotel, a Partial sea-view Double Room, and were fortunately upgraded at the time of booking to a Direct Sea View Double with balcony. Our room was located away from the main hotel in an Annex, which was secluded and quiet, with spectacular views. Our room was a bit small but opening the louvred doors to our balcony to the incredible view of the sea and the town of Amalfi each morning was all I could hope for and more. The daily plates of fruit and chocolates  in our room along with a stuffed animal for Justine was a nice touch.
Another unique feature I appreciated (and most likely other guests too – 40% of the guests at the hotel are repeat bookers) of the Santa Caterina is that it is one of the only properties on the Amalfi Coast with direct sea access. While most other hotels in the area dispatch guests to public beaches or satellite beach clubs, Santa Caterina has its own private beach club with pool. The salt water pool is situated 10 stories below the lobby, which you can access by stairs or the glass elevator from the main lobby. After one or two times up and down the steep steps to pick up a forgotten item in the room, that elevator becomes a godsend. The staff at the pool are eager to please and can be quite entertaining – they like to put on a show for guests.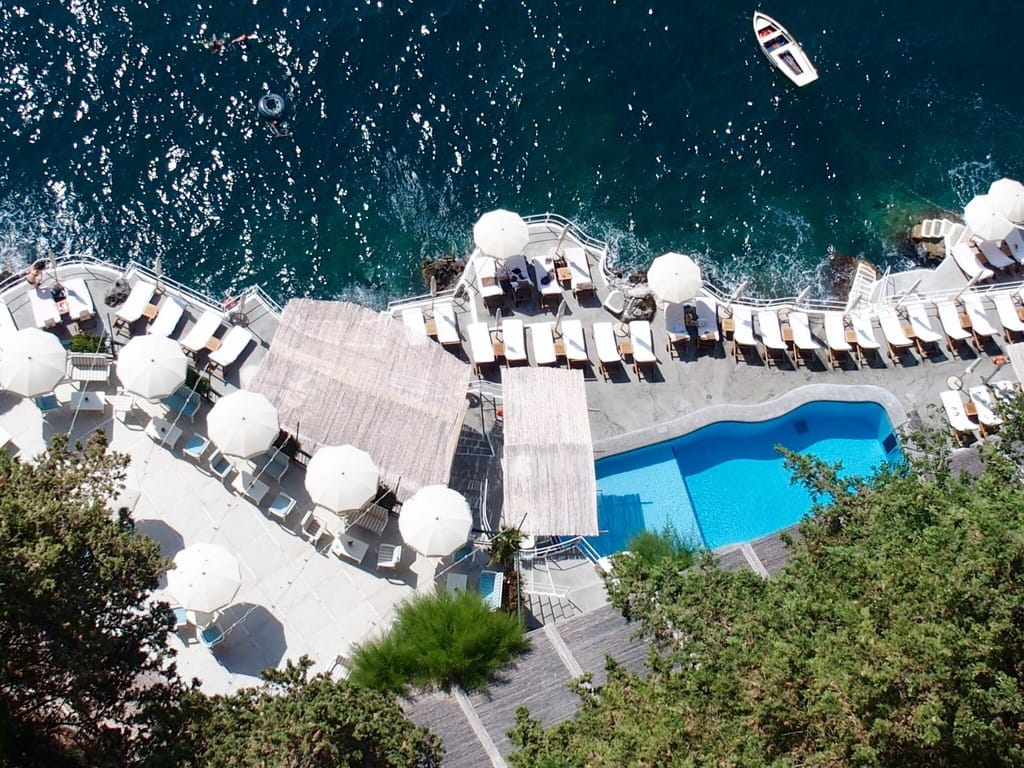 We spent three very hot days at the hotel relaxing by the pool, swimming in the refreshing waters of the sea (with is cordoned off for safety and guests are provided floats), and then departing late afternoon to explore the towns of Ravello and Amalfi, staying for dinner at local restaurants. There were plenty of children of all nationalities at the hotel, most of them finding each other and making friends at the pool. Justine made many friends there, playing for hours with the owner's grandchildren in their villa at the hotel.
Hands down one of our best decisions we made during our stay was to hire a private boat for the day to see and swim the grottos and cruise around the coast. Our boat was arranged easily through the hotel, which offers a fleet of boats in various sizes and rates (ours was about 880 Euros for the day), which conveniently comes right up to Santa Caterina's dock to pick you up.
From 10-5, we enjoyed a speedboat with Antonio, our young and adorable captain who spoke 'not so much' English but who was eager to accommodate our 'hit' list for the day. As it was a brutally hot day, we canceled plans to walk around Capri and opted instead to go for several swims in the stunning grottos, cruise around the islands and have lunch at La Fontelina ( an incredible restaurant only accessible by boat). It was my favorite day with my daughter on the whole trip – on any trip really. We felt like movie stars. It was a blissful way to end our vacation.
WHEN TO GO
Living large on the Amalfi Coast doesn't come cheap. The area caters to tourists, especially Americans, and I was disappointed how touristy the town has become. Even in early summer, the area felt bursting with buses, tourists and cruise lines. I can only imagine how busy (and expensive) it is in high season. To eschew the crowds, I would return in May or September.
The Location
The hotel's location on cliffside perch overlooking sea is quite stunning. Less than half a mile from the town of Amalfi, the hotel offers frequent complimentary shuttles into town (you can walk but I would not advise it as there is not much room to walk on the busy narrow road. As the shuttle ends at 6:30, it is worth noting that a taxi or car is required to get to restaurants in Amalfi and Ravello, which can be pretty expensive.
The Rooms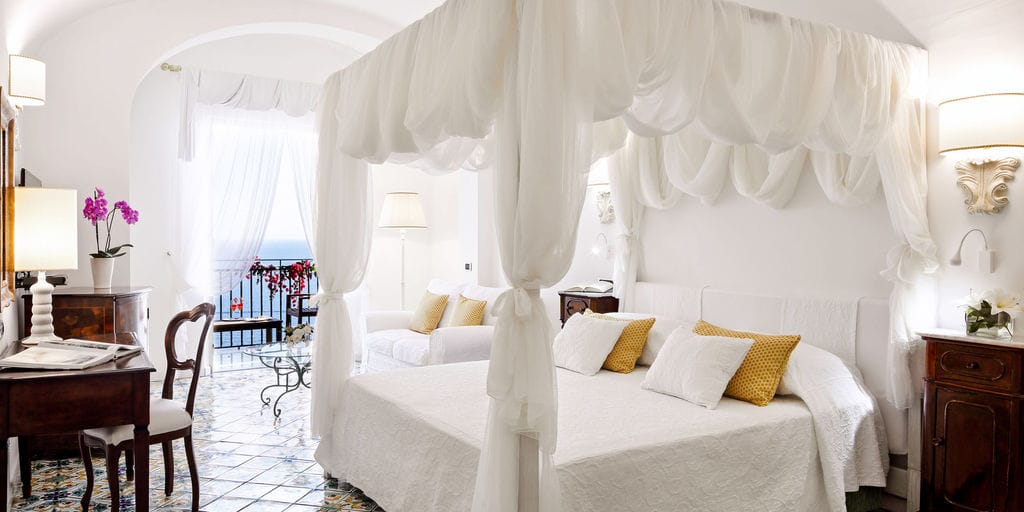 There are 54 rooms at the hotel and 16 suites with various layouts and room categories. Each individually unique, rooms are decorated simply, with traditional Italian furnishings and hand-painted ceramic tile floors. Modern comforts such as USB ports (If I never had to carry a converter again, I would be very happy), flat screen TVs, and blowdryers are provided in every room as are Bulgari toiletries.
Rooms and suites are spread throughout the property – some in the main building, others in an annex a few minutes walk away while other specialty suites are tucked away in the groves.
My daughter and I were in Room 73 – a double room with direct sea view in an annex a few minutes walk from the main hotel.  While I was first skeptical of being away from the hub of the main building, we liked the distance from the main building as it gave us the opportunity to walk through the beautiful lemon and orange groves several times each day.
Rates during summer start at 880 euros for double rooms. Double Rooms are fairly small and basic so we would recommend booking the junior suites or suites which are generously sized and have open plan living and bedrooms. It would be pointless to stay here and not have a direct sea view, so make sure you request one at time of booking.
SERVICE
Most of the professional and warm staff from the family-owned Hotel Santa Caterina have been there for decades. From pre planning to end, service was exemplary – attentive to our every need.  The concierge responded immediately and proactively with recommendations for us before and during our stay and was always spot on with his choices.  The only exception to this was one incidence at lunch at Al Mare when our server was perpexingly indifferent and unhelpful – we were one of the only guests in the restaurant.
RESTAURANTS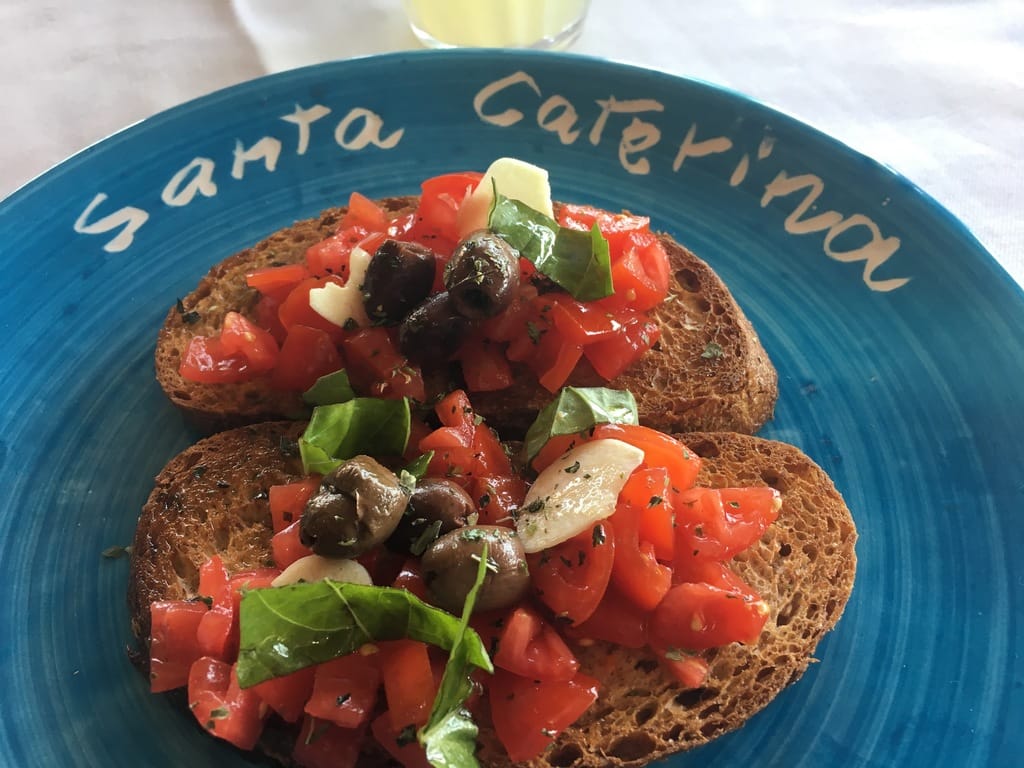 There are two restaurants at the hotel. Restaurant Santa Caterina is the main restaurant for breakfast and dinner and most guests opt to eat al fresco on the terrace overlooking the sea during the evenings. The restaurant serves classic and delicious Italian dishes. While appealing mostly to adults with its elegant atmosphere, the other diners and staff could not have been more welcoming and friendly when we dined there one night.
Al Mare is a more casual restaurant located on a shaded terrace overlooking the pool and sea serving yummy fresh pasta, fish and brick oven pizzas during lunch.  Breakfast, included in our rate, is a standout with many buffet options and hot items to please anyone.
Places to Eat in and around Amalfi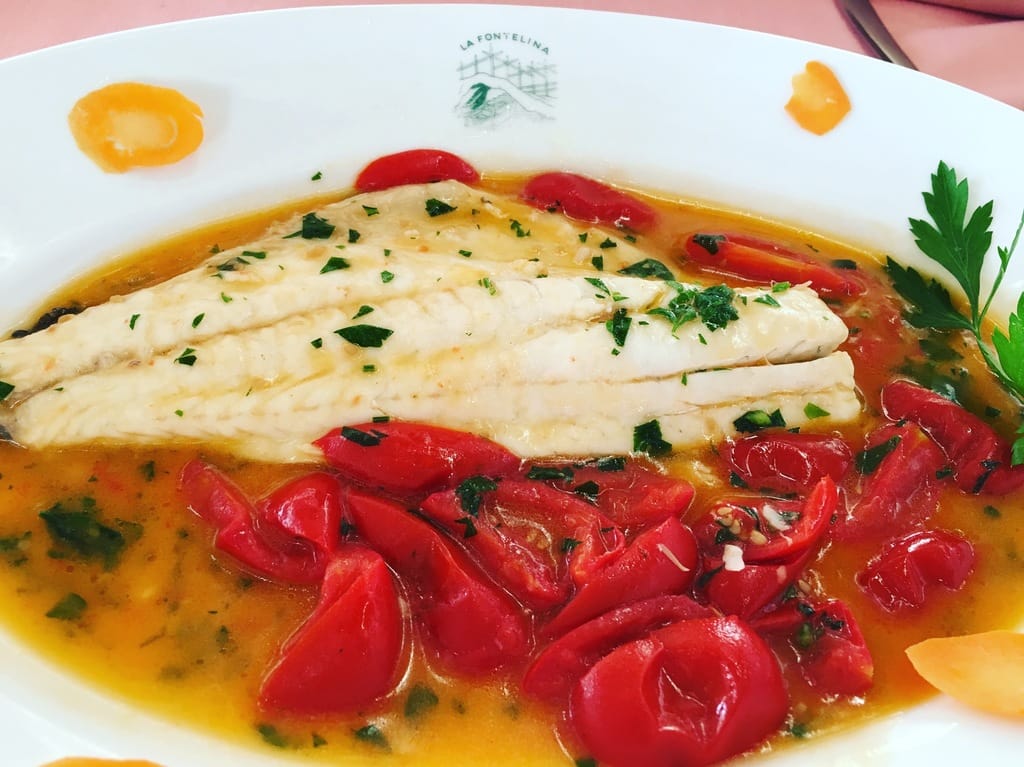 There are plenty of amazing choices in the area. We hit a few, all great, among the many recommended to us by the concierge and friends:
Amalfi
Acqua Pazza
Eolo (inside and outside seating with sea view)
Trattoria da Gemma – an upscale traditional restaurant with view over main square of Amalfi, famous for its fish soups.
Donna Stella – A wonderful and very casual pizzeria located outside under the lemon groves. Delicious pizzas and very family friendly.
Ravello and beyond
Cumpa Cosimo – A classic family fun Italian restaurant run by Grandma Netta – entertaining atmosphere with great ambiance and food. Must go!
Lido Azzurro (overlooking the sea, fish dishes, closed Mondays. Good for lunch)
Rossellini's in Hotel Palazzo Sasso – Gourmet restaurant with stunning views (in Ravello)
Hotel Caruso – also in Ravello. More formal restaurant.
Lo Scoglio – Decades old institution accessed by boat with simple delicious seafood.
La Fontelina – A must for the people watching and scenery alone but also serves delicious fresh past and seafood! Accessible only by boat. Was our favorite even though it is outrageously overpriced. Maitre d sizes you up to determine what table you get!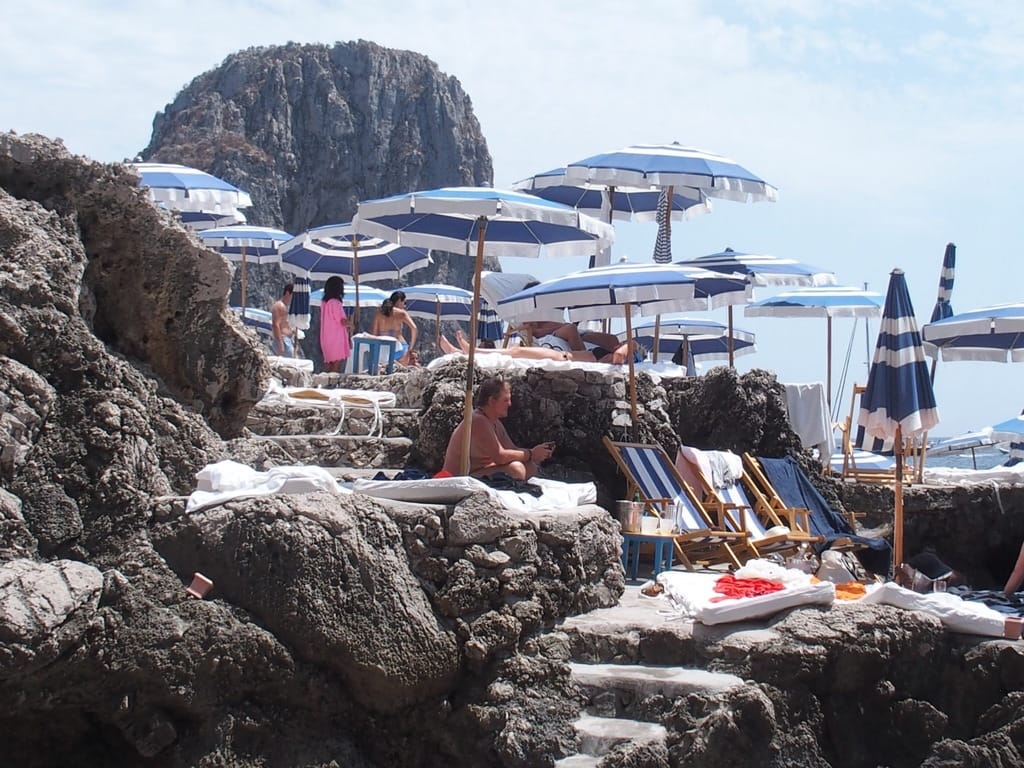 Loved
Didn't Love

That this is a 4th-generation family owned hotel giving it a very distinct personality and warm service. Sophisticated but inviting.
The hotel is extremely family friendly – a rare find on the Italian Riviera. There were many families at the hotel and particularly the pool during our stay (couples be warned). Pool toys, children menus and lots of attention from the staff.
The rows and rows of lemon, orange, apricot, and lime groves along with bougainvillea. Mmm, I can smell the scents now…
The drop- dead gorgeous views of the sea from the cliffside hotel – especially during sunset and at dusk, when the sea and sky seem to melt together.  During the evening, the lights of Amalfi town twinkle. If you are lucky, you will experience the town's frequent fireworks from your balcony or the restaurant terrace as we did .
The staff overall is extremely hospitable and accommodating. Raphael and Giovanna at the Concierge desk in particular were extremely responsive and helpful assisting us with tips and reservations before we arrived.
The beach club – the saltwater pool and lounge area is the deservedly the focal point of the hotel. A few steps from the pool, you can safely safely swim or float in the bay.
The glass elevator that takes you down from the main level to sea and pool – great when you had enough stairs for the day (Note there is a small but very well equipped fitness center with views of the bay if you want work off that pasta).

The mattresses and sheets in our room were not that comfortable.
The hotel's complimentary shuttle service into town, less than a mile away, is only available up to 6:30 pm. I wish they had some options later in the evening if you choose to eat dinner in Amalfi or nearby Ravello. Taxis to and from the hotel into town, if you choose not to walk (which you can but the road very narrow and many cars making it a bit scary), are ridiculously expensive starting at 20 euros. Taxis to Ravello just 20 minutes away will cost you about 50 euros each way (150 euros or so through the hotel). Expensive!

Don't Miss
Skip

Donna Stella in Amalfi a great casual family-friendly pizzeria situated under the lemon groves.
A stop in Ravello, a 20 minute drive away up in the hillside, to buy beautiful ceramic dishes, limoncello and porcelain cameo jewelry that Ravello is known for. There are several stores and factories there. We loved Cosmolena: everything is hand made. With so many choices, it could be overwhelming but I wish we bought more.  The two story shop is right off the square and you can have any item personalized with your name on the bottom. We received our items in a matter of 3 weeks shipping.  Negotiate for the best deal!
Once you bought a few items, go to Cumpa Cosimo on Via Roma. Loved, loved this family-run trattoria with fresh food run by grandma who comes by to make sure you are eating everything.
We didn't make it here this trip but if you have time, I am told Conca de Sogno for lunch is a must do. Your boat driver can take you there.

Rooms to Get
Tips

Rooms on the property vary greatly and all are uniquely styled and furnished. The basic starting level rooms can be small and quite simple but if you have a direct sea view, I am not sure it matters. We were in Room #73 which was fine for our mother-daughter combination but with my husband, I would prefer a higher category.
Absolutely request a direct sea-facing view room.
Ask for a room or suite outside of the main building if you more privacy and quiet.
Go for the Junior suites or suites which are generously sized and bright.

Flights into Naples Airport within Europe could be sketchy. Meridiana airlines cancelled the entire flight we had booked and getting a refund was a painful process. I advise others to stay away from that airline.
Absolutely the best thing we did was take a full day boat (booked through the hotel – there are various choices of boat sizes, prices, and times) to explore the area, swim in the grottos and take in the stunning scenery. Escape the heat and stop for lunch at La Fontelina (book well in advance). One of the restaurant's boats will pick you up at your boat and take you to the restaurant. The pasta and fish is delicious and fresh (and yes, quite pricey). Terrific people watching!

If you are unable to rent a boat for the day, you can take a ferry from Amalfi town to Capri or Positano. Each is about a 40 minute ferry ride away from Amalfi.
Your Virtuoso rate at Santa Caterina comes with breakfast and a 70 Euro credit for boutique items. The boutique is small but has some lovely hand-made souvenirs to bring home. The staff will open the boutique for you (as it is open at select hours), as they did for us before our departure, to take advantage of the credit.
Hotel Santa Caterina
Book Santa Caterina with Inviato and receive the following amenities with the best guaranteed rates:   
• Upgrade on arrival, subject to availability
• Daily Buffet breakfast, for two
• Complimentary Wi-Fi
• Gift shopping (up to US $100 per room, per stay) on all local ceramic items in boutique
• Low & Shoulder Season – Lunch for Two
• Early check-in/late check-out, subject to availability
Book This Hotel
Why book Virtuoso?
Personalized travel assistance
24/7 online booking
Special rates & exclusive offers
Guaranteed Room upgrade*
Complimentary full American breakfast
Early check-in, Late check-out*
Exclusive on-site amenities (varies by hotel)
* based on availability on time of arrival
Related Reviews