It is hard to believe it was only nine weeks ago when I was in balmy Santa Barbara. It seems like such a distant memory after being quarantined at home for six weeks now. Spending a few days at the newly opened Rosewood Miramar Beach with my family over a long President's Day weekend, there was no such thing as  'social distancing'. COVD-19 then seemed such a distant crisis isolated in Italy and China. No, at this time, the main conversation among guests was the tragic Kobe Bryant helicopter crash the prior week. What a difference two months can make.
I visited Santa Barbara for the first time for a quick weekend with my girlfriend back in 2017 (you can read about our trip here) and was so enchanted with this area of Southern California, I vowed to myself to return soon with my family. There is a reason why Santa Barbara and its neighboring areas of Goleta and Montecito has often been referred to as the American Riviera. This is a unique spot on the California coast where the mountains meet the ocean, where one moment you can be driving up winding roads to a spot offering endless views of the coast and the next you can be sipping wine in one of the 200+ vineyards less than a 30-minute drive away or one of the 40 tasting rooms in town.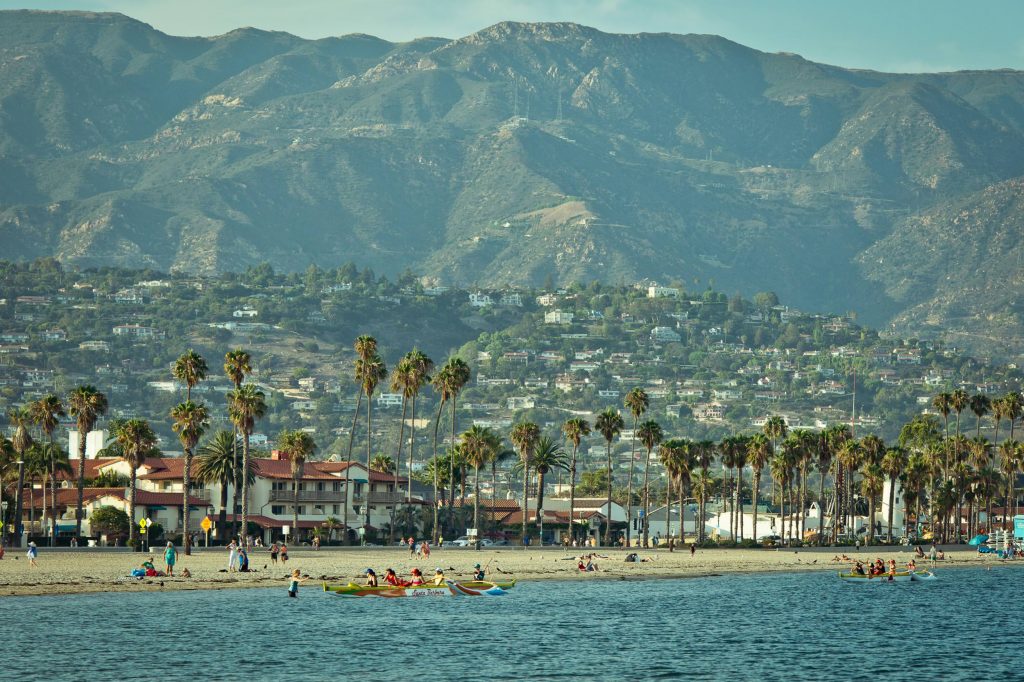 But I will let you in on a secret:  This enclave, just two hours (depending on the traffic, of course) and 92 miles north of Los Angeles, simply crushes its French counterpart. Why? The 25 beaches the area are wider, softer and less crowded, there is a wide variety of incredible restaurants, tons of cultural activities and sports (50+ museums, galleries and entertainment venues), most all of the the local resorts and hotels are newly updated, and the sublime Mediterranean-like climate is pretty much consistent all year round.  The only thing missing is a direct flight from New York!
The newest and most chic place to stay right now of course is the seaside resort of Rosewood Miramar Beach in Montecito. There has been a lot of buzz about this property even before it opened in March of 2019. Since then, I have only received amazing feedback from clients and friends alike. Having a long holiday weekend with my husband and 13-year old daughter, it was a perfect excuse to pack our bags and check out the resort for ourselves.
FIRST IMPRESSIONS
A super easy flight from JFK to Los Angeles on Jet Blue (I highly recommend their premium class service, Mint) was sadly soured with a subsequent three hour drive in bumper to bumper traffic jam (yup, we hit the dreaded rush hour on Highway 101. Never again.) from LAX to the hotel. Our mood quickly lifted however the minute we pulled into the driveway of the  resort in the early evening. First impressions truly count and nothing pleases me more than an exquisite hotel entrance. Rosewood Miramar Beach, with its stately Manor House welcoming you, made a lasting impression. When building the resort on the property of the old Miramar By The Sea, the owner Mr. Caruso (who developed The Grove and Palisades Village retail complexes; this is his first hotel project) wanted a place that felt like a beautiful family home and he achieved his dream.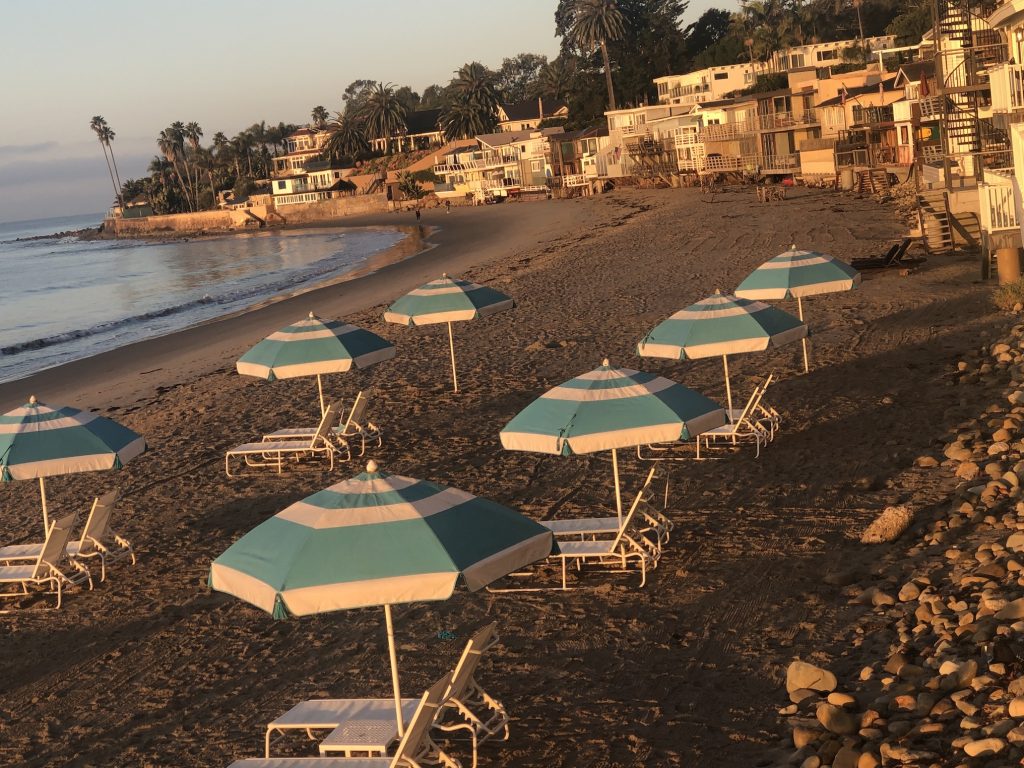 With the lantern-lit driveway lined with Teslas, Range Rovers, Rolls Royces and Mercedes G-Wagons, and fashionably-attired guests gathered at the entrance on their way out for the evening, we felt like we were arriving to a party at Jay Gatsby's house. It was obvious we weren't the only ones planning a stay here on this holiday weekend.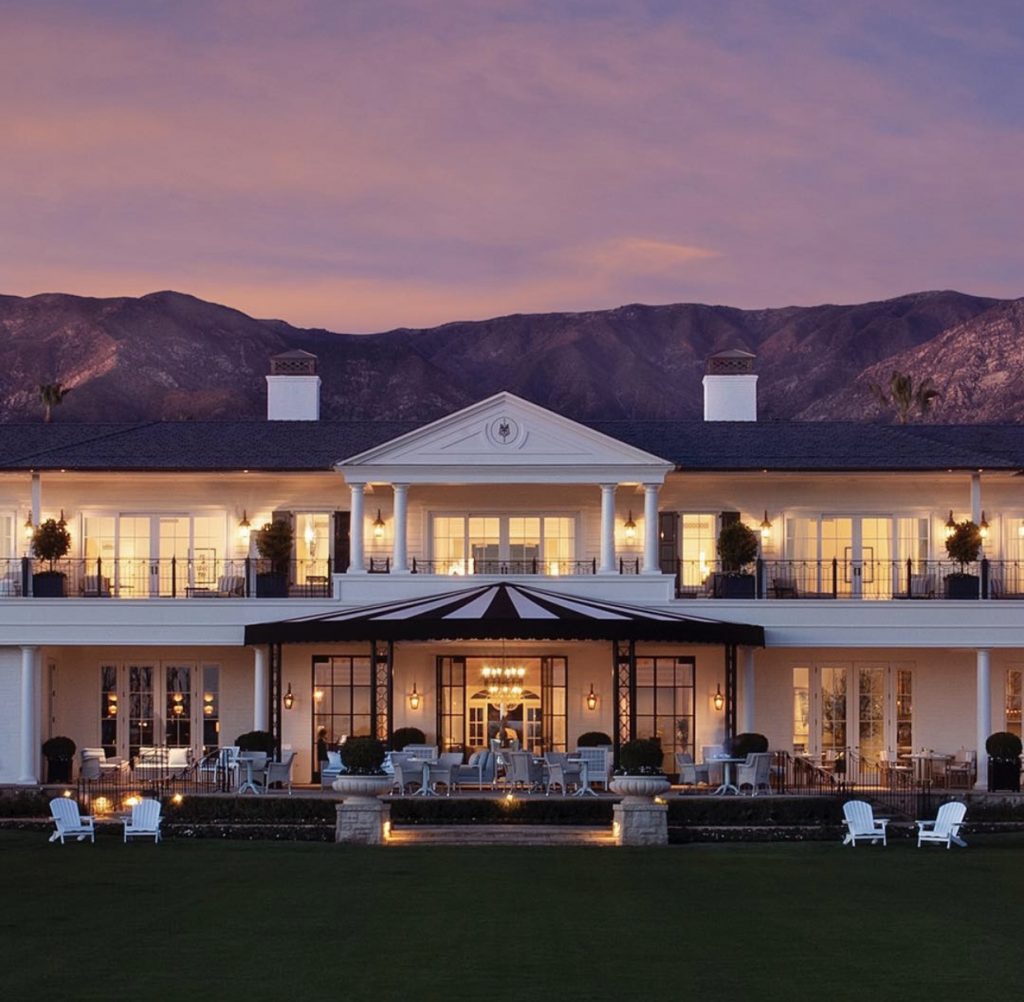 Staff members, friendly and cheerful, were there to greet us at the front entrance and whisk us straight through the Manor's single large black door for a personalized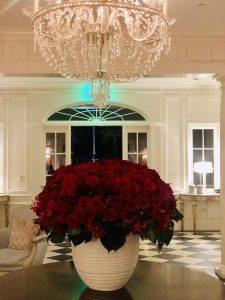 check-in.  A stunning centerpiece of red roses in the grand foyer greeted us as if to remind my husband, lest he forget, that it was Valentine's Day.
The resort was bustling with activity. The hotel was almost completely full that weekend (with a sighting of some the Kardashians at the pool by my teenage daughter, I might add) and small clusters of guests, many with children or dogs, were enjoying themselves around the evening bonfire, the bocce court, the outdoor patio and bars.
Throughout the weekend, it would remain this way, day and night. This is a resort clearly made for lounging, lingering and bonding.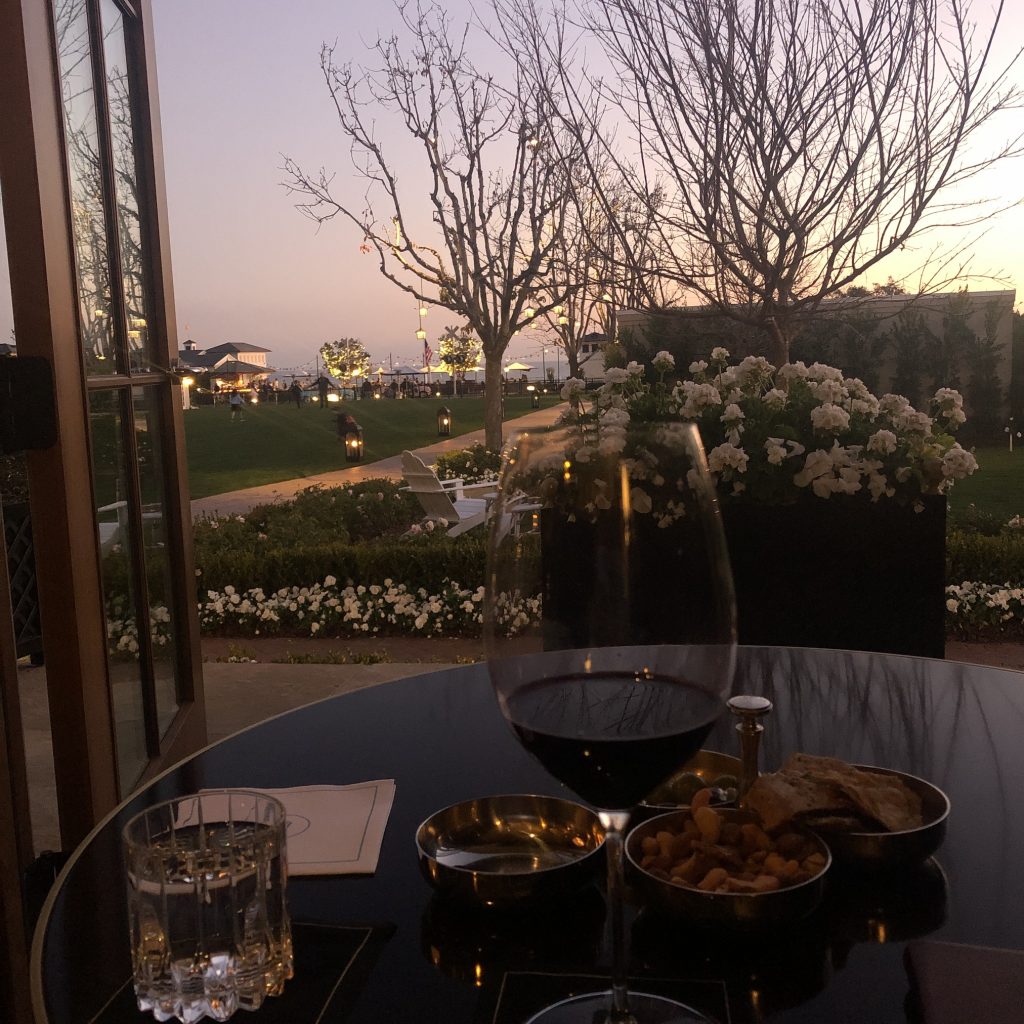 THE PROPERTY
The 16-acre ocean-front property itself is simply beautiful and was obviously planned with care. The Manor House is the hub of the property where the reception and concierge, restaurant, bar, fitness studio and spa are located. A great manicured lawn beckons with the adult and family pools flanking it on both sides. And then beyond the lawn, another restaurant and bar and 22 beach rooms on the beach overlooking the Pacific Ocean.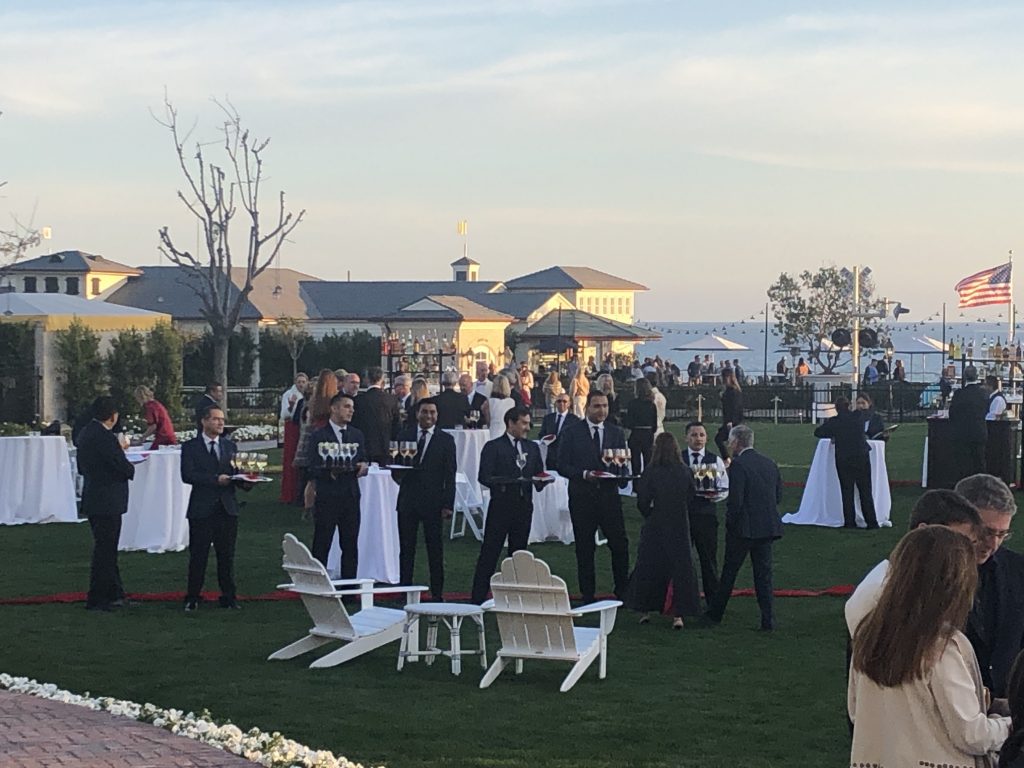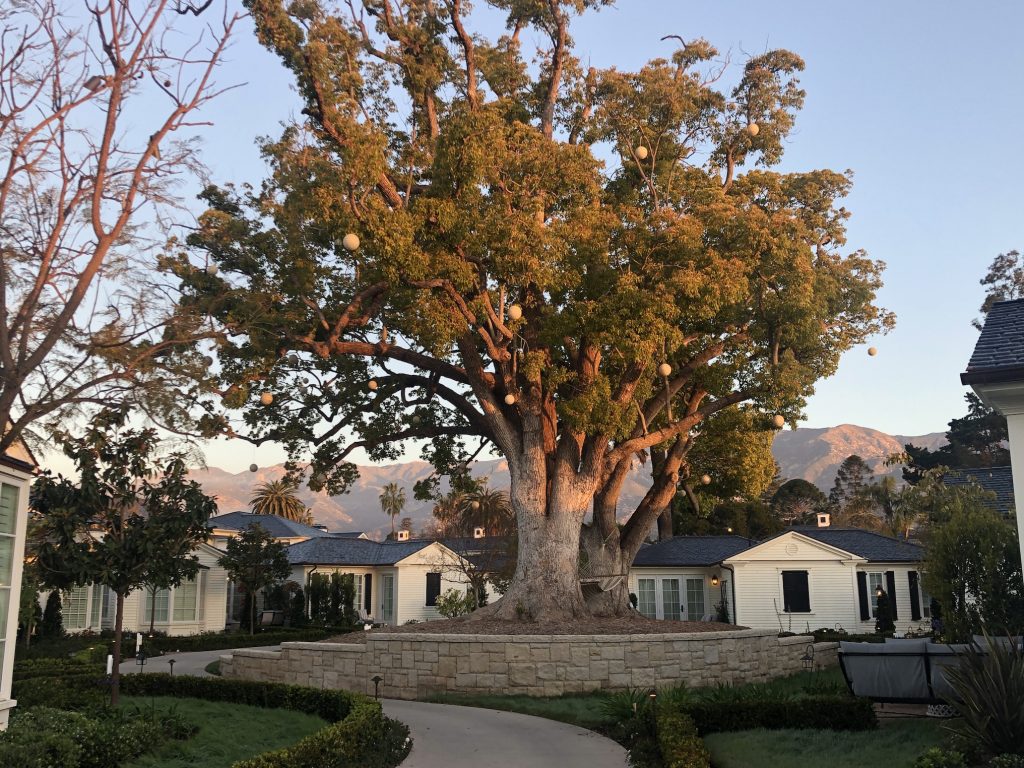 On the right side of the property, you will find winding paths amidst palm trees, oak trees and lush landscaping leading to the rest of the hotel's 124 guest rooms and 27 suites. Many of these are freshly painted clap-board bungalows that give off a New England meets California vibe. With the Santa Ynez mountains as your backdrop on one side and the Pacific on the other (not to mention the striped umbrellas at the pool and lemon trees), I felt like I was transported to the Amalfi Coast or the French Riviera. Regardless of any influences, the resort has its own distinctive style that felt homey and luxurious at the same time.
Now a word about the train tracks cutting through the property, separating the great lawn from the beach.  I was wondering how the hotel would address this as the train passes by a few times a day. Rather than this potentially being a significant disadvantage of the hotel, the owners have embraced the tracks and made it a unique, whimsical and nostalgic feature of the hotel. A train attendant who attends the area 24/7 in period costume opens and closes the gate to protect guests from passing across the tracks when traversing to and from the lawn to the beach.  The train has become a hit with guests, particular with children. The few times I was on the property when the train passed by, most guests stopped what they were doing to watch, take pictures and cheer. Ourselves included.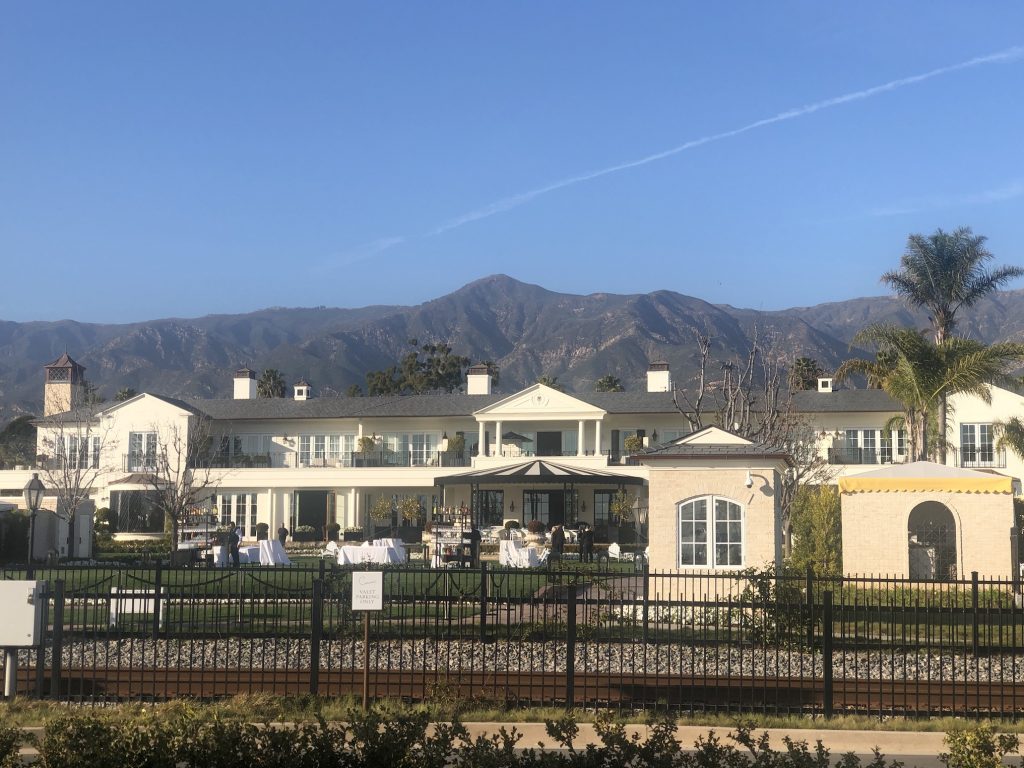 LOCATION
Just an eight minute drive from Santa Barbara and three minutes into Montecito town, I found Rosewood Miramar Beach ideally located. Two types of vehicles are on property to pick up and drop off guests outside the resort on a complimentary basis within a two mile radius:  A stunning Rolls Royce and charming pastel-colored retro wagons (Baby Boomers might remember these Fiat Jolly 600s from the Fantasy Island TV series in early 80's). We enjoyed taking the Rolls once to Montecito Country Mart. Neighboring beaches and bike paths are all also easily accessible with complimentary bikes on hand.
The town of Santa Barbara is a beautiful town, lined with mature trees and wonderful Spanish architecture, independent theaters and restaurants. I was disappointed to see so many shuttered independent stores on the streets on this visit. The town felt more touristy than I remembered. I much preferred the smaller, quaint town of Montecito.
RESTAURANTS & BARS
Within the resort, you have several options for eating and drinking.
Malibu Farms, located in the Manor House with a large patio adorned with lemon trees looking over the main lawn, this is the main restaurant for guests to enjoy farm-to-table fare for breakfast, lunch and dinner (Note: When you book with us you receive complimentary breakfast daily plus a lunch once during your stay). The money spot on nice days is the patio which usually involves a bit of a wait but it is worth it. The breakfasts and the lunch here is delicious.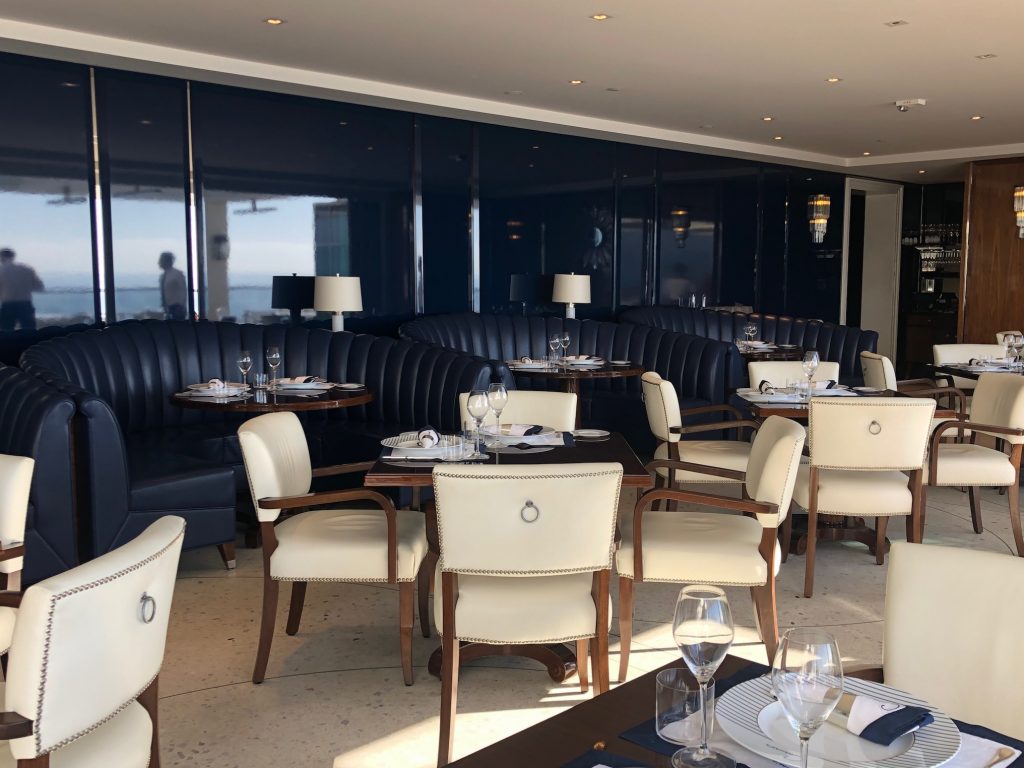 Caruso's, named after the owner, is the hotel's oceanside restaurant. Perched directly over the beach, this pretty restaurant is the more formal of the two restaurants. Upstairs, Miramar Beach Bar is where guests and visitors congregate for sushi, poke bowls, good music and cocktails. Designed to feel like being on the deck of a yacht with even a shuffleboard, the bar is very popular with adults and families alike (as well as pets!). We loved coming here at sunset.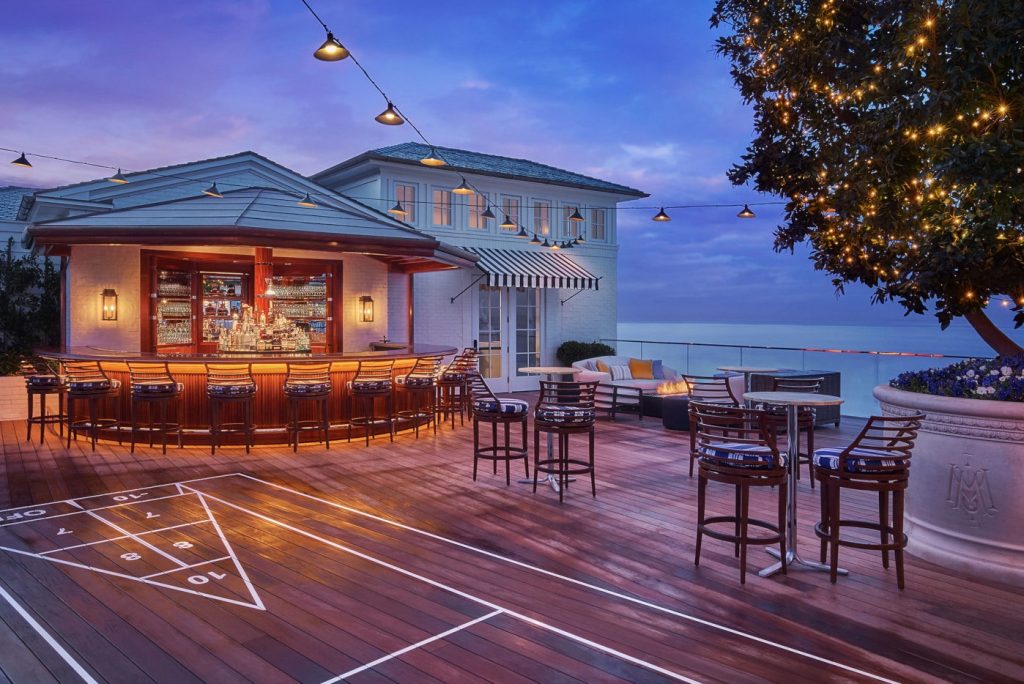 Manor Bar located in the manor house, is a nice contrast from the airy and light décor of the other public spaces. With wood-paneled walls, leather chairs, working fireplace and board games, the bar is a very inviting place to linger. The cocktail menu is named after classic novels such as Casino Royale (I personally recommend A Clockwork Orange which is a mix of vodka, thyme-agave, fresh lemon juice, blood orange juice, and prosecco). This was my favorite place in the hotel.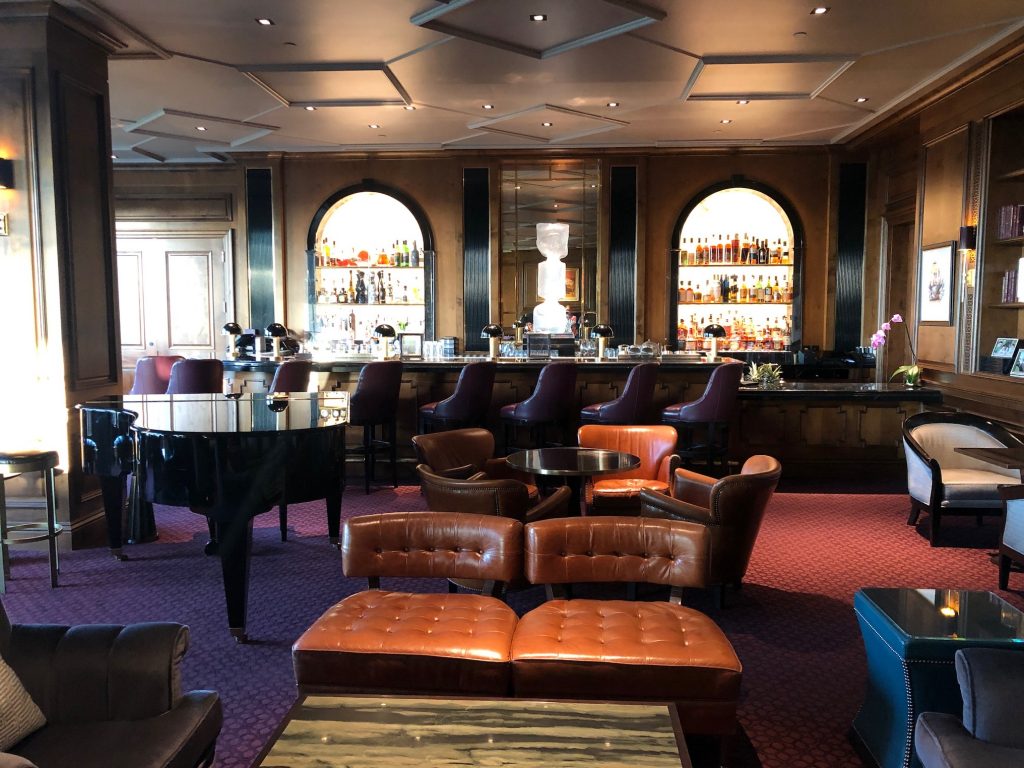 Scoop, located at family pool, is a pretty retro style soda fountain shop which serves ice cream (sorbet and gelato), burgers and old-fashioned candy. Genius!
Cabana Bar, located by the bocce courts and adult pool,  serves light fare. This was the only place I did not get to check out and it may not have been open yet for the season.
ON-SITE AMENITIES
In addition to restaurants and bars, there are plenty of hotel amenities on this family-friendly property:
Tennis, Bocce ball, croquet and shuffleboard courts.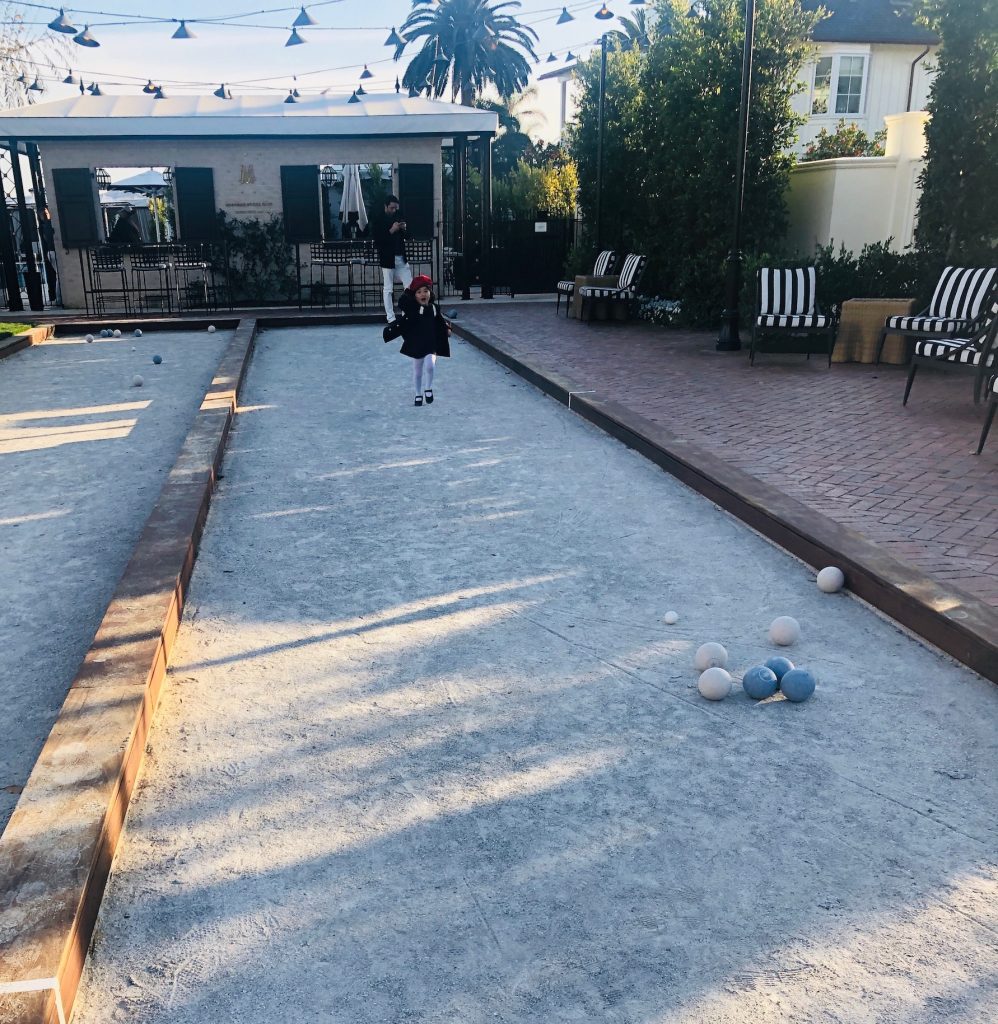 Two Pools, one for adults and one for 

families. Each of the pools, flanking both sides of the main lawn, are impressive in their size and beauty, provide cabanas and food service. The Cabana Pool for adults is elegant with black and white stripe umbrellas and a scallop-edge design while The Manor Pool for families is playful with bright yellow and white stripe umbrellas and has Scoop.
Gwyneth Paltrow's

Goop

shop, located in the Manor House, serves as the hotel's main boutique.  Beautifully decorated like a Parisian apartment but sparse with mostly beauty products on the shelves, this was the only feature

 of the hotel that felt out of place to me. I am not sure I get the appeal of Goop, and judging 

by the fact it was empty every time I passed it,

 I am not sure other guests do either.  Rather than a pretty shop with a limited assortment of expensive beauty products under one brand, I would have preferred the owner have a curated retail shop of vintage and current merchandise.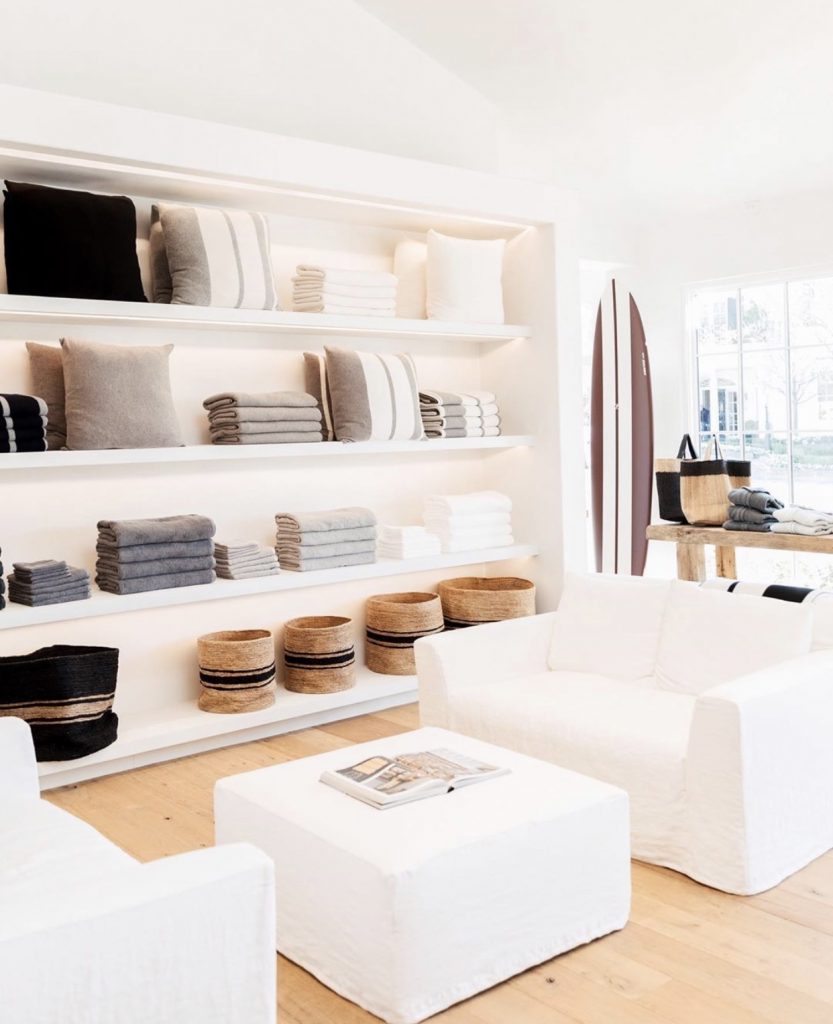 The Gatehouse James Perse

shop. In contrast to Goop, I adored this this concept shop, located in a bungalow across the driveway. Similar to the James Perse shop at Four Seasons Hualalai, the shop offered appealing customized luxury sportswear and one of a kind accessories unique to Santa Barbara. 
Fitness studio.

I was very pleased to see that the large and airy fitness studio located on the main floor of the Manor House (but accessible by a separate entrance outside with machines also placed also strategically on the side porch) rather than in a location farther away or worse, on a lower floor. A separate yoga studio

 is provided with regular fitness classes daily there and on the beach. 
Last but not least, the beach!  In addition to butler service, umbrellas and chairs, plenty of activities such as paddle boarding, kayaking and surfing are offered.
Service
I found the staff extremely accommodating and easy to please throughout the property. The concierge team, particularly Traci Weeks, was especially helpful with scoring us reservations at hard-to-book restaurants, finding a tennis pro for my husband and providing helpful tips before and during our stay.
ROOMS
There are 161 accommodations at the resort, consisting of rooms, suites and 1 private house. While a few rooms are located on the  2nd floor of the Manor House and others are beach front, most are bungalows spaced out along winding pathways on one side of the resort. Decorated in a modern beach style, the rooms and suites (many with interconnecting options) are well thought out, attractively designed, contemporary and light.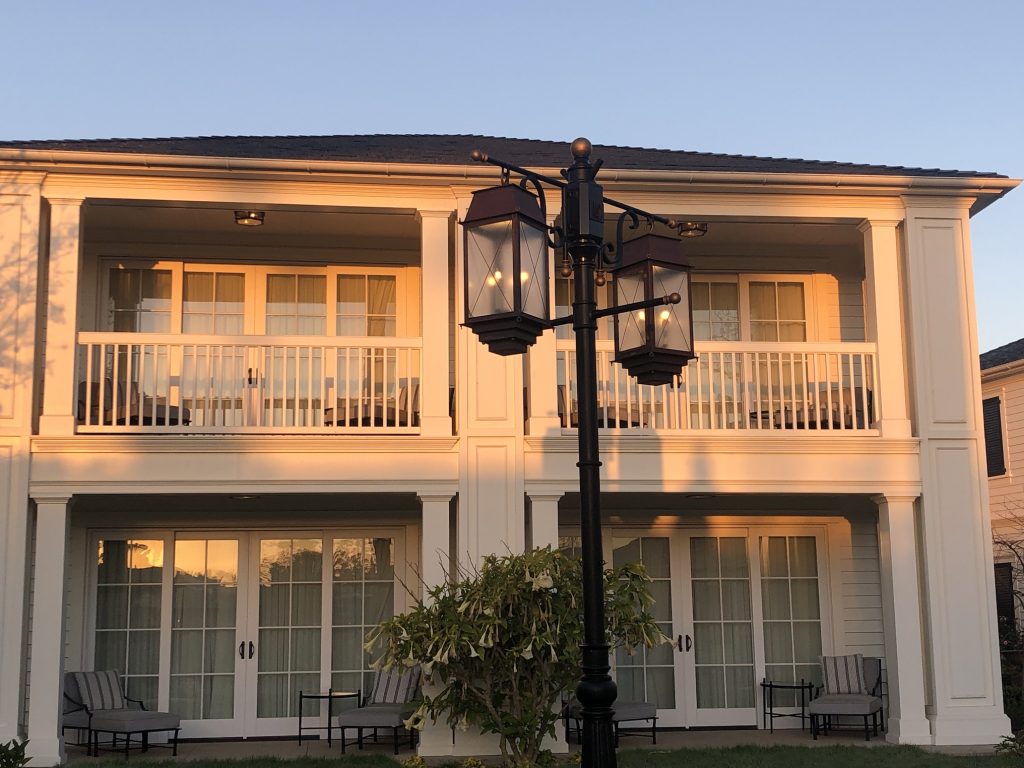 Our room was a first floor Lanai queen-queen room, which are set in the two-story Lanai House buildings at the edges of the property. At over 570 square feet with a vestibule leading to a generous size bedroom, there was plenty of space for the three of us. I especially liked the generous bathroom with double sink, large shower, bath and spacious walk through closet. The only thing I didn't like about our room was that our patio directly faced another guest room patio. We didn't have time to sit on the patio but it would have been more appealing to have a room facing an open area rather than the side or back.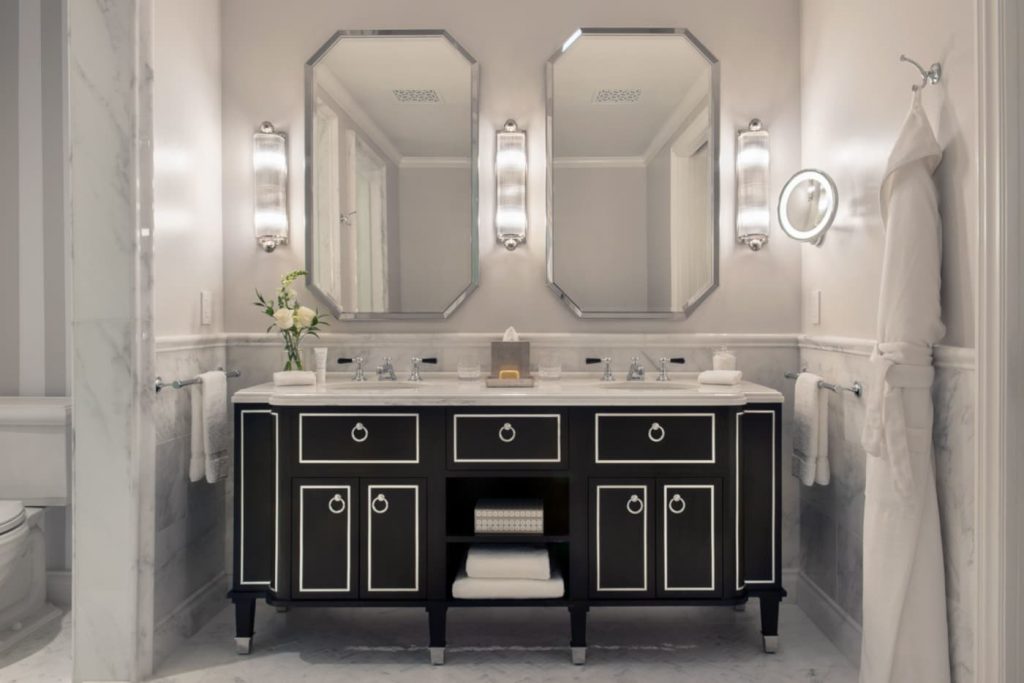 Bungalow rooms and suites, in contrast to the Lanai rooms, are individual bungalow rooms and suites, most with connecting options. The garden bungalow rooms tend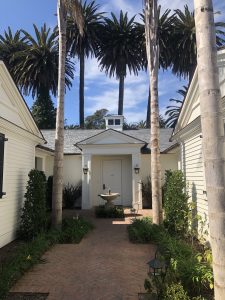 to be smaller than the Lanai guest rooms, so if you want more space, either go for the Lanai rooms or upgrade to a suite. I loved the bungalow suites particularly for their charm and location closer to the Manor House (although nothing is too far). The Grand Bungalow Suite is the most generous at over 1,300 square feet and a favorite with larger families or groups as the suite can be inter-connected to up to three other rooms, creating a private compound of sorts with multiple courtyards.  Sadly, these were booked during my stay and I did not get a peek inside.
The 22 Beach front rooms and studios are the only guest rooms in the whole of Santa Barbara and Montecito directly over the beach. Not surprisingly, they come at a  premium price and are coveted. These rooms are ideal for those who specifically want accommodations with directly with ocean views but are definitely farther from the Manor House and pools and closer to the train tracks which partition the resort (The beach front rooms all have sound proof glass).  There are no beach front interconnecting rooms.
For those who want the ultimate in privacy, there is an option to book the Private House which is separated from the resort by a gate and has a separate entrance. I did a quick tour of the house and it is ideal for private events or an exclusive group. The views from the deck are particularly nice.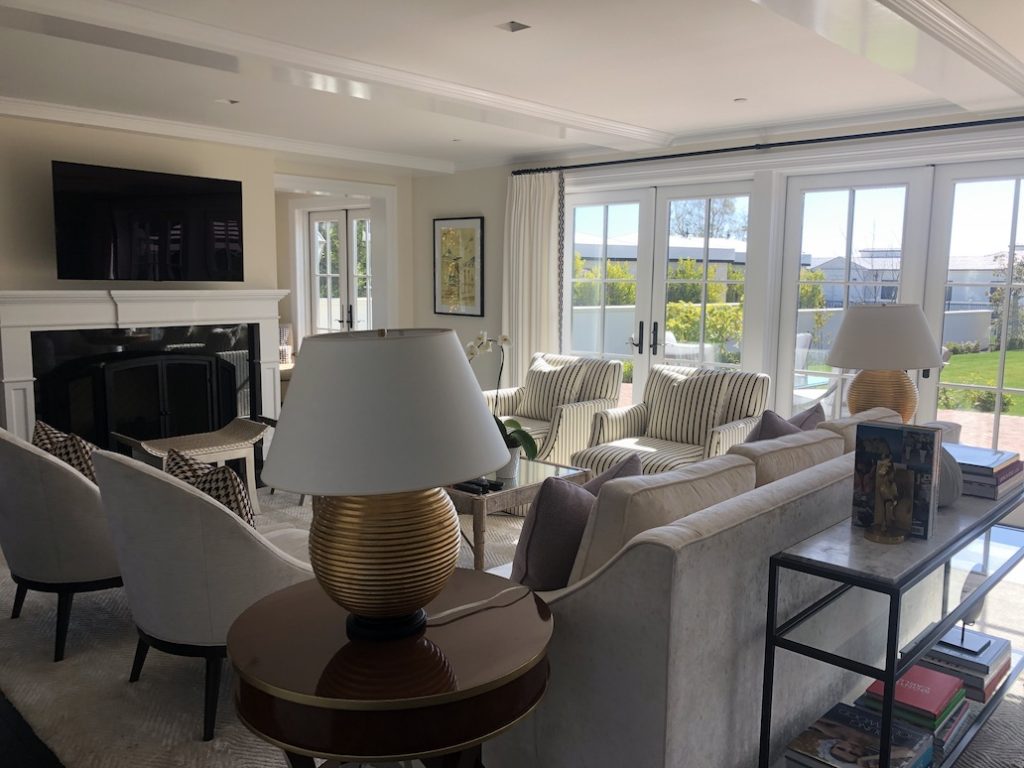 WHO SHOULD COme
Rosewood Miramar Beach is a resort that appeals to anyone looking for a classic but modern luxurious seaside resort. Due to its desirable location, many folks from Los Angeles come to the resort for a long weekend vacation. There is something for everyone here whether you are here as a couple, with a family or girlfriends looking for a quick escape.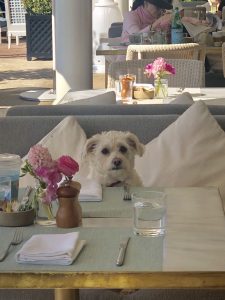 Rosewood pulls out all the stops for kids with countless amenities and features. During the holidays, the hotels has special activities and programming for children such such as Explorers kids club during the day and night (pizza party with movies) so parents can have some alone time, Falcon show and tells, fireside s'mores, dive-In movies poolside and stargazing parties.
As the owner is a big dog lover with two pooches himself (we got to hang with them bit), is should be no surprise that this is also a dog lovers paradise. Dog of all shapes and sizes are accommodated here, which I was thrilled to see throughout my stay. You know when discrete poop bag stations and water bowls are discreetly placed throughout the hotel, they love pups. There is even a Pampered Pet custom menu for the four-legged ones including veggie burgers, turkey and beef meatballs.
THE LAST WORD
The one-year old Rosewood Miramar Beach has upped the game on the American Riviera offering the perfect combination of a classic and modern luxury beachside resort. With the owner's distinctive touches evident throughout the property, there is absolutely nothing cookie cutter about this place. A grand hotel with a homey feel, this is a gorgeous resort with both style and substance.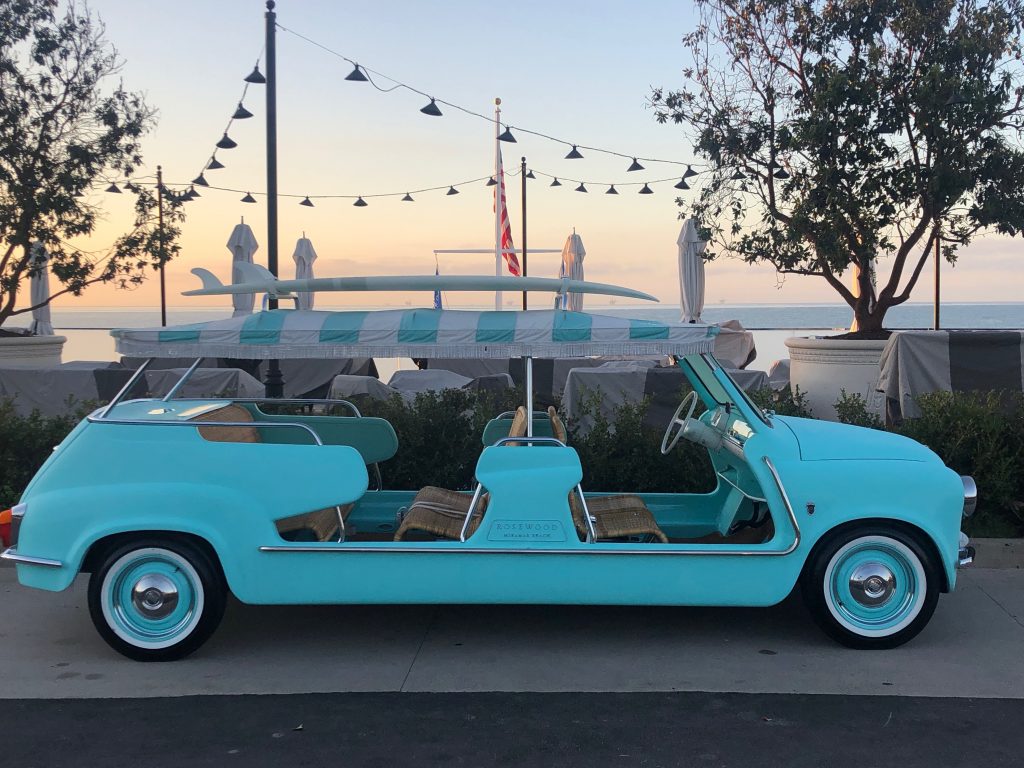 OUT & ABOUT IN MONTECITO AND Santa Barbara
RestaurantS& bars
A few of our favorites we experienced on this trip:  (See more recommendations here and in our upcoming Santa Barbara Insider City Guide)
Jeannine: A breakfast institution; order at the counter and try to grab a table outside to enjoy freshly baked scones and scrumptious eggs Benedict. Ask for the lemon poppy-seed pancakes, pineapple coconut scones along with peach Bellini for brunch. 1253 Coast Village Road, Montecito. 
Bree'osh:  A French bakery and coffee shop, this wonderful place also serves the most delicious salads and brioche sandwiches for lunch inside and on the patio. 1150 Coastal Village Road, Montecito.
Montecito Coffee Shop in the San Ysidro Pharmacy: Best place for breakfast, this old-time retro coffee shop that shares space with the pharmacy is known for its amazing pancakes. Just a bike ride or quick drive from the hotel. 1498 East Valley Road, Montecito.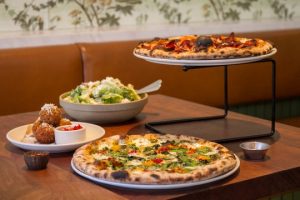 Bettina Pizzeria: Casual, bustling restaurant in Montecito Country Mart with the most amazing brick oven pizzas and pastas. You will often catch a celeb here. Absolutely loved. Go to Rori's Artisinal Creamery (I like better than McConnells) right across the restaurant after for yummy ice cream. 1014 Coastal Village Road.
Lark: Tucked inside the Santa Barbara fish market in the Funk Zone, this urban eatery has great comfort food staples. Always packed and very good! Make reservations well ahead of time and ask for outdoor seating when the weather is nice. 131 Anacapa Street, Santa Barbara.
Loquita: One of my favorite restaurants in Santa Barbara, sister to the Lark. The backyard outside patio has more ambiance (heaters and blankets on chillier nights are provided). My favorite items on the menu are the churros, carpaccio, sangria and paella (a must).
Luckys: Old-world steakhouse with Rat Pack vibe. Popular for steaks and chops but the bar is awesome too for classic martinis. Best for adults. Book well in advance as reservations fill up.  1279 Coast Village Road, Montecito.  
Honor Bar: Fun atmosphere and great bites such as delicious sliders, sandwiches and kale salad. Expect a wait as this place in Montecito doesn't take reservations.  which is a mile from the property.   1255 Coast Village Road, Montecito.
Plow & Angel: Casual and less expensive sister restaurant to the more formal The Stonehouse at San Ysidro Ranch. Romantic and rustic with a fireplace, this is a great choice on rainy or colder days. 900 San Ysidro Lane, Montecito.
Sama Sama Kitchen: Hip, Indonesian restaurant in downtown Santa Barbara. 1208 State Street.
Things to Do
With 25 beaches, 200 vineyards, 40 tasting rooms, over 50 museums and galleries and many independent theaters and music venues, it goes without saying that there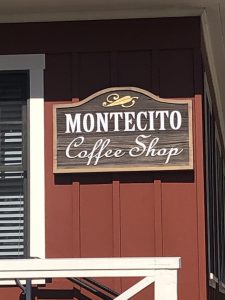 is plenty to do when you venture outside the resort. There are also wonderful hiking trails in the area, farms, whale watching and even a wild horse reserve.
Some of the activities we enjoyed on this trip that we recommend:
A drive through

Hope Ranch

: The Beverly Hills of Santa Barbara, this wealthy enclave of about 2,000 people has its own golf course, beach, stables and equestrian trails and school. Take a drive through to look at the multi-million dollar properties.
If you want further house envy, you can drive past the homes of Ellen Degeneres, Jeff Bridges, Oprah and more in Montecito.
Take a walk through

University of Santa Barbara

campus:  Even if you don't have a teen looking at schools, a quick visit to this beautiful campus with views of the ocean and the mountains is worthwhile.
Wine tasting in the 40 or so tasting rooms at the Funk Zone and the area is always fun if you can't get to the wineries yourself. (Fun fact: over 75 grape varieties are grown in this area of California. While they only constitute 4% percent of California production, they make up 90% of U.S. wine production.
Walk through the

Saturday Farmers Market

in Santa Barbara where the farms and wineries in the area take over State Street as a pedestrian-only zone.
Take a private custom tour of Santa Barbara with

Coastal Concierge

. They specialize in wine tours of the area as well.
Get to know Montecito. Walk through 

Coastal Village Road, Montecito Country Mart

(Intermix, Malia Mills),

Upper Village

(Jenni Kayne) and

Montecito Market

(Pierre LaFond, Wendy Foster) for boutiques, restaurants and artisan stores.
Loved
Didn't Love

The property. Ideal in size and layout, I loved the grounds, design, and ambiance. Kudos to Mr. Caruso for knocking it out of the park.
The restaurants and bars. I loved the 3 M's: Malibu Farms, Manor Bar and Miramar Beach Bar. Each offered a different menu and ambiance.  I thought the breakfasts were particularly delicious.
Old-fashioned fun: From bocce ball, shuffle boards and fire pits to the train attendants at the tracks. I loved the classic old-school activities in the modern setting.
The Bungalows. The New England meets California style is refreshing in contrast to the more traditional/Spanish decor of other neighboring resorts and hotels. I enjoyed the spacious baths, generous closet space in our rooms.
The resort has a magical glow as the sun sets. The dramatic changes of color in the sky framed by palm trees, the sea and the mountains with lanterns glowing on the property – it's just so pretty.

Valet parking can be very expensive if you have a car. It didn't concern me as we opted to not rent a car but is more relevant to the LA peeps.
The only part of the hotel that felt out of place was the Goop boutique. I would have preferred to see a uniquely curated shop by the owner with an assortment of merchandise rather than a boutique that has more style than substance.

Don't Miss
Skip

A ride in the hotel's Rolls Royce Ghost car or pastel-colored Jolly wagons. I really want one!
Cocktails and sushi at Caruso's at sunset.
A drive by Oprah's impressive estate. Even though its mostly obscured by trees and walls, you can get a peek here and there.
The many wonderful wineries and farms nearby. If you don't have time for the drive,  head to the wine tasting rooms of the

Funk Zone

.
A walk on

Stern's Wharf

and then head over to

Brophy Brothers

on the pier for some amazing clam chowder.

Rooms to Get
Tips

We found the

Lanai Rooms

in the two-story Lanai buildings attractive and spacious but would have preferred a front-facing room looking out towards the Manor House. Request a front-facing terrace or patio rather than one facing the back or side.  These room types are generally more spacious than the Garden Bungalows but do not offer interconnecting options.
The clap-board

Garden Bungalow

and

Bungalow

rooms and suites located closest to the Manor House are my favorite rooms location-wise.  These room and suite types offer a variety of interconnection options and are charming.
As layouts go, the

Bungalow Suites

, with an open floor plan, are also really sweet if you can splurge for the upgrade. The

Grand Bungalow Suite

is the most spacious at over 1,300 square feet and ideal for large family or girlfriend getaway as it can connect to three additional bungalow rooms. Doing so creates a private mini-compound of sorts.
The 22

Beach Rooms and Suites

are located next to Miramar Beach Bar and Caruso's. These premium priced rooms are located directly on the beach. However, even with sound proof windows, you may want to select a room farther away from popular Caruso's for more privacy and silence.
The

Private House

, located in a private area of the property with a separate entrance, is for those who want complete privacy. The second floor provides beautiful views over the property.

If you are at the hotel on a busy weekend or during the Summer, I recommend making reservations for breakfast on the patio at Malibu Farms. Otherwise expect a long wait for these coveted seats.
Everyone says you need a car here but I do not think it is necessary unless you are coming from L.A. or plan on exploring the wine country on your own.  Uber and Lyft are quick and inexpensive and there are plenty of 'wine chauffeurs' to take you to wineries in Santa Ynez. Likewise, complimentary transportation is provided by the hotel within a three-mile radius. You can also book a rental car for one day at a few nearby locations.

Old-time

McConnells is the largely uncontested location for the best ice cream place. But you will be guaranteed a wait in line to either of the outposts on State Street.

Rori's

in Montecito Country Mart is a tiny place but I love the fresh homemade ice cream there.
Rosewood Miramar Beach, Montecito
When you book your stay at Rosewood Miramar Beach with us, you receive the following amenities in addition to VIP service and care:  
Upgrade on arrival, subject to availability



$30 per person daily Breakfast Credit for two
Complimentary lunch for up to two people at Malibu Farms once during stay
Early check-in/late check-out, subject to availability
Complimentary Wi-Fi
Book This Hotel
Why book Virtuoso?
Personalized travel assistance
24/7 online booking
Special rates & exclusive offers
Guaranteed Room upgrade*
Complimentary full American breakfast
Early check-in, Late check-out*
Exclusive on-site amenities (varies by hotel)
* based on availability on time of arrival
Related Reviews