Driving South from San Francisco down California's Route 1 along the Pacific coastline during a summer road trip meant that if I wanted to enjoy some sun-soaked beach and pool time, Santa Barbara was going to be a key destination along the coast. Seeking a prime accommodation for our multi-generational bunch, the newly opened Hotel Californian seemed to fit the bill.
HOTEL CALIFORNIAN
Last year's September opening of the Hotel Californian fills a long-standing void of luxury accommodations near Santa Barbara's Funk Zone, an insanely popular arts district of wine tasting rooms art galleries and restaurants. Expanding on the façade of the original 1925 building (which was destroyed two weeks after its opening by an earthquake) of the same name, the owners have brought new life to a prime intersection in this bucolic beach town. Steps from the beach and its jogging and bike paths, State Street shopping, the Funk Zone and the urban wine route, the now three-building hotel is located in clearly the most centrally situated location as a base to explore Santa Barbara.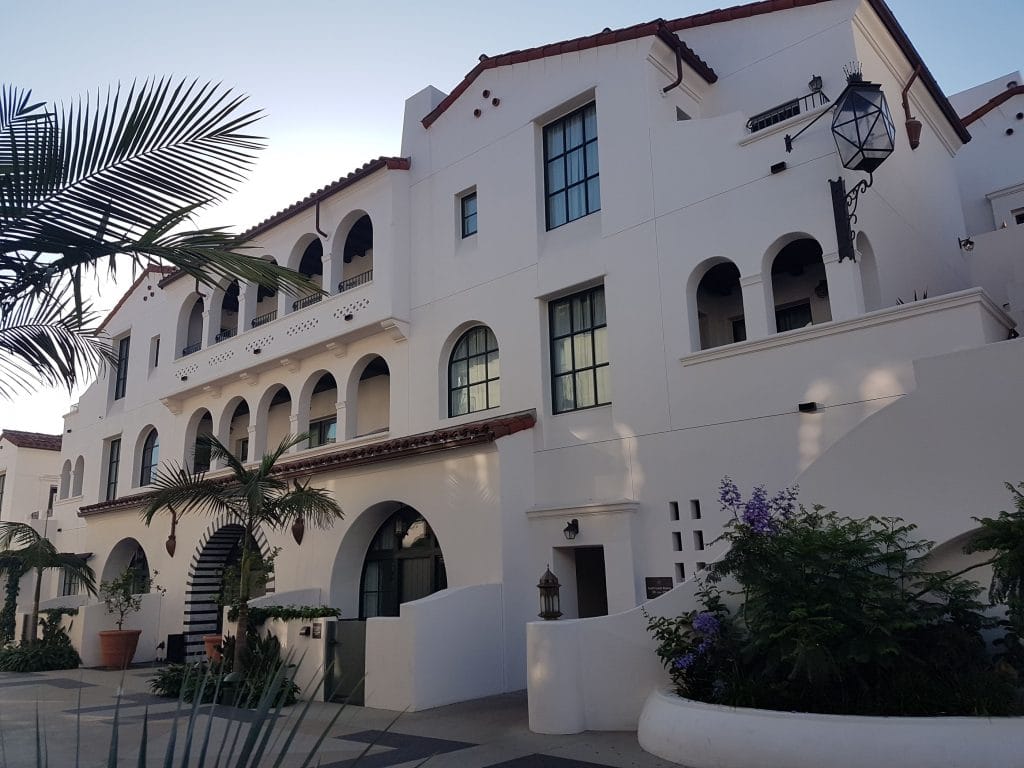 If you are coming in from the opposite direction as us, take note: the Amtrak train station is only a block away.  A quick train ride from Los Angeles offers anyone looking for a weekend getaway from the city an easy alternative than the brutal traffic out of the city.  You can roll your luggage from the train station right into the hotel.  Once you are here, you don't really need a car either, unless you are looking to travel beyond Santa Barbara. Hotel Californian offers a complimentary car service around town, good when you can't catch an Uber as well as complimentary bikes that are kept on the premises.
The Design
Hollywood interior designer and TV star of 'Million Dollar Decorators', Martyn Lawrence Bullard, was put in charge of creating a new and unique look for the hotel, deciding on a Moroccan theme to differentiate Hotel Californian from the California/Spanish/Mediterranean style so typical in the other area hotels, such as Belmond El Encanto (reviewed here), San Ysidro Ranch, The Ritz Carlton Bacara and Four Seasons The Biltmore. We were told he used over one million Moroccan tiles throughout the hotel, including the guest rooms which also housed Cali-chic wall hangings and royal marble and bronze furnished bathrooms.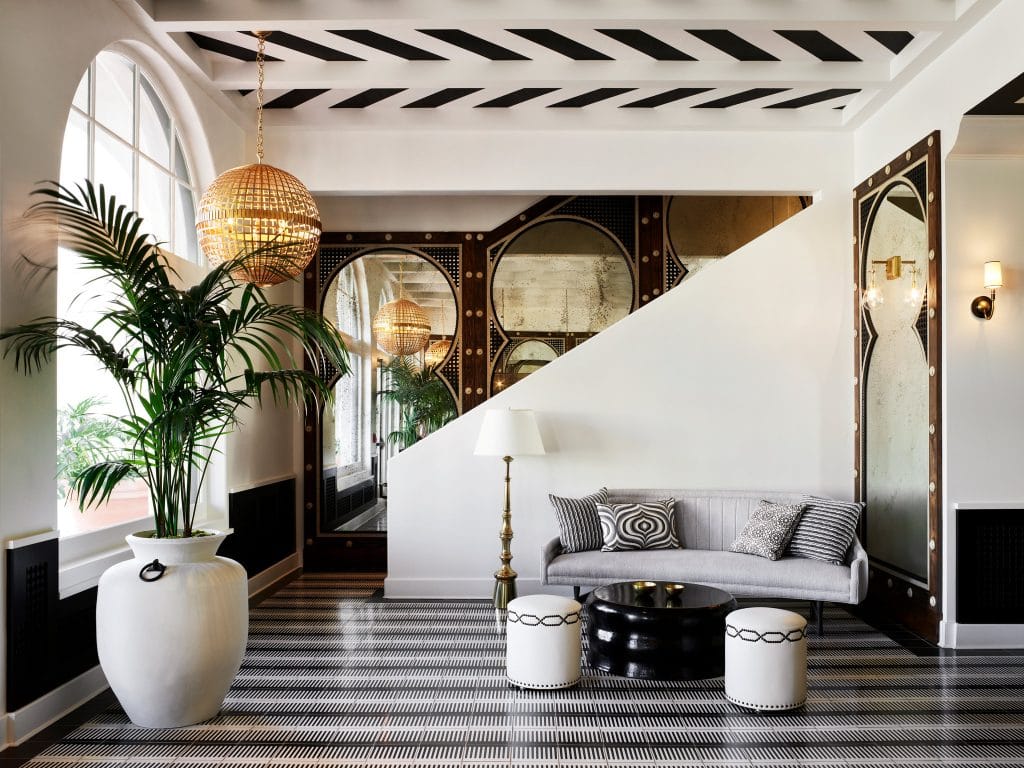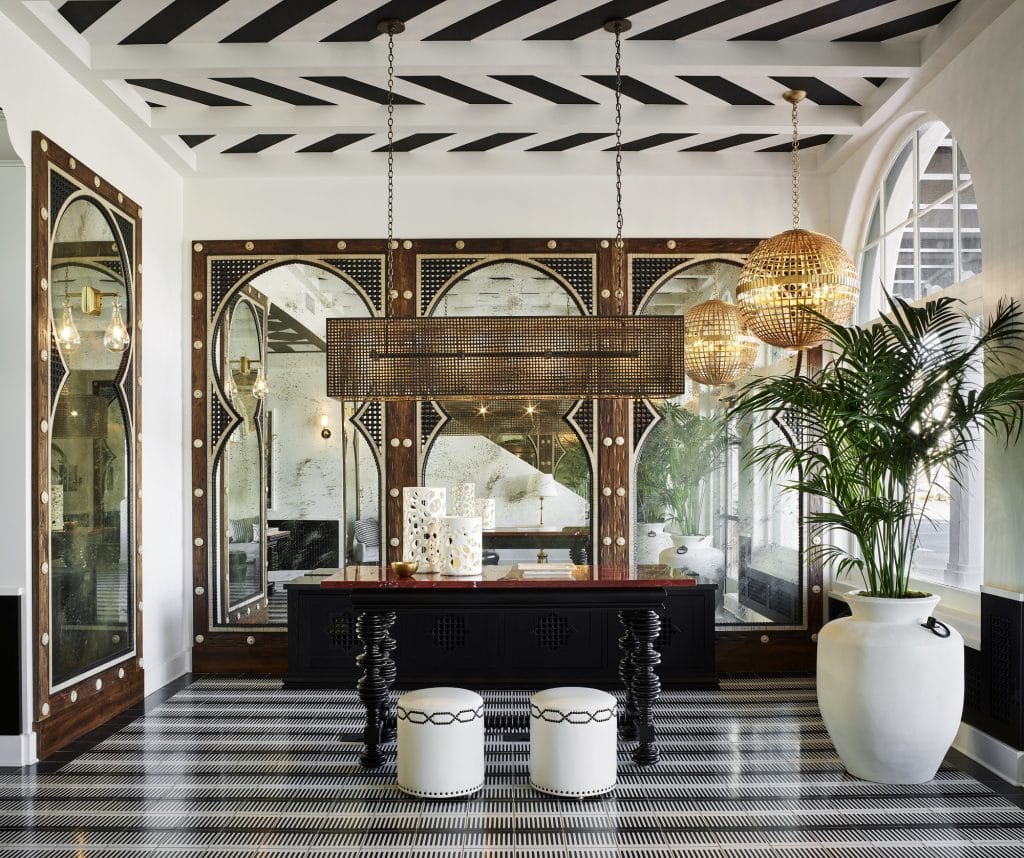 The Rooms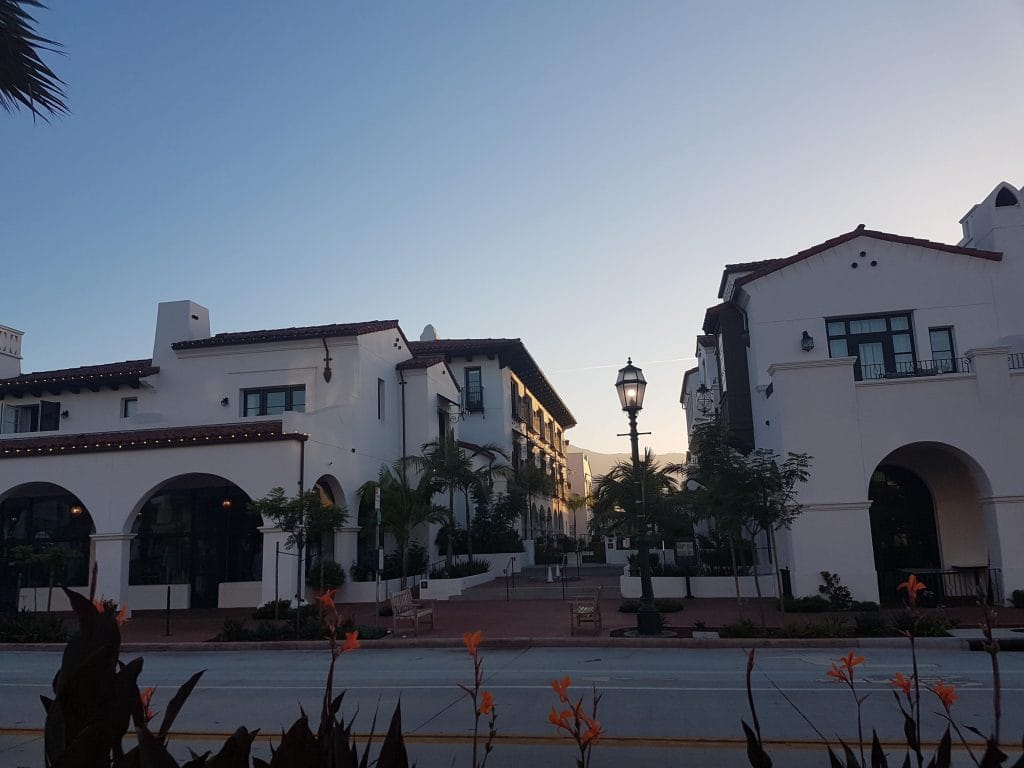 The 121 rooms and suites are divided between three Spanish Colonial Revival inspired buildings, each on a different corner of the streets State and Mason. We stayed in a Sevilla King which was well sized for two adults and a child and had a Juliet balcony looking into the common courtyard. I didn't get to visit any rooms with a sea view, but there are a few in the pool building.
An upgrade from the standard mini-bar, a cocktail cart and gourmet snacks are featured in every room. The bathrooms' double sinks were spacious and I appreciated the luxurious bath amenities, specially created for the Hotel Californian. I even noted that they were gluten free!  For our baby, I appreciated the extra touches of a mini-bathrobe and a proper crib, rather than a standard pack and play.
ROOFTOP POOL AND FITNESS CENTER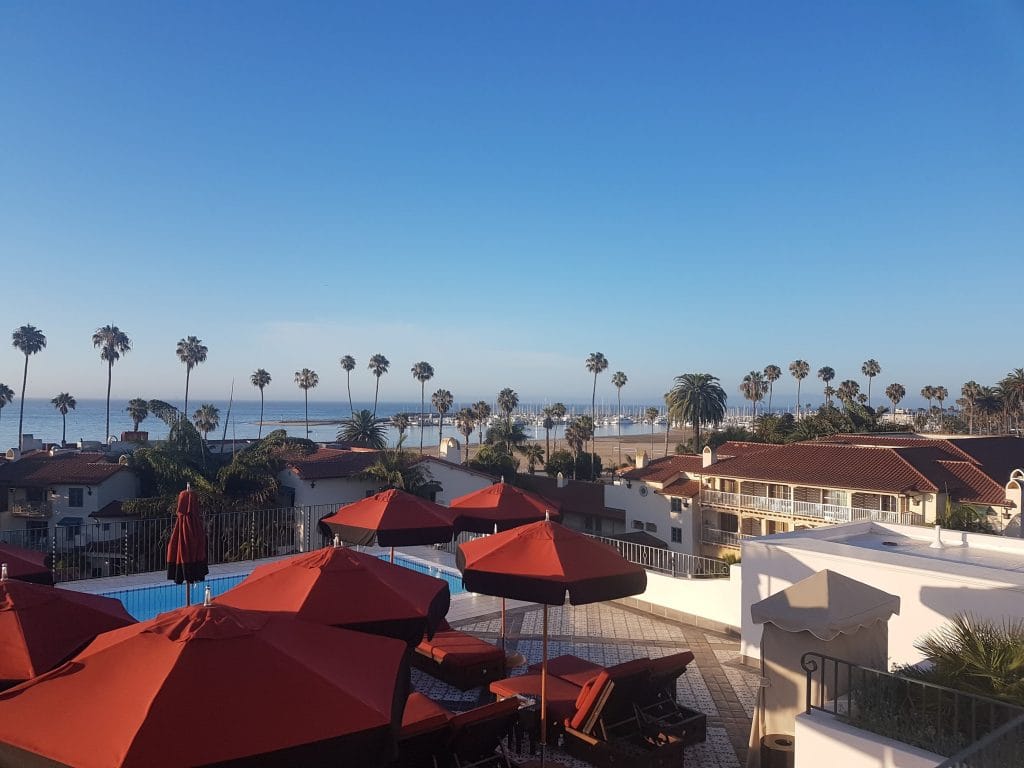 The 360-degree sweeping views from the 4th floor rooftop is perhaps one of the biggest draws for the Hotel Californian, capturing the Pacific Ocean coastline and Pier, town of Santa Barbara, and the Santa Ynez mountains. Along with a small pool, there is a bar and lounge area. Another section closer to the pool had limited sun shade which felt odd during the hot July days.
Being steps away from the shore, most people will likely opt for a beach-side jog or bike for their fitness activity, but for those opting for air-conditioned fitness, the hotel offers a well-stocked gym with treadmills, a bike, elliptical trainer and functional training area.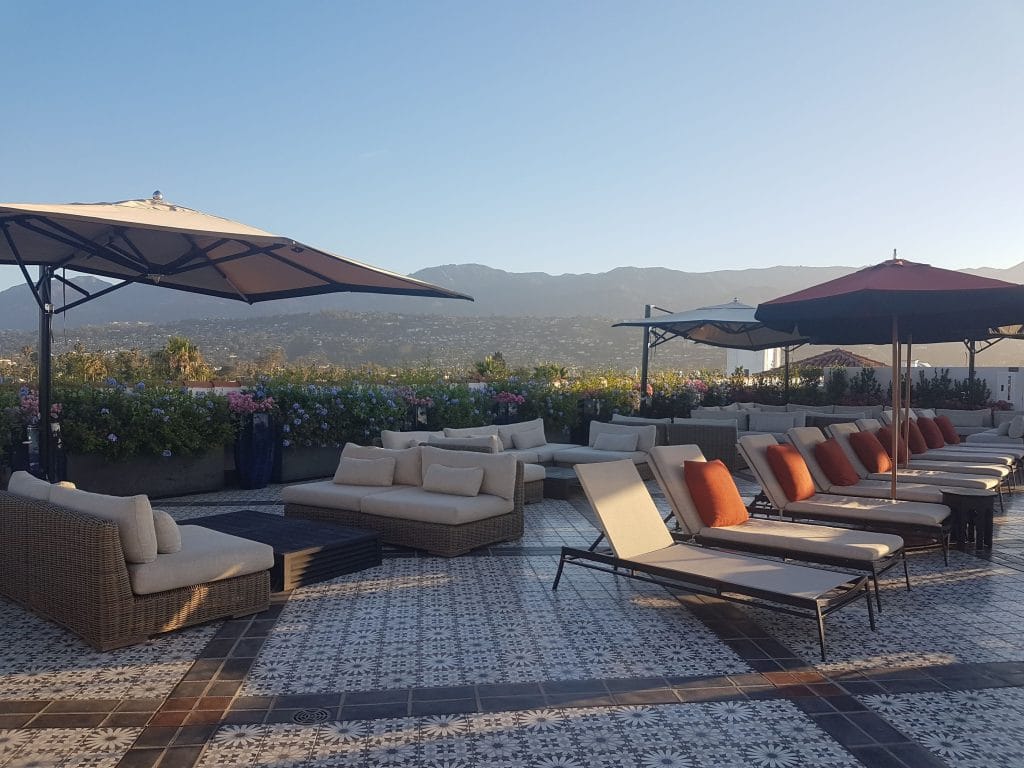 ON-SITE RESTAURANTS
There are two restaurants at the hotel: A casual all-day market cafe, The Goat Tree, and a fine-dining restaurant offering Mediterranean fare, The Blackbird.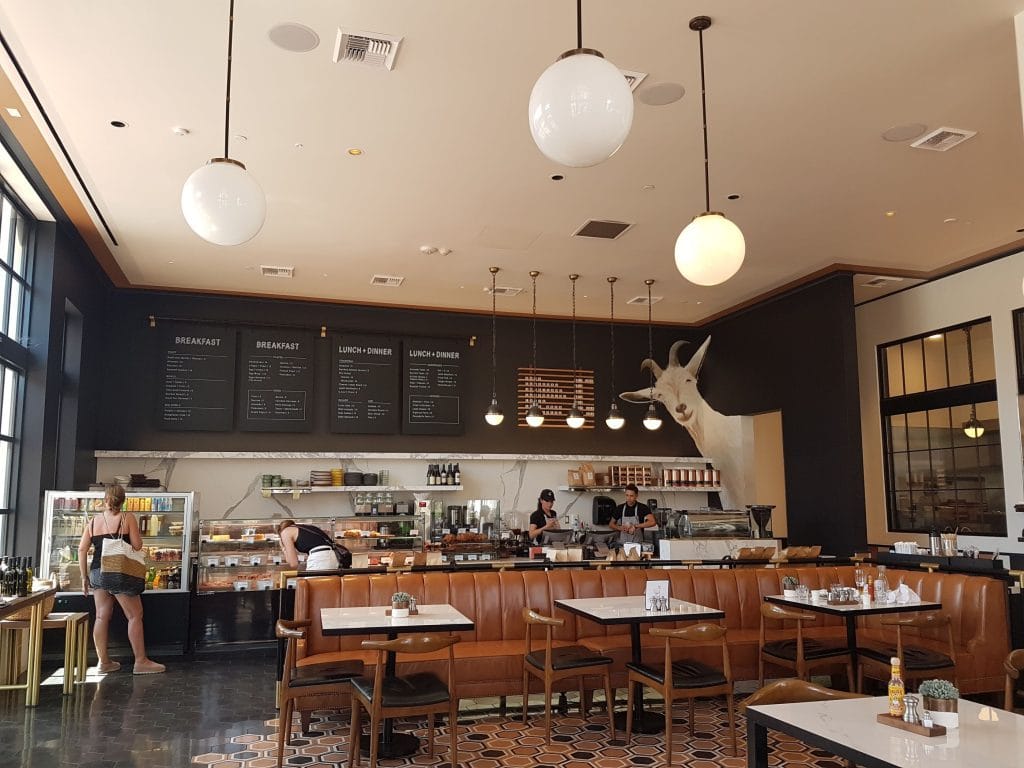 Goat Tree serves breakfasts of freshly baked pastries (we couldn't resist the maple bacon bun and the carrot cake), California-style egg dishes (think lots of avocado and sprouts), corn pancakes and pre-squeezed health juices. The outdoor patio would be ideal if you are up early on a summer morning, and for cooler temperature fall/spring days.
The hotel's contemporary hyper-local California cuisine with Mediterranean influence restaurant, Blackbird felt like a notch up on the fancy belt for Santa Barbara's relatively casual dining scene. We didn't have a chance to eat here but would next time if we had more time.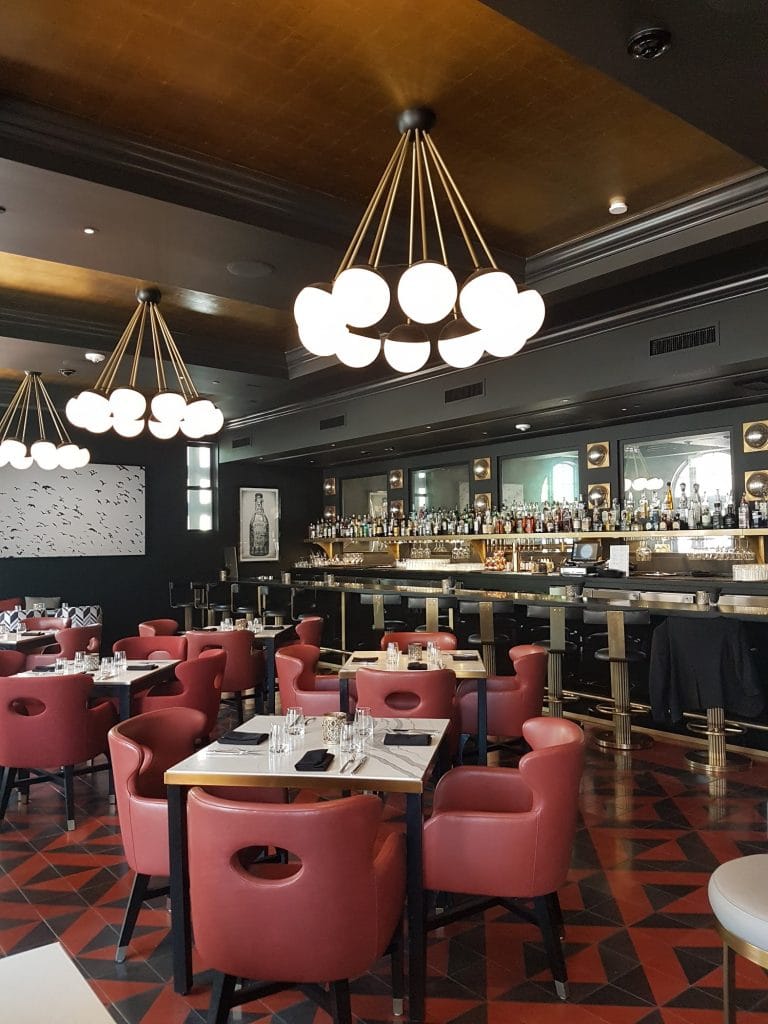 The Spa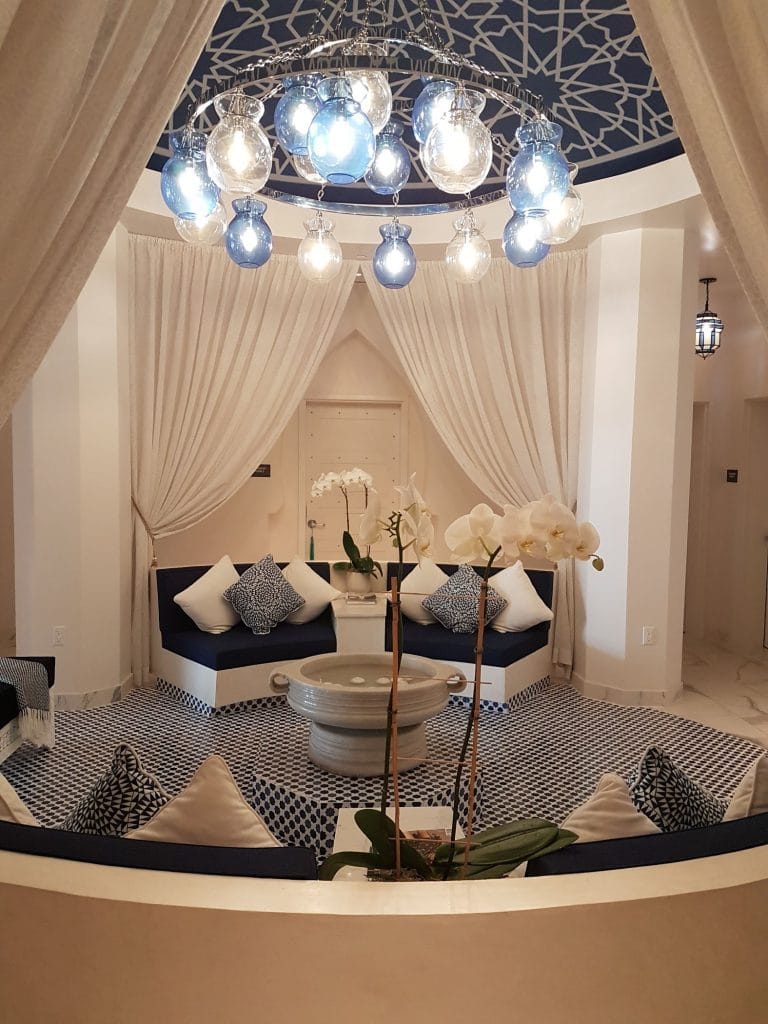 Although I did not have an opportunity to experience the spa due to our limited time in Santa Barbara, the tranquil-toned Moroccan and Turkish inspired relaxation area looked like a place I would have really enjoyed spending a quiet few hours.
STAFF AND SERVICE
It should be noted that currently only one of the three buildings has a lobby with 24/7 service. Our check-in was efficient but disappointingly felt quite impersonal as did the concierge service during our stay (the front desk and concierge act as one and the same).  A little more customer care 101 training would go a long way here.
Next to the lobby is a library type area that I am told is going to be converted to a bar and that may have an impact.
The Last Word
With a few physical tweaks and customer service training, I would not hesitate to recommend the Hotel Californian. It's quintessential location steps from the beach and Funk Zone, dramatic panoramic rooftop views and unique design and style at a very reasonable price point makes this a welcome and unique new addition to the bucolic American Riviera beach town of Santa Barbara.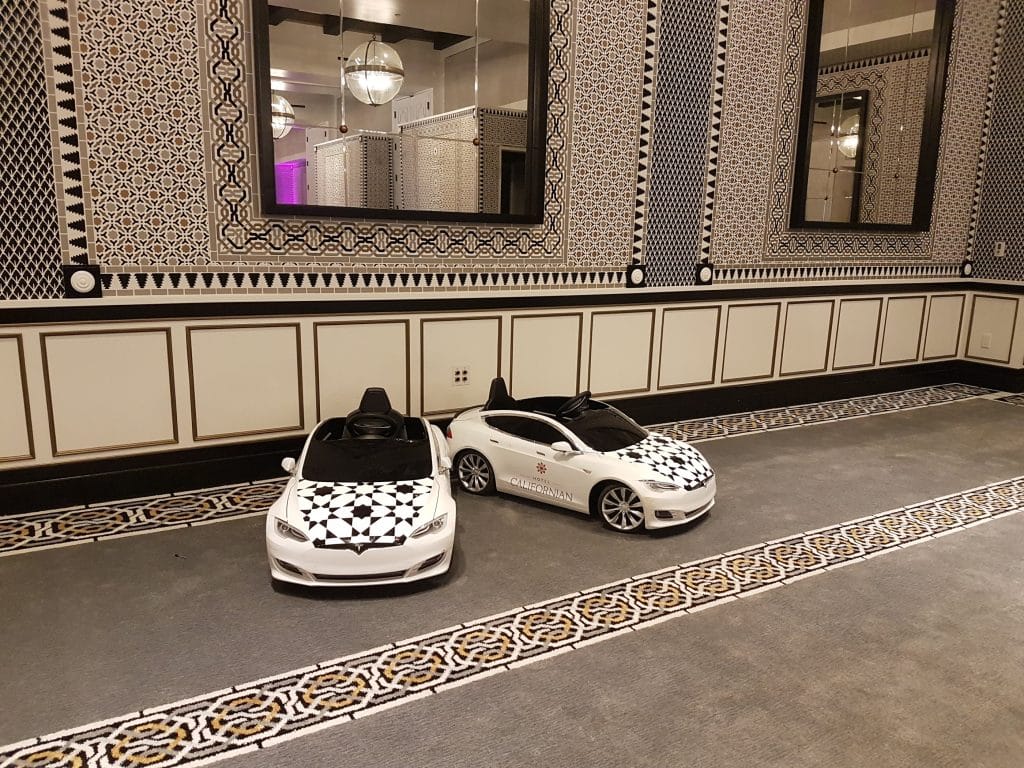 Review by Inbal Baum
Loved
Didn't Love

The hotel's ideal location to explore Santa Barbara. Hotel Californian is close to the beach, Funk Zone and the stores and restaurants of State Street.
The rooftop's sweeping 360-degree views of the Pacific and surrounding Santa Ynez mountains.
Well-maintained rooms with luxurious bath amenities and picturesque finely-manicured grounds.
Event spaces were plentiful and aesthetic. The ballroom comes fitted with mini-Teslas!

Service, sadly. During our three night stay, our room was serviced only once, and this even after we called to request it and mention it to the front desk (who did not apologize for the oversight). There was a turn-down service nightly, so it was a very odd oversight to not service the rooms during the day.
Design.  Aside from the wow factor, the Moroccan aesthetic personally felt over-designed, out of place and needlessly extravagant to me..
The pool is very small so if there were more than six people in the pool, it started to feel crowded.

Don't Miss
Skip

Ice Cream at McConnell's.
Walk through the Santa Barbara Farmer's Market Saturdays 8-1 pm on Santa Barbara and Cota Streets and Tuesdays 4-7 pm in downtown Santa Barbara. Local vineyards and farms bring almost every delicacy you can imagine.
Funk Zone. A variety of wine-tasting rooms, breweries and restaurants housed in a former industrial complex just two blocks from the beach is the de facto hip scene in SB. Here is
where you will find local wine rooms of Santa Ynez wineries that is part of the Urban Wine Trail, a self-guided tour of 27 wineries in downtown Santa Barbara. River bench, Whitcraft and the Santa Barbara Wine Collective are just few of the best places to go.

Rooms to Get
Tips

Request a room with a sea view!
Make sure to request the building with the lobby if this is important to you, especially if you expect to be out late at night.

Take advantage of the hotel's complimentary car service around town and bikes for the many biking paths along the beach!
Yes, The L.A. traffic is bad as everyone says so if you are driving to/from the airport cushion in extra time and use Waze as you approach LAX to find quicker routes. There are several other transportation options other than renting a car ranging from the scenic Amtrak train ride from Los Angeles Union Station to Santa Barbara (3 minutes from the hotel) on the Pacific Surfliner (a little over 2 hours) to private car service (expensive) or the efficient Airport Airbus Shuttle which drops you off/picks you up at the nearby Hyatt Hotel in Santa Barbara (one way is about $49).
When you book Hotel Californian with Inviato, you receive the following amenities:• Upgrade on arrival, subject to availability
• Complimentary Full Breakfast for two per bedroom daily
• $100 USD equivalent Resort/Hotel credit to be utilized during stay
• Welcome Amenity of whole fresh fruit and sparkling water
• Early check-in/late check-out, subject to availability
• Complimentary Wi-FI
Book This Hotel
Why book Virtuoso?
Personalized travel assistance
24/7 online booking
Special rates & exclusive offers
Guaranteed Room upgrade*
Complimentary full American breakfast
Early check-in, Late check-out*
Exclusive on-site amenities (varies by hotel)
* based on availability on time of arrival