Ahh, the Cotswolds. Featuring some of the most charming and picturesque villages in the world, the 800 square miles of rolling hills ('wolds') in South-Central England has been on my 'to visit' list for way too long. The late 2015 opening of the Soho Farmhouse in Oxfordshire (a new format than the eleven global 'houses' already under the Soho House brand), one of the six counties in the Cotswolds,  gave me further impetus to visit this bucolic locale sooner rather than later.
As my older daughter was doing a summer student exchange program in nearby Oxford in June, it was a perfect excuse to visit the Soho Farmhouse with my husband and 10 year old daughter before the whole family met up in London. I booked our reservation nine months out knowing it was nearly impossible to get a reservation here. I was fortunate. Departing from Paris, we took the Eurostar through the Chunnel to London and then met with a driver who took us to the Farmhouse, less than two hour drive there (driving on the other side of the road? no thank you!) from London. It was all so easy.
With about 40 cabins on 100 bucolic acres, the Soho Farmhouse has been enormously popular from the day it opened.  While built as a haven for adults in mind, it has naturally evolved to appeal to both the beautiful, young and single crowd driving to the farm for a weekend from London and for families, particularly those who live in the surrounding area. I really had no idea what to expect other than I was hopeful to get some riding in at the on-site stables.
FIRST IMPRESSION
Upon check-in at the Soho Farmhouse, were were warmly greeted by the friendly staff members at the gatehouse check-in who all looked like they stepped out out of Ralph Lauren ad – everyone was gorgeous!  We were given a quick tour of the farm in one of the BMW i3s on property and checked into our 2-bedroom cabin (#38) where we would be staying for three nights. From the outside, our cabin could have been a replica for the Ingalls farm in Little House of the Prairie (I could envision a young Michael Landon walking around the corner with a pile of firewood in his arms). Bikes (the main form of transportation here aside from walking) and wellies, perfectly sized for each of us in advance, were ready and waiting.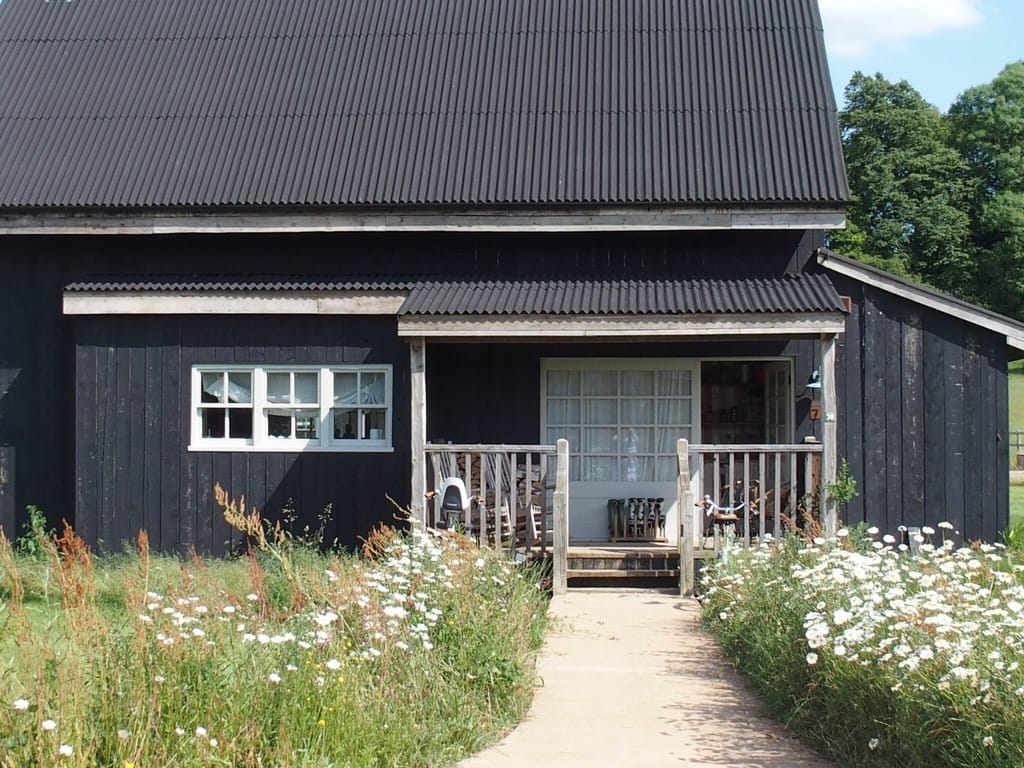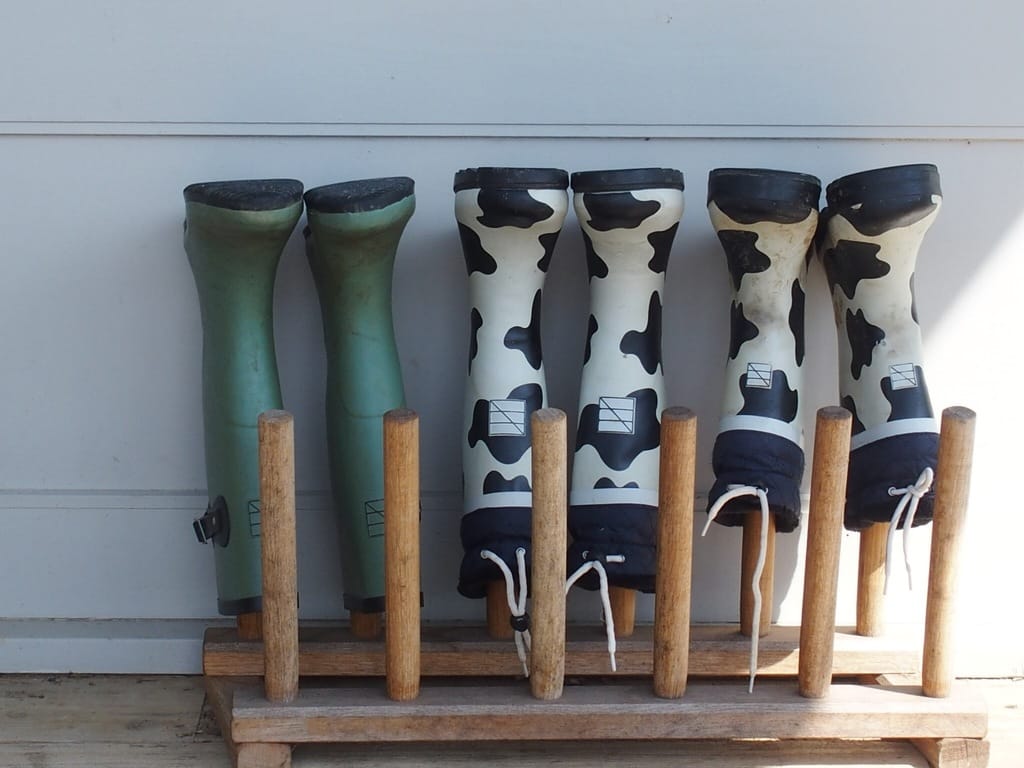 But it was the retro shabby-chic cabin itself that won me over, head over wellies. Our large cabin was outfitted with everything you could imagine. The first floor featured a mudroom (complete with blankets, picnic baskets and flashlights – hmmm), a country kitchen stocked with freshly baked bread, granola, cookies as well as goodies in the retro fridge, a living room complete with working vintage record player (which we had fun showing our daughter how to use), cocktail bar and old fashioned wood burning stove, bedroom with bunk-beds and large bath and a patio overlooking the farm. Upstairs featured a massive master bedroom and bathroom to just die for.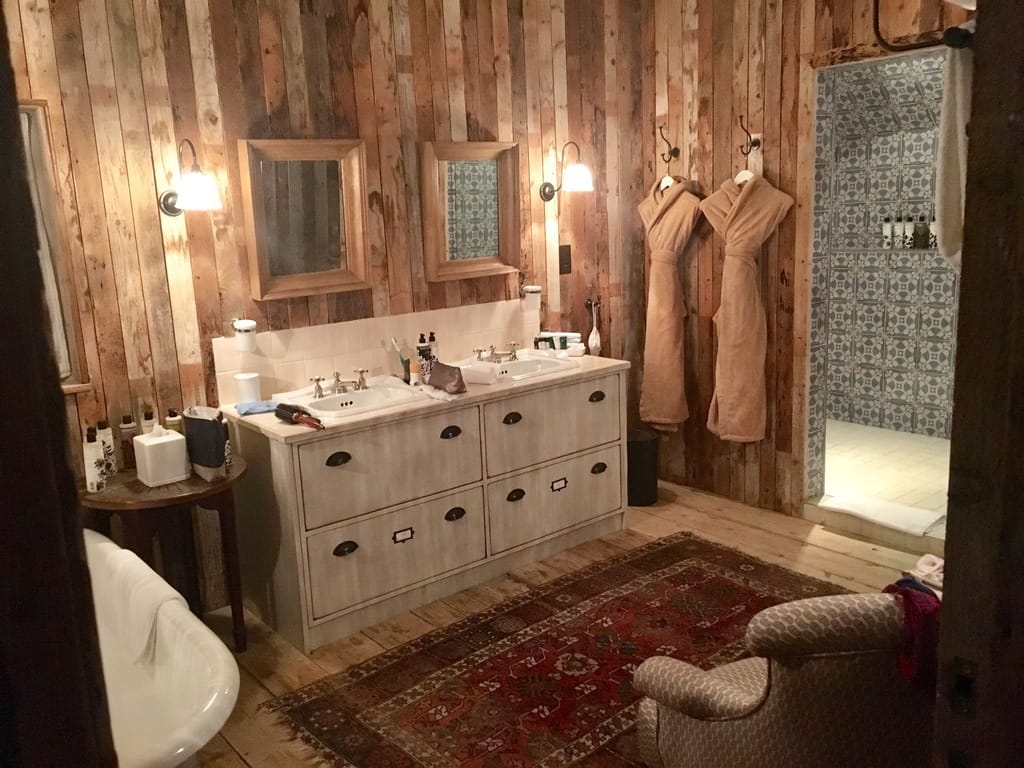 The 40 guest cabins are spaciously dispersed throughout the property. Location-wise, our cabin could not have been more ideally positioned – right in front of pasture with a mare and her few weeks old foal who just arrived at the farm the week prior. Just beyond, more horses and sheep dotted the landscape. Waking up to the sounds, sights and even smells of the countryside as we picked up the fresh delivered milk from our door each morning (thank you, local cows) was just everything.
As we took our bikes to explore the property on our first day, I could not stop marveling about how beautiful and well designed the Farmhouse property was. It was like Blackberry Farm meets American dude ranch… but distinctly different than any place I have visited.  Flowers were in bloom everywhere we went. And, while it was seemingly very quiet (almost everybody was gathered at the pool on the unusually hot and humid week we were there), there was so much going on.  The multitude of activities and amenities offered is mind-blowing. In our few days there, we only experienced a small sampling of what was offered.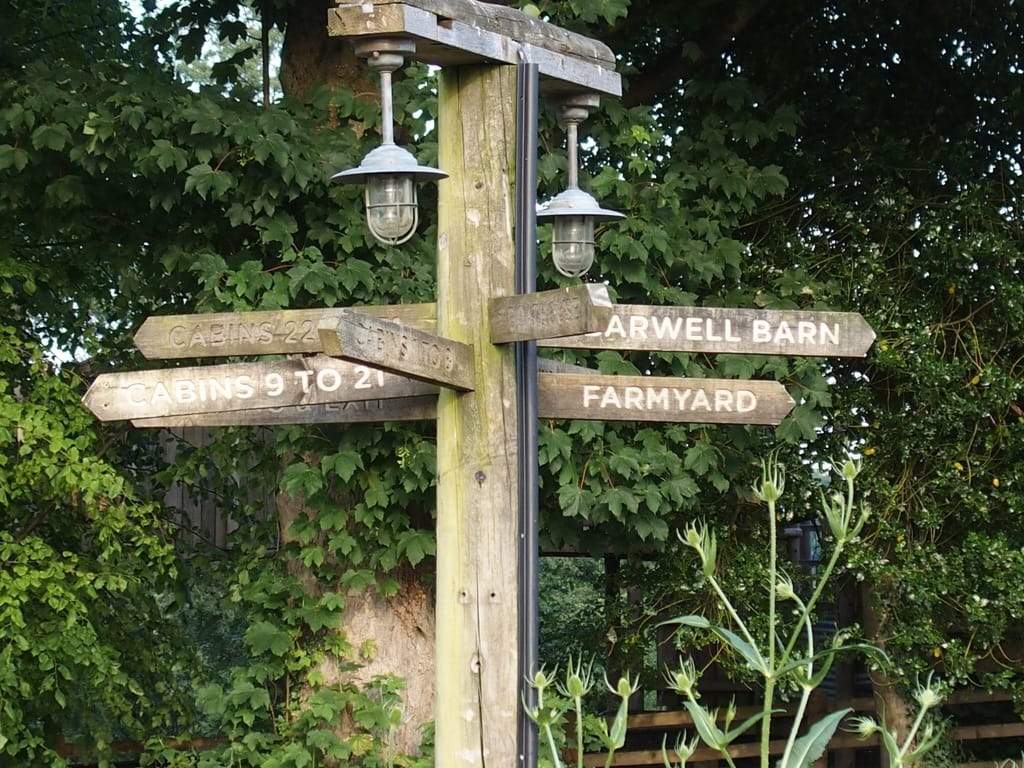 Each evening, a 'Whats On' at the Farmhouse sheet is delivered to your cabin for the following day, including specific fitness and spin classes, special events (such as Meditation with Horses, book readings with authors or garden walks)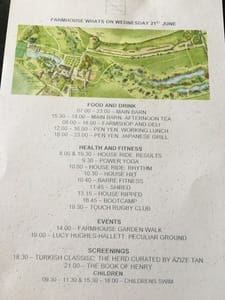 and nightly screenings. On one day during our stay, nine different fitness classes, two events and two film screenings, including a live transmission of Salome from the National Theatre, were offered. And that was mid week!  More specifics are to be found below.
Aside from the abnormal humidity that hit the region (and most of Europe) that week, our three days at the Soho Farmhouse was simply blissful. We had the opportunity to ride horses, play tennis, exercise, swim, check out two of the on-site restaurants, play a little ping pong and do a little 'crazy golf'. As we had to see some of the Cotswolds, we also visited some of the towns and dined outside at two amazing pubs. Daylesford Organic, a foodie paradise 15 minutes drive away from the Farmhouse, was well worth the visit. There is nothing else quite like it.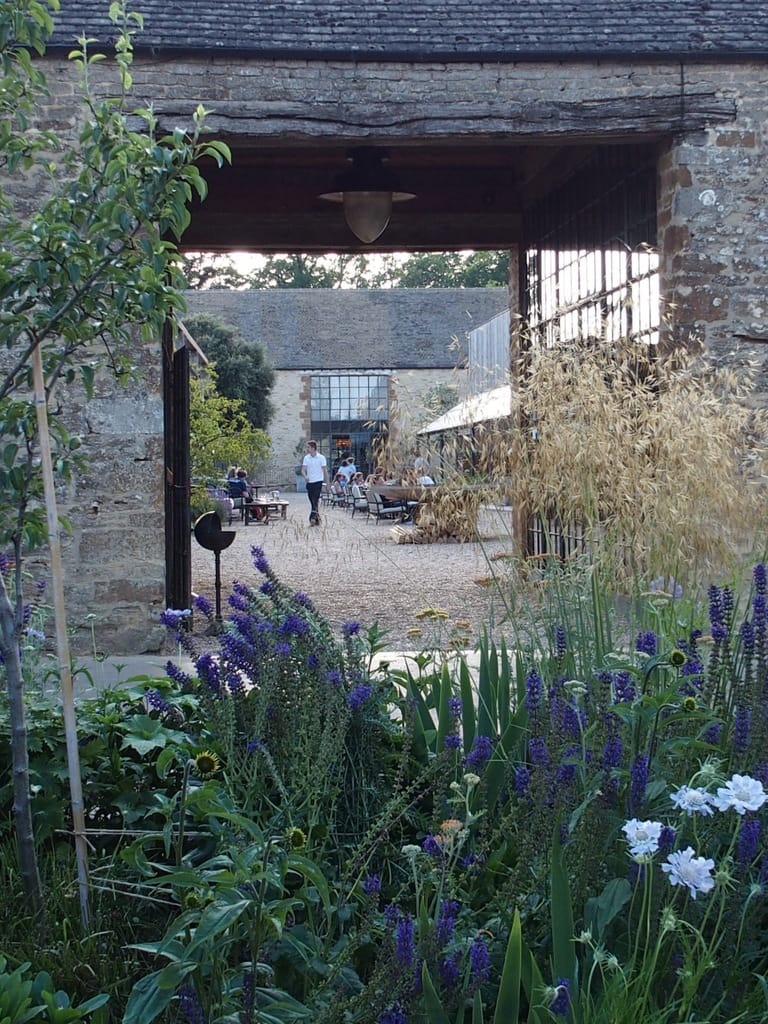 We loved almost every thing about this ultimate hip countryside getaway.  Some (particularly older locals) may feel it is a bit contrived  – that it is not the 'authentic' Cotswolds. And that may be so, but I fell for it hook line and sinker.  More importantly, my hard-to-impress 10 year old daughter claimed it was her favorite stop of our European vacation and she wanted to know if we could move there. Competing against the destinations of Paris, London and Amalfi, that says a lot.  You can't ask for a better reception than that!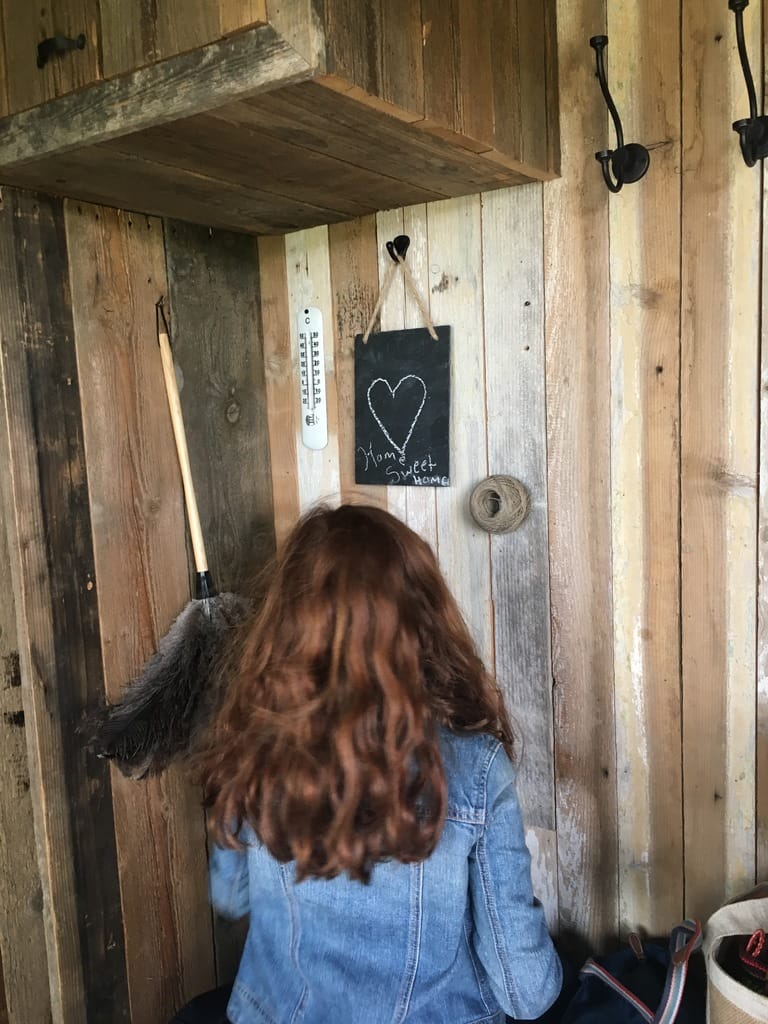 soho FARMHOUSE POLICIES
Like other Soho Houses, Farmhouse has Ps and Qs which it asks guests to abide by such as discouraging phone calls or taking photos (I only did for this review, I promise!). Point being, this is a place that embraces privacy and simplicity (dress is casual but the crowd is chic – its not unusual to see a celeb or two in your midst) where you can relax and enjoy your surroundings. Nonetheless, I did see a lot of younger guests taking selfies.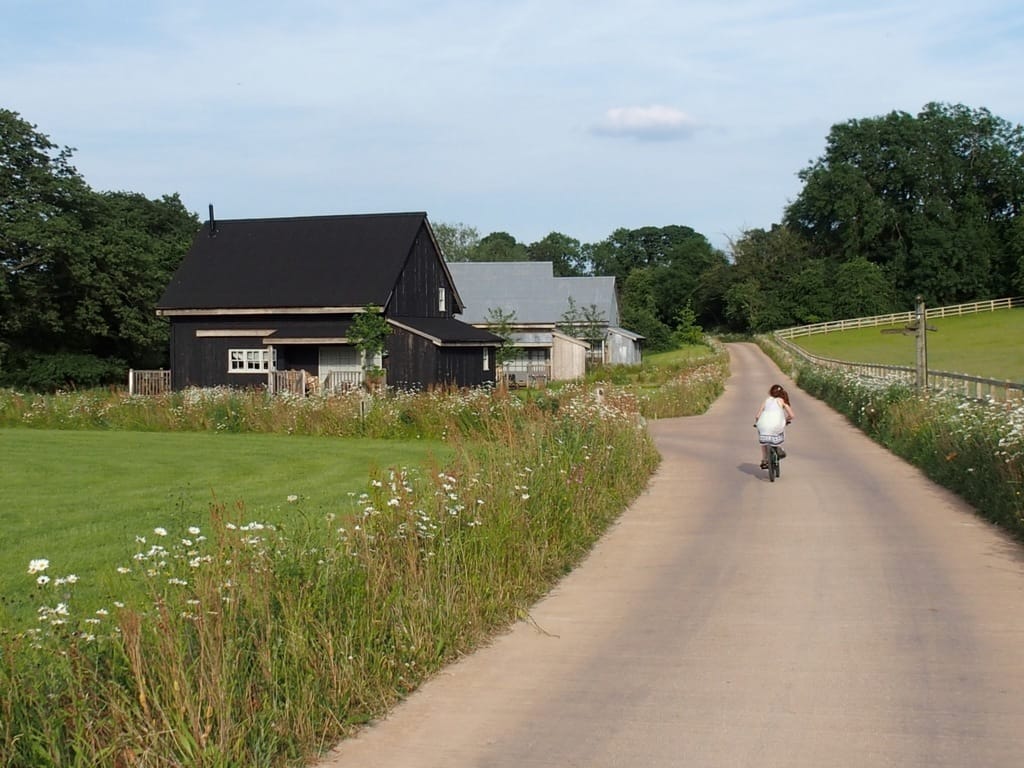 GETTING THERE
Traveling to the Soho Farmhouse from London is extremely easy. The drive is less than two hours from the city but you can also take a train to Charlbury (about 25 minutes away). For those who prefer to make an entrance or get there quicker, there is a landing site for helicopters.  Once you are at the property, you can order a taxi to take you to dinner at some of the excellent taverns in the towns nearby.
GETTING AROUND
Walking and biking is the preferred mode of transportation here but you can flag a horse and cart sometimes seen on the property as well as one of the reconditioned vintage milk floats and tuk tuks.  Definitely worth taking a ride!
FACILITIES
There are just too many facilities on the premises to list here but below are a few that we had the opportunity to check out. Some, such as the Farmshack (offering curry on weekends) are Barwell Barn (offering weekend Feast Roasts) were not open during our stay midweek.
Boathouse
The boathouse comprises of a small lake (where you can do boating, sort of), and an indoor and outdoor pool. Note, there are specific hours when children under 13 can use the pool in the morning and late afternoon (on weekends, guests children can swim 9:30-11:30 only).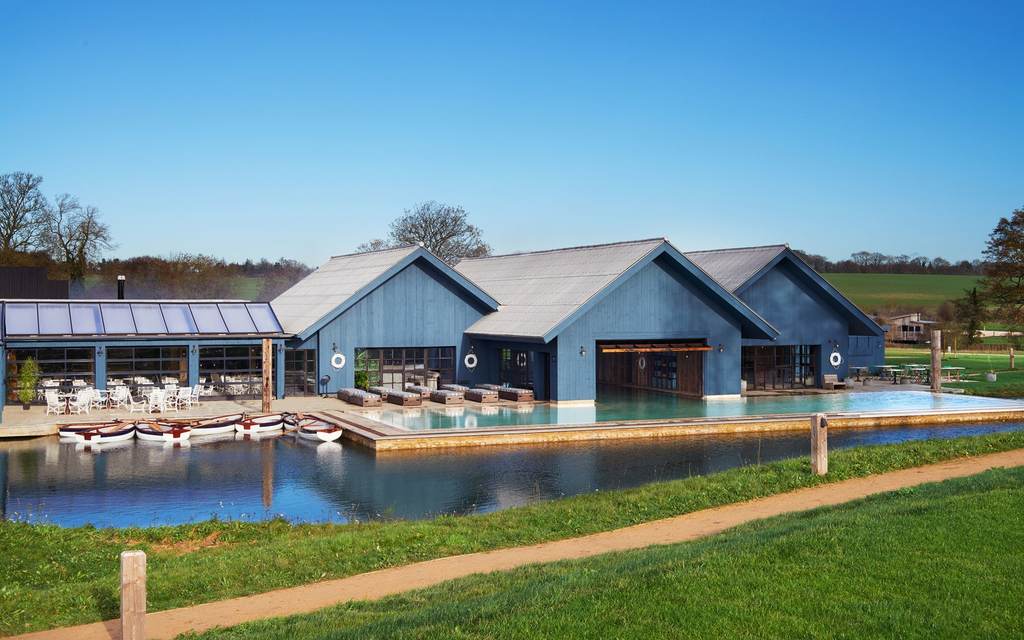 Adjoining the boast house is the Cowshed Spa for facial and body treatments, a 22-bike cycling studio, fitness center and exercise class studios. I took a spin 'rhythm' class which admittedly was much better than Soul Cycle (the cold towels offered to guests at the end is genius).  The spacious fitness center was one of the nicest I have been to with the latest equipment.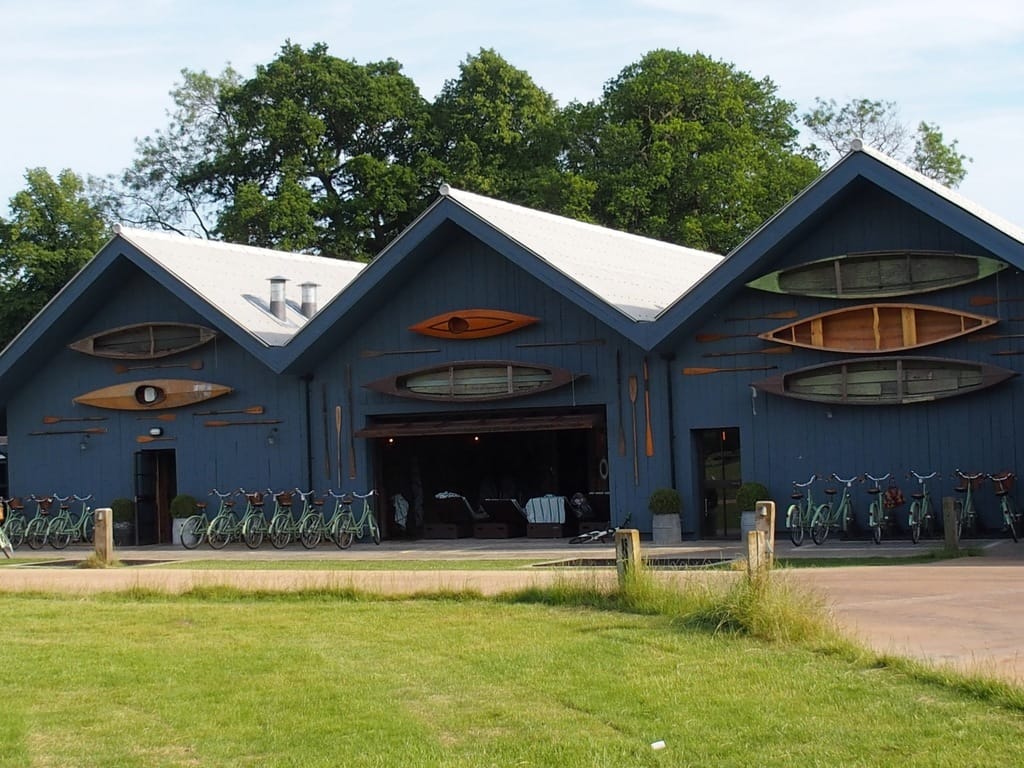 Teeny Barn
This is the Soho Farmhouse version of a Kids Club but here children ages 2-16 can pick eggs from the resident chickens, mini zip-line, do arts and crafts and more.
Main Barn
The hub of the Soho Farmhouse. Open from 7 am everyday, this is where guests go to drink, eat, relax or enjoy some old-fashioned pursuits such as boules or ping pong. The Mill Room (the pub), Farmshop and Deli (where you can pick up specialty grocery items, pressed juices and milkshakes, coffee, sandwiches and salads), and restaurants are all located here.
Electric Barn Cinema
Screens new and classic films daily with a kiosk serving cocktails, beer, snacks and ice-cream.  We didn't get a chance to stop in as we were too busy checking out the local pubs and taverns.
THE CABINS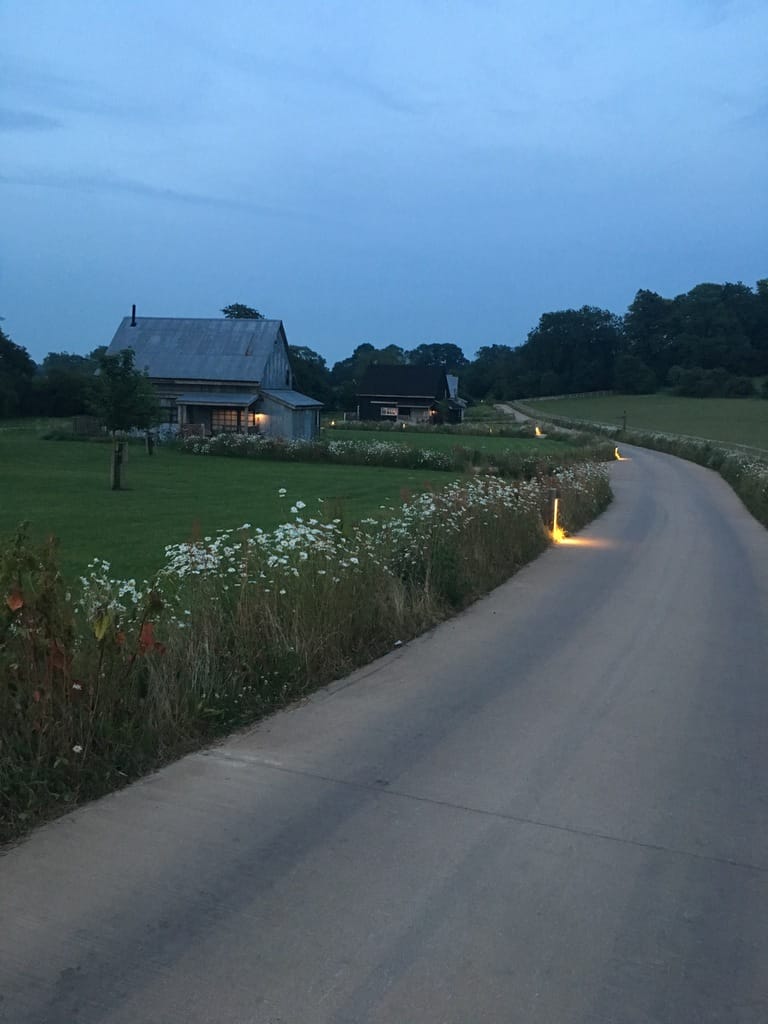 Each cabin on the property has its own distinct layout in a retro-chic design (Love the style? You can buy pretty much all the furniture and accessories, conveniently, at the onsite Soho Home boutique). Each cottage comes equipped with everything you can imagine: washer/dryer, toothbrushes, Cowshed bath products, flip flops (which you can take home), even a flat iron, for gods sake!  The only thing it doesn't come with is air-conditioning. Not ideal when there is a heat wave.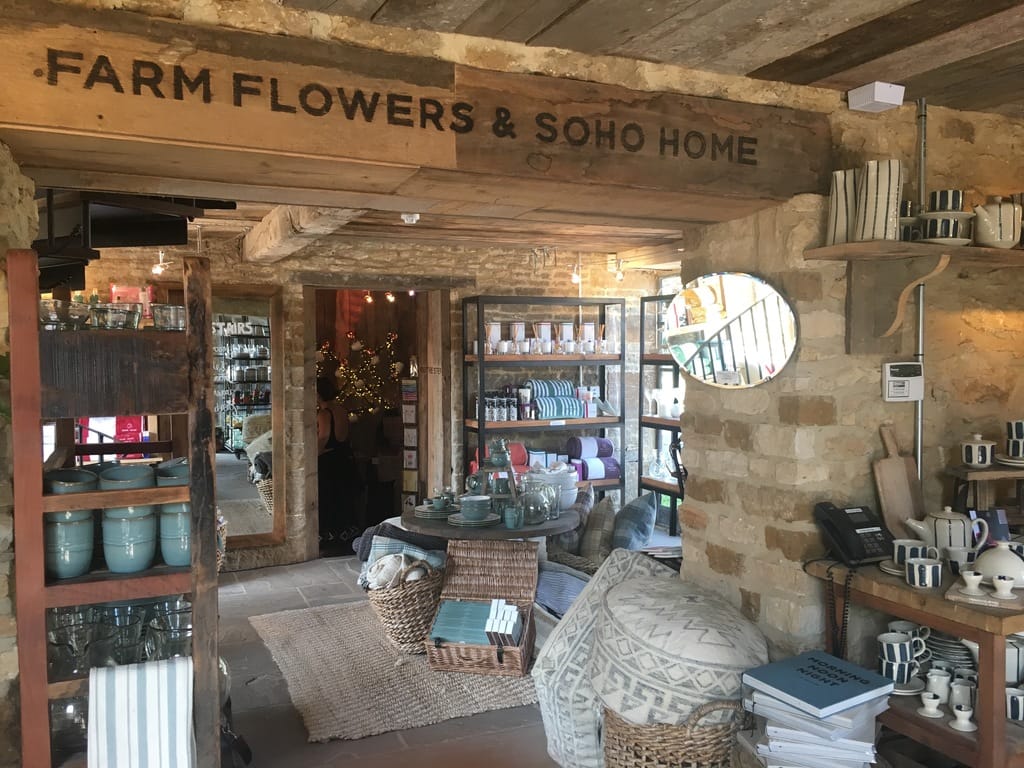 Our cabin was a 1-bedroom/Bunk Bed set up, ideal for a couple with young children. Cabins are well spread out across the 100-acre property – some in front of creeks, some in front of horse pastures (like ours) and others closer by the Boathouse.
SERVICE
Overall, the Soho Farmhouse staff is extremely friendly and eager to please. Service only fell short at the restaurant at the Main Barn once during our stay where some of the staff seemed overwhelmed (ours forgot about our order and drinks).
FUN ACTIVITIES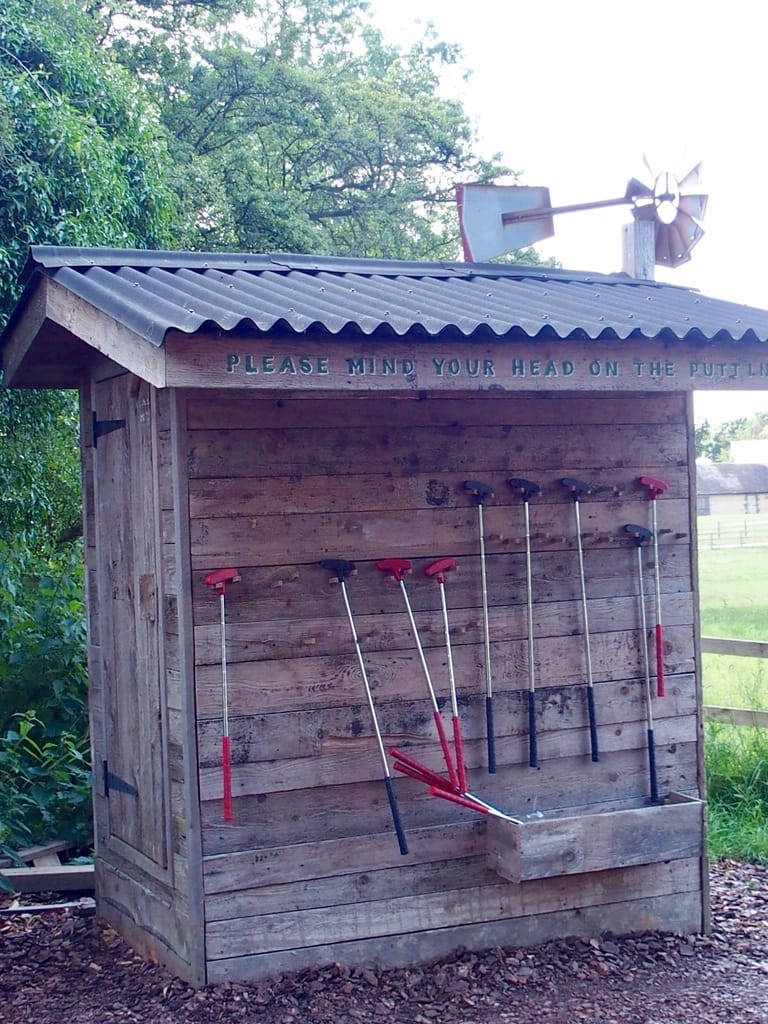 Each day brings a slew of new offerings to guests. It could be cooking workshops and demonstrations, book signings, beer tastings or garden tours. Sadly, we missed them all… just too many other diversions!
Crazy Golf
Soho Farm House's version of mini-golf, this is a challenging but fun nine-hole course by the horse fields. Most guests, evident by the empty cocktail glasses left behind, play with drinks in hand.
Breakfast and Cocktail Floats
Definitely a must-do while you are here, book ahead when you check in as both are enormously popular. The chef makes anything to order for breakfast.
Horse Rides
There are 11 gorgeous draft horses at the stable. Private and group hacks and lessons are available. Group rides are based on experience level and on ours we got to post through beautiful meadows and trails off property.  No need to bring riding boots – just bring your wellies!
Cooking Classes
The cooking and cocktail (yes!) school offers regular classes and demonstrations as well as private lessons. Next time…
RESTAURANTS
There are several eateries at the Farmhouse. Some, as mentioned above (curries and Sunday Feasts) are only offered on weekends. The Main Barn, Fancy Farm and Comfy Farm offer indoor and outdoor seating for breakfast, lunch and dinner. Pen Yen is a Japanese Grill open Tuesdays through Fridays but not open to children under the age of 13.  This was rather frustrating with our 10 year old as the only option was to eat at the Main Barn (and it is only open to children up to 9 pm only). This can be disappointing for a family with a tween like us, particularly if you are still on a U.S. time zone and prefer to eat later. However, we found once we were there, the rules are more relaxed, especially if your child is older and well behaved. As we ate outside the property for two nights, it wasn't that big of a deal for us but I would have liked to have been able to try Pen Yen!
GUESTS
Built primarily as an adult getaway, the Soho Farmhouse attracts a young urban clientele who also frequents their member clubs in cities worldwide. But unlike the city clubs, the Farmhouse has been a hit also with families looking for a rural escape with  rich amenities and activities for everyone and lots of land to roam. The farmhouse manages now to offer something for both demographics but is still evolving as it understands the needs and desires of its guests.
Outside The Farmhouse
While there is more than enough amenities and activities to keep you from wanting to wander off property, it would be a shame not to take the opportunity to explore the charming villages and gorgeous countryside. Soho Farmhouse is closest (about 7 miles) to the villages of Chipping Norton and Kingham which is home to the popular Wild Rabbit pub and inn (read the Inviato review of Wild Rabbit pub) and Daylesford Organic Farm (who incidentally owns the Wild Rabbit).
We ate dinner one night at nearby gastropub The Chequers Inn in Churchill and lunch at Hollow Bottom Inn in Midway. Both offered a wonderful ambiance, delicious food and were very welcoming to children.
Daylesford Organic (above) is not your typical organic farm. In addition to the the artisanal restaurants, cookery school, market and shops, various walks of up to five miles are offered around its orchards, fields and rivers. We enjoyed sending a few hours here for lunch and walking around. It's a foodie heaven with a chic-looking crowd.
We hired Nick Long, an experienced private driver/tour guide who runs the Original Cotswolds Touring Company for a half day to explore beautiful Cotswold villages, each one lovelier than the next. He took us to a few key villages, special sights, driving past poppy fields and meadows of cows and sheep.  We could have easily spent an extra day or two exploring more towns like nearby Oxford and Bath, and checking out antiques stores and pubs.  Still, it was an excellent orientation to the Cotswolds.
All photos by Jackie Magid 
Loved
Didn't Love

Our cabin. A  20th century Little House on the Prairie. I loved everything about it. Would love to come when there is a chill in the air and test out the wood-burning stove.
Fresh milk from local cows delivered to our door each day (along with a newspaper), along with the hand made granola and fresh bread in our cabin. Even though we didn't drink much of the milk, I loved the old-fashioned delivery of it.

Milk delivery

The location. Soho Farmhouse is a 15 minute drive from Chipping Norton which has some of the best taverns and pubs in the area. And Daylesford is close by.
The ambiance. The property is gorgeous and well designed. Even when full, it does not feel crowded (unless you are at the pool on a hot day or the Main Barn).
The stables, of course. Just put me near a horse and I'm happy. The trail rides take you outside the property through beautiful fields that look like a scene out of Pride and Prejudice (no young Colin Firth without a shirt, though). Sadly, there was no cantering while I was there though due to the heat.
The fitness center and cycling studio.

While Soho Farmhouse was not created with the family target audience in mind, in fact it is very popular with locals who have joined as members and bring their children during the week. But for a family with a young child staying there, there are restrictions for pool and restaurant access – something you should be aware of before you arrive. I understand the reasoning behind this but wish the rules would be more relaxed for well mannered tweens.
There is no air-conditioning in the cabins. Normally, this would not be a problem as the Cotswolds has generally cool temperatures. But we were there during a sweltering heat wave and it can be stifling (especially in upstairs bedroom) in the cabins even with fans.
The lounge area surrounding the pool is small and the lounge chairs end up several rows deep on the grass nowhere near the pool. It felt misplaced and a bit like Spring Vacation on the grass when we were there.

Don't Miss
Skip

A game of drunken mini-golf at Crazy Farm.
Ordering a breakfast or cocktail vintage float to your cabin upon check in at least once during your stay.
Booking a dinner reservation at one of the excellent local pubs in nearby Chipping Norton such as the Wild Rabbit and The Chequers (book ahead  way ahead as both are very popular). Better to take a taxi after dark as the winding roads are not lit.
A visit to Daylesford Farm. A 15-minute drive from Soho Farmhouse, spend an hour or two here exploring the farm (ask for a map), having lunch at one of the restaurants and visiting the specialty boutiques.

Rooms to Get
Tips

Priority is given to local members and Soho House members if you can get a reservation here, consider yourself lucky! With only 40 cabins, it is almost always full year-round, especially in the summer.
Cabins are dispersed nicely throughout property. We loved our cabin that was perfectly situated in front of the horse pasture – complete with newborn foal and mare to ogle over each chance we could.
Now there are about 15 glamp-style tents back by the pool which seem to be favored by the younger crowd.

While getting to the Soho Farmhouse is a 90-minute drive from London, it is easy to get lost on the country roads. Plus we didn't want to test our luck driving on the other side of the road. For about 80 Euros, you can hire a private driver to take you directly to the Soho Farmhouse. There are also trains from London into Charlbury station, a 25-minute drive away.
It is easy to come to the Soho Farmhouse and never want to leave. But it would be shame to go to the Cotswolds without exploring some of the most beautiful countryside and charming towns. There are several private drivers and touring companies. We contacted a few and found that prices varied widely for half or full day tours. We chose Nick Long, the owner of the Original Cotswold Company who was very flexible in creating an itinerary that we wanted for half a day. We highly recommend him – he takes pride in showing off this area that he calls home and was particularly great with my daughter.  In five hours, we went to several towns, lunched at an old racing pub, drove through sheep and poppy fields and got some shopping in.
Why book Virtuoso?
Personalized travel assistance
24/7 online booking
Special rates & exclusive offers
Guaranteed Room upgrade*
Complimentary full American breakfast
Early check-in, Late check-out*
Exclusive on-site amenities (varies by hotel)
* based on availability on time of arrival
Related Reviews