Our annual summer European vacation brought us to Italy this year. My husband and I were meeting friends in Capri and wanted to do something special prior to meeting up with them –  just the two of us alone. We rented a car in Milan and made our way down to the Il Pellicano in Porto Ercole with a pit stop along the way at the JK Place Florence, a wonderful hotel to stay at while in Florence.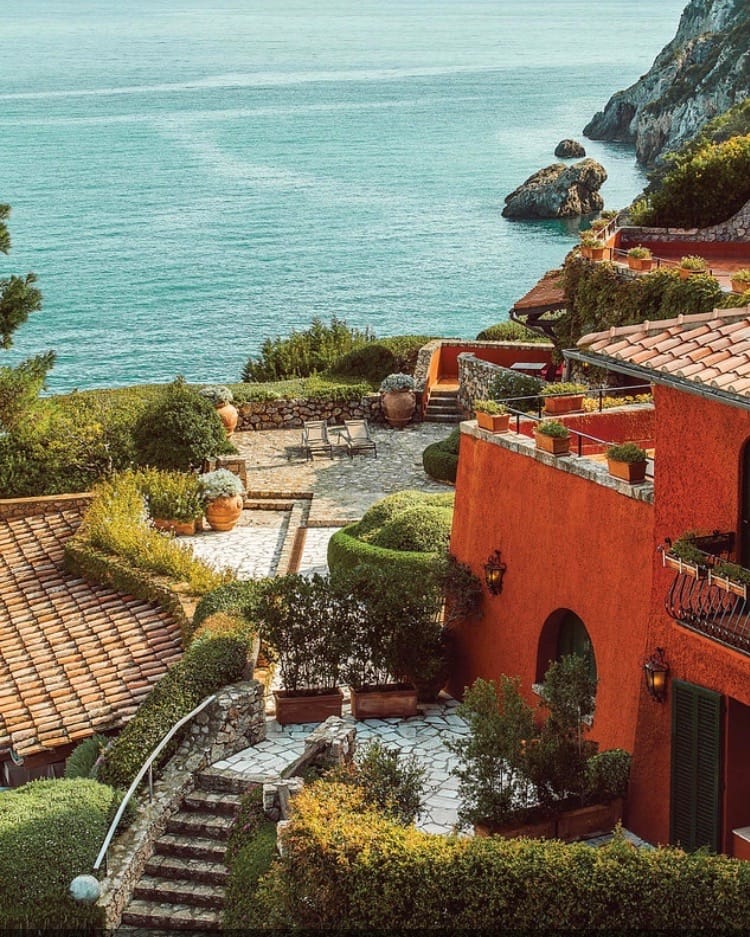 I had heard so much about the iconic Il Pellicano for so many years. For over 50 years, since it opened as a hotel in 1965, Il Pellicano has attracted socialites, movie stars and royalty to its cliffside Tuscan resort.
Inspired by the photographs of Slim Aarons, who photographed so perfectly the social scene at Il Pellicano for 25 years, I simply wanted to insert myself into one of the photographs and re-capture that moment. We worked out our trip plans in Italy to make that fantasy come true.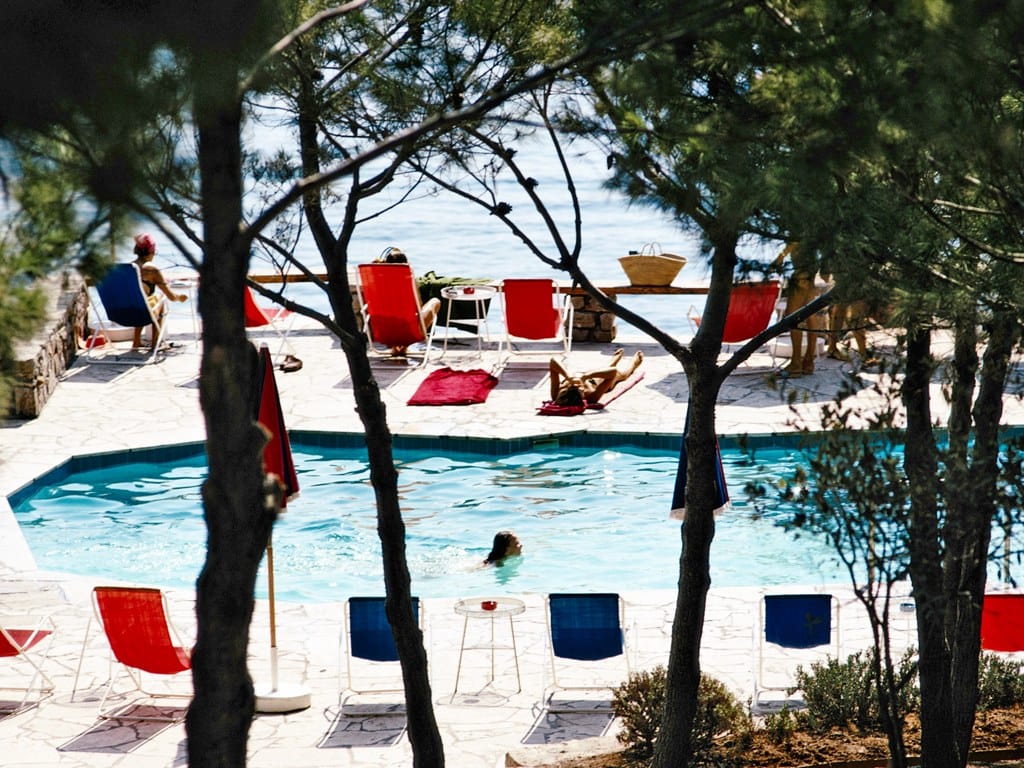 FIRST IMPRESSION
As you pull up to Il Pellicano, you're not really sure what to expect. On our way, we had been driving along the southern Tuscan coast in the Monte Argentario region, which is lovely yet somewhat nondescript. The nearby town of Porto Ercole is quaint yet very local. Arriving at the hotel, the entranceway meanders down a narrow steep pathway/driveway. You really have no clue just how majestic the views are going to be until you enter the hotel.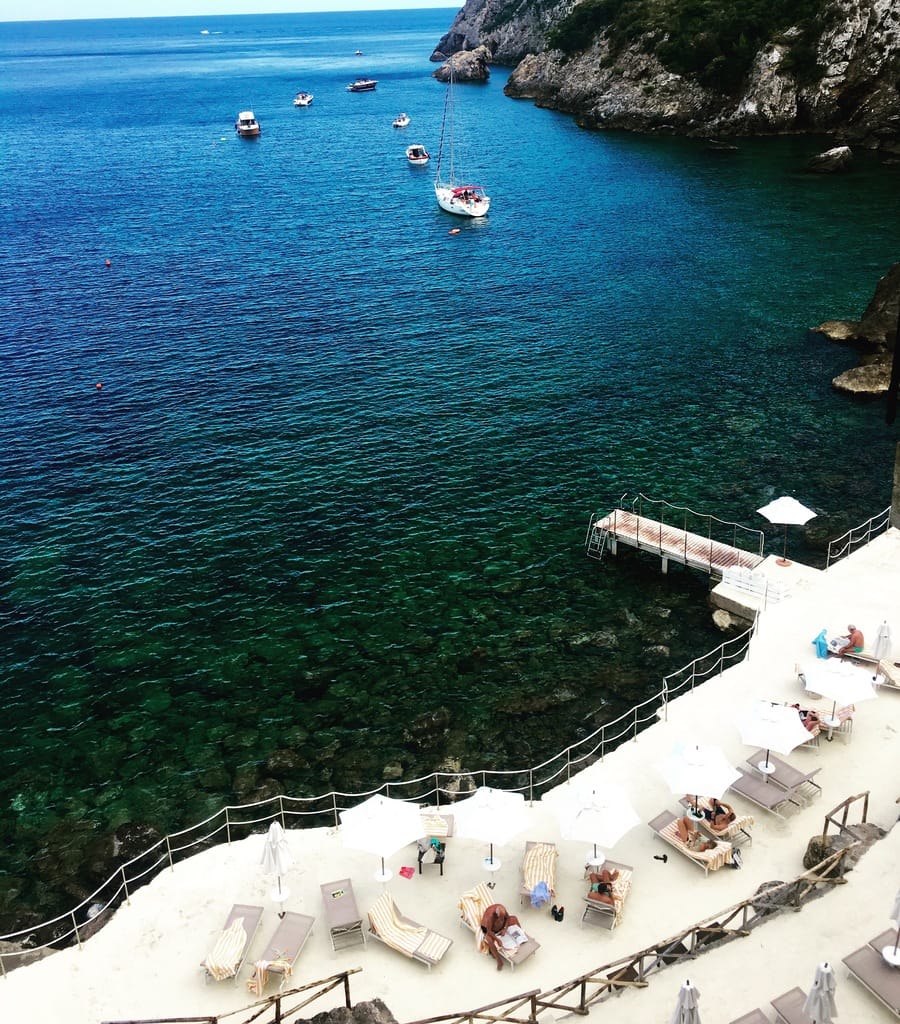 The reception area of the hotel is very understated. Red carpeting is everywhere that harks back a bit to my basement circa 1978. The immediate common areas around the reception give off an old world vibe. At the same time, there's something about the area that hints you've arrived onto something special. And once you're escorted outside onto the grounds you understand why.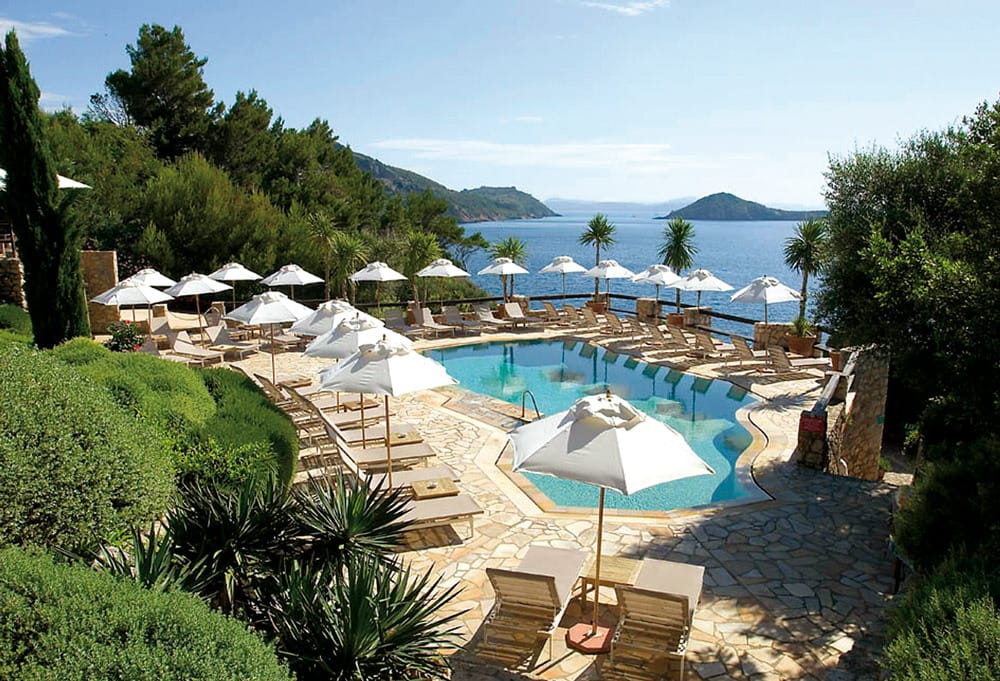 The best way for me to describe Il Pellicano is that the entire time I was there I always felt like James Bond (any of those who have played him in the films) was going to pull up on a speed boat with a shaken martini in hand. This place is just beyond special.
The charm and the integrity of the place it is so lauded for – which put the 'chic' in hotel chic – has been well preserved. This is in essence what makes it so renowned. All the while the hotel manages to infuse modern touches that makes you never want to leave. It's just simply perfection.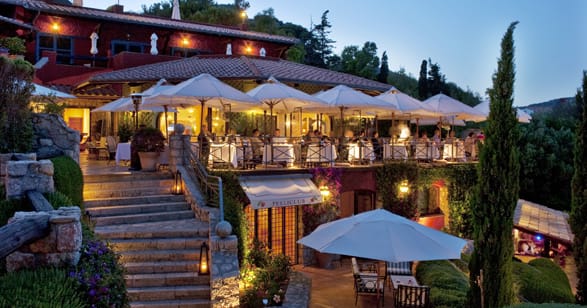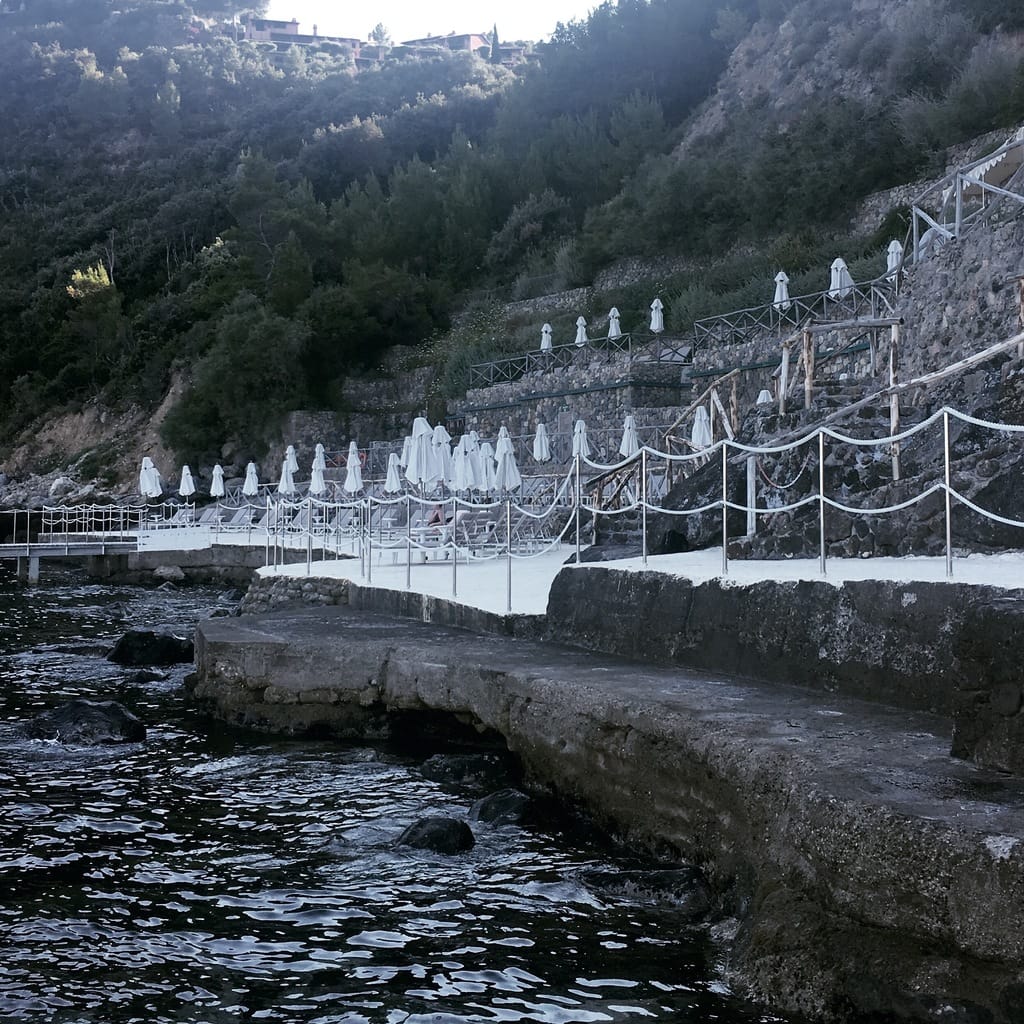 I'm not sure what was better. The ridiculous views from the cliffside saltwater pool (yes, its heated!) or the beach chairs and scene down by the sea that you reach by elevator. In your lifetime, you must come to the Il Pellicano with a special someone and just experience it. You must sit down by the sea and take it all in. It's just a magical place.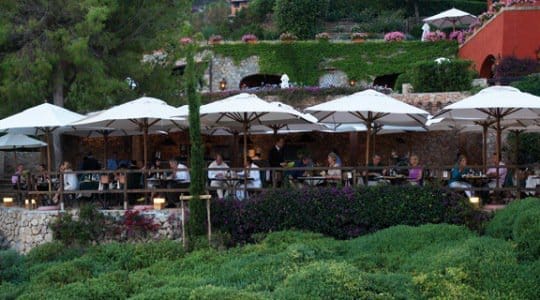 ACCOMMODATIONS
It must be noted the rooms in the main building, where we stayed, are hodge lodge in that only some are renovated and a few of the rooms we looked at felt a bit dated (Inviato note: . On the other side, most of the 50 rooms are incredibly spacious with modern bathrooms and showers. The 16 Suites, Junior Sea-view Suites as well as the double sea-view rooms (both located in the main house), offer incredible views from their expansive private terraces. It would be a shame to come here and not have a sea-view room so make sure to request one upon booking.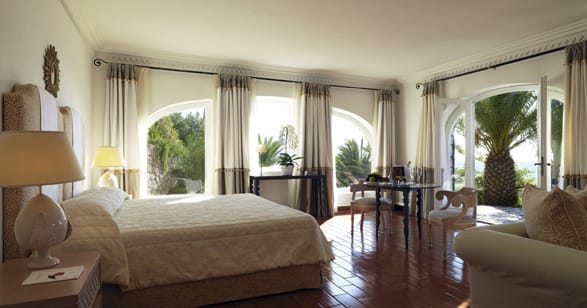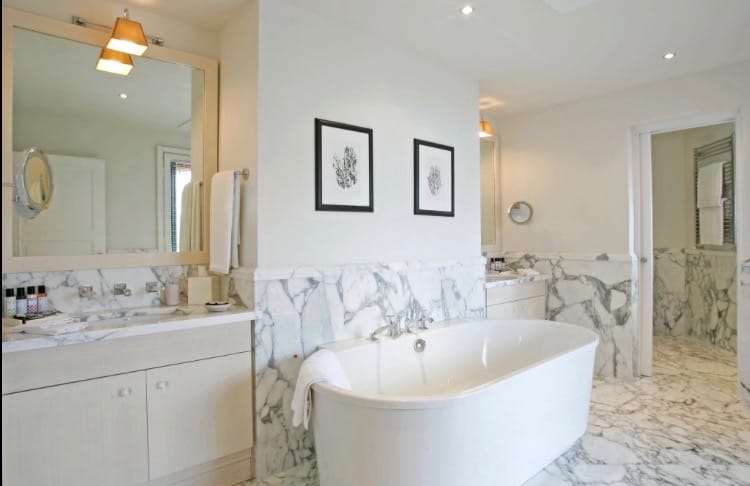 ONSITE AMENITIES
A very chic boutique is on-site that offers a well-curated selection of chic beach wear.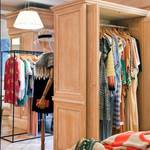 Additionally, a  lovely spa is located at the Il Pelliclub, the health and beauty center where the boutique and fitness center are also located. They use these delightful products from Santa Maria Novella that feel and smell delicious. A myriad of massage, body and facial treatments are offered in four treatment rooms.
While we didn't use the small but well-equipped fitness center that much, I was pleased to see it had windows offering expansive views of the property. It irks me to no end to see so many fitness centers relegated to the basement of hotels, almost as an after-thought.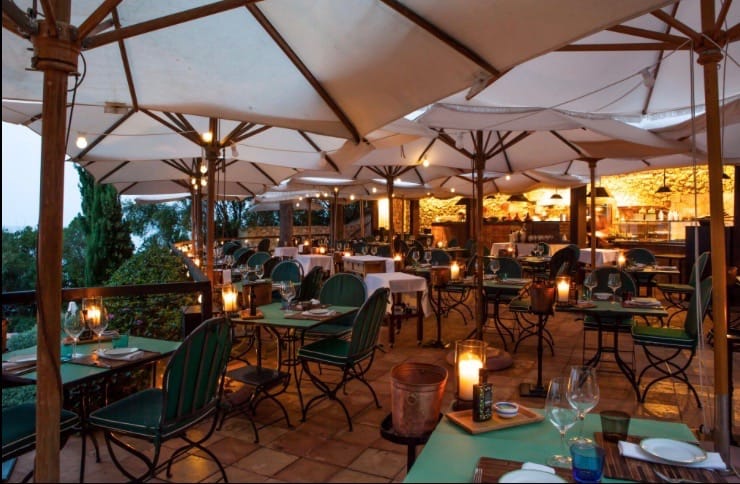 RESTAURANTS
There are two restaurants on the property – Michelin-starred Il Pellicano and Il Pelligrill. The former is more formal and we far preferred the outdoor Il Pelligrill for its lighter, grilled Tuscan fare for lunch and dinner. Served on the terrace of the Il Pellicano, breakfast is an endless array and selection of juices, breads, cheeses, fruits, and more. In addition, you can order anything off the hot menu they will provide for you. An extra bonus is that breakfast is included in the price of your stay.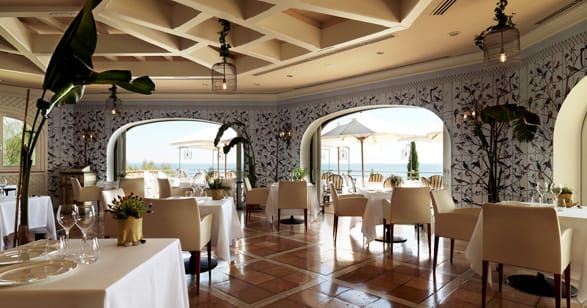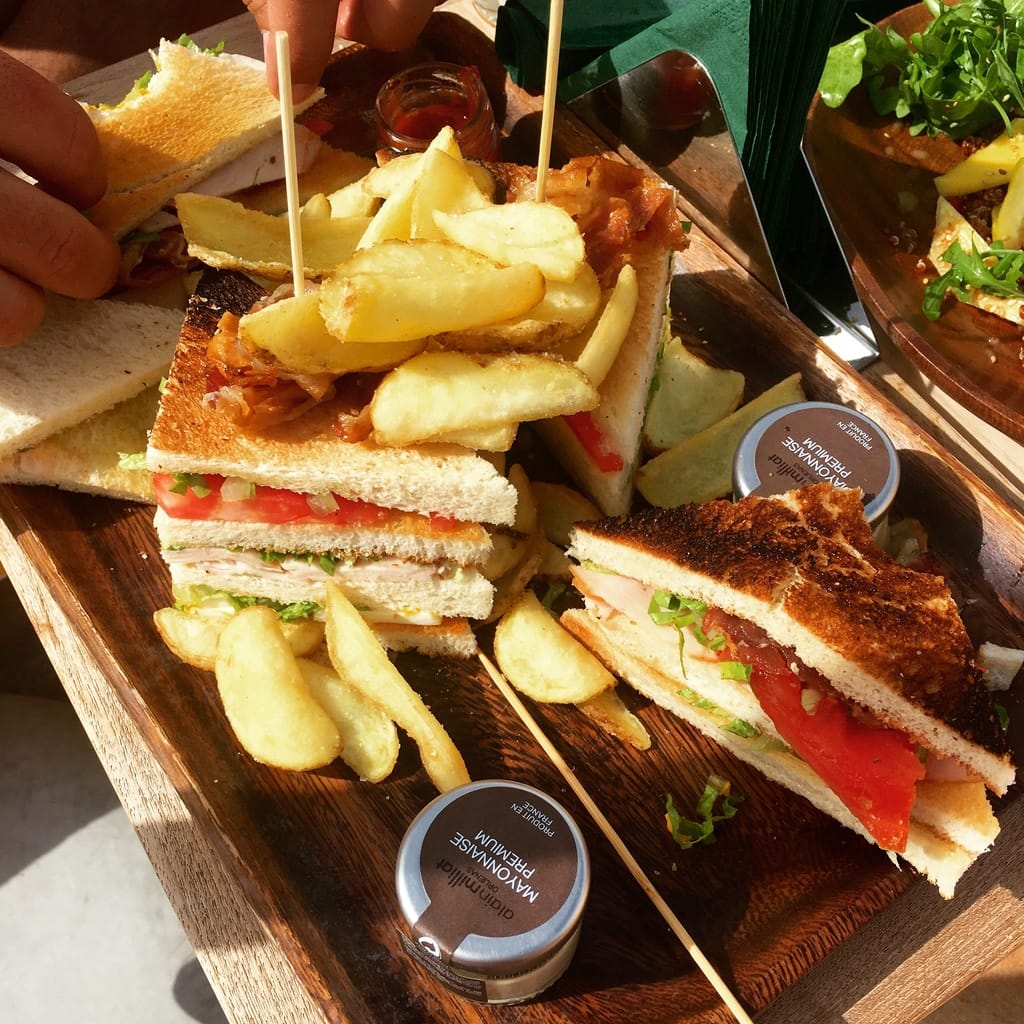 WHO COMES HERE
The guest clientele during our stay was a diverse mix of Americans (mainly low key New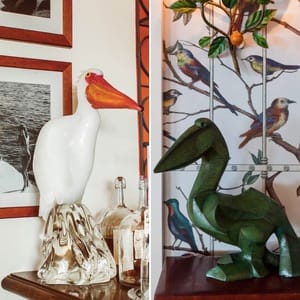 Yorkers), Brits, Australians, Germans, French, Italians and a few Russians. For the most part, it was a very well heeled sophisticated but low key crowd.
This is not the place for loud or showy types or anyone with children (only children age 10 and over are accepted. Even so, I suggest leaving them at home). Not surprisingly, a nice but not overwhelming portion of honeymooners where there.
For three nights and three days, Il Pellicano is a place that anyone who wants to reconnect with their partner must experience once in their life. Get swept away and enjoy every minute.
Images courtesy of Romi Howard and Il Pellicano
Loved
Didn't Love

All'aperto bar – the bar just above the pool. I could while away the hours in this spot. Chic but not pretentious.
The service was impeccable and the staff knew our drinks almost immediately so that we never had to ask again. The complimentary yummy nibbles served with the drinks was a nice touch.
The chic but unpretentious crowd complemented the relaxed yet elegant vibe of the place.
The Pelligrill – the more casual restaurant of the two restaurants on the property. Their other restaurant, Il Pellicano, is a formal Michelin-starred affair. The food, views and vibe at the Pelligrill was much better, in our opinion.
Sitting by the sea at the iconic beach (their version of a beach). It's just something you must do in your lifetime.
The boutique at the Pelliclub has a very well-curated selection of all things summer seaside chic – bathing suits, cover ups, sandals and more. The APC-designed  "Il pellicano" t-shirts are a must-buy.

There is very little closet space in the rooms to put your clothes away. Sadly, I had my suitcase opened for most of the time with my clothes laying on top.
Il Pellicano restaurant (the formal one) has a tasting menu only that is very heavy on meat and game and dishes that were quite frankly unappealing to us. We preferred Il Pelligrill, the more casual restaurant.

Don't Miss
Skip

If you are staying for more then 3 days, you should do a boat trip that the hotel can arrange for you to the island of

Il Giglio

. We were too relaxed and enraptured with the grounds to leave – however, had we had one more day, we would have definitely done this.

There's nothing really to skip. Just keep in mind you're going for the experience of being at Il Pellicano – the hotel is your destination. There's not much to do beyond the property unless you're willing to drive an hour to an hour and a half to reach the towns and vineyards of tuscany.

Rooms to Get
Tips

Many of the 50 rooms at the hotel have balconies or panoramic terraces, and Rooms 6, 7, 15 and 20 are outstanding choices. The six suites and studios are in small cottages near the main house.
All of the rooms have Air-conditioning, flat screen TVs with DVD players and Wi-fi.
Make sure to ask for a seaside view!

A delicious seafood restaurant in the town of Porto Ercole is Alicia Hosteria. A nice respite if you're staying for 3 nights or more at Il Pellicano and you want to leave the property for something a little less formal and a little more seaside town authentic. The spaghetti and clams (vongole) was one of the best I ever had.
If you are with a larger party, look into renting a boat – starting point of 1,000 Euros.
Ask the hotel about cooking classes with the chef – we didn't have time to do but would have loved to if we had another day.
Hotel Il Pellicano
Your Virtuoso rate at Il Pellicano with Inviato Travel Includes:
• Upgrade on arrival, subject to availability
• Daily Buffet breakfast
• Euro 100 Spa Services credit
• Early check-in/late check-out subject to availability
Il Pellicano is closed October to April. Only children 10 or older permitted.
Book This Hotel
Why book Virtuoso?
Personalized travel assistance
24/7 online booking
Special rates & exclusive offers
Guaranteed Room upgrade*
Complimentary full American breakfast
Early check-in, Late check-out*
Exclusive on-site amenities (varies by hotel)
* based on availability on time of arrival
Related Reviews