The first time I considered traveling for food was after hearing and reading about a family visit to Blackberry Farm.  My husband and I were looking for a place to spend our first wedding anniversary, and since our pre-wedding diets were out the door, there was nothing holding us back.
Our long awaited and very much anticipated trip to Blackberry Farm this past 4th of July weekend was nothing less than spectacular (and we're not even talking about sipping mind-altering whiskey while taking in the awe-inspiring fireworks show against the Smoky Mountain backdrop). The successful combination of 5-star service, Southern charm and James Beard Award-winning food has not changed since Jackie's visit. In fact, it continues to thrive with the most recent accolade being the James Beard Outstanding Wine Program award received this past May. With a reserve of over 180,000 wines on property (one of the largest in the world), you'll know where to find me when the apocalypse comes.
Upon arrival, we received a behind the scenes tour of the 4,200 acre property and got an inside look of all of the new and work-in-progress happenings taking place from the new cottages expected to open this September to the recently opened spa.
Wellhouse Spa

With all the recent buzz, we couldn't wait to check out the much anticipated Wellhouse spa which opened its doors June 1st. It includes a yoga/barre studio, fitness room, nail and hair salon, and a yes, even a temperature-controlled saltwater pool – because we all know, sun bathing in the Smoky Mountains is not complete without one.  We especially loved the expanded offering of beauty products which greet you with delightful aromas even before you step foot inside. I spent at least 30 minutes sampling the goods, but don't worry, there's no high-pressure sales here.
The spa menu has something for everyone, literally. From the Mother-to-Be and Man's Man massages to a deep cleansing facial for tweens and teens. For those looking for a different way to unwind, there are wellness experiences focused on fitness (ranging from cycling excursions to guided hikes), meditation and nutrition (consultations, juicing and cooking demos).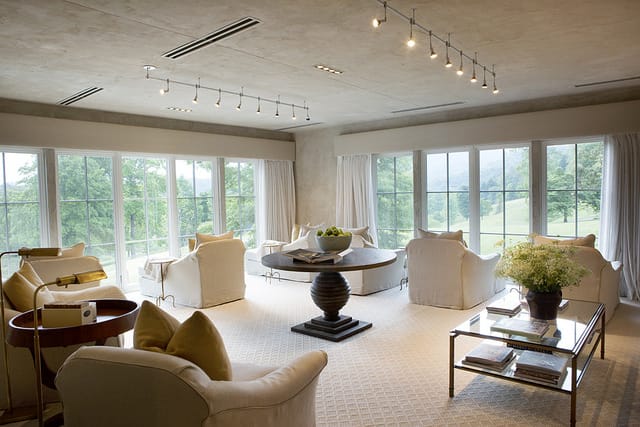 If you're not sipping tea in the spa lounge soaking in the sprawling mountainside views, check out the yoga/barre studio that gets converted to a relaxation sanctuary unlike any other. Swinging beds (yes, you heard that correctly) are released from the ceiling that are suspended in air – think of it like a rocking crib for grownups. It's pure bliss.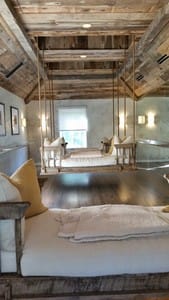 Truffle Farm
We also got an inside look of the long awaited (no joke, 7 years in the making) hazelnut orchard where Black Perigord truffles come from. Who knew Tennessee has a comparable environment to Italy and France that is perfect for cultivating truffles?  However, what will make the truffles at Blackberry Farm superior is that they will be fresher because there's no shipping from Europe involved before it gets to your plate.
Blackberry Farm takes the truffle business serious and they made no concessions when it came to selecting the perfect truffle hunters: a kennel full of Lagotto Romagnolos a.k.a "truffle dogs". But what about the pigs, you ask? Those guys get too excited and sometimes eat the truffles, so what's the better option: loveable, hypoallergenic dogs with a sharp mind and unbeatable sense of smell. The Lagotto Romagnolos at Blackberry Farm are pure breeds hailing all the way from Italy and are trained back on the farm. Want one of these cute puppies for yourself? Get on the year long waiting list and be prepared to shell out some serious dough.
Garden House
Among the exciting new happenings on the farm, we got to see the great work in progress of a new collection of properties set to open this September.  Known as the Garden House, the new addition is a cluster of three homes featuring a main house and two cottages nestled near the farm's vegetable garden. All three accommodations include en-suite bathrooms, heated bathroom floors, a fireplace and hardwood floors. The main home, i.e. the Garden House, also features a full kitchen ready for a 5-star chef experience. It is ideal for families traveling with the in-laws (yes, there's a separate place in the back for them), a nanny, or even great for 4-5 couples.
Blackberry Abroad
This past July, Blackberry Farm rolled out its first program abroad taking a small group of guests to Northern Italy. Really, there is no better location more fitting for a beta program than Italy. The trip aimed to provide a unique cycling experience in the Friuli-Venezia Giulia region of Italy while taking advantage of the food and culture, each stop along the way. Local experiences included cooking demos, hikes, classes, museum visits, some shopping, and lots of wine, of course. Guests were accompanied on the trip by Blackberry Farm owner, Sam Beall along with a number of select food and cycling experts. We were told that spots for this trip booked up in a matter of hours, so we can't wait to hear more about this exciting program. Speaking of booking up fast, their annual  Taste of The South event (Jan 8-11) benefiting farmers, artisans and chefs sold out in less than 24 hours!
Accommodations
With a property as large as Blackberry Farm, you can bet there will be accommodation options for everyone. There are 62 rooms ranging from cottages, estate rooms and houses (both single-family and multi-room choices). We opted to stay at the Guest House which is in the heart of everything, whereas the the cottages are spread out all over the property (hence, why all cottages come with golf carts). For a review about cottages, check out our previous post here.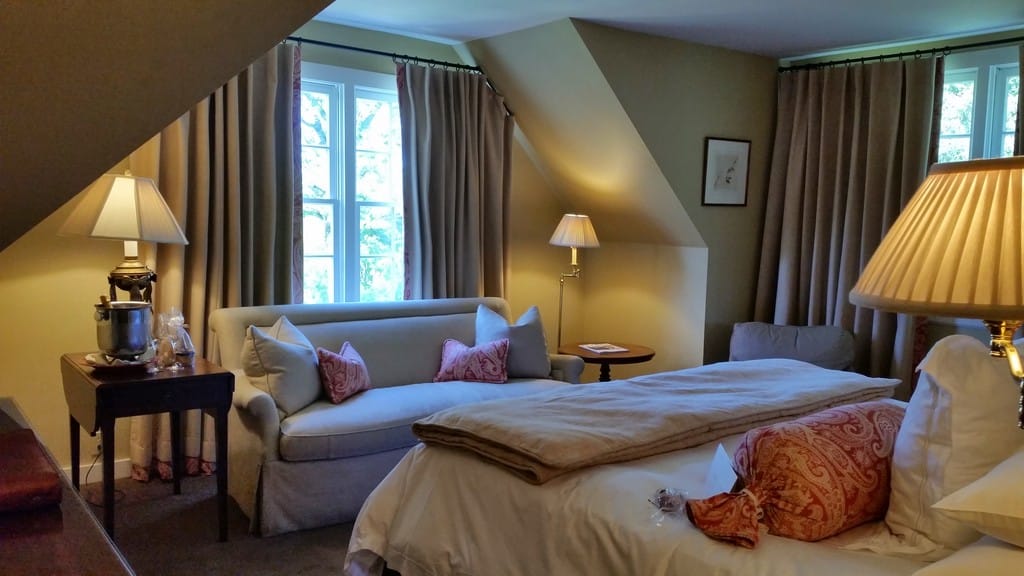 The Guest House offers a small communal kitchen area with a fully stocked fridge, a living area and 11 rooms with King, Queen and Twin options. We found the Guest House perfect for our long 4th of July weekend getaway and loved that it is just steps away from The Main House dining room, convenient for the mornings we struggled to make it out of bed before the breakfast cutoff time. The Guest House is also a great option for those who are traveling with a big group (think weddings, etc) and families with older kids who can have their own room yet stay close by.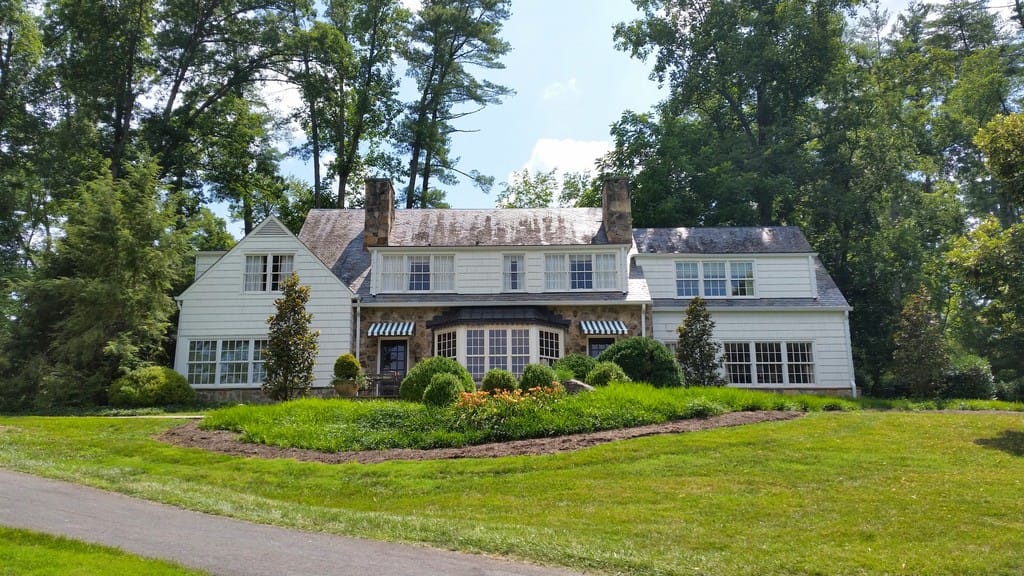 We highly recommend the Trillium room which is the corner room on the 2nd floor because the views face the Smoky Mountains and conveniently overlooked the fireworks show near the Boathouse. The bathroom was smaller than expected, but functional as we didn't spend too much time in the room. Note that the Guest House rooms do not come with a golf cart (like all of the cottages do), but you can call in advance to reserve one at an additional cost for a full-day, or complementary for a quick drive.
Our Stay
On our first day we had limited daylight from arriving late afternoon, so explored the property and found our bearings as soon as we arrived. On our second day, we arranged for a picnic lunch and reserved a Lexus convertible for a few hours to drive through the 11 mile loop in Cades Cove (highly recommended!). Cades Cove is a valley surrounded by breathtaking views of the mountains and is arguably the most popular destination in the Smokies. Through a partnership with Lexus, various cars are available for guest to take out and "test drive" at no additional cost. Cades Cove is about a 2-hour round trip, but the time flew by as we listened to Big Band tunes with the top down on this scenic drive. We requested a picnic lunch in advance and didn't realize it was an additional $25 fee per person until we checked out. Next time we'll head to Cades Cove before lunch as the picnic was okay (included the usual suspects: roast beef sandwich, chips, cookies), but nothing stellar – you definitely get more variety dining on property.
That night we enjoyed a 4-course dinner at The Barn for the second night in a row (thank you chef Joseph Lenn!). As someone who is taking the organic and local bandwagon by the reins, I felt like I could eat carefree at Blackberry since the majority of the food is grown on the farm or sourced from local farmers. After a few signature cocktails at dinner we jumped in our golf cart, got lost a few times in the pitch dark, but managed to make it back to the Guest House in one piece.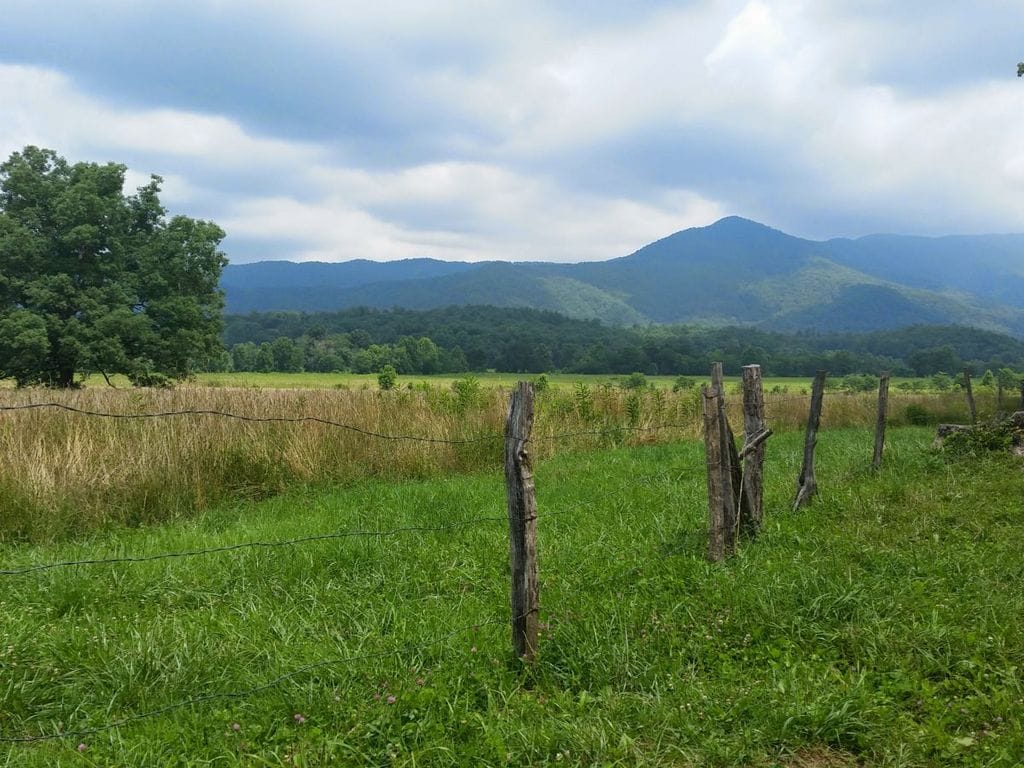 On our 3rd day I was tempted to skip breakfast, but my husband was eager to try something new each day. We took full advantage of the great weather and enjoyed soaking in the sun and lounging poolside at the Wellhouse. My husband and I enjoyed a 90-minute couple's massage (absolute bliss) in one of the duet massage suites and the following day I returned for the 60-minute Wellhouse facial and scalp massage which was beyond dreamy. God, I could use another massage right now. We later took part in a 60-minute tour to learn more about the truffle farm, the on-site brewery and meet the master gardener, John Coykendall who has been collecting seeds from successful local and far away gardens for years.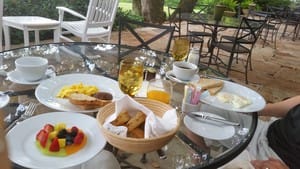 On our 4th day, all of Blackberry Farm was in a festive mood in anticipation of the much talked about fireworks show. There was not one flower vase on the property that didn't have a perfectly arranged bouquet of red, white and blue. We ordered breakfast in bed – biscuits and gravy for the hubby and a large bowl of fruit and a green juice delivered from the Wellhouse.  Trust us, after all the food you eat your body may feel the sudden urge to juice.
We followed breakfast with tennis to balance the large amounts of food consumed over the past few days (and feel better about ourselves). We showered at the Wellhouse (walking distance from the courts) and then headed back for lunch (go figure).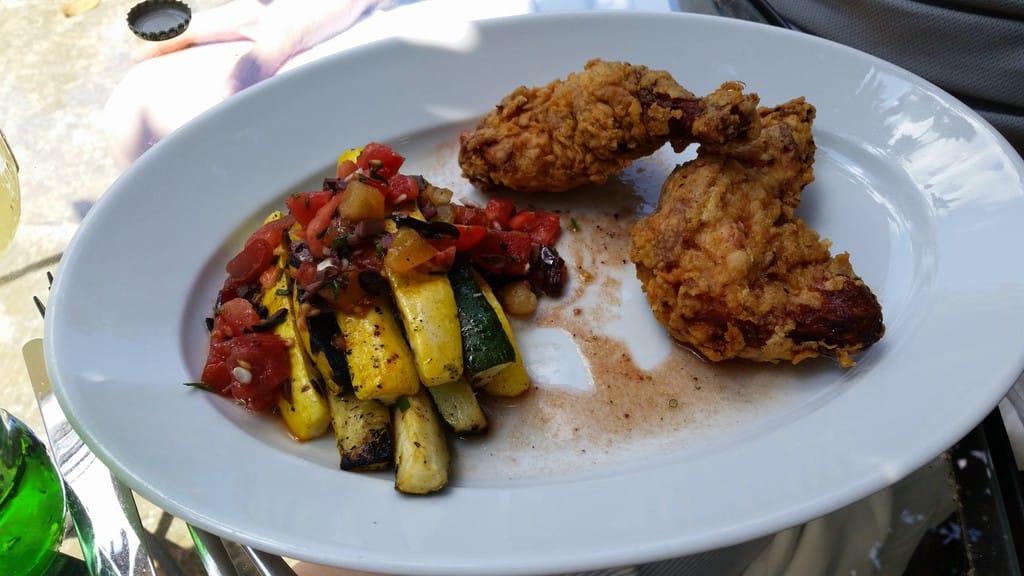 We returned to the Wellhouse to nap on the floating beds after lunch and knocked out, just in time for our early dinner reservation in The Main House. We wanted to switch up the dinning rooms to get the full experience and loved the Main House for its laid-back atmosphere.If you're traveling with kids, the Main House is definitely where to go.  The Barn on the other hand,  is a more formal, jacket-required vibe. The food is great at both, so I recommend checking both out to see what suits you best.
After dinner we headed to the lawn where chairs, tables and blankets were laid out overlooking the pond and Smoky Mountains. There was a bluegrass band, a fully stocked bar and an assortment of patriotic desserts for the taking. The hour-long fireworks show surrounded by everyone at the farm (including the family that founded Blackberry Farm, the Bealls) was nothing less than magical and we ended the night roasting s'mores over the fire. Definitely loved feeling like a little kid again.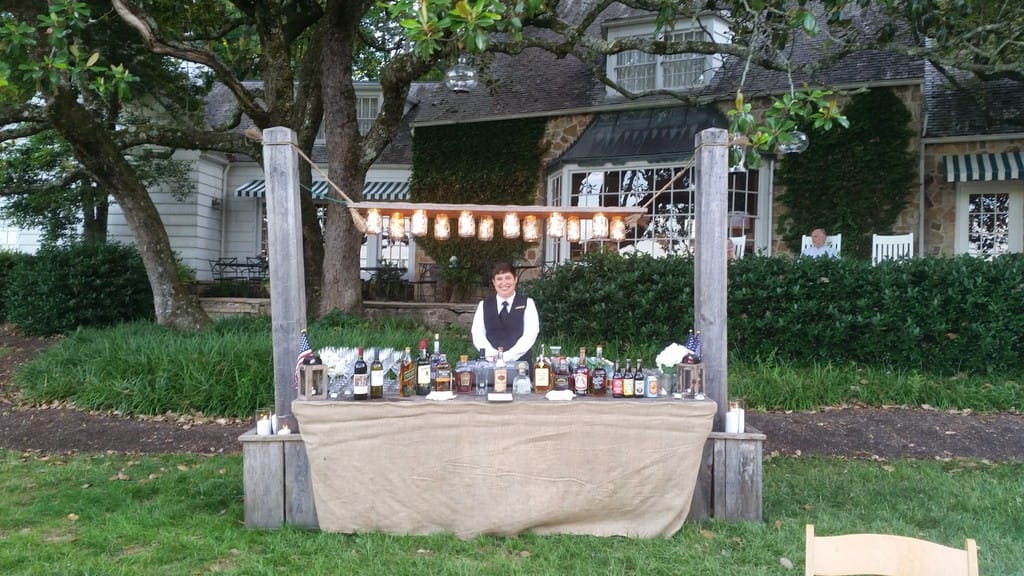 On our last full day, I skipped breakfast. For lunch, the farm was hosting a BBQ Battle at The Main House, so I knew I needed to prepare myself. The BBQ battle was a real family affair and fun to see the friendly competition amongst the Bealls, chef Joseph Lenn from The Barn and chef Josh Feathers from The Main House. Everyone was there to eagerly talk about their food and ser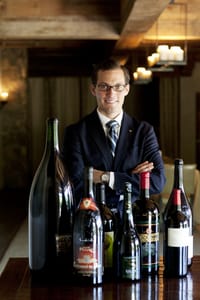 ve you with a smile. It felt like I was one of the judges in an episode of Top Chef and the contestants were trying to sway my vote. For dinner we returned to The Barn and really went all out. With help from Andy Chabot, Sommelier and Director of Food and Beverage, we had a great pairing for each of our courses. For dessert, Graham Case, Mixologist and whiskey expert, paired our final course with hair raising, 1-barrel reserve Virginia whiskey. Let's just say, I don't remember much from the rest of the evening and our return home the following morning was a blur.
Along with a great getaway for the 4th of July, my husband and I were looking for a place to disconnect from the city to celebrate our one year anniversary and Blackberry Farm knocked it out of the park. We will definitely come back, especially since it's only a two-hour flight from JFK to Knoxville.
Review by: Christina Meza Kim
Photos courtesy of Blackberry Farm and Inviato. 
Loved
Didn't Love

Spa treatments and relaxing on the swinging beds post massage.
Taking the car out for a spin to Cades Cove (highly recommended!).
Visiting the truffle dogs and puppies (don't forget to also stop by and see the many recently born piglets too!).
Taking home jam, or buying it online from the farm (although, Williams Sonoma and some select Whole Foods are now carrying it)
Breakfast in bed (try this at least once!)
Checking out one of the many tours that are offered. We enjoyed learning more about farm operations on our 90-minute tour.

The wifi service is spotty on the farm, mainly due to its location, but don't waste your vacation time trying to constantly be connected. It's not going to happen. Disconnect and enjoy the peace and quiet of the mountains.
Eating too much. It's tempting, but try not to overeat…it could ruin your mood.

Don't Miss
Skip
Rooms to Get
Tips

The earlier you book at Blackberry Farm, the better. Programs, tours and accommodations book up fast during peak seasons and holidays. We booked our tour at least two months in advance and there were only two spots left. Check out their calendar for the latest happenings/events.
Dinner in the Main House and The Barn are by reservation only which we recommend making in advance. The farm was able to accommodate same-day time changes for us, but peak dining hours do book up.
Be sure to reserve a Lexus car in advance if you plan on leaving the property to explore the Smokies a bit more. You can request a picnic lunch (additional $25 fee), but we recommend heading back to the farm for lunch where you have more options.
If you're overwhelmed by the massive wine list, don't be shy to ask for help from the sommelier. If you're feeling adventurous, ask for a wine pairing to go with each course. We enjoyed this much better than ordering a bottle.
Your dogs are welcome at Blackberry Farm, but if you left Fido at home and feeling empty, ask for an inside look of the truffle dog kennel.
Blackberry Farm
Your Virtuoso Rate at Blackberry Farm With Inviato Travel Includes:

• Upgrade on arrival, subject to availability
• Daily full breakfast, for up to two in room guests, served in restaurant
• $100 USD Equivalent Spa Services credit, to be utilized during stay
• Welcome Amenity
• Early check-in/late check-out, subject to availability
• Complimentary Wi-Fi
Book This Hotel
Why book Virtuoso?
Personalized travel assistance
24/7 online booking
Special rates & exclusive offers
Guaranteed Room upgrade*
Complimentary full American breakfast
Early check-in, Late check-out*
Exclusive on-site amenities (varies by hotel)
* based on availability on time of arrival