Bracing ourselves for the first storm of the season in already frigid temperatures, it's quite a pleasure to take our latest "Inside Look" to balmy South Beach (although we would prefer to be writing from there – most ideally on a chaise lounge at the pool).  There has been arguably no 'hotter' opening recently than the grand Faena Miami Beach, which made its debut only a few weeks ago in December 2015.
Created by former fashion designer turned-real estate developer, Alan Faena, the Faena brand is most currently known for its first property Faena Hotel (see our postcard) in Buenos Aires. After its investment, Faena helped transform abandoned docklands into the now thriving 'Puerto Madero' waterfront district. Today, the Faena District is the most valuable piece of real estate in all of Buenos Aires.
Looking to replicate its success in Buenos Aires, the South American brand has ventured into new territory and what locale to make a bigger splash than the vibrant, sexy town of South Beach? Faena's mantra seems to be 'if you are gonna go, go BIG' and its plans for creating a renaissance in Miami are even more grandiose than Buenos Aires. We are not talking about just another hotel but an entire district (aptly named FAENA district) in the heart of Miami Beach, from 32nd to 36th Streets. To be precise, this will be a six-block district comprised of luxury condominium residences, cultural forums, a retail shopping complex and a marina – 'a neighborhood experience with a hotel in it', according to Faena himself in a recent interview. With more than $1 billion invested in the project, estimated to be completed by the end of 2016, I have no doubt it will be anything short of spectacular.
To get a sense of Faena's vision, watch this clip below: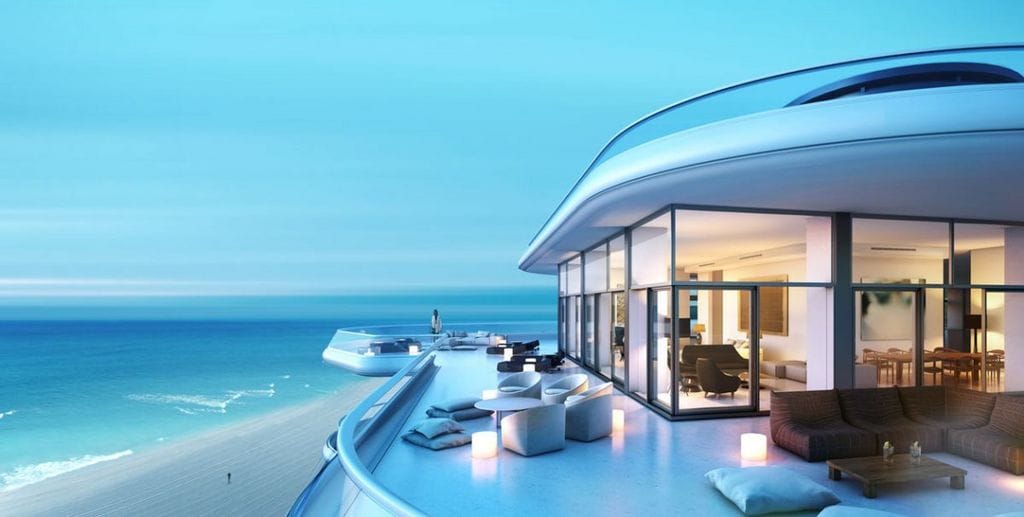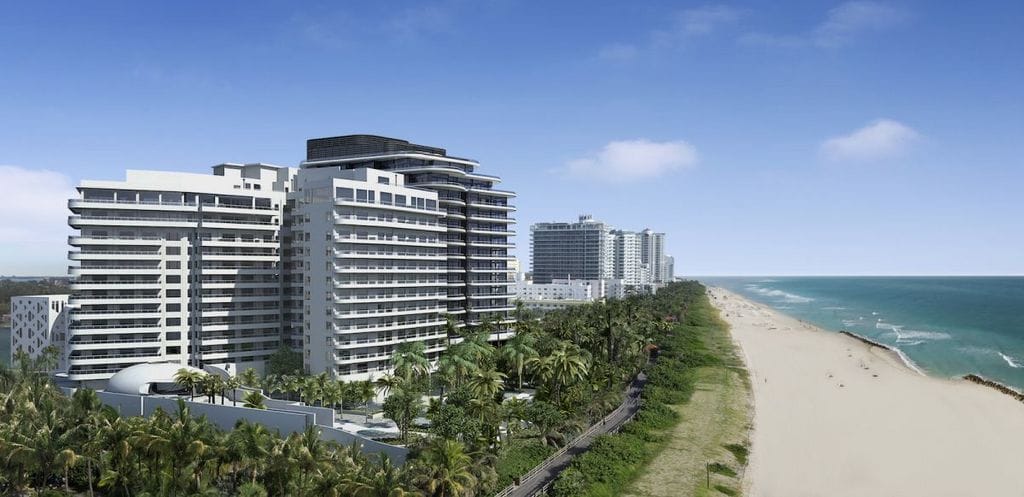 While the neighborhood continues to undergo its transformation throughout 2016, the first phase of openings – the Faena hotel –  is open and ready for guests. Let's take a peek inside, shall we?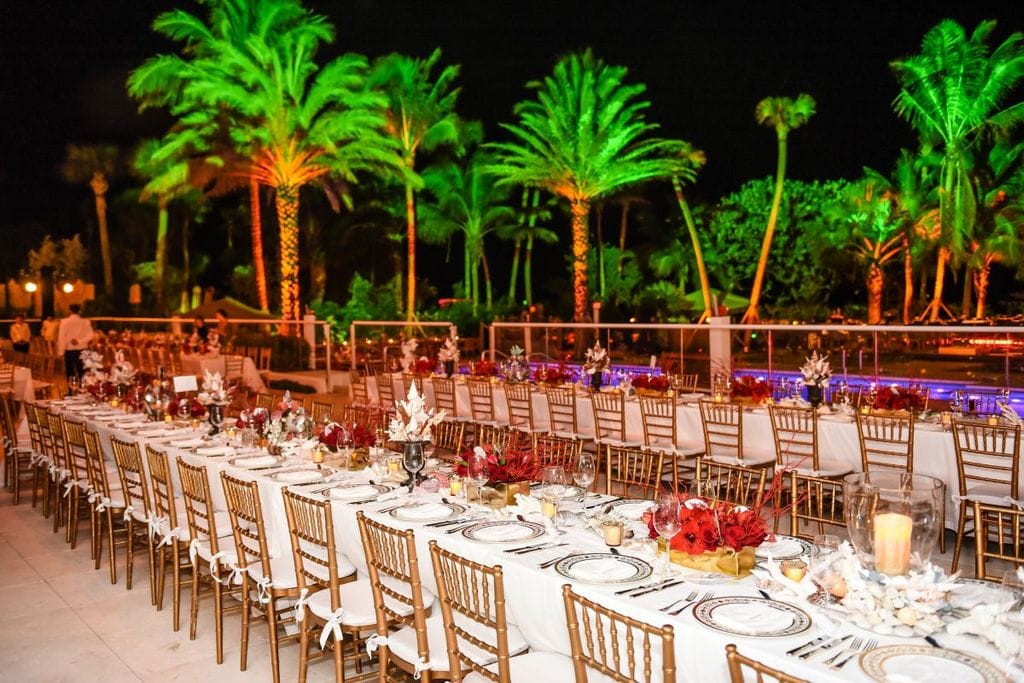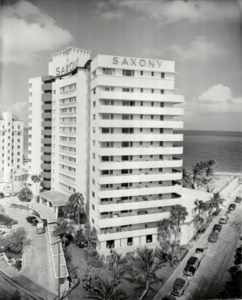 The hotel itself is housed in the former Saxony hotel – a historic landmark once known as the 'Queens of Collins Avenue' that dates back to 1948. The Saxony was the epitome of glamour in the 50's and 60's where hollywood icons such as Frank Sinatra, Marilyn Monroe and Dean Martin performed.
While the former hotel was completely gutted to make way for the new Faena, guests will be pleased to see that many historic features — terrazzo floors, cathedral columns, fireplace surrounds — w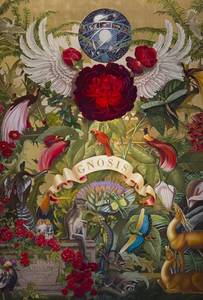 ere rescued and restored to their former glory. Otherwise, all other elements of the 169-room hotel are completely new.
Looking to bring back the glamour of Miami in the 50's 'but in a modern way' and infuse it with some South American spirit, Faena needed an accomplished artist to achieve its vision. Who better to collaborate with than the talented husband and wife team of film director Baz Luhrmann and Academy-award winning costume designer Catherine Martin?  If you don't recognize these names, you must watch the films Moulin Rouge or Great Gatsby on Netflix.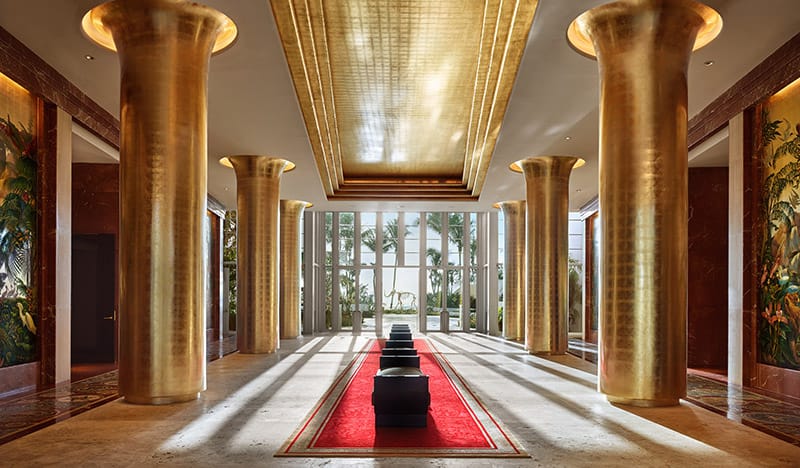 Luhrmann and Martin are responsible for the fantastical, dramatic art-deco design throughout the hotel, from the 30-foot long red carpet leading to the Cathedral lobby adorned with massive gold-leafed columns and elaborate floor-to-ceiling murals to the Living Room, a movie-style set of red leather armchairs and zebra-print couches.
Faena also collaborated with some of the most creative art minds to merge fantasy with reality. Throughout the public spaces, you will find the artist works by Damien Hirst, Jeff Koons, and Argentine painter Juan Gatti (whom Faena refers as the Michelangelo of Faena). Gatti's eight large-scale murals can't be missed around the entrance of the hotel.  In the restaurants Pao, you will see a Damian Hirst unicorn sculpture front and center (Faena has a thing for unicorns) while around the corner you will come across another Hirst masterpiece, Gone but not Forgotten, featuring a nine-foot gilded skeleton of the extinct woolly mammoth in a steel-and-glass vitrine in the hotel's garden near the pool. Pretty incredible.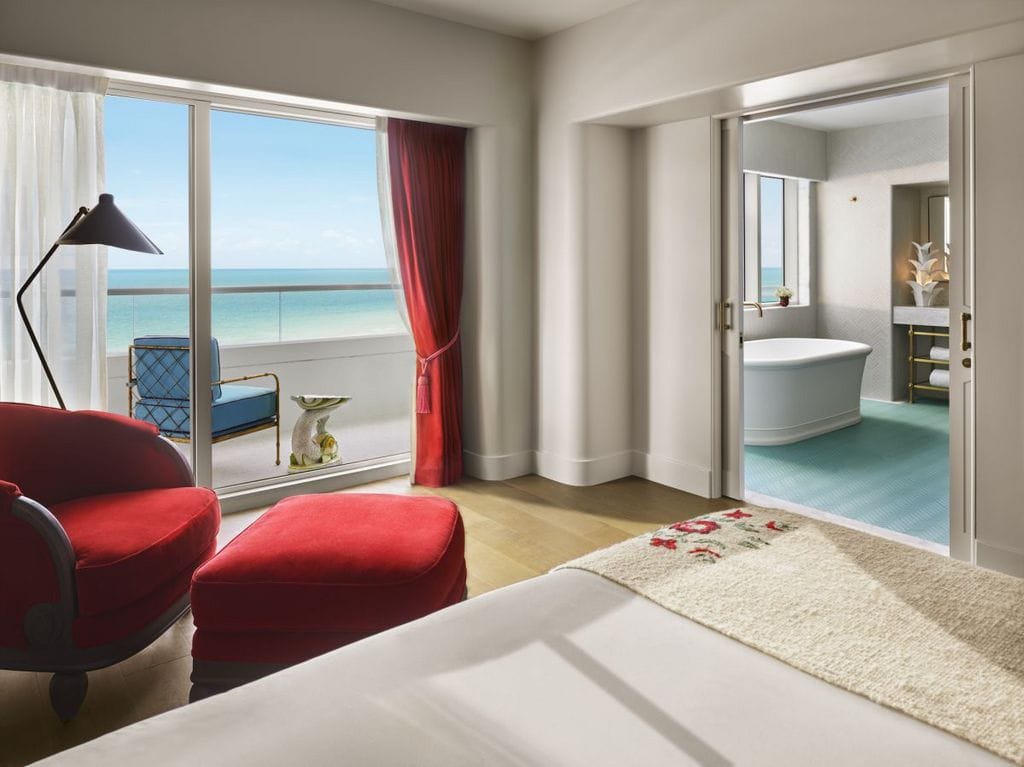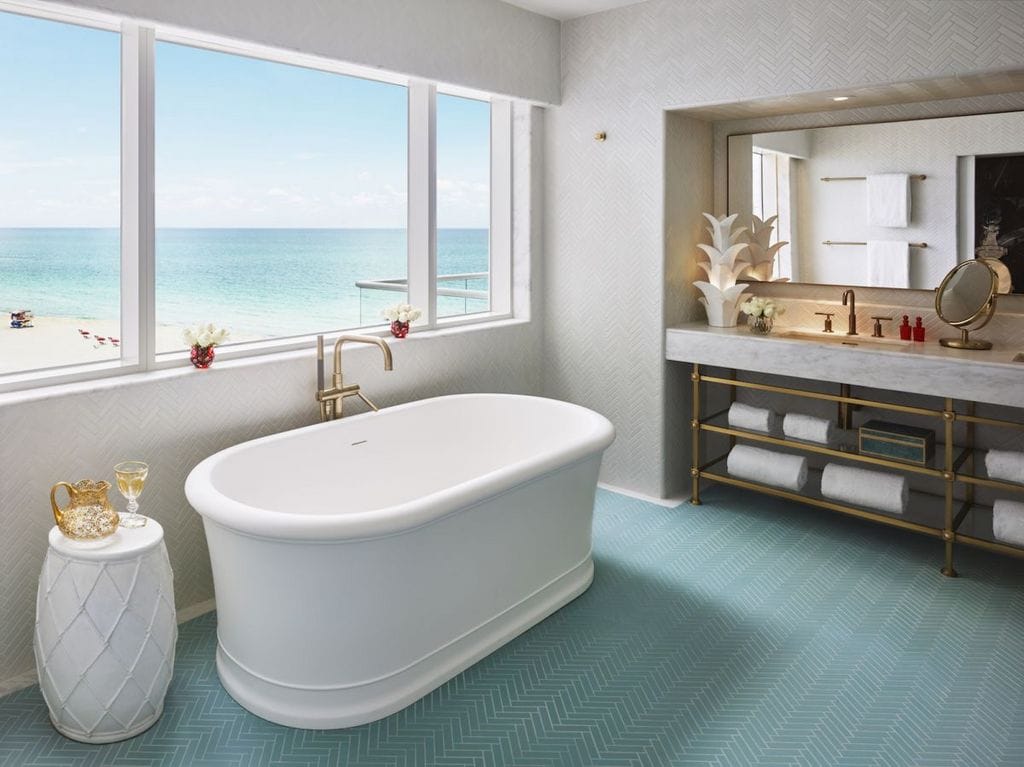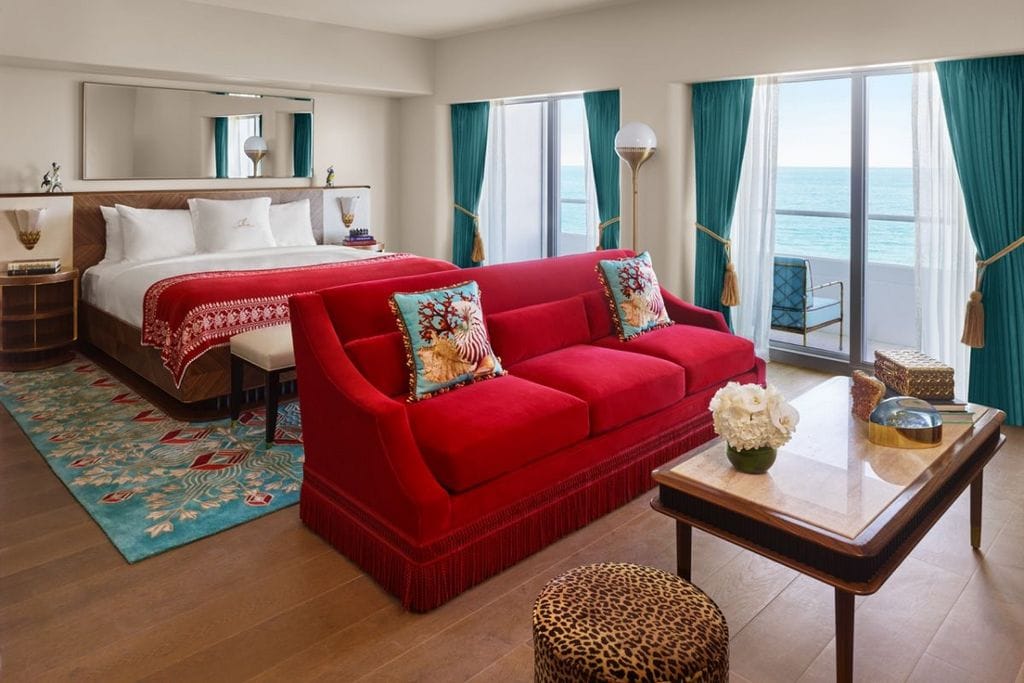 If you get over-stimulated, you can head to any of the 58 rooms or 111 suites in the hotel (13 penthouse residences take up the top two floors of the hotel). Decorated in crisp white, vibrant turquoise and Faena's signature Faena red (also evident throughout their Buenos Aires spread), accommodations combine an aesthetic of classic Miami Beach and Art Deco with South American inspired accents thrown in on the fringed red couches, blankets and rugs. Somehow it all works perfectly.
Faena Butlers on each floor offer guests one point of contact and personalized service throughout their stay while Experience Managers will provide concierge services from pre-arrival planning to departure arrangements.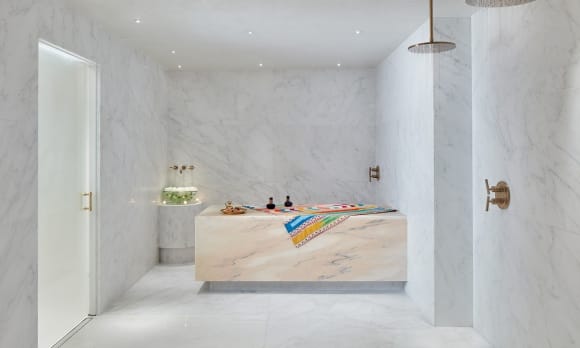 What else? Well there is a South American-inspired spa, the 15,000 square foot Tierra Santa which will have all the typical spa stuff plus anti-aging treatments (We are talking Miami after all. I hear there is even an ice chamber), acupuncture and Hammam. A 150-seat/3,000 square foot theater, Saxony Theater, is due to open shortly and will feature cabaret-style revues like its sister hotel in Buenos Aires. Not to be forgotten is the pool and beach club, Faena Playa, situated on 100,000 square feet of beachfront. 
The final touch to Faena's masterpiece may just be the restaurants. Take your pick between Paul Qui's modern pan-Asian restaurant Pao, Francis Mallman's open-fire modern Argentinean restaurant Los Fuegos and the all-day restaurant, Veranda. 
Judging by the incredible preliminary guest reviews on TripAdvisor, the new Faena is hitting the right note with people, satiating their appetites to truly escape somewhere fantastical. The South Beach Food & Wine Festival (Sobefest) February 19 – 22, 2016, would be a great excuse to come down and visit, as if you need one.  Here's another one – Faena is now offering an exclusive 'Escape' offer to guest who book through Virtuoso. Perks include room upgrade at check-in, a $100 resort credit, daily breakfast for two, early checkin/late checkout (based on availability) and cumulative complimentary third night night stays. 
Images courtesy of Faena Hotel.
Faena Hotel, Miami Beach
3201 Collins Avenue, Miami FL
Exclusive Virtuoso benefits with Escape offer:
Room upgrade
$100 resort credit
Daily breakfast for two
Early checkin/late checkout (based on availability)
Cumulative complimentary third night night stay
Book This Hotel
Why book Virtuoso?
Personalized travel assistance
24/7 online booking
Special rates & exclusive offers
Guaranteed Room upgrade*
Complimentary full American breakfast
Early check-in, Late check-out*
Exclusive on-site amenities (varies by hotel)
* based on availability on time of arrival