I am embarrassed to say, in all the years I have lived in Manhattan,  I never stepped foot on the other side of the Brooklyn Bridge. It may well have been another country. Other than knowing this is where the River Café and Girls is located, I've been pretty ignorant about this wonderful borough.  So when the 1 Hotel Brooklyn Bridge opened two weeks ago right in Brooklyn Bridge Park, I jumped at the opportunity to do a private tour of this exciting new property and get acquainted with the area. Although the subway is just as efficient from the Upper East Side, I took a short Uber ride down the FDR last Thursday, a sunny but windy day.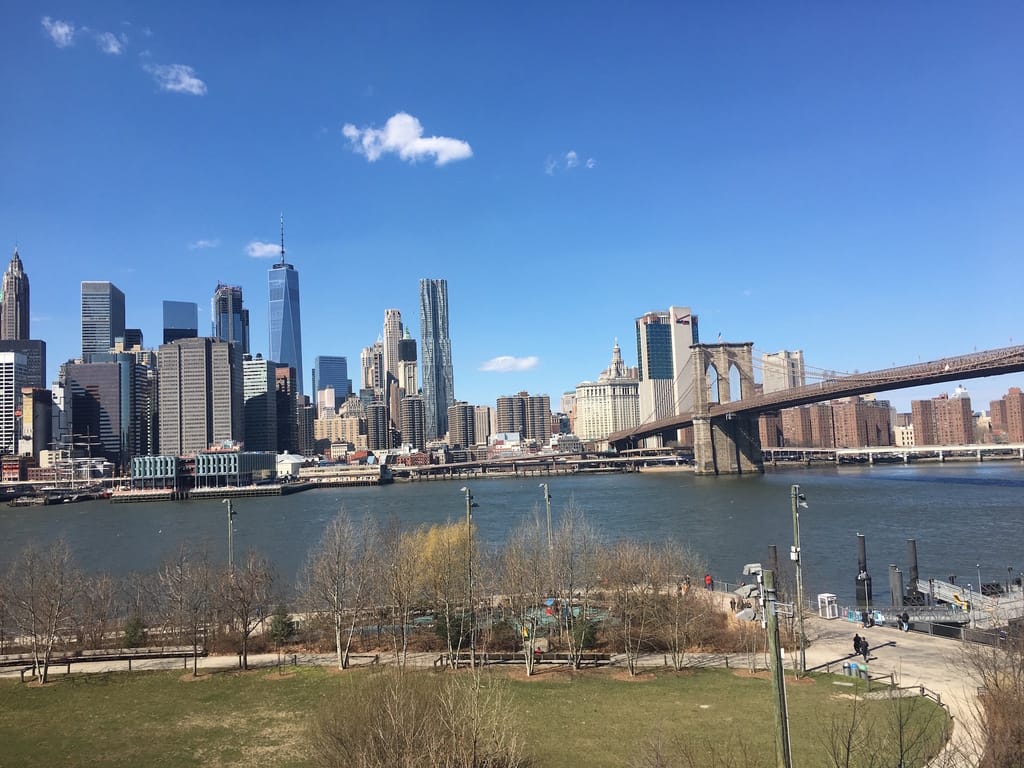 Just over a month ago, I stayed at the 1 Hotel South Beach property and was introduced to their eco-luxury concept (You can read my review here as well as the background and premise of the 1 Hotels). The 1 Hotel Brooklyn Bridge is the third (Miami and NYC are the other two) property of this fairly new hotel brand and the first developed from the ground-up. The waterfront hotel, housed in the former Domino Sugar Factory, was a five year undertaking in the making. The drawings were nearly complete for the property when Hurricane Sandy hit in 2012. Waterfront zoning changes required the building to raise its base by three feet without increasing the overall building height, requiring a massive redesign. The 10-floor 194-room hotel, once fully completed by Fall, will have five restaurants, a spa, fitness center, along with plenty of indoor and outdoor event space. And what about transportation, you ask? A complimentary Tesla house car provides guests transportation wherever they want to go within three miles and provides a complimentary shuttle service to subway stops and Wall Street three times daily. If you want more exercise, you can take one of the Citi Bikes to explore the neighborhood.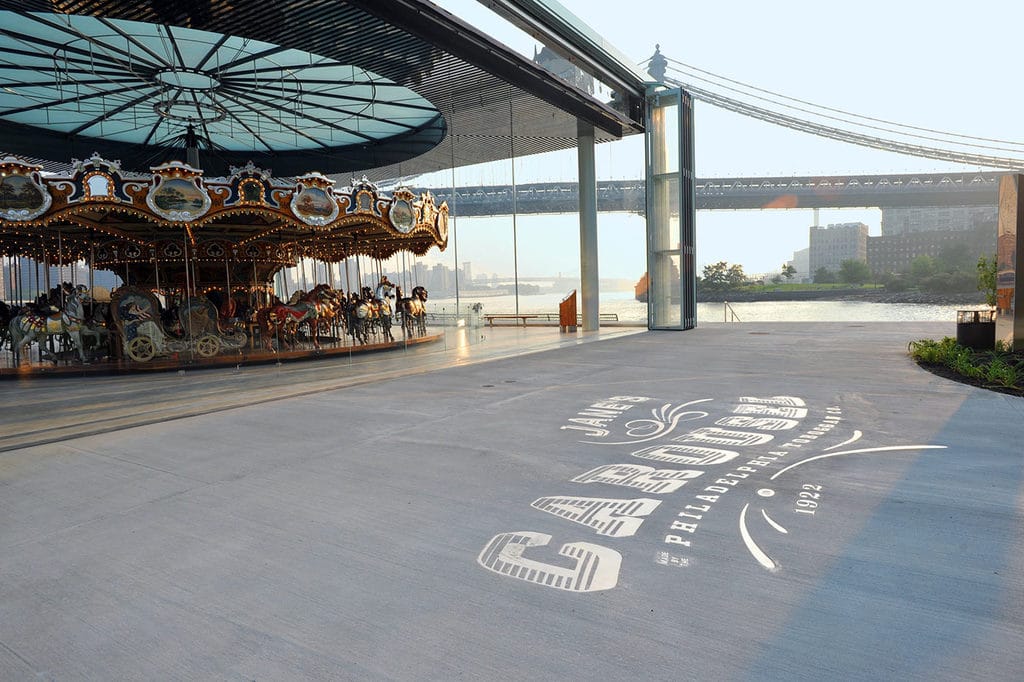 The location of the hotel, right on the foot of the 85-acre Brooklyn Bridge Park, could not be more ideal. The restored Fulton Ferry Landing (one of Brooklyn's most historic sites, marking the first ferry service between Brooklyn and Manhattan in 1642) and landmark River Café (also recently renovated) are a stones throw away. The beautifully restored 1922 carousel, Jane's Carousel (above), is open year-round. Bike paths run from Pier 1 to Pier 6 with Pier 2 offering over five acres of basketball, bocce, and other sports as well as a roller rink . And then there are the vistas of lower Manhattan and the Statue of Liberty. It's a photographer's dream.
Public Spaces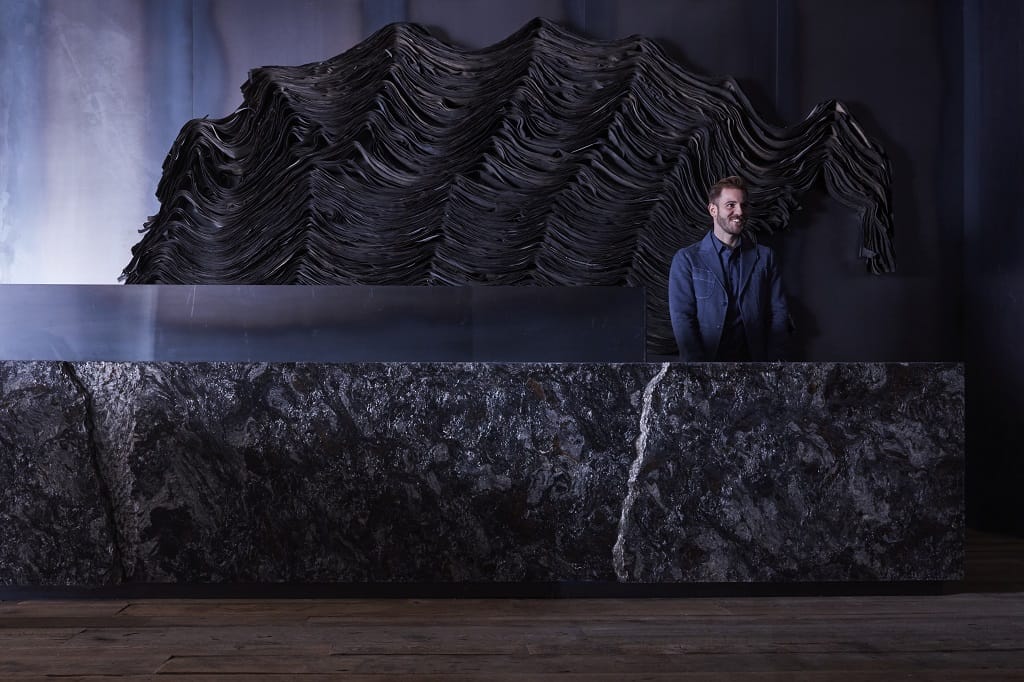 One of the first thing you notice when you walk through the entrance of hotel is the front desk – or rather what is behind it. The massive Jarrod Beck installation is constructed of remains of rubber roofing stripped from a retailer's roof after a tornado.  Right by it is another installation, this time at the foot of the industrial-style stairs leading to the 2nd floor. The 6,000 rock installation was created to evoke a sense of place – particularly the port and bridge surrounding the hotel.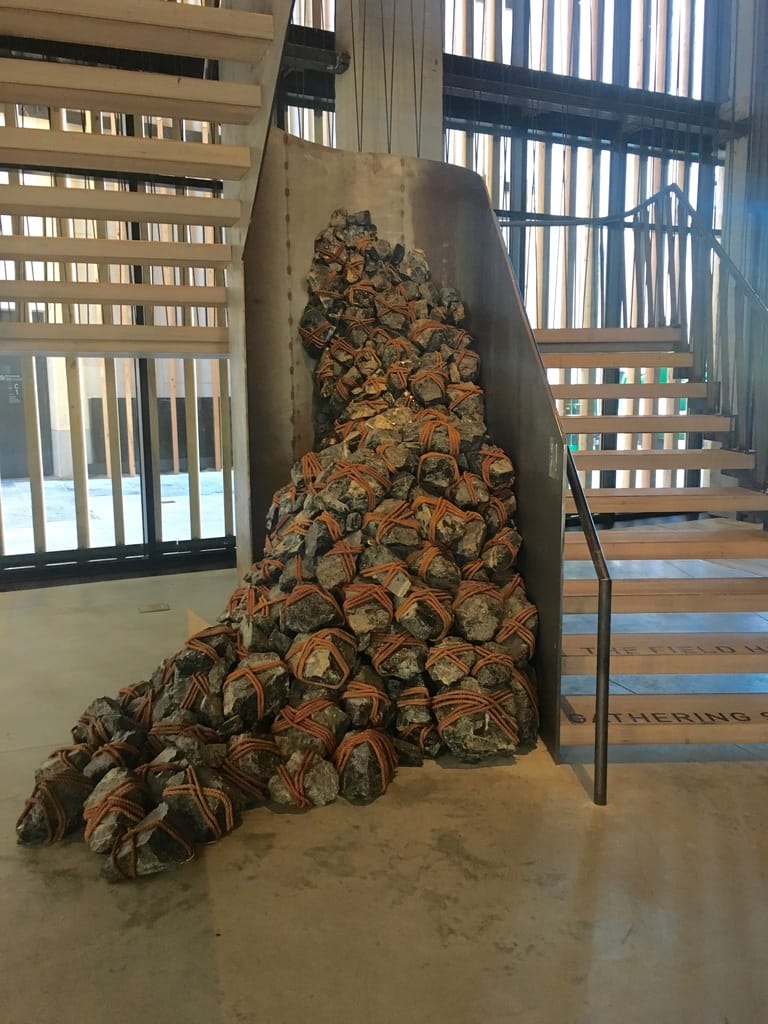 The industrial aesthetic that continues throughout the impressive open air lobby/lounge (as well as the entire hotel) is softened with luxurious shaggy rugs, ottomans and pillows and natural leather seating. I loved the unique combination of textures – ropes, bricks, marble, stone, glass and wood.  Not just any wood, mind you. Almost everything is reclaimed here (over 50% ratio, I am told) whether it is beams found in neighboring factories, walnut from Brooklyn Bridge Gardens or pine flooring from the Old Crow Distillery in Kentucky. Most of the furniture was designed by the local Brooklyn furniture designer, Uhuru.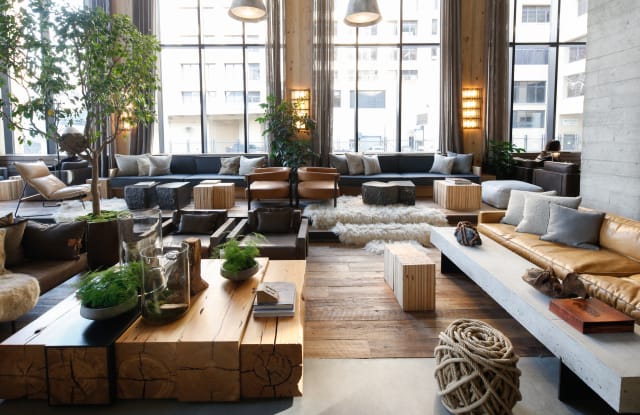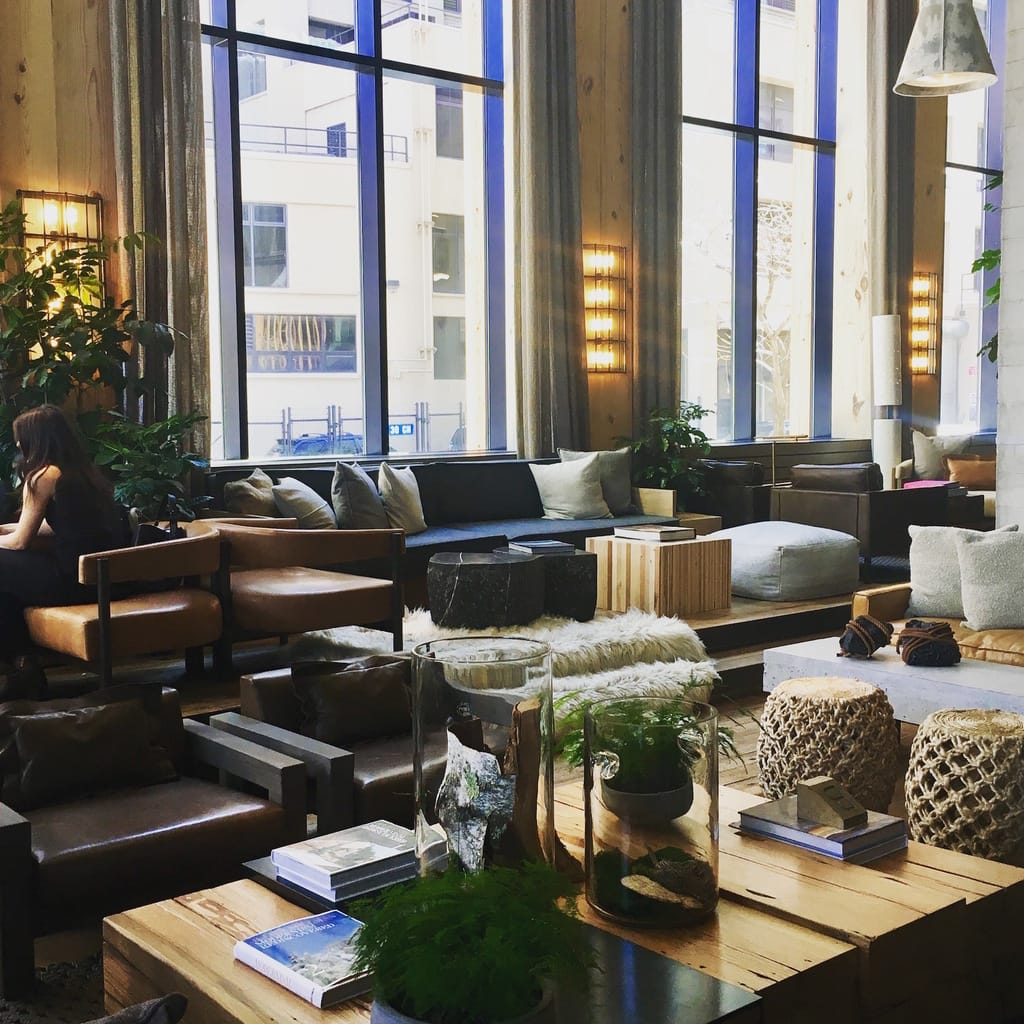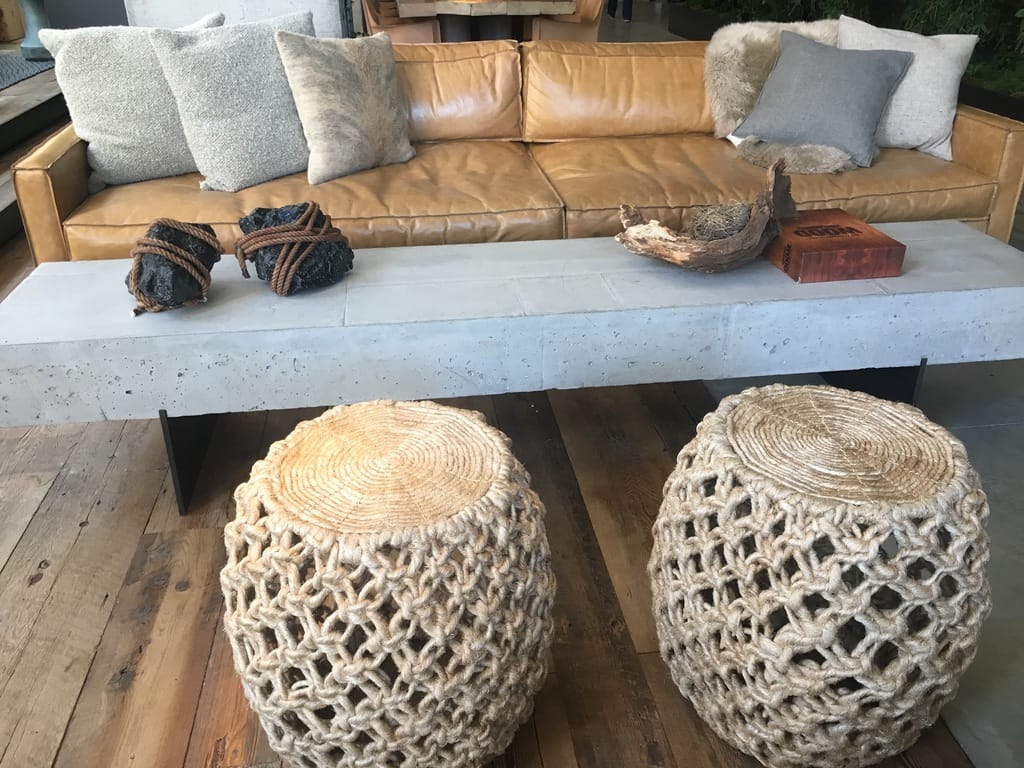 Uhuru is not the 1 Hotel's only Brooklyn partner.  An important part of the 1 hotel's mission is to create deep ties with the community. Even before the hotel opened, the 1 Hotel partnered with the NYC Restoration Project to locally plant 500 trees. They are partnering with Brooklyn Bridge Park Conservancy to create joint events and activities. The 25-foot living green wall of plants in the lobby, as well as all the plantings on property and in the guest rooms, was created by the Brooklyn husband and wife team Harrison Green. Works from other local artists such as Olivie Ponce and Daniel Phillips, whose photography, sculpture and video installations using reclaimed items from abandoned and demolished Brooklyn buildings, can be seen in the guest rooms, 2nd floor and even on the chimney roof!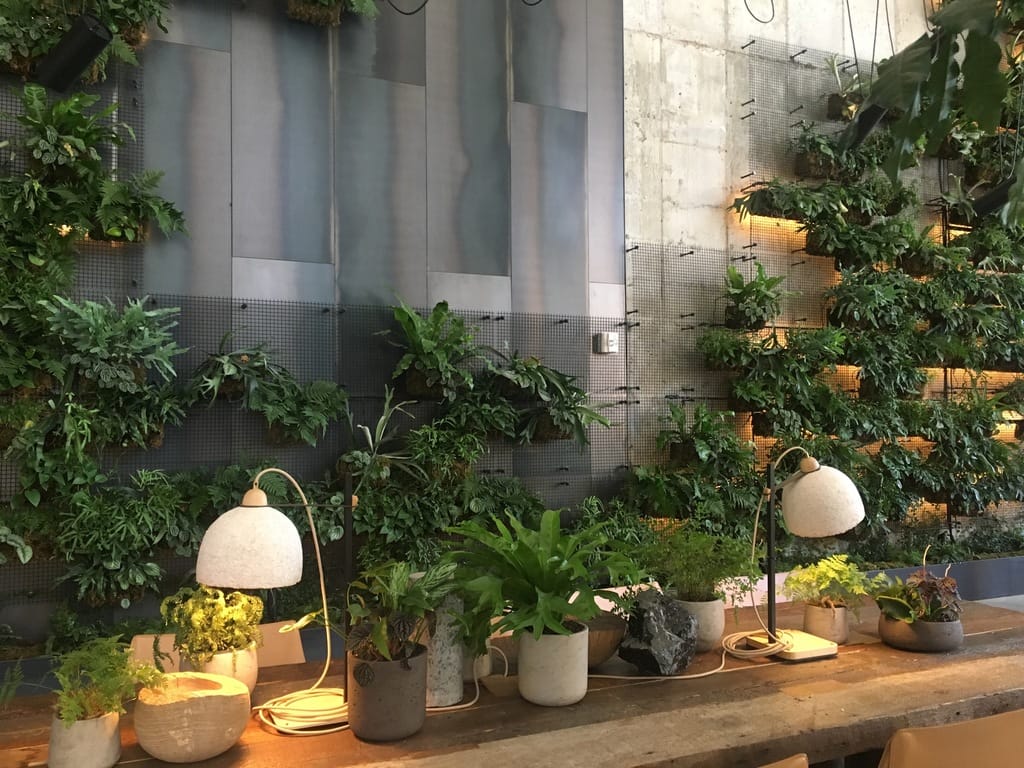 The industrial feel is not just decorative.  For example, those massive pipes you see in the lobby below are actually collecting rainwater to irrigate Brooklyn Bridge Park. Impressive, right?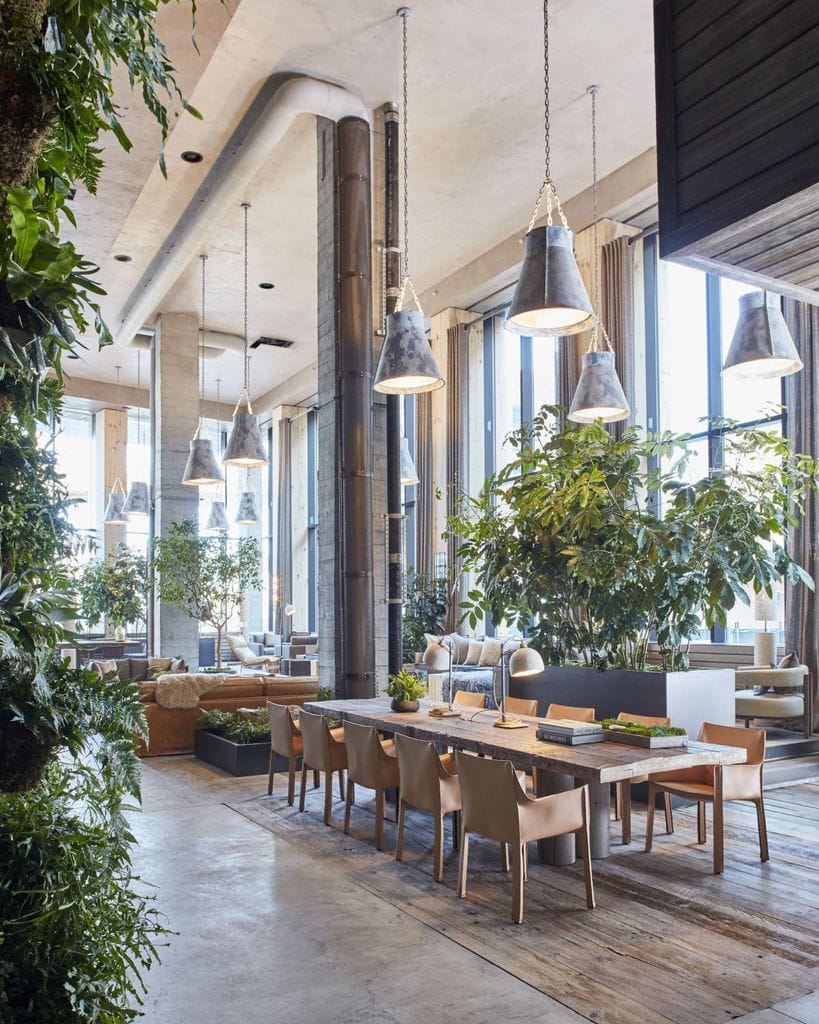 Rooms
There are 194 rooms, including 28 suites, at the 1 Hotel. Worth noting is that there are no twin or queen beds in any of the rooms. Just king beds.
The 1 Hotel's sustainable architecture ethos continues in the rooms from the recycled wood chips used for your room keys to the repurposed leather scraps used for room numbers. Even Do Not Disturb signs have been creatively replaced with Now and Not Now rocks.  In the rooms (or anywhere in the hotel), you won't find a single plastic bottle. Triple filtered taps and in-room glassware are used instead, already resulting in 750,000 saved water bottles to date. Likewise, low flow fixtures and optional shower timers have saved 10 million gallons. As a guest, you not only have to respect that but it makes you more conscious about being less wasteful when you get home.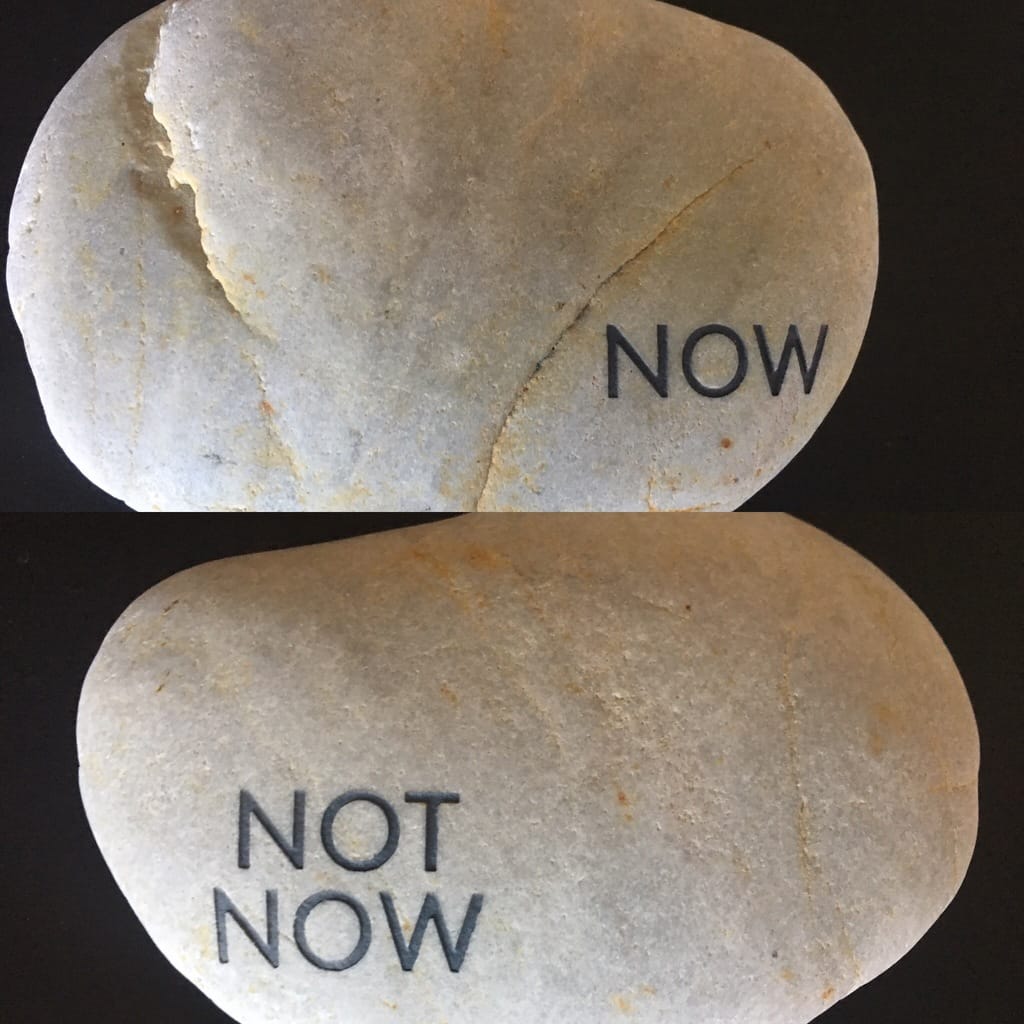 All the rooms feature custom hemp blend-filled mattresses (incredibly comfortable, I might add), natural cotton knit towels and robes, cozy cotton socks to take home (instead of slippers).
I was able to view two of the Skyline Suites 504 and 507 (pictured above). Aptly named, these premium rooms (there are 16 of them) offer unobstructed views of the Brooklyn Bridge, the Manhattan Skyline and the Statue of Liberty. These suites can be connected to neighboring rooms for a family or group and are twice the size of the standard rooms.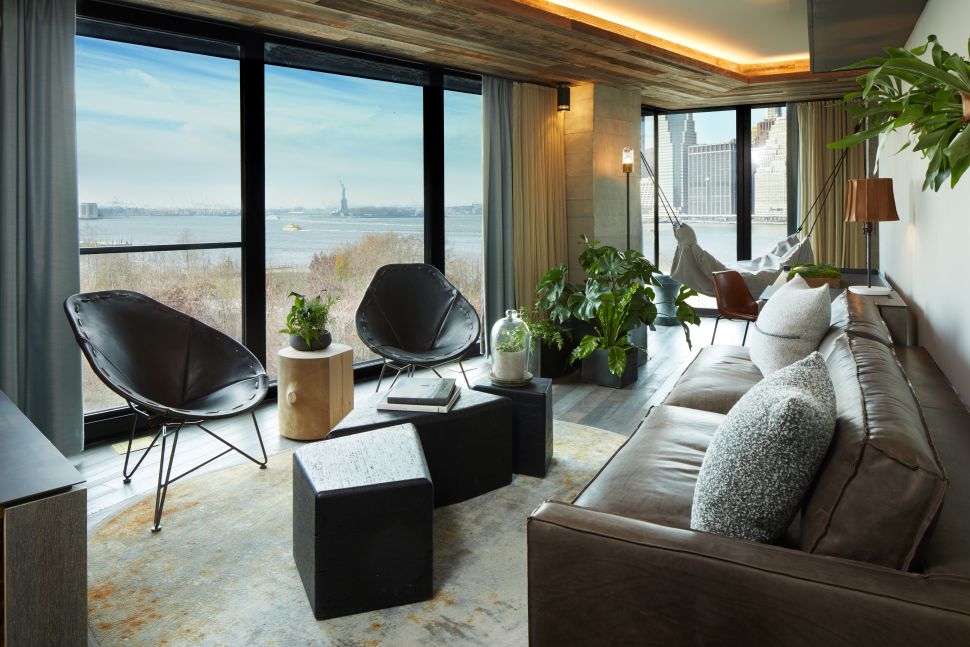 Restaurants 
Shortly, the 1 Hotel will feature five food and beverage options: a main restaurant (still under wraps but due to open in May), the Neighbors Cafe, the lobby, the roof, and 10th floor lounge. An outdoor space with fire pit will be opening soon as well.
Already open is Neighbors, a bright and airy floor-to-ceiling windowed café featuring artisanal grab-and-go sandwiches and panini. Local vendors such as L'albero dei Gelati for gelato, The Jam Stand for artisanal jams and Bocce's Bakery for all-natural dog biscuits are prominently featured. Only the coffee, from farm-to-table Columbian roasting company Devocion, is exotic.
Similar to the other 1 properties, there is a lobby farmstand providing fresh fruits, nuts and granola daily.
Event and Outdoor Space  
The 1 Hotel Brooklyn Bridge provides 20,000 feet of indoor and outdoor event space. 11,000 of the event space will be next door in the Meadow Rue, ideal for receptions.
The 2nd and 10th floor holds most of the hotel's event space. There are several board rooms and meeting rooms  (all named after plants found in the park), all which provide floor to ceiling spectacular views of the Manhattan skyline. The hospitality lounge spanning most of the 10th floors makes for an incredible entertainment space with private access to the rooftop.
Which takes us to the 11th floor Roof, one of my favorite spaces of the hotel. I was able to take a quick walk (it was really windy!) on the 3,500 square roof, complete with a three-foot plunge pool for guests. I'm not sure any views get better than this – it's pretty breathtaking.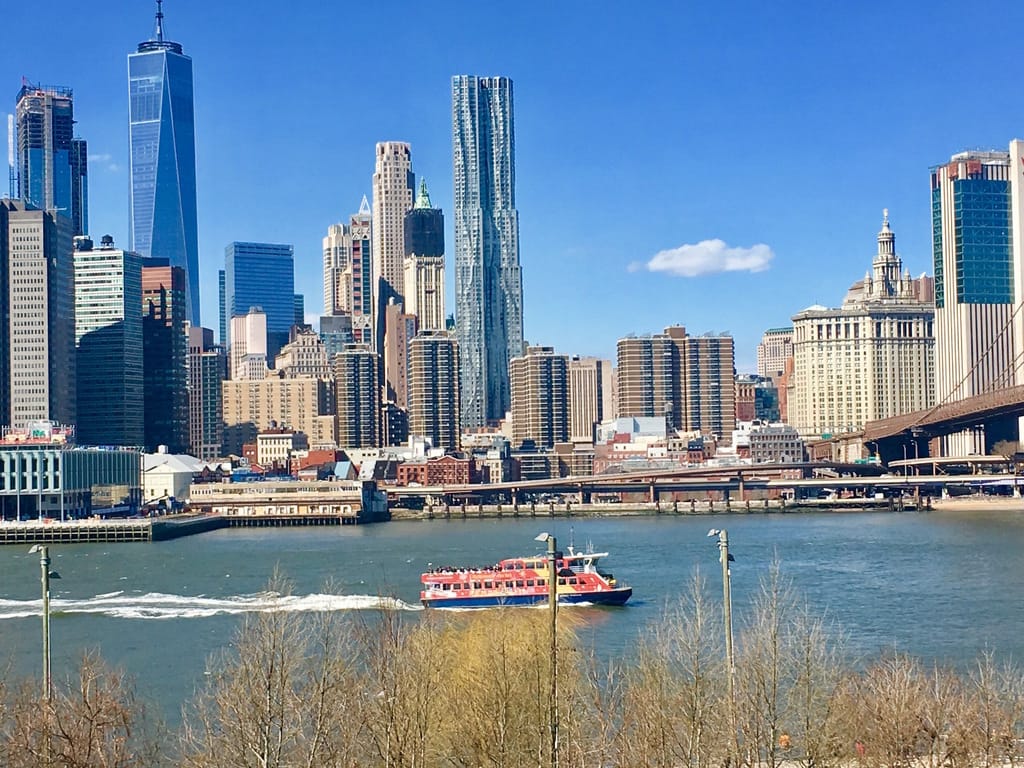 What Else? 
I'm very excited for the Fall opening of one of my favorite spas at the hotel: the British-based Bamford Haybarn Spa (also at the South Beach hotel). with nine treatment rooms. A 50-seat screening room one floor below lobby will feature screenings and also be available for private rental. The 24-hour fitness center on the 2nd center,  Field House, offers weights and personal training. Yoga is offered on Sundays (conveniently, there are yoga mats in every room).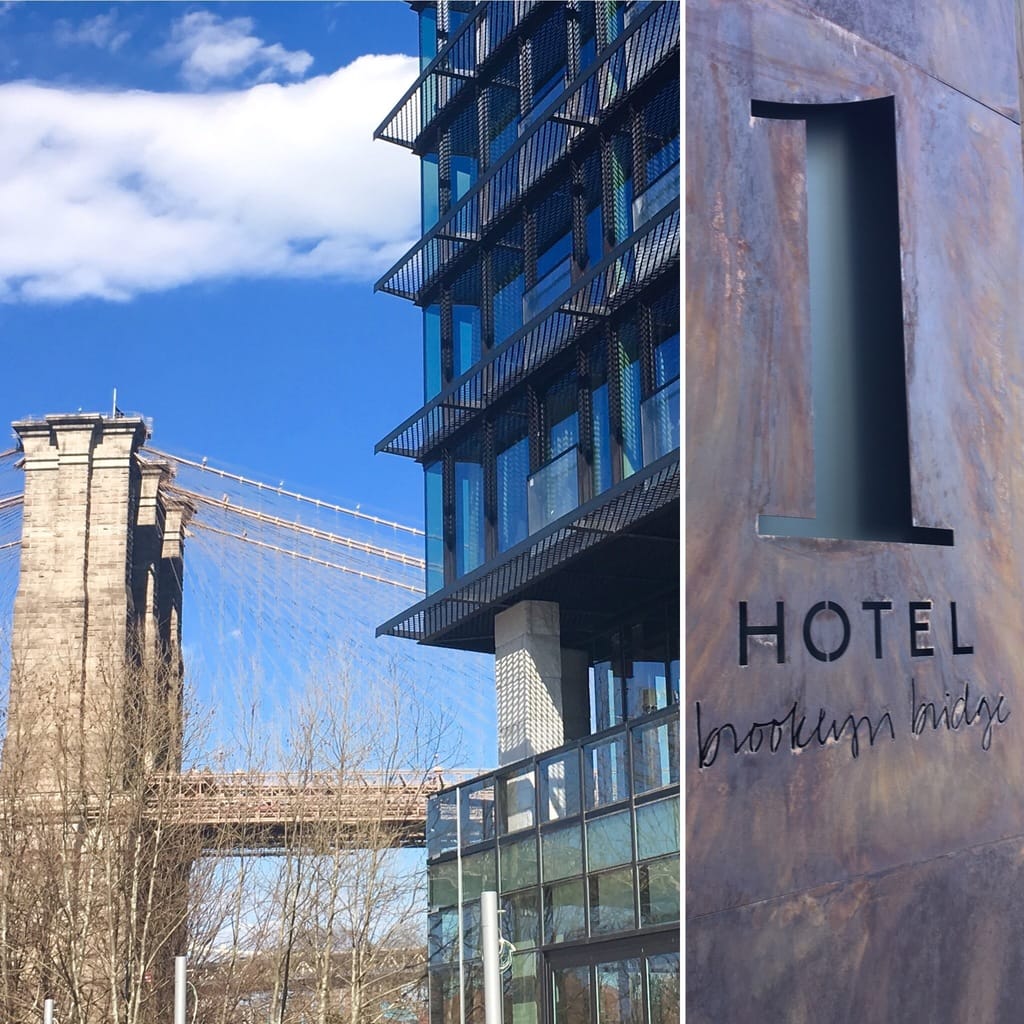 I can't wait to return to the 1 Hotel Brooklyn Bridge on a warm Summer evening and take in the stupendous views on the rooftop. Or maybe I'll come for their Full Moon party on May 10th or one of their candlelit evenings they offer each month to raise awareness for global brightening (next dates are March 27, April 26 and May 25).
The 1 Hotels are taking their eco-chic concept next to China (2018) Cabo San Lucas (2019) and Silicon Valley (2019).  I was sold after my stay at 1 Hotel South Beach and even more so by this visit to the 1 Brooklyn Bridge hotel. I left both properties inspired, wanting to be a better citizen of the planet. I am sure I am not the only one.
Note: The 1 Hotel Brooklyn has a Spring 'Say Hello to Brooklyn' offer valid through June 30th. Receive a complimentary upgrade, $25 to spend on food & drinks at Neighbors and a $10 Lyft credit or 2 ferry passes with your booking.  With every reservation, 1 Hotel will donate to a local organization to plant new trees.