A Journey into the Wild on the Silverseas expedition-style cruise: Editorial contributor Sallie Lewis transports us to the Galapagos Islands for our newest Magazine feature.
The late Anthony Bourdain once said travel changes us. I couldn't agree more. Last Spring, I went on a life-changing cruise to the Galapagos Islands. This wild, remote destination has been on my bucket list since I first learned about Charles Darwin and The Theory of Evolution.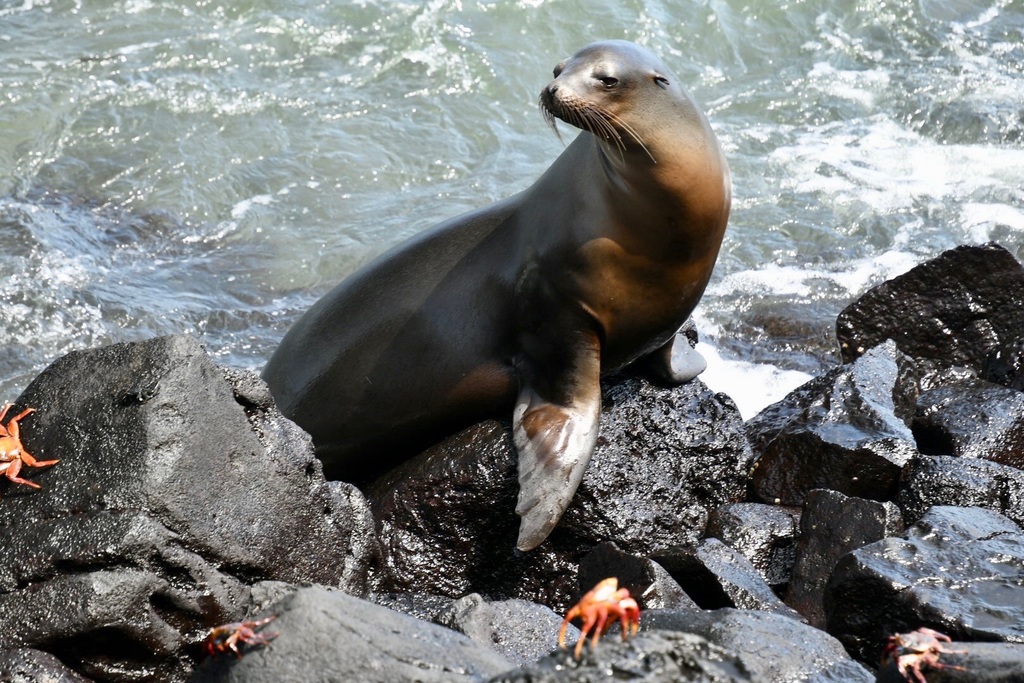 Located over 700 miles from mainland Ecuador, the Galapagos is one of the most isolated places in the world. Getting there requires both time and planning, but as I learned firsthand, it's worth every effort.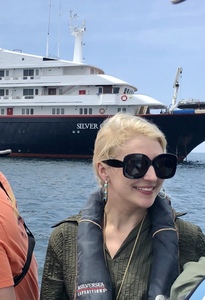 To get to my starting point, I flew to Quito, the capital of Ecuador, and on to Guayaquil before crossing the Pacific to Baltra Island. This is the Galapagos' main gateway port. There, a zodiac motored me to the Silver Galapagos, an expeditionary-style boat by Silversea.
This summer, Silversea replaced the Silver Galapagos with their newest boat, Silver Origin, which features the highest crew-to-guest ratio in the Galapagos (90 crew: 100 guests) and butler service for every suite. Built in 2020, this environmentally-conscious boat is more modern in feel. The elegant suites boast sophisticated interiors and spacious verandas, with some having ocean-view bathtubs and balcony showers.
My itinerary journeyed from Baltra to San Cristobal, with visits to North Seymour, Sullivan Bay, and Genovesa Island, to name a few. Every day, there was a host of activities, from kayaking excursions and nature walks to snorkeling tours and zodiac cruises. Silversea's expeditionary itineraries attract an active, affluent, and adventurous clientele.
Zodiacs are the primary means of transport for navigating the islands and clients should be mindful of their physical fitness levels before booking. Onboard, there was a spa and hot tub, a library and piano bar, a fine dining restaurant, along with cooking classes, live music, and daily lectures.
My favorite stop was the rugged, red-cliff island of Rabida, known as one of the most striking and dramatic places on earth. While kayaking, I saw a Galapagos Penguin, which is the only penguin living north of the equator.
Wildlife is the islands' main attraction and every day brings new discoveries. The great frigatebirds were particularly memorable, with their 6-foot wingspans and ruby air sacks which inflate to woo mates. These birds can fly up to two months without landing!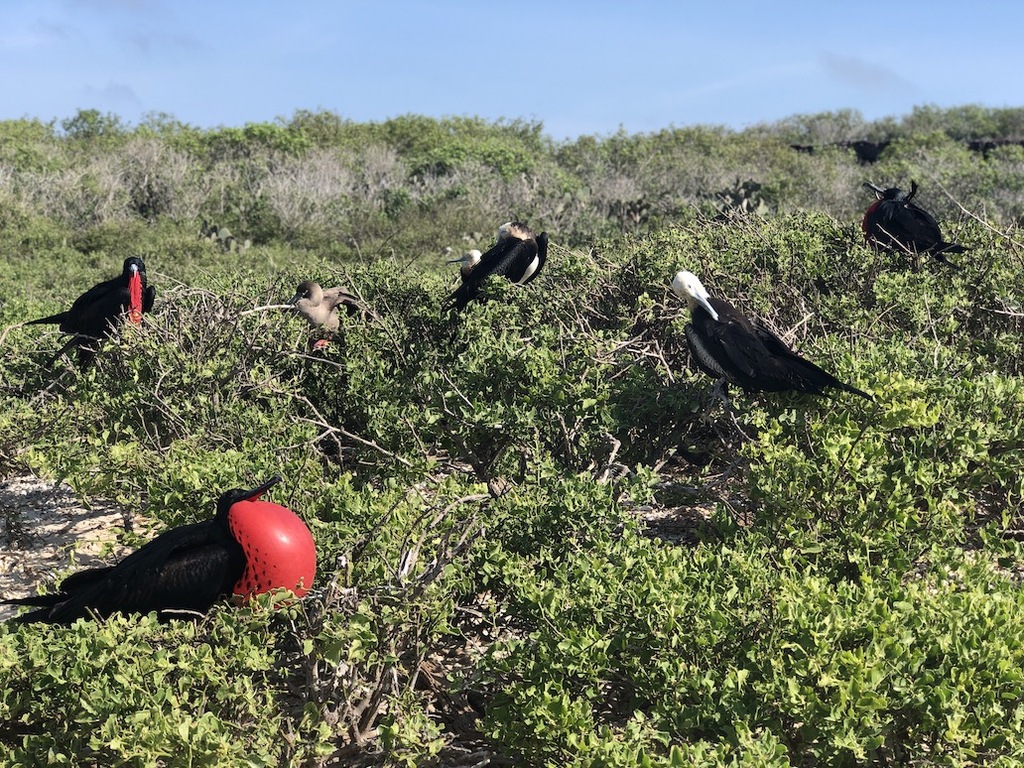 I saw blue-footed boobies lift their turquoise feet in a playful mating dance. I spotted swallow-tailed gulls with neon orange eyeliner. These are the world's only nocturnal gulls and they're unique to the islands. Indeed, much of the wildlife here is endemic – even the fleas!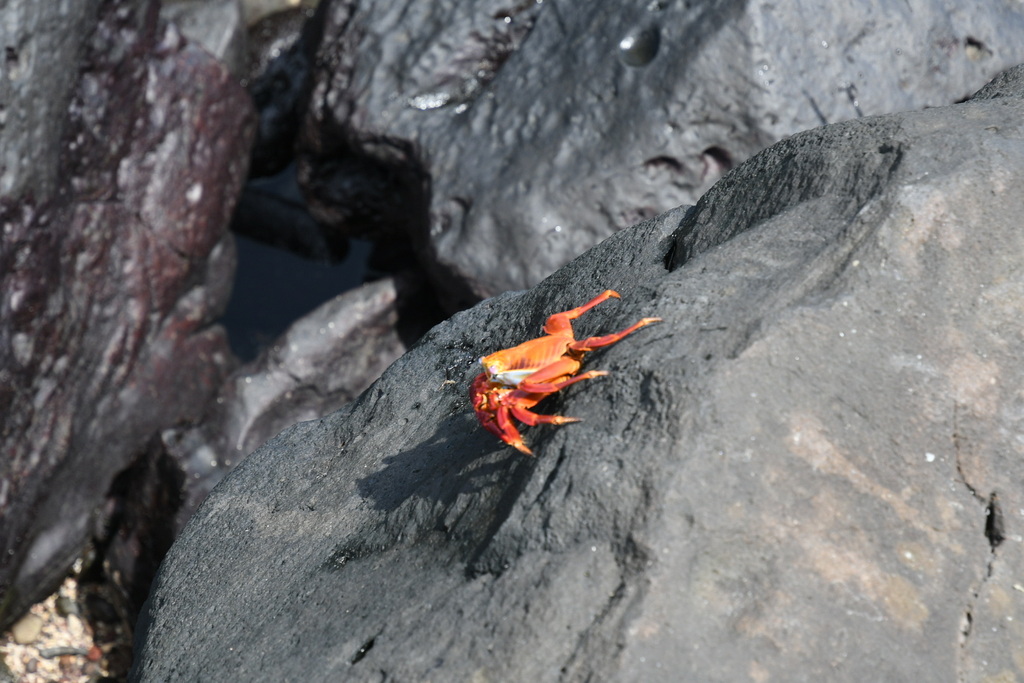 One day, we visited Espagnola Island and hiked St Philip's Steps. The trek led us through fragrant incense forests on route to the sea. I witnessed an owl catch a storm petrel and watched, horrified, as it ripped its wings in a slow, torturous death. Life is hard here in the Galapagos and Darwin himself noticed the daily struggle for food and survival.
No other animal symbolizes this place quite as well as the Galapagos Giant Tortoise. These spectacular creatures, which live 150 years on average, are endemic to the islands. Their curved shells reminded early Spaniards of the "galapago" saddle, which is how the name for both the tortoise and the islands came to be. I visited a breeding center at La Galapaguera Cerro Colorado on San Cristobal and learned interesting trivia about these majestic animals, like the fact that each tortoise's shell is unique, much like a fingerprint.
Back on the boat, I settled into my evening routine, watching seabirds glide in the fading light. The sunsets here are magnificent, painting the sky tangerine, violet, and gold.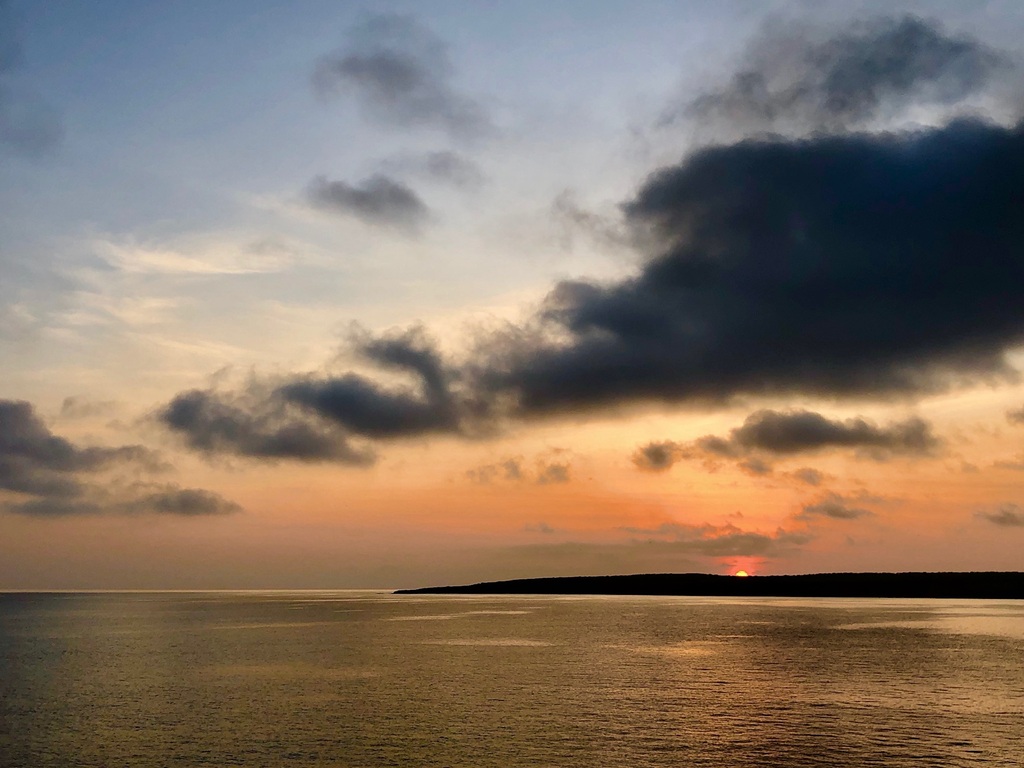 While every day brimmed with discovery, my favorite memories of the trip were made at night. I loved sitting on my balcony after dinner as we cruised to our next destination. It was in those moments that I felt something shift. There is a vastness to this place, a silence and solitude that is haunting at times. Alone in the dark, I felt smaller than I ever have. And yet, gazing up into the brilliant grid work of stars overhead, I felt connected to the world.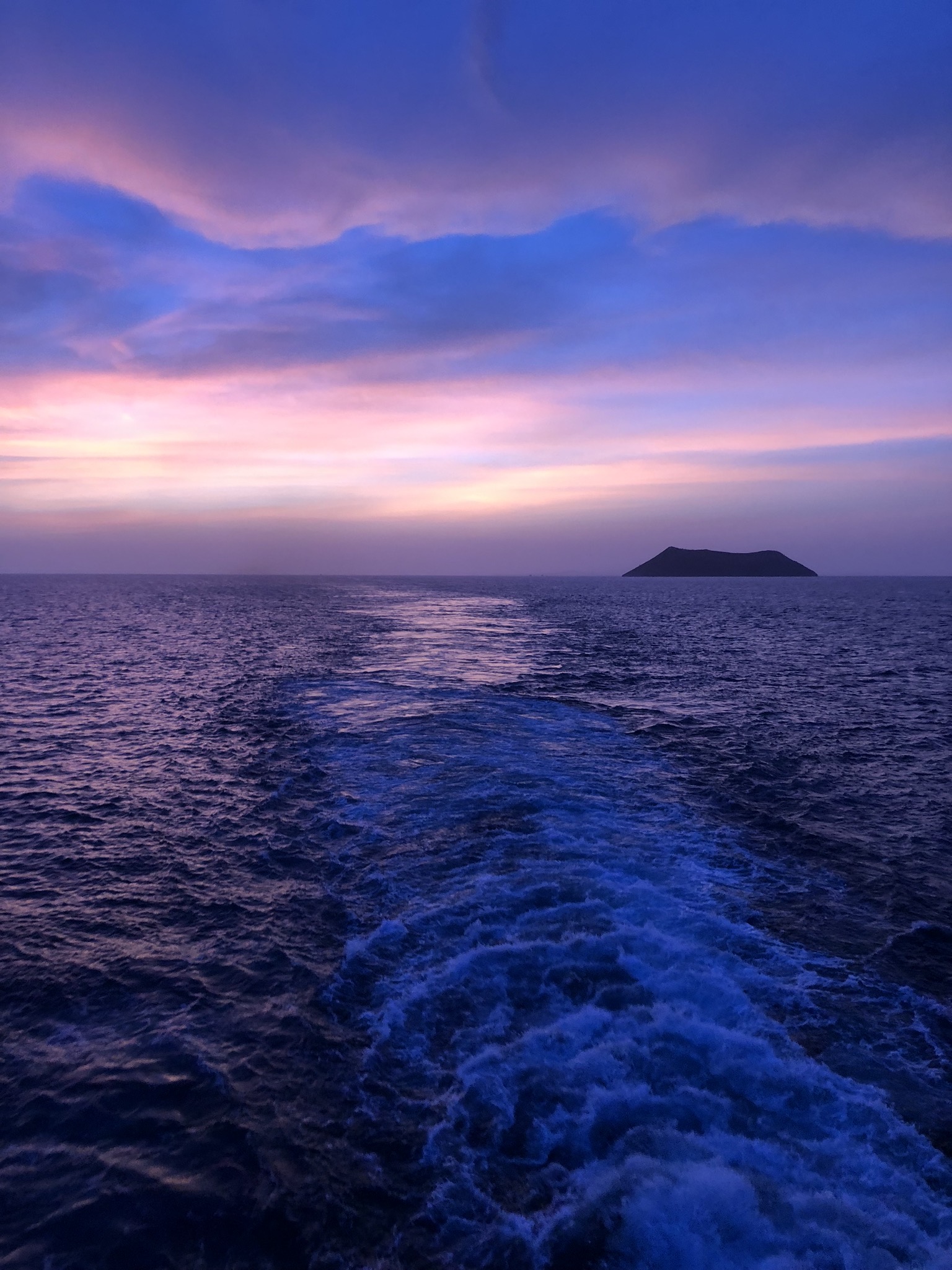 As Bourdain predicted, travel did change me. I'm grateful for the footprints I left on this faraway land, and for the marks it left on me in return.
Review by Editorial Contributor Sallie Lewis.
Galapagos Islands: WHAT To Know
COVID 19 INFORMATION: For those that feel comfortable traveling, this Winter holiday and March can be the best time to experience the Galapagos due to its remote destination, fewer travelers, flexibility and attractive pricing. As of October 19th, there are few cases of COVID-19 and commercial flights from the states have resumed. U.S. Citizens are permitted to enter Ecuador with a negative COVID PCR test (18 and older) taken within 10 days.  Those with a negative test result are not required to quarantine. Up to date information can be found here.
BEST TIME TO GO: December through March are the best times to explore the Galapagos. It can be very hot in March but the waters are the warmest for snorkeling while in December the waters are colder and you need a wet suit.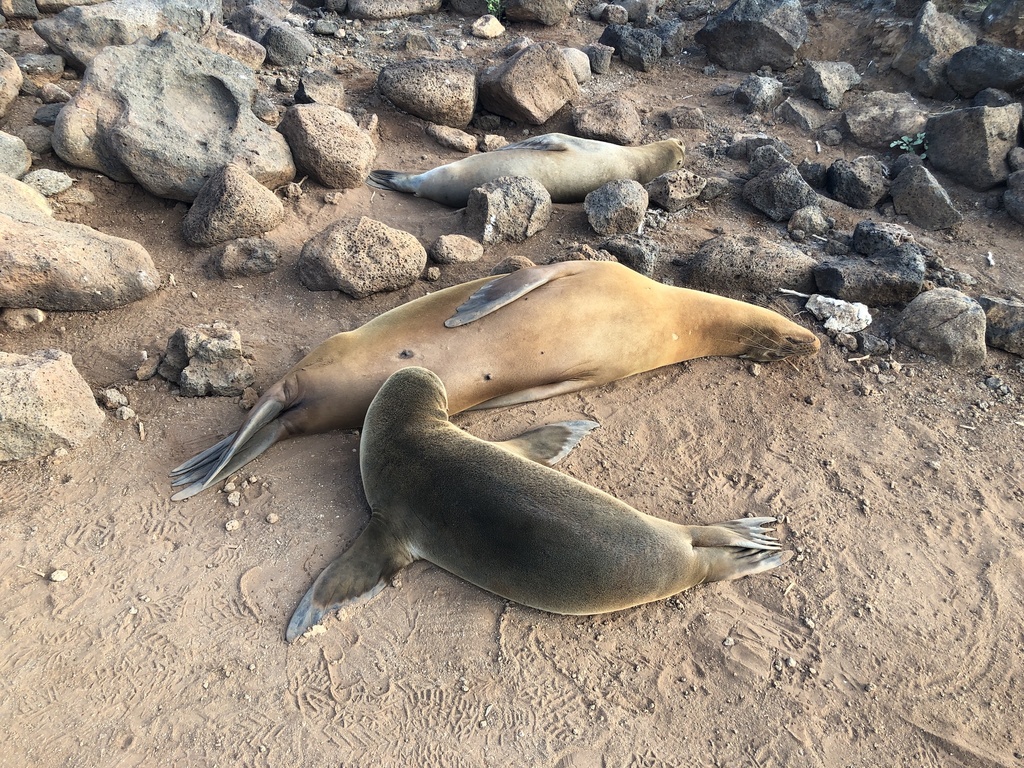 Inviato partners with the best Galapagos specialists to help you book the best Galapagos vacation. In addition to expedition style cruises and luxury yachts (there are several that have debuted this year), we can recommend several camps and lodges. Contact us for sample itineraries, availability and rates.
Related Reviews