Postcard from Venice: A detailed hotel review of the newly re-opened Baglioni Hotel Luna, Venice from editorial contributor Sallie Lewis.
A member of the Leading Hotels of the World, one of our Preferred Partners, Baglioni Hotels offers Inviato Travel clients VIP amenities including complimentary American breakfast for two daily, a $100 hotel credit during your stay, one level room upgrade upon check-in (based upon availability) and early check-in/late checkout.
Hotel Review: Baglioni Hotel Luna Venice
Ever since my first visit to Venice as a study abroad student in 2008, I've felt a connection with the city that rivals any other place in the world. I recently returned and stayed at Baglioni Hotel Luna, which just re-opened in October 2021 after a major renovation overseen by Spagnulo & Partners, led by renowned architect and interior designer, Federico Spagnulo. This 900-year-old palazzo is one of the oldest in Venice, and certainly one of the most prestigious.
BAGLIONI LUNA HOTEL VENICE: FIRST IMPRESSIONS
On the morning of my arrival, a water taxi drove me from the train station to the hotel's private dock. There, candy-cane-like mooring poles stood at attention as I stepped off the boat and into the welcoming arms of the Baglioni staff.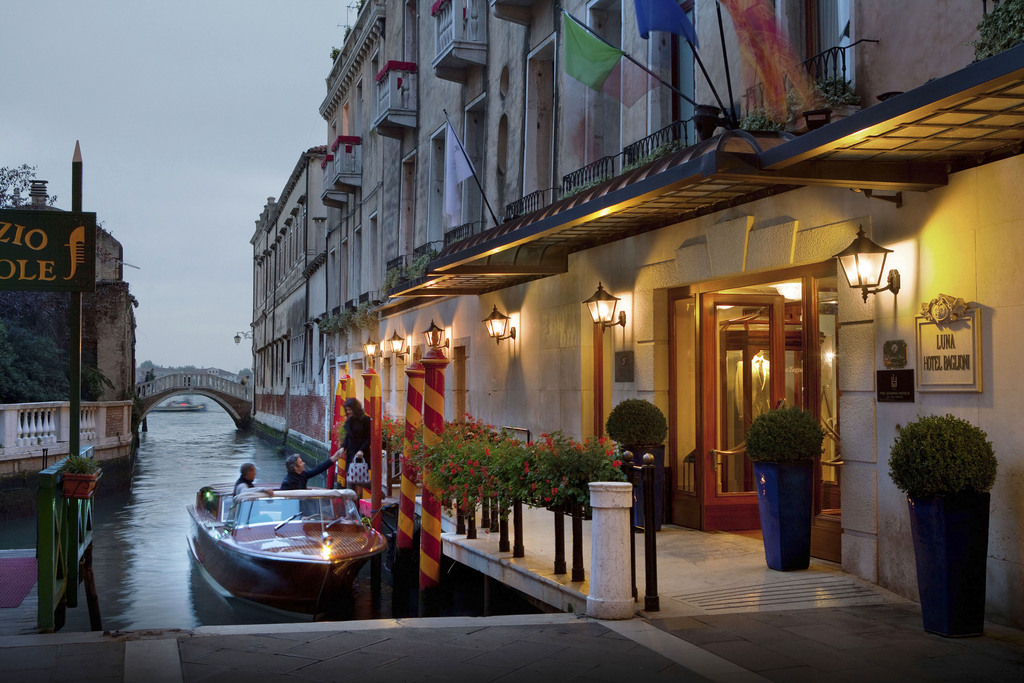 Over the years, the Baglioni Hotel & Resorts has built a reputation for its homely hotels, and its newest Venice property is no exception. Despite being located in the heart of the city, just two-minutes by foot from Saint Mark's Square, it feels tucked away, as if its own private residence. The staff plays an important role in nurturing that homely environment, as does the building itself, which was once the seat of the Knights Templar.
ACCOMmODATIONS
Baglioni Hotel Luna boasts a total of 91 rooms including 4 signature suites, each of which feels deserving of nobility. Of the four, I was most impressed with the San Giorgio Terrace Suite (#367), with its green and gold panelled walls, parquet floors, and sprawling terrace with breath-taking views of the island of San Giorgio. The space was inspired by Louis XVI's bedroom at The Grand Trianon in Versailles.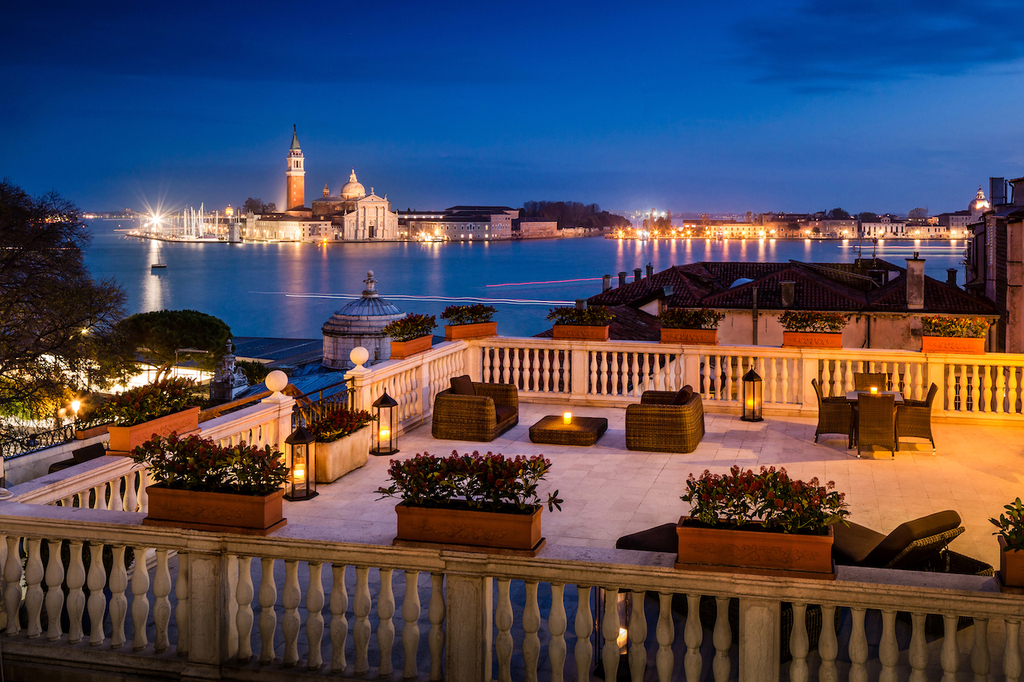 My Deluxe Room (#360) was both cozy and spacious, with windows that opened to the sounds of church bells and winter sunshine. Crisp white linens and marble soaking tubs were offset by pastel tones, rich brocades, and Fortuny lamps, imbuing the overall ambiance with an aristocratic yet intimate feel.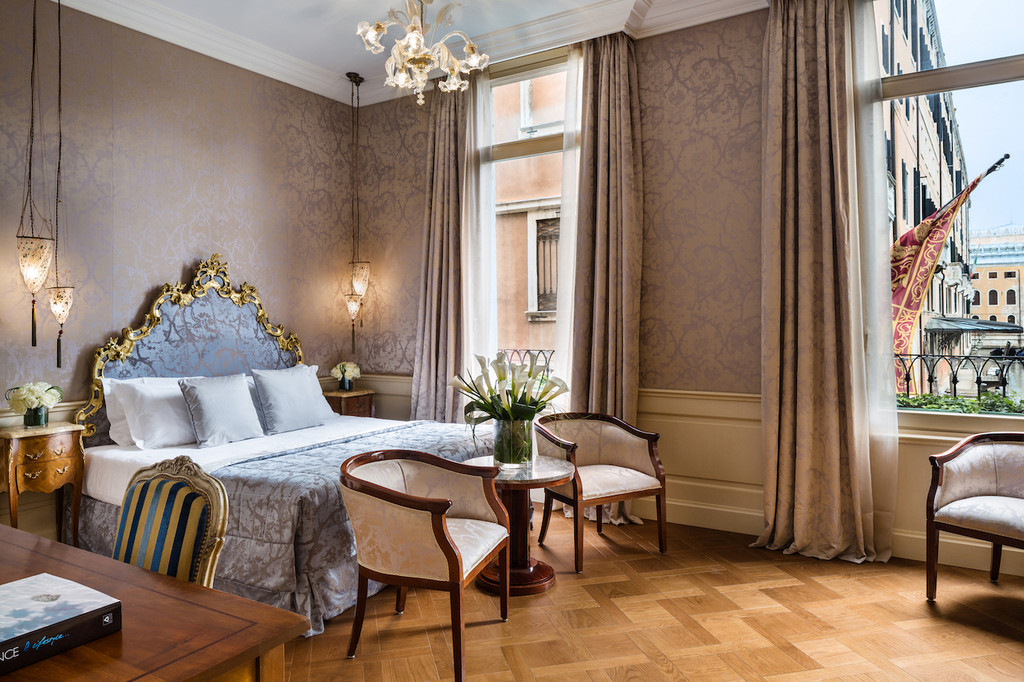 GATHERING SPACES & RESTAURANTS
Much like the guestrooms, the ambiance in the hotel's public spaces has an air of aristocracy that feels at once grand and inviting. The designers drew inspiration from the Floating City's diversity of traditions and East-Meets-West cultural exchange. This blend of influences is felt throughout, like in the entry, with its antique Murano chandelier and its floors inlaid with Red Verona, Yellow Siena, and Peach Blossom marble.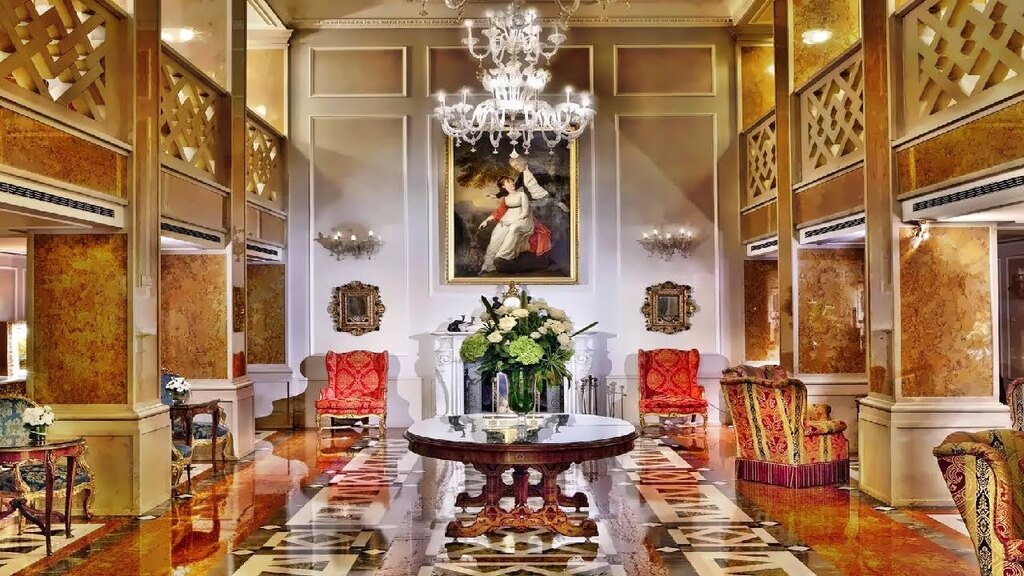 Breakfasts are served in the Marco Polo Ballroom whose walls are elaborately painted with frescoes by pupils of the Tiepolo school from the 18th century. The award-winning Canova restaurant didn't disappoint either.
Led by Venetian-born Chef Massimo Livan, the cuisine here is fresh, creative, and steeped in the gastronomic heritage of Venice. For dinner one night, I enjoyed a typical Venetian starter of marinated shrimp with onions, white vinegar, pine nuts and raisins called "Scampi in Saor," followed by a pasta with duck ragout, green apples, and dill called "Paccheri di Gragnano." The fine dining experience is elevated even further by the restaurant's handsome surroundings, from its wainscoted walls adorned with 18th century paintings to the classic parquet floors and modern, glassed-in show kitchen.
ACTIVITIES & EXPERIENCES
Tailor-made guest experiences are a hallmark of the Baglioni Hotels & Resorts. From mask-making to glass workshops, chocolate tasting and spritz classes, there is no shortage of activities available for guests on request. One day, I took the hotel's complimentary water taxi to Murano, where I was given a tour of one of the most reputable glass shops on the island today. This storefront is located a few steps from the headquarters of the world-famous Venini Factory, which celebrated its centennial anniversary in 2021.
Another highlight was the Codega Dinner Experience. The evening began with a one-hour guided tour led by a "Codega," or guide, the likes of which used to escort wealthy families to and from the theaters during the days before electricity. Dressed in a flowing cape, my Codega led me through a labyrinth of alleyways, sharing stories about life in ancient Venice, all before a delicious dinner at Canova that still lingers in memory.
WHO'S IT FOR:
Everyone from Vera Wang to Megan Thee Stallion has stayed here over the years, drawn to the spacious suites, attentive staff, and opulent experience of being in a historic and elegant Venetian palazzo-turned-5-Star-hotel.
WHAT I LOVED MOST
While Venice may be a notoriously easy city to get lost in, the hotel's central location helped me find my way home on multiple occasions. Its refreshed décor was another bonus, as was its homely, accommodating staff who went out of their way to arrange a variety of unique activities.
WHAT I MISSED
The last leg of the hotel's renovation project includes the addition of a sophisticated Spa featuring a Turkish bath, massage rooms, and relaxation areas inspired by the Venetian aesthetic. While it wasn't yet open during my winter visit, I look forward to returning and enjoying this added amenity.