Any family touring a foreign city with a guide knows what I am talking about – a great versus a good or bad guide – whether it be an all-day general introduction to a city or a specialized short tour –  can be the turning point in a vacation. When I introduced my daughters to Venice, Florence and Rome a few summers ago, they 'broke' two travel guides who just didn't pass the muster only to fall deeply and madly in love with our Venetian guide from the minute they met her. Why? She broke the ice with a tantalizing Venetian ghost story and found a way to bond with them instantly, interweaving stories throughout the tour to keep them tuned in.  It turned what was just a good vacation into a stellar one. So when I find an amazing guide, I keep that name close to my vest for both my clients, friends and my own personal trips.
Our Amsterdam Tour guide
We met such an incredible guide last summer in Amsterdam named Hanneke, co-founder of the tour company, Amsterdam Odyssey almost by accident as our original guide was booked. He immediately recommended his colleague, Hanneke when I requested a specialized Jewish Amsterdam tour geared towards families. Hanneke met our family at the Jancz café at the Pulitzer hotel after lunch and she immediately engaged directly with my daughter. As she walked ahead with her deep in conversation, we knew we found a star.
Our Amsterdam tour guide was engaging with just the right breaks: we walked and took trams to explore the historic Jewish quarter, visit the Portuguese Synagogue (one of the oldest synagogues in the world and still not electrified) and the fascinating Verzetsmuseum (the Jewish resistance museum) while listening to fascinating stories about life in old and current Amsterdam.  Our tour ended with drinks at the beautiful orangery restaurant, De Plantage. If we had more days, would have booked Hanneke for a countryside tour which we sadly missed.
Since our Amsterdam tour, we have recommended Hanneke and Amsterdam Odyssey to many and use them for our clients' itineraries. As I had recently finished my own hotel review of Waldorf Astoria Amsterdam, I asked Hanneke if she would introduce her hometown to our readers and share some of her favorite places as an Amsterdam tour guide. She provides such an insightful perspective of her beautiful city, beyond the winding canals, narrow gabled houses, and of course pancakes and bicycles (loads of them!) we so often associate with Amsterdam.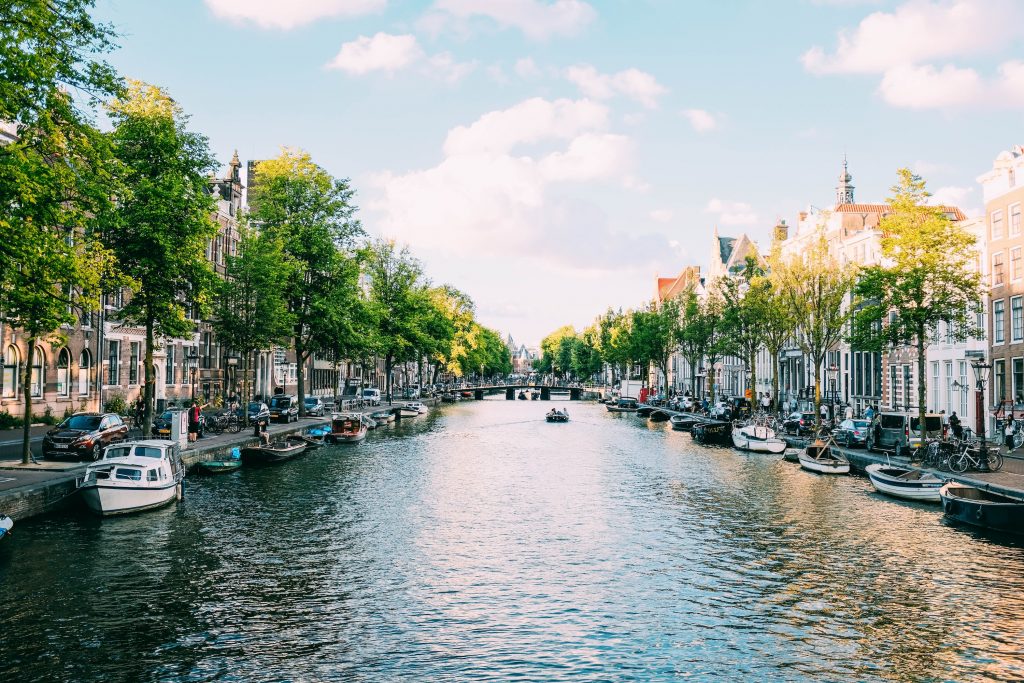 A guide to Amsterdam, through Hanneke of Amsterdam Odyssey tours
Tell us a little about yourself, Hanneke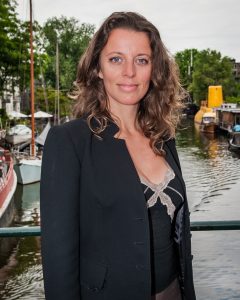 I was born and raised in Amsterdam. I grew up in De Pijp, the 19th century bohemian neighborhood south of the city center. Today, it's the 'Latin Quarter' of Amsterdam – a former working-class area turned hipster's paradise.  In the 1980s, when I was growing up, it wasn't exactly the picture-perfect neighborhood for a kid: dirty streets, lots of traffic and big city problems. But I really liked it there. I enjoyed the hustle and bustle, I was excited to freely explore the city.
I have two daughters Aviva, 16 and Zoe, 10. When I became a mother, I never considered raising them anywhere else, but in Amsterdam. We still live within walking distance from the neighborhood where I grew up.
They say it takes a village to raise a child. For me, it takes a city. Living in Amsterdam helps my daughters reflect on what it means to be a human being in the modern world. Amsterdam gives them the right tools: our history, culture, museums, and above all, our diversity. Young and old, rich and poor all live in the same place and ride the same rusty bikes. It's a school of tolerance, curiosity, and kindness. A true school of life.
I have a background in art history teaching. In fact, I grew up in an artistic family. My father is a sculptor and my mother is an art historian and a museum guide. Growing up, we took road trips through Europe: Germany, Austria, Italy, Spain, Switzerland, France. My mom prepared guided tours for the family and told us amazing stories about every stone. Now that I am in my forties and have children of my own, I realize what a privilege it was. Back then, I took it for granted. I mean, I saw Leonardo da Vinci's Last Supper in Milan when I was nine years old, but at that moment I was more interested in where to find the best gelato.
My parents are definitely to blame for my urge to talk art and culture to my clients. I'm a firm believer that art is not an elitist thing. Nothing makes me happier than to see people light up when, after fearing a boring museum talk becomes a fun family exploration. I worked in several Amsterdam museums as an educator, and it's my second nature now to look for new ways of making art and history exciting for kids.
What do you love most about Amsterdam?
The river Amstel. I grew up 200 feet away from the river, which gave its name to the city (a dam in the river Amstel: Amsterdam). As a kid, I crossed the river every day on my way to school. My childhood friends still live nearby. My mother was born and raised on the other side of the river and she used to jump from them Berlage Bridge to swim in Amstel. Today, I cross this bridge every day to take my youngest daughter to her primary school. And of course, in the summer, we are now the ones swimming in the Amstel (the water is a lot cleaner now than it was in my mother's time).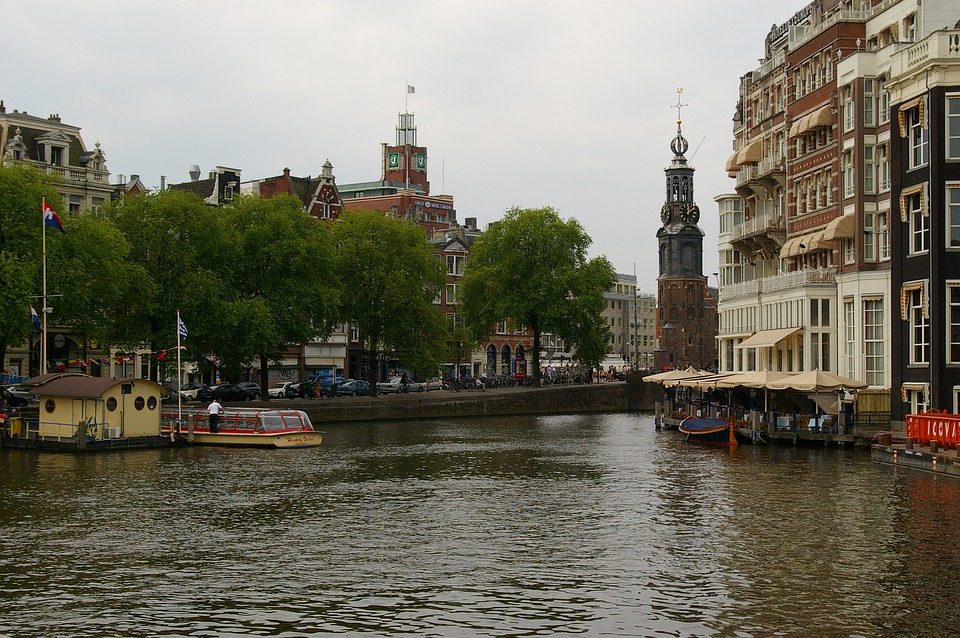 As I cross the river, I often think of the German troops who marched over the Berlage bridge to invade Amsterdam on in May 1940. And of the Canadian troops, who crossed it five years later to liberate the city. Amsterdam's history is alive, everywhere. That never stops amazing me.
I am still a fool for Amsterdam's beauty, too. As I cycle from west to east through the city center, I try different canals and alleyways. I linger, I stop for window-shopping, I chat with people I meet. It's like cycling through a museum—and I have the luxury to consider this a daily routine.  I feel very blessed to live here.
Tell us a little about Amsterdam Odyssey
Eva, my business partner and friend, and I started Amsterdam Odyssey in 2016. Eva and I had met years before in post-doc teaching school at the university. Eva was becoming a social science teacher as an anthropologist, and I an art history teacher as a film scholar. Still today, she is the social scientist with a knack for seeing and making connections everywhere, where I am culture and history geek with an eye for beauty. We are very different—and fortunately very compatible. And we share a passion for Amsterdam and sharing stories.
As we watched our city turn into a very popular tourist destination these last years, it struck us as ridiculous that most tourists flock in the same places and therefore only see…other tourists. They don't see the real Amsterdam that we live in.
Our goal with Amsterdam Odyssey was to expand Amsterdam for our guests. We wanted to show them that there is so much more to Amsterdam than the canal ring, the Dam square, and the Red-Light district.
It really clicked when Eva and I visited Morocco and took a private tour in the medina of Fez. Our guide Mohammed turned out to be a godsend. Not only did he walk us safely through the medina and all the highlights, he also had us peep into keyholes—metaphorically and literally. He showed us where forgotten philosophers and dissident politicians lived. He told us all about the real Morocco, not just the brochure, and the way people live there today. It was an intelligent and inspiring tour—and a true revelation. Our motto, as Amsterdam tour guides, became, "What would Mohammed do?"
What makes Amsterdam Odyssey tours unique?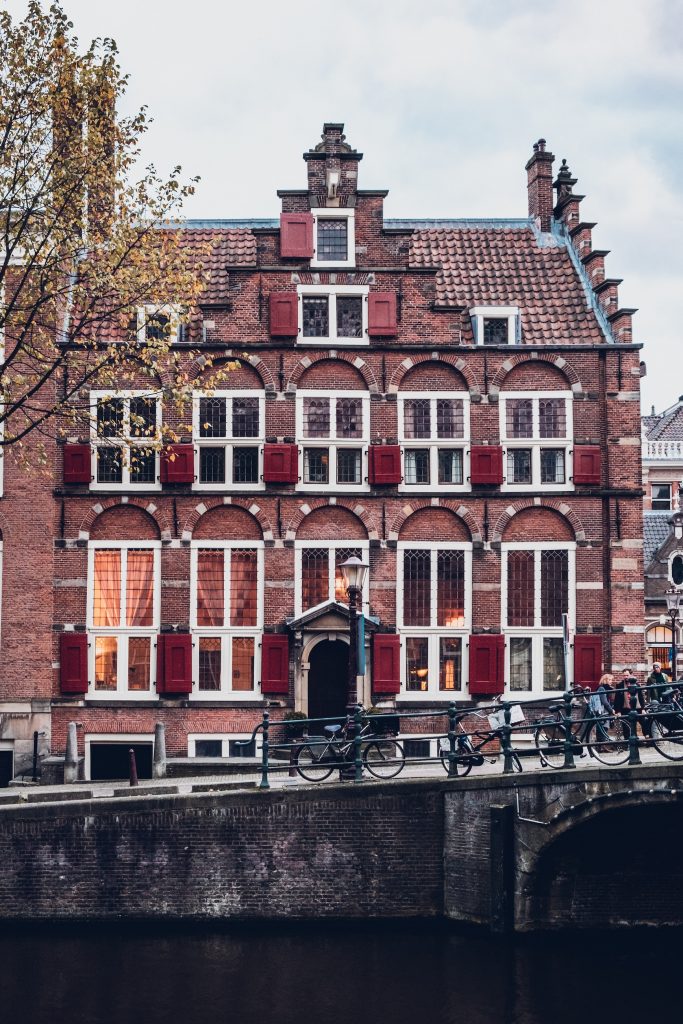 Empathy, I think. Guiding, for us, is all about putting ourselves in our guests' shoes.
As a mom, I have always been in charge of planning family holidays. In that role I had two adults, a toddler and a 7-year-old to keep happy and entertained.  Where to eat? When to take a nap? The little one is all over the place, her sister is anxious in new situations. The parents just want to catch a breath and get away from the usual routines at home. Everyone is a little on edge, and as a mom it is my job to turn this situation into something fun.
I think we all live through the excitement and the anxieties of travel, and understanding this helps me tune into my clients' wishes and needs. My job is to help them relax and feel at home.
That's what Eva and I expect from our guides, too. We have a small team; we handpick every guide. A thorough knowledge of the city is a must—and not just a bookish one. We look for born (rare in a city of immigrants!) or adopted Amsterdammers, who know the city's ways and challenges from the inside. But it's not everything. We can easily turn down an expert candidate if we don't feel that they can connect with people, if they don't have enough empathy.
Eva and I are trained teachers, we know that the success of a learning experience depends on how well you can connect to what people already know and what they want to learn. Of course, we have plenty of knowledge to offer, but don't force it on them. We make sure to frame our clients' expectations as much as possible ahead of time, as we plan and craft the itinerary for them. But just as easily we adjust during the tour. Children get antsy, it starts to rain, jetlag can strike, a café looks appealing.  Guiding is also improvising—literally thinking on our feet. That's what keeps it interesting for us, too. In three years, we have never given the same tour twice!
Do you have favorite tours you like to give?
One of my favorite tours is a double tour of the Rijksmuseum and the Van Gogh museum, in three hours. It sounds like a lot—but in my experience, it gives even the biggest museum skeptics, well… starry eyes. Sorry, I had to do that!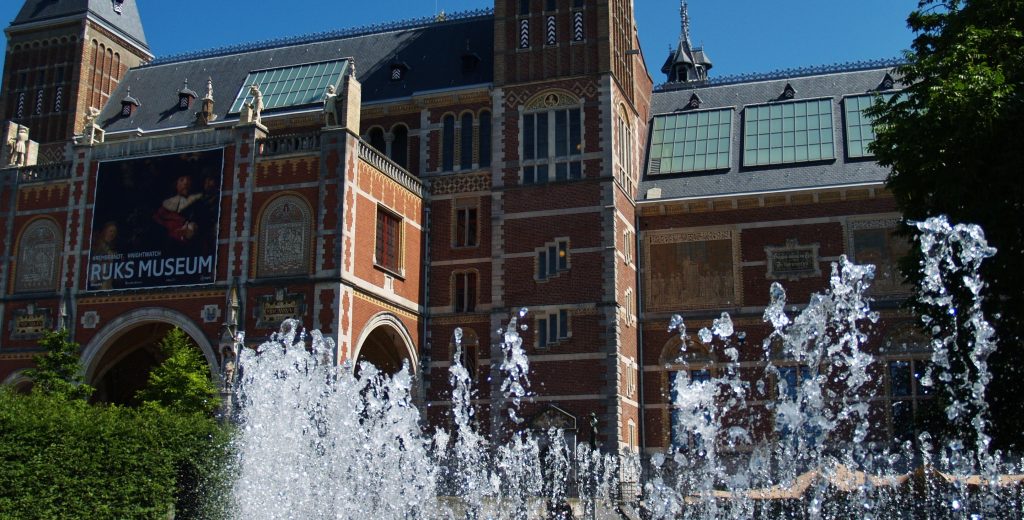 A quick stroll through the must-sees of the Rijksmuseum offers a nice overlay to the exploration of Amsterdam, since it highlights the most vibrant time in its history—the Dutch Golden Age. Then you take a big leap into the modern times, with Vincent van Gogh. He is one of the most charismatic artists ever, with an extraordinary human story behind every painting. And it's a fantastic transition: from the old masters to an artist who turned the whole Western art tradition around.
Another tour I really like to give is the day trip to the Amsterdam countryside. A lot of people enjoy the windmills. But then again, most tourists go to the same overcrowded spots: Zaanse Schans, Kinderdijk and Volendam. Again, all you see there are other tourists. We combed through the area around Amsterdam and found other places—equally picturesque, but also quiet and authentic. We take people to see where cheese is made, to a cute 17th century fishing village, and to a real 17th-century working windmill. There, you can be sure to be the only guests! In fact, it took some effort to convince the owners—they were afraid we would bring them a bus full of tourists. But as we only come with a family at a time, they are happy to show you around. And sometimes the millers let children operate the windmill themselves!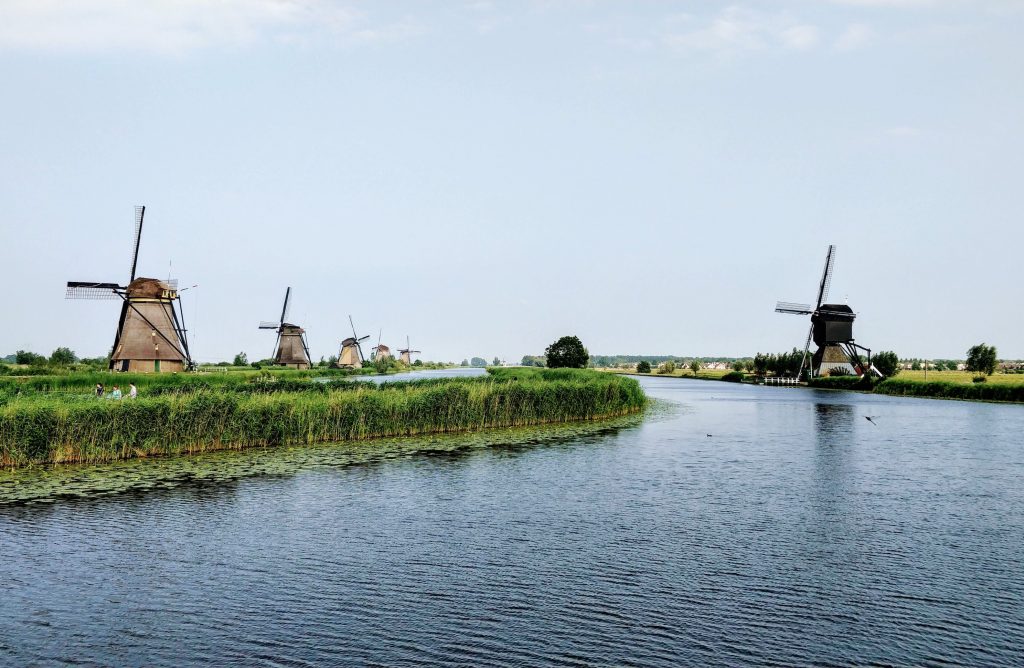 Any insider tips for families planning to go to Amsterdam?
My best advice is always: plan ahead and start planning early! Amsterdam can get really busy during the high season.
Your first call is the hotel in Amsterdam. Don't fall for the convenience of staying in the old center, around the Dam square. It's noisy, packed with traffic, and the public isn't very child-friendly. Go for the Canal Ring for beautiful Amsterdam hotels like the Pulitzer hotel, the Waldorf Astoria Amsterdam, The Dylan or the Estherea. Or stay just outside the canals, in the next layer—the 19th-century belt. That's where Amsterdammers raise their children. You are sure to find there some nice playgrounds, larger sidewalks, and some peace and quiet. The Amstel Hotel and  The Conservatorium are magnificent, and the Andaz and the Hyatt Regency are also welcoming and well situated.  Or go local with your family trip and book at Yays Concierged Boutique Apartments! We love their concept of 'unlocking the neighbourhood'.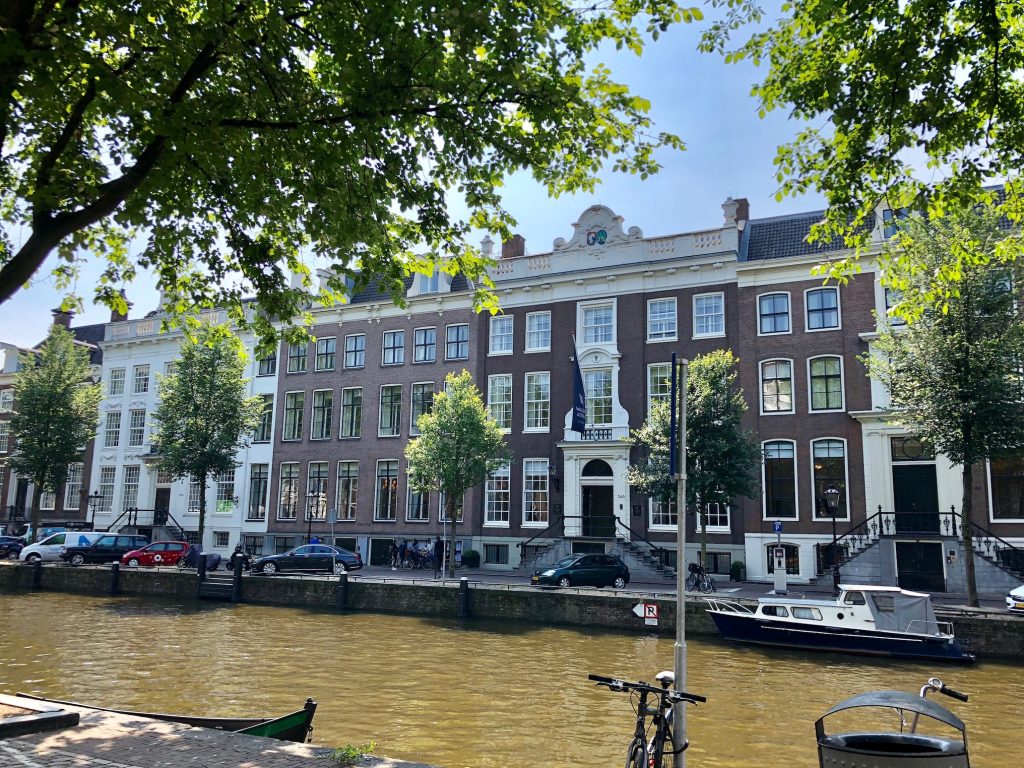 Once you've booked an Amsterdam hotel, you want to book the tickets to Anne Frank's house. Tickets open two months in advance of your exact visit date, and you don't want to miss it. They are very strict about bookings, and no agency can secure a batch of tickets for their clients. So, put it on your agenda—put even an alarm on your phone, if that's what it takes!
Another tip is about canal tours. Don't go for companies offering big boats—their tours are cookie-cutter and often too bland. Take a private tour, for instance with De Jordaan  or at least a small group tour like Classic Canal Cruises who board 3 times a day.  At Amsterdam Odyssey we have a soft spot for Plastic Whale, who offer canal tours that help clean the canals and raise plastic-waste awareness.
As a rule of thumb, strive for a balance of indoor and outdoor activities. Amsterdam has a lot of small, fun museums to offer—a great hideout in case of rain, which is always unpredictable.
If you're staying for three days and more, consider purchasing the Iamsterdam card for a discount on museum tickets and public transport fares.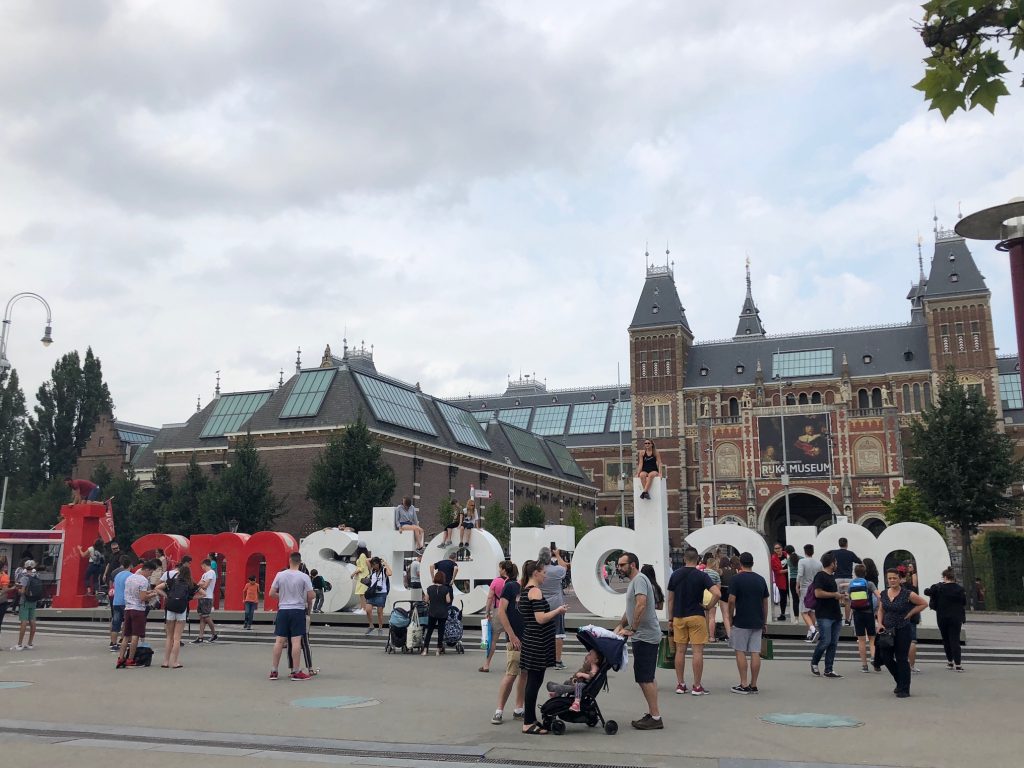 What are your personal favorite cafés and restaurants?
There are constantly new places popping up, and I'm on a self-imposed mission of trying them all, so it's really hard to choose. But I do have a few tried and trusted options.
The EYE Filmmuseum on the river Y, across from the Central Station. It's a museum and also a restaurant with great food, friendly staff, a relaxed atmosphere. The children can explore a museum area adjacent to the restaurant while the parents enjoy a stunning view through the bay windows.
De Plantage, in the soon-to-be-hip Eastern part of Amsterdam. A beautiful place with a 19th-century vibe, which reminds me of the Eiffel Tower with its green iron structure. The food and the wines are spot-on. And they have a gigantic bird cage on the terrace and a lot of space for kids to roam.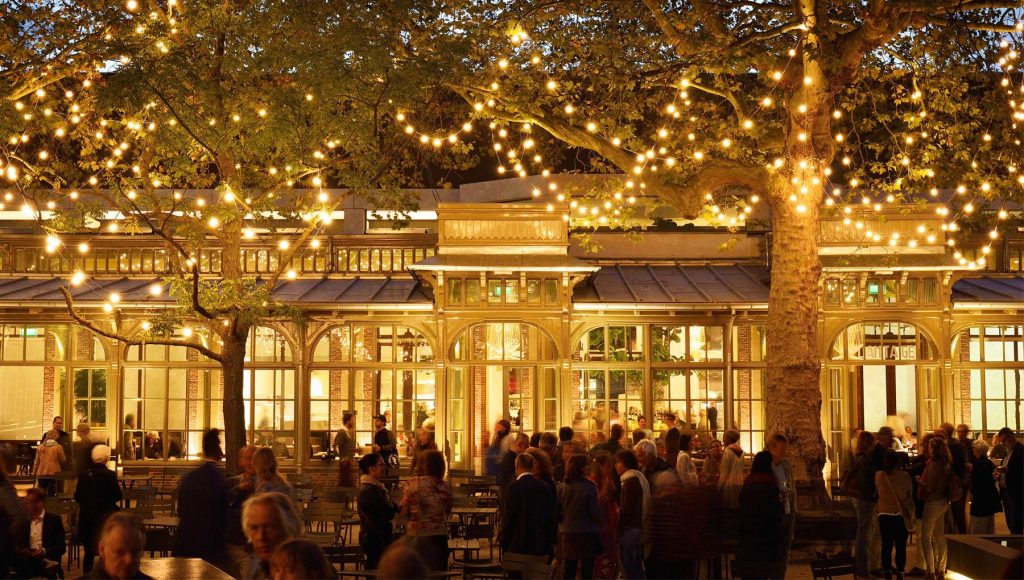 De Ysbreeker for a good menu with local products. The place has got some history, too: it's the birthplace of the social democracy in Amsterdam. Coincidentally, it was the favorite hangout of my parents when we lived nearby; as a child, I used to take my ballet classes in the back (it held a theatre in those days). On sunny days, the large terrace on the Amstel river is always filled with locals.
Pizzeria La Perla in the trendy Jordaan neighbourhood —hands down, the best pizza in town, made in wood-fired ovens. It sits in a lively alley crammed with cafés and restaurant with the same diversity that characterizes Amsterdam.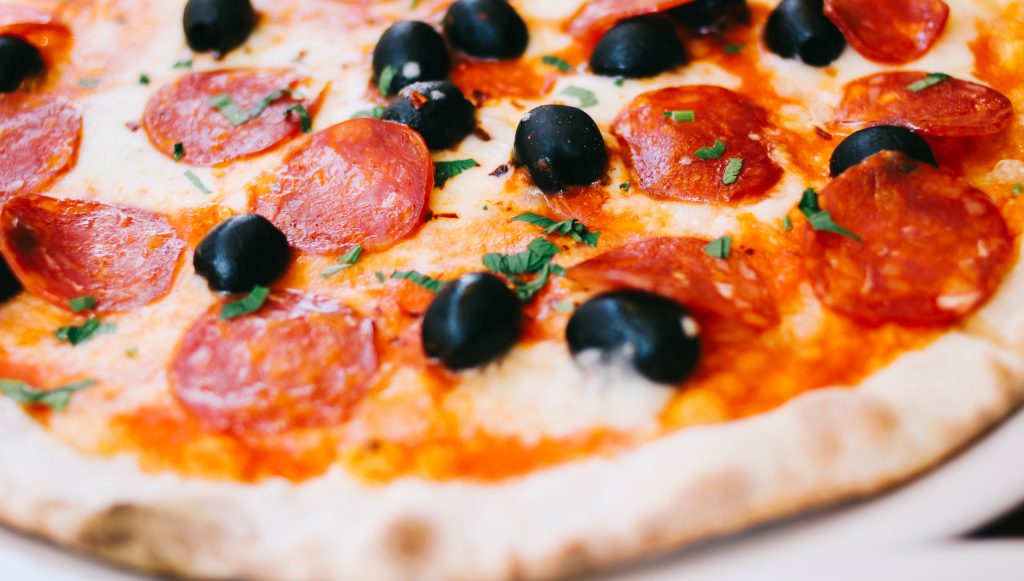 If you're feeling adventurous, try the Tijn's Toko near the Albert Cuyp market in De Pijp. It's as local as it gets. Toko means 'store', and it is, indeed, a supermarket where you can find food from the Dutch former colonies—Surinam, the Caribbean, and Indonesia. But it's also a fantastic place for a fresh take-out sandwich. Pick your toppings and your sambal (spicy chili-based sauce), step outside, and enjoy people watching at one of the liveliest Amsterdam spots.
What about shops or galleries?
Amsterdam is a place to thrive for a lot of small independent boutiques: clothes, jewelry, home décor, and all sorts of cute knick-knacks. There is nothing wrong with the Nine Streets area, of course, except that every tourist goes there. So try these instead:
The Gerard Doustraat (near the Albert Cuyp market) is lined with fun clothing boutiques targeting young women. A great mom-daughter shopping area, especially if your daughter is 15-20 years old. I go there with my oldest daughter. Our favorite place is Penny Lane Vintage, with a large collection of truly unique items.
The old-fashoned toy shop in De Jordaan, on the Westerstraat is a paradise for children, but frankly, for parents too. It's a magic box of colorful old-fashioned toys, which will bring out your inner Peter Pan.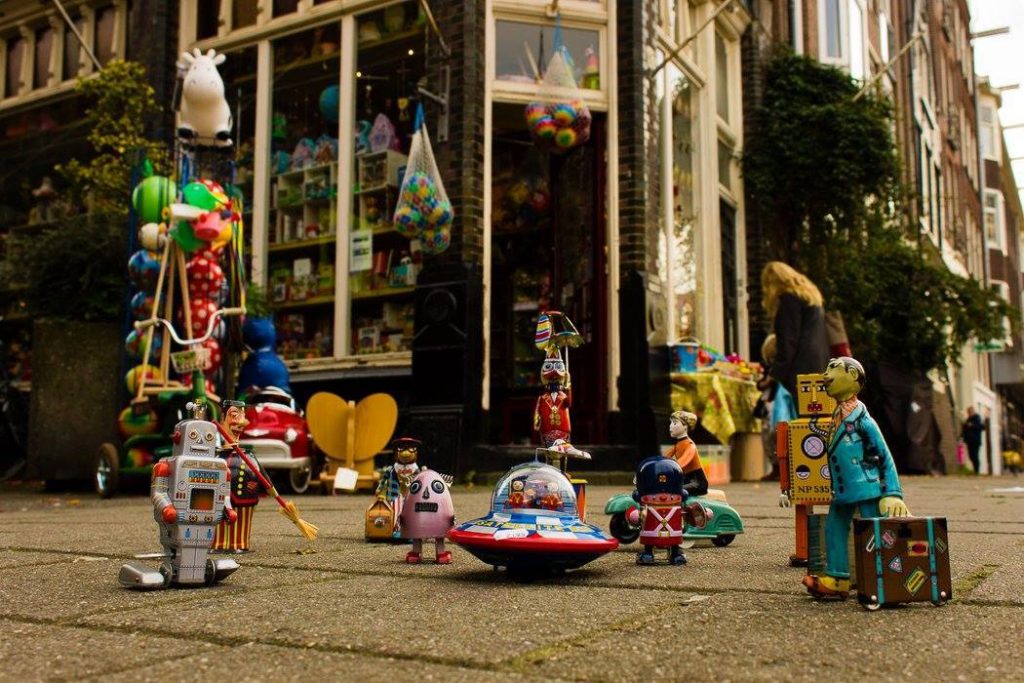 We might not have a Disneyland, but who needs Mickey with The Mouse Mansion? This bookshop is the place to find children's books in Amsterdam and, more importantly, to check out a handmade dollhouse where live very personable woolen mice. You can even build one for yourself at home—they offer tutorials and furniture kits.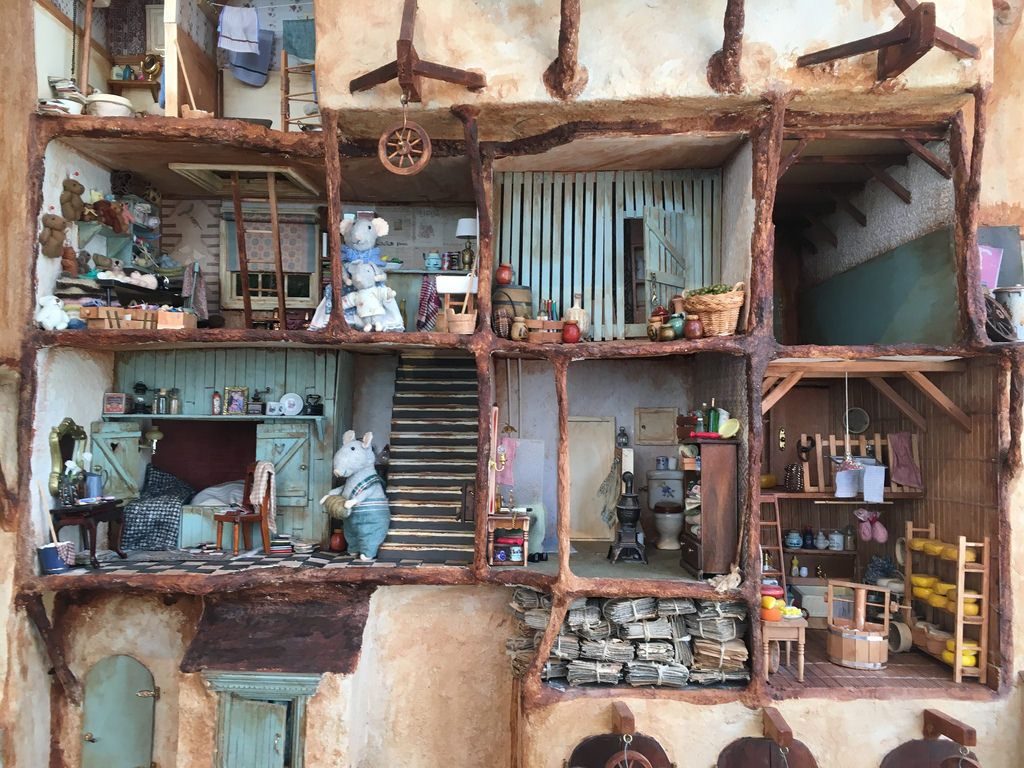 Haarlemmerdijk is one of the oldest streets in Amsterdam (it used to be a dike, and it's still slightly elevated). The city ran a social experiment here in the 1990s, seeking to replace drug dealers with curated shops. It worked! The street is lined with historic houses and gorgeous boutiques. Check out Concrete Matter, a men's concept store, if you're looking for a souvenir for a special guy in your life.
Which places in Amsterdam are overrated and underrated, in your view?
Vondelpark is definitely overrated. It's still a beautiful park in the center of Amsterdam, but it has been on every guidebook for a long time, so don't expect any cozy or romantic experience here. Even worse is the Red-Light District. If you absolutely must check it out, give yourself a few minutes to walk through it from the Dam square. Then get out and spend your time on more authentic places.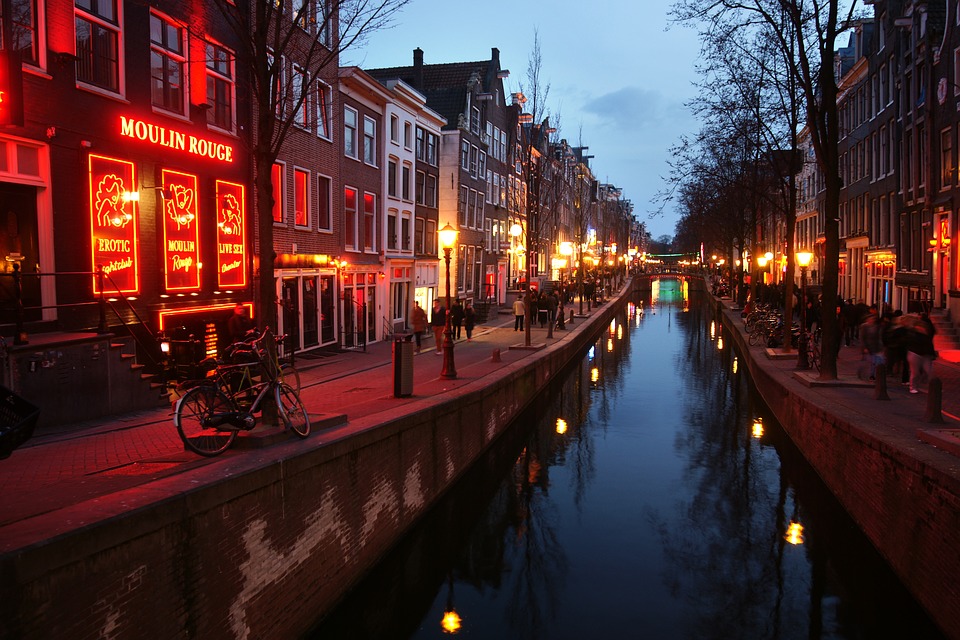 De Plantage is an amazing neighborhood in the East of Amsterdam. It contains the zoo and a very interesting historic area related to the WW2 part of Amsterdam's Jewish history. This is also where the Botanic Garden is located—an exciting alternative to Vondelpark.
On the other side of the city, the three Western Islands, connected by wooden bridges, form an adorable miniature archipelago of the same age as the Canal Ring. Stepping onto them is like traveling back to the early 17th century. Back in the day, the islands served as a base for shipyards, small businesses and warehouses to store tobacco, wine, salt and herring. The street names still remind of them today. I like taking families there for a trip to the hidden petting zoo and a herring tasting—a must in the Netherlands!
Any last insider tips for first time visitors to Amsterdam?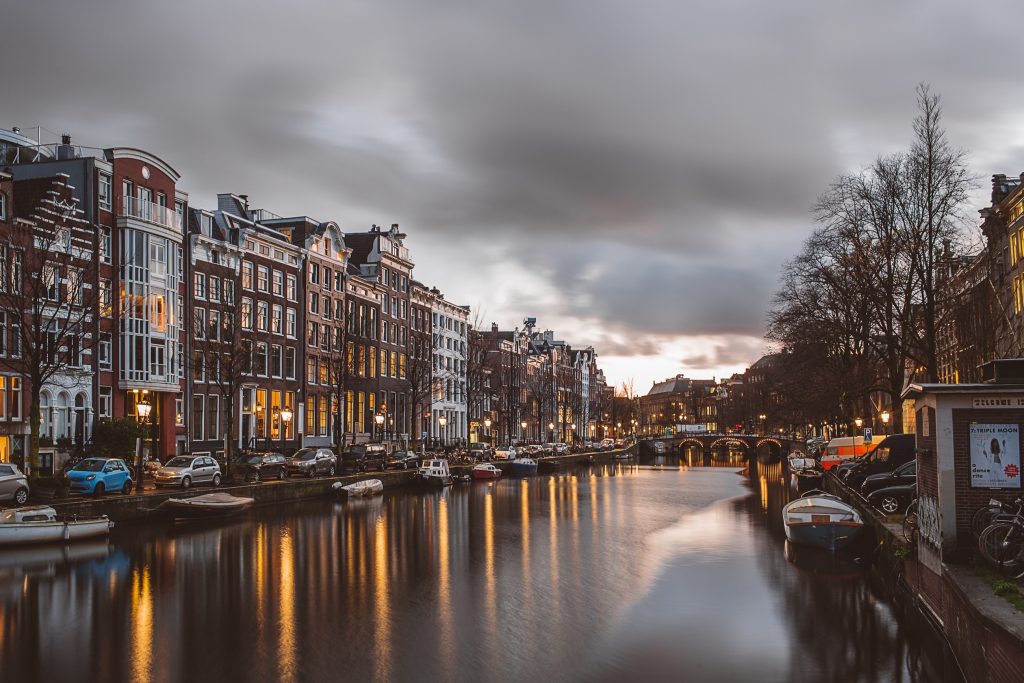 The best time to visit Amsterdam is during summer, from early June to September. The upside of our moderate climate is that the weather is never extreme: not too hot, not too wet. The downside, however, is that our climate is also maritime, so it can and most likely will rain. But the good news it, the weather changes so quickly, you'll never have time to get used to it. So, dress comfortably, wear layers, and pack an umbrella.
If you travel with young children, try to organize your schedule in short intervals—not more than half an hour of any activity in a row. The longest tour you take should be two hours. We often add an hour for a snack or lunch break when the kids can relax and play.  For the parents, it's an opportunity to enjoy a few more stories about Amsterdam, while comfortably sitting inside. Usually it's when we have a no-filter conversation with our clients about what today's life is like: social questions, politics, school systems and religion. There are no off-limits topics. Did I mention the Dutch are direct? Amsterdammers even more than the rest of the country. In fact, we are used to being mocked by the rest of our compatriots for being a tad too talkative (and a little too lazy).
For a first time in Amsterdam, I do recommend taking three to four days, depending on how much time you'll need to recover from the jetlag. Amsterdam is a small city, and you will cover most must-sees in three days. However, be prepared to be struck by Amsterdam-sickness: once you tasted its cheerful, laid-back vibes, you might be tempted to stay here for longer. Walking around, cycling, sipping coffee on the canals and so forth.  It's a very welcoming and easy-going place!
BOOK WITH INVIATO AND RECEIVE INVALUABLE PERKS AND AMENITIES AT THESE
AMSTERDAM HOTELS:
WALDORF ASTORIA AMSTERDAM
THE PULITZER
CONSERVATORIUM
HOTEL DE L'EUROPE
PESTANA AMSTERDAM RIVERSIDE
GRAND HOTEL HUIS TER DUIN
SOFITEL THE GRAND
INTERCONTINENTAL AMSTEL
Book This Hotel
Why book Virtuoso?
Personalized travel assistance
24/7 online booking
Special rates & exclusive offers
Guaranteed Room upgrade*
Complimentary full American breakfast
Early check-in, Late check-out*
Exclusive on-site amenities (varies by hotel)
* based on availability on time of arrival