Our latest postcard comes from our globe-trotting contributor, Romi Howard, who visited Amsterdam (where we provided readers last year with an Inside Look of the Waldorf Astoria Amsterdam) with her family over Spring Break. She reports back on her stay at the luxury hotel, Conservatorium, which opened in 2011 in a historic, landmark building.
The second week of spring break is an annual affair for my daughters, my mother and I to explore Europe, preferably a new destination although sometimes we do not rule out repeats. This year, after much back and forth, we decided on Amsterdam for six nights. My first time in Amsterdam was with a back pack on my back during college so this would essentially be a first time for me as well.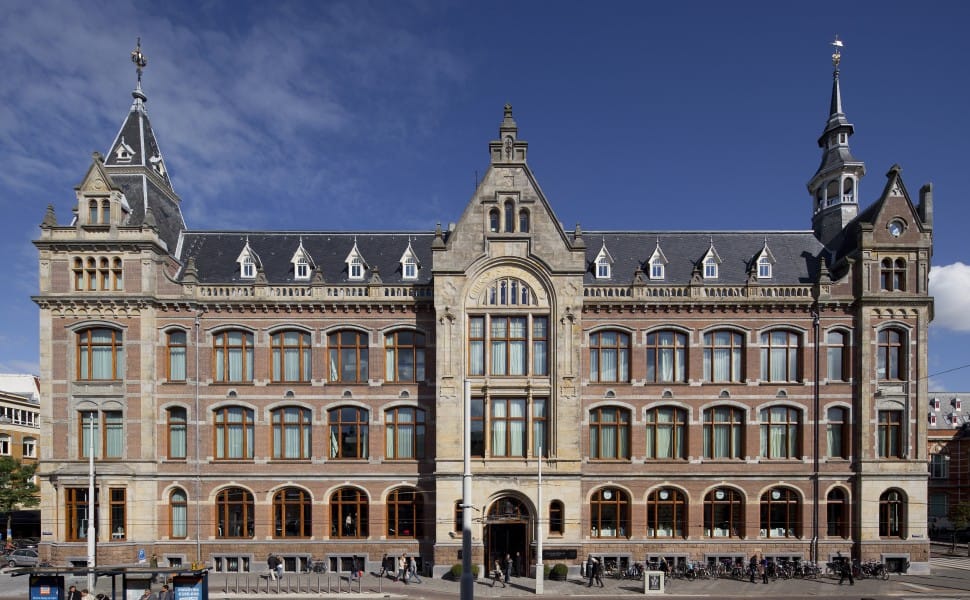 I absolutely loved the location of the 129-room Conservatorium Hotel, right beside the Museumplein (the cultural heart of the city, where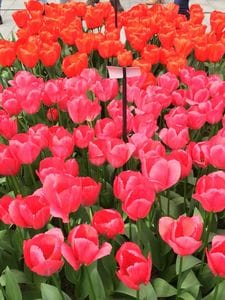 most of the city's incredible museums are located). Just a stone's throw from the Rijksmuseum, the Van Gogh and a myriad of others, the hotel was ideal for us.  Although I imagine it would be quite scenic to be on the canal, at the end of the day there is something appealing to be in a slightly less touristy area where the locals congregate. It's also a lot more peaceful. Like the Centurion Palace in Venice, a favorite place of mine, it is tucked away from the masses of tourists but convenient and in its own ideal locale.
A juxtaposition of old and new architectural design designed by the famous architect Piero Lissoni, the Conservatorium makes an incredible impression when you walk in for the first time. The preservation of the old music conservatory (the building was in fact originally a music conservatory – the Sweelinck Conservatorium) combined with modern clean architectural lines, and glass-encased windows and ceilings throughout the hotel makes you feel as if you are living in the chicest greenhouse ever.
I should note that the Conservatorium is also a 'green' hotel and much thought was put into how to incorporate environmentally conscientious touches in all the common areas and the accommodations, which made staying here that much more enjoyable. Fresh air is circulated from the outside of the hotel into the public interior spaces and the rooms. While this can be a plus, it does provide one issue. Because most rooms face into the courtyard, you cannot open the windows. For some this may be a little claustophobic even though the floor-to-ceiling windows are grand.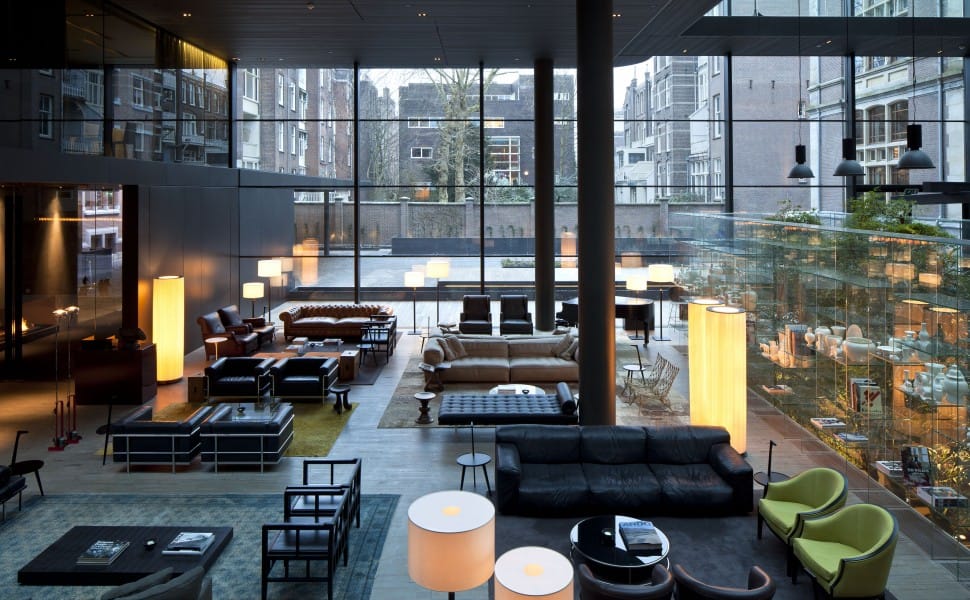 Our room, a Grand Duplex (connecting to another for my mother – Rooms 515-517), was on two levels with two bathrooms (one on each floor) which allowed for my daughter and i to get ready simultaneously while not being in each others way. The bathroom on the bottom floor is huge while the upstairs one is smaller but still lovely and has a glass encased shower as well.  Across the hall from us were similarly configured rooms with its own entranceway but they are not connecting and the views are not of the spectacular indoor courtyard of the hotel like we had. Something to consider.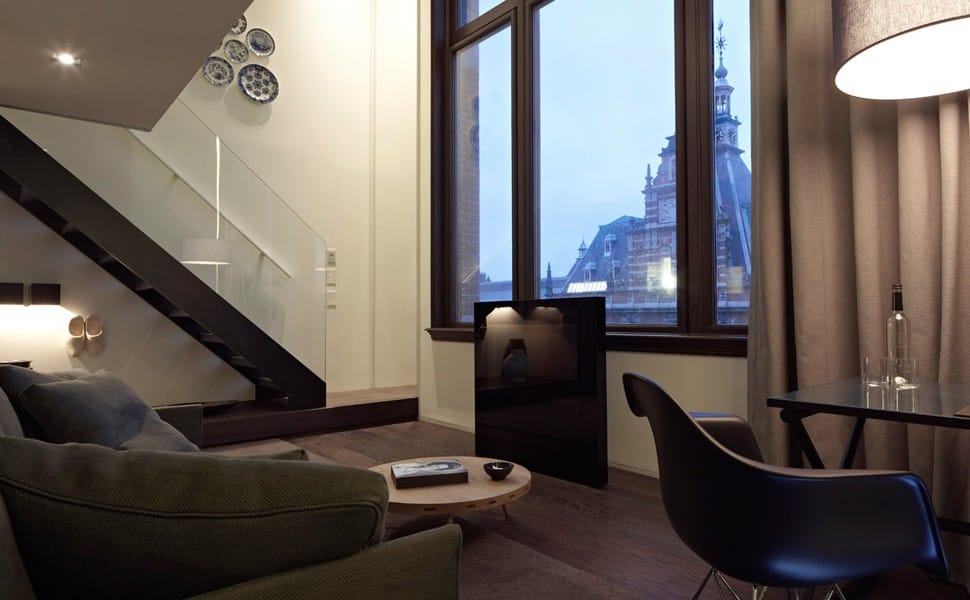 I had an opportunity to inspect a few other rooms during our stay. Of the 129 rooms in the hotel, 46 are suites and just under half the rooms are in a duplex layout such as ours with oversize windows and structural beams. Overall, the rooms are spacious, modern and sparse and well thought out. The Deluxe rooms are very well appointed  but smaller, good for the business traveller or a couple with no children. The Junior Suites, which are the same size as the Deluxe Rooms, and the Grand Deluxe rooms are on one floor so that might be more appealing than Grand Duplex rooms for those who do not like stairs or separated quarters. All the rooms have flat screen televisions, high speed wireless internet, 100% cotton bed linens and super-sized towels.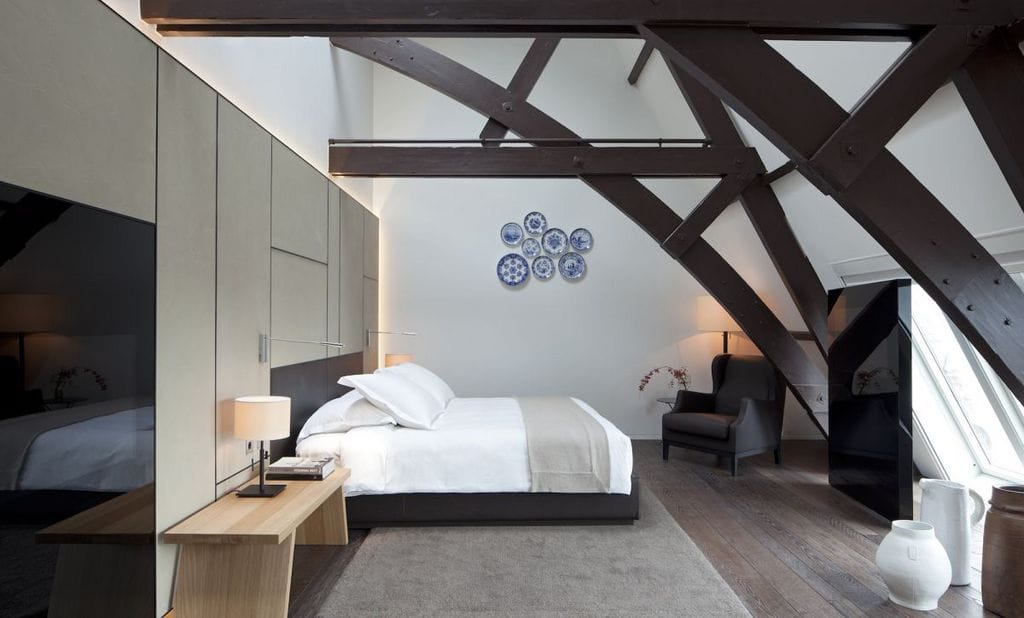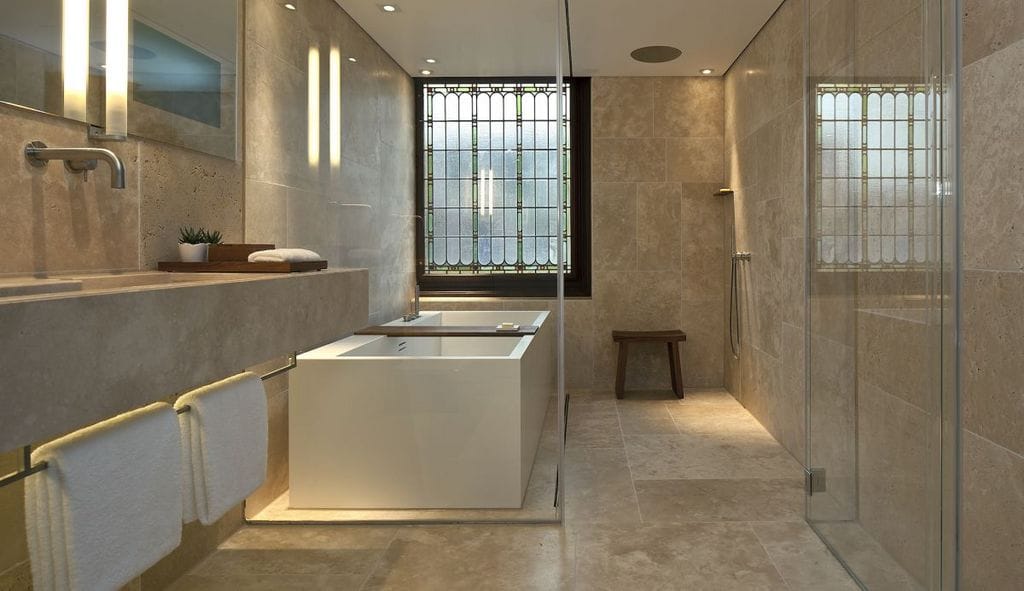 Where To Eat: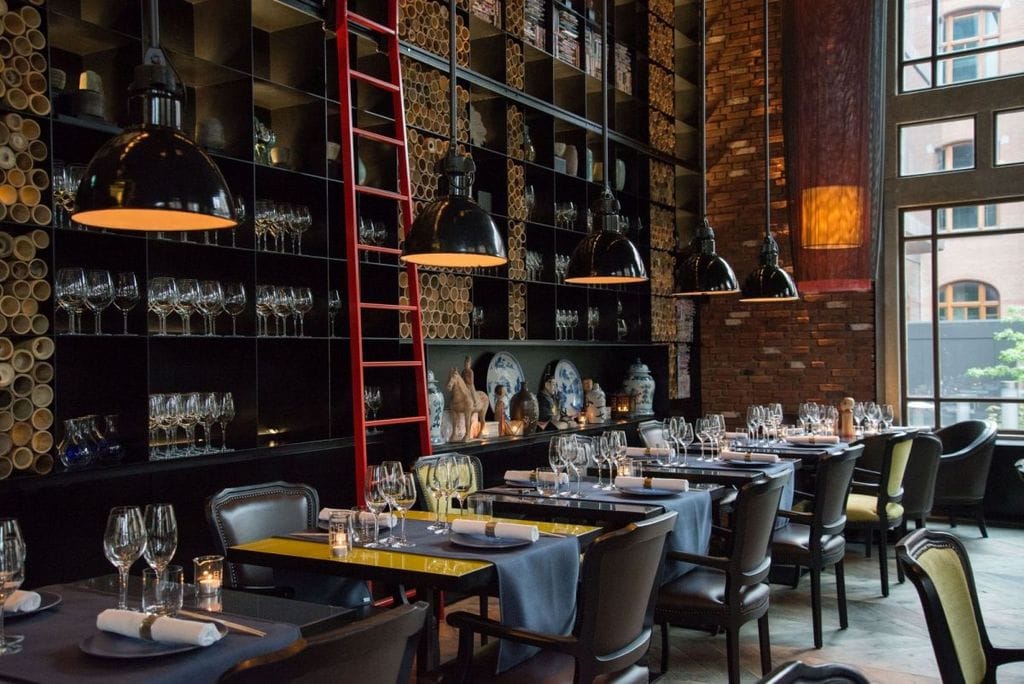 Der Kas for the best most innovative and beautiful setting for farm-to-table dinner/
The Duchess in the W Amsterdam for the coolest/ sleekest and wonderfully yummy dinner.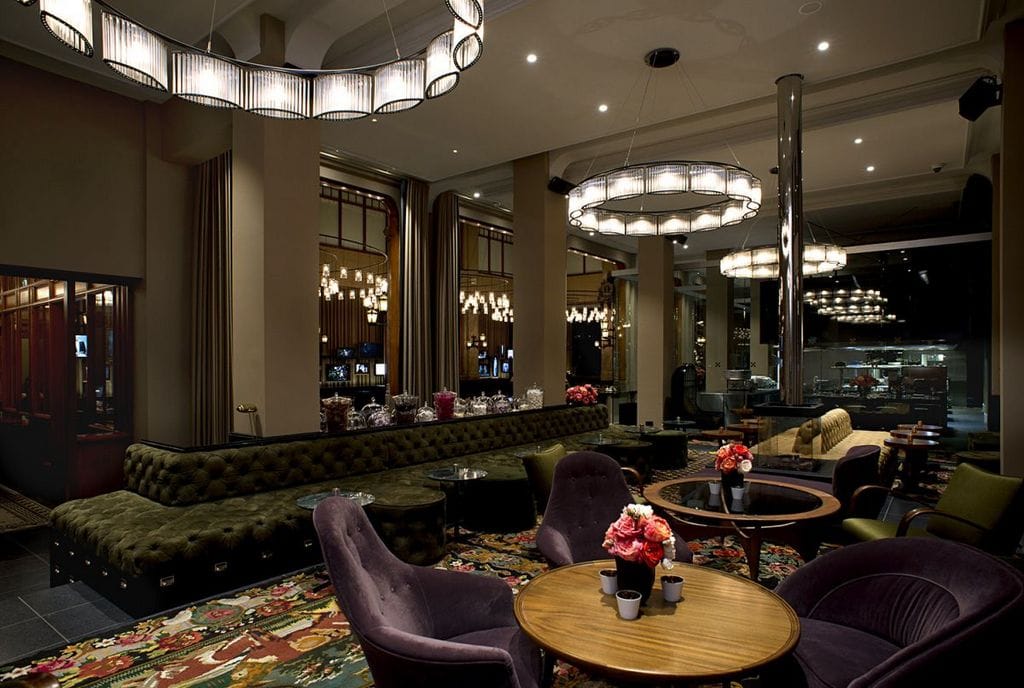 The Seafood Bar for lunch.
La Perla for pizza.
Taiko in the Conservatorium Hotel for the best tuna tartare I've ever had and the coolest atmosphere.  The local hip nightly scene (on Thursdays, Fridays and Saturdays the in-house DJ plan music at the Tunes Bar adjacent to Taiko until the wee hours) at this contemporary Asian restaurant ramps up the experience.
Incanto for an innovative Italian meal melding old and new world styles of design, feel and food, across from the iconic Hotel De L'Europe.  We really enjoyed our meal here.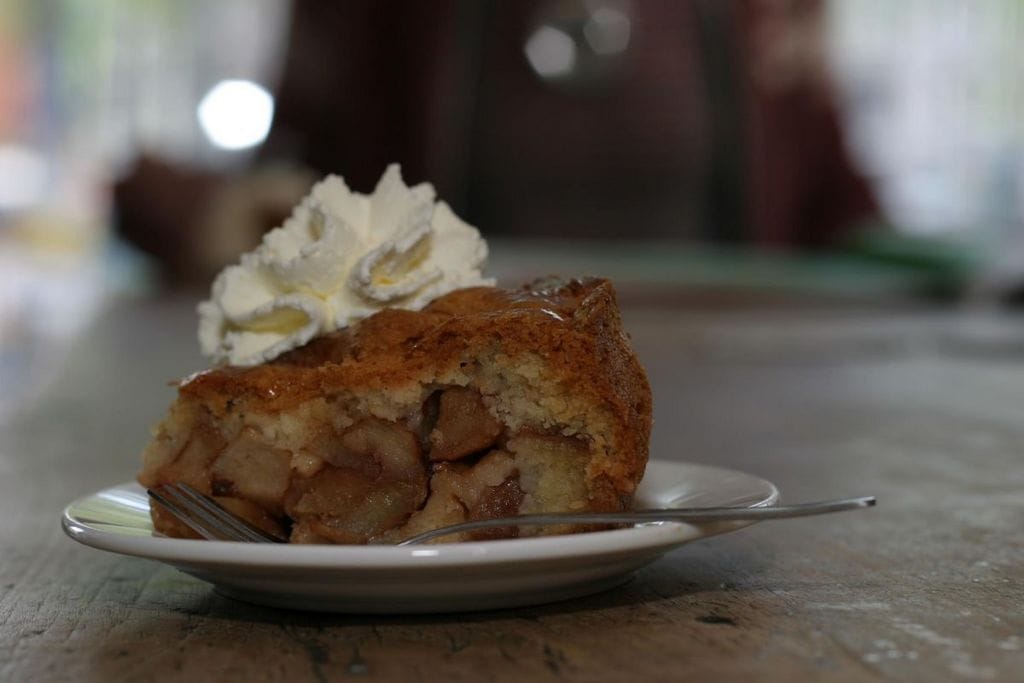 Winkle, right beside the Noordmarket, for the best apple pie in the entire world.
Where To Shop:
X Bank. A concept store featuring only local designers in the same space as The Duchess restaurant. Similar concept to Collette in Paris or the Dover Market in London.
Denham for the most amazing t-shirts and you guessed it all things denim. It's their local brand.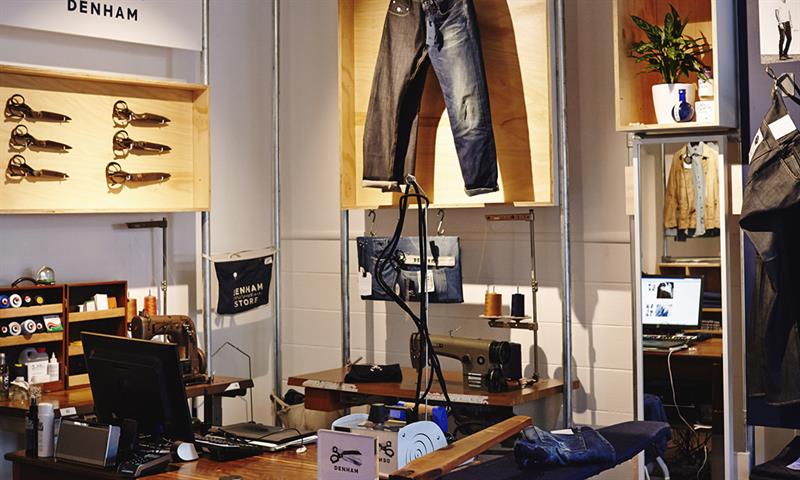 The Golden Goose store right around the corner from our hotel. My teenage daughters went nuts. Clothes and sneakers are significantly cheaper here then back home in the states.
Skins. The most amazing beauty and makeup store featuring many lines you just simply cannot find state-side. They have an incredible outpost in the Conservatorium Hotel itself but a few more are scattered throughout the city.
Von Ravenstein. A very well curated high-end designer concept store. Worth a look if you want to treat yourself to something extravagant and right in the Nine Streets district. All the stores are super cool in this area.
The Cold Pressed Juicery (a few locales) – the Juice Press of amsterdam. The juice selections are incredible. especially if your on the go and want to put something healthy in your body.
Our Favorite Sights: 
The Keukenhof
An annual flower park featuring all things tulips: The Lego Land of flower parks. Keukenhof is only open mid-March through mid May. If you are here during this time period, do not miss this – its worth the pilgrimage 40 minutes outside the city, especially with children. Just magical!!!
Anne Frank House
Yes, it's a must but make sure to to get your tickets in advance (website) otherwise it's not worth waiting for hours in a line. Go to www.annefrank.org for more information.
Museumplein (museum quarter)
Ask the hotel to set you up with fast pass tickets, especially for both Van Gogh and the Rijks museum. It's a nominal increase at best (if that) and well worth not having to queue up in the lines.
We walked through the Red Light District briefly…my daughters eyes popped out of their sockets. Not saying not to do it…but be mindful.
I love the city of Amsterdam. It's clean, it's beautiful, the people are kind and warm, the culture and food is incredible, and there is a myriad of options to do and see. It is a cosmopolitan city that is intimate and easy to navigate. And everyone rides a bike or walks – there are far more bikes then cars in the city. This environmentally-friendly city has easily become of my top places to visit and stay.
Special Note: There are several special great promotions to take advantage of this Spring and Summer at The Conservatorium in addition to your Virtuoso amenities below:
Suite Spring Promotion: 2 nights in a Suite, Gin & Tonic for two in Tunes Bar, guaranteed 2 pm late checkout, 1 day limited-edition bike rental per person. Valid now through June 30, 2016.
Summer Escape: 20% Discount on Suites from June 26 – September 9, 2016.
Summer Promotion:  Book 4 nights, Pay for 3 during the same time period as above.
Photos courtesy of the Conservatorium Hotel and Romi Howard.
Loved
Didn't Love

The location, right next to the Museumplein. A bit away from the masses of tourists but in a convenient location.

The decor: A juxtaposition of old and new – a graceful, contemporary design in a landmark heritage building. The dramatic all-glass Atrium, located in the hotel's beautiful central courtyard, is stunning.

Environmentally-friendly. We loved the fact that the hotel is environmentally-concious. Fresh air is circulated throughout the hotel and rooms.

The breakfast:  A plentiful buffet with the ability to order hot items off the menu (included in the price of the buffet). The fresh squeezed orange juice is the most delicious orange juice I've ever had anywhere in the world.

The Concierge team: Romy and the entire concierge staff were just wonderful. Communicating with me both prior to my trip via phone calls and emails and at my beck and call throughout our stay. Nothing was too difficult for them to arrange at anytime. I cannot say enough great things about them all. Just really wonderful.

The service was a little underwhelming at times during our stay. Although every single person working at the hotel was lovely and kind and trying their very best, often it felt a bit off. One day, our room was not made up yet and it was 5:00 p.m. so we ultimately had no turn-down service after we came back to hotel before dinner. That is a big pet peeve of mine. Also, oddly the keys had to be updated everyday…they would not work after 24 hours. This was a nuisance.

The pillows on the bed were too soft, believe it or not. Although the bed and the linens on the bed were sumptuous, the pillows provided no support as if I was resting my head directly on the bed,

Don't Miss
Skip

There is so many to list. See above for some of our favorite sights and restaurants.

The Akasha Holistic Spa (Amsterdam's largest spa) is worth exploring at the end of your day – including a lap pool, Hammam, sauna, yoga studio, extensive gym and seven treatment rooms

We went on a private boat tour of the canals. In retrospect, it would have been better to be more of a tourist and go on the public boats that are offered on every canal corner. You save ALOT of money.  We were charged 320 euros for 90 minutes on a private tour and were additionally charged for the drinks we consumed on the boat which I thought was obnoxious.

Rooms to Get
Tips

Note: There's no connecting rooms. There are two rooms with a connecting corridor/entranceway but they are not actually connecting.  If you are a family with smaller children, your only option is a master suite which may or may not be cost-prohibitive. Having said that, the rooms we had were smack beside each other. The staff was able to make our keys work for both rooms which was a bonus.

We loved our rooms, two Grand Duplexes next to each other (Rooms 515-517). The bi-level Grand Duplexes have two bathrooms (one on each floor) which allowed for my daughter and i to get ready simultaneously while not being in each others way. The views of the inner courtyard were spectacular.

Ask the hotel to set you up with fast pass tickets, especially for both Van Gogh and the Rijks museum. It's a nominal increase at best (if that) and well worth not having to queue up in the lines.

If you have time, it's worth hiring a driver and exploring the charming towns outside Amsterdam. We had a driver at 95 euro an hour with an S class sedan who acts as a guide. He brought us to Keukenhof, the windmills, a visit to a clog factory and then a fishing village. A little kitschy but wonderful all the same.
Conservatorium Hotel
Van Baerlestraat 27,
Amsterdam, Netherlands
For 2016, your Virtuoso Rate at Conservatorium includes:
• Daily continental breakfast, for up to two in room guests
• Upgrade on arrival, subject to availability
• $100 USD Spa Services credit at Akasha Spa, to be utilized during stay
• Early check-in/late check-out ◦subject to availability
Book This Hotel
Why book Virtuoso?
Personalized travel assistance
24/7 online booking
Special rates & exclusive offers
Guaranteed Room upgrade*
Complimentary full American breakfast
Early check-in, Late check-out*
Exclusive on-site amenities (varies by hotel)
* based on availability on time of arrival