Oh, Jackson Hole. All I wanted to see was a moose, but I would have settled even for an elk or two (just in case you were wondering, the difference between these two members of the deer family is that elk don't have big noses. Helpful to know when you are wildlife viewing and looking to impress your date.
Jackson Hole is after all known for its moose. There's the famous Mangy Moose saloon at the base of Teton Mountain and moose crossing warnings galore everywhere. Damn, there is even a neighboring town named MOOSE. So, naturally I traveled to Wyoming with high expectations of a sighting or two of Bullwinkle's relatives.
I was also really excited to be checking out the Amangani Jackson Hole. I had the privilege to stay a few nights in September while attending the very cool Jackson Hole Wildlife Film Festival. I must admit it was my first time at an Aman (yes I will say it – I was an Aman virgin) and eager to see what all the fuss was about from my Aman-junkie friends.
I have been to Jackson Hole in the winter but the beauty of the scenery in the Fall – with its vibrant foliage colors –  is beyond description. Another unexpected treat:  just coming off of summer, I wasn't prepared for the temperature dip to 30s at night so soon. I watched my first snowfall (actually a blizzard that blew in and out quickly) of the season from the warmth of The Grill – the only restaurant at the Amangani. If there is one place to be stuck for a few hours to await  the dissipation of a storm, this would be it.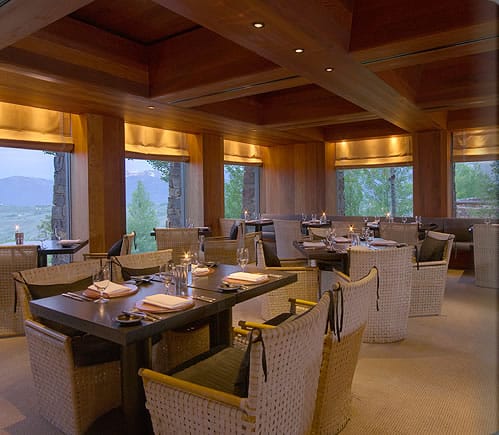 AMANGANI JACKSON HOLE: FIRST IMPRESSIONS
Driving up the winding vertical road that leads you to the Amangani Jackson Hole, which was I, you just know the views are just going to be sick. At 7,000 feet above sea level on the Gros Ventre Butte, this hotel is perched on a cliff to offer you jaw dropping 360-degree views of the Tetons. My first impression arriving in the lobby was that it was pretty calm and subdued.
The eastern minimalist vibe is evident everwhere – like at all Aman resorts – but with hints of rustic touches that evoke the West.  You have the impression you are a million miles away from everything when  in reality it is a mere 10-minute drive from town. Leaving the back to school frenzy in the city back home, I instantly reveled in the serenity of the place.
AMANGANI JACKSON HOLE: ACCOMMODATIONS
As with other Aman properties, the Amangani's accommodations are suites and residences. All forty suites have private large balconies and ceiling to floor windows to take in the  spectacular sweeping views of the Tetons. Deep-soaking tubs, heated floors (love!), king platform beds, and all the modern gadgets you could ever need seal the deal. Oh, and of course daybeds with faux wolf-fur throws I wrapped myself in while sipping tea and wondering how I could justify spending more time out here. (I now understand why the area is so popular for second homes.  With only 3% of land privately owned, its all about wide open vistas and sharing space with the wildlife.  Also it helps that there is no state or local income tax!).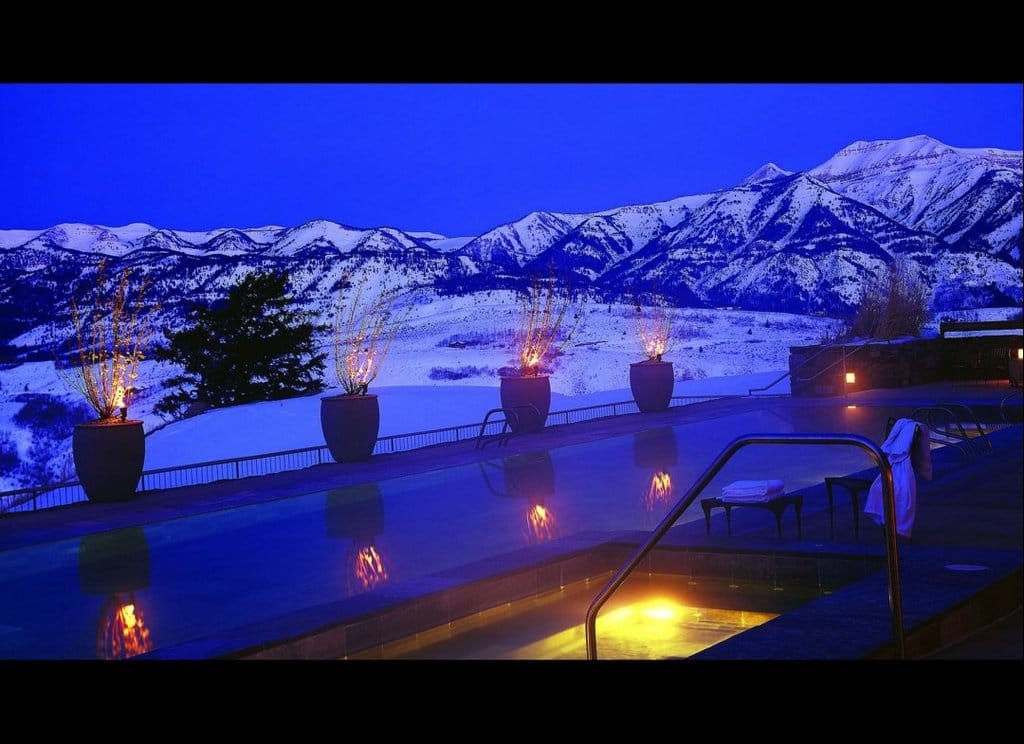 For me, the  Amangani was a zen-like oasis that has the advantage of being surrounded by one of the best ski mountains in North America, a historic Western town, and two national parks of Yellowstone and Grand Teton teeming with incredible wildlife. A luxurious sanctuary where you really feel like you are escaping from it all but can still enjoy all the available activities – such as dog sledding, snow-shoeing, skiing, snowmobiling and wildlife-viewing – all at your own discretion.  Children? Definitely to be left at home.
If  you are coming to Jackson Hole mainly to ski, you might opt to stay at the Four Seasons Hotel in Teton Village 20 minutes away. For those who still want to get away from the crowds, there is the perk of the Amangani Jackson Hole ski lounge and concierge at the base of Teton village as well as complimentary shuttle to and from the Amangani resort.
My last night in Jackson Hole, the entire hotel was completely booked by a party, so I chose to check out The Wort Hotel, a historic 59-room boutique hotel located in the center of town with a rocking saloon The Silver Dollar Bar where mostly locals in cowboy hats were having a blast two-stepping to a live country band. A complete contrast to the Amangani in every way but I also loved the lively ambience, authentic roots and cozy, comfortable rooms.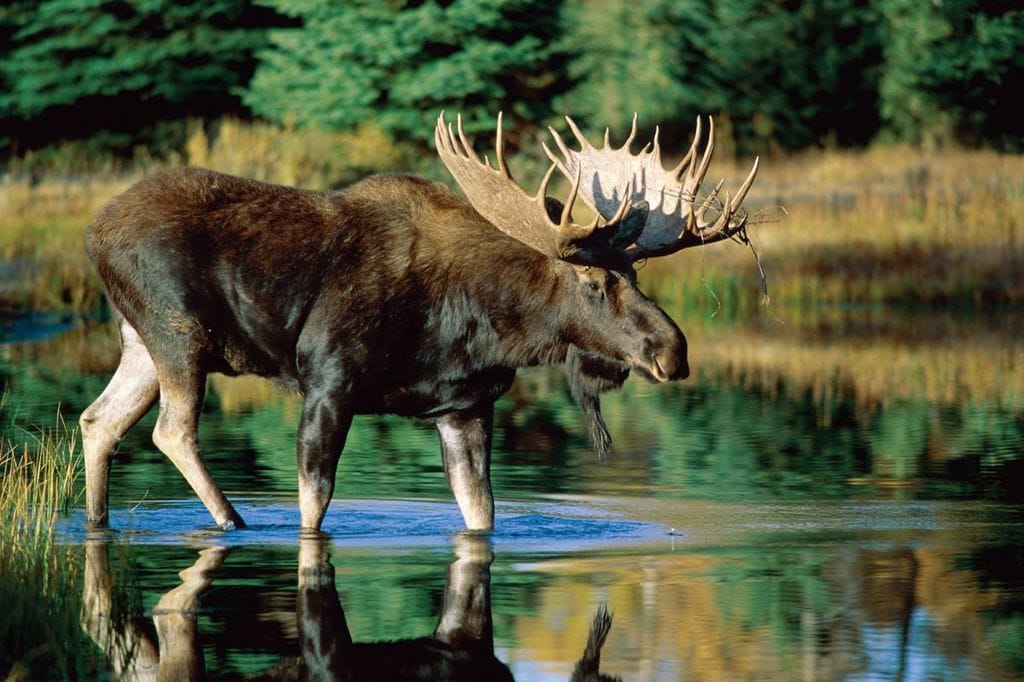 Back to the moose. Prior to my arrival, friends who are Jackson locals sent me pictures of all the wildlife I was about to see and my colleagues who arrived before me raved about their bear sighting on their first day. Even the manager upon check in told me that moose often come right up on the hotel's grounds. My entire stay? Not a moose or bear to be seen (I did see some moving moose antlers in the brush but that doesn't count as I didn't see a big nose). The closest that I actually came to seeing any wildlife was this old buffalo head on the wall in the Wort Hotel's lobby.  Now I have no choice but to come back to satisfy my moose-deprivation.
For more information about what to see and do in Jackson Hole, see our more recent post Family Time in Jackson Hole.
Loved
Didn't Love

The blissful massage in any of the four treatment rooms at the Spa.
The "we-will-make-anything-you-want" breakfasts at the Grill.
The drop dead majestic views.
The impeccable service – every member of staff treats you like a VIP.

The architect designed the rooms so no ugly wires or outlets would interrupt the serenity of the rooms. Yet it was impossible to figure out where the outlets were hidden. Verrrryyyy frustrating.
The ubiquitous design everywhere made it difficult to navigate – I was constantly making the wrong turns (to be fair, I am directionally challenged).

Don't Miss
Skip

The 100-foot long pool (heated at all times at a balmy 80 degrees).
Spending time in the town which has an abundance of more than decent restaurant and drinking options from hip joints to two-stepping dive bars.

Rooms to Get
Tips

All forty suites have private large balconies and ceiling to floor windows to take in the  spectacular sweeping views of the Tetons.

Ask the concierge about Amangani's exclusive half-day luxury wildlife and excursion packages. Have them pack you a picnic lunch.
The drive up to the hotel at night is a bit scary as there are no lights and one wrong turn can send you down the mountain – drive carefully!

Some of the bars and saloons worth checking out in town (I didn't personally hit all of them but they come highly recommended from friends and locals!):

       Restaurants – Local, Osteria (in Hotel Terra in Teton Village), Snake River Grill, and Wild Sage.

       Bars – Silver Dollar Saloon (for live country music and hanging with real cowboys), Mangy Moose (the after-ski place) in Teton Village,  and the famous Million Dollar Cowboy     Bar with its saddle stools for a serious game of pool.
Amangani, Jackson Hole
When you book the Amangani with Inviato, you receive the following perks:
• Upgrade on arrival, subject to availability
• Continental breakfast daily, for up to two in room guests
• A complimentary lunch for up to two people, once during stay, excluding alcohol, taxes and gratuities
• Early check-in/late check-out, subject to availability
• Complimentary Wi-Fi
Book This Hotel
Why book Virtuoso?
Personalized travel assistance
24/7 online booking
Special rates & exclusive offers
Guaranteed Room upgrade*
Complimentary full American breakfast
Early check-in, Late check-out*
Exclusive on-site amenities (varies by hotel)
* based on availability on time of arrival