I had the pleasure of visiting andBeyond Bateleur camp in the Masai Mara not once but two times in the past year. The first time I visited was in September 2017 while I was staying at a nearby safari lodge, Angama Mara (see our review here), and was invited to tour Bateleur and it's sister camp, 40-tent Kichwa Tembo as well as hear about the plans for the upcoming 6-month staggered refurbishment of Bateleur.
The second time, this October, I was fortunate to stay overnight at Bateleur after its renovation was complete and the camp reopened.  Being able to see this classic luxury safari camp before and after gave me a better appreciation of the changes made.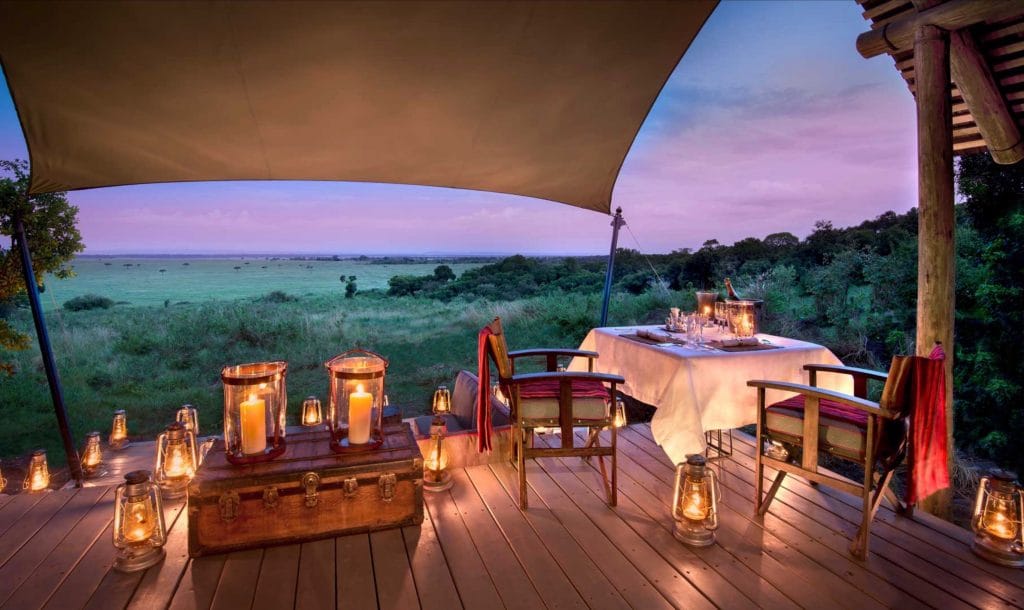 The site of Kichwa Tembo, one of the oldest tented camps in Africa, was in fact discovered 40 years ago in 1978 by Geoff Kent, CEO of famed luxury safari outfitter, Abercrombie & Kent. He loved this location in the rim of the Great Rift Valley so much, he set up private residence here and named it Kichwa Tembo ('head of elephant') as he found so many elephant skulls nearby.
In 1994, the camp was sold to ccafrica (since renamed andBeyond. His son Joss Kent is the CEO) and the more intimate, exclusive and expensive 18-tent camp Bateleur was built and opened in 1998 as an exclusive club for South African guests. Today, andbeyond Bateleur ('eagle') is considered one of the most luxurious camps in Kenya. While the two camps, separated by a long walkway, share many resources, they are vastly different.
andbeyond Bateleur Camp: First Impressions
One of the things I loved the first time I visited the andbeyond Bateleur camp was the romantic ambiance and old-school safari style reminiscent of the 1920s and 30s. Vintage antiques, leather-worn chairs, gas-lit torches and candles at night, and sepia toned photographs and maps adorning the walls are all meant to transport guests to another time – glaringly different to the modern, contemporary design that is the trend with so many other new and renovated camps.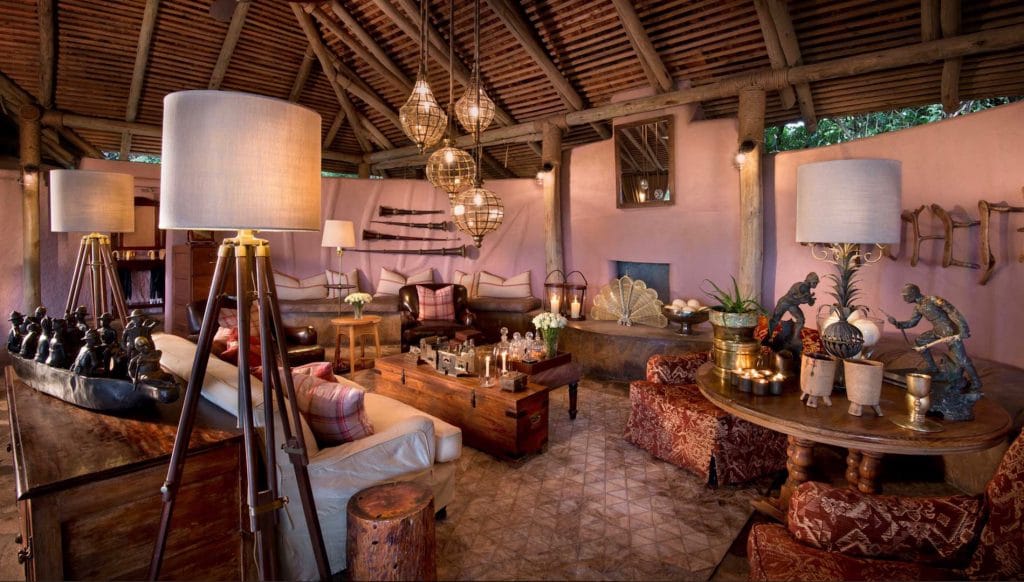 Repeat guests will be extremely pleased that the atmosphere has been retained with the unveiling of Bateleur's renovation this Summer.  Employing the same company who originally designed the camp twenty years ago, many of the original pieces were reutilized and restyled.
I was pleased to see the main lounge tents appear almost exactly as I had seen them the year before, with the exception of new al-fresco dining decks. It is the distinct new enhancements to the camp, the tents in particular, that are noteworthy to mention. In addition to an expansion and redesign of all the 18 guest tents, guests will appreciate two new infinity pools, a massage sala, gym (with a view to die for!), boutique and a bar that is coffee bar by day and gin bar by night (sixteen different gins!).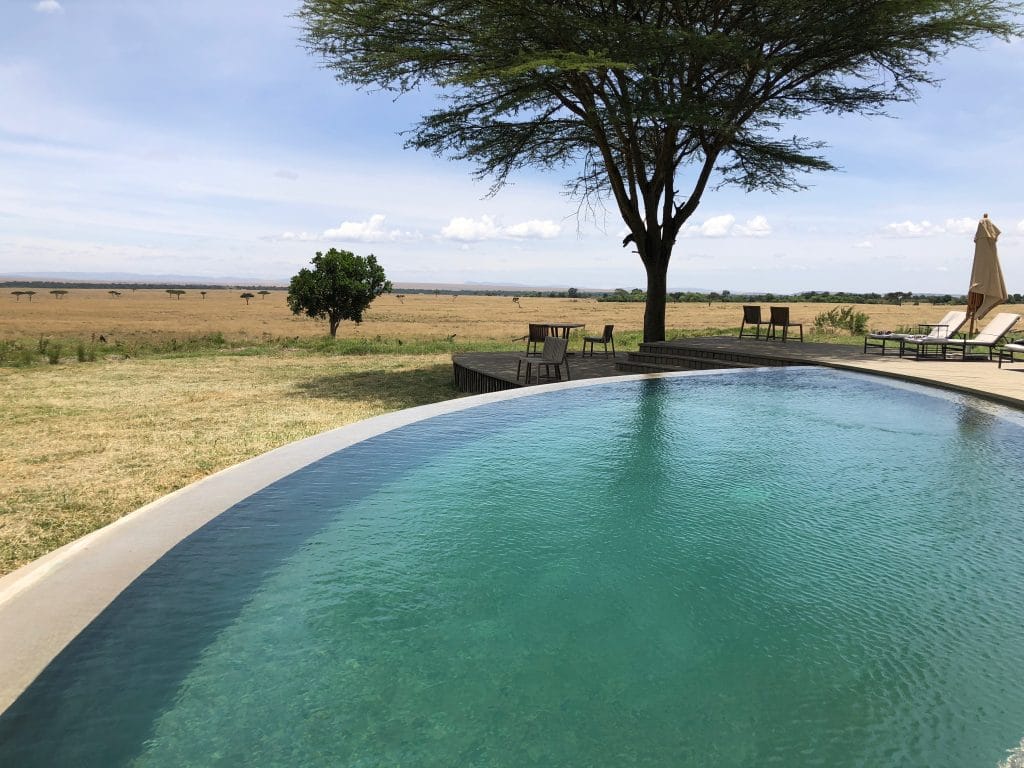 WHEN TO GO TO ANDBEYOND BATELEUR
This time I visited Bateleur in early October, taking a short flight directly from Nairobi to Kichwa's private airstrip in the Maasai Mara. October is a quieter time in Mara opposed to the summer when everyone comes seeking to see the wildebeest migration. But it is important to know that the herds are constantly moving and it is unpredictable where and when you will see them as weather plays a large part. Rains or drought can make a significant difference. When I traveled to the Grumeti Reserves in Tanzania three years ago in June, with the migration in mind, we saw few animals and had to drive hours to find small herds. Two weeks after we left, our camp was surrounded by thousands of wildebeest and the scene of large river crossings.
Bateleur happens lie directly in the path of the migration. Lucky for me, it arrived late this year, peaking right around my arrival. Thousands of wildebeest, zebras and herds upon herds of elephants surrounded us. I saw more wildlife in two drives during my 24 hours at Bateleur than that entire trip in Tanzania.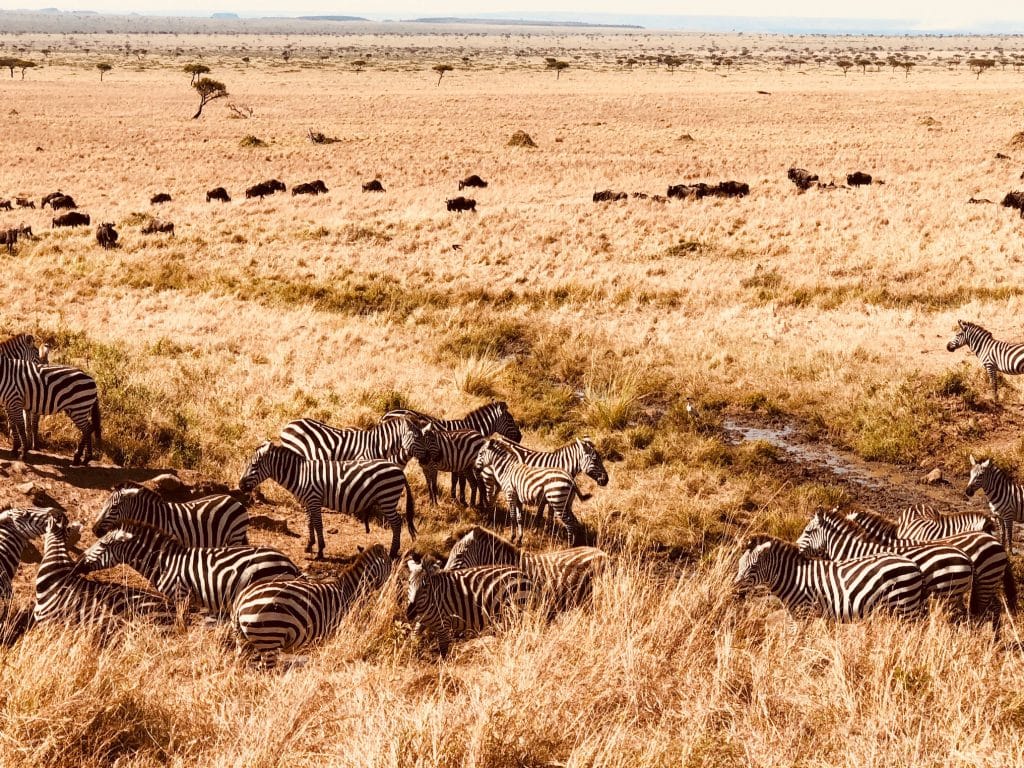 At the Kichwa airstrip, a ten-minute drive from the Kichwa Tembo and Bateleur camps, I was picked up by my private guide, Luke. Within five minutes, I had my first wildlife sighting:  several lionesses of a large 17-member lion pride who have taken up residence on the concession. After a warm greeting from the staff waiting for my arrival, my private butler escorted me to my tent.
the 'tents'
Checking into my tent was a serious 'ah' moment, appreciated more so having seen the tents before they were renovated. All the tents have been expanded in size to 1,044 square feet, re-styled (think steam trunks, leather worn chairs, desk and vintage mini-bar) and outfitted with modern amenities, such as USB ports (thank you!) while retaining the same 'Out of Africa' ambiance (fun fact: scenes from the movie Out of Africa were filmed on the escarpment just above Bateleur).
The most exciting enhancement by far is the glass encased en-suite bathroom, anchored by single sinks on each side and the deep cast iron tub (which I immensely enjoyed by candlelight after dinner) as the center focal piece. A spacious outdoor space was also added for guests to enjoy al fresco showers, which I took advantage of in the morning, .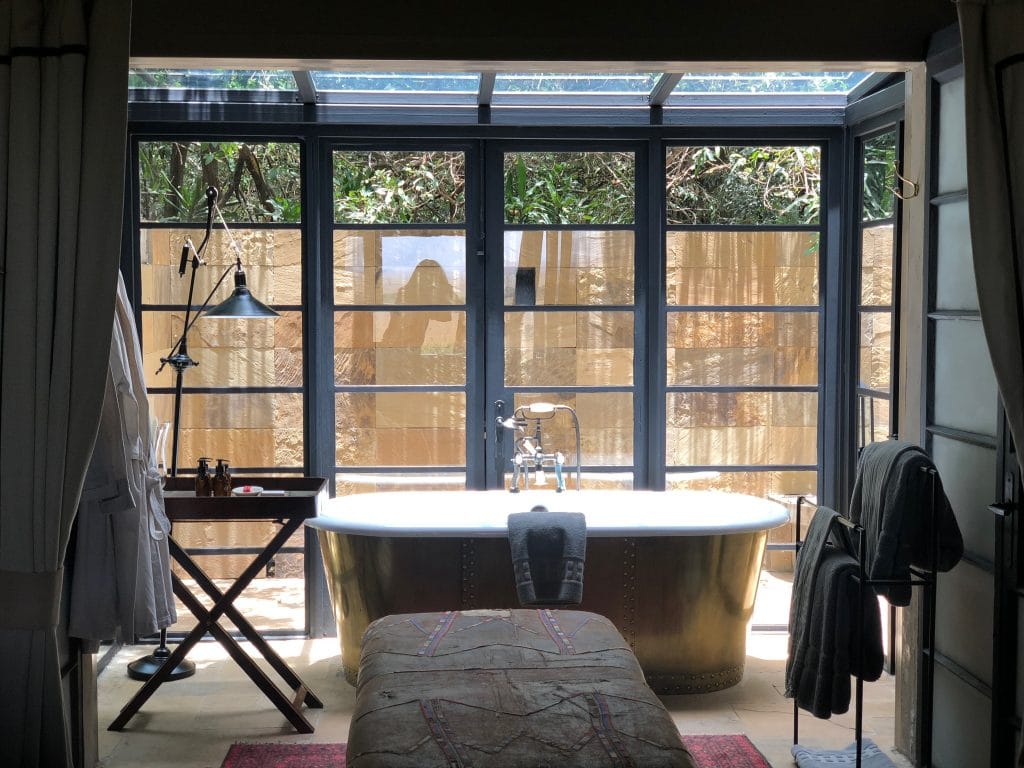 All tents have expansive outdoor decks with daybeds to enjoy the direct, unobstructed views of the Mara. If you are too lazy to make it outside, you can enjoy them from the supremely comfortable bed directly facing outside.
One of my top moments ANYWHERE was waking up in the early morning (with piping hot Kenyan coffee and freshly baked biscuits delivered by the butler into the tent's discreet hatch, I might add) and watching the colors of the sky change brilliant hues of purples and pinks while watching the hot air balloons blow up and drift off into the distance.
DETAILS
andbeyond Bateleur camp is actually two camps within a camp with a North and South side separated by a walkway. Each camp features nine tents with their own infinity pool, kitchen, lounge area but guests can move freely between the two. This separation adds a further level of intimacy and exclusivity while also allowing a larger group to buy out one of the camps for exclusive use.  The boutique, massage sala, gym and gin bar reside in the South Camp which is also closer to  Kichwa Tembo. Guests who want all these facilities close at hand will enjoy the South Camp. In contrast, the North Camp (which features the 2-BR family villa) is quieter and feels more private.
After a quick lunch on the day of my arrival and an amazing late afternoon/early evening game drive viewing more wildlife I could imagine,  I returned to a surprise boma dinner by candlelight, enhanced with vintage silverware and engraved glasses for plentiful wine, gin and tonics or a Tusker beer (these boma dinners are alternated between camps; while we North Camp guests were at the boma that night, South Camp guests were enjoying a visit from local Masai).
Wanting to maximize my time in the bush before I departed , I requested to have a picnic bush breakfast during the game drive (another benefit to going on safari in the Fall was having the guide to myself!), which I did amongst thousands of wildebeest.  Note: the camp has its own vegetable garden and everything is baked and cooked on the premises.
andbeyond bateleur camp: THE LAST WORD
The location of Bateleur, on the rim of the of Great Rift Valley in the Maasai Mara, could not be more ideal. Fewer camps based in this area means you have the vast open space mostly to yourself. You can be on a game drive for hours and not see another vehicle.  And, as Bateleur is on a private concession, you can maximize your time in the bush with evening drives and walks, which are not allowed in the national parks.
Sadly, at one night, my stay at Bateleur this area of the Mara was too short. As a corporate group of 160 was arriving the afternoon of my departure to take over both camps, it was time to leave this elegant Hemingway-esque camp, say adieu to that beautiful bathtub and move on to the next camp. But I did love my special farewell song from the staff.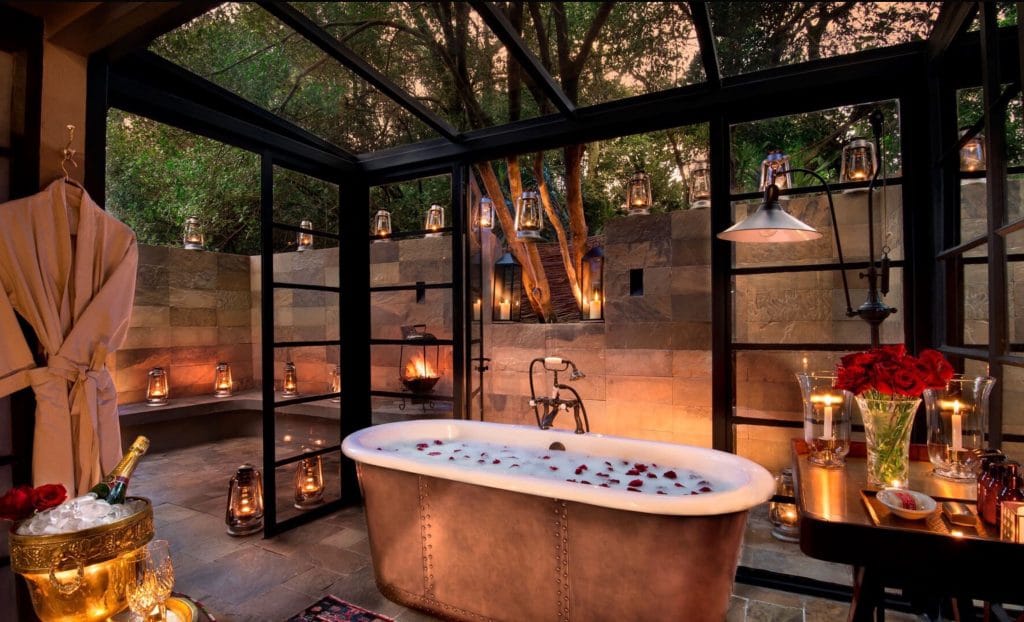 Photos courtesy of Inviato Travel and andBeyond. 
Loved
Didn't Love

Bateleur's location on a private concession bordering the Mara Triangle (and in the direct path of the migration). This means night drives, lots of open space and abundant wildlife.
The luxurious refurbished tents with expansive views of the Mara, particularly the gorgeous glass-encased bathrooms.
Private butler service, particularly for my 5:30 a.m. pot of delicious Kenyan coffee and fresh-baked biscuits discreetly delivered into my tent's private hatch.
The twenty or so well-trained, extremely knowledgeable guides who go out of their way to exceed your expectations.
The vintage 'Out of Africa/Hemingway-esque' interior design. I am not a big fan of the uber-modern designed camps.
The distinct 'two camps in one' provides a truly intimate stay while allowing you to take advantage of both resources. Additionally, guests can dine at any of Kichwa Tembo's restaurants (but not the other way around).

Due to some internal communication snafu, I was left waiting for 45 minutes for my first game drive, long after all the other guests departed for theirs. Admittedly, service and staffing was a little underwhelming during my brief stay, no doubt in in preparation for the arrival of a massive group the next day.
The larger 40-tent sister property, Kichwa Tembo, is close enough that you can often hear sounds carrying from the camp (particularly if there is performance or the camp is full), which is not ideal. For this reason, I prefer the North Camp, which is furthest from Kichwa Tembo. If you want closer access to the gym or gin bar, than the South Camp is your move.

Don't Miss
Skip

Ask for a breakfast in the bush one of your mornings, if not all.
Wake up early to see the sun rise over the plains and hot air balloons being prepared for launch. The color of the changing skies is beyond stunning.
Take a bath in the cast-iron deep tub by candlelight and experience the outdoor shower.
Visit the boutique which has a wide variety of locally-made jewelry, and other hand-made goods. What's better, it benefits the local communities.
If you have time, schedule a visit to a local Masai village.

Rooms to Get
Tips

All the tents face expansive views of the plains and are renovated.
There is one 2-BR family tent in North Camp. This books up quickly.
Request which camp you prefer (North or South). The South side has the salas, gym, boutique and gin bar but is closer to Kichwa. I liked the pool layout better on the South side as it is on flatter, more open terrain than the North Camp, which is tucked away on a perch. The North camp feels more private.

Kichwa Tembo, because of its size, variation of accommodation types and prices, tends to attract a lot of larger groups. Only one line of tents have direct views. If you can, splurge for Bateleur.