Yearning for more wildlife viewing during my time in Kenya this October, I had the opportunity to stay overnight at Elewana Collection's Elephant Pepper Camp, an intimate tented safari camp in the remote area of the Masai Mara. Coming from andBeyond Bateleur, an hour drive away in the Mara Triangle, I didn't think anything could top my last 24 hours of wildlife viewing. I was wrong.
Mara North Conservancy, where Elephant Pepper Camp is located, is a beautiful, wild and remote area of the Mara. And you have it pretty much to yourself.  During the 24 hours I was there, I didn't see another vehicle. If you are looking for the perfect place to lose yourself and go off the radar, this is as good as it gets.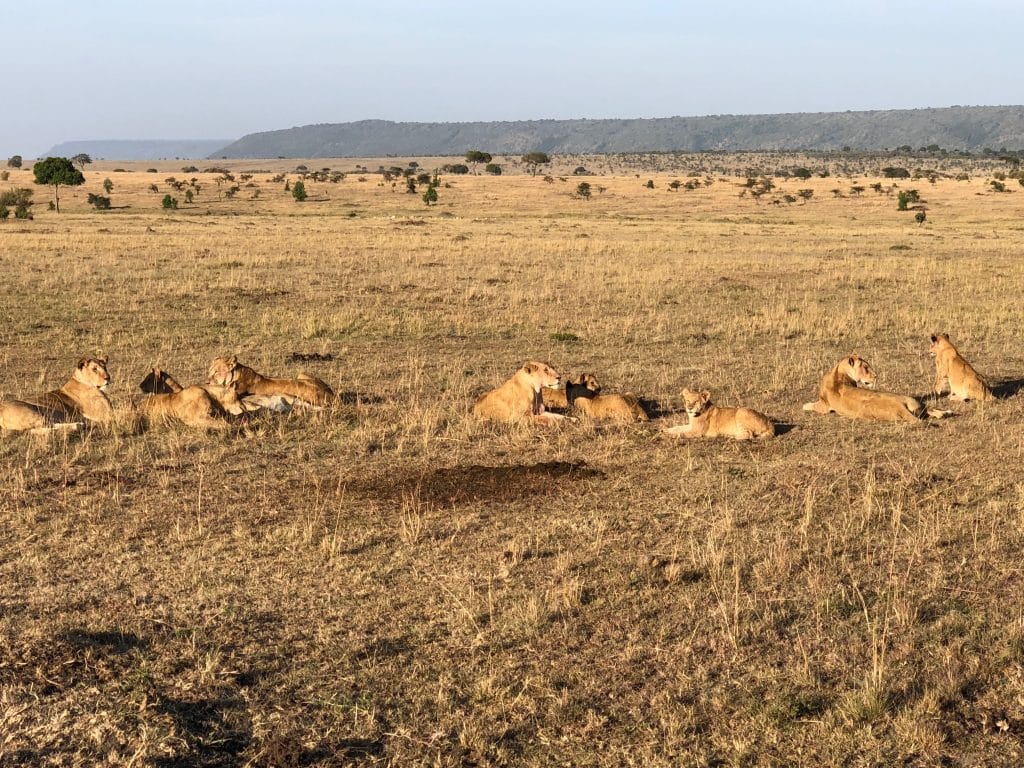 Elephant Pepper Camp, named after the elephant pepper trees that grow around the camp, is a 'rustically luxurious' traditional 10-tent camp that is managed by gracious hosts, Alison and Tom. It was formerly a Cheli & Peacock property named Mara Bush Camp before purchased by Elewana Collection, which owns a collection of 15 boutique luxury camps and lodges in Tanzania and Kenya.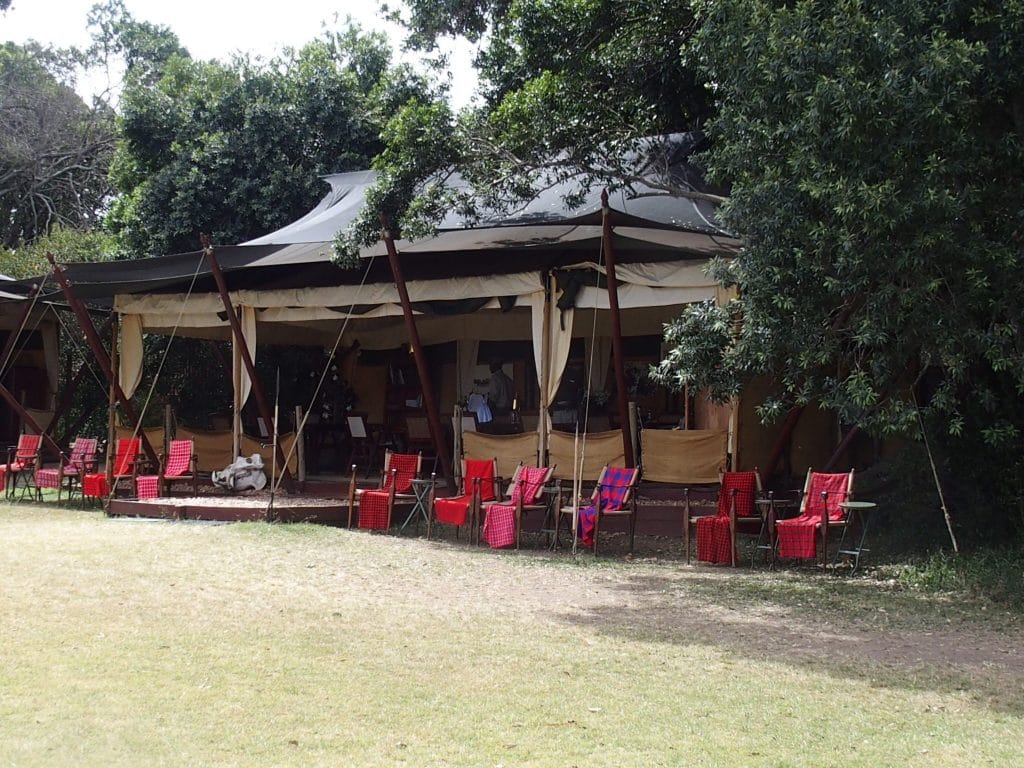 On this trip to Kenya, I was fortunate to briefly visit another Elewana camp for lunch, the very special Elsa's Kopje in Meru, right above George Adamson's camp. You might have heard of him and his wife Joy from the book and 1966 movie 'Born Free' about his time raising orphan lioness, Elsa who they raised and later released into the wild. The movie did so much to change attitudes about lions and their right to 'live wild'. It is still one of my favorite movies and seeing the vintage photos and keepsakes from the Adamsons at the camp was incredibly special.
Elephant Pepper is the go-to camp where you really want a true immersive and authentic experience in the bush. The camp is located on a private concession on the edge of a canopied forest surrounded by grasslands that attracts herds of elephants. The camp is completely unfenced. Which means it is pretty much guaranteed that you will hear 'wild' sounds in the evening from your tent during your stay, sometimes closer than you want. I was told recently a story of how one honeymoon couple found a few large cats lounging on their deck early one morning. Hippos, loud creatures they are at night, frequent the nearby watering hole. Needless to say, the double zip lock of each tent is necessary (local baboons are quite adept at opening the tents and stealing items left around) as are the escort to and from your tents in the evening.
The note card left on top of my pillow at bedtime with the words 'you know you are truly alive when you are living among lions' could not ring more true as I listened to their calls outside my tent.
While Elephant Pepper Camp may be small in size with only 10 tents, it has a staff to guest ratio of 2:1. With 35 staff and five guides for 20 guests when the camp is full, you know you will be well taken care of here. My excellent guide and tracker, Francis, took me and a genial British couple for unbelievable viewing for an evening drive. In three hours, we tracked two majestic six-year old lion brothers Rafiki and Karibu who control three prides, saw a huge pride of lionesses and babies, elusive cheetah and leopards, elephants, giraffes and more. We also managed to fit in a sundowner gin and tonic to watch the beautiful sunset.
Elephant Pepper is equally ideal for couples as it is for single travelers and families, offering game drives (evening drives are a bonus), bush walks, community visits, and horseback riding 30-45 minutes away with RideKenya. Having ridden with this company previously while at a different camp, I can highly recommend the experience. Being only 30 minutes from the Mara River, this is also prime migration viewing during the crossings.
Eco-friendly is the word here. Elephant Pepper, renovated in 2014, is one of only 38 camps in Kenya awarded a Gold eco-rating for its honorable achievement in sustainability. After a tour of the camp with Tom, it was easy to understand why. In addition to the camp being 100% solar-run, everything is recycled. Efficiency is everywhere:  rainwater is collected to water its own garden, compost for the garden is made from wild animal dung, there is a charcoal fridge, beehives for honey, even a kosher-compliant kitchen!  Guests who arrive can, at no extra cost, plant a tree for the new Elephant Pepper nursery. And when the season ends in late April, the camp is completely deconstructed with no trace left behind until the next season begins.
My canvas tent for the night was spacious and elegantly outfitted with Raj campaign furniture, brass fittings, a veranda and hammock, and bathroom with a hot running water (a welcome new feature as the tents previously used bucket showers).  All the tents (two honeymoon tents, also ideal for a family of four, and eight regular tents) including the main dining and lounge tents face the grasslands for prime viewing.
At night, meals are served communal-style with fresh, delicious dishes from the camp's own gardens. The camp turns magical with lit hurricane lamps and the sounds of wildlife all around you. After dinner, guests gather at the bonfire with blankets and drinks to guests to share their sights from the day's drives before retiring off to bed. It was during the bonfire that I learned that this is the area where the BBC's long running documentary since 1996 Big Cat Diary was filmed and the famous lionesses reside (many who I would see the next day). In the lounge are several photo books for identifying each of the cats.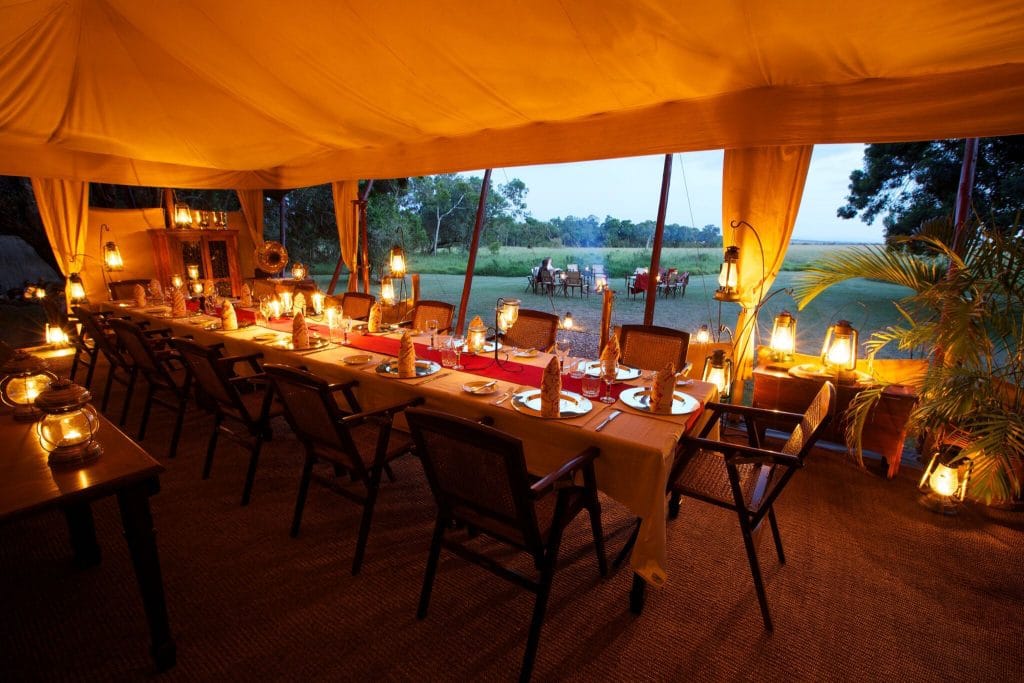 The next morning I woke to camp fire for hot coffee and biscuits followed by an early morning game drive and bush breakfast at the edge of a river with a pod of at least 40 goofy and very loud bellowing hippos. Leaving on this note could not have made me happier.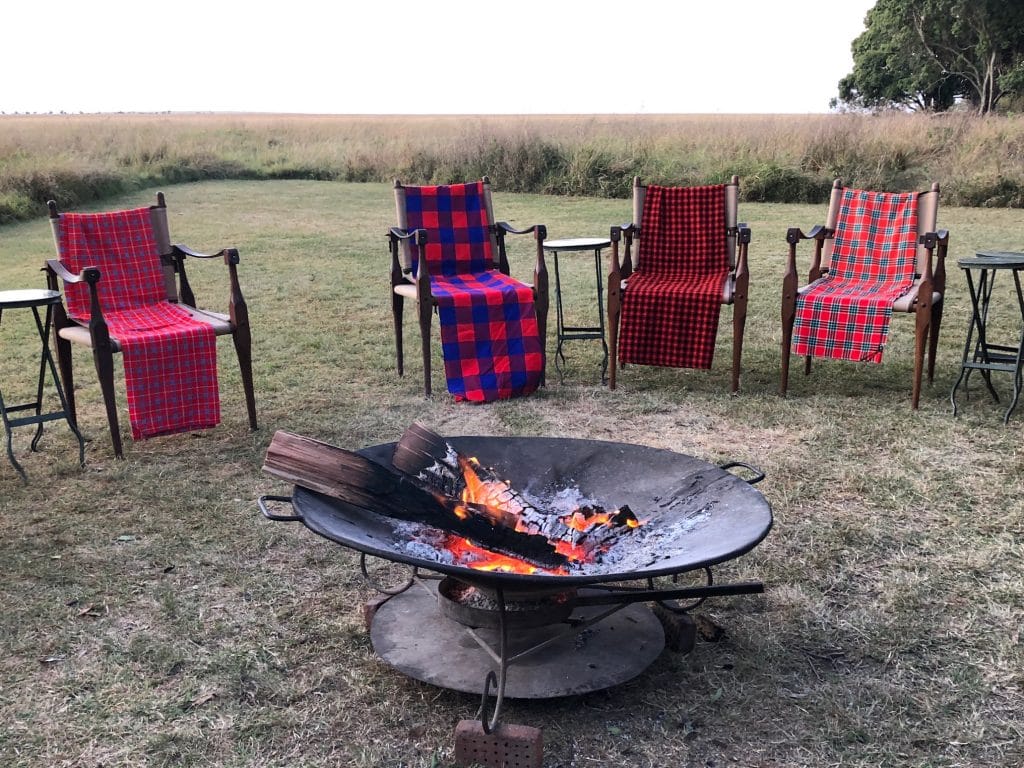 Elephant Pepper was among the most authentic and relaxed of safari camps I have experienced.  I absolutely loved it for it's intimate size, informality, and the ability to feel completely immersed in nature. The only thing closer I suspect would be on a mobile safari.  And while the camp feels completely remote, it is actually surprisingly accessible: Elephant Pepper is only a 30-minute drive to the Mara North airstrip which has daily flights to and from Nairobi (a 45-minute commute) or other areas of Kenya.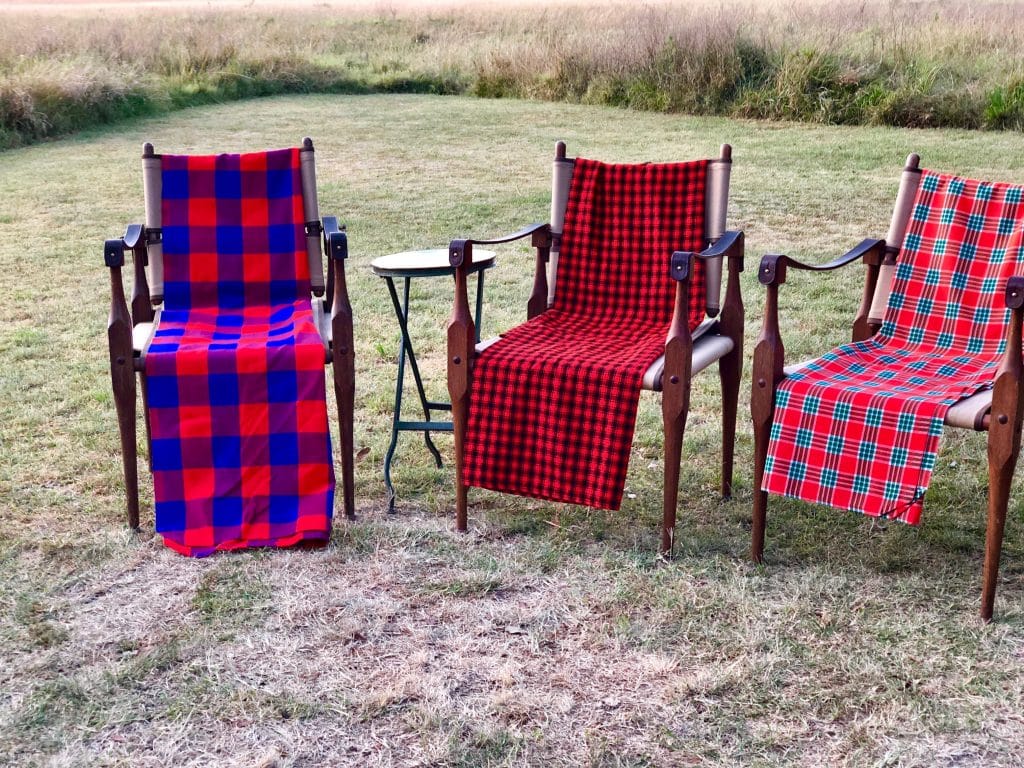 Loved
Didn't Love

The location: remote yet easily accessible, wild and beautiful.
Prime game viewing. I saw pretty much everything but rhino (I would see that in Meru) in 24 hours.
The intimate size and down-to-earth ambiance of the camp. Still very much luxurious but in a rustic, authentic way that makes you feel really immersed in the wild.
The complete eco-friendliness of this camp. Quite impressive!
Managers Tom and Alison and all-star tracker Francis who just made my 24-hours amazing.

Not being able to stay an extra day and not being able to share the experience with my husband and kids!

Don't Miss
Skip

Breakfast by the river with the hippos!
If I came back next time, I would definitely do a horseback safari with RideKenya
If you time it right with the migration, stay out all day and see a river crossing!

Rooms to Get
Tips

All the tents are spacious and have unobstructed views of the grasslands.
Tents 1 to 3 are closest to the watering holes and tend to have the most wildlife visitors (but they may keep you up at night).
The two honeymoon tents are ideal for family tents. The sitting rooms can be converted into a second bedroom and can accommodate another child under 15 with a bed.

I like pairing Elephant Pepper Camp with a few other of the Elewana Collection properties such as Elsa's Kopje in Meru, and any one of their camps in Lewa (an area I also love). You also can reap significant savings by doing so.
Why book Virtuoso?
Personalized travel assistance
24/7 online booking
Special rates & exclusive offers
Guaranteed Room upgrade*
Complimentary full American breakfast
Early check-in, Late check-out*
Exclusive on-site amenities (varies by hotel)
* based on availability on time of arrival