Safari Lodge Review: Sirikoi Lodge, Kenya. Sirikoi Lodge in Lewa Wildlife Conservancy was the third leg of our trip to Kenya in June. It was a perfect transition after spending two incredible days with the orphan elephants of Tsavo (see my post on Ithumba Camp and The David Sheldrick Wildlife Trust) and the giraffes at legendary Giraffe Manor.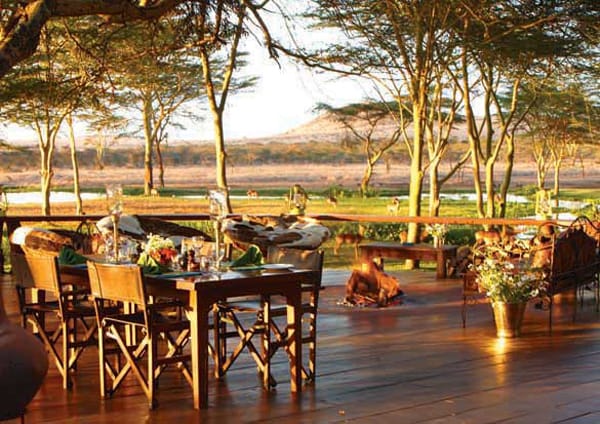 Planning our trip to Kenya involved making the pain-staking choice of camps to stay at for the safari portion of our trip. Even with several overstuffed folders of torn pages from magazines on Kenya lodges at my disposal, I had never heard of Sirikoi much less Lewa Wildlife Conservancy until I started constructing my itinerary.
Then, two friends who have traveled to Kenya extensively insisted I make Lewa a stop during our trip and I am glad I did.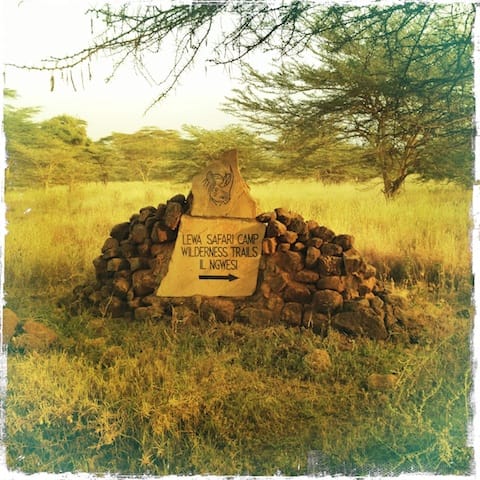 Lewa Wildlife Conservancy, spanning 62,000 magnificent acres of magnificent savannah, wetlands and forest in Northern Kenya, was created in 1995 as a catalyst for conservation of Kenya's endangered wildlife. It is now Kenya's leading model for wildlife conservation and boasts one of the largest concentrations of endangered black rhinos and Grey's zebras. We saw these as well as other wildlife in abundance.
Sirikoi Lodge itself is a spectacular private game lodge on private land in the center of the Conservancy and overlooking the northern end of Mount Kenya. It is run is by Willie Roberts, a well-known and admired conservationist who has been running custom safaris for over 30 years.
OUR STAY
During our stay, our hosts were his nephews, JJ and Amory. They joined us and other guests for every meal and kept us thoroughly entertained at the nightly camp-fire with hilarious stories, suspenseful stories out in the bush (I will be forever freaked out by scorpions, thank you Amory) and crazy family adventures.
At one of our dinners, we were treated with the company of Alan Root (one of the world's best wildlife filmmakers who unfortunately who passed away in late 2017) who has a home in Lewa. He enchanted us with stories of his near-death experiences, showing us his wounds of wild animal encounters (including a pretty impressive hippo bite).
Sandwiched between Alan Root and Willie Roberts and their escapades made own my life in NYC – where my biggest daily adventures are dodging the delivery men on bikes – feel quite boring!  To say I was a bit star struck was an understatement – especially after having just read a novel Wildflower about Alan Root and his former wife, Joan Root (it is optioned to be a movie starring Julia Roberts) a few months before.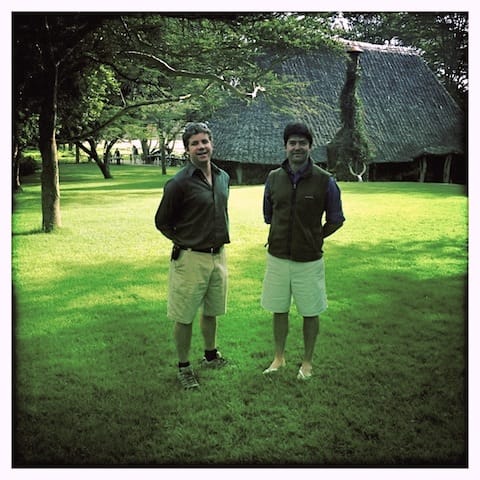 The setting at Sirikoi is drop-dead gorgeous. Lush is the word comes to mind. Set in a shady grove, Sirikoi is like an oasis of green overlooking the yellows of the savannah that borders it.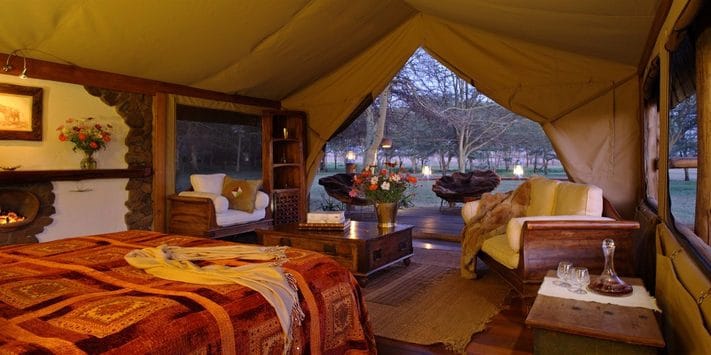 We had one of the four luxury tents (complete with Persian carpets, deep soaking tubs, vintage campaign trunks and a fireplace lit each night), each possessing their own veranda overlooking a natural waterhole where we saw rhinos, zebra and kudus regularly.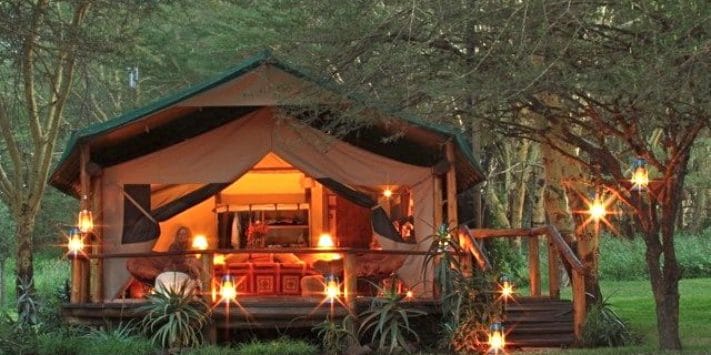 The furry heated water pads tucked under your covers was a welcome touch for the chilly nights. Except, of course, the first night when I thought there was a rodent burrowing underneath the sheets!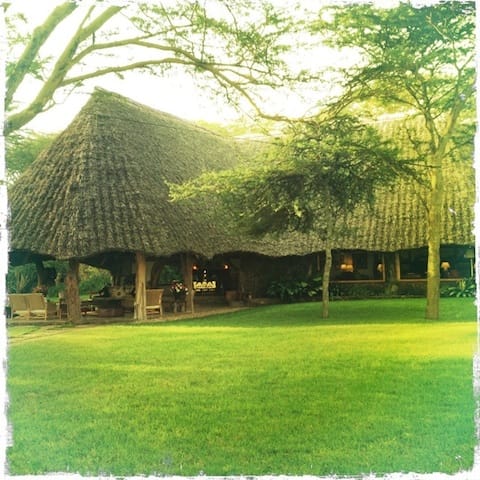 In addition to the luxury tents, there is also a house and a 2-BR cottage on the property that sleeps larger groups. The beautifully furnished 3-BR house (aptly named Sirikoi House) owned by an American family who fell in love with Sirikoi at first sight, can be booked when they are not there (it was featured in the October issue of House Beautiful). The family happened to be there during our stay – a crew of 10 or so – who were making the best use of their time there doing every physical activity possible. Next time I come here I am booking the cottage or house for sure with a group.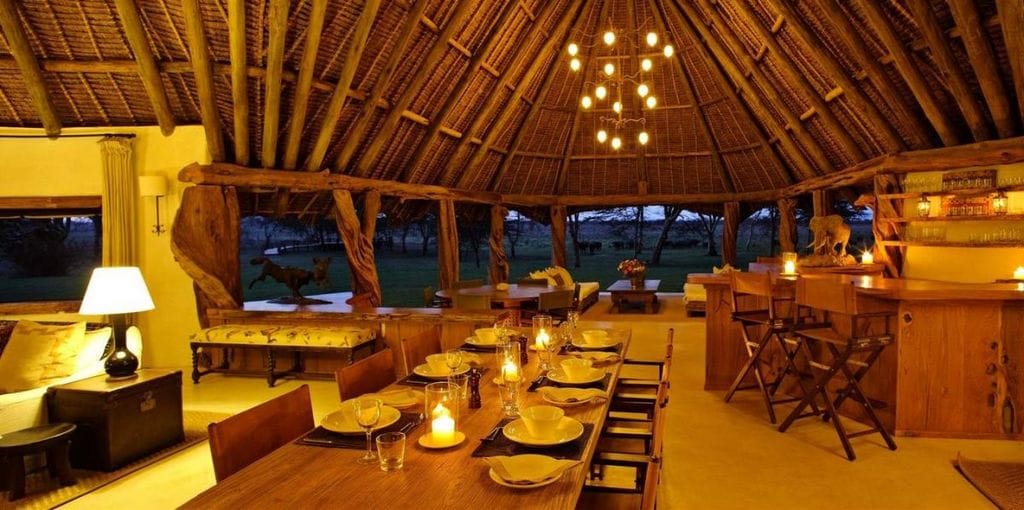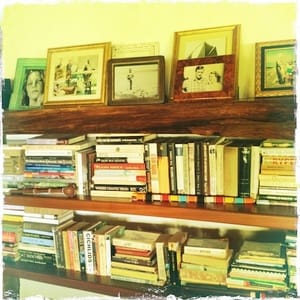 The indoor/outdoor living room at Sirikoi feels like someone's home with vintage pictures, books and handmade furniture. Every trinket and photo looked like it had a story to tell.
We ate outside on the deck, with full vista views, for all our meals. Sirikoi has its own impressive organic fruit and vegetable garden and everything served is fresh and delicious.
There is a free-form pool on the grounds – perfect for dipping into on hot days. However, the only time I saw it used was by four-legged kind who visited the property – which was often. It is not unusual to find any of the big 5 on the grounds – some taking naps under the trees. Needless to say, it is best to be escorted to and from your tent at nights.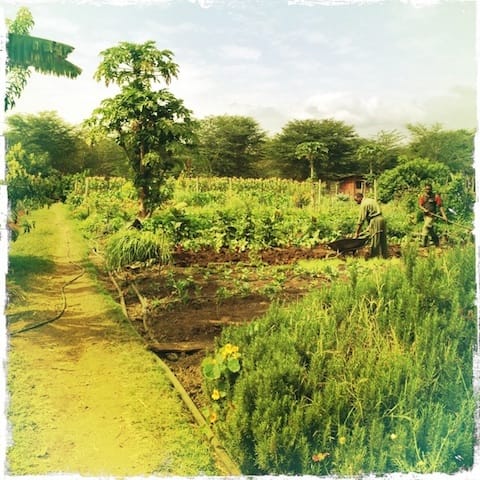 During the day, we took our game drives with two Maasai guides, Legay and Peter – an Abbott and Costello-type team who kept us laughing the whole trip, teaching us about their culture and wanting to know about ours ("Do you raise any goats or cows in New York City?"). We saw cheetah, lion, zebra, buffalo, giraffes, and elephants during our drives – the vistas are right out of a movie set.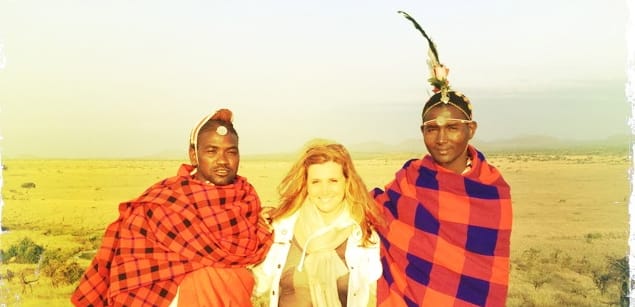 Between Game Drives
There are plenty of activities in Lewa to do other than game drives. I chose to do a horseback safari – one on one with a guide – at the stables (many of the horses are former polo ponies). I am an experienced rider but nothing can prepare you for riding out in the plains of Africa (a bit different than riding in a ring!) – you have to look out for massive wart hog holes on the ground and be prepared to take flight if a "lion charges". If I weren't so tense at the prospect of falling off my horse and becoming a meal, I would have better enjoyed the wildlife around me!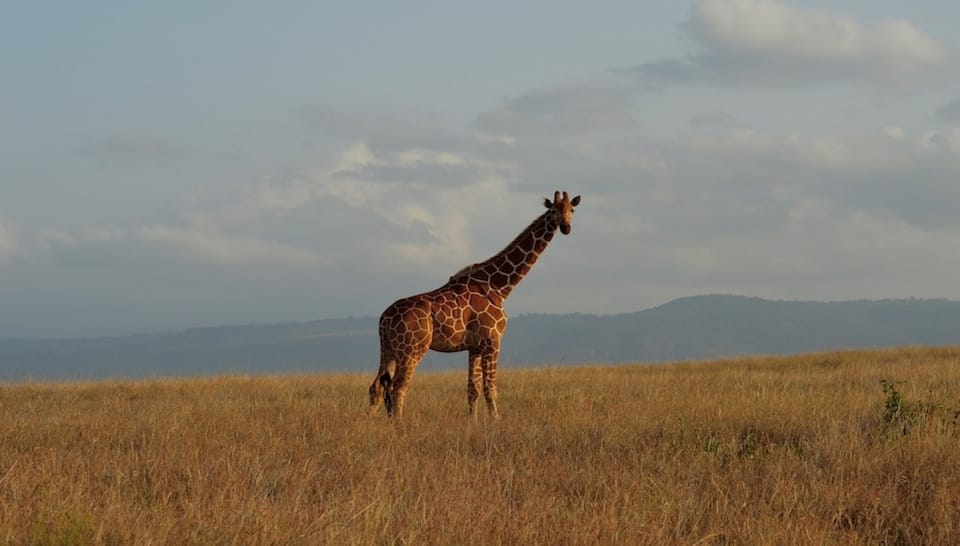 We reluctantly left Sirikoi after two wonderful nights for our next and final stop, Mara Plains Camp in the Maasai Mara. Stay tuned!
Related Reviews