I had seven days to spend on my trip to Kenya in October but only a brief overnight in Nairobi before flying off to Tsavo National Park. There are several wonderful accommodation choices to choose from in Nairobi now – from the charming and historic Karen Blixen Cottages to the 45-suite plantation-style hotel, Hemingways. But I couldn't resist returning to Giraffe Manor – located in the affluent suburb of Karen – where I stayed the last time I traveled to Kenya four years ago (you can read my full review here). My time here would be brief – just a few hours in morning – but enough to get my 'fix' of the beautiful giraffe residents that are one of the main draws of Giraffe Manor.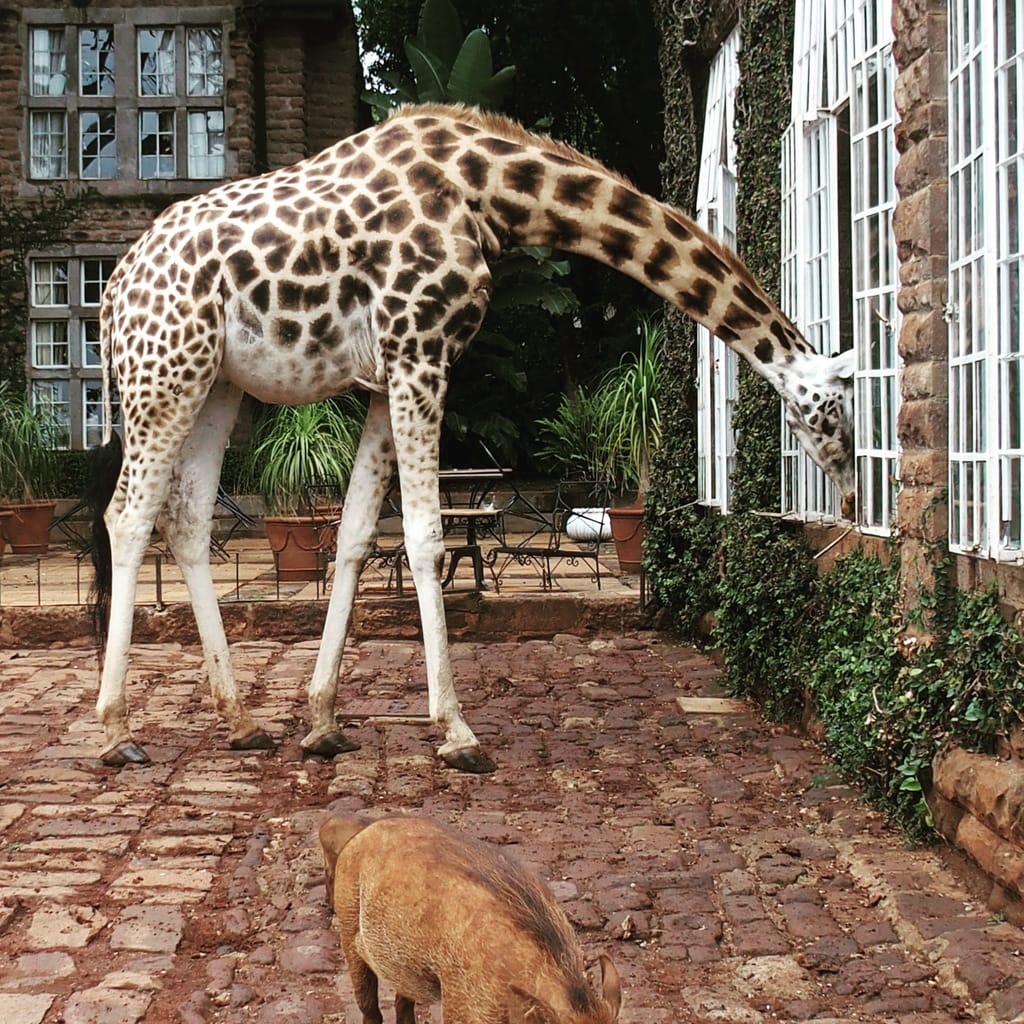 I was glad to see when I arrived that not much changed at this elegant 1930's 10-room English manor since my last visit. Many of the same friendly faces were there to greet me as they did last time. Nothing is overly decorated or pretentious at Giraffe Manor: the shabby-chic styled public rooms, adorned with nostalgic photographs lining the wall and vintage items throughout  harken back to another time. You could easily imagine Finch Hatton and Karen Blixen walking in for a sundowner at any moment.
Each guest room in the main or adjoining manor is named after a past or present giraffe. The last time I was here with my husband, I stayed in Daisy –  known for its spacious terrace (ideal for feeding giraffes!). This time, I was in the smaller, simple but very comfortable   Lynn room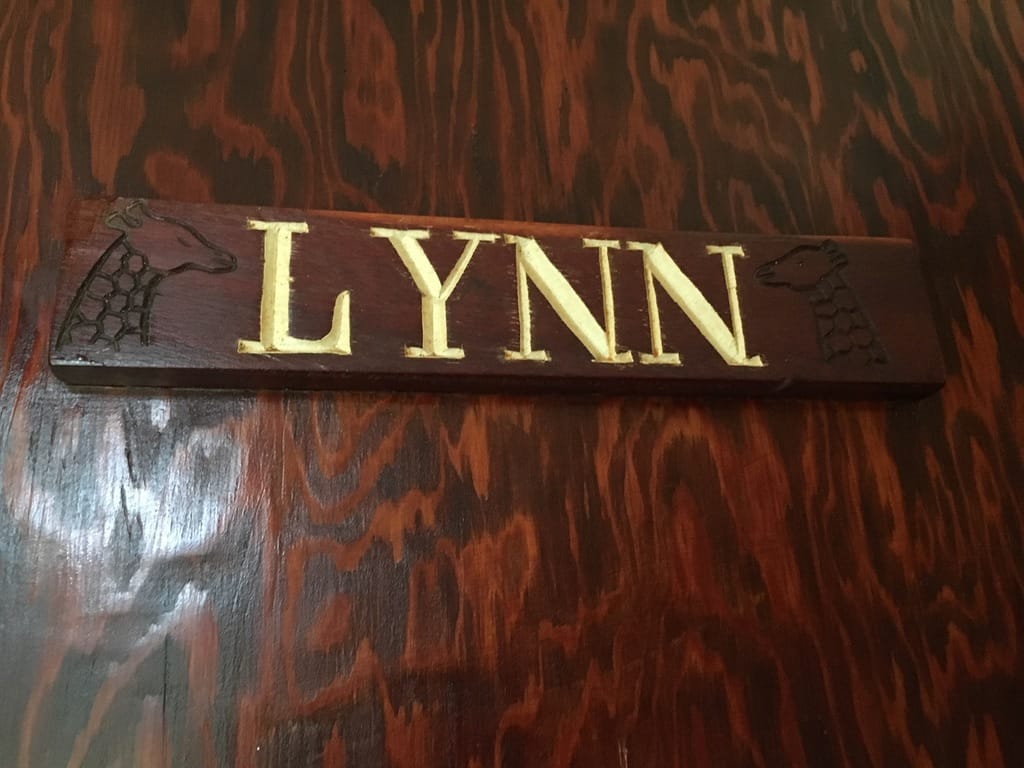 on other side of the main manor.  The room was ideal for me as I was solo this trip and I really enjoyed the spacious bath which was almost the same size of the bedroom.
A large window with a tin of snacks for the giraffes was all I needed for my wake up call by one of my favorite residents, Betty, who walked up to my second floor floor window as if on cue to welcome me back. Her long elegant neck reached right up to window and she ate right off my hand for an exhilarating few minutes. I learned on my arrival that Betty just had a baby 10 days ago so we had a nice a 'mom to mom' conversation.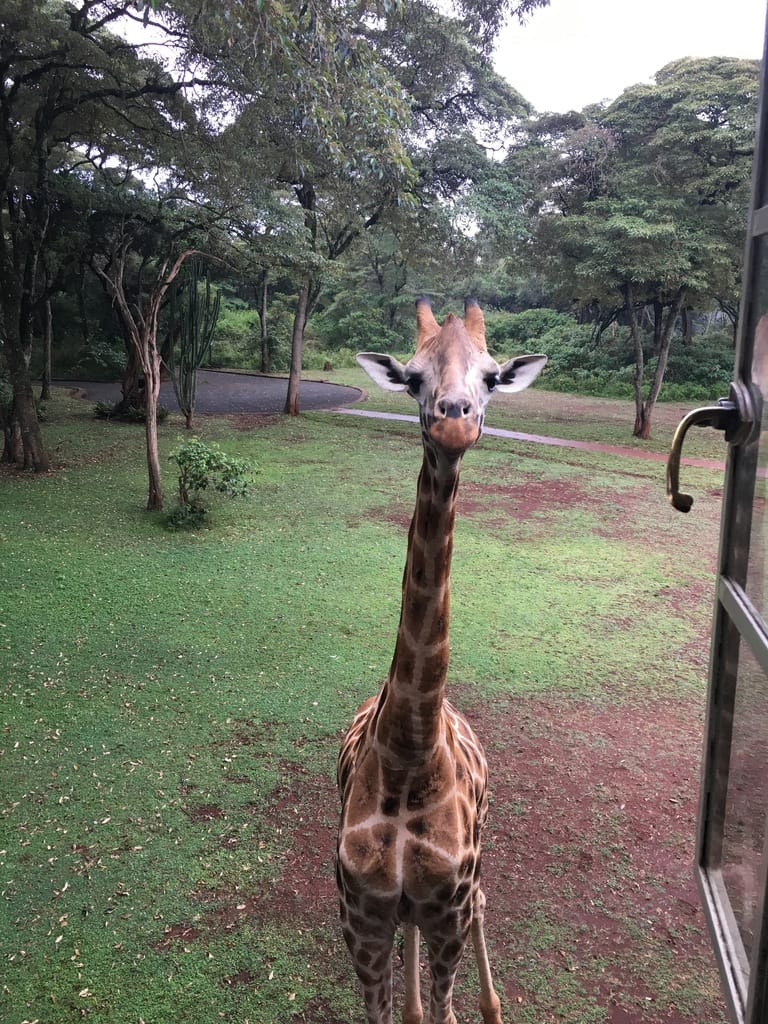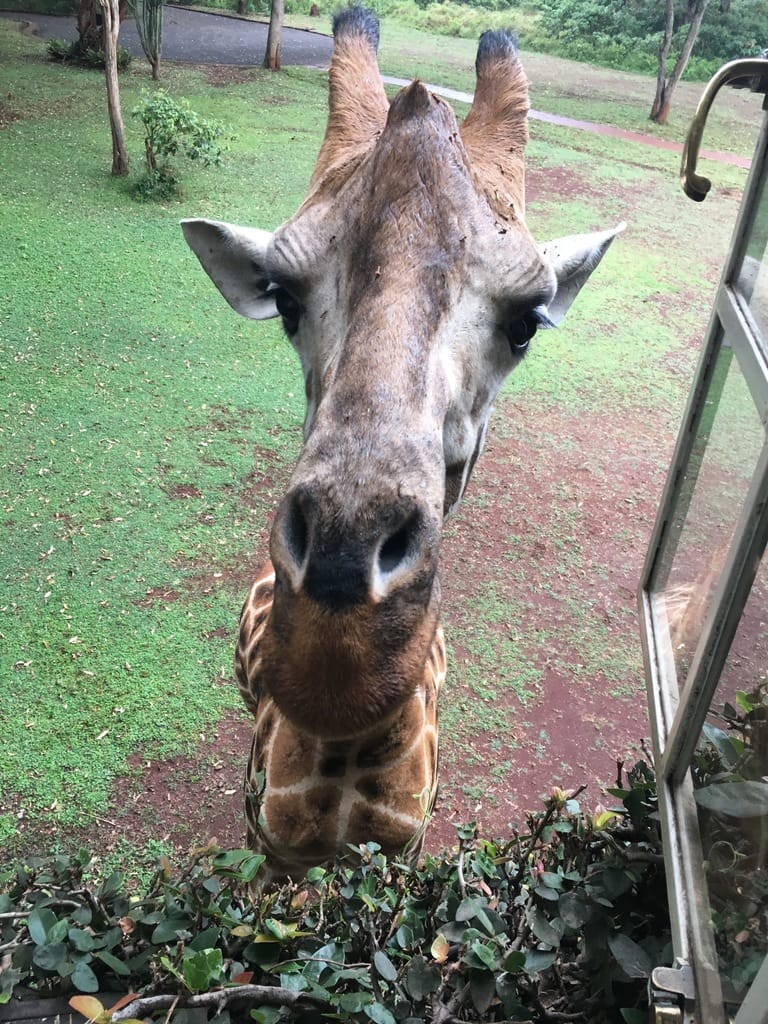 After Betty had enough of me and emptied her can of treats, she went off to the next room to awe another guest (being a new mom does make you hungry!). That gave me just enough time to quickly dress and run down to breakfast to enjoy one of the most incredible experiences at Giraffe Manor. All the tables are ideally located next to open windows – inviting any of the current nine giraffes in residence (and two babies who are still a bit shy of guests) to welcome you with their elegant long necks poking inside to gently nibble (or not so gently devour) treats from your hand. There is nothing quite like it.  Whether its your first or fifth time here,  it is an experience you will never tire of. 
I returned back to the Manor after spending a few hours with the elephant orphans at the nearby The David Sheldrick Wildlife Trust (A must for anyone stopping in Nairobi. Anyone can go at 11 am to see the 27 orphans currently in residence and foster an elephant. Giraffe Manor will provide complimentary transportation to DSWT, just a 10-minute drive away) to end my stay with a wonderful light and delicious lunch on the terrace, joined by several of the resident warthogs who provide guests with endless entertainment.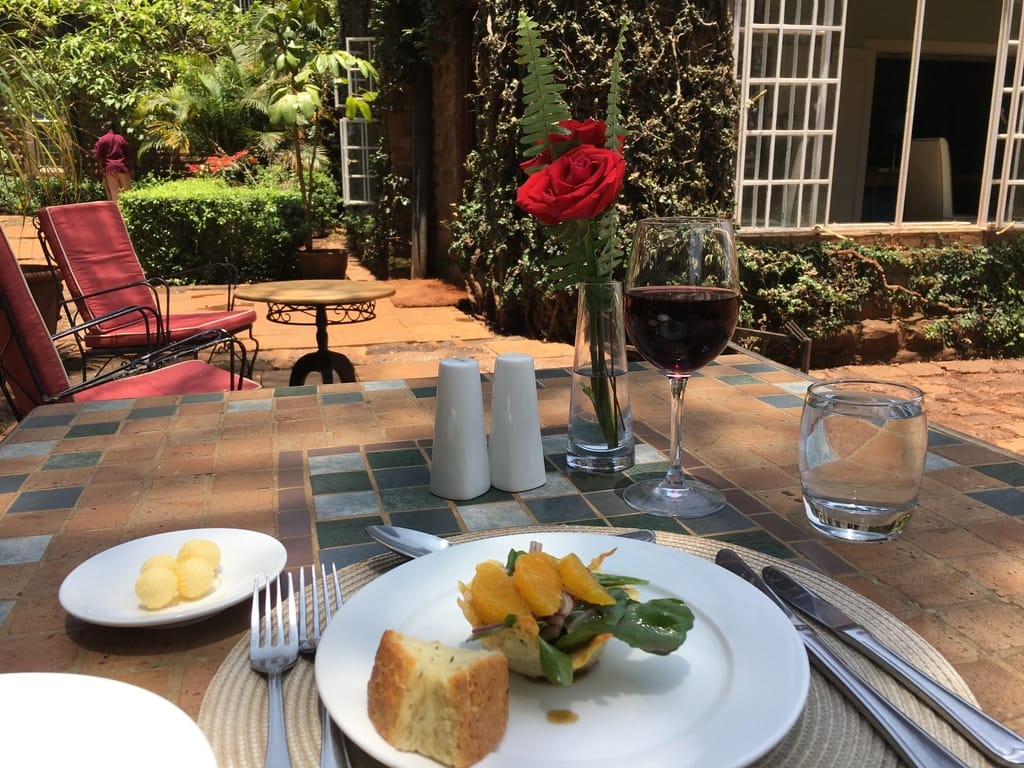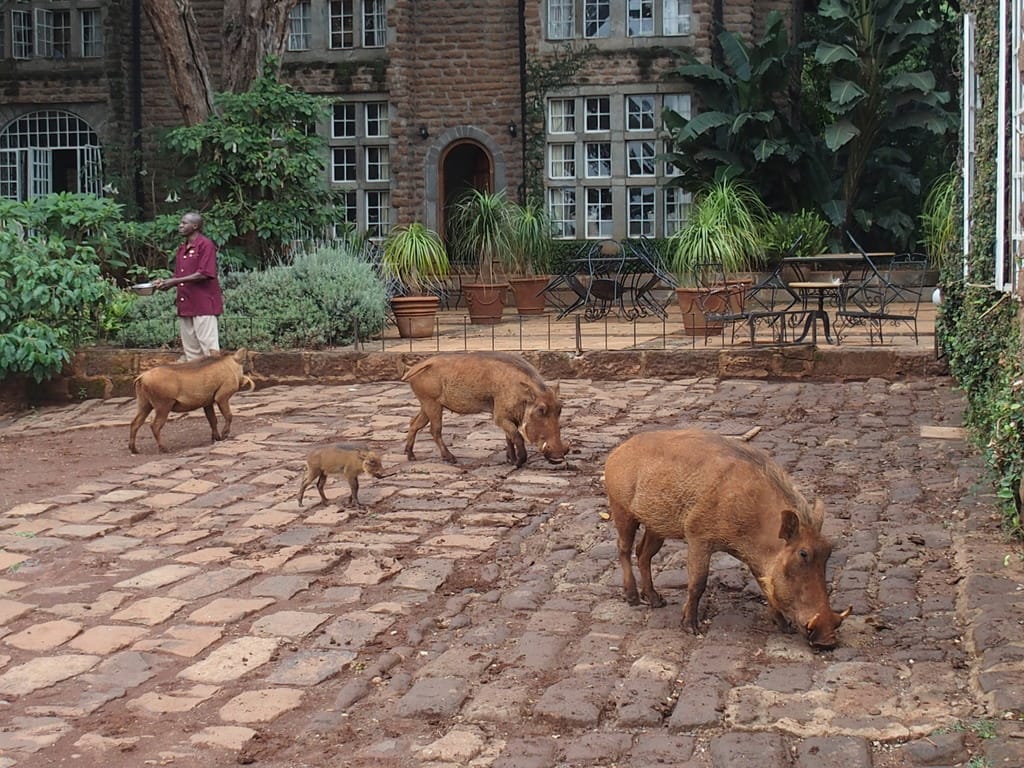 Giraffe Manor remains one of my all-time favorite places to visit. Not just for the giraffes – although it is one of the main attractions. If you are lucky to get a room (the hotel can be booked  up to a year in advance), it is a wonderful refuge and stopping point before or after your safari. Everyone staying here is going to or returning from exotic places with stories to share.  It is incredibly peaceful just lounging on the patio amongst the birds chirping, the giraffes munching and warthogs running around at this beautiful English Manor with its gracious hospitality.  Grab a sundowner, a good book and soak it all in!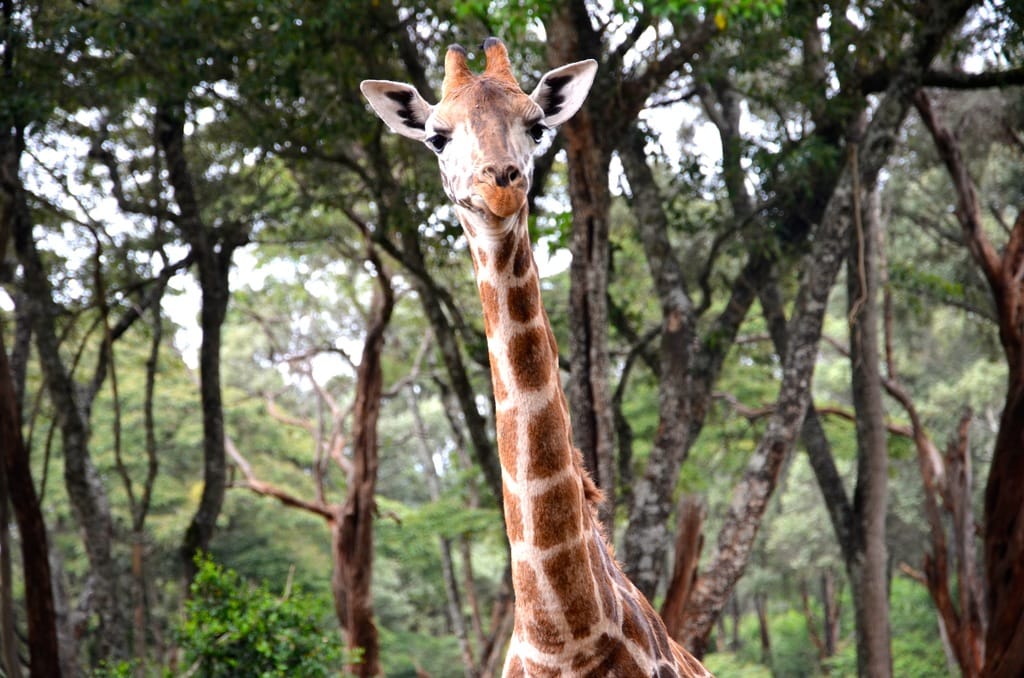 To read our full review of Giraffe Manor, please go to this link.
Note: We booked our stay with Giraffe Manor through NYC-based safari travel company, Extraordinary Journeys, who booked our previous trips to Rwanda and Tanzania. We could not recommend them enough!