Ever since I first read about the opening of the stunning ranch hideaway, Estancia Vik, seven years ago, it has been on my expansive bucket list. Since then, three more properties under the Vik 'luxury retreat' brand have opened, including one in Chile.  Each are completely different but spectacular in their own right.
Ania Wroblewska, a travel colleague of mine with Classic Travel, was fortunate to visit all four properties this past October. I am thrilled that she agreed to provide us a thorough overview on each of these properties to share with our readers:
I first learned about the VIK properties when, still a lawyer, I was inspirationally planning trips that my work schedule would have never allowed me to take. I was dreaming about South America and, as a huge wine enthusiast, I happened upon Vina Vik in Chile. The property, with its own winery and gorgeous vistas, looked out of this world. The internet rabbit hole led me to more and more articles about the Vik family (the owner, Norwegian Alexander Vik was named the Most Interesting Man in the World in 2014 by Forbes – you can read why here) and I quickly learned that there were three other properties in Uruguay. I was hooked and vowed to visit all four properties sometime in the future.
Fast forward to 2016. As a luxury travel consultant, I was invited this past October to stay at two of the Vik properties and do a tour of the other two.  Of course, I jumped on the opportunity. Each property is completely different: Vina Vik is ultra modern and all about wine; Estancia Vik is a Spanish colonial-style hotel/ranch that is all about Uruguayan art and culture; Playa Vik, a contemporary beach villa with stunning views of the coastline, oozes romance;  Bahia Vik are beachy bungalows out on the Uruguayan dunes.
VINA VIK
We started our trip with a 2 night-stay at Vina Vik in Chile, the latest addition to the Vik portfolio and the only hotel outside of Uruguay. In order to get there, we flew to Santiago, Chile where we were picked up by the hotel driver for the two and a half hour drive to the hotel (for a quicker and more exciting option, I recommend splurging for the 40-minute helicopter transfer). I woke up groggy from a jet-lagged nap in the car to peer up to a Frank Gehry-esque building surrounded by an emerald lake, mountains and a vast winery.
As this is not your typical hotel with separate reception space, we were greeted in the living room pavilion of the hotel. The hotel was designed to feel like home (albeit not your everyday home). In fact, Alexander Vik and his family spend time at the hotel each year and utilize it as one of their (many) personal homes.
Vina Vik is simply spectacular and clearly no expense was spared in the building and design – from the titanium roof (Titanium has a thermal capacity to withstand the climate of the Chilean wine country), Frette linens and robes in the rooms to the individual design of each of the 22 rooms with custom artwork and furniture.
No room is the same and, when booking, guests are given a room menu to pick the best suited room for them. Make sure you do this as waking up to large portrait of a transsexual homeless woman pushing a trolley full of trash may not be everyone's cup of tea! You may prefer the whimsical Redonodo Suite with its colorful polka dot headboard, the Azulejo Suite where you will wake up everyday to two Oscar-esque velvet dresses hanging over your bed, or my favorite, the Shogun Master Suite which will transport you to Japan. See the slideshow below to see some of these rooms:
The rates at Vina Vik include all meals, drinks and hotel activities, with the exception of some specially designed bespoke experiences. Alas, this is not the typical "all inclusive experience" – the food is of the highest quality and the wine served is of course the winery's own. Breakfast is a buffet with a menu of made to order eggs. Lunch and dinner are casual affairs with no set menu. The chef prepares two main dishes and an appetizer based on what is fresh. During my three day stay, I ate foie gras, beef tartar, garden vegetable tempura as appetizers and duck, octopus and lamb for the main entrees. Everything was fantastic. If you are a picky eater or have food allergies, do not worry as the chef adjusts the dishes to each guest's preference. If you do not like the options offered, they will find an alternative.
What I loved most about the hotel the most was that it is not only great for adults looking to combine a vacation with a tour of the winery but is ideal for entire families as well. The hotel offers plenty of activities for everyone: horse back riding, hiking, bike riding, fishing, yoga classes with a view of the infinity pool, paintball, and cooking classes. Kids can visit the garden and pick their own vegetables from the garden or get eggs for breakfast from the henhouse. Even the tour of the winery can be done with kids – the adults get to sample the wines and kids grape juice.
After our two night stay at this exceptional property we were whisked back to the Santiago airport for a quick flight to Montevideo in Uruguay. We were heading to the Punta del Este area, the 'Hamptons of South America'. The three Uruguayan VIK properties are a two-hour drive from the Montevideo airport but the drive did not feel long and I was amazed by how beautiful the countryside was – full of farmland, estancias, and open fields.

ESTANCIA VIK
On our way for a 2-night stay at the ultra modern Playa Vik, we stopped for a tour of the sister property, Estancia Vik. As we visited in October, the property was empty and closed, although the manager was in the process of getting the property ready for a weekend buy-out. The Estancia experience begins during the arrival on the long unpaved road through 4,000 acres of pastures and undeveloped lands with the white-washed hotel looming in the distance on a small hill. This may not be one the "hot hip" properties in Punta del Este but it certainly feels special.
Estancia caters to those who want to be close to the beach (only 1 mile from the ocean and 20 miles from Punta del Este, on southernmost tip of Uruguay), but are looking for a respite from the nearby hotspots making it a fantastic choice for families with children who want to experience the best of what Uruguay has to offer. Built in the Spanish colonial style, Estancia offers colonial architectural elements like adobe walls and red tin roofs, accented by clean white lines, expansive public spaces and, as in all other VIK properties, original contemporary art. Just as at Vina Vik, each of the 12 guest rooms is completely different and features 18 Uruguyan artists creating an impressive gallery of modern local art.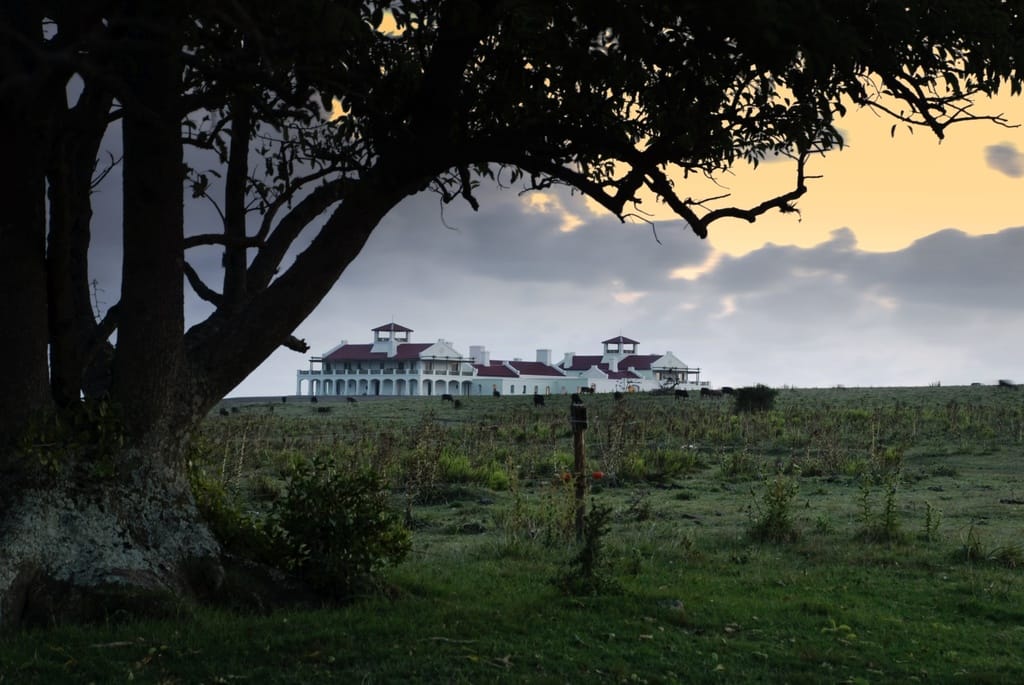 Estancia Vik offers something for everyone – you can partake in horseback riding along the nearby river, canoeing (offering the chance to observe indigenous birds) and even take private polo lessons, play tennis or challenge your family to a paintball match. Or you can simply laze around the spacious main building and pretend you are the owner of a beautiful country estate. A small and scenic outdoor pool provides respite from the hot summer weather and the game room offers pool table, ping-pong table and board games for the perfect family evening. And, of course, with its short distance from both Jose Ignacio and Punta del Este, beach time is only a few minutes away.
BAHIA VIK

Bahia Vik, opened in 2014 and deemed one of the hottest hotel openings anywhere, did not disappoint. I was immediately blown away by the Klimt-esque ceiling mural by a Uruguayan artist, which welcomes you in the entrance hall. As with the Estancia, local art is seen throughout the property – from larger-than-life portraits of the Vik family in the dining room to vibrantly colored bedrooms and unique bathrooms.
Much like its sister properties, no room is the same at Bahia Vik, enticing guests to want to see each and every room to find their favorite. Ten of the 37 rooms are located in the main building, spread between the first and second floor, which offers stupendous views and can be taken over to form a family suite. The remaining 27 rooms are spread out among 11 stand-alone bungalows with one, two and three bedroom options. Each bungalow is made of different material making them unique. One might be made from Uruguayan staple whitewashed adobe while another one may be clad in titanium or covered entirely in sand. The hotel also offers a four-bedroom villa for bigger families that comes with exclusive use of a private pool in front of it.
Estancia Vik offers a small gym and game center room around an interior courtyard as well as four pools with mind-blowing views of the dunes and the water. With 37 rooms, Bahia Via is the largest of the VIK properties and perfectly suited for families with children.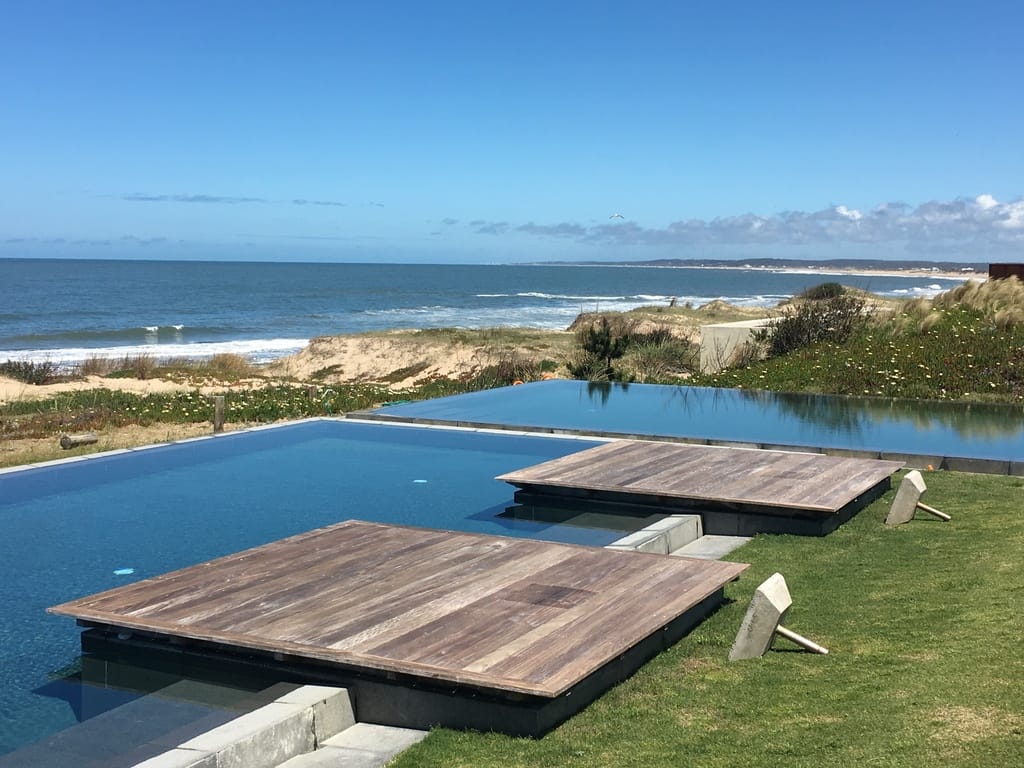 PLAYA VIK
We arrived at Playa Vik at dusk, just in time to see the dramatic sunset over the rugged coastline of Jose Ignacio while sitting on the edge of the black granite infinity pool protruding from the hill on which the main hotel building is built on. Despite our rush to get out and photograph the stunning views (and selfies), we managed to notice the epic bronze door sculpted by Uruguayan artist Pablo Atchugarry reminiscent of gates that might have protected ancient Rome. In fact, the entire property is a work of art. Thanks to its uber-modern design by world famous Uruguayan architect Carlos Ott (famous for the Paris Opera House, the National Bank of Dubai and the Carlos Curbelo airport in Punta del Este), the hotel is recognizable from a distance due to its "living-roof" planted with Uruguayan wild flowers.
The Ott-designed masterpiece consists of six grass-topped, glass-and-steel villas that revolve around the main building the Viks refer to as "the Sculpture." The main building is home to three of the most spectacular rooms on the second floor and public spaces on the main floor, including a comfy living room, a library with a wide selection of books and a formal dining room. As with the other Vik properties, art is everywhere. A stroll into the library reveals a James Turrell wall installation and a striking acrylic bench by Zaha Hadid. The pièce de résistance, however, is the view – stunning and unfiltered view of the azure Atlantic Ocean. At night, the dramatic infinity pool is illuminated by a celestial pattern with small fiber-optic lights lights, making the guests feel as though they were swimming in the Milky Way while listening to crashing ocean waves.
While children are welcome in this property and the hotel offers 2 and 3 bedroom suites perfect for families, the best rooms are stand alone rooms in the Sculpture building perfect for couples In fact, with its Milky Way illumination and a cozy fire pit and its relaxed quiet ambiance, Playa Vik oozes romance, making it the perfect place for couples. Its location in the Jose Ignacio Village allows guests to go for romantic strolls through the neighborhood and along the beach.
How to get to the Uruguayan Properties:
The best way is to fly into Punta del Este and drive for 40 minutes or to fly into Montevideo and drive for two hours.
When to go:
Vina Vik in Chile is a year-round destination but the most pleasant months to visit are October to April. Summer (November to April) is warm with lots of sunshine. Over their winter (June to September), you'll see the Andes wreathed in snow but the weather is chilly and rain can be an issue.  Spring-like September is Chile's national independence month, and is full of activity.
For the Uruguayan Vik properties, 'the high season'' is between Christmas and mid-January when Argentine families escape. There is a 7-night minimum during festive season. Due to the high demand for these properties, we recommend you book at least a year in advance for holiday breaks. As of the publishing of this post, only one suite is available at Estancia Vik during the winter holiday 2017/18. All other Vik properties are sold out.
Post and photos by Ania Wroblewska at Classic Travel and not for reproduction 
When you book the Vid Retreats with Inviato you receive the following benefits:
• Upgrade at time of arrival, subject to availability
• Complimentary Buffet Breakfast for two daily
• $100 USD equivalent Spa Services credit
• Early check-in/Late check-out
Book This Hotel
Why book Virtuoso?
Personalized travel assistance
24/7 online booking
Special rates & exclusive offers
Guaranteed Room upgrade*
Complimentary full American breakfast
Early check-in, Late check-out*
Exclusive on-site amenities (varies by hotel)
* based on availability on time of arrival