Until we can get back out traveling the world again, hopefully sooner than later, we remain committed to continuing what we know best – being your resource for travel inspiration.
While most of us are still quarantining in our homes, I have rounded up and assembled recipes for you of dishes and cocktails I love from some of my favorite hotels around the globe. We hope these transport you to a place you are yearning to go. It will never replace dining on a bougainvillea-covered terrace in Amalfi or in an exotic garden in Marrakech, of course, but perhaps it will inspire you for the time being.
Why is this recipe list different from all those others cluttering your inbox? In every case, we tasted these memorable dishes and cocktails ourselves during our stays and tested many of the recipes at home. One recipe that remains ever elusive to me is the Caramelized French Toast from The Norman in Tel Aviv but I am happy to take that as an excuse to go back to Israel anytime.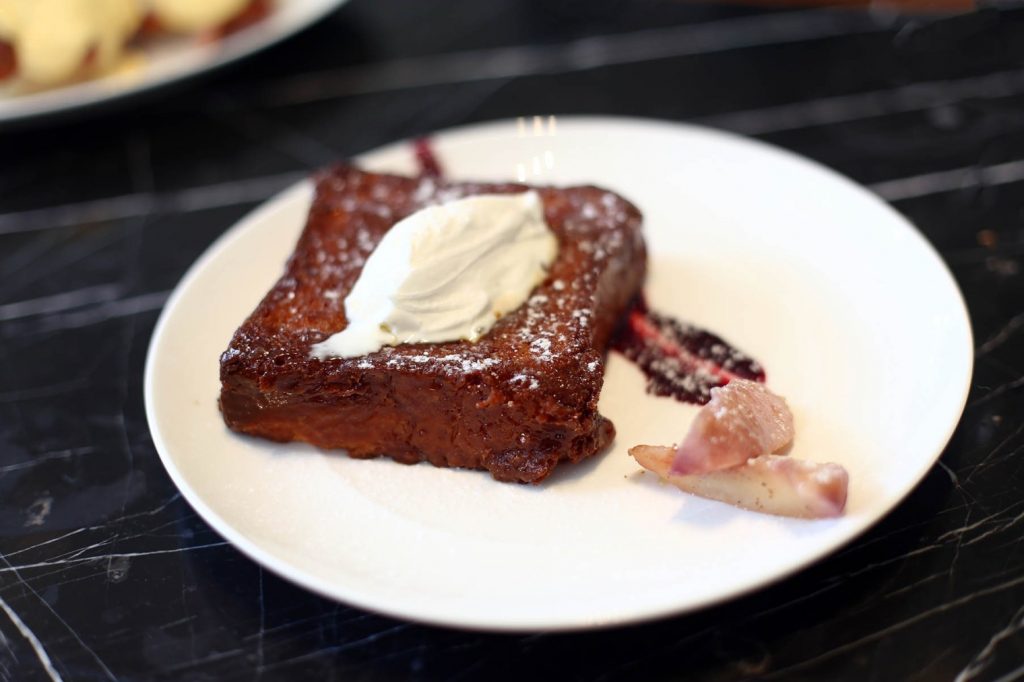 Need a bit more inspiration to virtually take you away? Check out our newly updated post listing our favorite travel movies to watch for a truly take you away. 
Hotel Round-Up of BEST HOTEL recipes:
Montage Laguna Beach, CALIFORNIA

: Banana Bread

The minute I tasted this yummy banana bread at breakfast at The Loft at Montage Laguna Beach, I had to get my hands on the recipe. I have now baked this bread for my family and for my daughter's dorm and have only had 'OMG' reviews. The secret is in the buttermilk and ripeness of the bananas. Serious calories but oh-so-good!

Recipe: Banana Bread 

While you are baking this, check out our hotel review of Montage Laguna Beach from our stay.
Hotel Santa Caterina, Amalfi

: White and Black Tagliolini in Sfusato Lemon Cream Sauce

This pasta dish is seriously delicious. It would help to grab some of those lemons growing right in the groves of Hotel Santa Caterina, but one from your grocer or farm stand will have to do for now. Get the highest quality butter and marscapone cheese to replicate this dish. Bellissimo!
Recipe: Tagliolini
Keep the inspiration alive, check out our hotel review of Santa Caterina from our recent stay.
SACHER HOTEL, VIENNA

: ORIGINAL SACHER-TORTE

My grandmother, who was born in Vienna, never stopped talking about her visits to the Hotel Sacher  and eating the famous dense Sacher Torte with her own father. The world's most famous cake is dense and divine (adding creme and a Austrian coffee with it at the Café Sacher is a must- do as we did during our stay). Amazingly, Hotel Sacher sent me the torte to my home the next year for my birthday. This recipe from Sacher is as close as you will get – as the original is a tightly kept secret.
Recipe: Sacher Torte
Transport yourself to Vienna, one of my favorite cities, and Sacher with our hotel review.
RANCH AT ROCK CREEk, Montana:

 Sapphire Range Bacon and Gouda Frittata

The Cowboy Breakfast was one of my favorite experiences at Ranch at Rock Creek. A team of Belgian draft horses driven by wranglers takes you to a secluded picnic campsite in a stunning meadow where a dutch oven campfire breakfast is awaiting you. The frittata was amazing. This recipe calls for a campfire, which is not exactly practical especially when you are quarantining but you can make this just fine in a Creuset over any grill top oven.
Recipe: Fritatta
Check out the review of our stay at Ranch at Rock Creek in Luxury Travel Advisor.
BLACKBERRY FARM & MOUNTAIN, TN.:

SAM'S CARROT SOUFFLÉ

I had this dish at Blackberry Farm over Thanksgiving holiday in 2014 and I STILL remember how tasty this soufflé was. It is a special recipe by the late owner Sam Beall and I have made it numerous times as a side dish. Make this soufflé (is more casserole then soufflé) while the weather is still chilly – its easy and delicious (If you want something sweeter, try the Carrot Cake cupcakes). The key ingredients here are sharp cheddar cheese and Saltine crackers.
Recipe: Carrot Souffle
See our two hotel reviews of Blackberry Farm here and here. We are working on our Blackberry Mountain review now from our visit late last Summer. Tip: The Blackberry Farm Shop is a favorite of mine and I love to send gifts (sauces, gift sets, jams and table-top items) from there.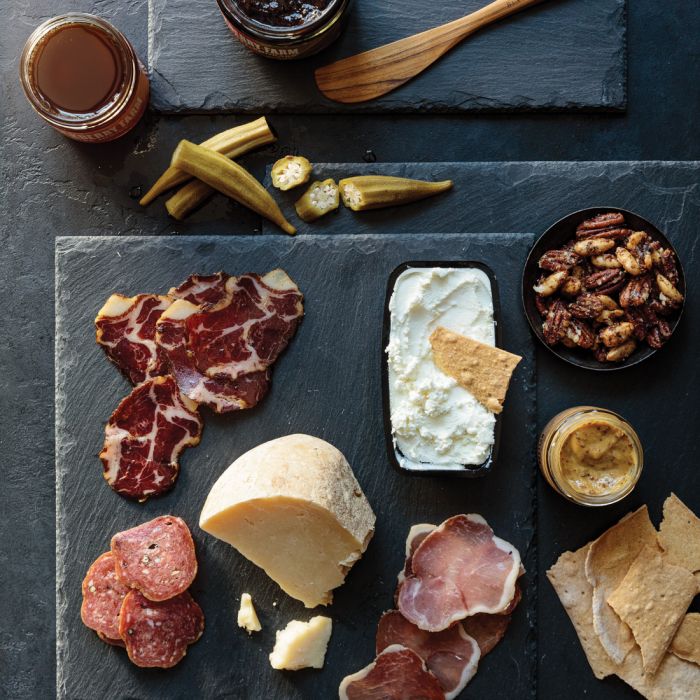 SOHO FARMHOUSE, OXFORDSHIRE:

BRAISED SHORT RIBS

We had these heavenly red-wine braised short ribs at the Barwell Barn during the Sunday Feast Roast at Soho Farmhouse. It is easy to make and can be made ahead and refrigerated for three days. Great for a rainy cold day with mashed cauliflower, potatoes or vegetables on the side.
Recipe: Short Ribs
Read our review of our fabulous stay at the Soho Farmhouse.
ROYAL MANSOUR, MARRAKECH

: VIRGIN MOJITO

We spent one night at the stunning Royal Mansour in Marrakech this Fall, one of the most beautiful and extravagant hotels I have been too for sure. The art-deco Main Bar, where guests deck out for cocktails, is definitely the most glamorous bar I have seen. While we opted for something a bit stronger, the mocktail list is long and as beautifully presented as the alcoholic drinks. When you just want a reprieve from alcohol or something refreshing for the kids, this is perfect for a summer day. Presentation is everything!
Recipe: Virgin Mojito 
Our Inside Look at Royal Mansour is coming soon.
 LODGE AT BLUE SKY, UTAH:

HORSE THIEF COCKTAIL

Auberge Resort's Lodge At Blue Sky is a ranch that loves horses, which is one of many reasons I love this hotel. I had an insane dinner with friends at Yuta, where James Beard Chef Galen Zamarra runs the kitchen. The cocktails here, which all have equestrian names, are amazing as well. The Horse Thief is not any cocktail, as I learned during my stay. Not only seriously delicious ( it includes Casamigos Reposado tequila, High West Campfire whiskey, green chartreuse, ginger syrup and fresh blackberries) but it is a cocktail with a cause. One dollar from every sale of the cocktail benefits the owner's Saving Gracie Equine foundation, an equine rescue and sanctuary that you can and must visit during your stay.

Our review of The Lodge At Blue Sky is coming soon!
Recipe: Horse Thief 
FOUR SEASONS HUALALAI, Big Island:

GREEN FLASH MARGARITA

What I wouldn't do to be back at the Four Seasons Hualalai right now sipping my favorite margarita on the beach. Fresh lime and any great Tequila will do along with Creme de Coconut. Put on some Hawaiian Tropic suntan lotion and sunglasses to truly transport yourself to the Hawaiian islands.
Recipe: Margarita
We are fans of this hotel, having stayed here the last five consecutive years. To find out why, read our review of Four Seasons Hualalai here and 10 Reasons Why We Love the Four Seasons Hualalai.
MALIBU BEACH INN, CALIFORNIA

: PRAY FOR SURF COCKTAIL

The Malibu Beach Inn Bar Director, Josh Curtis, makes incredible innovative cocktails and nothing beats taking one of his creations and going out on the deck of this beachside retreat at sunset, perched right over the Pacific Ocean. Josh made this refreshing Summer cocktail (strawberry-lemonade with Stoli Elit vodka) for me while I was there.
Recipe: Pray For Surf cocktail 
Check out our hotel review of our stay at Malibu Beach Inn.
Marbella Club Hotel, SPAIN:

Sau Sau Cocktail

I ordered the Sau Sau cocktail at the open-air bar that is part of The Grill of The Marbella Club this past Summer and came back each night for the same drink. This signature famous drink at this Mediterranean beachside resort contains a refreshing concoction of vodka, mint, lemon, sugar and soda.
Recipe: Sau Sau
Read the review of our stay last Summer at the legendary Marbella Club Hotel.