Ever since I read Peter Mayle's book  A Year in Provence,  I have been fascinated with the idea of truffle hunting. The idea of foraging through a forest in Tuscany, Umbria or Provence, walking a pig by the leash sniffing for underground mushrooms curiously appeals to me. The closest I have come to this sport (it is considered as such in many areas) is doing falconry in Scotland with my sister (in this case, we were walking through a forest with a falcon gripping its claws into our arms sniffing out rabbits not mushrooms)…but that is another story for another time.
Truffle-hunting dogs are in fact used now more than pigs because they don't eat the truffle once they find it and…well, they are easier to fit in the back seat of a car.
For those of you who may be wondering what is all the fuss about a mushroom, let me explain to you. Often referred to as "Diamonds of the Kitchen" and the "equivalent of culinary gold", truffles are a true gourmet delicacy.
Truffles are actually a unique type of mushroom that grows underground, usually very close to trees. There are hundreds of species (white, black, burgundy etc) but only a few that are very rare. They resemble small potatoes, usually the size of a golfball.
Highly prized (there are even underground truffle dealers) because of their price ($250-$400 a pound) and pungent taste, truffles are used sparingly, shaved raw over pasta, salads, omelets and even meats.
Two of the best truffle hunting programs I found were located in Umbria and Provence – both regions known for their truffles, olive oils, fresh local produce and, of course, their excellent wines.
Todi Castle – Umbria
In Umbria, a 3-day truffle hunting program at the medieval castle/hotel TodiCastle is a must on your bucket list. The castle, located near the medieval hilltop town of Todi, dates back to 1100 A.D. and was once even a monastery. The Santoro family bought the castle (which was abandoned for 300 years!) in 1974 and painstakingly restored it and made it into a hotel in 2000.
Today, the estate comprises the castle, 2 villas (Pianesante, which I stayed at, and Campo Rinaldi), and a superb outdoor restaurant, Umbria Grill – all on beautiful grounds overlooking the Umbrian hills. The wonderful towns of  Orvieto, Spoleto, Assisi, Gubbio, Siena,  and Perugia are all short drives away.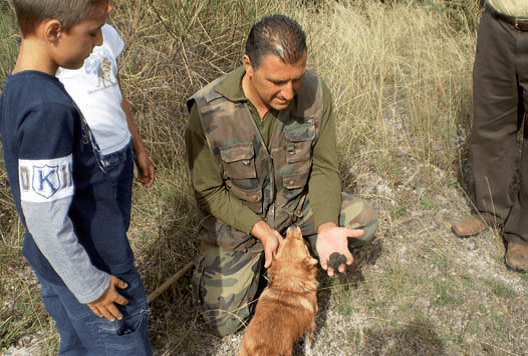 On this 3-day program, you join a professional truffle hunter and his dogs on a daily truffle hunt in the beautiful forests of Umbria and also learn to prepare truffle dishes. Each excursion is followed by a delicious truffle meal served with local wines. This 3-day program includes accommodations at the medieval castle, all meals, excursion transportation and round-trip to airports. Highlights beyond the hunting itself include:
Visit to the Urbani Truffle Academy – the most important manufacturer of truffles and Bianconi Truffle Museum.
Wine-tasting at local wineries in the towns of Bevagna and Montefalco and dinner at one of the wineries with local recipes.
Excursion to Spoleto, a spectacular medieval town, and lunch at Apollinaire, a quaint restaurant housed in a 12th-century building.
Olive-oil tasting at Decimi, one of the best olive oil producers in the region and a visit to the 1,700-year-old St. Emilian olive-tree near Trevi.
Meals and cooking classes at the castle.
Prices start at 980 Euros per person, all inclusive (except airfare).  To learn more about Todi Castle and the 3-day truffle program, click on the links.
Crillon Le Brave
Truffle and wine weekends at this luxurious country house hotel, just 25 miles NE of Avignon, occur on 4-day weekends Thursday-Sunday in November. This Relais & Chateaux property, based in a 14th-century hamlet, actually began as a large country house and was converted to a hotel in 1988 by a couple who bought the home. Today, Crillon Le Brave is a 35-bedroom hotel surrounded by olive groves and vineyards, spanning across six village buildings.
The Autumn truffle weekends, which are extremely popular and get sold out quickly, are taught in English and in groups of 12-16 participants. Highlights of the weekend include:
Truffle hunting with one of Provence's great "truffiers" and rustic lunch.
Wine visit and tasting at one of Chateauneuf-du-Pape's estates, Chateau La Nerthe.
A truffle cooking demonstration with chef and dinner with full truffle specialties.
A visit to Provence's antique capital, Isle-sur-la-Sorgue for morning farmers market and antique shops and stands.
The package price for 3 nights is 1130 Euros for 2 people and includes all meals except lunches (wine and transportation to/from hotel not included) and events.For more details on this program, visit www.crillonlebrave.com or click here.
Photos courtesy of Todi Castle and Crillon Le Brave