For years I have been wanting to take my children to a dude ranch and have an authentic western experience. While I love our summers spent at the beach, the glorious instagram photos of Big Sky and Montana's landscape had been giving me some serious fear of missing out. There's a reason why they call it God's country.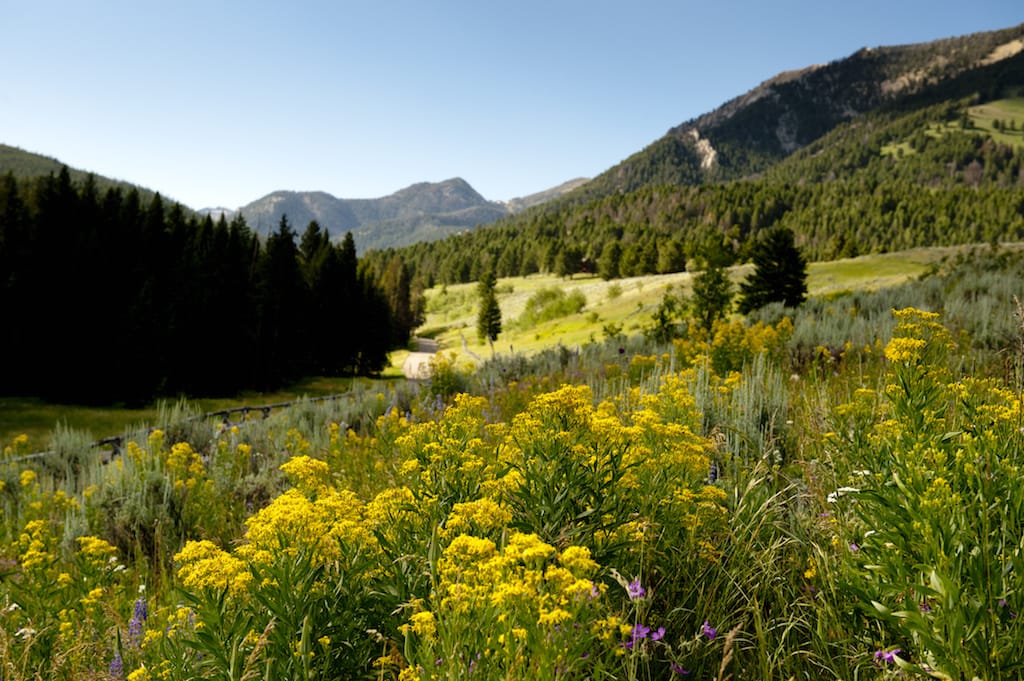 But Big Sky is not just about scenic beauty and dude ranches. It boosts some of the best skiing trails in the USA, and trout fishing is practically a religion here (Brad Pitt filmed A River Runs Through It here). It's bragging rights include some famous part-time residents … ever heard of a guy named Tom Brady? Ben Affleck or Bill Gates?
My youngest child Hadley spent a fair amount of time this year in third grade studying National Parks and fell in love with Yellowstone Park. She was desperate to see wildlife up close, so I planned a mother-daughter wild wild west vacation. We donned our cowboy hats, dusted off our boots and headed out to the 100- year old Lone Mountain Ranch over 4th of July week.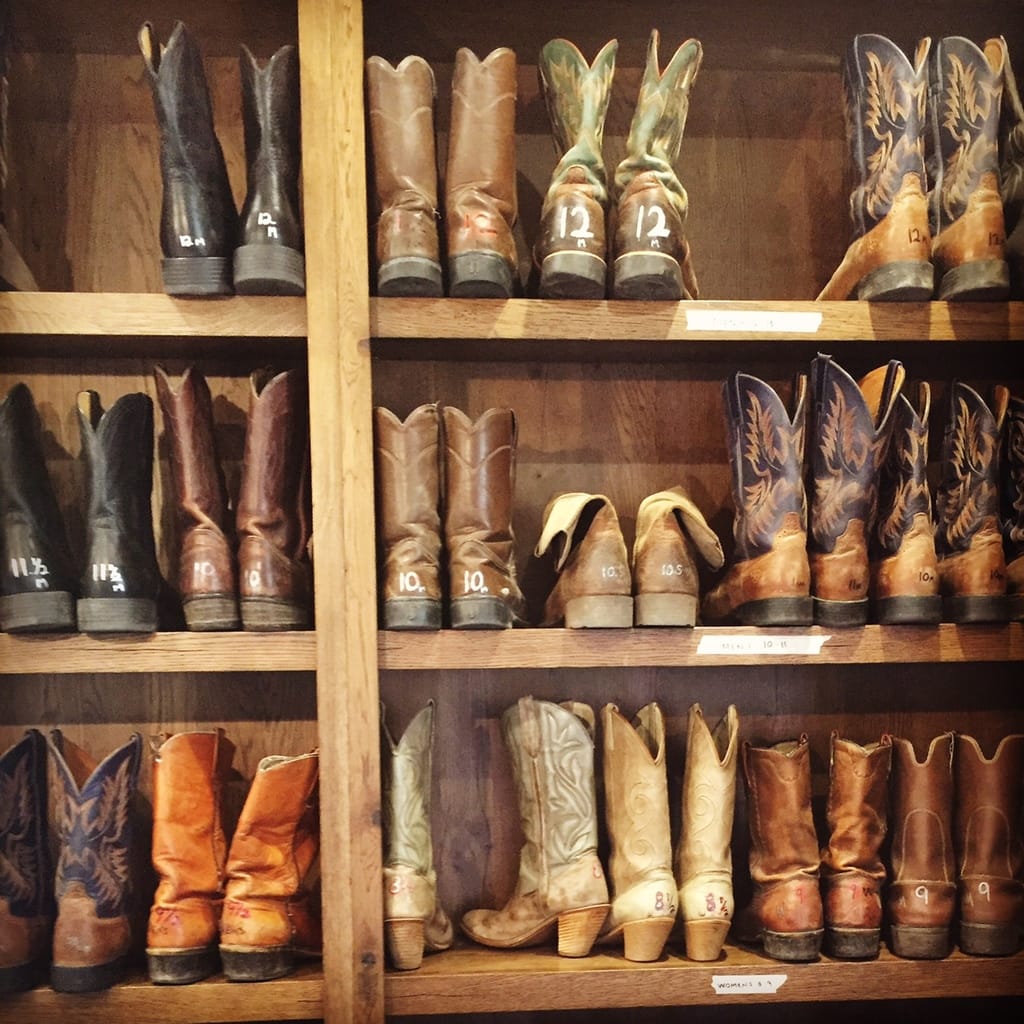 The Ranch
Lone Mountain Ranch (LMR) was originally a cattle ranch and was the first place in Montana to offer electricity, so it is not surprising that wifi is challenged in most areas and there is no phones or televisions in the cabins. They take the word unplugged here to a whole new level and while it took 24 hours to adjust, I ended the week feeling connected to nature and well rested. I survived without CNN!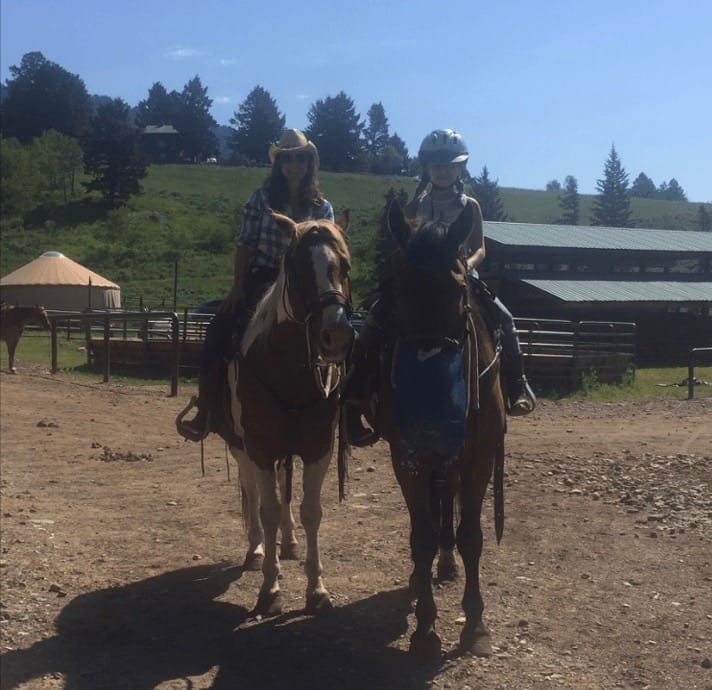 While the all-inclusive LMR does not offer some of the luxurious trimmings (such as room service or spa) that you would find at, say, The Ranch at Rock Creek or Brush Creek Ranch, it is accessible via a direct flight from the east coast and runs at half the cost (the other two lodges can run well over 5K a day for a family of 4). Additionally, LMR is a recent addition to the National Geographic Unique Lodges of The World, offering daily private tours of Yellowstone National Park with the best guides in the world. It is also an Orris-Endorsed fly-fishing lodge.
Cabins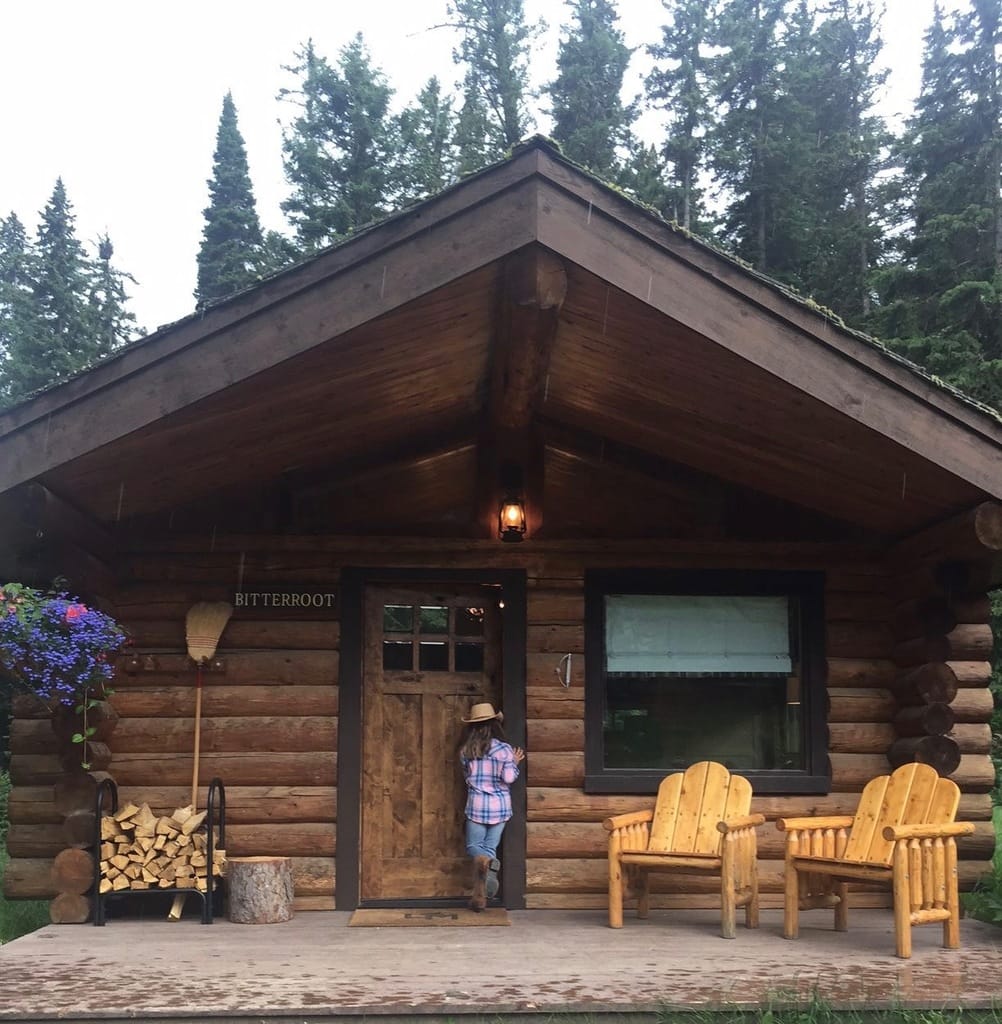 There are 27 cabins, ranging from 1-6 bedrooms, to choose from on the property. In 2016, the ranch underwent a renovation that is still taking place in the off-season (the ranch closes Oct/Nov and April/May). We were lucky enough to stay in Bitterroot, one of the renovated one-bedroom cabins.
I personally loved the Pendleton accent throws and pillows as well as the collage of Montana license plates that served as wall art. The difference between renovated and older cabins is night and day so request in advance for a freshly-renovated cabin.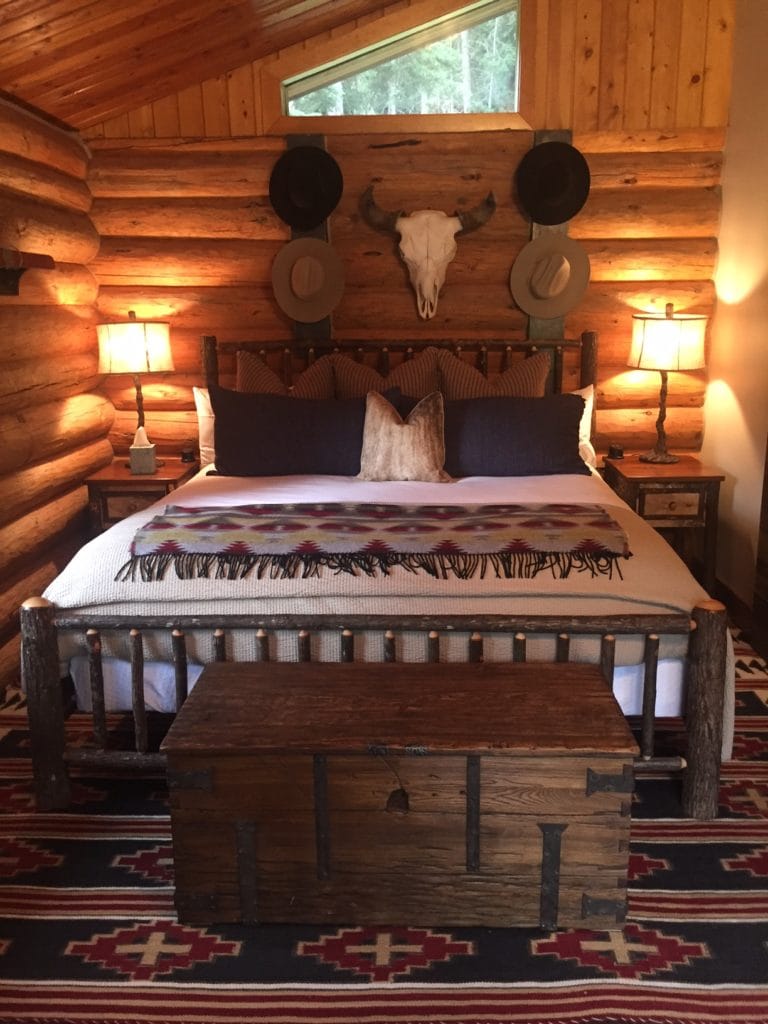 Cuisine
I have never stayed at an all-inclusive property that had decent food which is why I tend to avoid them at all costs, but LMR's Horn and Cantle farm-to-table restaurant delivered at every meal. While Montana is known for its meat dishes, there were plenty of options for vegetarian and vegan guests.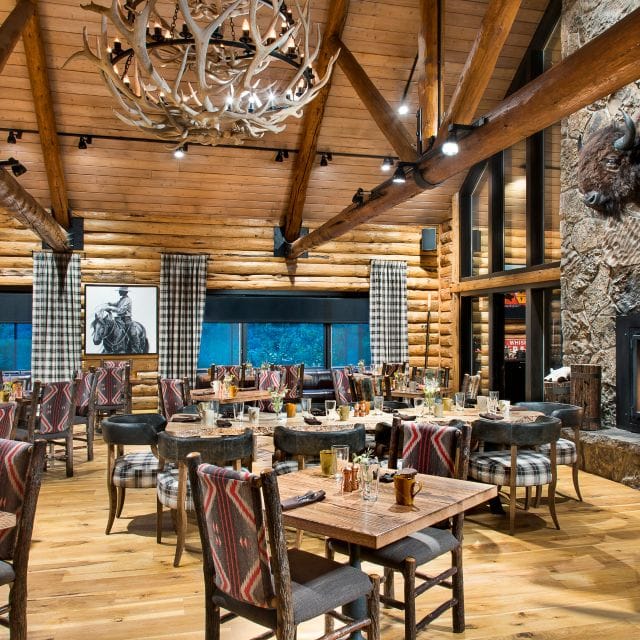 The Saloon on property was a nice spot for an after dinner drink while the children made s'mores around the campfire.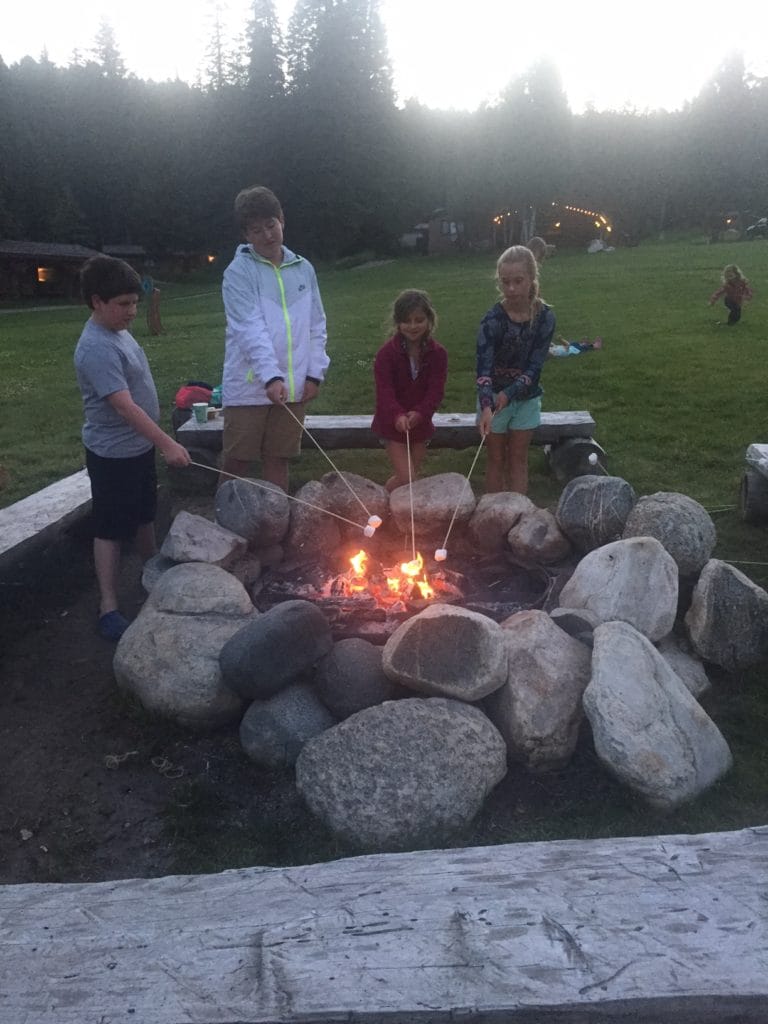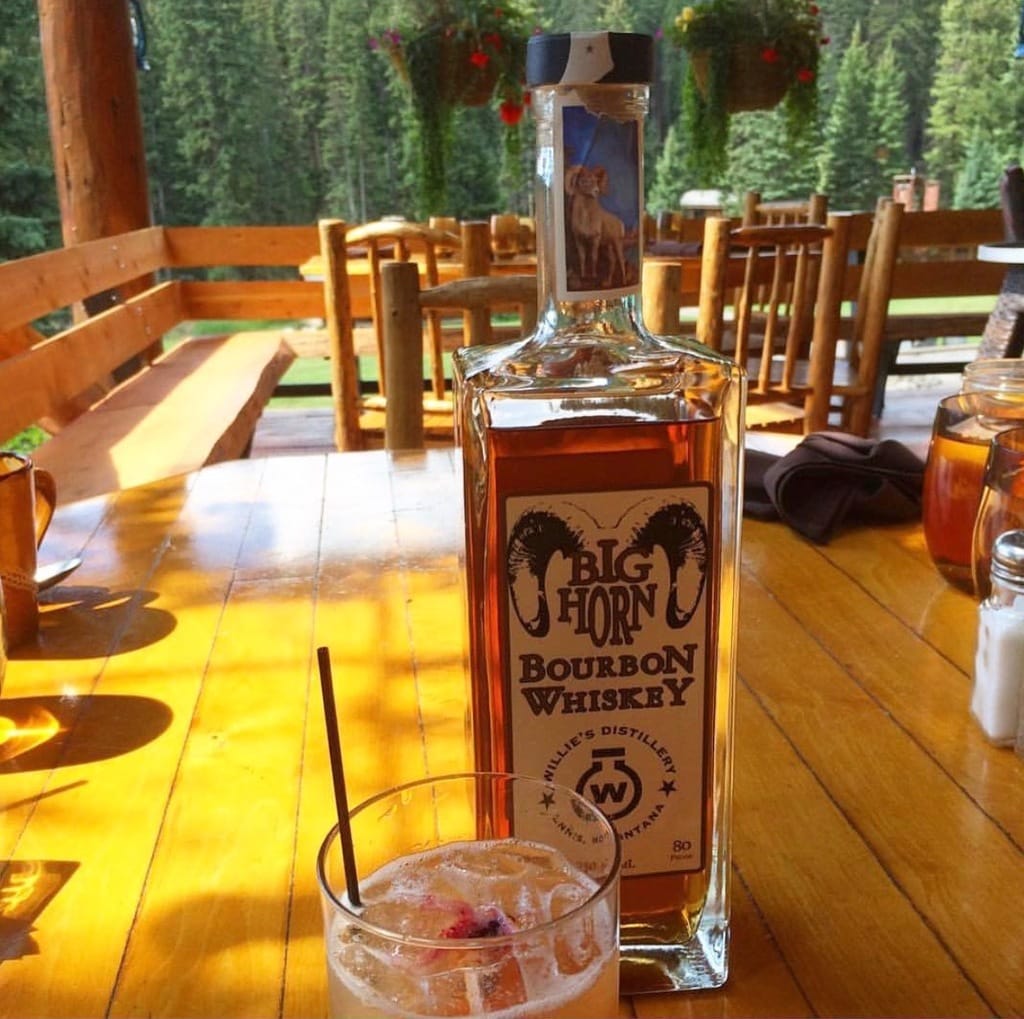 After a few days into the trip, the same rotating menus began to lose their luster so we decided to leave the property and check out Big Sky's food scene. We absolutely adored our meals at Lotus Pad (Asian) and Ousel and Spur for pizza. 
Amenities/Activities
There is an endless list of activities (horseback riding, archery, whitewater rafting, fly-fishing, mountain biking and so forth) to do at LMR and the outlying area. A kids club is open from 9-4 for younger kids, allowing you to do some activities on your own as well.  See tips below for recommendations.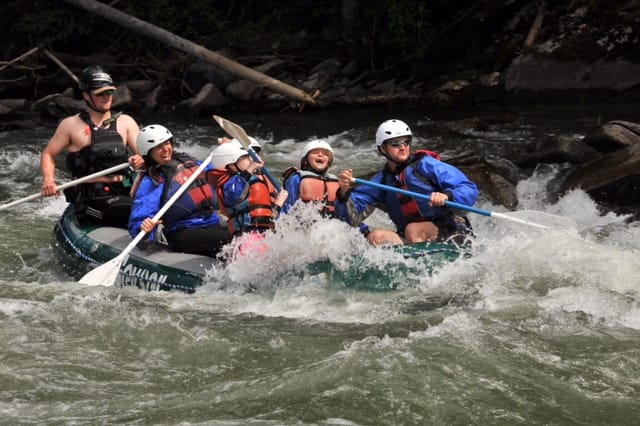 The daily room rate at Lone Mountain Ranch includes breakfast, lunch, dinner and snacks; non-alcoholic beverages and most activities on property. White water rafting, fly fishing and off property hikes are extra. The ranch provides complimentary transportation in their new Suburbans or Mercedes Sprinters to/from the Bozeman Airport to the property, about an hour drive.
Review by Elisa Carbone Brown
Loved
Didn't Love

The staff. Everyone is so warm and friendly.
The Farmer's Market that takes place every Wednesday down the road in Big Sky Center, offering the most gorgeous fresh fruit and vegetables and the tastiest paella. The Ranch provides complimentary transportation.
Big Sky Ski Resort. The summer adventure park was a nice break mid week from the ranch.

I wish they had a lake on property for a midday swim as temperatures can be hot in the summer.
The game room had only a few board games and since it rains at some point each day, it would have been nice to have an array of options.
A fitness facility would be a nice touch … but the goal of the ranch is to get people outdoors and connected to nature.

Don't Miss
Skip

A visit to Yellowstone National Park. Request Randy as your tour guide. He is a true gem. Do not skip the geysers.
Whitewater Rafting with Geyser Expedition.
Opt for the private fly fishing trip on the Gallatin River rather than the group tour the ranch provides to maximize your time and the kids can have a more in-depth learning experience.
The Kids Rodeo on Friday mornings is the highlight of the week where they get to show off their horse and the skills they learned over the course of the week. My baby girl was scared to ride when we arrived and left the week winning rider with the biggest smile.
The ropes course family challenge brings out the kid in everyone.
Ousel Falls hiking trails and waterfalls. Challenging and breathtaking.

The wagon breakfast and ranch family dinner (buffet style) cuisine was not as tasty as the standard a la carte menus.

Rooms to Get
Tips

The ranch is still undergoing a renovation during off season so make sure when booking to ask for a renovated cabin.

The resort is casual as you spend most of your time exploring the great outdoors. Montana experiences four seasons of weather in a day so pack lots of layers, sneakers, hiking boots, rain boots and sandals. There is an on-site complimentary laundry room.
Sign up for your trail rides in advance of your arrival as the morning time slots fill up fast. The ranch allows Big Sky residents to ride as well.
Why book Virtuoso?
Personalized travel assistance
24/7 online booking
Special rates & exclusive offers
Guaranteed Room upgrade*
Complimentary full American breakfast
Early check-in, Late check-out*
Exclusive on-site amenities (varies by hotel)
* based on availability on time of arrival