Many of us who live on the East Coast associate Aspen with Winter skiing and sports (and perhaps a bit of the glitz factor) but those in the know have already discovered how much the picturesque resort town has to offer during the Summer months.
First, you are almost guaranteed perfect weather with average 70-degree days and crisp cashmere-sweater evenings (and no humidity ensuring no bad hair days!). Then there are the boundless art shows, galleries and concerts and physical outdoor activities to satisfy both adventure junkies and culture-hungry types alike. Incredible restaurants and shops? Plenty. To top it all off, the stunning scenery – think shimmering lakes, meadows of wildflowers and groves upon groves of Aspen trees –  will take even the biggest skeptic's breath away. And let us not forget about the people watching!
Intrigued to learn more about the lure of the town (beyond its facade just as a playground for the rich and famous), we got the opportunity to chat with one of Aspen's biggest fans – Coralie Charriol Paul, VP and Creative Director for jewelry and leather goods at Charriol, the luxury Swiss brand created by her father, Phillippe Charriol in 1983.
As the global brand ambassador for Charriol, Coralie travels extensively around the world – from her home base in New York to the head offices in Hong Kong, Geneva and beyond.  After so much globe-trotting for work, it's no surprise that Coralie chooses Aspen as her favorite place to unwind in the summers with her three young children and friends.
We know you love to travel to Aspen in the Summer. What is it about Aspen that is so appealing as a family destination in the Summer? 
I have been coming to Aspen regularly winters and summers since I was eleven years old. I  was even part of the Aspen Ski Team as a teen. The minute I arrive in Aspen, no matter the season, the stress just melts away. I love the big sky, biking around town or on the Rio Grande trail to Woody Creek Tavern. I especially like not having to get dressed up.  Everything is casual – no high heels allowed! I have so many friends that join us there. It's a great place to bond and decompress with both friends and family.
What are some of the highlights you love to do in Aspen during the Summer?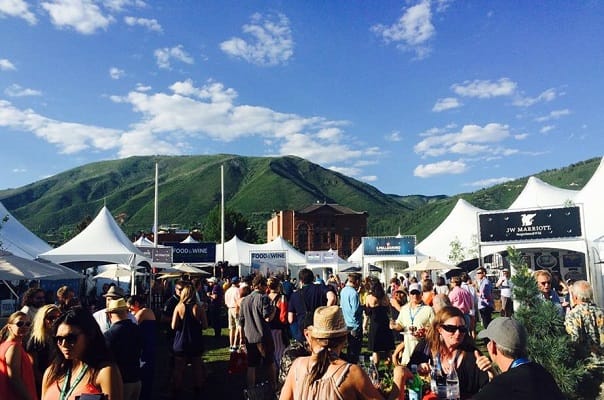 There are so many activities to do that I particularly enjoy such as hiking in the mountains, taking picnics at Independence Path, playing tennis at the Aspen Club, and riding at Cozy Point Ranch (a working ranch and equestrian center) with my daughter.
Then there are the special events in the summer that we all go to such as the annual Ducky Derby (a day-long family festival and rubber duck river race) in August, the Food and Wine Classic festival at the end of June featuring the most incredible chefs (note: it always sells out far in advance), the Aspen Music Festival, and the Aspen Santa Fe Ballet.
Any favorite places to stay you can share with us? 
I have a home here in Aspen but my second home is the historic, 125-year old Jerome Hotel on Main Street. Tony Delucia is the general manager and he is the absolute best! He takes such good care of us.  I love the cookie decorating with Santa and the Christmas carols during the Winter holidays. The J-bar and restaurant are newly redecorated with a great 'stage-coach chic' vibe (as are the guest rooms and other public spaces) and it's a lot of fun to hang out in the lobby now and see the whole world pass by.
I also enjoy the Remède Spa (voted #1 in the world by Travel and Leisure) at the St. Regis for an après-ski or post-riding or biking massage. It was also completely renovated last year. The lounging room has a fireplace and soft lounge chairs with blankets where you can hook up to an oxygen machine for 30 minutes of pure 02. It is the perfect place to relax and rejuvenate.
What are your go-to spots for eating out?
Aspen is blessed with a wide variety of incredible restaurants. Here are a few of my all-time favorites: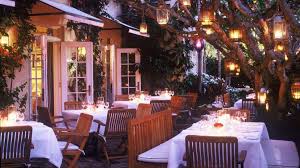 Spring Cafe – 119 South Spring Street. A natural, organic cafe and juice bar. Very healthy, lots of Kale.
Ajax Tavern – Located in The Little Nell. Great in the winter for the best burger and fries, or tomato soup and grilled cheese.
Casa Tua – 403 S. Galena Street. An Italian-chalet styled restaurant and club. Fun for a late dinner. Campo de
Fiori – 205 S. Mill Street. This Italian restaurant is always packed with a great crowd and you might do some late night dancing if you are lucky in the middle of the restaurant!
Brunelleschi – Next door to Campo de Fiori. Wonderful pizzeria. Perfect for an early dinner with kids (kids can make their own pizzas too).
Creperie – 400 E. Hopkins Ave. The most darling restaurant. Tiny and romantic – perfect for a date night.
Cache Cache – #106 S. Mill Street. A French-American bistro serving the best food and service in Aspen and you can eat at the bar too.
The White House Tavern – 302 E. Hopkins Avenue. A casual place for delicious sandwiches and salads in summer or winter!
Any interesting shops, galleries or other diversions in or around town you recommend? 
The Butcher's Block on 424 S. Spring St. is an institution and my go-to source for meat, charcuterie and cheese. It is also a farm shop for great produce. The new Aspen Art Museum on Hyman Avenue is amazing. Everyone should go visit it for the architecture alone.  Gorsuch, at the base of Ajax, has the best array of ski clothing. It's pricey but worth every penny.
For personal workouts, I like 02 on 605 East Cooper. They have excellent yoga classes. Jean-Robert's Gym on 720 E. Hyman Avenue is a good go-to for inexpensive massages and personal trainers.
Any other insider tips you can share with our readers looking to come to Aspen in the summer for the first time? 
Drinks lots and lots of water. Bring your metal water bottle – everyone here is a heathy environmentalist! The bus system in Aspen is free and there are free shuttle services from most hotels – it's so safe, your children can run free! There are many kids camps in the Aspen/Snowmass area. Ajax Adventure Camp and ACES are my two favorites. The Aspen Recreation Center on Maroon Creek Road is a life-saver. There is an enormous pool, rock climbing wall, babysitting, arts & crafts and other activities for kids over eight years old. And, you get it all for a low entrance fee.
Do not miss the Snowmass Rodeo – A fun experience with the children watching the cowboys ride the wild bulls. The best part is when they invite the kids to come catch the calves or when the kids ride the larger sheep. I laugh so hard, I cry.
What about packing essentials?
Hiking boots, cowboy boots, a great cowboy hat! And, JEANS, JEANS, JEANS.
  Sunscreen, lip balm and lots of hand cream – obvious items, I know, but they are essentials as the sun is so strong. Remember, you are 7,900 feet above sea level! A Charriol watch and sunglasses of course!
What's on your radar for place on your list to go to that you have never been?
I have so many places on my radar.  I would love to discover Rio and Botswana and take the kids to New Zealand.  After spending time in Aspen this summer, we are driving through the Moab Desert, Grand Canyon and Vegas to get to Malibu. I am really looking forward to that!
——————————————————-
Inviato offers its readers special perks, rates and amenities at both Auberge Resort's Hotel Jerome and The St. Regis through its partnership with Virtuoso's Classic Travel.
Virtuoso benefits at these hotels include: • Upgrade on arrival, subject to availability • Daily breakfast for up to two in-room guests (up to $30 per person) • $100 USD Food & Beverage credit • Early check-in/late check-out
Images courtesy of Coralie Charriol, St. Regis and Hotel Jerome.
Why book Virtuoso?
Personalized travel assistance
24/7 online booking
Special rates & exclusive offers
Guaranteed Room upgrade*
Complimentary full American breakfast
Early check-in, Late check-out*
Exclusive on-site amenities (varies by hotel)
* based on availability on time of arrival