During my recent trip to Los Angeles, I was fortunate to get a site tour of one of Nobu Hotel's newer properties, just over a year old now, in the tony enclave of Malibu. Located directly on Carbon Beach and sandwiched in between Soho House's Little Beach House Malibu on the left and the Malibu Beach Inn and Malibu Pier on the right, is the luxurious discreet hideaway called Nobu Ryokan Malibu.
So discreet in fact that if not for the teak facade, I would have passed it walking from the Malibu Beach Inn, where I was staying. As I stopped in front to re-check the address, two enormous sliding doors magically opened to expose a hidden world beyond.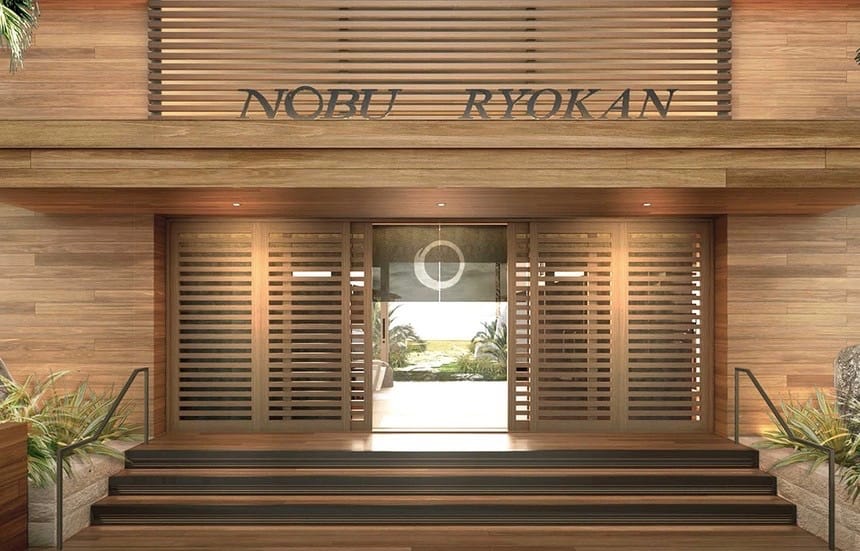 Opened in late April 2018, Nobu Ryokan Malibu was a 6-year development project that included a complete teardown of the prior property, the 1950's-era beach motel, Casa Malibu. Unlike the other Nobu hotel properties that make up the Nobu Hotel collection, Nobu Ryokan Malibu is a test of sorts as it is the first hotel in the new Nobu Ryokan collection of individual and exclusive retreats in exotic locations incorporating Omotenashi, the Japanese art of hospitality, and the Ryokan-inspired minimalist style of Japanese inns. Here in Malibu, it seems to work masterfully with the backdrop of the California coastline.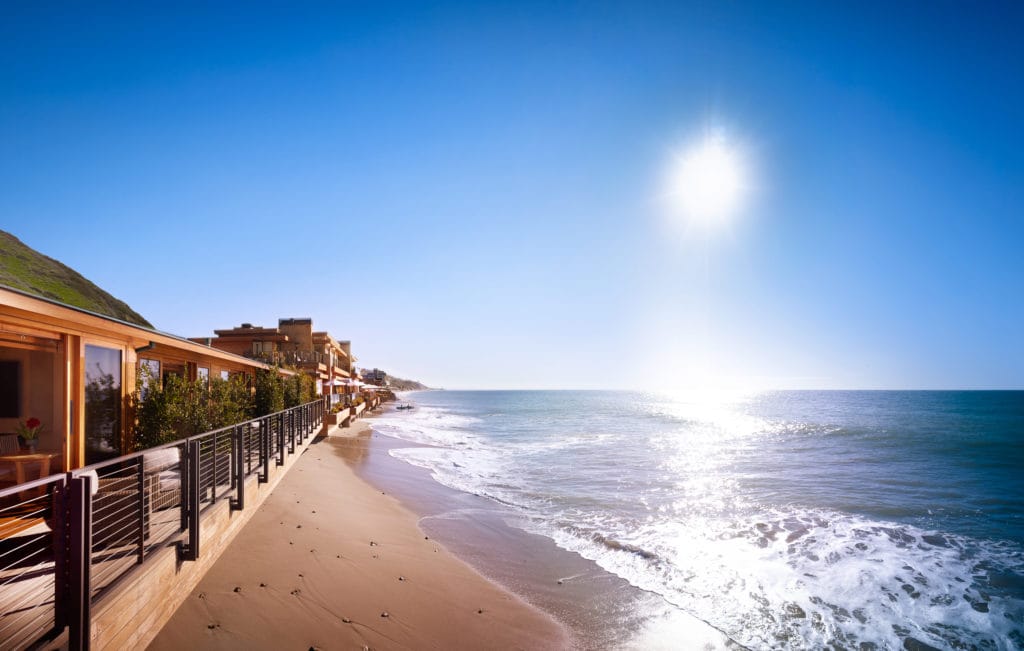 Walking along the paths of the two-story 9,200 square foot beach-front property with its lush garden-scape for the first time, I automatically felt a special sense of tranquility and exclusivity, which is pretty much the intent. With only 16 suites in this ultra-private hideaway, you may never see another soul during your stay (as I did not during my tour). Most of the guests who come here prefer it this way. Nobu Ryokan attracts the sort of people who are looking to chill and escape from the trial and tribulations of life. Many are locals looking for a luxurious staycation while others are in Los Angeles for work and seeking to end their visit with a quick break on the beach (not surprisingly, many non-local guests are from New York and London).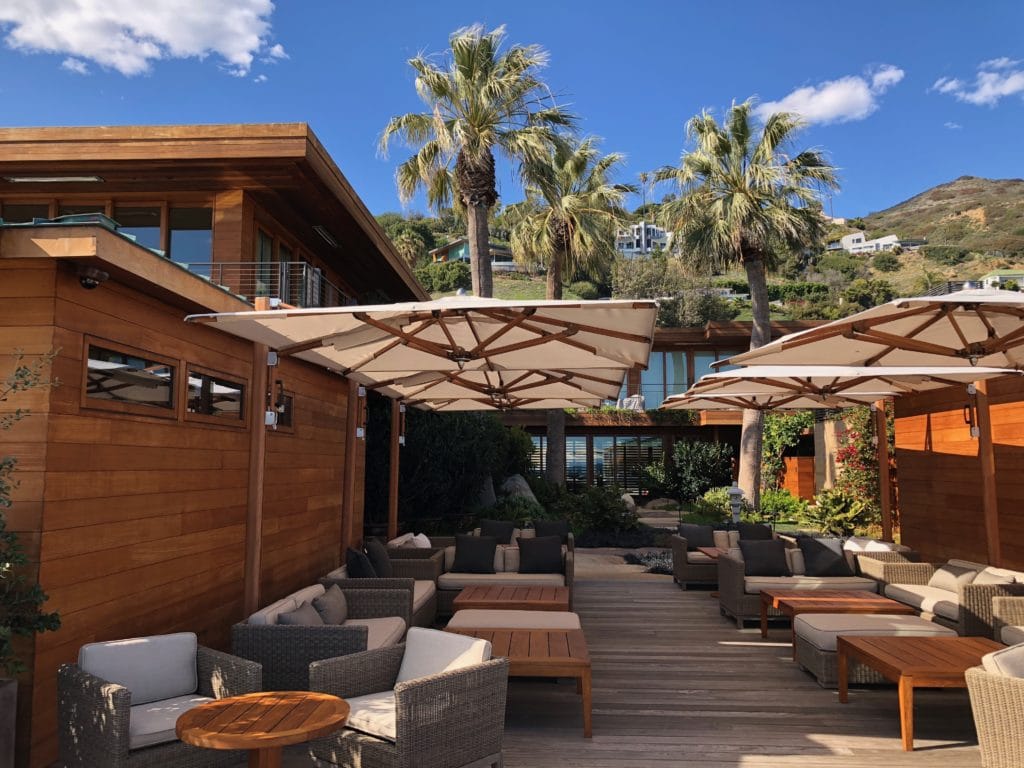 For this reason, Nobu Ryokan was designed strictly as an adult-only property (ages 16 and over), with quiet period rules late in the evening (no partying here) and requiring a two-night minimum stay. The rationale for the latter being that you need at least two nights to truly reap the benefits of your stay.  With a 2:1 staff/guest ratio, you can be assured that the staff is here to tend to your needs – that is, if you want them to. Some guests prefer to be left entirely alone the minute they check in.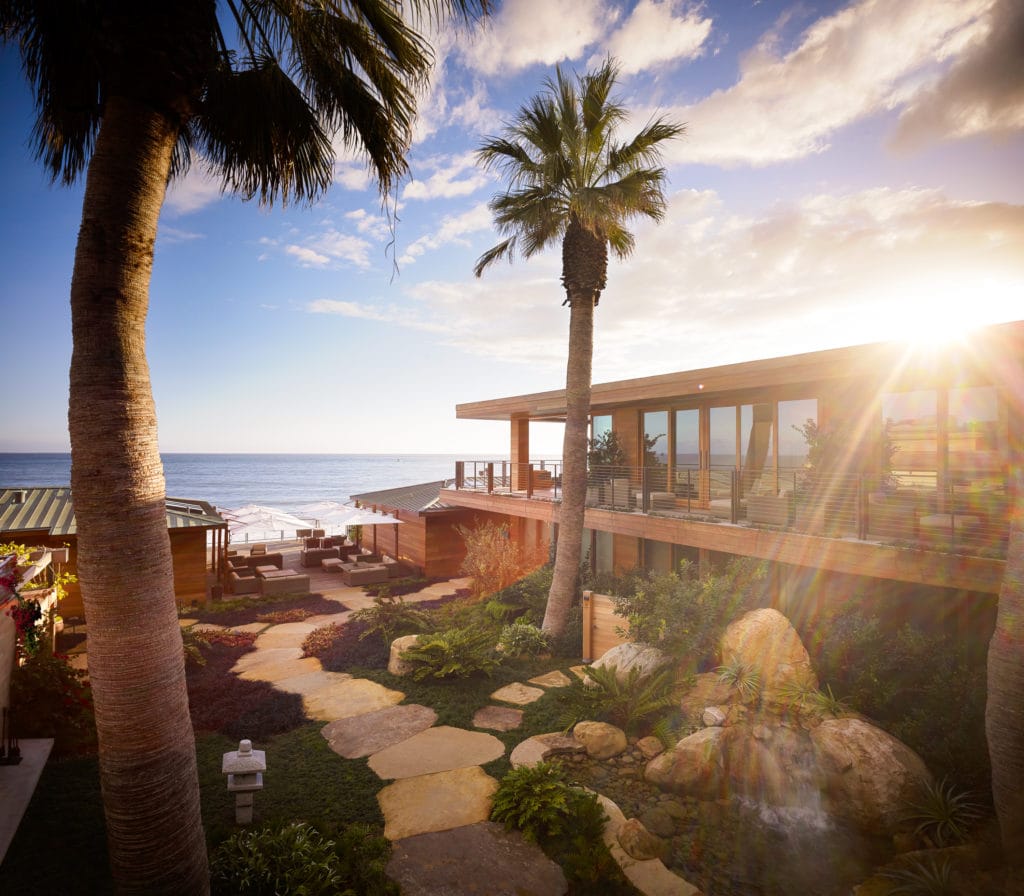 Nobu Ryokan Malibu is an intimate property. Rather than grand spaces, here you have limestone paths through lush gardens with native California plants that take you to various areas: the relaxation deck overlooking the ocean, the small enclave with grand outdoor fireplace (so cozy at night), the path to the beach, and finally, your rooms.
nobu ryokan Rooms
There are 16 rooms and suites at the Nobu Ryokan Malibu with 12 different types of room categories, all of them individually designed to have varying degrees of differences between them. The one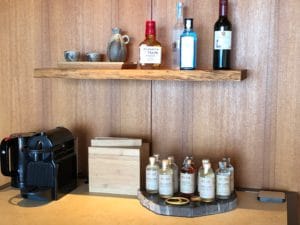 shared theme they all have are Japanese design elements such as tatami mats, shoji screens, sand-colored limestone walls and teak (the high-maintenance teak has to be oiled five times a year).
Likewise, all rooms provide guests with a full host of amenities galore including a fully complimentary mini-bar from Dean & Deluca (everything is included in your rate, but as the hotel is not authorized to serve liquor, do not expect to find any of those little bottles in your fridge), Bose mini sound system, 75″ flat screen smart TVs, Nespresso machines and Ikaati tea among others. Comfort is equally important: every room has a King-size feather bed with goose down duvet and pillows, Italian Anichini bed linens and linen robes that you may never change out of until you leave.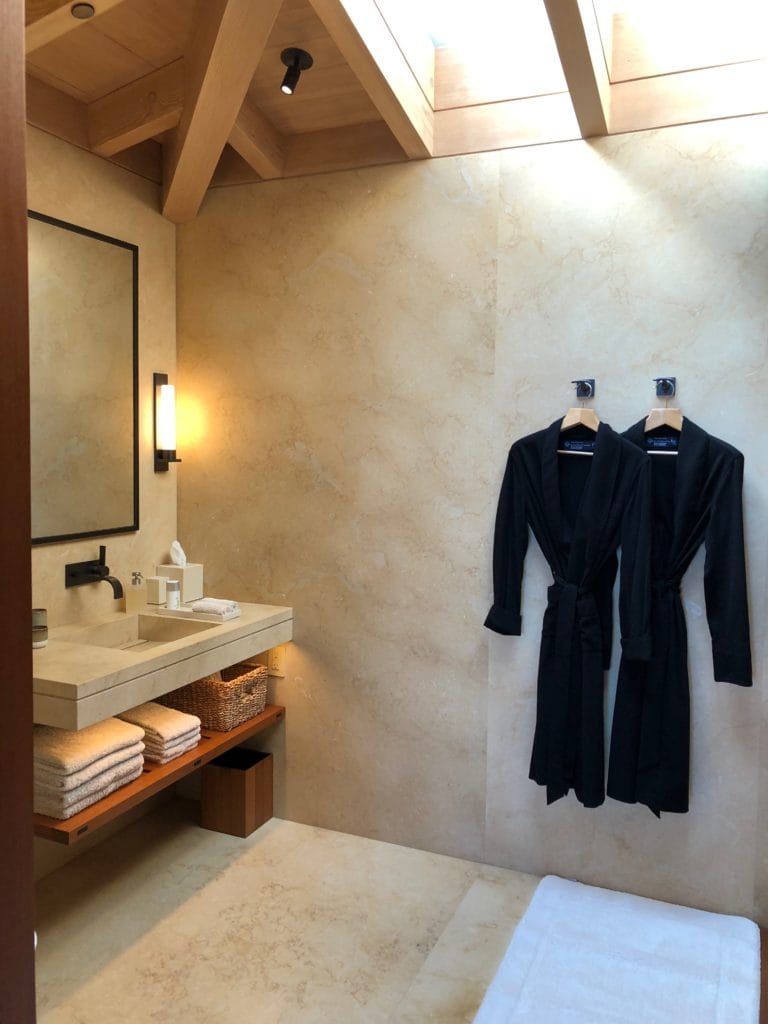 I was able to view a few accommodations during my tour, starting with the most spacious accommodations on the property: the Premier Suite Beach Front. The 680 square feet suite has two baths, one which possessed the most incredible handmade teak soaking bath I have ever seen with bathroom skylights and rain shower. I am still thinking about that bath…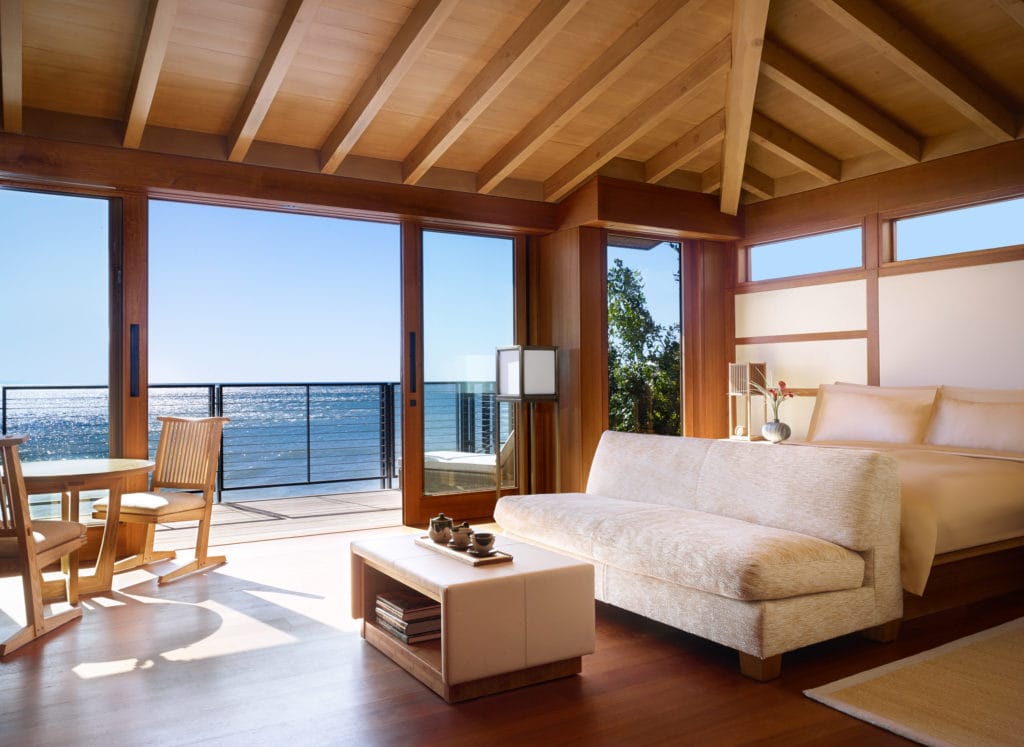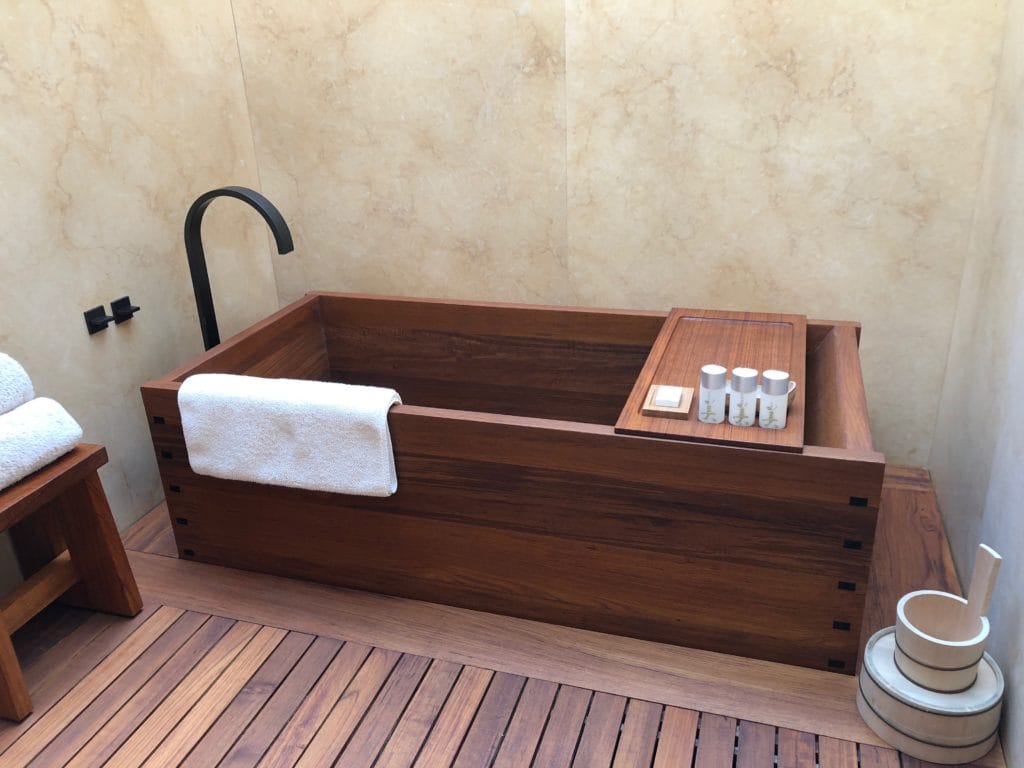 There is one corner room on the property, featuring two large glass walls that provide direct views of the beach and coastline along with a wrap-around deck. Unofficially this room is called the 'Rock Star' room, so-called because it is the only room that features an outdoor hot tub on its private deck (which of course will be heated while you are at dinner so you can enjoy a nice soak when you return). Another unique feature unique to this room is the hidden, ceiling-mounted TV that drops down when you need to check in on what the latest breaking news is on CNN. Not surprisingly, this is the most requested room at Nobu Ryokan.
The Garden Rooms are the least expensive categories on the property. While these do not have an ocean view, these serene accommodations feature outdoor fireplaces and beautiful Japanese gardens. Many guests actually prefer these as they feel particularly private.
What about rates you ask? Unlike most other hotels, rates at the Ryokan stay virtually the same throughout the year, ranging from $1,500 to $3,500 per night, depending on your room type.  They do not fluctuate based on seasonality, holiday periods or day of the week, which is refreshing for those who are looking to book during typical busier periods.
What impressed me the most about the accommodations at Nobu Ryokan was the high-quality design and spaciousness of the rooms along with its 'aman-like' minimalist design. The use of natural elements in the rooms (teak, limestone, and bronze) along with custom-built furnishings provide for a very special and rich guest experience.
Nobu Ryokan Malibu Dining
Due to tough zoning laws in Malibu, Nobu Ryokan Malibu does not have the permits for an on-site restaurant.  Instead, guests have in-room dining options featuring a custom-crafted menu from Nobu Malibu, just a two-minute beach walk away. There are also excellent local dining options nearby within walking distance or by complimentary house car.  Guests who want to book the ever popular Nobu Malibu have the benefit of getting their reservation booked ahead far in advance (generally Nobu Malibu can only be booked within a 30-day window) ensuring a prime seating spot. Of course, the hotel will pick up any to-go orders at other establishments as well as many guests prefer not to leave once they check in.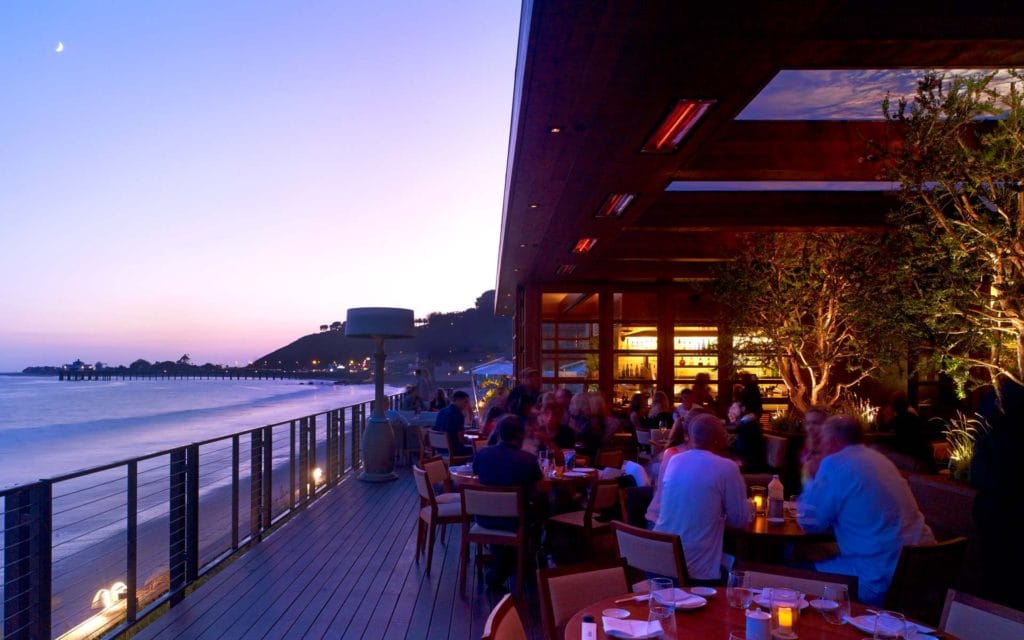 guest Services and Amenities
Guest at Nobu Ryokan Malibu have access to a complimentary hotel Range Rover anywhere within the 26 mile stretch of Malibu. If you are driving your own car, complimentary valet parking is included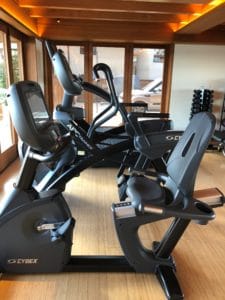 in a hidden parking area within the complex which is very beneficial as there is little to no parking spots in Malibu.
A compact but beautiful and well-equipped gym facing the ocean features retractable sliding doors which makes you feel like you are working out on the beach itself. Guests looking for more options have access to the Malibu Racquet Club nearby. For an extra charge (one of the few items not included in your room rate but a good way to use your Virtuoso $100 hotel credit), spa treatments and massages are provided in-room. A small pool is also on the property but was not functioning during my visit. It is expected to open by the end of the year.
Of course, many guests come here to enjoy the ocean air and beach. While Carbon Beach is a public beach, its limited access points provide guests enough privacy. Of course, they also can use the hotel's own Relaxation Deck or their own private terraces.
After my tour, I was not surprised to learn that Nobu Ryokan Malibu, open only one year, already has a high repeat and loyal clientele.  This intimate, luxurious beach-front property is as good as it gets if you are looking for a restorative and exclusive escape.
Photos by Inviato Travel and Nobu Ryokan Malibu and copyright protected.
Nobu Ryokan Malibu
When you book Nobu Ryokan Malibu with Inviato, you receive: 
• Complimentary breakfast for two daily for duration of the stay.
• $100 USD equivalent Resort or Hotel credit to be utilized during stay.
• Early check-in/late check-out, subject to availability.
• Complimentary Wi-Fi.
Book This Hotel
Why book Virtuoso?
Personalized travel assistance
24/7 online booking
Special rates & exclusive offers
Guaranteed Room upgrade*
Complimentary full American breakfast
Early check-in, Late check-out*
Exclusive on-site amenities (varies by hotel)
* based on availability on time of arrival
Related Reviews