I introduced the chic boutique hotel, The Norman in Tel Aviv here on Inviato shortly after it opened with much fanfare in October 2014. This SLH property has been universally praised by the travel media and guests alike as a breath of fresh air in a city that has had limited exciting hotel options until recently.
Two and half years later after its opening, I finally had the opportunity to stay at The Norman with my family during Spring Break in Israel.  Before I organized anything else, even my flights, I booked our rooms at the hotel. With only 50 rooms, The Norman gets booked up way in advance, especially for connecting rooms and suites.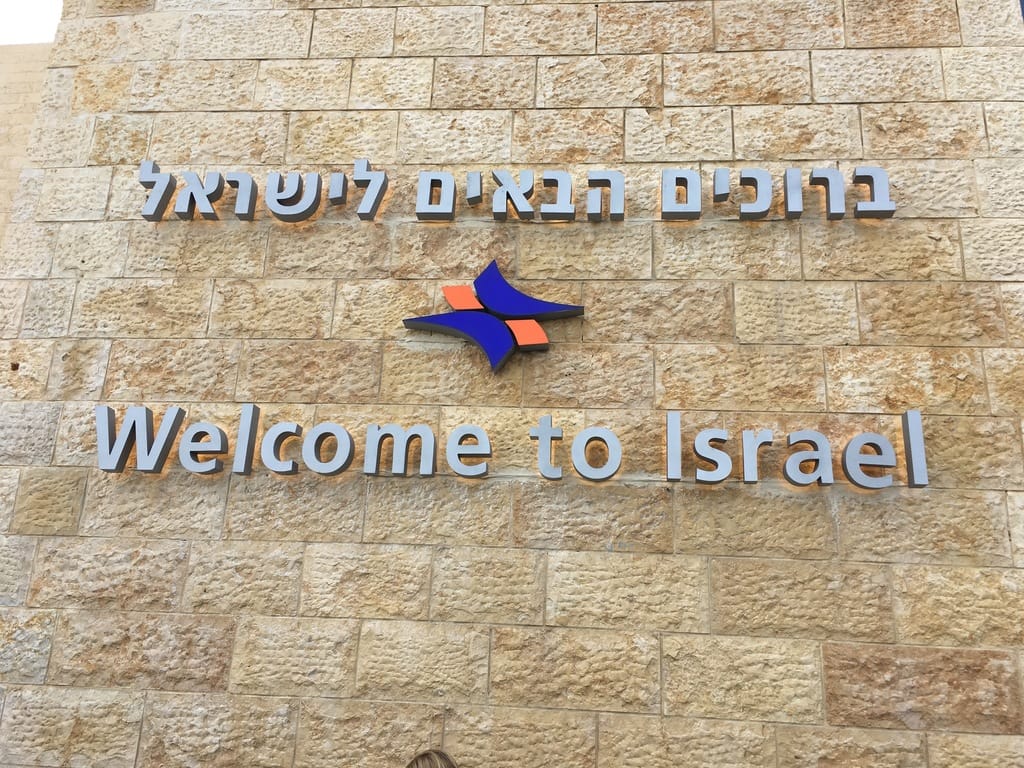 Israel is a small country, roughly the size of New Jersey, and an increasingly popular destination, particularly in March and April when the weather is close to perfect. It felt like half of Manhattan descended upon the country the same week as us! Our plan was four nights in Tel Aviv (serving as a base for some excursions to Caesaria, Haifa and beyond), two nights in the Negev Desert and two nights in Jerusalem.  If I had to do it over, I would do the same itinerary but add an extra day in Jerusalem. If there is one place you don't want to be rushed, it is Jerusalem. It's that special.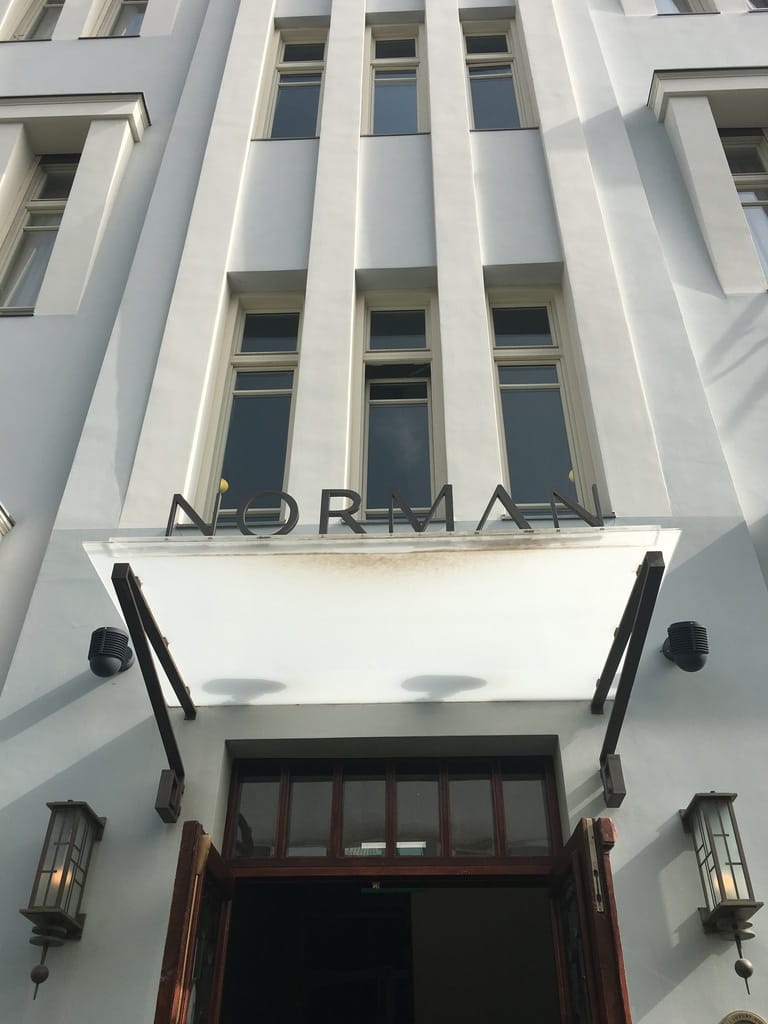 Our first stop was The Norman, where we spent four nights. Independently owned by a British family, The Norman is housed in a private mansion – or rather two as it consists of two original 1920s Bauhaus-style villas linked by a common courtyard. Both buildings, designed by the same architect, are Class A protected as historic heritage sites and went through eight years of painstaking renovation before becoming the stylish and sophisticated hotel it is today.
It was obvious during our stay that The Norman is equally popular as a destination spot for cocktails in the Library Bar or for sushi at the top floor restaurant Dinings as it is as a hotel. Not surprisingly, we bumped into many New York acquaintances during our stay who were either guests or stopping by for a night cap. I heard through the grapevine that another hotel was being developed by the family (perhaps outside Israel). I am not sure if this 'leak' is in fact true but I'm keeping my ears peeled.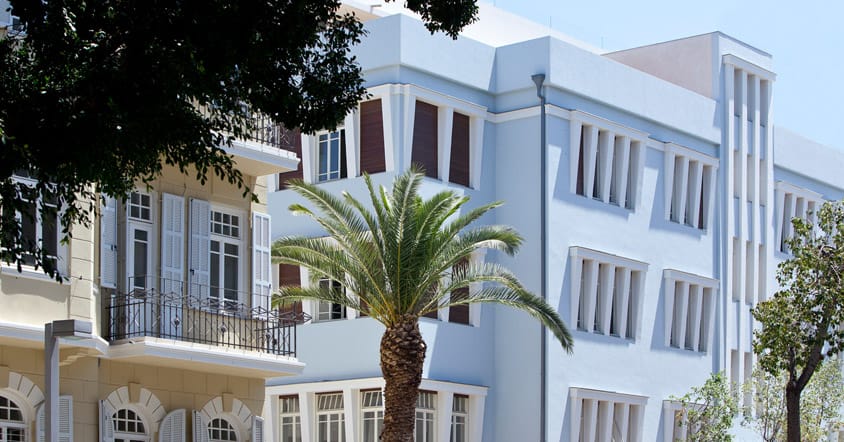 The norman: Location
We loved the central location of The Norman – far enough away from the business district and its mammoth-size hotels (Hilton, Intercontinental, Sheraton and Dan Tel Aviv to name a few) and on the edge of the fashionable quarter of of Neve Tzedek. Rothschild Boulevard, the main promenade running through the 'White City' quarter, has lively cafes and buildings displaying beautiful examples of Neoclassic and art-deco architecture. The beach is about a 20 minute stroll from the hotel (go through Shabazi Street which has wonderful artisan jewelry stores and boutiques to peek into, although you might not make it to the beach) but you can also ask for a complimentary shuttle if you just want to get there quickly. Complimentary bikes are also on hand if you want something a bit in between the two.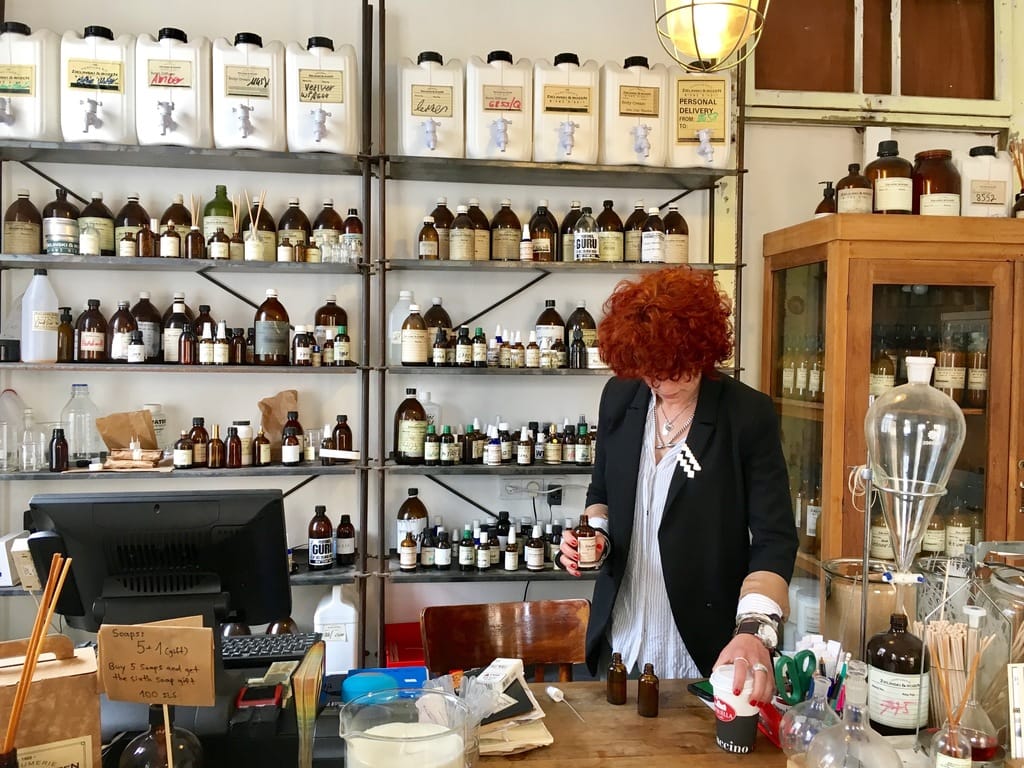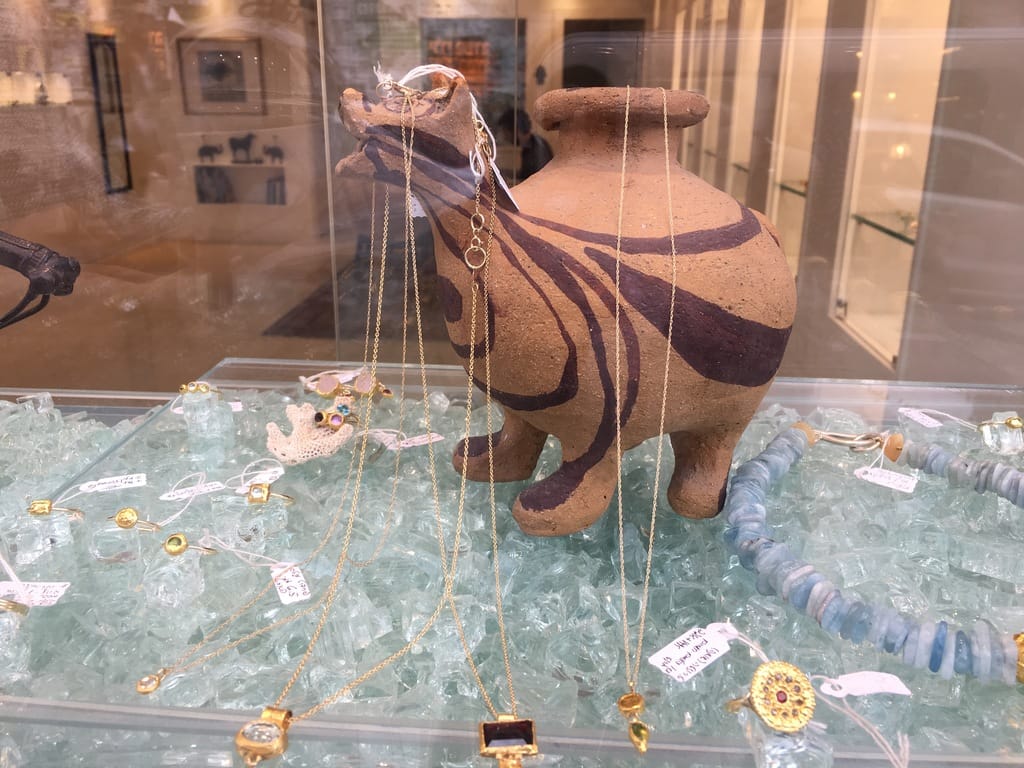 The Norman: GUEST ROOMS
Many of the 50 individually designed rooms at The Norman possess floor-to-ceiling windows, hardwood floors and modern baths. The 20 spacious suites – particularly the Penthouse suites with private terraces –  are the most coveted and hard to book (and the most expensive!). As the hotel was solidly booked during our stay, I did not have an opportunity to inspect any of the suites but friends who did have raved about the Loft and Penthouse Suites. As a family, we found the connecting rooms on the 1st floor worked the best for us (see Room Tips below. As we switched rooms midway through our stay, we experienced different rooms). There are only two sets of connecting rooms so book well ahead if you have young children as they go quickly.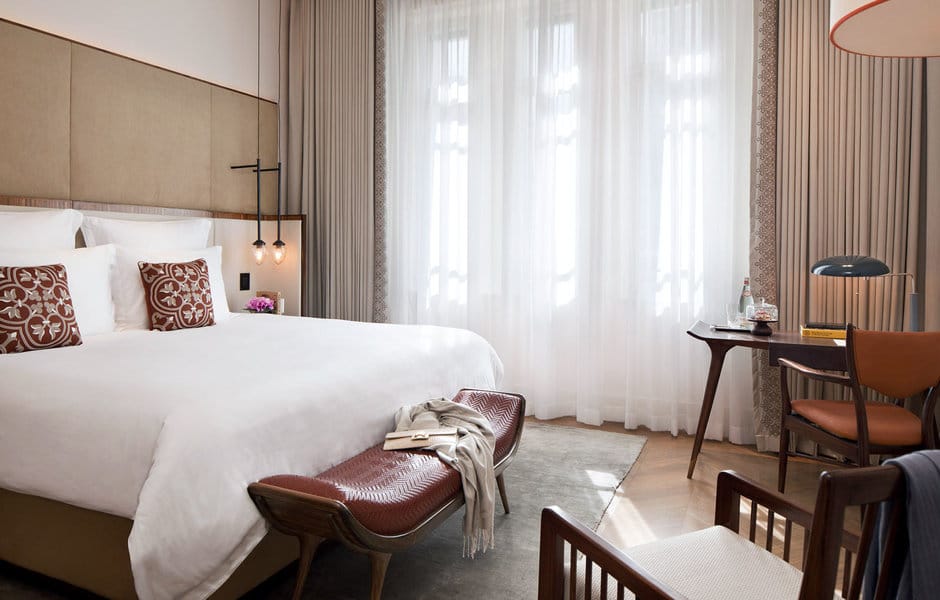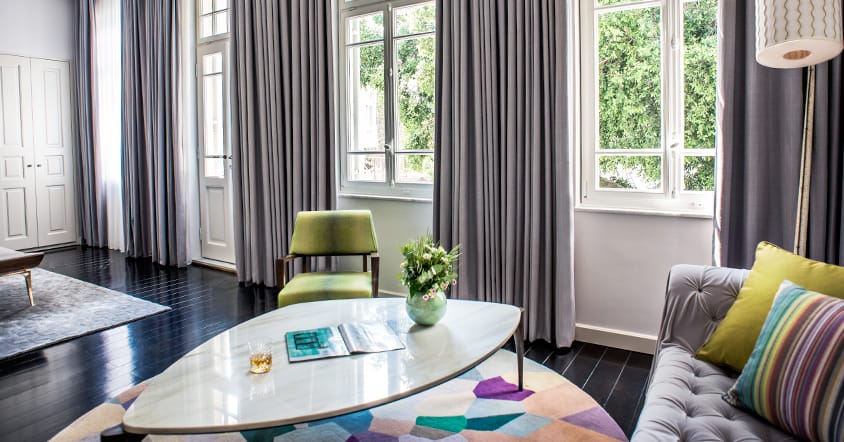 The Norman: PUBLIC SPACES
I loved the spacious foyers on each floor rather than narrow hallways you typically see in hotel.  You feel like a guest in someone's mansion rather than hotel. In many respects such as this, the hotel reminded me of the  Park Hyatt Palacio Duhau in Buenos Aires.
One of my favorite spaces to lounge after long days of touring was the inviting 1940's style Library Bar. It was definitely one of the most picturesque hotel bars I have ever seen. The bartenders here takes the art of the cocktail very seriously. The cocktail list is extensive and they will whip you anything you like. The recommended Crazy Earl cocktail didn't disappoint.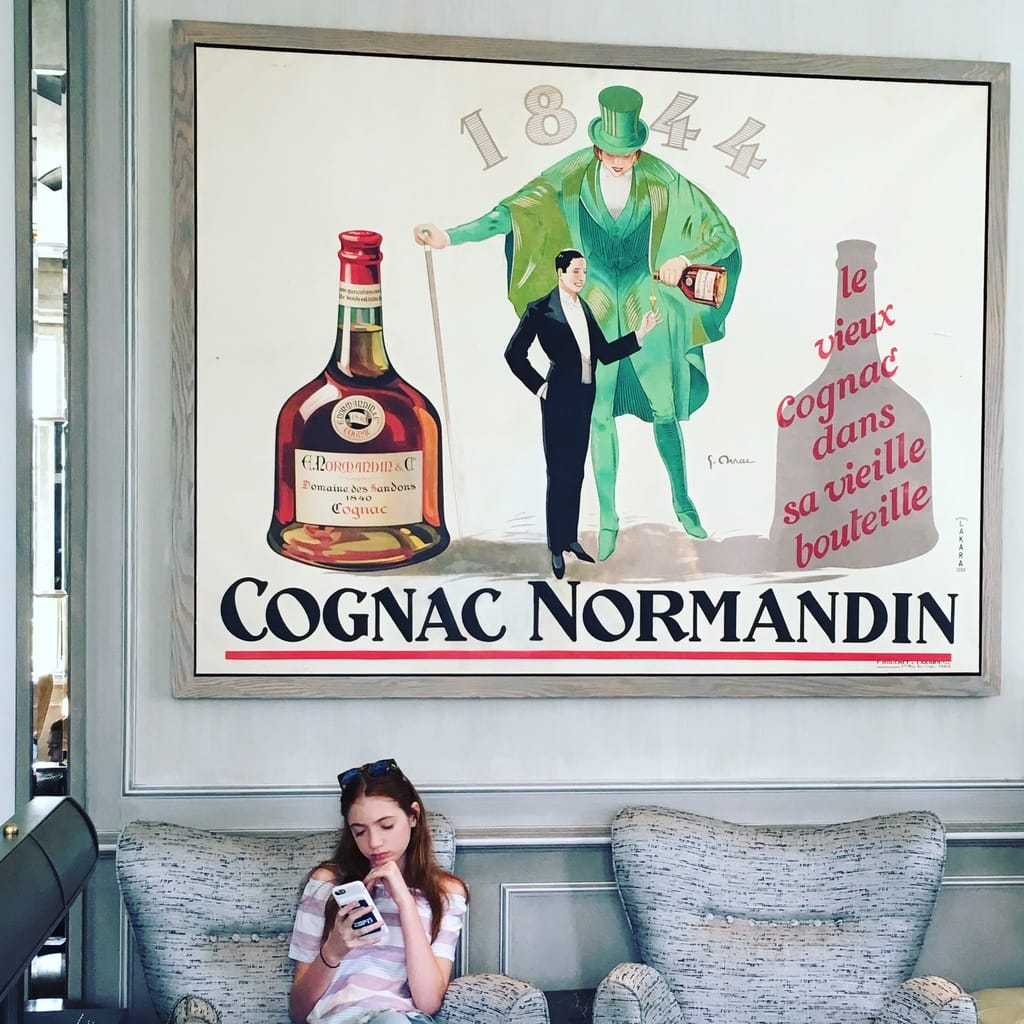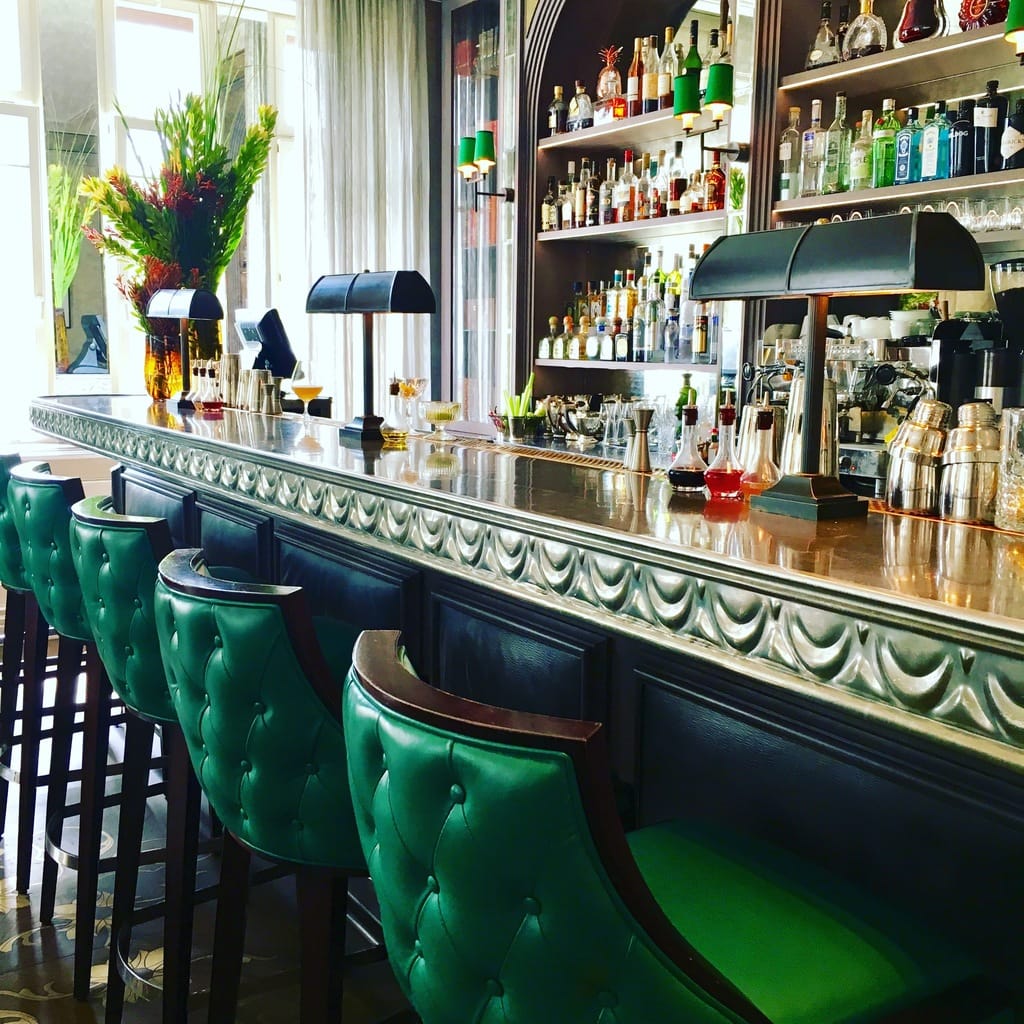 We also loved the breakfast room at The Norman.  You can take breakfast inside or outside in the courtyard when it is warm enough and you can choose to eat from the small but enticing buffet or the ala carte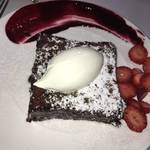 menu. At least one person in your group needs to order the decadent carmelized french toast. It is out of this world as is the bread pudding that comes out steaming hot from the kitchen. It is gone in a matter of seconds. And the Israeli coffee is divine!
I was most impressed by the exquisite but subtle details throughout The Norman. From floor to ceiling, there are unique and inspiring pieces to admire like the salt-encrusted violin from the Dead Sea, now encased in glass on one wall of the Library Bar.  The inlaid wood floors, lighting (one which I am still trying to buy) and the serious art collection (ask the concierge for a tour as art pieces are throughout the hotel, most by local artists with galleries nearby) would impress even the most critical eye.
The rooftop pool was disappointingly closed while we were there for some renovations (2020 update: the rooftop pool is now heated!). It was a bit too chilly too swim anyway!  The outdoor patio adjacent to the sushi restaurant, Dinings, on the top floor was open and a wonderful place to lounge with a cocktail in the evening.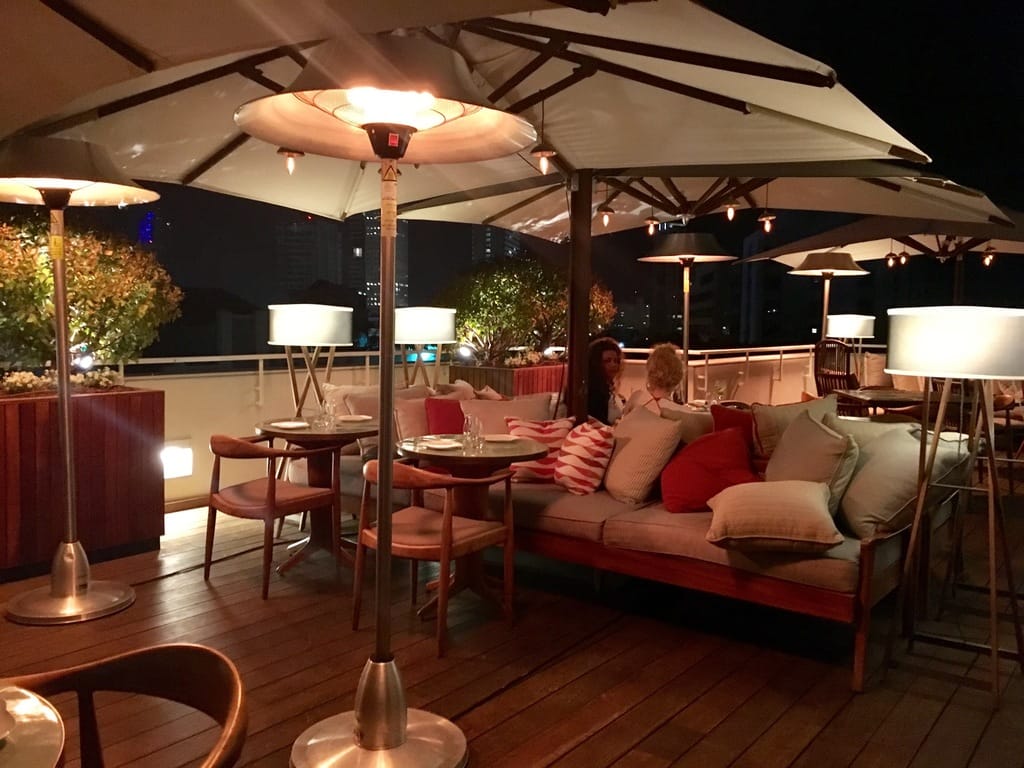 We were very pleased with this stylish, sophisticated and timeless hotel and would not hesitate to stay at The Norman again or recommend it to others. Although next time, I think I will splurge for a suite.
Other general Israel touring observations
Flying to Israel: As I fly long haul flights often, comfort is key for me. Seat Guru is my best friend when picking airlines and seats!  From New York, El Al and Delta offer direct flights into Tel Aviv. El Al is the most popular but its planes are outdated (no flat seats in Business Class, poor entertainment systems) as are the Delta flights. For this reason we chose to do a quick connection through Toronto and fly the Air Canada's 787 Dreamliner which offers hands down the best business class to Israel. It was the best decision we made. On the return flight, customs is conducted quickly at the Toronto airport so you don't need to do it in New York. It does add an hour or two to your flying time however.
The VIP Service offered at Tel Aviv airport is worth getting for your arrival, especially if you are on a packed flight from New York. The walk from the plane to passport control can be very long. With VIP service, a representative meets you at the airplane, drives you in a car directly to customs and escort you through passport control and customs, avoiding the often long queues. This may often save up to an hour of your time.  Either your tour company or hotel can arrange this for you (it is about $200 for 4 people). Worth every penny!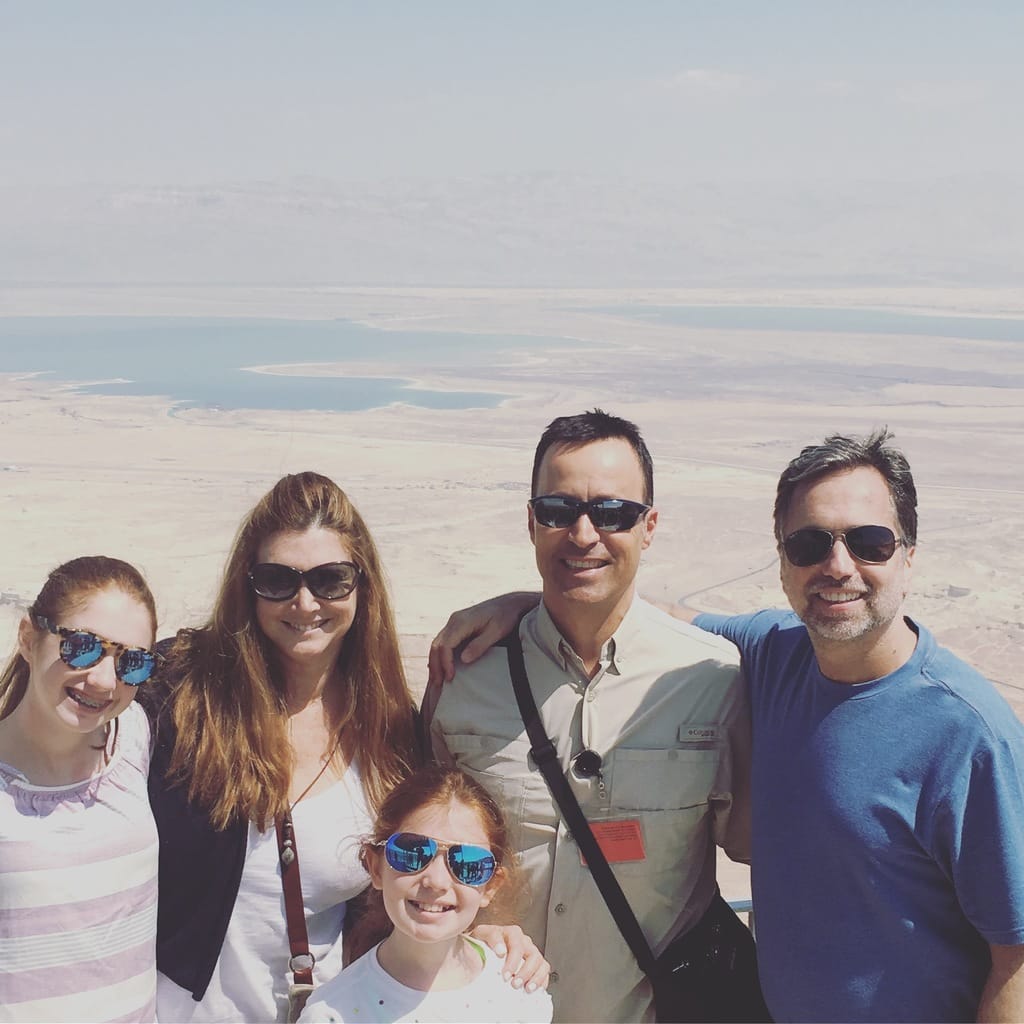 Choosing a tour company or guide: Almost everyone who travels to Israel for the first time or in a large group uses an Israeli-specialist travel company who arranges everything A-Z for you, including your hotels. There are many and they

vary greatly

 (as we found in our own research) in quality and pricing so its important to do your homework and compare. A reputable company will speak to you, learn about your interests and send you a proposed itinerary with an estimate before committing. We have a list of vendors used by colleagues and friends who come highly recommended and you can contact me at [email protected] for a list.
For me, given we were only a family of four and on a shortened schedule time schedule with specific ideas of what I wanted to do in mind, I preferred to work directly with a guide. I had reviewed enough of my friends itineraries and conducted enough of my own research to know pretty much what I wanted.  Many guides are freelance when not working with a tour company and it just takes a bit of asking around (just ask on Facebook!) and interviewing (if they are too inexpensive, be wary and make sure they are accredited) to find one that works for you which is how we found our incredible guide, Kobi.  As you are spending almost your whole time with your guide, it is important you find the right fit!
Working with a guide direct allowed us to adapt our schedule as needed (which we did almost every day – a huge benefit) with free time to explore on our own when we wanted (and to sleep in a little rather than wake up at 7 am!) and the savings were huge (up 3x lower than going with a tour) as our guide was also our driver.  This takes extra preparation on your part if you go this way (although a good guide will work with you on your itinerary in advance which is critical due to driving distances, traffic and the need for advance reservations at many places). For us, it worked perfectly. We lucked out with our incredible guide Kobi even though I'm sure we drove him a bit crazy.
Aside from its history and geography,  Israel is very much a foodie destination. The culinary experience is so much more than Israeli salads, falafels and Hummus, although I would be perfectly happy with that! Our most special experiences in Israel were surrounded by experiencing the many different tastes of Israel: an incredible, enlightening and FUN culinary tour of Carmel Market in Tel Aviv (a must with Inbal Baum of Delicious Israel), a special lunch at a small Bedouin village in the Negev Desert, and tastings at the stalls in the Arab, Muslim and Jewish souks in Old Jerusalem. Not to mention the long list of amazing restaurants we dined at.  And the fresh baked bread everywhere, don't get me started on the bread! A special 'Eating our Way through Israel' post is coming shortly!
Unique experiences.  One thing important to me in my travels, especially with my children, is to not only travel consientously but also to find non cookie-cutter experiences that are special to us.  Discovering unique opportunities off the beaten path is my favorite part of the planning process and it typically ends being our most memorable experiences during our trips. Adding a mitzvah project to our itinerary that we could give back to was important to me so we chose together to visit the Israel Guide Dog Center in Beit Oved, an hour outside hotel which was an enlightening and fun experience (if you are lucky you will get to see new litters of future guide dogs like the ones on the right).
Other special add ons to our itinerary such as a private Bedouin lunch with a family in the desert (not accessible to tours), a private tour with a renowned doctorate of animal behavior and ecology of the Ramon Crater, a private tour of a military base through the Friends of the IDF with the opportunity to meet woman soldiers defending Israel and a special culinary tour of one of the food markets in Tel Aviv with Delicious Israel made our trip particularly special.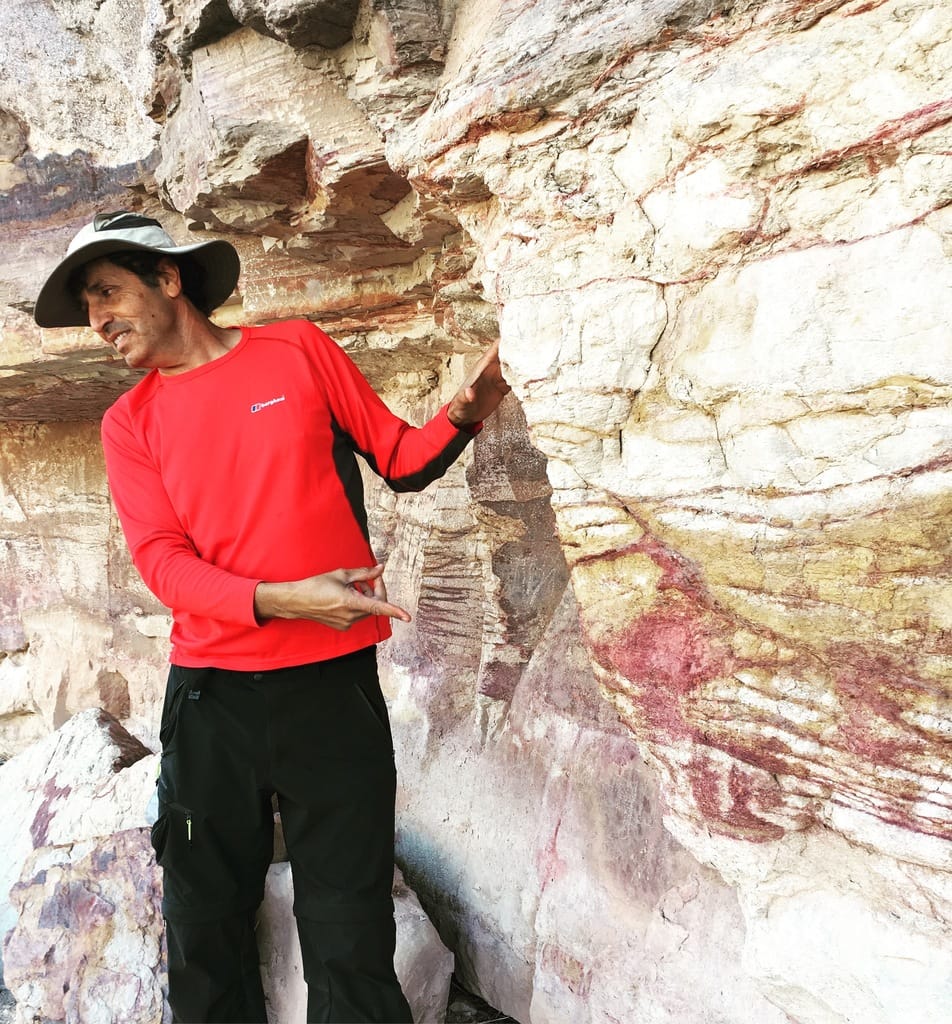 It goes without saying that a visit to Yad Vashem Holocaust Memorial in Jerusalem is a must. A planned visit for an hour turned into three hours. I could have spent a full day here but it can be tough on the little kids. The Childrens Memorial was particularly impactful. Note Yad Vashem is closed on Saturdays. It also offers special Bar and Bat Mitzvah programs that are worthwhile to explore if this is one of the reasons for your visit to Israel.
We spent two nights and one full day in the Negev desert staying at the

Beresheet Hotel

(now a Virtuoso property!), a stunning hotel right on edge of the Ramon crater. The views from the hotel were stunning. Rates are offered inclusive or exclusive of meals, but as there are no real options nearby, I would recommend getting an inclusive rate. Only a few 2-bedroom family villas, which we had, as available as room options. While they are not directly in front of the crater, they offer private plunge pools and are close enough to the edge (Our villa was #142, which was close to main building. Others might require a golf cart to get there). I recommend at least a night at this special place. Make some time to do a crater tour with the incredible Dr. Haim Berger of Negev Jeep Tours during the day. Evening star-gazing tours are also available.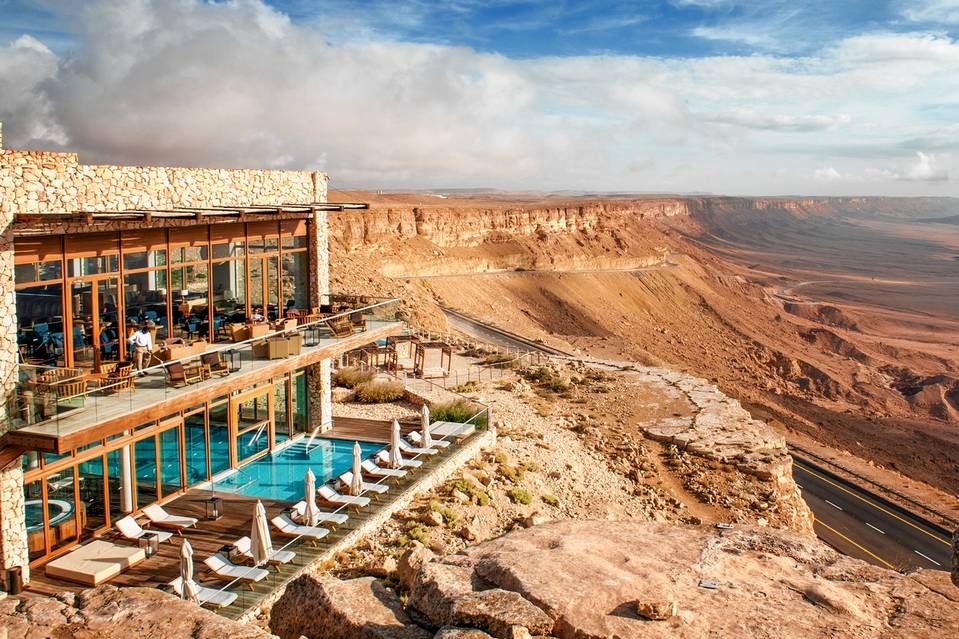 In Jerusalem, we stayed at the historic King David hotel despite my initial inclination to stay at the modern

Mamilla

in the Old City. Our experience was unfortunately disappointing. We had requested and confirmed renovated rooms (only offered currently on the 5th and 6th floor of the hotel) facing the old city. Upon check-in, however, we were told we were 'upgraded' instead to larger connecting suites that were not in fact renovated or on the floor we were confirmed for. This happened to other friends staying at the hotel a few days prior as well. While incredibly spacious, the suite was outdated, dirty and unsatisfactory. While the concierge was very helpful and knowledgeable and the historic relevance of the hotel did not go unnoticed, our experience left us soured and I would be hesitant to recommend it to others unless they were assured renovated rooms.
Loved
Didn't Love

The architecture, ambiance and sophisticated air of the hotel, housed in beautifully restored Art Deco buildings.
Attention to details from the floors to the lighting to the art.
The location in Bauhaus district.
The breakfasts were delicious . If warm, eat outside in the courtyard.
The bar is one of the most beautiful hotel bars with an extensive list of cocktails.  A great place to linger before or after dinner in the evening.

Service felt a bit impersonal during our stay, depending on who was at the front desk (with exception to the concierge and restaurant/bar staff who were excellent)
I am probably the only person who didn't love the on-site sushi restaurant, Dinings. I found it extremely overpriced, probably the most expensive sushi we ever had. The sushi was good but not memorable.  The outdoor space, where you can eat dinner or have cocktails, however, is very pretty.
There were a few glitches with our room that seemed consistent with other guest comments online. The lighting system was complicated and frustrating to figure out and many of the charging outlets in the desks didn't work. The A/C system was broken in the first room we stayed in and took several attempts to get it resolved.

Don't Miss
Skip

The rooftop pool at The Norman.
Cocktails in the Library Bar. At least a bite of the french toast and bread pudding at breakfast, washed down with the aromatic Israeli coffee.
A stroll down Shabazi Street in the charming Neve Tsedek neighborhood. The street has wonderful boutique stores like Agas & Tamar Jewelers (43 Shabazi Street) and arguably the best gelato in the city: Anita Gelato (tons of flavors).
A visit to Old Jaffa – grab lunch at Kalamata, a Greek restaurant. Request a seat facing the water.
Stop by Zielenski & Rosen Perfumery, an artisanal perfume laboratory with two locations. Choose from the various perfumes, soaps and lotions (they make great gifts!) in the store or make your own personal scent via private appointment (130 shekels for 1 hour).
A culinary tour of Carmel Market with Delicious Israel with owner, Inbal Baum.
Ayalon Institute. An underground bullet factory that operated secretly 1945-1948, about 1 hour outside Tel Aviv. A fascinating tour for adults and kids alike.

Rooms to Get
Tips

Rooms can vary greatly in size and location but all are attractively appointed, modern and comfortable. There are only two connecting rooms for families unless you are staying in a suite so book ahead and specify as early as possible as they tend to go quick. Corner units have the most light.
For the first two nights we stayed in neighboring Deluxe rooms #205 and #206 on the second floor of the main hotel building, facing the front. These rooms were nice but small and I would recommend the next category up if you do not need connecting rooms. When connecting rooms became available, we moved to #107 and #108 on the 1st floor, also in the main building. Room #107 is a very spacious and airy corner room with plenty of light but room #108 is smaller with one small window and a small bathroom (I would use this as the childrens room).

A few of our favorite or recommended restaurants (see our upcoming culinary post) among a very long list (all but the last two are in Tel Aviv):

Kitchen Market. A contemporary farm-to-table restaurant serving fusion fare above the farmers market on the Tel Aviv port Namal. Everything we ate was fresh and delicious.
Manta Ray. An indoor/outdoor casual beach-front seafood restaurant on Alma Beach, not far from The Norman. Great seafood for lunch or sunset.
Kalamata. Excellent Greek restaurant located in Old Jaffa overlooking the water, best for lunch. Ask in advance for a table by the water.
Taizu. Excellent Asian fusion concept restaurant (we made the mistake going on Sunday night which is Indian food night), not far from the hotel. Very popular.
Yafo. Chef Haim Cohen restaurant serving Mediterranean fare and fun atmosphere. Everything was amazing!
Santa Katerina. Next to Port Said. Great pizza and other creative dishes. Reserve a table on the terrace if you can.
Abraxas North. We didn't get to this restaurant this time but my husband went a few months after our trip and LOVED it. Informal modern Israeli cuisine served in paper bags. Put this on your list.
Port Said. Edgy, trendy restaurant from Top Chef Eval Shani. Does not take reservations. Very popular.
Chakra. Loved, loved this Italian/Israeli restaurant in Jerusalem. Great, fun atmosphere. Everything on the menu was delicious. Book in advance as always packed.
Machneyuda. An experience and worth it. Best to go with a group and book the downstairs (you miss all the fun if you are upstairs) way ahead of time. Casual and small. In Jerusalem.