After spending a blissful 5 nights in Beverly Hills, it was quite difficult to convince my family to pack up and leave to spend the last night of our Spring Break vacation (which started ten nights prior in Utah) somewhere else. The kids were tired and wanted to stay put, my husband just wanted to park himself at the pool, and 'we really are just fine right here, thank you'.
Despite their protests, I was adamant that we make our way to spend our final night in Malibu. After so many visits to Southern California, the tony enclave of Malibu – a narrow stretch of 27 miles where billionaires, celebrities (Streisand, Hanks, Dylan and Lady Gaga all have homes here) and surfers all congregate – has remained an enigma to me. And I really wanted to check out the new Malibu Beach Inn, the former beachfront motel once owned by David Geffen that has been transformed into a boutique luxury hotel property.  Open only since 2016 since its newest transformation, the hotel is already a member of Leading Hotels of the World and a Virtuoso property. Quite an impressive feat so soon.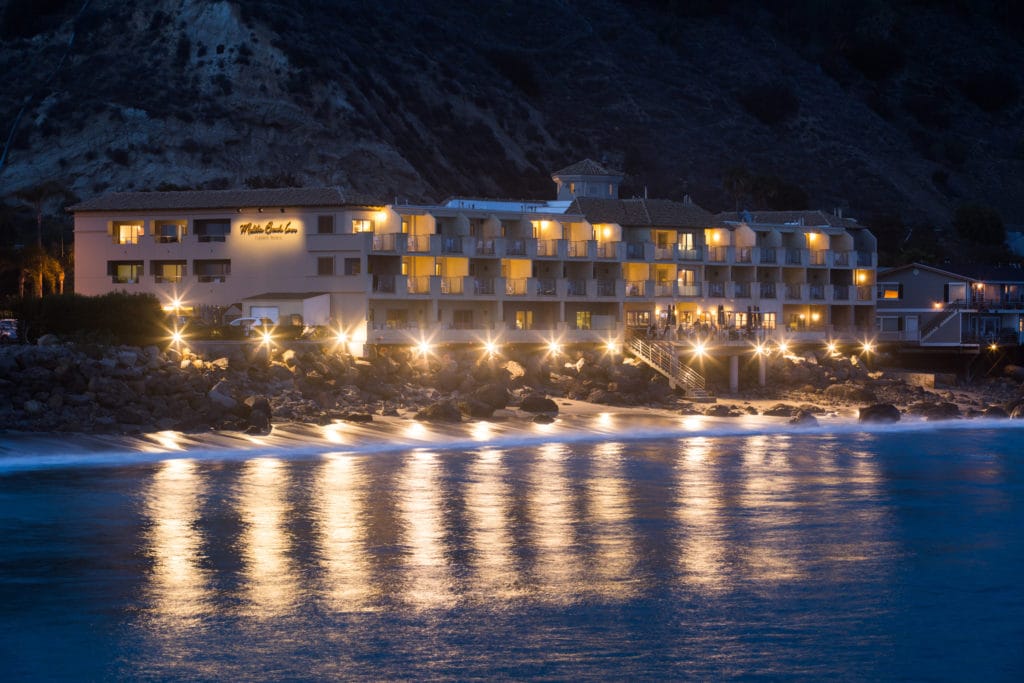 malibu beach inn, a million miles away
I gathered my reluctant crew and we made our way from the 405 to the Pacific Coast Highway (I just can't get the Saturday Night Live's 'The Californians' skit out of my head) and Malibu. As the sea air enveloped us along with the spectacular views of the beaches and the Pacific, even my daughters perked their heads up from their iPhones. 40 minutes (yes, L.A. traffic is the worst) and 30 miles later, we arrived but we felt like a million miles away.  The minute the doors of Malibu Beach Inn opened with the sweeping views of the ocean and Catalina Island before us, it felt like we were on another vacation. A few minutes later, we were putting our bags down in our rooms and standing on our private terraces directly over the beach with big grins on our faces.  My 14-year-old daughter turned to me, looked me straight in the eyes with her hands on her hips and said, I kid you not, "Why didn't we just stay here the whole time?".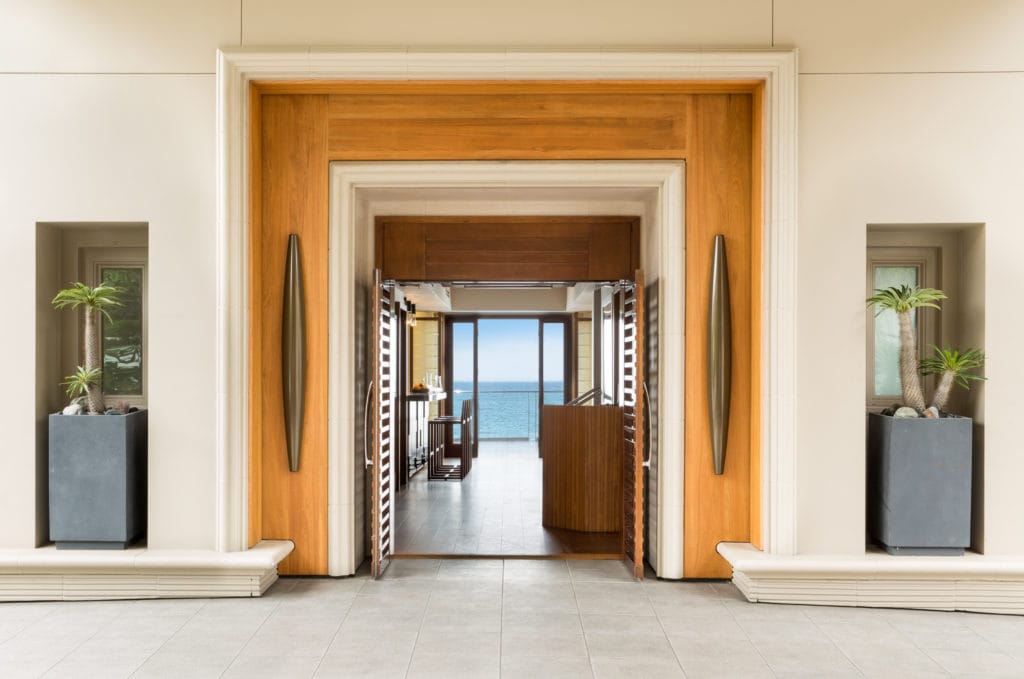 That is the effect this place has on you.
The Malibu Beach Inn luxury hotel was originally built in 1989 in its current enviable location on Carbon Beach and remained a motel for a little more than 15 years. Then David Geffen purchased it in 2005 for $29MM and opened it as a luxury hotel in 2008 after a $10MM renovation. Geffen then sold the property in 2015 for a sweet profit to the Mani Brothers Real Estate Group who transformed the hotel even further with the assistance of Waldo Fernandez, a L.A. based designer. Gregory Day, the President of Hospitality for Mani Brothers, also serves as the hotel's General Manager. He also happened to be the former General Manager for Shutters on the Beach in Santa Monica for the prior seven years. So you know you are in really, really good hands here.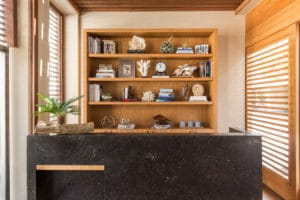 From the outside, the 3-story 47-room boutique luxury hotel property is a bit deceptive as it looks like, well… a motel. Until you get a closer look, that is. The separate reception, located in front of the semi-circular driveway is intimate and welcoming with a tray of homemade chocolate chip cookies which won the kids over immediately (as did the macaroons waiting for them in our rooms. Sweets will do it every time).
Luxurious Beach Home
Once inside, you feel like you are at a luxurious beach home. The open-concept living area/lounge decorated in soothing shades of grays, blues, and whites with thick throws and pillows invite you to take a seat and relax.  On one end, is a fireplace with TV (showing a live feed of the Malibu Pier, only a few minutes walk away) and to your left is a small bar where mixologist Josh Curtis concocts tasty cocktails.  At night, small candles at the tables deliver a beautiful glow to the whole room. Before you, large windows showcase Malibu Beach Inn's best asset, its location direct and center on the beach. Which is, after all, one of the key reasons you are in Malibu in the first place.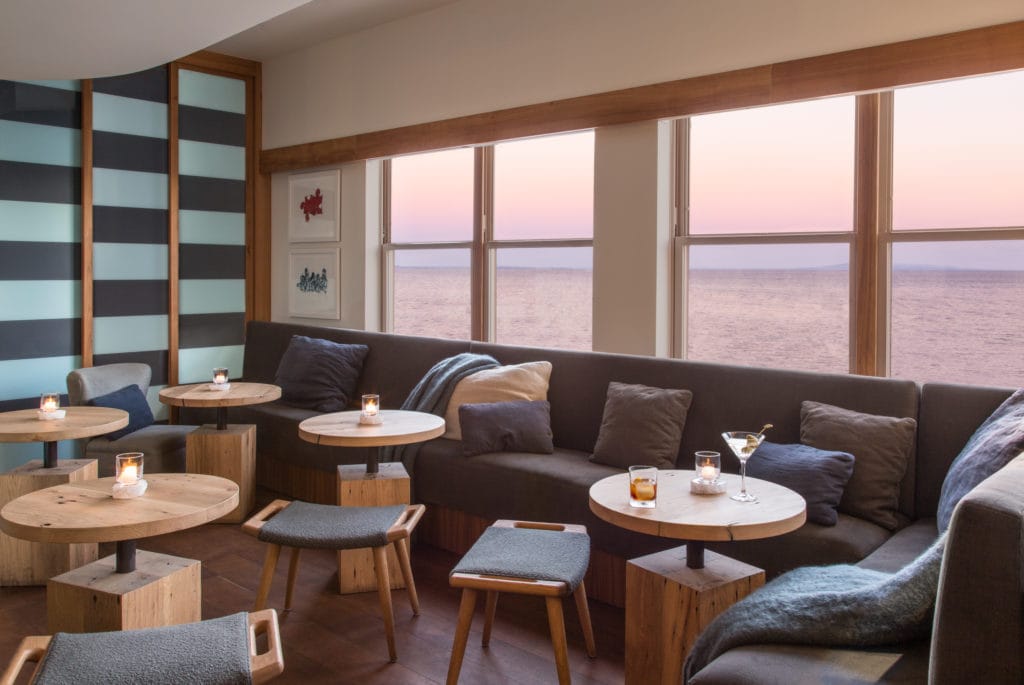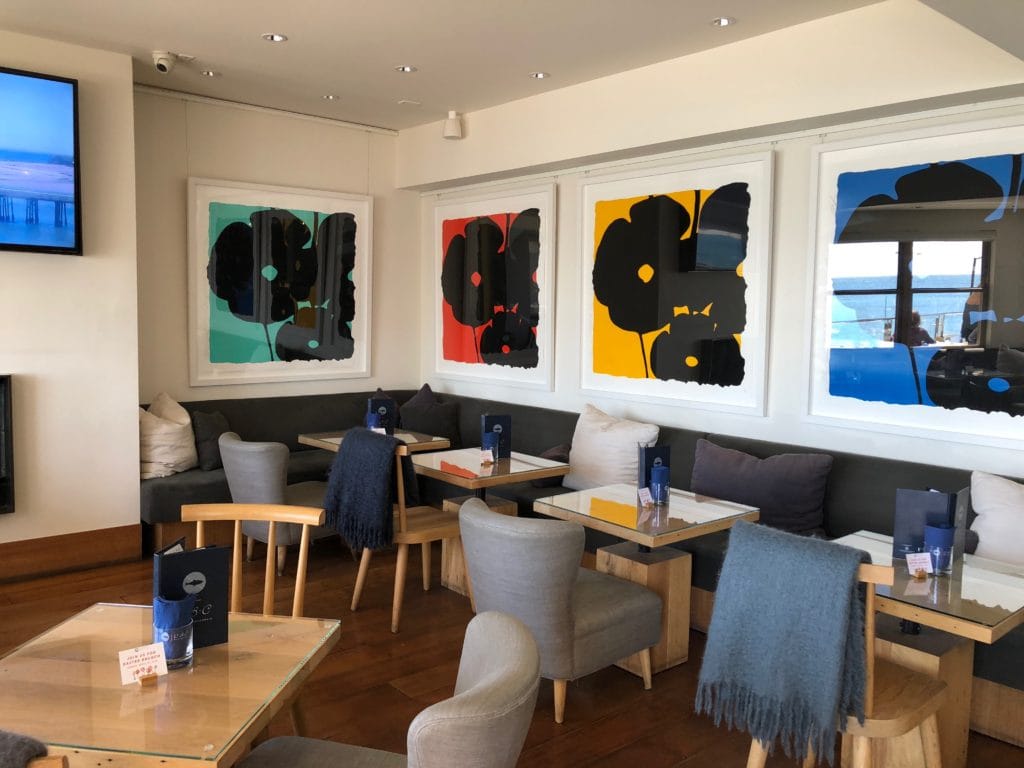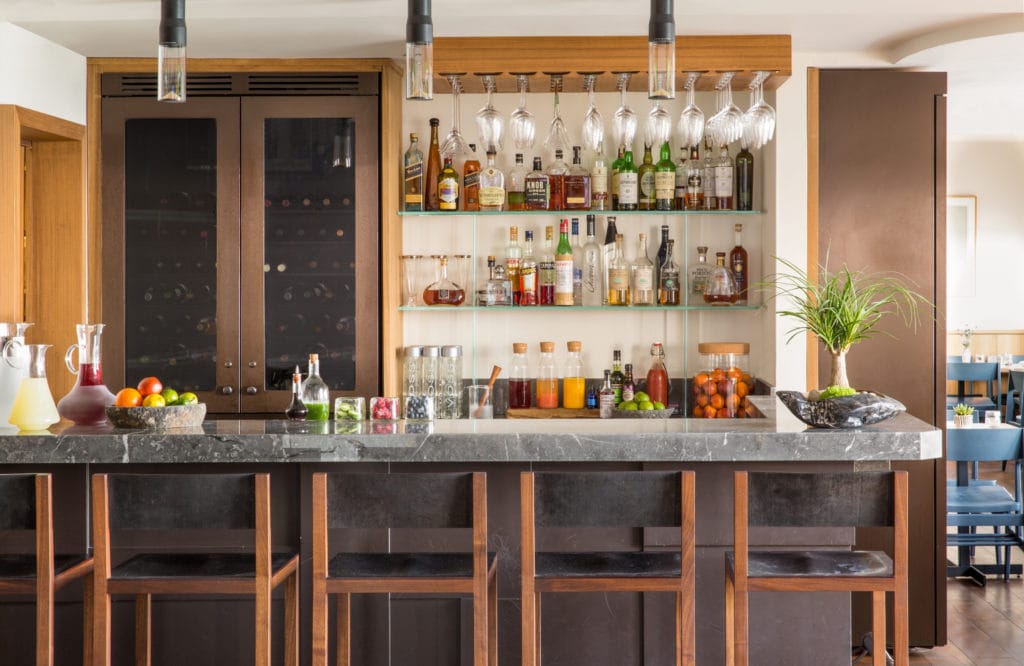 Beachside Rooms with plenty of amenities
Each of the 47 rooms at Malibu Beach Inn offers direct and expansive views with full glass doors leading to private balconies to enjoy views. The same color scheme in the public areas extends to the guest rooms. From the oak floors and custom furniture to the contemporary lighting and bedding, everything is expertly thought out here. The rooms are airy and inviting in a beach-y/mod style that I loved.  Our connecting rooms, identical in layout, was ideal for our family of four.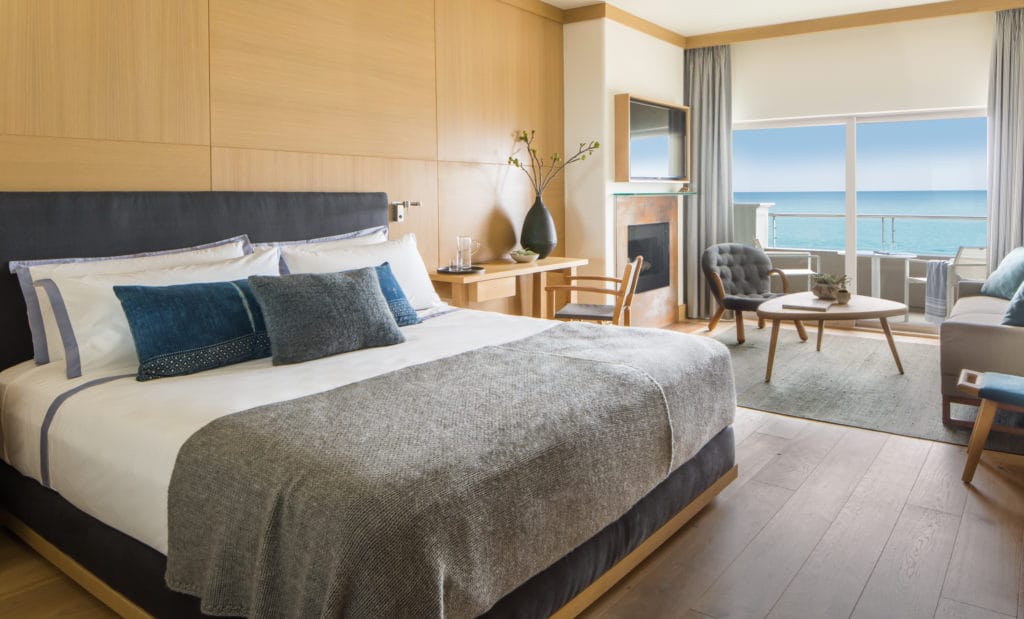 There are plenty of amenities in the room, such as binoculars (for views of Catalina or a celebrity?), Bose Entertainment System, Nespresso machines and Smeg kettles (satisfying both coffee and tea drinkers). But it was the Bamford bath and skin care products that got me the most excited as every time I go to London, I stock up on these all-organic all-natural products (part of the reason I went to the Cotswolds last Summer was to visit the Bamford's Daylesford farm). Malibu Beach Inn is the first U.S. hotel to offer these amenities.
As our stay here was very brief, we used our time to explore the area. Easy to do on foot (barefoot in the sand, ideally) as the central location on Carbon Beach aka "Billionaires Beach" of the Malibu Beach Inn could not be more ideal. A three-minute walk in either direction from the hotel will either take you to the Malibu Pier (and beyond, the Malibu Country Mart) or Nobu Malibu. We spent the remainder of the afternoon at the Pier, having lunch at Malibu Farms and doing a little shopping (see below on places to eat and shop) and beach-walking. If only I had a little more time, I would plop myself on one of the hotel's beach lounges and call one of the beach attendants for a cocktail. Or go for a deep tissue massage at the oceanfront spa suite. (Note: the pool at the hotel is set to open by year end). Malibu is best enjoyed at a relaxed pace.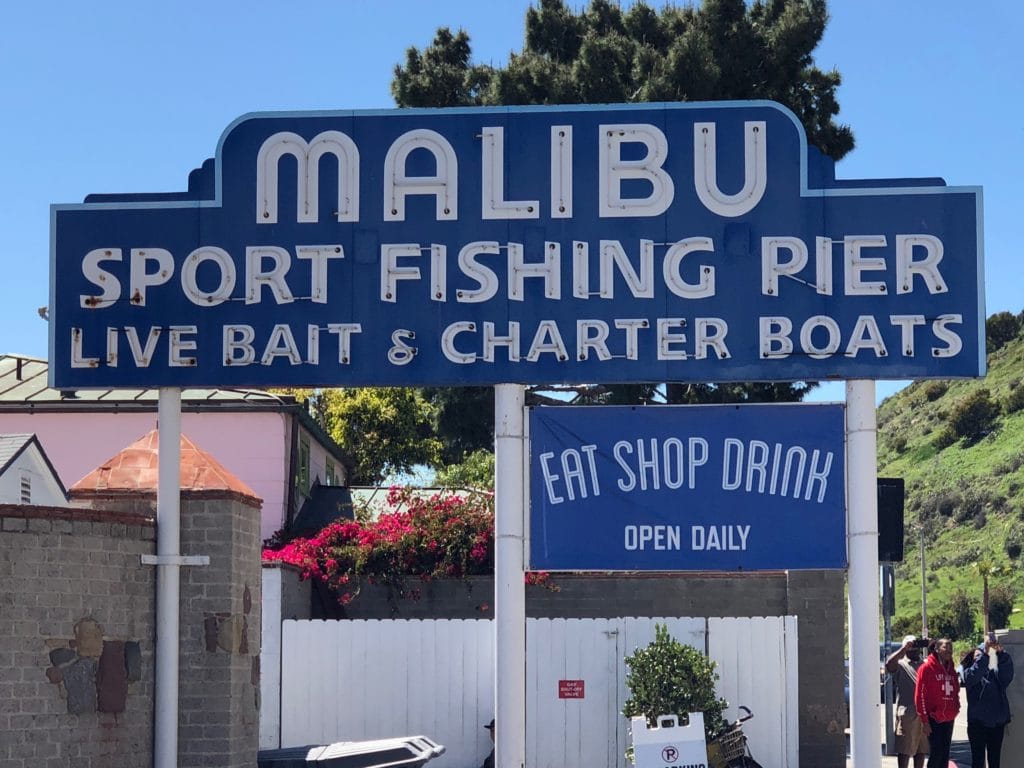 After a sunset dinner at Nobu Malibu, we spent our last night swathed in our soft Roost throws, doors open to the ocean, fireplace lit with music playing through our Bose speakers, enjoying wine courtesy of the hotel. It was a perfect last evening.
Before we departed, I watched a little yoga action below my deck that I could not motivate to join and then enjoyed a delicious family breakfast of truffle scrambled eggs, avocado toast, granola, yogurt and berries at Carbon Beach Club, the onsite restaurant, located on the outdoor deck. All the food here is locally sourced from One Gun Ranch and resident farmers' markets.
Laid Back Vibe at the Malibu Beach Inn
What I loved about Malibu from my short stay is its laid-back vibe, harking back to a more nostalgic time that it seems to embrace. So far the beach-y enclave has managed to avoid over-commercialization. No one wants Malibu to become another Montauk – we saw what can happen there.  I for one hope that never happens to Malibu.
24 hours was a bit of a teaser, but it didn't take too long to fall in love with the Malibu Beach Inn. With that said, you need minimally two days here, ideally three, to get into proper 'Malibu mode'. I can't wait to return, with or without the kids.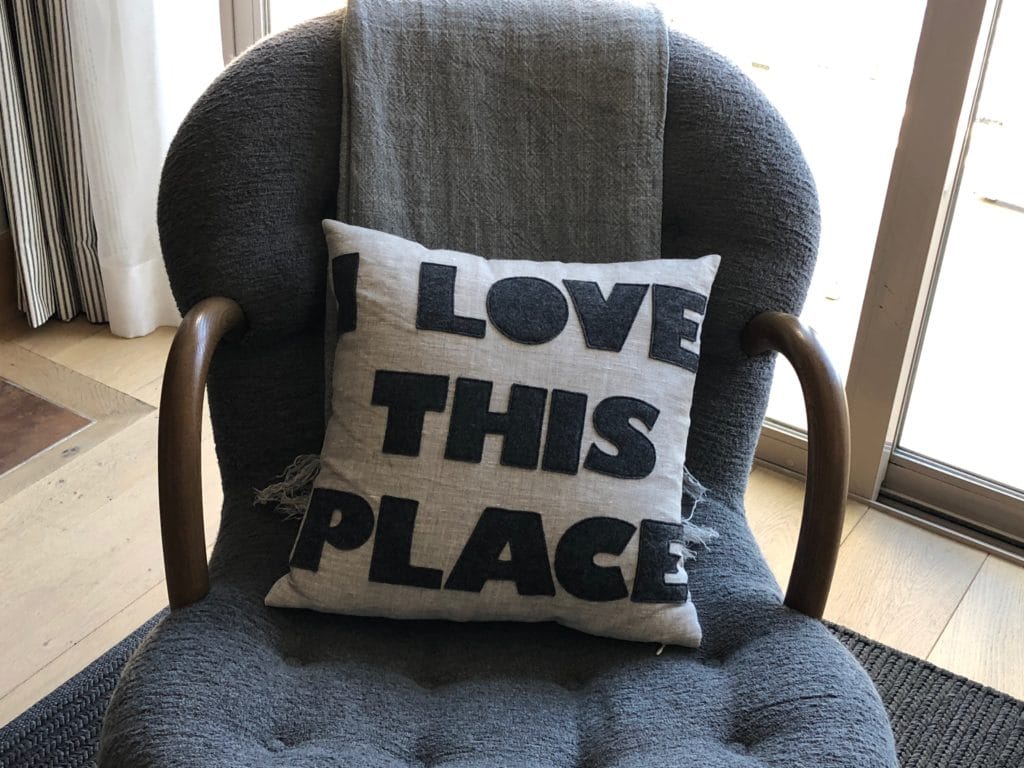 Photos courtesy of Malibu Beach Inn and Inviato Travel. 
Where To Eat and Drink in Malibu
Malibu Farm Restaurant and Café

. There are two Malibu Farm restaurants on the Malibu Pier: One at the beginning, which is more of a sit-down affair (you will likely see a line) while the more casual cafe is at the very end of the pier where you can order at the register and find a picnic table inside or outside. Both serve delicious farm-to-table fare from local One Gun Ranch farm (the same Bamford family of the –  Bamford's Daylesford Farm in Cotswolds – my favorite place on the planet). Not to be missed.

Nobu Malibu. 

Ever popular since it opened in 1999, this beach-front Nobu is just a 3-minute walk from MBI. It appeals to everyone – tourists and locals alike as well as families, hipsters, and celebrities (we sat next to Kanye West, a regular there). Make sure to book reservations 30 days ahead and request the outdoor patio to take in the sea breeze and views. I highly recommend going at sunset as the setting is spectacular. After 8:30, it becomes more of a club scene.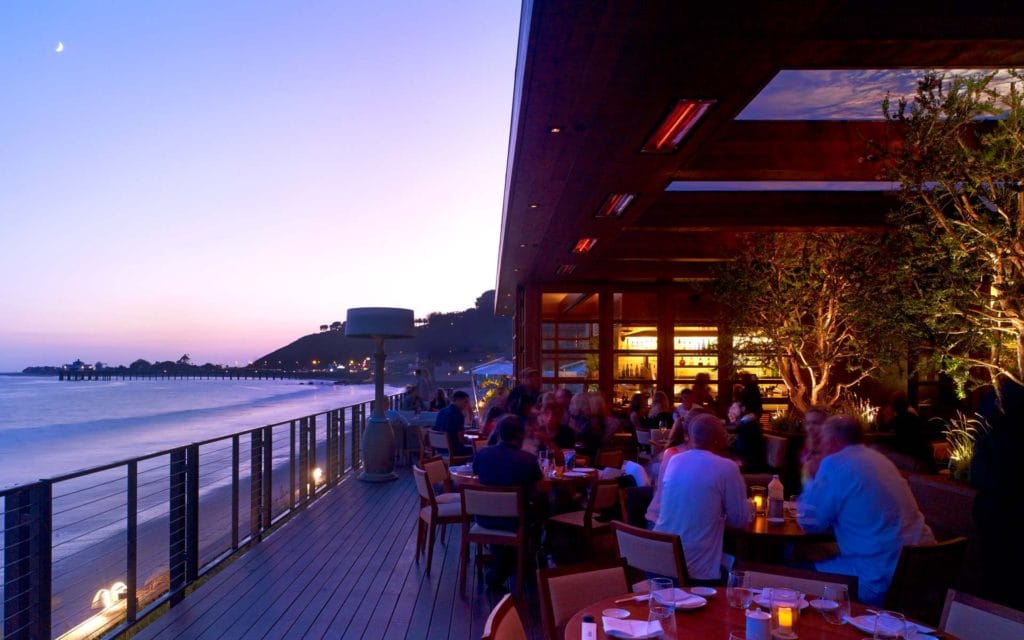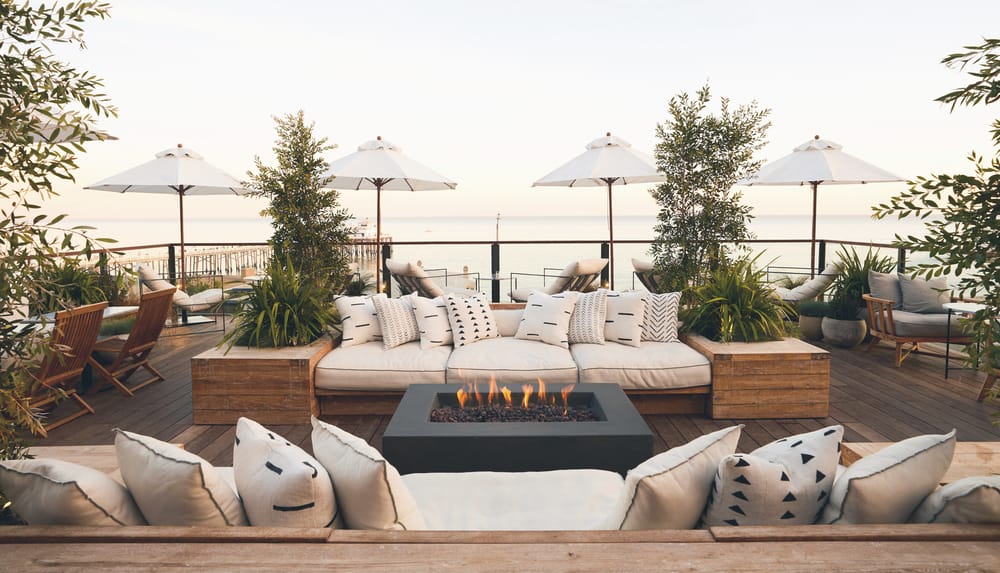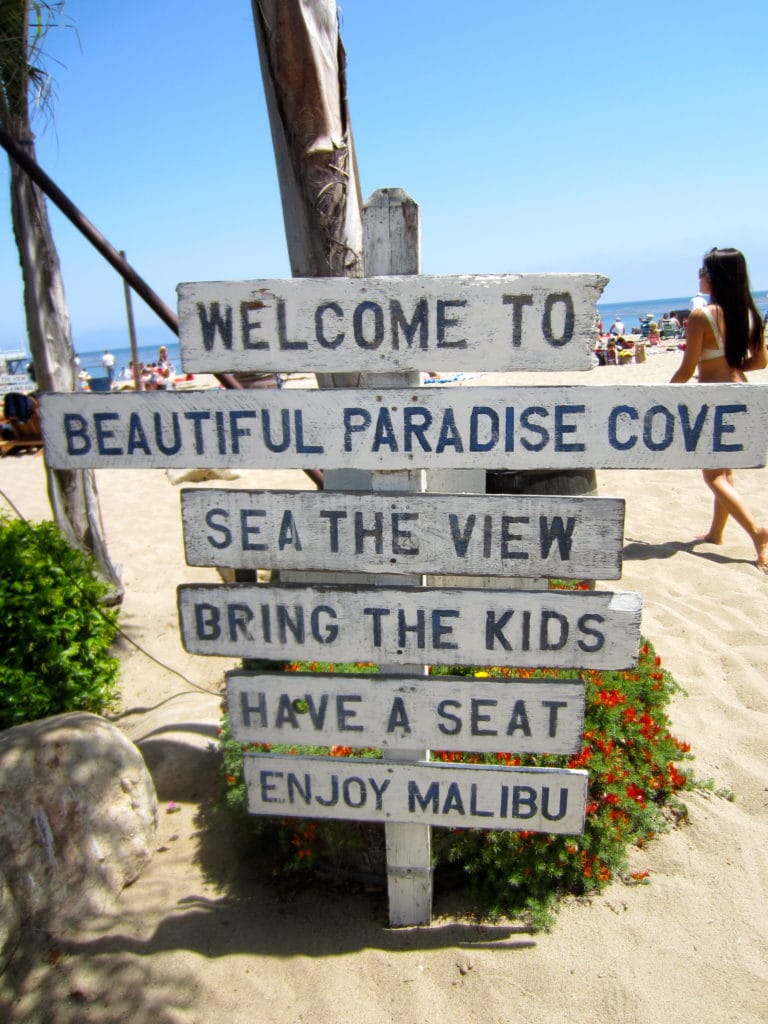 Neptune's Net. A biker and surfer haven, this is a 60-year-old classic roadside diner on the PCH is a throwback to the '50s. You come here for casual seafood (particularly the fish tacos and clam chowder), burgers and cold beer. Take a spot in line and snag a picnic table overlooking the ocean.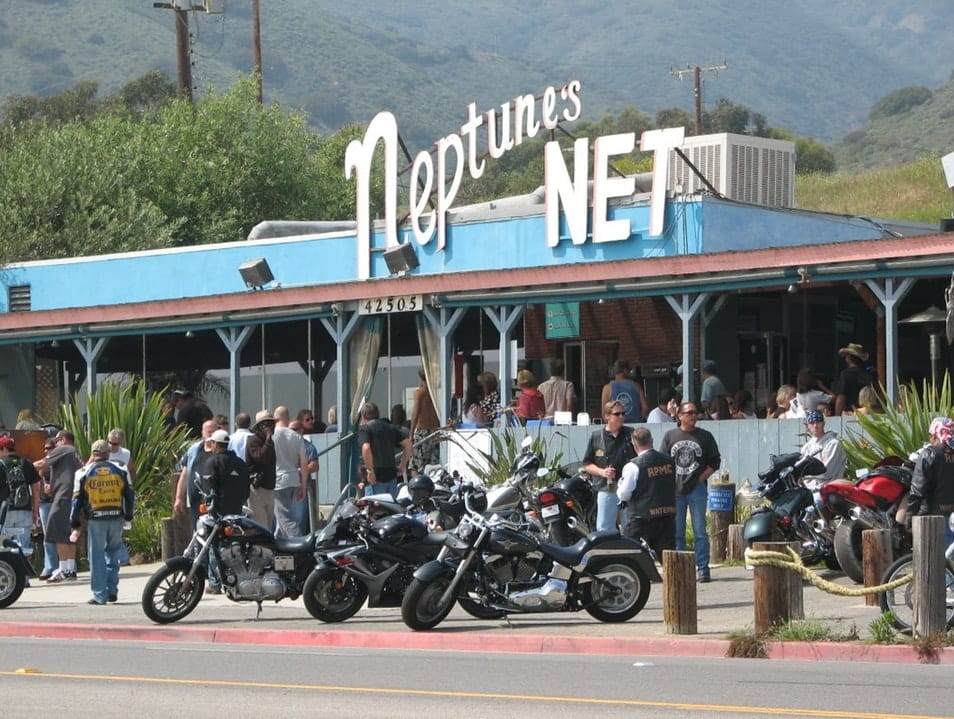 Duke's Malibu

. Hawaiian themed restaurant (umbrella drinks and all) named after Duek Kahanamoki, the Olympic gold-medalist swimmer who introduced surfing to California (and also starred in 28 Hollywood movies!). Go for the Sunday buffet brunch and you may even see Kathy Zuckerman – the woman who inspired the real Gidget!

Little Beach House Malibu

. A new face in Malibu which is an exclusive offshoot of Soho House that I feel compelled to include on the list. It is only open to local-based members who re-apply yearly, so you will have to be invited by someone who is a member to get in. But with Malibu Beach Inn as your home on the ocean, I am not sure why you need to or want to other than for sheer curiosity.
Where to Shop in Malibu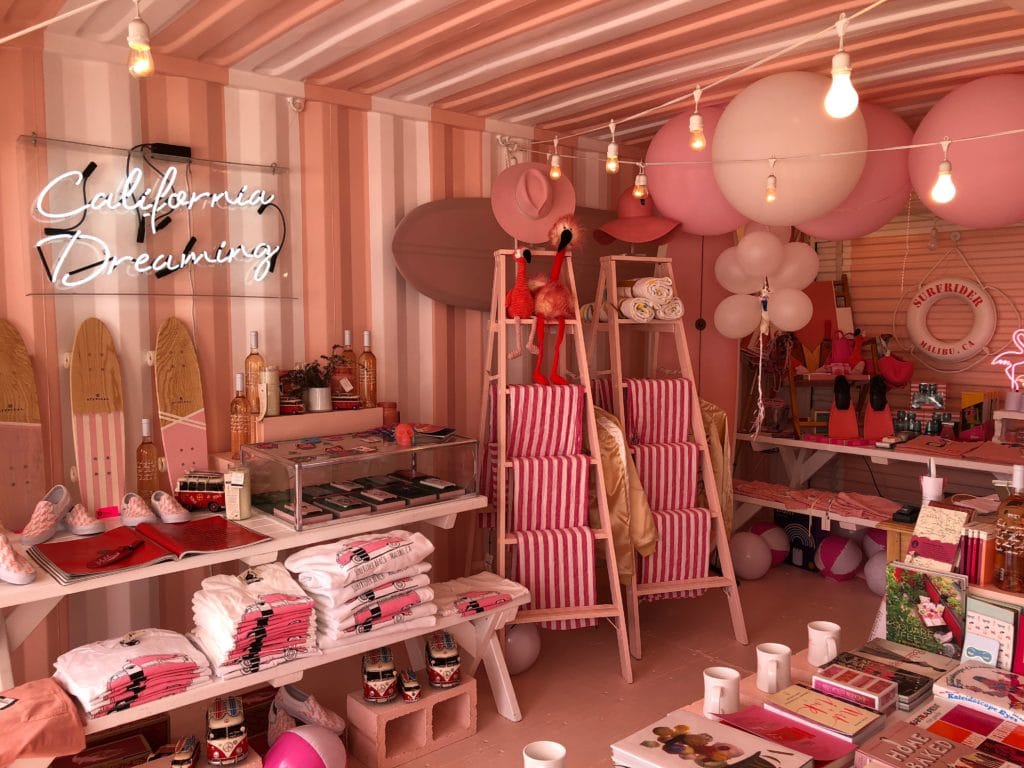 Aviator Nation.

A cool retro surf clothing 

shop across the street from the Pier, selling vintage style sweatshirts and tees.
Loved
Didn't Love

The location. There really is nothing better than being truly 'ocean-front', directly on top of the beach, breathing in the sea air and waking up to the sound of seagulls. The hotel is perfectly situated in between the Malibu Pier and Nobu Malibu, each a three-minute walk in either direction.
The rooms.  Luxuriously comfortable with every amenity imaginable (even makeup wipes, genius!). We wanted to steal all the Bamford lotions. And the ultra-soft Roost blankets. A fireplace, wine, ocean … what else do you need?
Breakfast on the outdoor deck at CBC. I highly recommend the truffle scrambled eggs, avocado toast and assorted fresh squeezed juices.
MBI is one of the few places on Carbon beach that has an area of designated private beach for guests. That means cocktails can come directly to you on the beach chairs!
The warm and friendly staff.  Looking quite sharp in their Johnny-O prep attire I might add.

We really needed another day or two here. I was just getting relaxed!

Don't Miss
Skip

The curated world-class art collection displayed throughout the hotel (ask for a brochure at the front desk for more information about the individual pieces).
A visit to Malibu Pier, particularly breakfast or lunch at Malibu Farms and the cute shops on the Pier, such as One Gun Ranch and Aviator Nation across the street.
Complimentary 9 a.m. yoga on the beach (book the night before to reserve your spot!).
A delicious breakfast on the outdoor deck at the on-site restaurant, CBC.
The requisite and very much worth the visit to Nobu Malibu restaurant. Have the concierge book ahead well in advance. We recommend going during sunset and take the 3-minute walk over in the sand.
A massage or body treatment at the oceanfront Spa Suite. 

Rooms to Get
Tips

All the 47 rooms have direct views of the Pacific ocean so it is hard to recommend one room over the others – you may prefer to be closer to the Malibu Pier or Nobu, take your pick. There are a few  Junior Suites which are the most spacious (perfect if you have a toddler).
Connecting suites are ideal for families such as ours (we stayed in rooms #301/302)

Malibu may be only 26 miles long, but it has about 20 beaches. It is worth exploring different ones while you are there other than Carbon Beach.
Malibu Beach Inn
For 2018, Virtuoso amenities at the Malibu Beach Inn include: 

•   King Pier View or Queen Ocean View categories will receive an automatic upgrade at time of booking; others receive on arrival, subject to availability
•   $80 breakfast credit per day, per room to be used in dining room, room service or beach
•   $100 USD equivalent Resort or Hotel credit
•   Early check-in/late check-out, subject to availability
•   Complimentary Wi-Fi
Book This Hotel
Why book Virtuoso?
Personalized travel assistance
24/7 online booking
Special rates & exclusive offers
Guaranteed Room upgrade*
Complimentary full American breakfast
Early check-in, Late check-out*
Exclusive on-site amenities (varies by hotel)
* based on availability on time of arrival