When it comes to Paris, I have always been a Left Bank sort of person, preferring the casual bistros and one of a kind boutiques to the more fancy restaurants and luxury designer brand name stores of the Right Bank.
Having spent a college semester in Paris, moving between classes at the Sorbonne in the Latin Quarter and our program home base in St. Germain, I feel more at home navigating the streets here, revisiting old haunts and making new discoveries each time I visit Paris. So, naturally, I typically gravitated towards small boutique hotels on the Left Bank such as Hôtel Esprit St. Germain, Hôtel Recamier, Hôtel Le Saint and Relais Christine. (View all Inviato reviews of Paris hotels).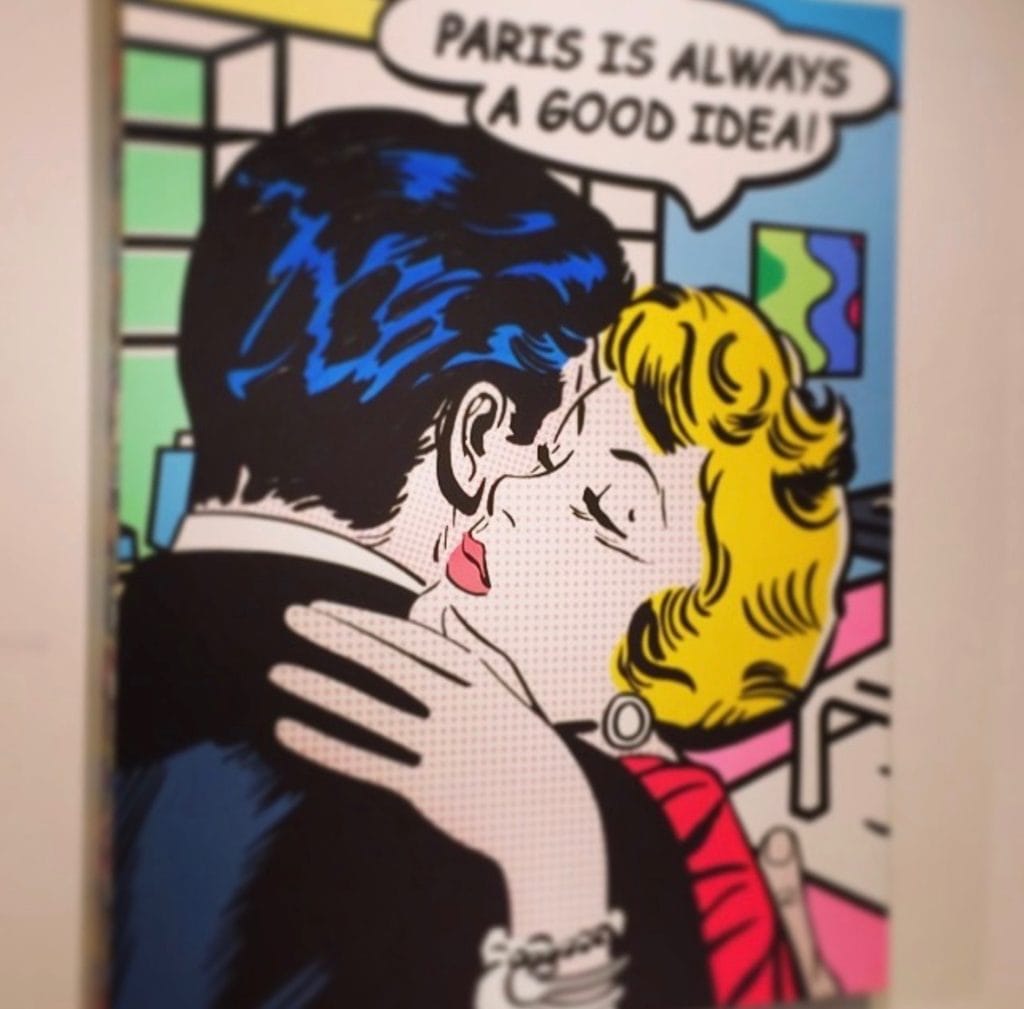 For my visit to Paris at the end of April, I felt it was time for a change of scenery (and more spacious accommodations, something the Left Bank is deprived of). Le Royal Monceau Raffles Paris on Avenue Hoche, just steps from the Arc De Triomphe, had the boutique ambiance I was seeking and looked fun and glamorous. I had booked my own trend-setting stepmother, a luxury hotel guru in her own right, here just a few months earlier. From the hotel, she sent me a simple three-word text: 'you must come'.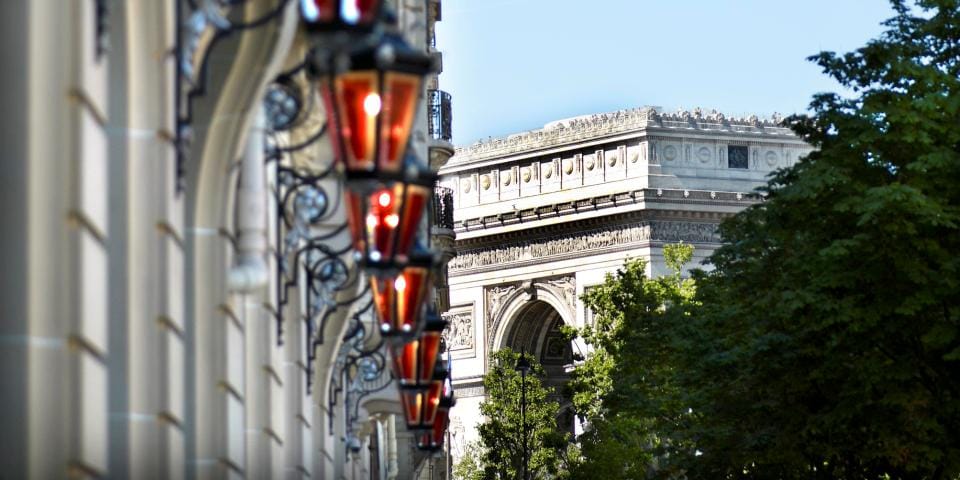 It was April. It was Paris. It felt like winter in New York would never end. I was ready.
It didn't take much arm pulling to ask my friend Rachel (the same one who joined me at Belmond El Encanto in Santa Barbara California last Spring) to join me for a girls weekend while my husband stayed home with the kids and our 4-month old, not yet housebroken puppy. We agreed (too eagerly, perhaps) to one rule in advance: we could eat all the carbs we want for our four days in Paris. No judgment.
We each had our vices:  Pain au chocolat and croissants for me, patisseries and du pain for her. She gave me her list of places she wanted to hit in Paris. 90% were chocolate shops, boulangeries and pâtisseries, so I figured she must be sorely deprived of sugar. We would just deal with the consequences later. Plus tard.
The decision to fly into Orly airport instead of Charles De Gaulle was a wise one. The day we departed, all the flights to Charles De Gaulle (but none to Orly) were canceled due to the French air strike. Flying into Orly also saved us plenty of time: the airport is much smaller and it is closer to Paris. In no time, we arrived at the hotel.
Le Royal Monceau: A Star Reborn
Unknown to many, Le Royal Monceau Raffles is a historic Paris hotel open since 1928 and was a well-known address for intellectuals and artists to congregate (Fun fact: it was on the premises of the hotel that Golda Meir and David Ben Gurion signed the birth certificate of the State of Israel in May 1948). In 2010, the hotel was transformed into a chic, cosmopolitan hotel after Raffles purchased the hotel and it underwent a three-year gut renovation and transformation.
With Phillipe Starck leading the design direction, and the number of rooms reduced from 260 to 150, a star was reborn. Since its re-opening, the five-star Le Royal Monceau Paris has scooped up almost every accolade you can think of.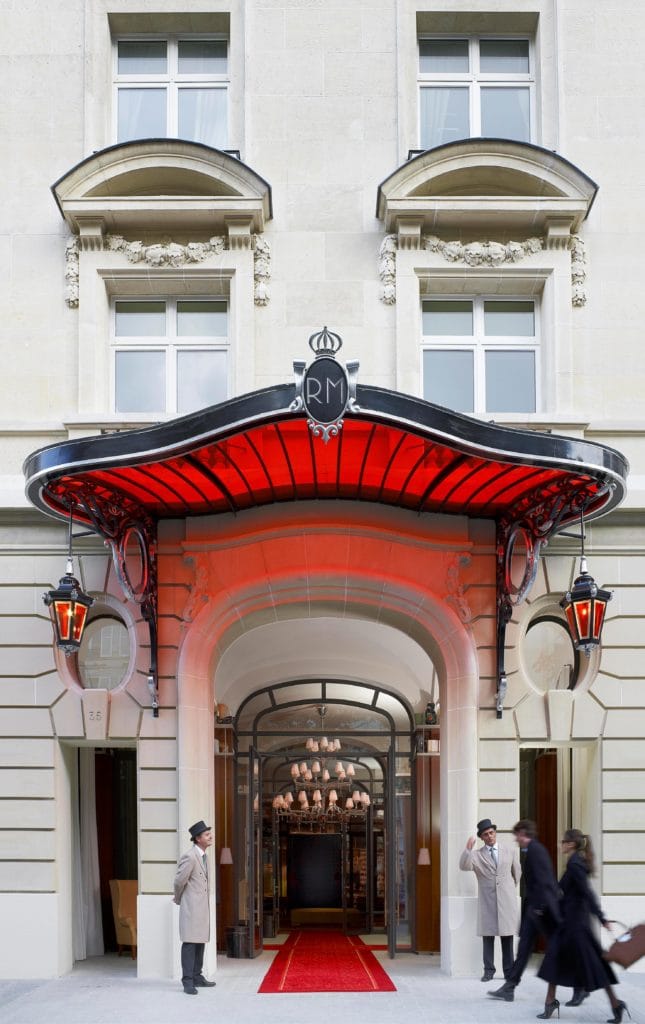 We arrived at Le Royal Monceau in the late morning. Doormen with top hats and red lanterns adorning façade of the boutique hotel were a dead giveaway this was not going to be any ordinary hotel. As we walked inside, I heard music wafting throughout.  Ooh, was that Serge Gainsbourg, I hear?
To my left was the hotel boutique La Librairie des Arts, which feels more like a mini concept store with artsy, inventive books (over 700 titles I am told) and clever gift items which I would definitely investigate later during my stay.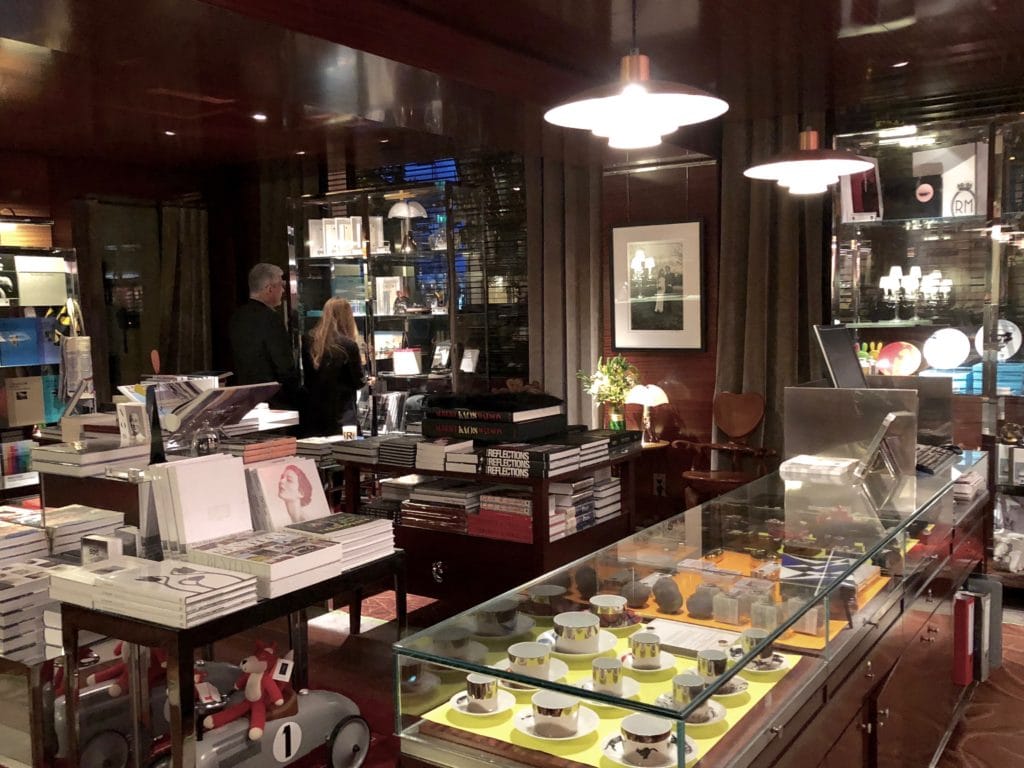 A grand welcome
Straight ahead before me was an impressive installation that looked like a miniature fantastical forest from the Wizard of Oz (but much nicer). Exhibits like these change frequently at Le Royal Monceau Paris I was told. For Paris Fashion Week in March, it was a stunning red dress made out of 8,000 interlacing pieces of paper designed by British artist Zoe Bradley. Currently, it is a tennis installation in honor of the French Open. Serena Williams, who is in the quarterfinals, is currently staying there.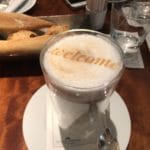 After a quick orientation of the hotel, including the stunning grand staircase with dramatic crystal chandeliers evoking Phantom of the Opera,  La Fumée Rouge (otherwise known as the 'red room'), Le Grand Salon where guests linger and mingle, the restaurants and spa, we needed to regain our strength from our flight for some serious power shopping.
A nice power breakfast of yogurt, croissants (bien sûr!) and a 'welcome' cappuccino in the lounge was a good start. I receive a nudge from Rachel to tell me Lapo Elkann (of the Fiat family) is right behind us. Looking around at the sophisticated crowd, I imagine this is the Parisian hip version of the Regency power breakfast in Manhattan. I could see Monsieur Macron hanging here. That is if he wasn't in Washington D.C. at that moment having a very perplexing bromance with Mr. Trump (not my President).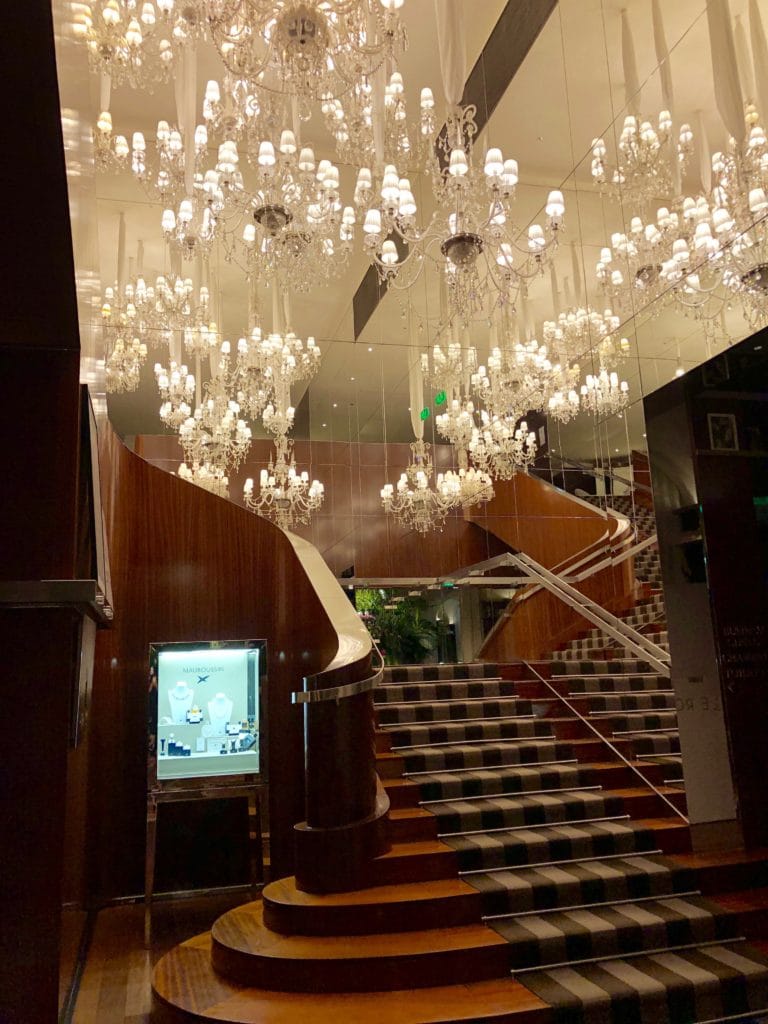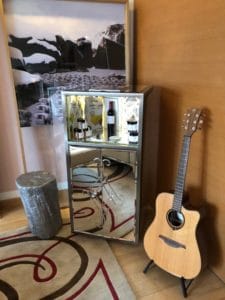 Our Suite at Le Royal Monceau
Off to our suite, our very spacious and beautifully styled Suite 700 on the top floor.  In contrast to the more dramatic public areas of the luxury boutique hotel, the rooms are styled in a glamorous 1940s/1950s style in a light and soothing palette of colors. A quick tour revealed an enviable walk-in dressing room/closet, two large flat screen TVs, windows overlooking Avenue Hoche and lots and lots of cool looking lamps (part of the design scheme) that turn on and off with one switch (admittedly, I had some challenges with the lighting).
A lone acoustic guitar stood against the wall on a stand which we could play if we wish. I only know E and F chords and 'This old man' which I don't think my friend would appreciate.
A peek inside our bathroom with a rain shower and free-standing tub: très elegant and roomy by any standards. But also fully surrounded by floor to ceiling mirrors on all four walls and very bright lighting. A reminder perhaps to not eat too many pain au chocolat?  Thank goodness Paris is a walking city.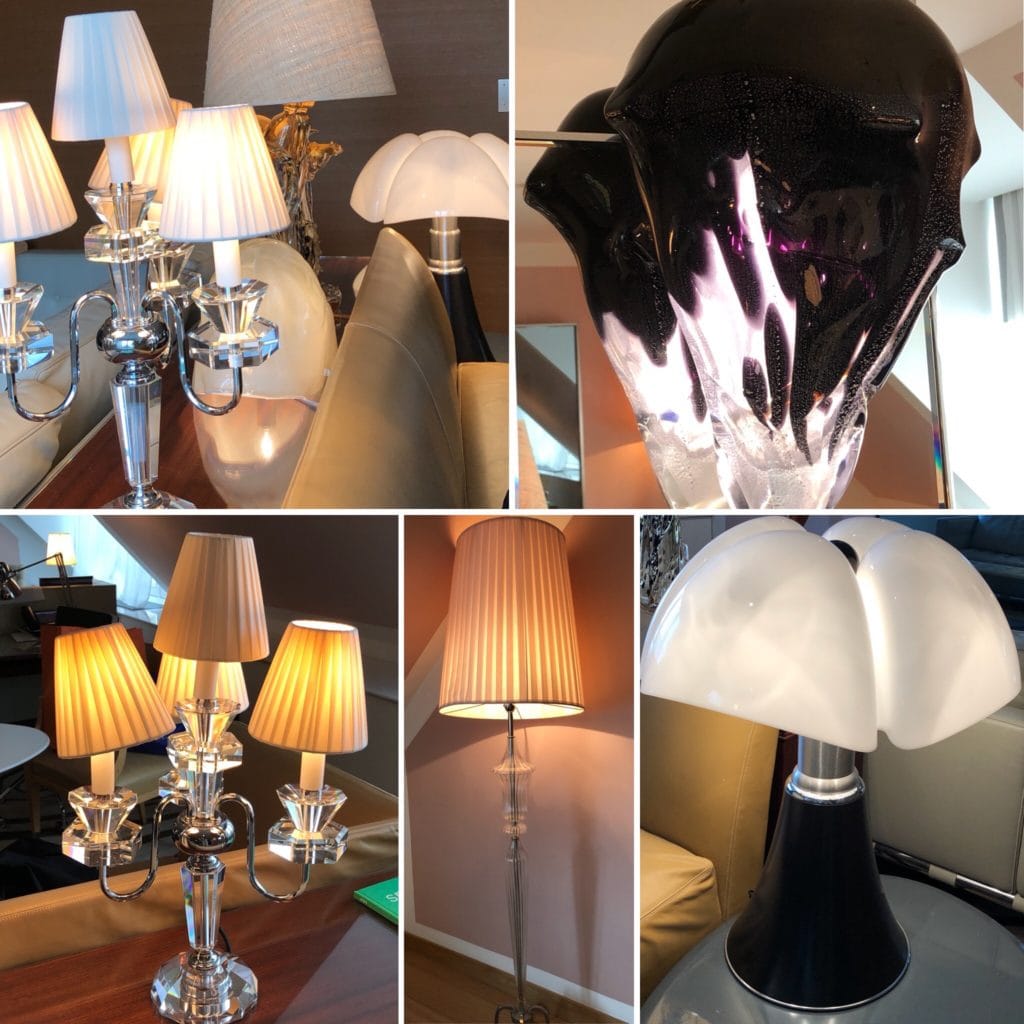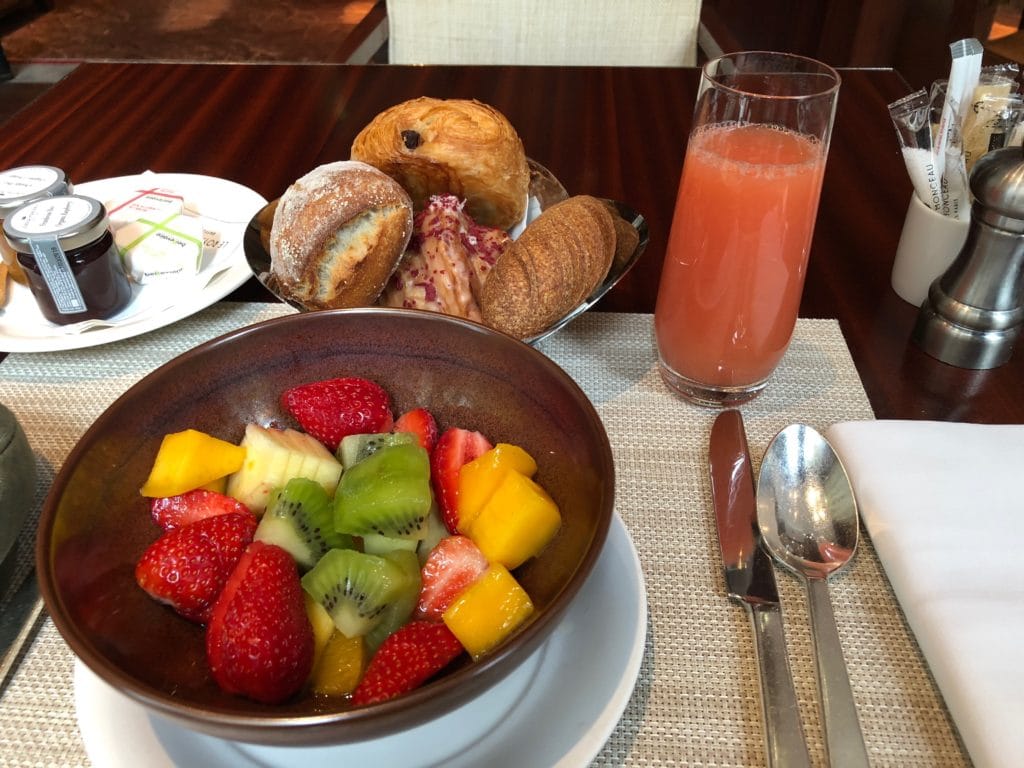 A quick bite of Pierre Hermé macarons from the welcome plate in our room and we were off. We had a well-planned out three-day itinerary comprising of a serious 'hit' list and by god, we got to almost every place on it, even the museums. (Our upcoming post 10 Great Reasons To Visit Paris Now will cover some of our favorite places and new openings).  I even had time to buy myself an anniversary and Mother's Day gift  (to make it easy for my husband and kids, of course). Thank you, Hermès and Bon Marché!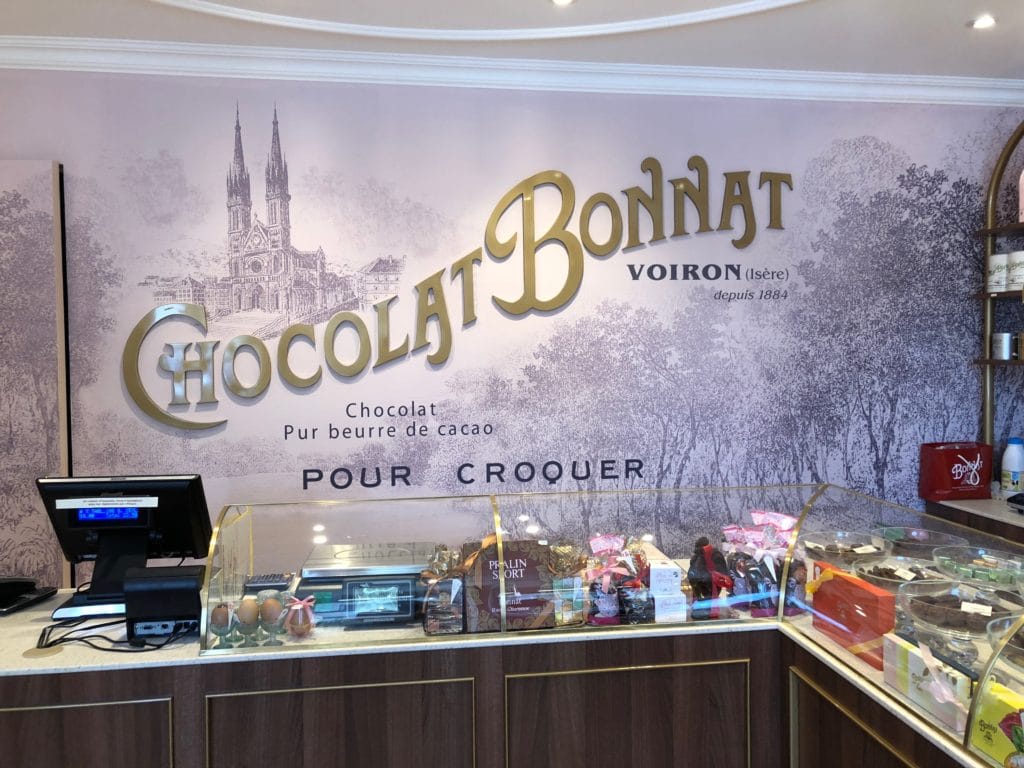 Location wise, Le Royal Monceau is ideally situated: a 2-minute walk to the metro Charles De Gaulle and a few steps from Rue du Faubourg St. Honoré and its beautiful shops. At night, we used the G7 iPhone app to order taxis which I would recommend highly.
Le Royal Monceau restaurants & bars
Le Royal Monceau Raffles Paris was a luxurious respite after long days of shopping, eating and walking all over Paris. Sadly, we didn't have as much time to explore and linger at the hotel as I would have liked. Returning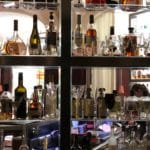 from dinner each night, there was always a buzzy scene at the stunning bar, Le Bar Long, and dark and sexy Le Grand Salon but there was no motor left in my engine to even enjoy a nightcap.
Nor did I have the opportunity to eat (other than breakfast) at either of the hotel's lauded restaurants, Matsuhisa (Nobu's first restaurant in France) and Michelin-star seashell-adorned Mediterranean restaurant Il Carpaccio. If I did, I would never have left the hotel. I will just have to come back another time to visit them.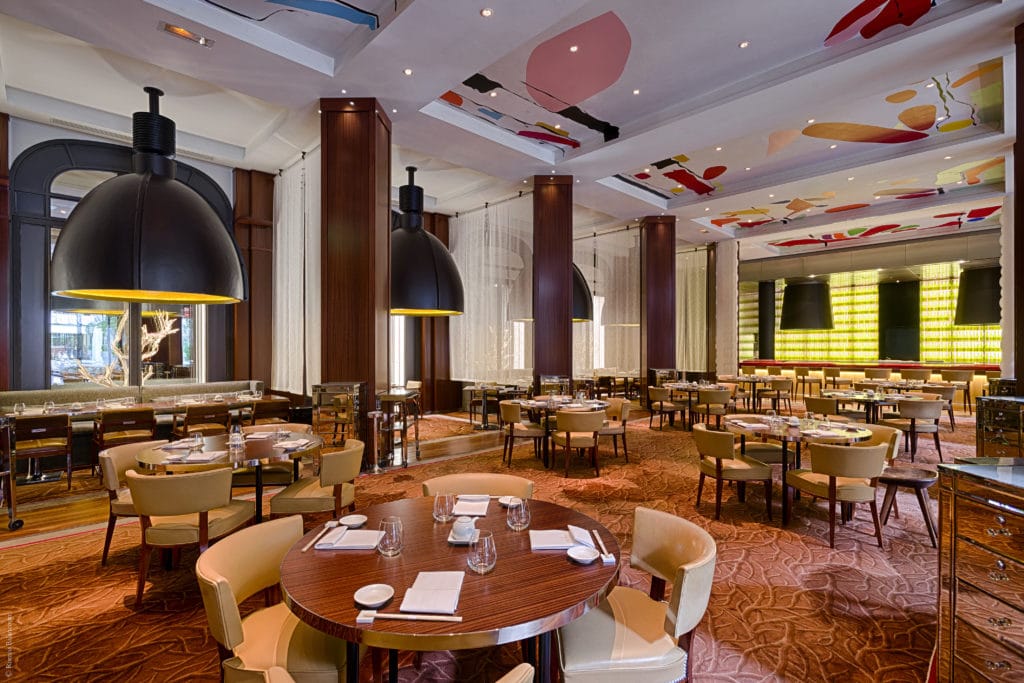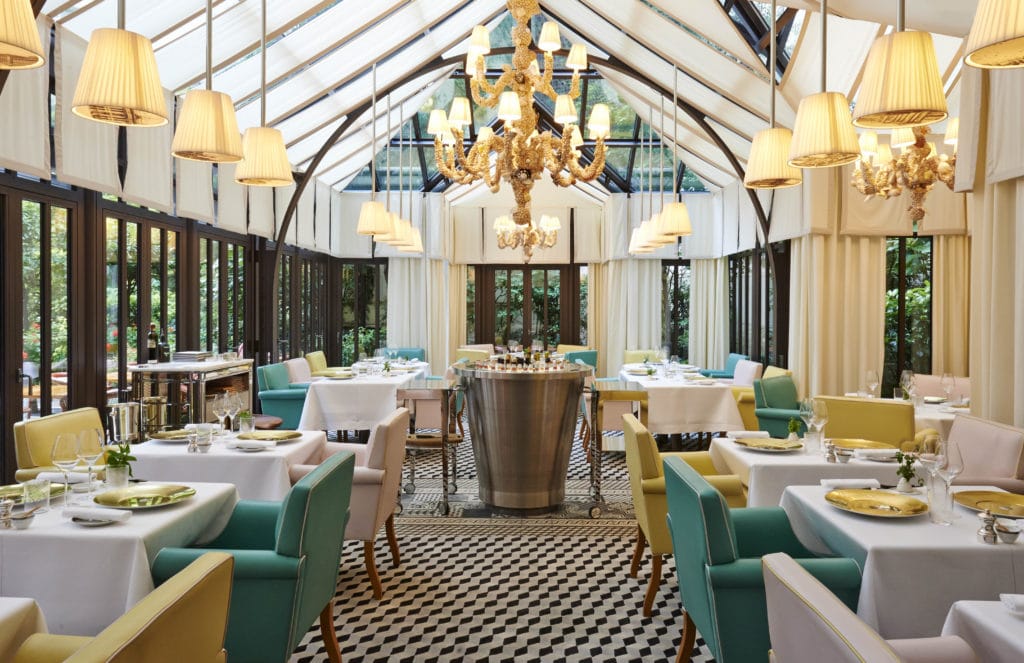 While it was still too chilly at night to be enjoyed when I was there, I imagine the stunning outdoor Terrace Garden with its centerpiece pool of water is already in full swing now. Plenty of innovative collaborations are held at the hotel to keep guests and visitors intrigued. This past winter, the outdoor terrace was transformed into a ski resort, complete with gondolas, furry throws, and wood cabins. And now, through July 31st Homer Lobster has collaborated with the hotel to create a Lobster Roll Delicatessen, offering special lobster rolls at Le Bar Long.
A swim at the 'Spa My Blend by Clarins' pool
The last morning of our stay, I was determined to head to the 16,000 square foot Clarins Spa and that gorgeous 74 foot pool (I believe it is the largest indoor pool in Paris). A blissful hour swimming in the pool (burning some of those croissant carbs) bathed in natural light from above (it is under the pool in the Terrace Garden) and lounging in the spa was the perfect ending to my stay. There are many things to love about Le Royal Monceau but the pool is a destination unto itself and alone worth the reason to stay here.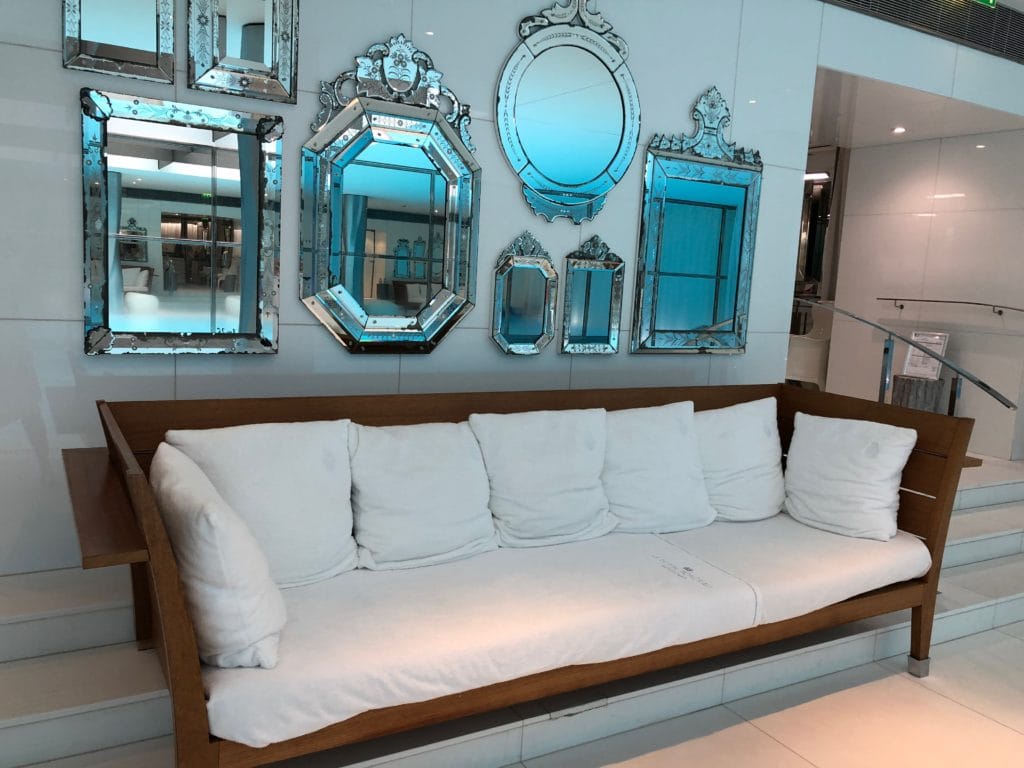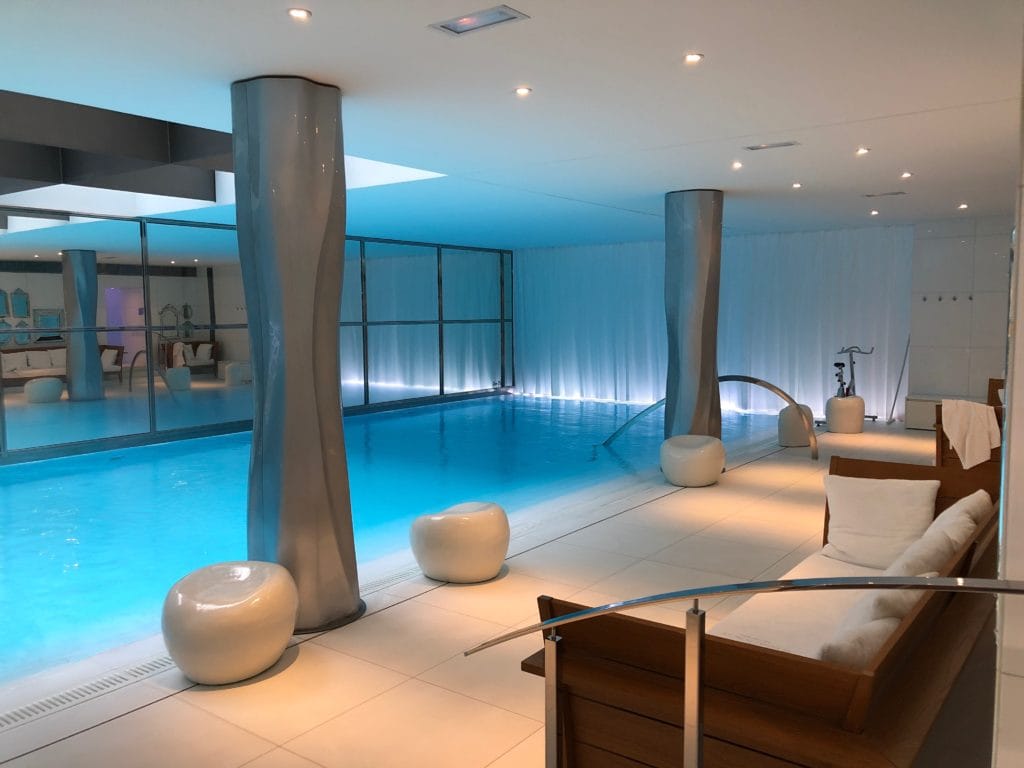 The one thing we didn't like about Le Royal Monceau was leaving so soon. Our vacation bubble burst the moment we landed in New York and got delayed for an unpleasant hour in a dingy customs room, penalized for actually declaring our purchases (yeah, I know… dumb). After being required to open all our luggage and show every receipt we had, including the four Ladurée macarons I purchased at Charles De Gaulle airport with my last 20 euros, we were finally released with extra taxes to pay. And we still never received our VAT refunds!
So much for being honest.
The last word
Le Royal Monceau is sensuous, dramatic, luxurious, and stylish. It is a seriously fantastic 5-star boutique hotel with every amenity you can think of but it also is playful and fun. Perfect for a girls weekend or romantic escape (I would say leave the younger kids at home although they are quite welcome here), there is really nothing like it on the Right Bank.  Better yet, anywhere in Paris.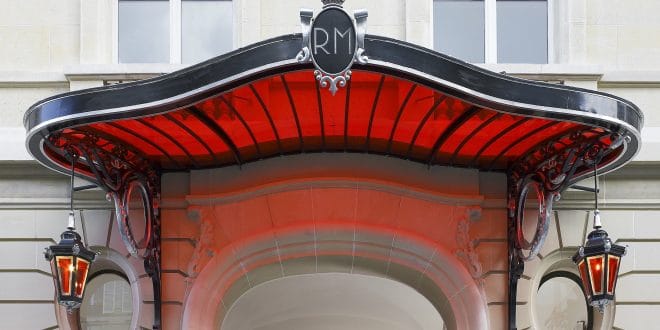 Photos courtesy of Le Royal Monceau Raffles Paris and Inviato, copy right protected. 
Loved
Didn't Love

Hip, chic vibe in the 8th arrondissement. And the location on the tree-lined Avenue Hoche was very convenient to the metro Charles De Gaulle,  Arc Du Triomphe, and Faubourg St. Honoré
The swimming pool – the largest in Paris and bathed in natural light from above – is stunning.
The dramatic staircase and chandelier. Very Phantom of the Opera.
Our suite. Spacious, beautiful and luxurious. The dressing room and bathroom were divine (including all the Clarins products in it). I appreciated

the large desk, stylish but functional. 

Getting actual newspapers to our room. A former luxury rarely offered anymore (although I know not very green of me to say).
Breakfasts were wonderful here. Breakfast is served in La Cuisine which becomes Matsuhisa at night or in Le Grand Salon but it is worth it to have a full breakfast in La Cuisine just once and enjoy the buffet or stand-alone Eric Kayser baked goods.

The light switches in the room were way too challenging to figure out, particularly in the brightly lit bathroom.  While the bathroom is glamorous, the combination of floor-to-ceiling mirrors on all four walls and bright lights can be a bit harsh if you are over, say, 30 years old or indulged in a bit too many pastries or du Vin the night before.
Rachel didn't like that they took the Pierre Hermes macarons away after two days (she was savoring to eat them, stale or not).

Don't Miss
Skip

A visit to the spa and a swim in the pool (to work off all those croissants). Even the fitness center, with separate pilates and yoga rooms, are beautiful.
A peek inside the La Fumée Rouge, even if you are not a cigar smoker. Yes, cigar lounges are very much alive and well in Europe. You push a button and two large sliding doors open to a decadent, bordello-style room bathed in red. It seriously intrigued me.
A chance to dine at either of the two restaurants: Nobu's Matsuhisa for sushi or Michelin-star Il Carpaccio for Italian (bringing the Italian Riviera to you). 

Check out a flick in the 99-seat cinema.

Saturday and Sunday buffet brunch at La Cuisine is supposed to be insane. If you are not there over the weekend, make sure to at least grab a Pierre Hermés croissant.

Out and about:

The digital museum, Atelier des Lumières, just opened two weeks prior to our visit. It is an insane sensory experience and worth visiting (buy tickets online for a viewing). Currently, the works of Gustave Klimt are being shown. Prepare to wait in line a bit, even with tickets, but once you are inside you can sit on the floor and soak it all in. Unique and fun.

The new Café Lou Lou in Musée Des Arts Décoratifs. The setting is beautiful, people watching great and the food is delicious (Michelin star). Book ahead for lunch and enjoy the views of the Louvre gardens inside or out on the terrace (inside is better).  Visit the shops in the Palais Royal (the golden rectangle) after. If you like red meat, definitely check out the wonderful new Clover Grill (from the same people behind Experimental Cocktail Bar).

The cultish French clothing brand, Sézane (now online and with an outpost in Soho) in the 2nd arrondissement. A new collection is released each month and there is always a line out front but it moves pretty fast. The store has a well-edited assortment of shoes, home goods, jewelry, and books. Everything is made in France and at great prices.

Sezane

Still going strong and always great: concept store Merci, Bon Marché for the food halls and just great shopping, Daroco (amazing truffle pizza and focaccia in the former Jean Paul Gauthier showroom. Get a cocktail at the sneaky bar in back before you sit down), the quirky Caffé Stern in the 18th-century passage for the best coffee in Paris and any of the Frenchie's (Bar a Vin, Frenchies To Go, and Frenchies original restaurant) – all on the same block, Rue Du Nil. Tip: breakfasts at Frenchies To Go is a definite must try.

For those with a sweet tooth: Make stops at the mouth-watering pâtisserie of Gerard Mulot on the Left Bank, French boulangerie Poilâne on Rue du Cherche Midi for amazing baguettes and turnovers, the atmospheric Belgian pâtisserie Meert for its thin crisp wafer cookies and Chocolaterie Bonnat near the hotel on Faubourg St. Honoré for chocolates.

For some fun, we checked out the 1-hour show 'How to Become Parisian in 1 Hour' which is a 1-man comedy show performed by Olivier Giraud in English. Fun entertainment to check out and walk to Daroco for dinner after.

Rooms to Get
Tips

Royal Monceau has 85 rooms, 64 suites and three Presidential Suites. The Presidential Suites, set over 5 floors, are like residences with private entries with their own hammam, gym, home cinema. Even a private chef and trainer.
All the rooms here are beautiful but it is worth upgrading to a suite here. Truly beautiful and spacious (we love ours – #700).

Download the G7 iphone app to order taxis before you leave for Paris. It was a total game-changer for evening transportation. Uber works too but G7 much better.
Fly in and out of Orly airport if you can. Much more pleasant and quick.
Le Royal Monceau Raffles Paris
When you book your stay at Raffles Royal Monceau with Inviato, you receive: 
 Upgrade at time of booking, subject to availability
 Complimentary buffet breakfast daily for up to two in-room guests in La Cuisine Restaurant
 Guaranteed late check-out until 4 PM
 $100 USD equivalent Food & Beverage credit
 Complimentary round trip airport transfers for all bookings for Lifestyle Suites and above.
 Early check-in/late check-out, subject to availability
 Complimentary Wi-Fi
Book This Hotel
Why book Virtuoso?
Personalized travel assistance
24/7 online booking
Special rates & exclusive offers
Guaranteed Room upgrade*
Complimentary full American breakfast
Early check-in, Late check-out*
Exclusive on-site amenities (varies by hotel)
* based on availability on time of arrival
Related Reviews