I am definitively a Left Bank lady. Since I was a college student doing a semester abroad at the Sorbonne in Paris (eons ago), I have always felt most comfortable navigating the quaint streets of St. Germain than any other arrondissement. Like an old favorite sweater, St. Germain just feels comfortable.  Each time I return, I love to just stroll around revisiting favorite boutiques, bistros and parks (some sadly gone, others exactly as they were) and discovering new ones.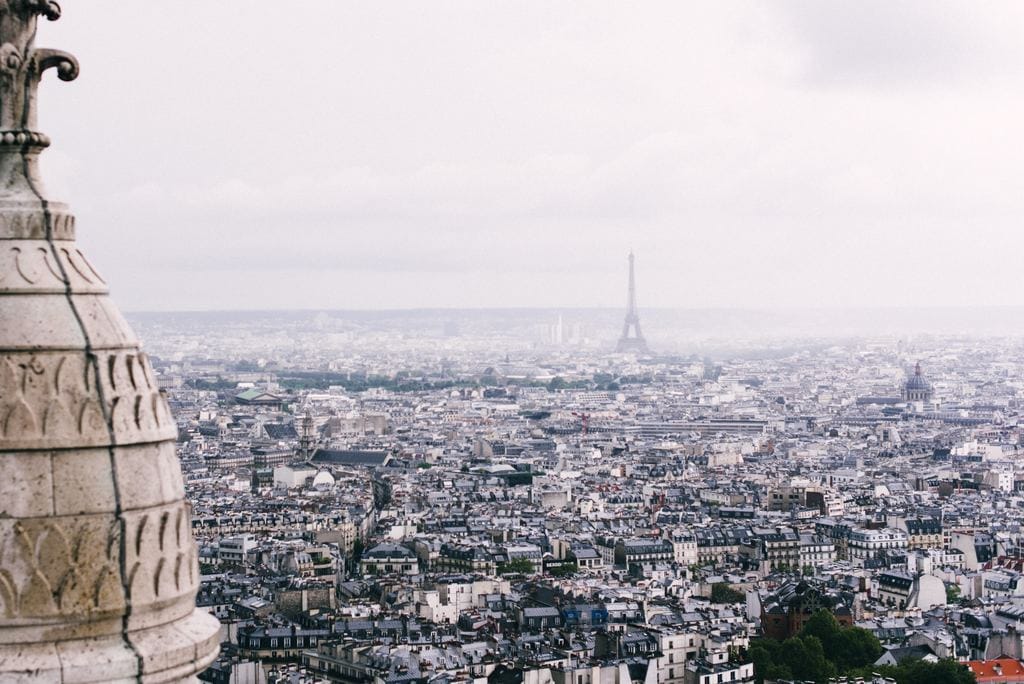 Every once in a while, I am tempted to stay in a new locale such as the hip Marais or chic Faubourg St. Honoré. But then, I always change my mind.  I prefer to stay in the neighborhood that feels like a home away from home, even though the challenge of finding a place with larger than post-card stamp accommodations has often left me frustrated.
The last time I was in Paris with my 10-year old daughter (see an older post Paris with a Tween) and strolling around, I passed by the quiet street of Rue du Pre aux Clercs and a beautiful flower-adorned facade of a hotel I had never seen before. I took a picture (below) for future note.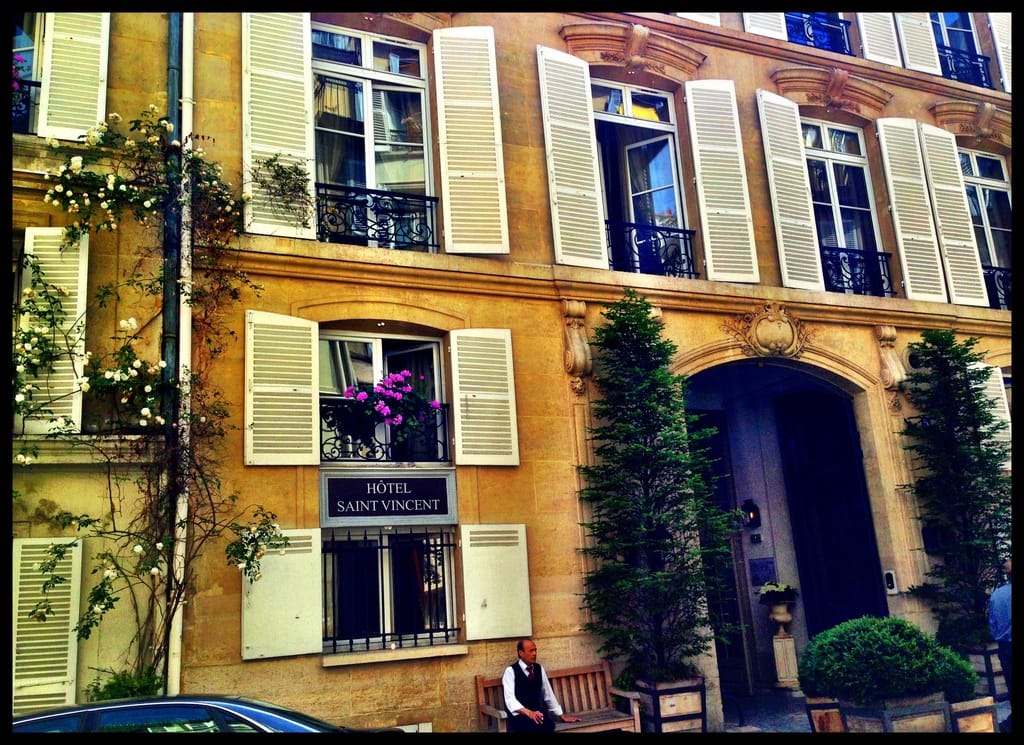 I was pleasantly surprised to read sometime last year that the owner, Bertrand Plasmans, had also purchased the two adjoining hotels on both sides and merged the three entities as one address, Hôtel Le Saint, in January 2016. The timing was perfect to check out this 'old/new' address out as I planned a long weekend in Paris with my younger daughter for a repeat mommy-daughter trip.
The Saint identifies itself as an intimate property of 54 rooms and suites decorated in the style of an elegant Parisian family home. Bertrand Plasmas, also the decorator and director who lives in St. Germain, has painstakingly chosen every fabric, antique and furniture for Le Saint, most from neighborhood merchants. As such, the hotel embraces a very distinct Left Bank personality welcoming to travelers and locals alike.
Spanning from the corner of Rue de l'Université to the middle of Rue du Pré aux Clercs, there is no denying from the outside that this is a beautiful hotel. The flowers adorning the windows are even more abundant than when I passed by last time, along with the classic shutters flanking the tall French windows to all the rooms. A few small tables are now positioned outside for those who want to enjoy a cafe or cocktail during good weather.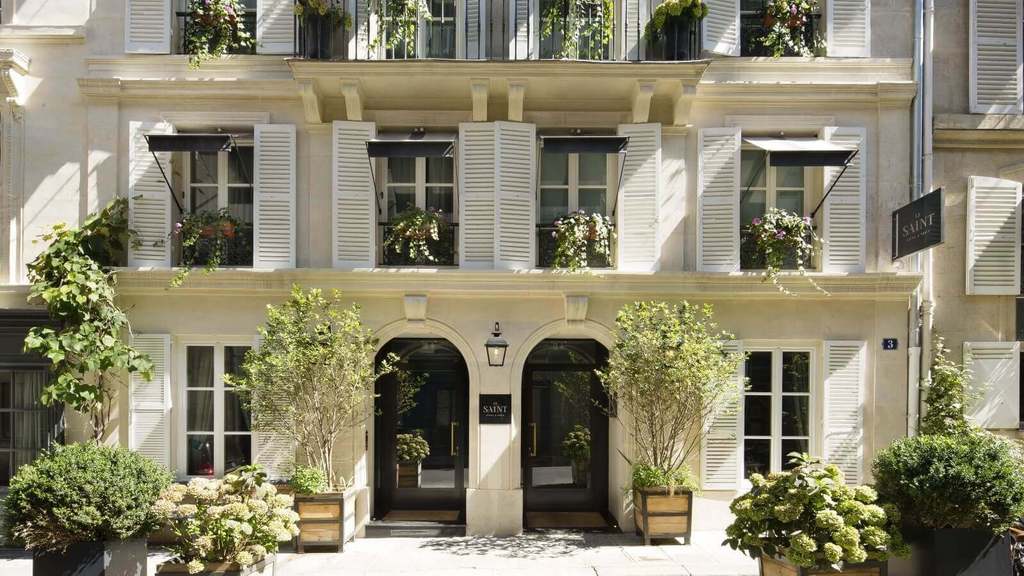 Internally, Le Saint did not disappoint. Even though it is now operating as one hotel, you can still see the distinction of the former three hotels which in my view lends to its charm. On the corner (the former Lenox Hotel) is the jewel-toned Kult restaurant and lounge, while on the other end is a more Provencal-style lobby with a grand limestone fireplace (I imagine it is a perfect place to lounge on a cold winter day). Flanking the two ends is the small but welcoming reception desk.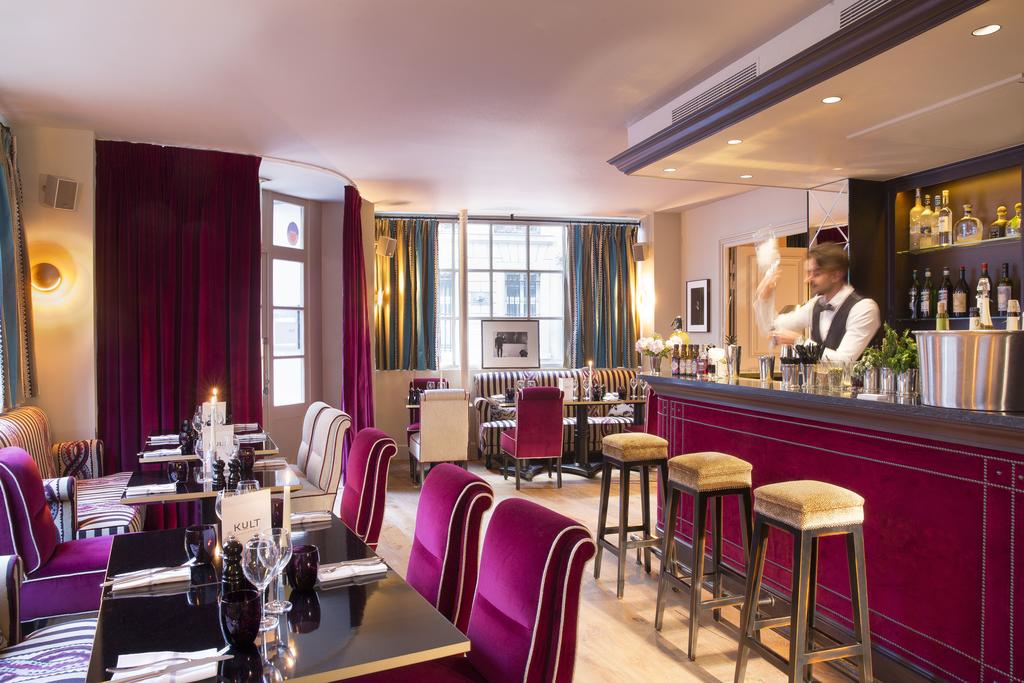 If Monsieur Plasmans sought to achieve this as a distinctive hotel in style of an elegant family home, he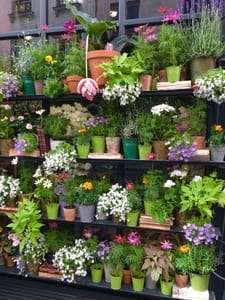 succeeded. If you are more into modern and trendy hotels, you won't like it here. But if you want a place that is authentic, freshly renovated top to bottom with a sharp attention to detail, Le Saint deserves a look.
From old-style room keys (no electronic cards here), fresh flowers in your room (you can pick your own in the lobby or they will create a bouquet for you) to the hand-selected fabrics, materials and fixtures, you are in old-world Paris. But don't confuse old world to mean outdated. When the hotels were combined, a complete overhaul and neo 19th century renovation ensures guests of all the modern conveniences they could want.
LOCATION
I could not imagine a more ideal base to be with all my favorite haunts no more than a 10 minute walk away (see a list of them below and in our Paris City Guide). Le Saint is conveniently situated a few minutes walk from Boulevard St. Germain (and equi-distant to two metro stations – St. Germain, Rue du Bac) and the Luxembourg Gardens on one side, the Seine and the Louvre/Tuileries directly across from it, and Musee D'Orsay to its left. A local neighborhood map created exclusively for Le Saint guests came in extra handy with some great new places I would never had otherwise known about.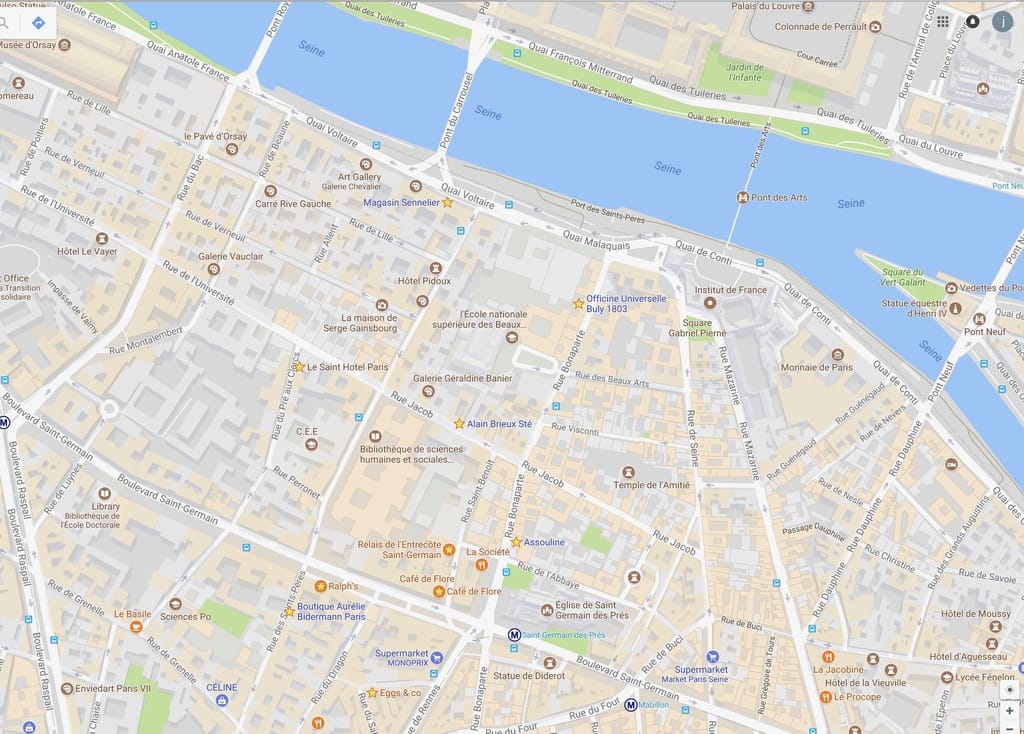 Complimentary bikes at the front of the hotel make it easy for guests to explore further on their own. And while there is a small fitness center in the hotel, I would eschew it for a scenic jog along the Seine. For any of you with a teen, a new Golden Goose store is just around the corner (embrace or avoid). While the hotel is in the heart of St. Germain, it is on a very quiet street. After a long day enduring crowds, I welcomed the serenity of this sanctuary with open arms.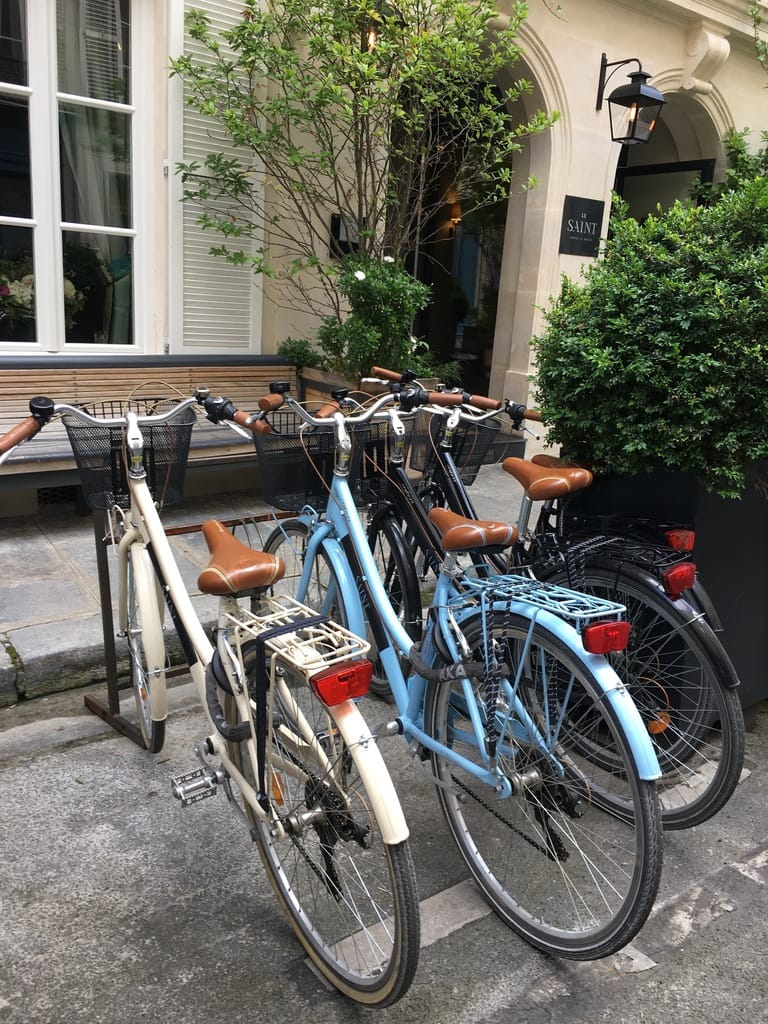 CLIENTELE
During our stay in June, the hotel was completely full with a nice mix of guests. While many were Americans (couples and families), we met a few locals who regularly came by Kult for breakfast or coffee. There were also some very stylishly dressed guests staying there for Men's Fashion Week.
STAFF
The staff couldn't be more hospitable and were refreshingly gracious and friendly during our stay. My husband was committed to finding a place to play tennis with a pro, no easy feat to find in Paris where the  few tennis clubs around are private. The staff met to the challenge who found us a terrific pro and court time in Luxembourg Gardens (who knew!). Best, I had a very happy husband.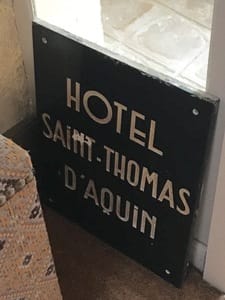 We had the opportunity to meet the amiable owner during our stay who often can be found greeting guests and making sure everything is in its perfect place. Monsieur Plasmas takes great pride in his hotel, deservedly so, and happy to give guests a bit of history behind the hotels as well as local neighborhood tips.
The Rooms
There are 54 rooms throughout the five-floor hotel – one suite with a private terrace, 10 junior suites and 43 rooms. The 43 rooms are distinguished in size as Classic (most interior courtyard rooms), Prestige and Superior. About half of the rooms have wood floors, while others are carpeted so if you have a preference, ask ahead of time.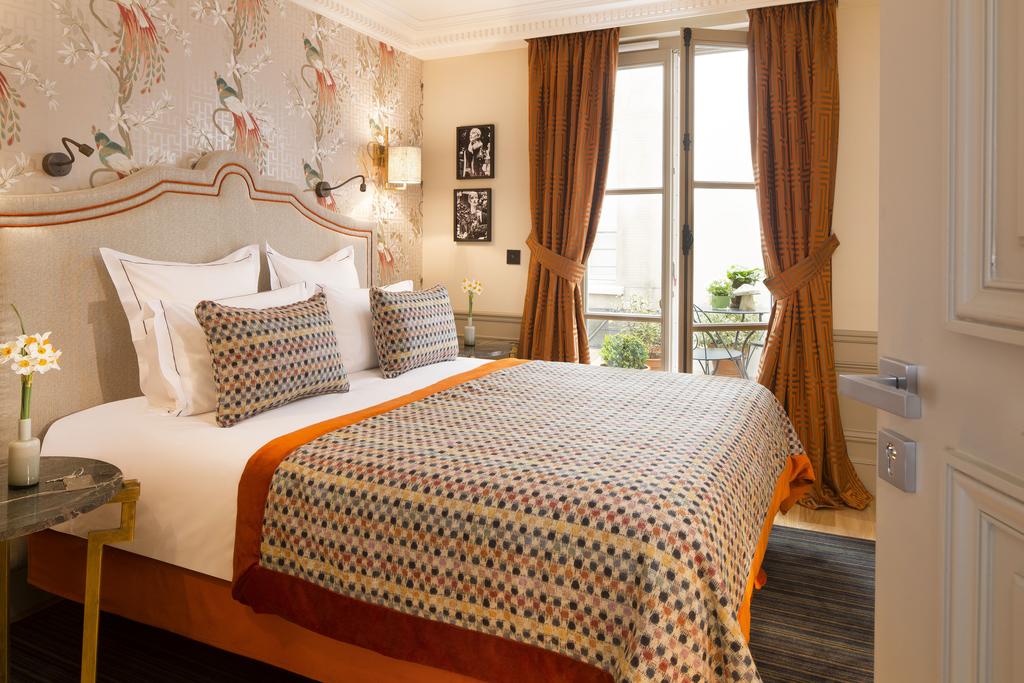 While it is one hotel now, there are still three elevator banks accessing guest rooms. The first section (rooms beginning with 1-4), formerly the Hotel Lenox, is closest to Rue de l'Université.  The second section (what was Hotel St. Vincent) is accessed through the middle elevator (rooms beginning 5-7). The third section (rooms beginning with 8-12) is the former Hotel St. Thomas Aquin which has a Provencal-style sitting area with fireplace. These are the more traditional style rooms for guests who prefer a more traditional style. Unlike the other two sections, less physical construction was done here during renovations so rooms tend to be smaller than the other sections.
I stayed in the 1st section in a Junior Suite #304 which I requested based upon a photo I had seen on Instagram. Just as depicted in the photo, our suite was beautiful with large windows looking over the Rue du Pre-aux-Clercs, plenty of space (Although we were three and the suite accommodated a small cot, I would recommend it for two people) with a separate water closet from the bathroom. The bathroom, tiled attractively in a gray marble, was modern and light (thanks to a full window) although a bit smaller than some of the other baths I saw in other Junior Suites.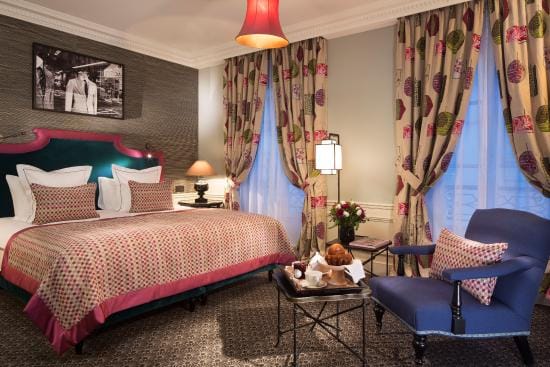 I had the opportunity to visit a few other rooms in the other categories. Some rooms have lower ceilings than others (particularly on the first floor or the top floor)and vary in size. The Junior Suites are my personal favorites, especially the corner suites, as they are the most spacious. For families, I recommend the Junior Suite combination #302 or #402 (corner suite) connecting to #303 or #404. These are the brightest rooms and have particularly spacious baths.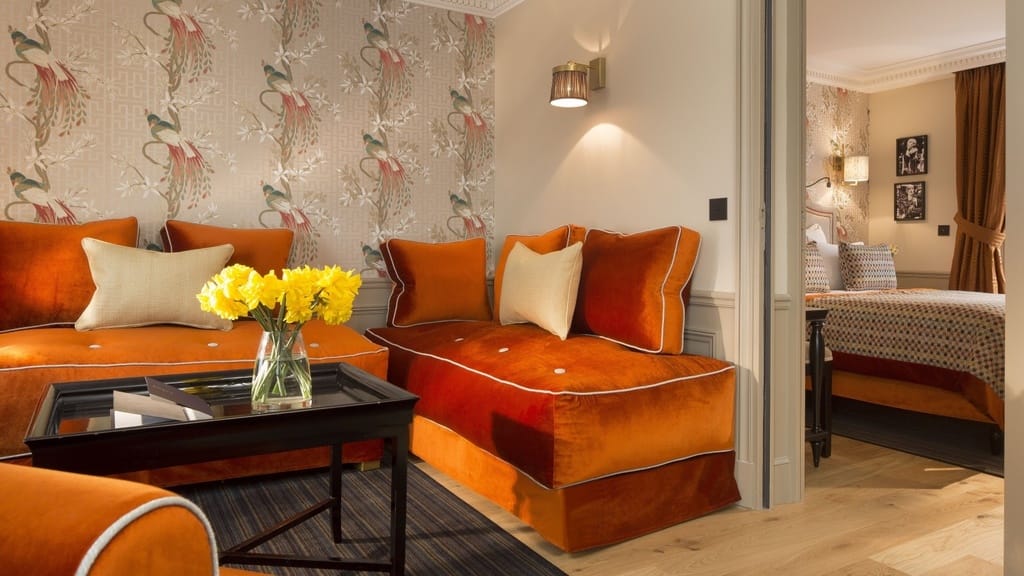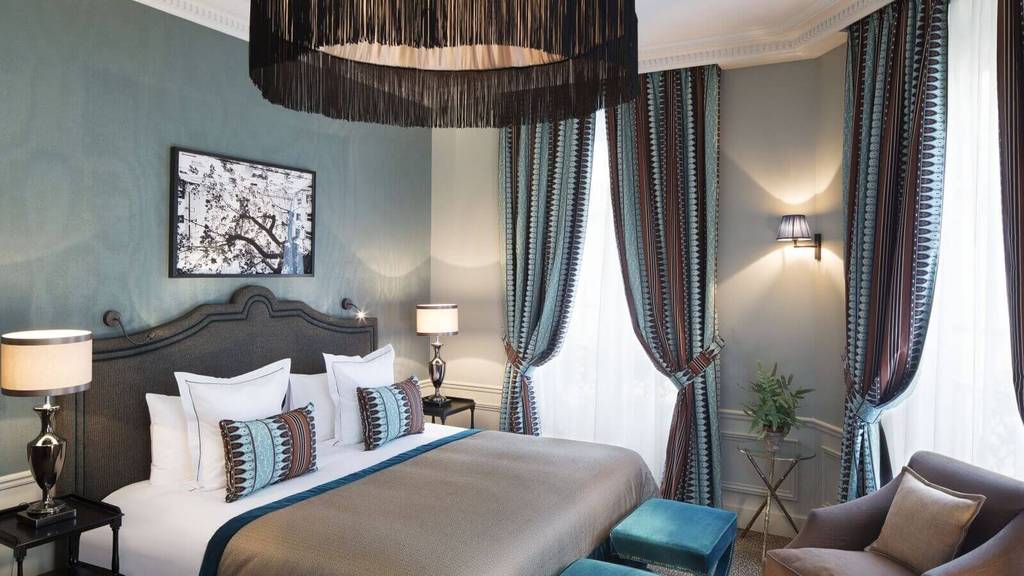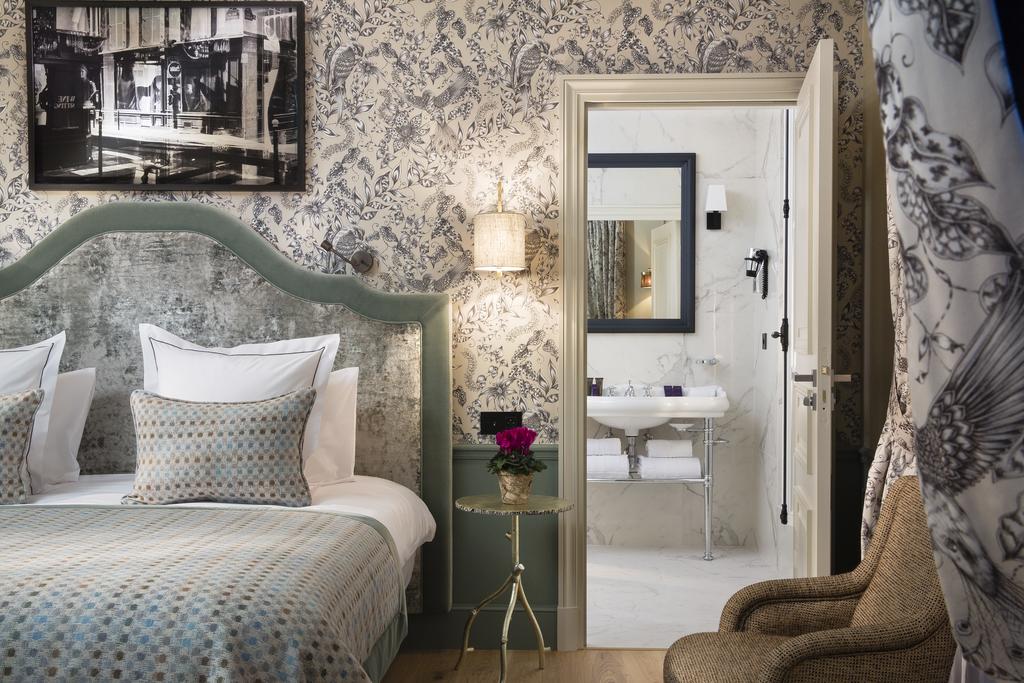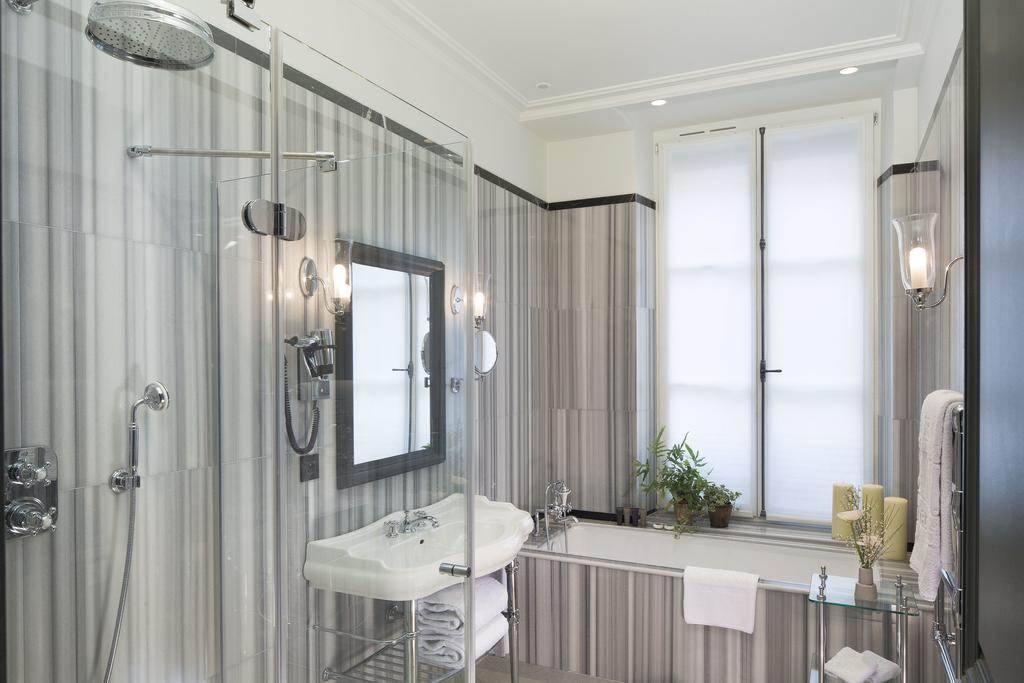 The owner personally supervised the renovation of all the  rooms (I am told he presided over every fabric, paint color and hardware choice). All are decorated in a universal Parisian style but in six different ambiances – blending varying combinations of Japanese, English and neoclassical. Beautiful black and white prints by photographer and artist Pierre-Elie de Pibrac commissioned for Le Saint give many of the rooms a whimsical modern touch, as it did ours.
The Junior Suites are refreshingly spacious for left bank standards. I particularly appreciated the fresh cut flowers and daily local handmade chocolates on our bedside.
THE RESTAURANT
Open daily from 7 am to 1 am, the stylish and attractive Kult serves as Le Saint's onsite restaurant, cafe and bar. Breakfast, which was included in our rate, comprised a small but delicious buffet of hot and cold items as well as anything you would like to order off the menu. I also liked coming here at the end of the day for a cocktail.
A hammam, small exercise room and treatment room are offered in the basement but this is not the focus of the hotel. Best to walk or jog along the Seine, which is so close by. Or better yet, borrow one of the complimentary bikes conveniently place at the entrance of the hotel, a popular choice among guests!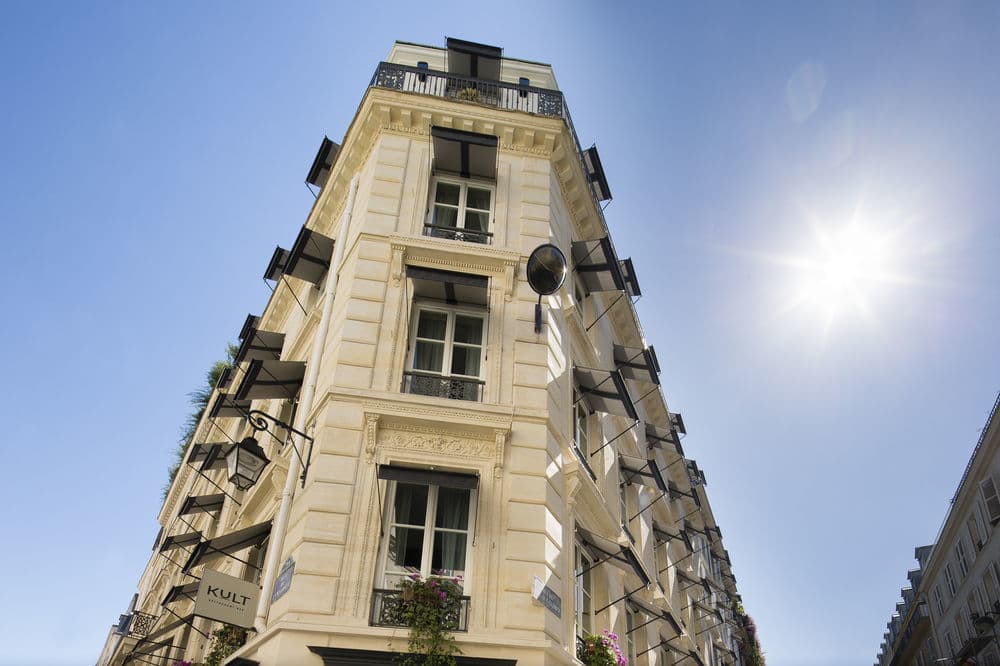 Revisiting some favorite Paris haunts and discovering new ones
Although our visit to paris was for a brief three nights, it was enough time to revisit some of my favorite spots. Chez Julien, still pretty as ever with some of the best people -watching, was a disappointment this time. Short-staffed and packed (more tables are outside now than inside during good weather), the service was awful.  I would still go back and give it a try, but not on a Saturday night.  Relais d'Entrecôte, around corner from hotel on 20 Rue Saint-Benoit, serves a good steak frites experience although I am sure there are better, it is convenient, quick and always a hit with the kids. Cafe Marly, inside the courtyard of the Louvre, is still one of my favorites for breakfast or lunch (request a table on the patio overlooking Pyramid). Sushi is he menu! Breizh, a Marais stronghold for crepes, is still going strong and rezzies are a must. It's a perfect stop for lunch before battling the crowds in the Marais.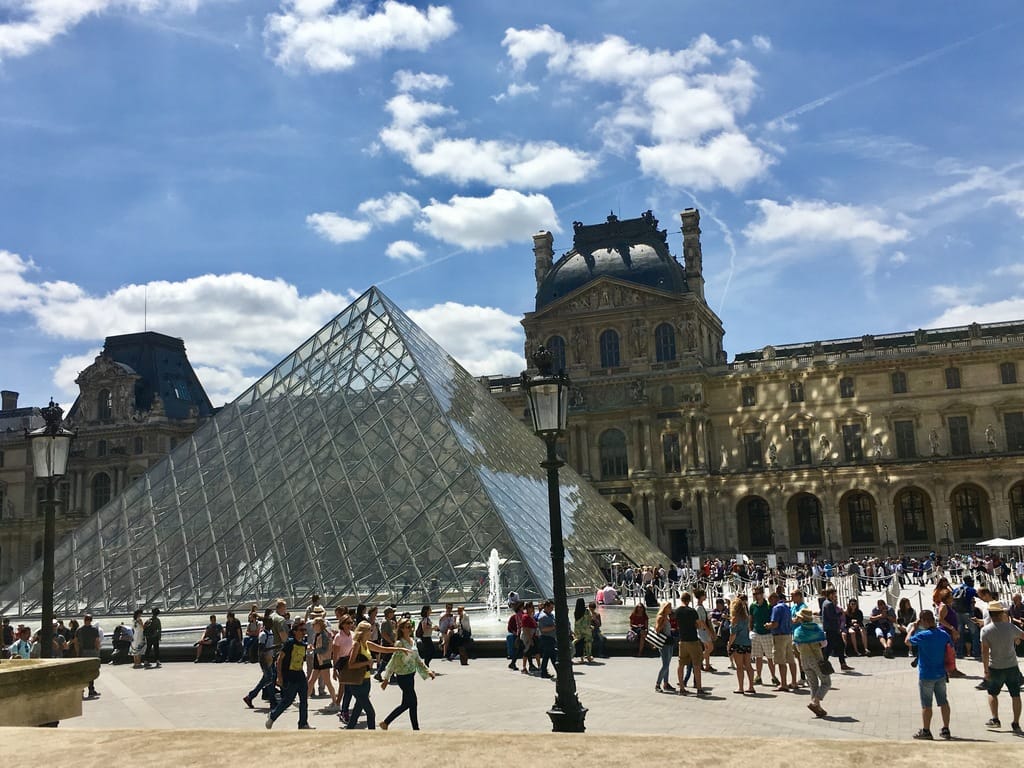 We also discovered two new spots we loved. Daroco, a new trattoria in the former Jean Paul Gauthier boutique, serves amazing focaccia and truffle pizza. Eggs & Co, not far from the hotel, is a great spot to know when you are craving a classic American breakfast. Walk in only, go around 10 am to avoid waiting in a  queue.
Aside from food: The newly opened (update: unfortunately now closed) Le Grand Musée de Parfum, housed in a 19th-century mansion across from the Bristol on 73 Rue Faubourg, just opened in December . It's a unique and wonderful sensory experience over three floors that was a nice alternative to traditional museums. Even my husband, essentially dragged there, approved. Merci, the concept store on 111 Boulevard Beaumarchais, never disappoints. I always stop by Jamin Peutsch to check out their creative, hand-made bags and never leave empty handed.
For any first timer new to Paris, Bateaux Vedettes, which departs hourly from the Pont Neuf,  is still my favorite way to go to show off the city. Get a ticket in advance and go for 10:15 p.m. cruise to make sure you are perfectly situated in front of the Eiffel Tower when it starts sparkling. It's a sight to behold that never gets old.
But for the most part, I am happiest with no particular itinerary and can aimlessly walk through the streets of the Left Bank. A special map created for Le Saint guests (available at the front desk) of 60 unique spots in the St. Germain kept us intrigued. We found some really cool places we would never have discovered such as Magasin Sennelier (a tiny store providing art supplies since 1887 on 3 Quai Voltaire), Buly 1803 (a gorgeous 1803 pharmacy providing all sorts of special body care products in beautiful packages on 6 Rue Bonaparte) and Librairie Alain Brieux on 48 Rue Jacob that would fit right in a Harry Potter film with all sorts of potions, books and artifacts.
Many people have asked me if we felt safe while we were in Paris. With recent terrorism incidents in London and Paris, it is understandable to be a bit nervous. We couldn't have felt more safe during our visit. The weather was beautiful and it seemed like everyone was out on banks of Seine. The restaurants were full. We hung out late, in a large crowd,  at night watching street performers in front of Notre Dame. While admittedly I kept my family close and was a little on edge, it dissipated quickly. People were enjoying themselves, as they should, in the City of Lights.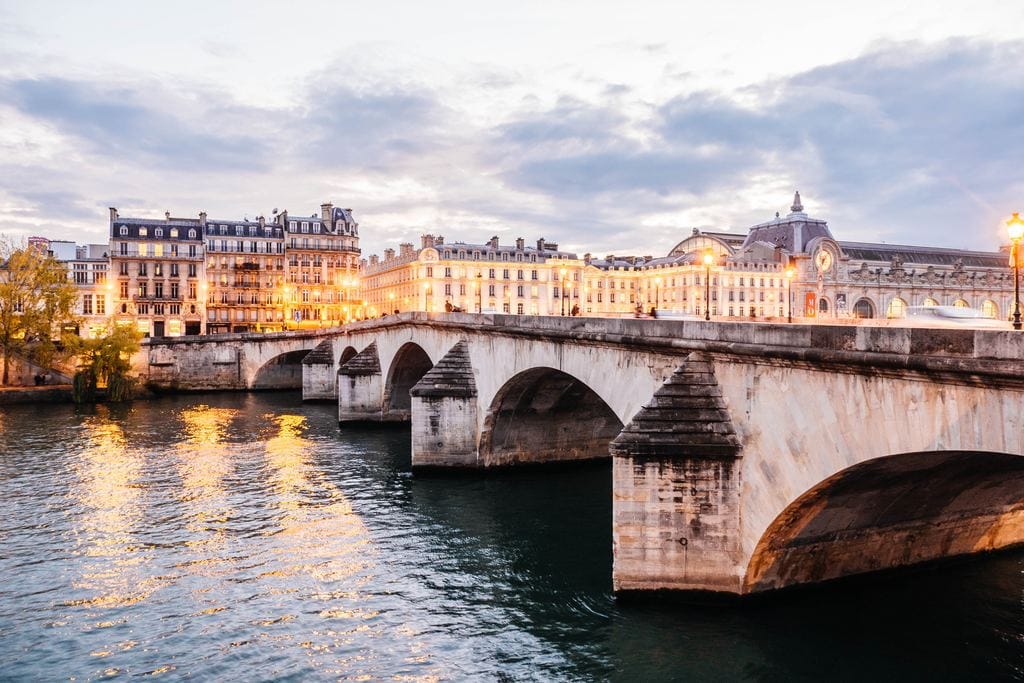 Loved
Didn't Love

Location, location, location! Tucked between Boulevard St. Germain and the Seine on a quiet street, Le Saint couldn't be more perfect a location. Musee D'Orsay is only a few feet away as is the Louvre directly across the Seine. All our favorite boutiques and bistros were within a few minute's walk. Two nearby Metro spots are conveniently close by to choose from.
Character. Once three independent hotels, the combined Le Saint hotel retains the unique personalities of each of the three original hotels yet works seamlessly as one residence. Parisian left-bank chic.
Rooms. By left-bank standards, most rooms and bathrooms are spacious with generous closet space, lots of light and attractively decorated with all modern conveniences thanks to the recent renovation. See our tips below, for our recommendations.
Service was gracious and warm.

Complimentary bikes for guests is a wonderful amenity but there are too few. Most were taken during our stay. I would have loved to try them out.
The small gym was dark and tucked away in the basement – felt like an afterthought.

Don't Miss
Skip

At the concierge desk, a curated special map for guests of Le Saint of special places to visit is worth purchasing for 5 Euros. We visited many of the places, many we never knew about, that were real unique finds.
The floral display in the lobby. Pick your own bouquet for your room.

Rooms to Get
Tips

The 1 suite with terrace and the Junior Suites offer the most space. We preferred the accommodations in the section of rooms 1-4, closest to Rue de l'Université but its a matter of taste. If you prefer more traditional rooms, rooms beginning 8-12 will be ideal.
Floors 2-4 offer the highest ceiling heights.
The corner Junior suites (02) offer the most light, have large windows and spacious bathrooms.
For families, the room combinations 02/03 are ideal.
If you have a preference for wood or carpeted floors, request at the time of booking.

We found Uber to be very convenient, responsive and in many cases less expensive than the Metro.
It was our first time taking the Eurostar train to London. So easy and convenient. Give time through security. It is worth going Business class if available (it sells out fast).
We found some of our favorite places (Zef, Colette) closed or not as good as recent experiences (Chez Julien). The Marais, in some areas, has become a little like Les Halles – too crowded with mass brand stores. Stay on the small side streets.
Why book Virtuoso?
Personalized travel assistance
24/7 online booking
Special rates & exclusive offers
Guaranteed Room upgrade*
Complimentary full American breakfast
Early check-in, Late check-out*
Exclusive on-site amenities (varies by hotel)
* based on availability on time of arrival