Chewton Glen. That was the first place that came to my mind last July when seeking a weekend retreat in the countryside with my daughter after a few days in Amsterdam and before our departure from London. The Southampton airport in New Forest, where Chewton Glen is located, is just a short 35-minute flight from Amsterdam.
My eyes lit up as we looked at the map: Stonehenge and Highclere Castle (known to most of us as Downton Abbey), two sights I have been longing to see, would both be easy pit stops on our way back to London. It would be like hitting an exacta bet!
This would not be my first stay at Chewton Glen, the lauded Relais & Chateaux resort which celebrated its 50th anniversary just three years ago. I visited the rambling luxury country house hotel on a rainy winter weekend many years ago while 'mystery shopping' the property for American Express' Fine Hotels and Resorts program with a fellow colleague.
Memories of my short stay at this still privately-owned hotel are quite foggy but I do remember the short walks to the sea, the lush 130-acres of lush grounds and quintessential English feel (think Wellies, high tea,  plaid jackets and wood-burning fireplaces). This is Jane Austen territory, after all. My time at Chewton made enough of an impression on me to absolutely want to return someday. And I am so glad I did with my daughter, even if it took some 20 odd years to do so.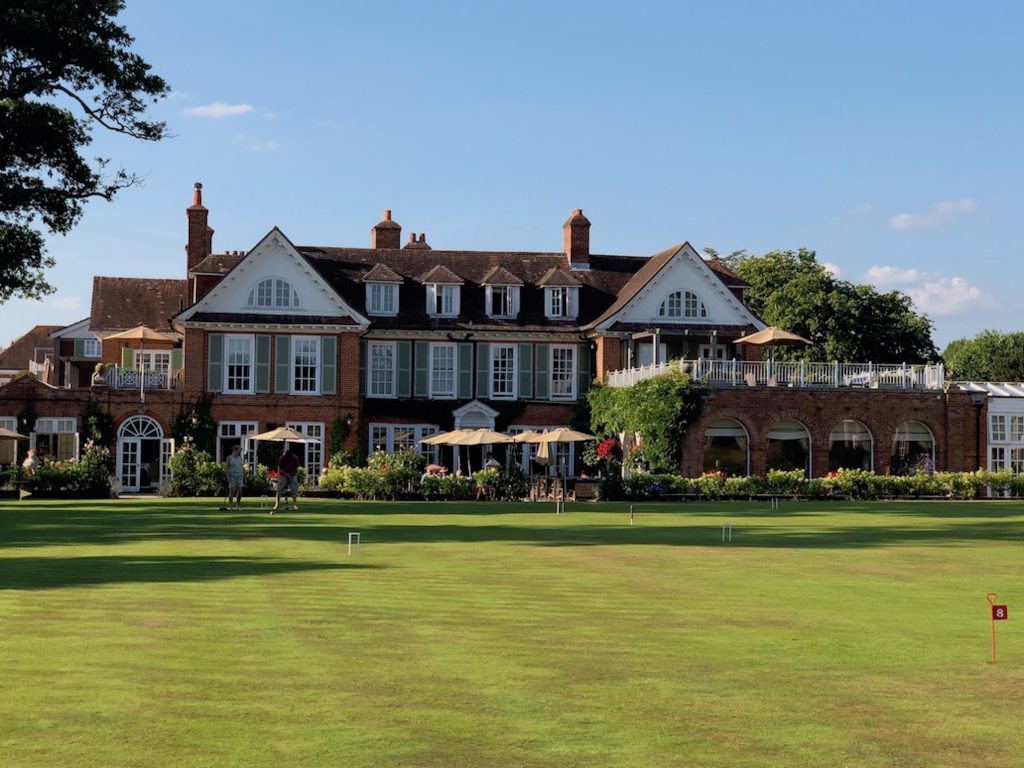 LOCATION
Chewton Glen is located in the Hampshire county where the Southern coast of England meets New Forest, a beautiful national park known for its endless meadows, forest trails and wild ponies. This area of England is not as well known to Americans as, say, the bucolic Cotswolds, where we visited just the year before, but it is just as lovely. This is, incidentally, one of the most affluent counties in England. With its many historical sights, charming towns (even one with a history of witches), miles of bike trails and coast lines, it is easy to see why the locale is such a popular weekend jaunt (as well as choice for vacation homes) for Brits.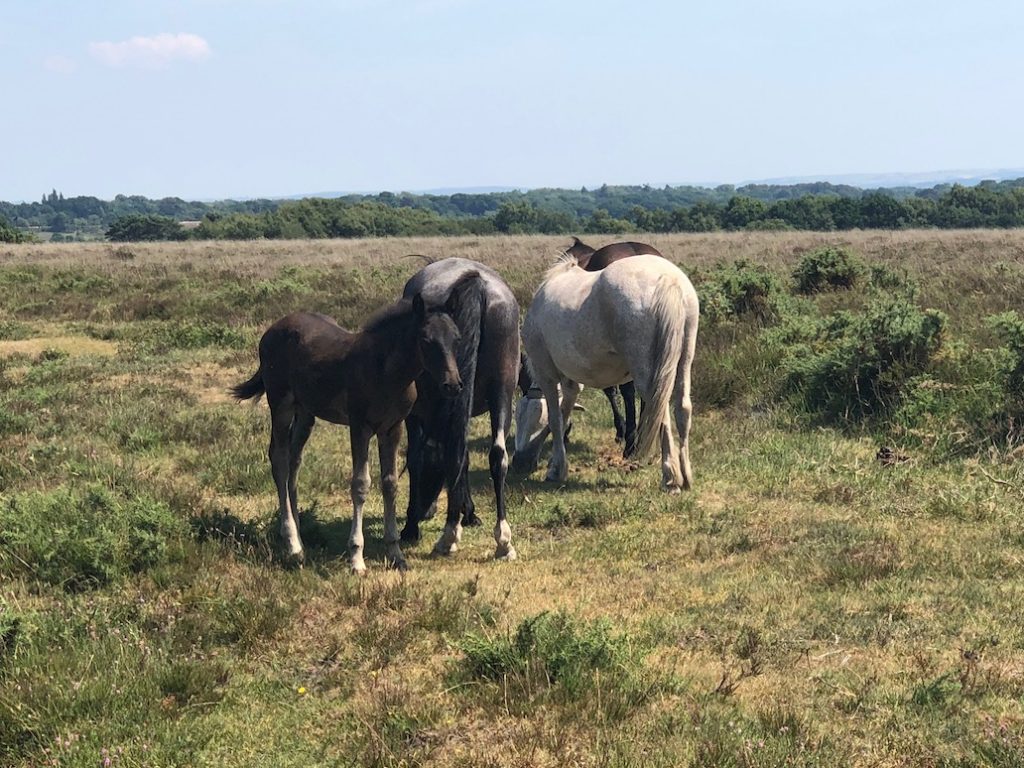 GETTING HERE
After an easy flight from Amsterdam, we had a driver from Chauffeur Drive Britain pick us up at Southhampton airport. On the way to the hotel (thirty minutes away), we stopped for a leisurely lunch at The Pig in Brockenhurst, passed wild ponies on country lanes and even checked out a real witchcraft shop (Coven of Witches was owned by 'white witch'  Sybil Leek in the 1950s after England lifted its prohibition of witchcraft) in the neighboring town of Burford.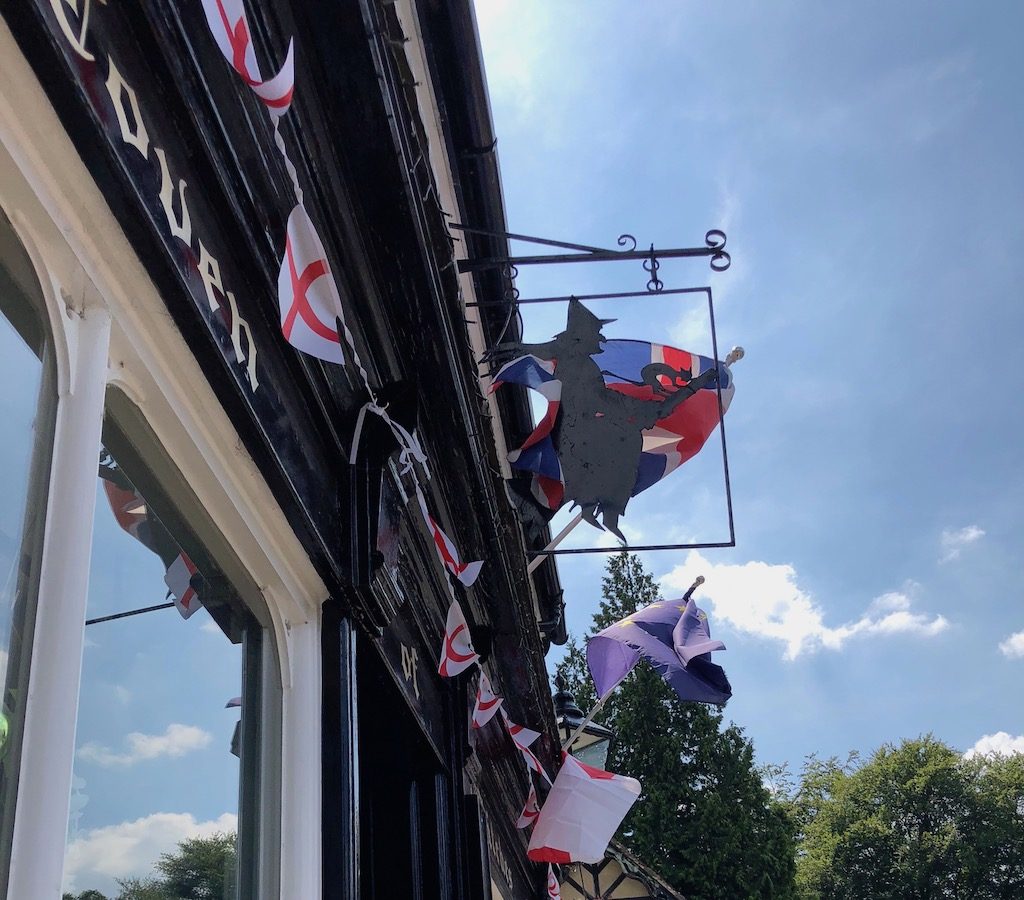 As accessible as the hotel is from Amsterdam, it is even easier to get to from London. A pleasant two hour drive to/from London makes Chewton Glen ideal for a two to three night break or more.
CHECKING IN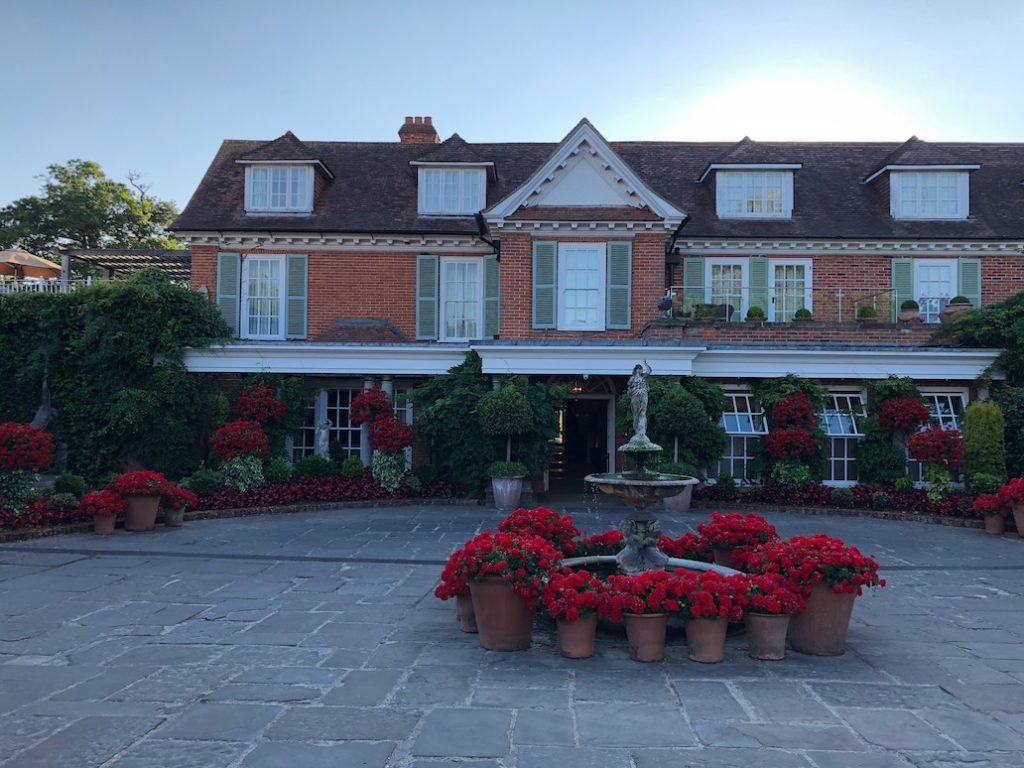 Unlike my previous visit to Chewton Glen, we arrived on a sunny day. But damn it was hot ! An unusually long heat wave had its grip over Britain and I could see its somber impact on what would be typically vibrant green countryside.
However,  the stately entrance of Chewton Glen, full of lush foliage and geraniums was there just as I remember and still just as impressive as the last time. The only major visible difference are the thirteen new treehouses built in 2012 spread out on the right side of the property. More on them later.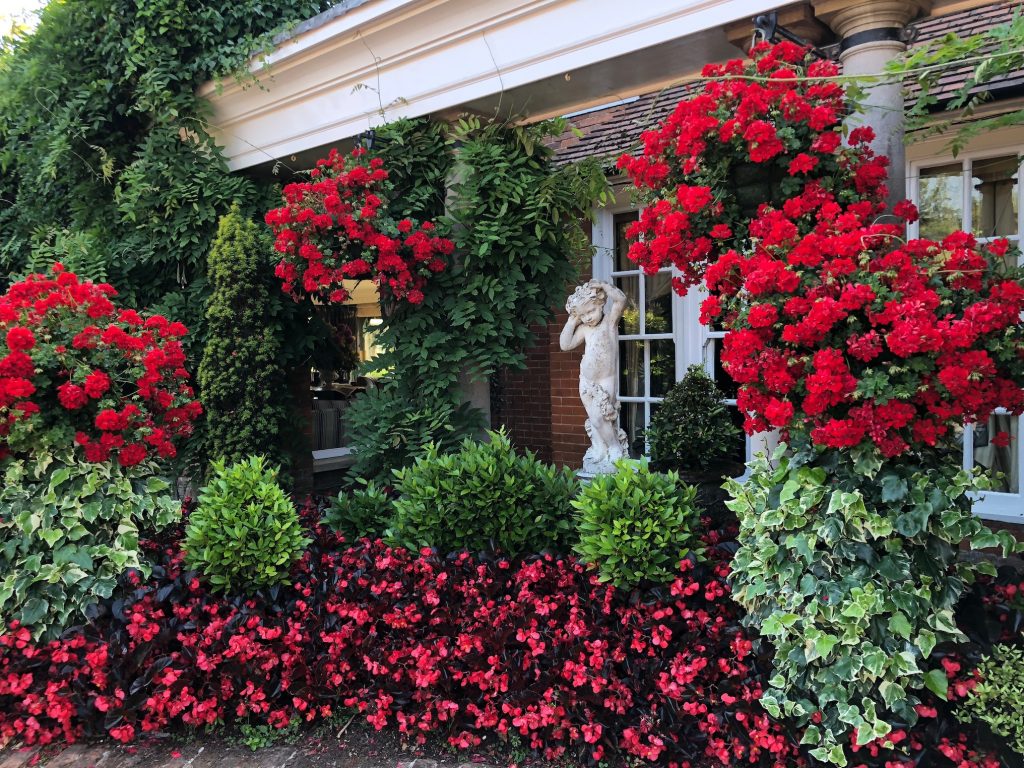 Before our arrival, I communicated with the concierge team several times to help assemble our itinerary for the weekend. They were extremely helpful with personal recommendations on places to eat, and activities to do. I was therefore a bit surprised that our experience during our stay was not as consistent.   This could have been because it was a busy weekend but I also felt the set up with the concierge staff behind the reception desk lent to this feeling, opposed to being in separate areas.
The Grounds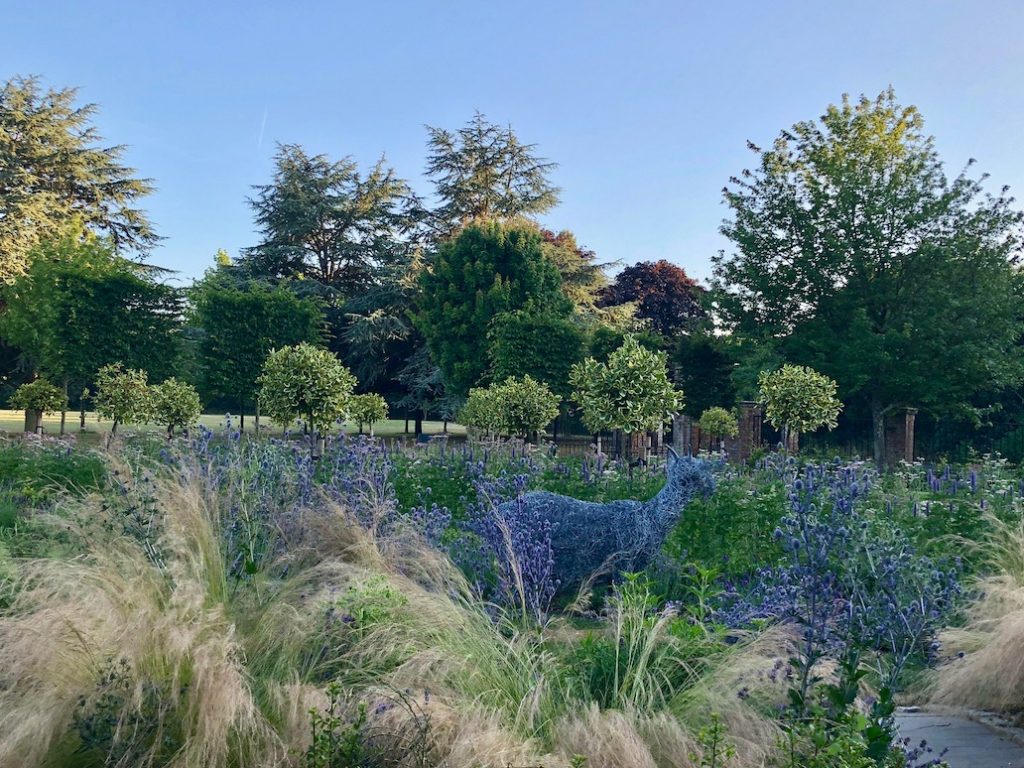 The incredible grounds deserves its own mention here as I think one of the biggest draws of Chewton Glen is its 130-acre property. In addition to the foliage and varieties of flowers, you will find orchards, meadows, gardens (which grows about everything you can think of and creates a true garden-to-fork experience), meandering paths, woods and streams. This is a place to walk and explore.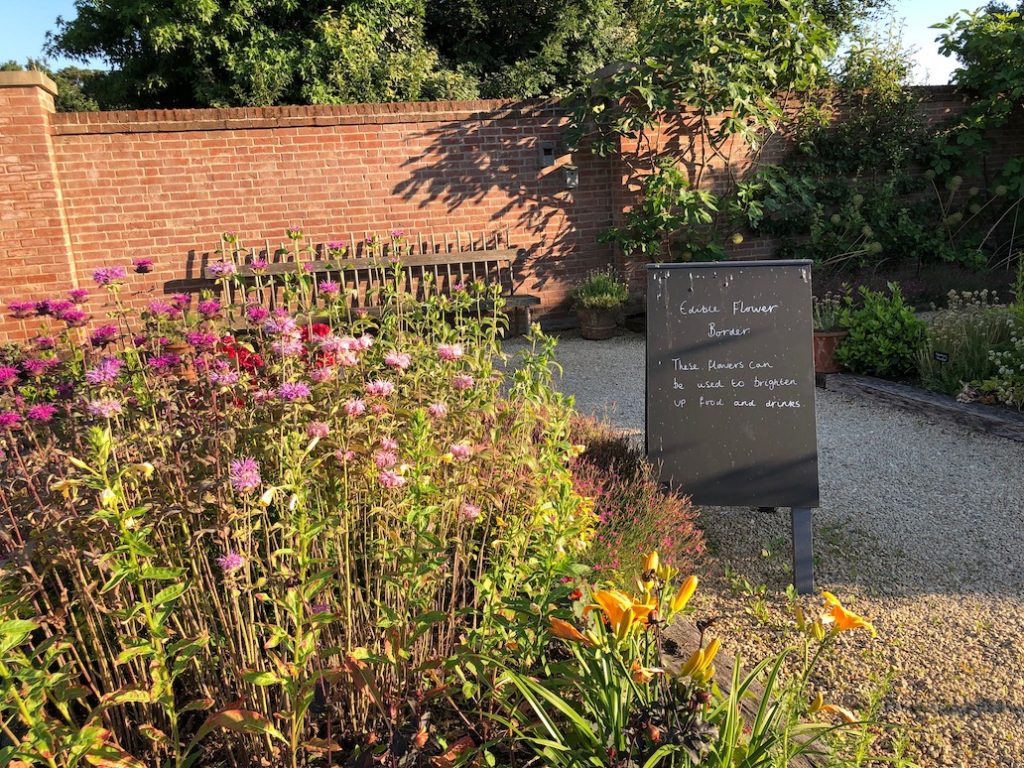 Public Spaces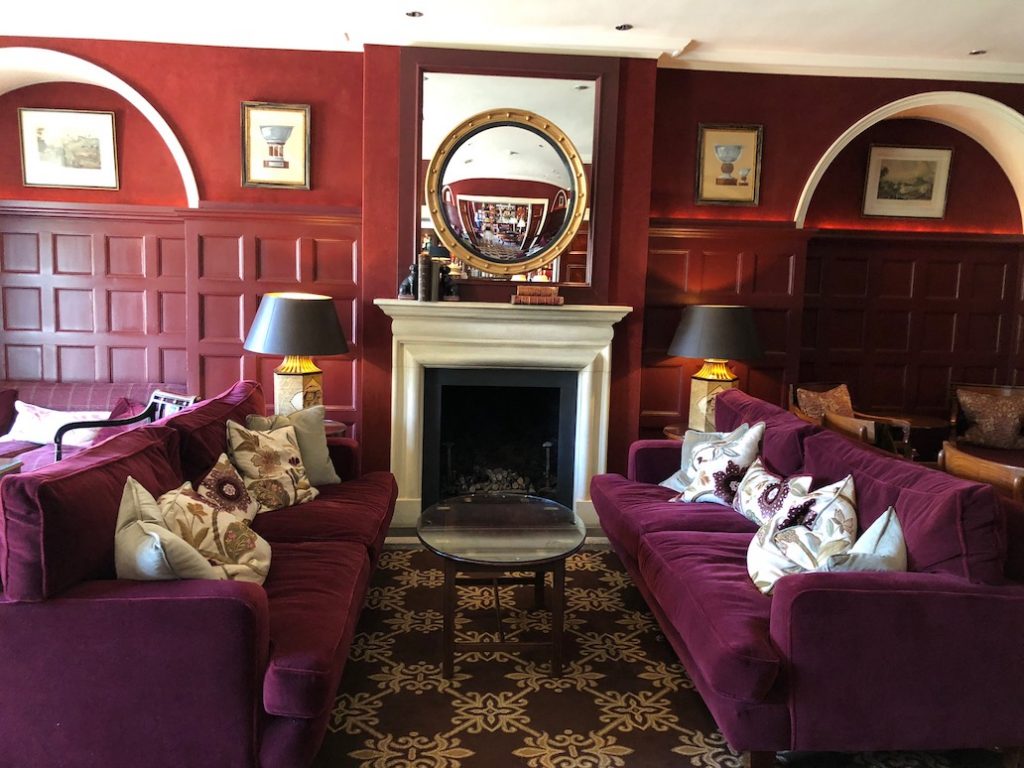 There are plenty of indoor and outdoor lounging spaces at the hotel that encourage you to relax for tea, a cocktail or a board game. The hotel's refurbishment in 2016 included a refresh of these spaces, adding a nice contemporary and vibrant touch to traditional rooms. Sleeker furniture, pops of color and other design elements have been added but not so much that it changes the essence of Chewton Glen. Many of these spaces open to the outdoors, which is ideal when you are with kids and they want to run around while you stay put with your tea (or cocktail).
During our stay, older folks generally preferred to relax in the indoor spaces while the younger hip set preferred to lounge on the outdoor terraces.
CLIENTELE
Chewton Glen attracts a well-heeled (can I say that in this day?) clientele but not surprisingly is very popular with multi-generational families here to relax due to the plentiful activities for everyone both on and off property.  This is a very popular place on a Summer weekend (especially on Sundays when families who live nearby get dressed up in their finery and come for brunch).
During our stay, most of the guests were British, from London and counties all over with children in tow.  I think we were the only Americans that weekend, which suited us just fine!  The new treehouse accommodations are especially popular with younger couples and in high demand.
SERVICE
I regret to report here that the service during our stay was a bit inconsistent. While in some areas, the service was excellent – pre-arrival, at The Kitchen and encounters with staff on the grounds, for example – other areas was disappointing.
At the outdoor pool, there was no one attending it for hours, with wet towels on most of the chaises and left-over food on the tables. Calls to reception from the room often were unanswered or rang for a long time. And at the concierge desk, when I inquired about bike availability for rentals, rather than call on our behalf I was given a number to check for ourselves which I found both surprising and irksome for someone not familiar with the area and for a hotel of this caliber.  I hope perhaps I was just on an off weekend.
RESTAURANTS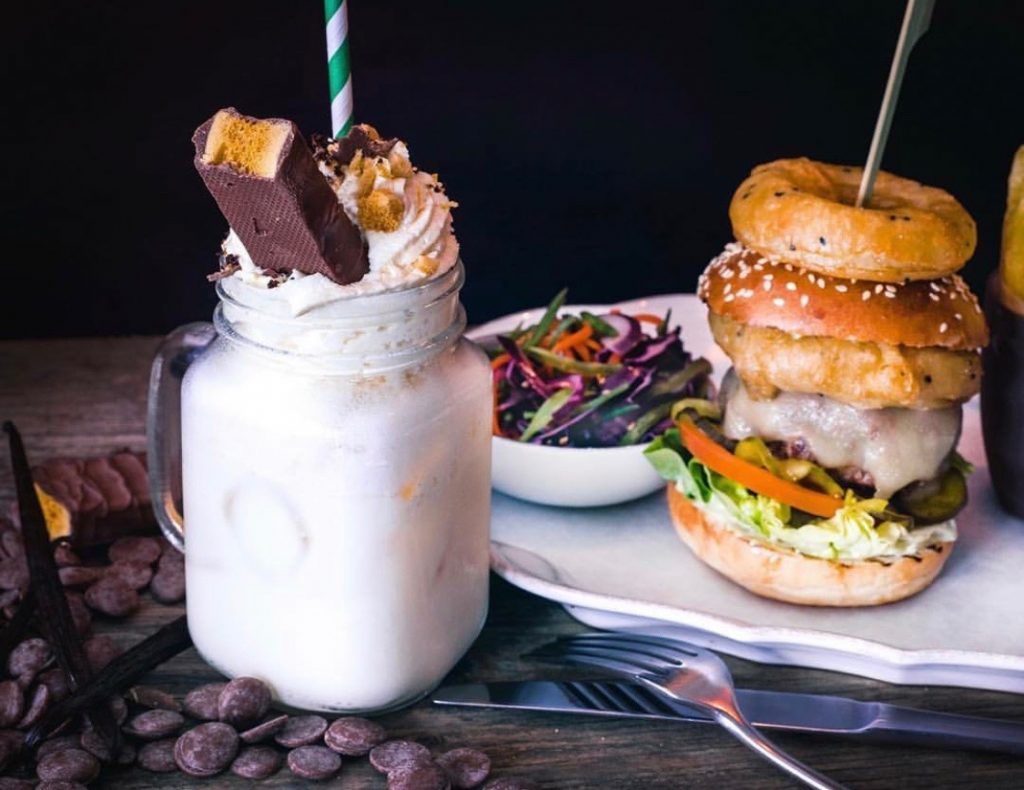 There are two main food and beverage venues at the hotel. The main restaurant at the hotel, The Dining Room, is a pretty space with lots of natural light and an adjoining outdoor patio, where it is nice to have breakfast or lunch when the weather is good.
Dinner here is a more formal affair than the other venue, The Kitchen, which opened in 2017 and is a terrific new addition to the hotel. A few minutes walk from the hotel (you can be driven as well if you are a bit lazy) through the grounds, The Kitchen has a wonderful menu of brick-oven pizzas, burgers, pastas and salads and yes shakes as pictured above…called Freakshakes. It's a thing. We loved The Kitchen so much, we canceled our plans to eat outside the hotel one night and returned here for a second night.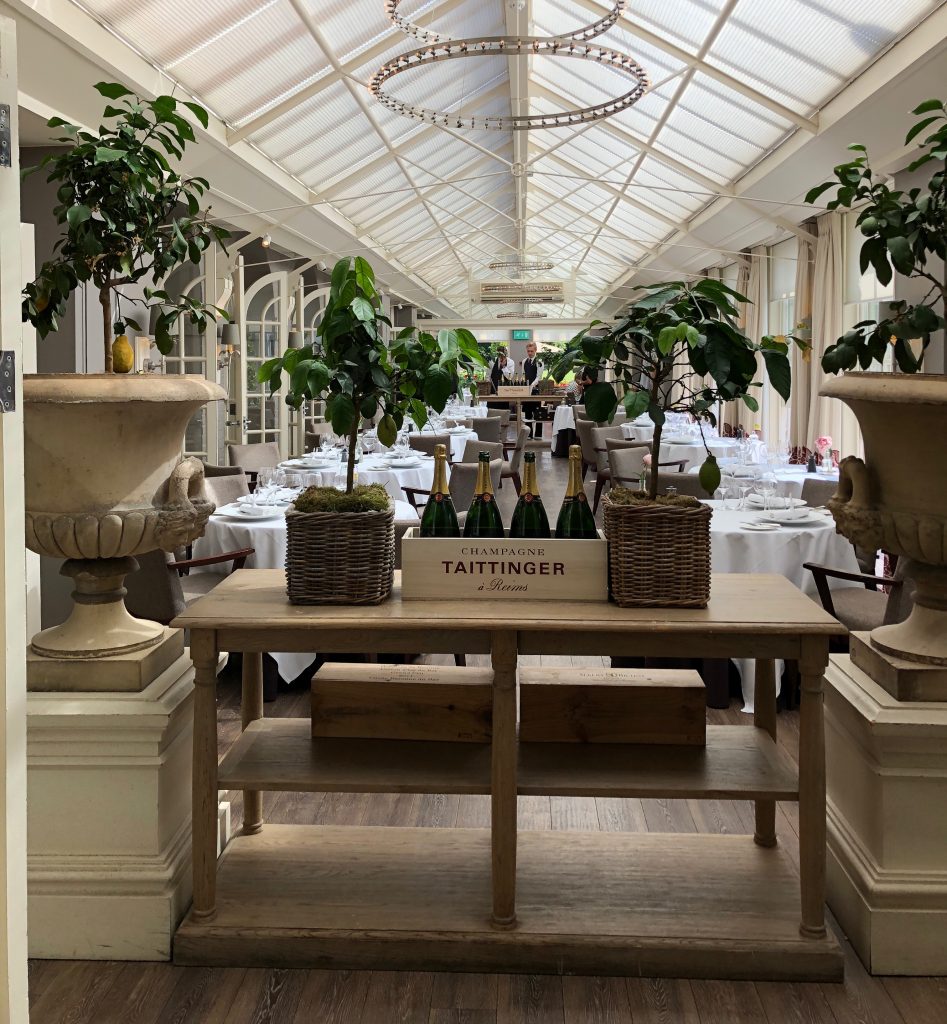 The Kitchen also has an adjoining cookery school and bakery with a wider variety of interesting culinary classes (including ones for children) with celebrity chefs, teen camps and workshops during the year.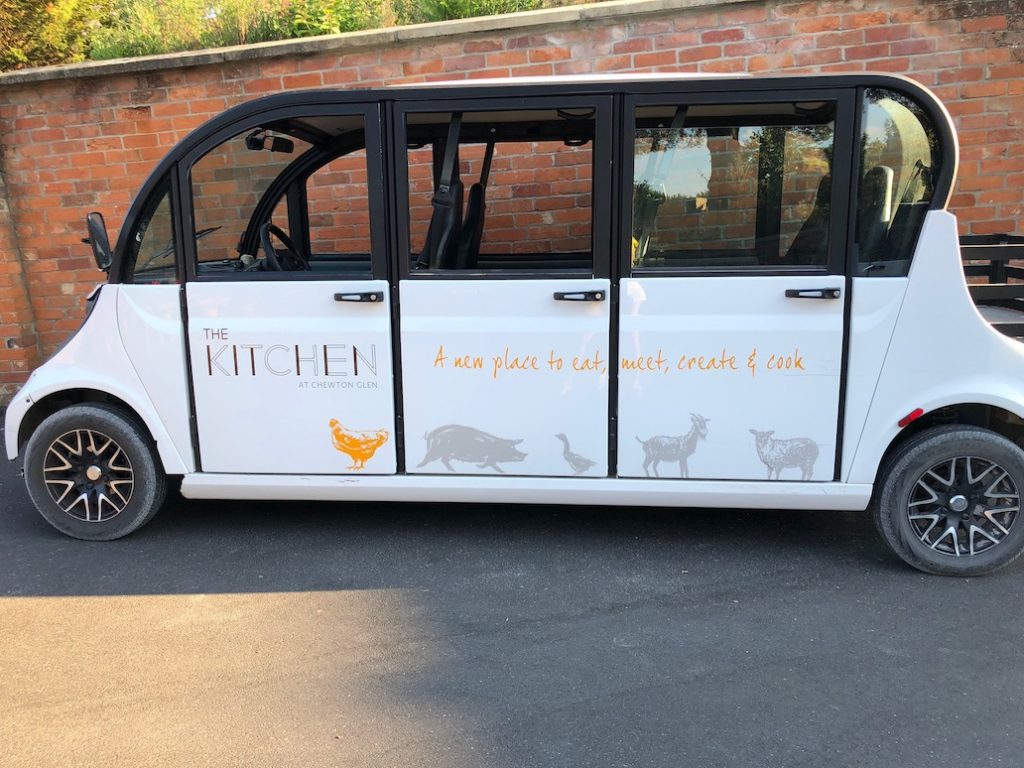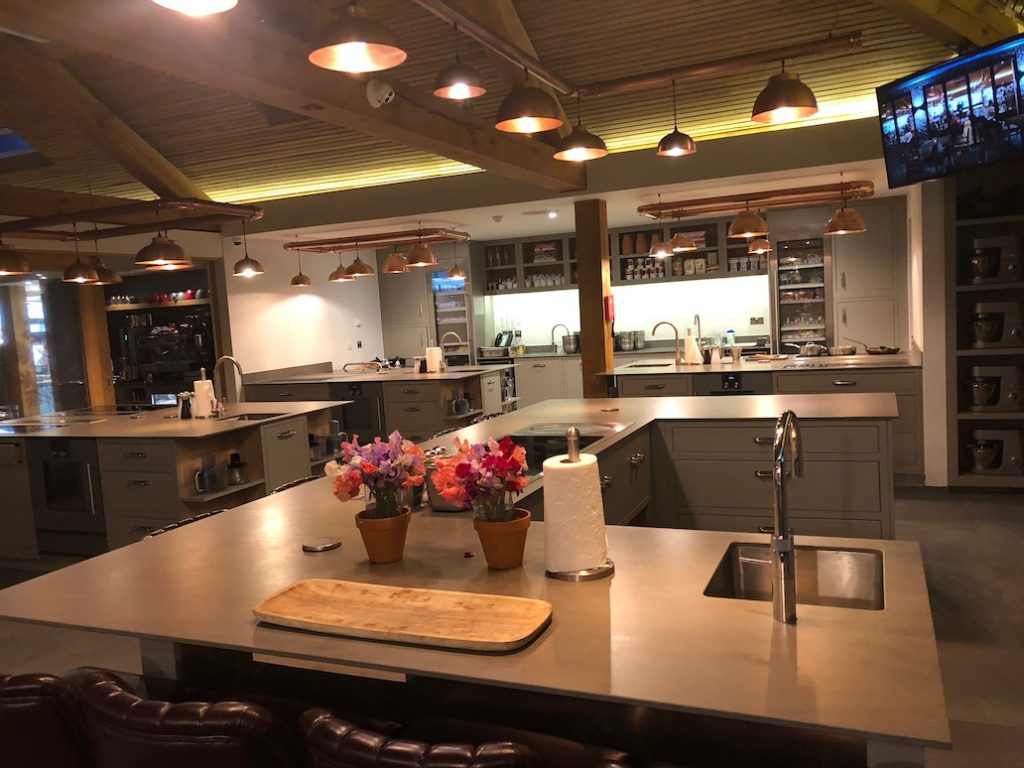 It would be disgraceful to come here and not have a proper English tea. Given that we were there during the beginning of Wimbledon, we opted for the themed tea.
ACTIVITIES
There are so many choices of activities on or off-property, the hardest decision is choosing what to do over a short stay. At Chewton, you could be perfectly happy never leaving the resort with the plethora of options.
On-PROPERTY
While I planned bike rides in New Forest and visits to neighboring towns, the heat was so oppressive during our visit, we (along with everyone at the hotel it seemed) just wanted to just stay put. Besides, my daughter made friends with some British girls her age and didn't want to leave them during our stay.
I loved watching my daughter play cricket with her new friends (and off her phone!) whilst I sipped some tea. Notice how I use 'whilst'? I always wanted to do that.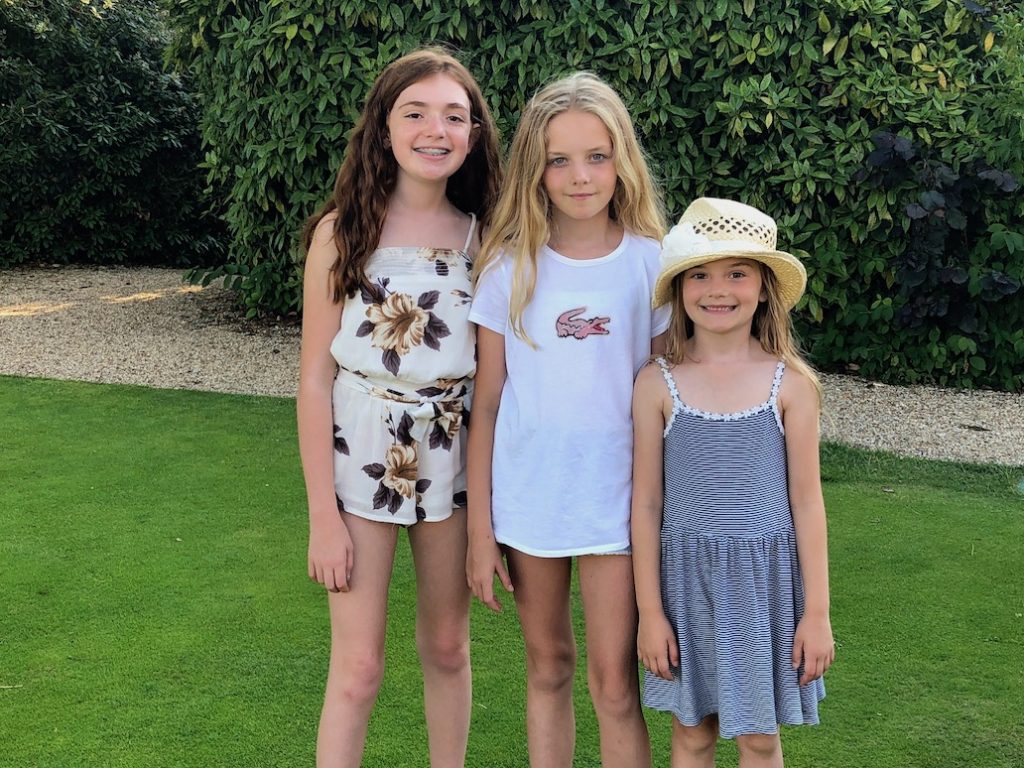 There are so many things to do here, listing them would be pointless but a few that we did or recommend are:
The lovely 15-minute beach walk from the hotel, called the Chewton Bunny, to the sea.
A swim in the stunning indoor pool, much nicer than the outdoor pool.
Indoor and outdoor tennis.
Clay pigeon shooting or Hawkery lesson.
Croquet (a popular pastime here) on the lawn.
Golf.
Duck-herding (you read that correctly. Sounds fun, right?)
Complimentary bikes to ride through the 130-acre property.
Off-Property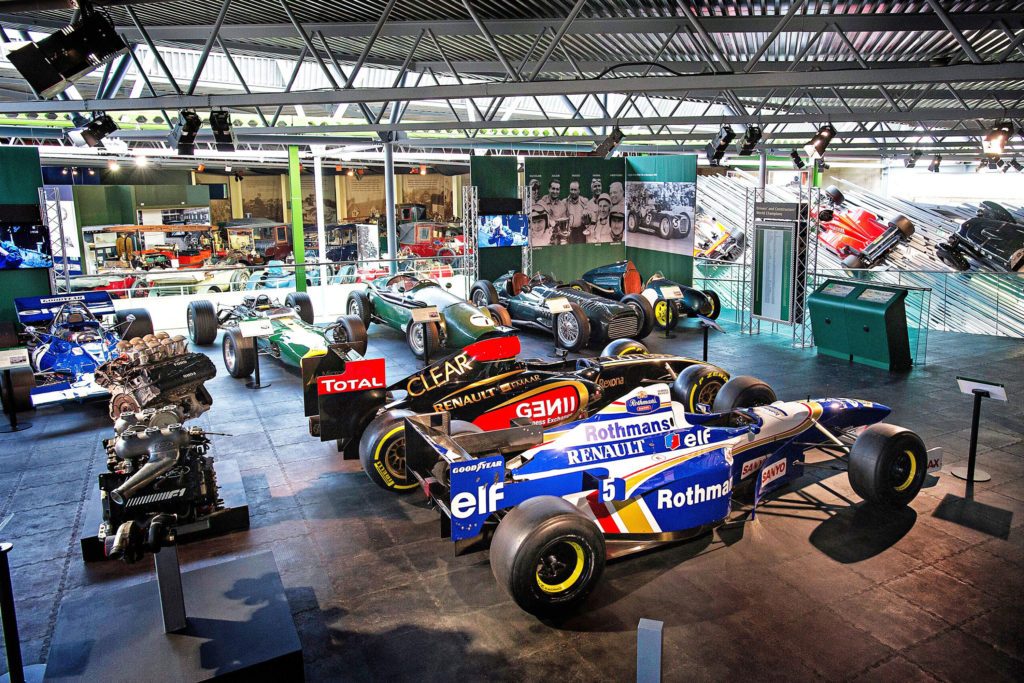 Outside of the resort, one of the most popular activities is biking through the New Forest and the towns within it. There are various paths for different levels. Bikes can be picked up in many locations including at the hotel but Brockenhurst is the most popular place to pick them up as a starting point. There are also various stables, such as the Burley Villa School of Riding in Bashley, for pony riding through the New Forest.
The National Motor Museum in Beaulieu nearby with over 250 vintage and cool cars (check the website for local exhibits from James Bond to Chitty Chitty Bang Bang) is a great afternoon family activity.
A visit to The Pig in Brockenhurst is a must for lunch as well as The Oak Inn at Bank and The Huntsman, all nearby Chewton Glen. 
A bit farther out, on the way to London:
Stonehenge.  Book tickets online a few weeks ahead and stay away on weekends, if possible. Go earlier or later in the day to avoid the slew of tour buses.
Highclere Castle (AKA Downton Abbey). Check on the website when visits are available (and book online) as they were about to start filming the movie when I went! The grounds are amazing and the inside of the castle is literally as you see on the show, even the bedrooms. My daughter, who never saw the show, thought I was crazy.
Salisbury, a lovely medieval town with the tallest cathedral in the U.K. which holds the original Magna Carta!.
ACCOMMODATIONS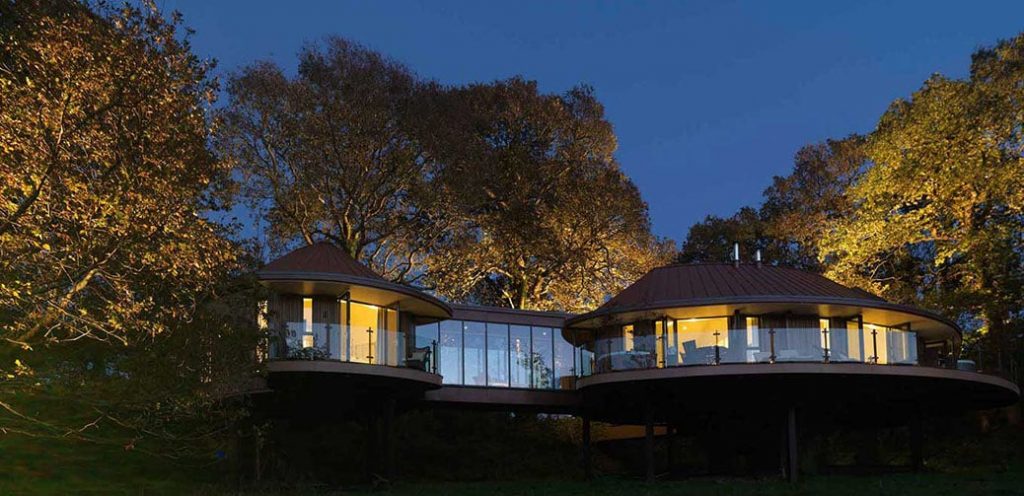 Accommodations at Chewton are in the Main manor and in the newer treehouses on the property.  As the main manor is over 50 years old, it has its quirks. There are no elevator lift for rooms facing the back lawn (tough when you are on top floor and your room is all the way down the hallway) and the halls are quite narrow in some areas. But most all of the rooms I believe have been recently renovated with new furnishings, textiles and technology.
My daughter and I stayed in a Junior Suite called 'Diary of a Blase' which was spacious with a separate living area and large marble bathroom, light and airy with a double terrace overlooking the back lawn and woods. Like others, ours was recently renovated in a more contemporary style and very comfortable with two flat screen TVs.
The only thing I didn't love is that to access our room, we had to walk through the back hallway and up the back stairs (it felt like I was being delegated to the maid's stairs at Downton Abbey). But that is the only way to access the rooms and you do have the beautiful backyard views.
The new tree houses built on the property, which have been photographed widely in travel publications, have been incredibly popular and booked almost a year out.  While they are located only a few minutes walk from the main house, they offer privacy and modernity that is new to Chewton Glen.
The treehouses were solidly booked when I made my reservation but I had the opportunity to visit a few of them my last day at the hotel. They are simply gorgeous with a modern, clean design, floor to ceiling glass folding doors, and wrap decks with hot tubs overlooking the forest. Most of the treehouses, are more ideal for couples with the exception of one or two if you have tots (Willow is my favorite with a bunkbed loft).
THE LAST WORD
Chewton Glen is quintessentially British and very proud of it. That is part of its unique appeal and why we we drawn to it in the first place. It does not cater to an American audience – which for some may not be their cup of tea. For us, that is what lent to its appeal and charm, at least when the staff was on its game.
This is a family resort that takes you back in time (except with modern amenities and luxurious trappings) where being out in the fresh air and old-fashioned activities (think croquet on lawns, wild ponies, bike rides and beach walks) take precedence over anything else. When your 12-year old daughter doesn't even wonder or care where her iPhone has been all day, you know you are onto a good thing.
Loved
Didn't Love

The location, a perfect combination of country and beach.
The gorgeous 130-acre grounds.
The abundance of activities and options for all ages.
The Kitchen restaurant for its ambiance, menu options and delicious fare.
The tree-houses!

As the main house is a 50 year plus property, it has some quirks. If your room is on the top floor like mine in the back, it is a lot of walking up and down. The stairways are carpeted and narrow and felt a bit outdated.
The outdoor pool could use a renovation. Disappointingly, no one had serviced it the afternoon we were there and it was an unappealing place to relax during a very hot day.

Service was inconsistent. Some areas it was excellent while other areas lacking.   

The breakfast buffet is very small and caters to a British palate (More fresh fruit is needed). Order from the menu, everything is very good cooked to order.

Don't Miss
Skip

Wandering off property if you can muster the will to do so as there are so many great attractions
Taking the Chewton Bunny beach walk, a 15-minute walk from the hotel down a wooded path to the beautiful beach and sea where you can see the Isle of Wight.
Having a meal at

The Kitchen

. Get the wood-fired homemade pizzas and the Oreo milkshakes for your kids and then let them run around on a sugar high.  If a cooking class being held, do not miss it!
Making a spa appointment at the amazing Spa (use of the facilities are included in your room rate). The spa cafe is a destination in itself with freshly made organic juices and snacks.
Taking a detour for lunch at The Pig in Brockenhurst.
A walk through the hotel's flower and vegetable garden. Really, really impressive.
A Gypsy Martini (the vermouth is infused with black truffle!) at the bar.
For those with younger children, the Kids Club, with inventive and fun programming! New this summer is a kids fantasy-like treehouse.

Rooms to Get
Tips

If it is the two of you, book a treehouse if one is available just for the experience.
The suites come in all shapes and sizes, but the Maryat Suite is the biggest and oldest in the hotel with a private terrace with views of the croquet lawn.
If you have any mobility issues, request the ground floor or courtyard rooms as there are no elevators.
If you do not want a carpeted room, make sure to request this. All the ground floor rooms have wooden floors while those on the second and third floor are carpeted.

Organize your schedule ahead of time and make your bookings early including access to places like Highclere castle and Stonehenge.
If you want a treehouse, book early!
We highly recommend Chauffeur Drive Britain.The drivers are incredible professional and knowledgable., the Mercedes cars in excellent condition with Wifi and USB ports. Want to do stops along the way or take the car out all day? No problem!
Chewton Glen
When you book the Chewton Glen with Inviato, you receive the following benefits:
• Upgrade on arrival, subject to availability
• Daily Full breakfast for up to two in-room guests, in restaurant
• A $100 USD equivalent Resort/Hotel credit to be utilized during stay
• Early check-in/late check-out, subject to availability
• Complimentary Wi-Fi
Book This Hotel
Why book Virtuoso?
Personalized travel assistance
24/7 online booking
Special rates & exclusive offers
Guaranteed Room upgrade*
Complimentary full American breakfast
Early check-in, Late check-out*
Exclusive on-site amenities (varies by hotel)
* based on availability on time of arrival
Related Reviews