Our Fab 5 Series launches with the exotic, glamorous and exciting destination of Marrakech. We are always asked by friends and clients for our favorite places to stay, shop and eat in any given destination. We love sleuthing around in the destinations we visit, weeding out the touristy and over-hyped addresses and discovering the new, trend-setting and secret hidden gems wherever we go. We think five is a fabulous number – not too small and not too big – to dish out on some of our favorite places.
We created this series as a complement to our more detailed City Guides as well as the comprehensive itineraries we provide our booking clients, sharing our insider black book of addresses. Read our takeaways from our Insider Getaway Trip to Morocco this past November including our favorite activities.
OUR FAVORITE FIVE HOTELS IN MARRAKECH
Royal Mansour. Possibly one of the most luxurious decadent hotels in the world. This 12-acre luxury resort is owned and designed by King Mohammed VI of Morocco and took over three years to build with 1,200 master craftsman. The result is exquisite and dazzling tile work, hand-painted doorways, intricate stucco work (that lobby chandelier!). All the 53 riads are connected to a series of tunnels that the staff enter and exit magically to deliver tea, whisk your bags and such.  All but a few are tri-level with a steep winding staircase so this is not a place for the physically challenged or those, like me, who leave items everywhere. This is a truly royal place that prides itself on formality (I felt like I needed to be on my best behavior) and where guests treasure their privacy (we hardly saw any the night we were here even though the hotel was mostly full).  The lush grounds, spa and bar are all equally exquisite.  This is a place to look up, down and all around.
La Mamounia. The Grande Dame hotel of Marrakech, seeping in status and history since it opened in 1920. The legendary hotel is located inside the Médina and majestic inside and outside (designed byJacques Garcia who also designed the chic staff uniforms). Currently, the hotel is closed for renovation until the Fall (the last reno was in 2009), which is a good thing as I found some of the rooms and spaces in need of an update. The indoor courtyards, stunning spa, Le Morocain restaurant and 15-acre grounds are the center showpieces.The 200+ rooms and suites can vary greatly here so it is important to know which one to get (hint: stay away from being right above the restaurant and bars and only book a Deluxe Park view and above).  Come here for the glamour (the Churchill Bar was one of my favorite spaces and always packed), and those stupendous views from the Park view rooms.
La Sultana. A privately-owned 17th century boutique Small Luxury Hotel property in the Kasbah that was exquisitely restored and opened in 2004. Each of the 28 rooms and suites are unique with an African animal theme (I like the Elephant room). Romantic and dark with tons of atmosphere. (Note: As an authentic Riad, rooms do not have outside views and instead look into the inner courtyard). The hotel has a wonderful rooftop garden and small pool along with a professional kitchen for small cooking classes. It also has a small but great boutique with unique items, where we both did some damage.
Selman Marrakech. Located just ten minutes outside the city center, this Jacques Garcia-designed 58-room resort is privately owned by a Moroccan family. Decadently designed  on a stunning 45 acre property with the longest pool in Morocco along with an incredible spa and several restaurants. If you are an equine lover, as the owners are, this is a must stop just for the Arabian horses alone who are stabled on the property in a barn. The resort possesses particularly spacious rooms. This is a good choice when you want to be outside the city in a resort-like setting but close enough to Marrakech proper to shop or dine.
La Villa Des Orangers. Privately owned (by the French owners of wonderful concept-style boutiques 33 Rue Majorelle and Jans) this romantic 27-room luxury boutique hotel is the only Relais and Chateaux hotel property in Marrakech. Built in the 1930s by a Marrakech judge, the Villa des Orangers was completely renovated before it opened it in 1999. Located within the walls of the Medina next to the King's property, this is an intimate property best for adults (no children under 12 are allowed) . I loved the outdoor courtyard, surrounded by orange trees, where breakfast and lunch is served, two pools (one one the rooftop) and an exquisite safari-chic design. Go for the suites with private terraces. This hotel has the best smell in the world. My favorite pick in Marrakech.
Honorable Mentions:
Jnane Tsama. A 24-bedroom guesthouse scattered between five houses (each with their own pool), this a wonderful hidden retreat in the Palmeraie desert, just a 20 minutes drive to the Medina. Owned and designed by interior designer Meryanne Loum-Martin, this is a stylish and elegant place to linger with 9 acres of lush gardens, wonderful African design and art, a restaurant with its organic garden and wonderful on-site guest activities like cooking lessons and tennis on its courts. Villas and suites have their own fireplaces.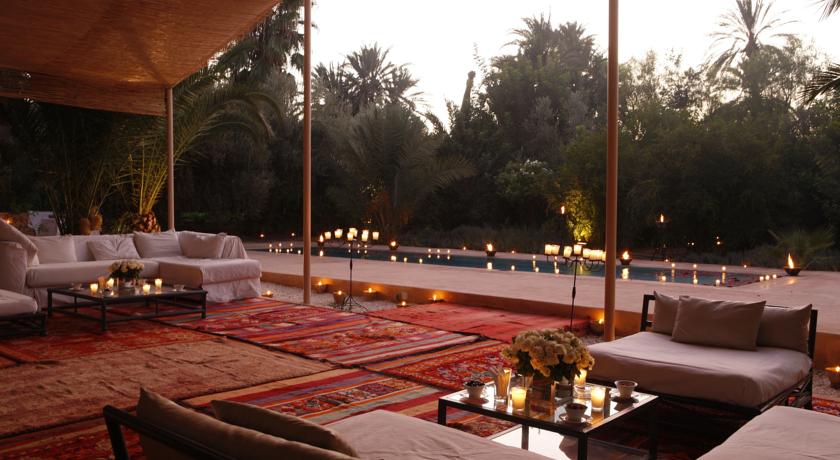 L'Hotel. One of the hotels we desperately wanted to visit but did not have time to (but wish we did), this Jasper Conran-owned hotel is former 19th century palace turned private Riad hotel in a quiet part of the Medina. The British designer turned this into an elegant, stunningly designed and serene home-away-from-home that evokes 1930s glamour.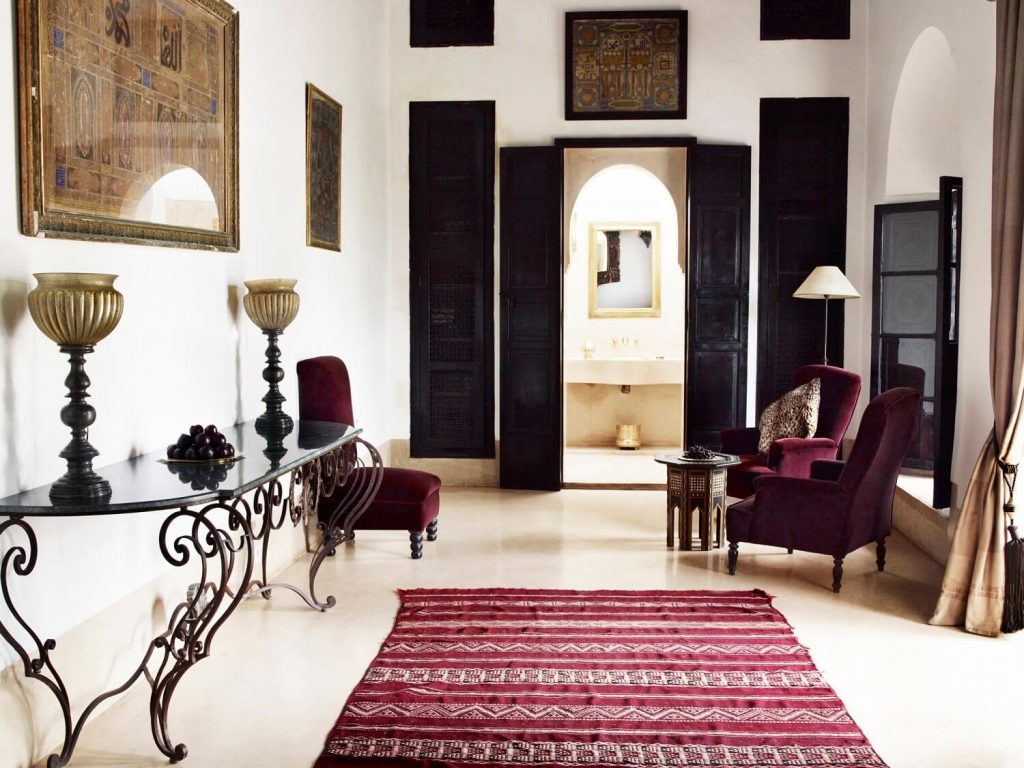 OUR FAVORITE FIVE RESTAURANTS IN MARRAKECH
Riad El Fenn. Buzzy rooftop outdoor restaurant of the Riad El Fenn (co-owned by Vanessa Branson and carpet designer, Madeleine Weinrib) which was bought out by Madonna for her 60th birthday. A lively vibe and scene whether you go for lunch or dinner, stunning views over the Medina and a terrific menu. I challenge you to leave without buying something in the street level well-vetted boutique.
Le Comptoir Darna.  Two floor exotic restaurant and nightclub with a lively party atmosphere, making it ideal for groups. You can also reserve later for bottle service at your table to watch the 10:30 belly dancing show. Loads of fun.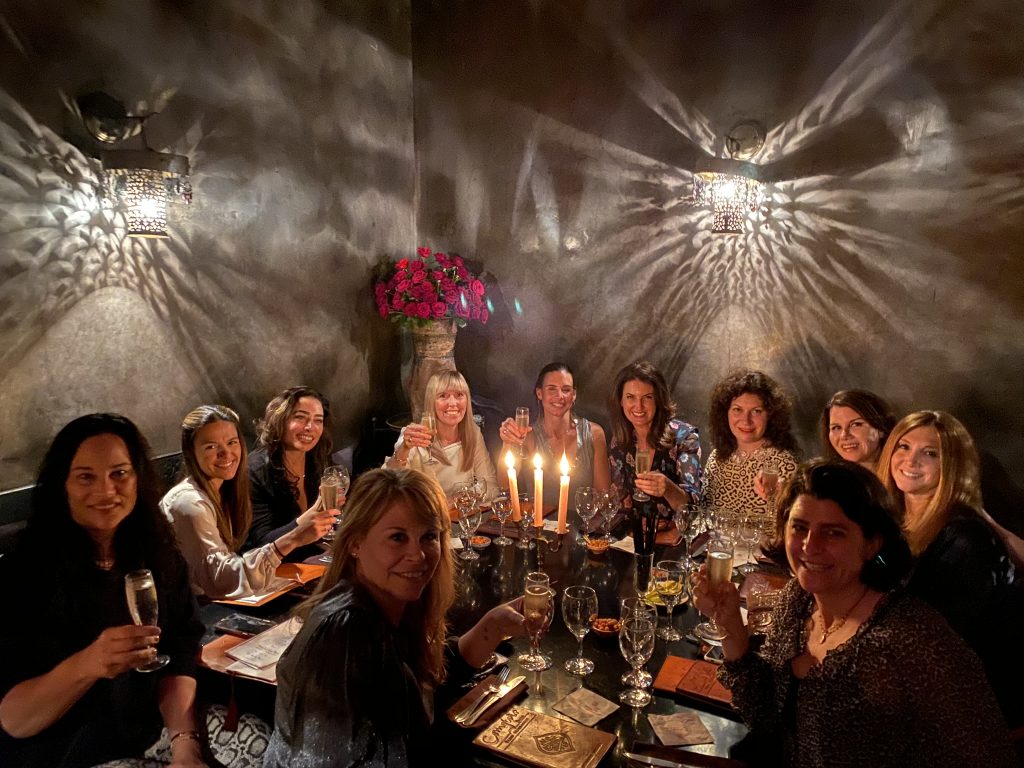 La Terrasse Des Epices. Similar aesthetic as El Fenn, La Terrasse is a wonderful, stylish rooftop restaurant serving contemporary Moroccan cuisine in the Medina. Ideal for lunch or dinner (when the music pipes in a bit louder).
Grande Cafe de la Poste. Atmospheric café in Gueliz with a variety of delicious European and Moroccan menu options. Housed in a grand, former post office with a Sam's Cafe Casablanca colonial-style vibe, this is a great place to stop in for lunch, a cocktail or dinner.
Barometre. Cool, dark and intimate speakeasy-style bar/restaurant with a small bar serving crazy instagram worthy potion-like cocktails (smoking is aloud as a word of caution). We went here our last night and thought the menu was incredible. It is worth coming here for the bar alone.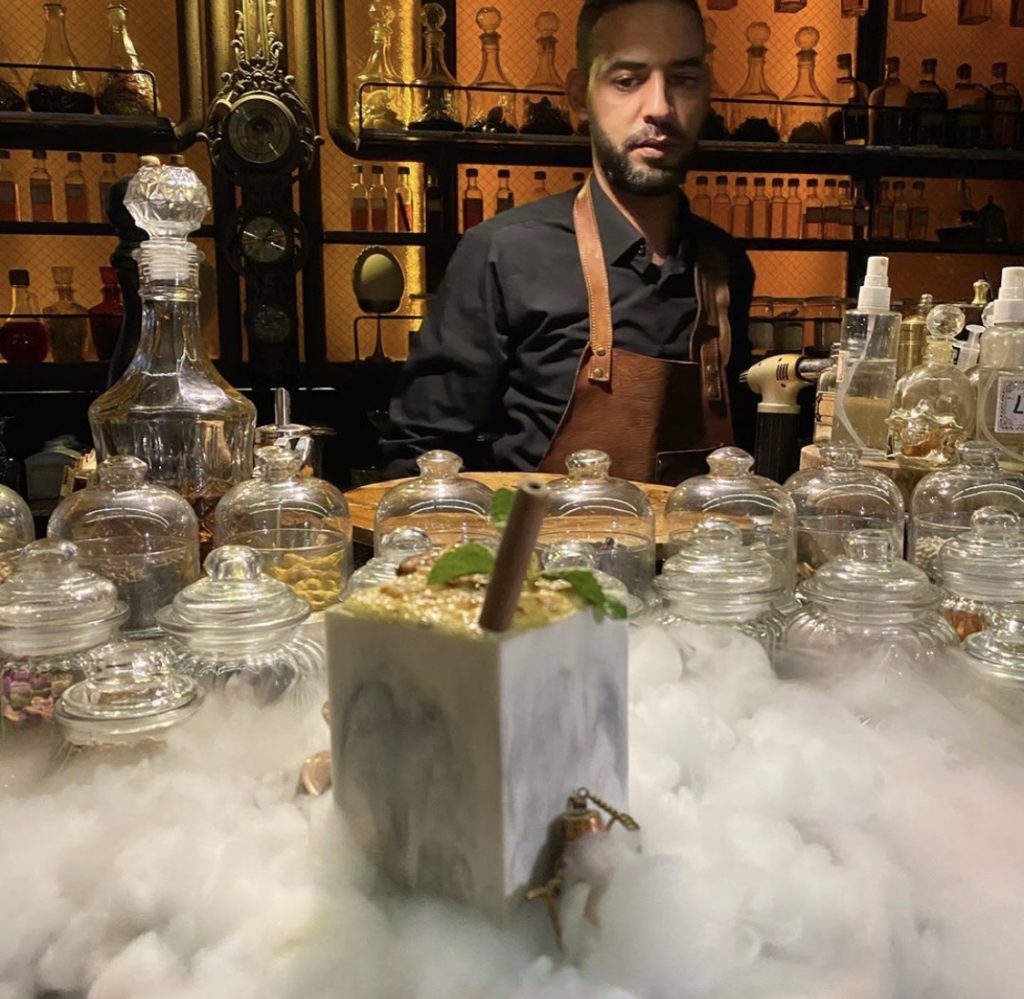 Honorable Mention:
Les Trois Saveurs, La Maison Arabe. Beautiful and incredibly romantic courtyard garden restaurant of this authentic Riad hotel with traditional Moroccan cuisine.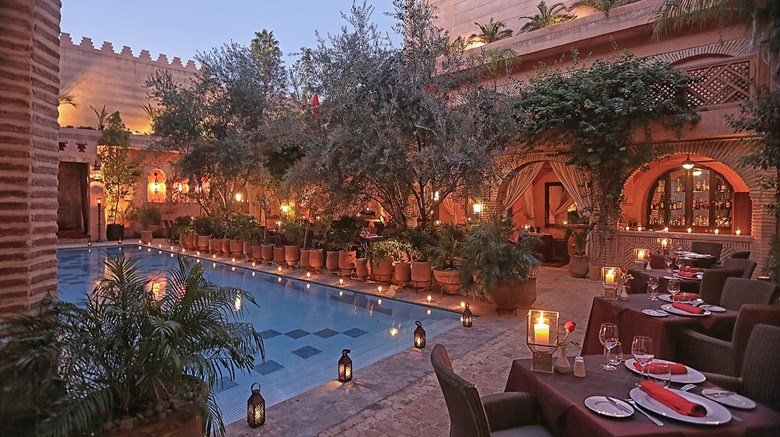 OUR FIVE FAVORITE PLACES TO SHOP IN MARRAKECH
Galerie de Tanneurs. This is where you get shoes, bags and leather jackets that are very good quality, some complete knockoffs of Hermes, YSL and the like and really inexpensive. I wish I got more here but it was our first stop and we didn't know any better. There are two boutiques: #14 Marjorelle (near the YSL Museum) or in Gueliz on 4 Moulay Rachid Ave. They will fit and ship anywhere.
El Abidi Nassar Eddine. High quality one-of-a-kind Berber jewelry from antiques to semi-precious stones. Expensive but beautiful items. 9 Derb Semmarine.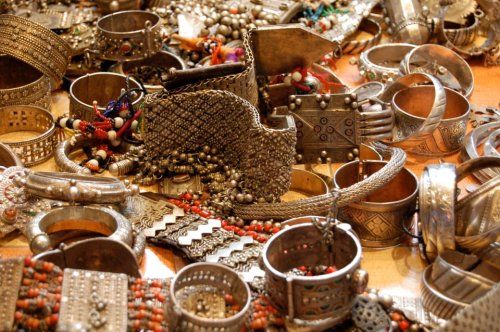 Palais Saadien. You go here for a great assortment of traditional Berber and Moroccan rugs. 1 Haram Cheikh Ksour. They take credit cards and ship.
Mustapha Blaoui. A trove of treasures packed to the rim over several floors in the Medina. Good prices. You can spend two hours easily here just walking through the maze of rooms and nooks and crannies Rue Bab Doukkala #142/144.
Maison Blaoui. The more structured and elegant smaller sister boutique to Mustapha located on the perimeter of Marrakech (stop on your way to or from Kasbah Tamadot or day in one of the local desert camps. You can't really bargain here but I loved the selection and bought everything from kaftans and jewelry to rugs and ottomans. 5 Route d'Amizmiz.
Honorable Mentions:
For well vetted goods, visit the boutiques of Riad hotels El Fenn and La Sultana.