Last Fall, I co-led with Jennifer Anderson of Reserve Travel our first group trip of our Insider Getaway Series with ten ladies to the exotic country of Morocco. We launched this program to bring like-minded women together to explore exotic destinations all over the world together. In each location, we work closely with destination experts to curate unique itineraries that are active, educational, immersive and of course loads of fun.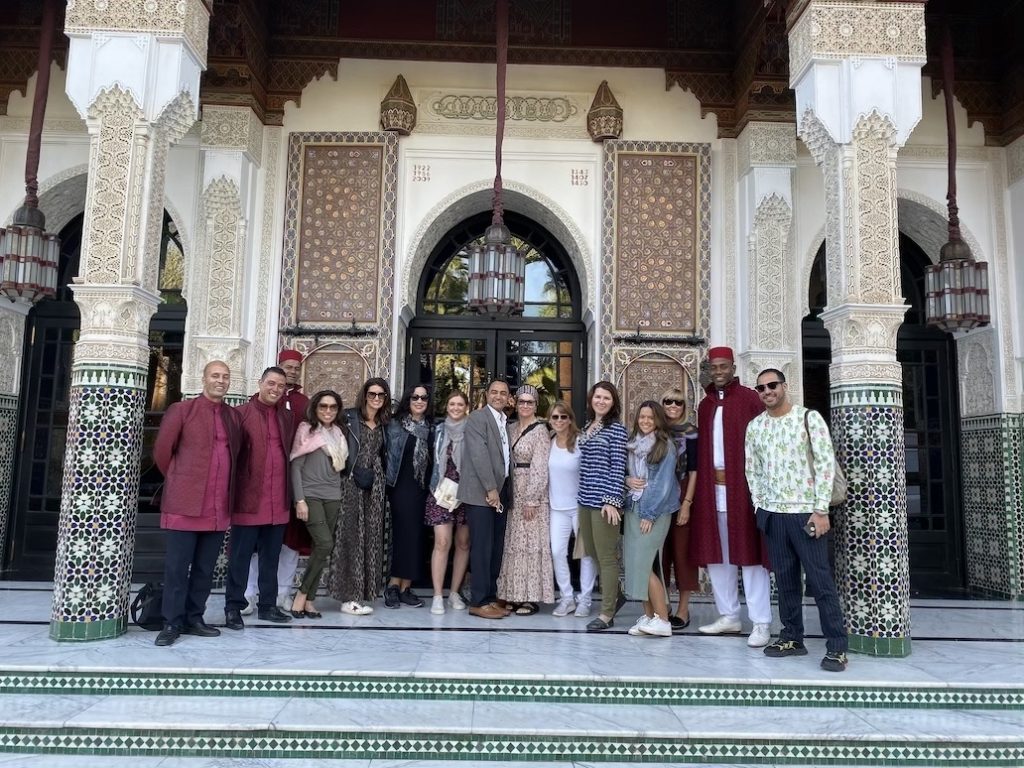 Morocco was an ideal country to launch our first group trip. Getting there is relatively simple: Casablanca is a direct overnight flight from New York JFK on Royal Air Maroc (the food isn't good, the online entertainment is pitiful but it is a Dreamliner and the only direct option) and then you have an hour and a half drive which you will most likely sleep the entire way there due to jet lag.
Marrakech provided all the requisite elements for an incredible trip with just the right balance of culture, activities and pampering. The culture and historical sites are fascinating and the country is exotic, glamorous and otherworldly all at the same time (making it a perfect stand-in for Abu Dhabi in the Sex and the City movie). There is an endless variety of resorts, boutique hotels and authentic riads to suit any need.  Of course, shopping the winding alleys of the souks is a main highlight and I can pretty much guarantee you that you will come home with your bags full of goodies.
Needless to say, you can pack in a lot in six days which is the time we designated for our November Marrakech getaway, starting with three nights at the legendary La Mamounia (currently closed for renovation until the Fall) in Marrakech, followed by two nights at Richard Branson's magical Kasbah Tamadot in the majestic Atlas Mountains. After the rest of the group departed, Jennifer and I stayed on an extra two days to inspect a few other hotels (La Sultana, Villa des Orangers, Selman), staying overnight at the dazzling, uber-luxurious Royal Mansour, owned and designed by King Mohammed V. More on these below. 
We spent time crafting a custom Marrakech getaway itinerary that was well balanced (although some of us, myself included, could have used an extra day for more shopping), fun and unique. Private expert guides, transportation, most meals, five-star lodging and special activities were all included. If we had an extra two nights, I would have added Dar Ahlam, the exotic boutique retreat in the Palmeraie of Skoura in the southern Morocco desert (considered one of the 100 best hotel experiences in the world), a five hour drive away. 
Marrakech left a distinct and wonderful impression on me. Rose petals, the heavenly scents from the orange trees and straw hats to shade you from the sun. Exquisite craftsmanship everywhere you turn. The bustling life of the Medina. Spices. Donkeys, camels and cats. Rich, brilliant colors from royal reds to Majorelle Blue. Mounds of rugs and hanging lanterns. Generous and kind people. One thing cannot be denied: Marrakech is distinctly its own and a city of many contrasts.
See our latest post in our online Magazine for some of our favorite insider addresses: Fab 5: Our Favorite Top 5 Places to Stay, Eat and Shop in Marrakech. 
MARRAKECH GETAWAY: FAVORITE ACTIVITIES
YSL Jardin Majorelle and new Musee Yves Saint Laurent. Opened in October 2017, this stop which pays homage to the designers legacy and his love of the Ochre City is a must do. Jardin Majorelle is a visually stunning 12-acre estate of bougainvillea, cacti, banana trees, marble pools and coconut palms that YSL purchased from the painter Jacques Majorelle, The brilliant blue color Majorelle Blue, which is visible throughout the gardens, is a special color created and named after him. The garden was a gift to Marrakech from YSL upon his passing.  Go early in the day before the crowds arrive and make sure to stop at the chic boutique on property along with the shops across the street such as 33 Rue Majorelle (from the owner of Villa des Orangers). 
Hands-On Moroccan Cooking Class. Our group learned how to make classic Moroccan dishes like Chicken Tangine (you can bring a pot home) at the professional culinary kitchen of La Maison Arabe in the Medina. Smaller private cooking classes can also be taken on the rooftop of La Sultana, or Kasbah Tamadot (weather permitting).
Vintage sidecars. Being a passenger in these retro bikes through the city was a very fun and unique way to see all aspects of Marrakech and its surrounds. Take turns sitting in the sidecar or on the back of the motorcycle with the driver (all who were quite cute, I might add). Two hours is the ideal time for this.
Desert camp excursion. This was another special experience of our Marrakech getaway where we rode camels (treated very well), and had lunch and tea at one of best camps in the Desert D'Agafay, 45 minutes outside the city.  Another must for lunch or sunset dinner if you are not headed to Dar Ahlam.
Hike in Atlas Mountains. Our two hour guided hike while at Kasbah Tamadot was not only a good physical activity but meaningful as it was accompanied with a visit to a local Bedouin village (I was fascinated by the doorways below) and the Eve Branson Foundation, a local charity dedicated to improving the lives of locals in rural areas. Traditional artisan items such as rugs, jewelry and more are made which you can purchase while giving back to the community.
After Hours at Jad Mahal. The perfect place to let off steam with a group for a Marrakech getaway. Jad Mahal, close to La Mamounia, is a spacious late night club with dramatic over-the-top decor, and live music. So fun! Go at 10:30 when live music and performances begin.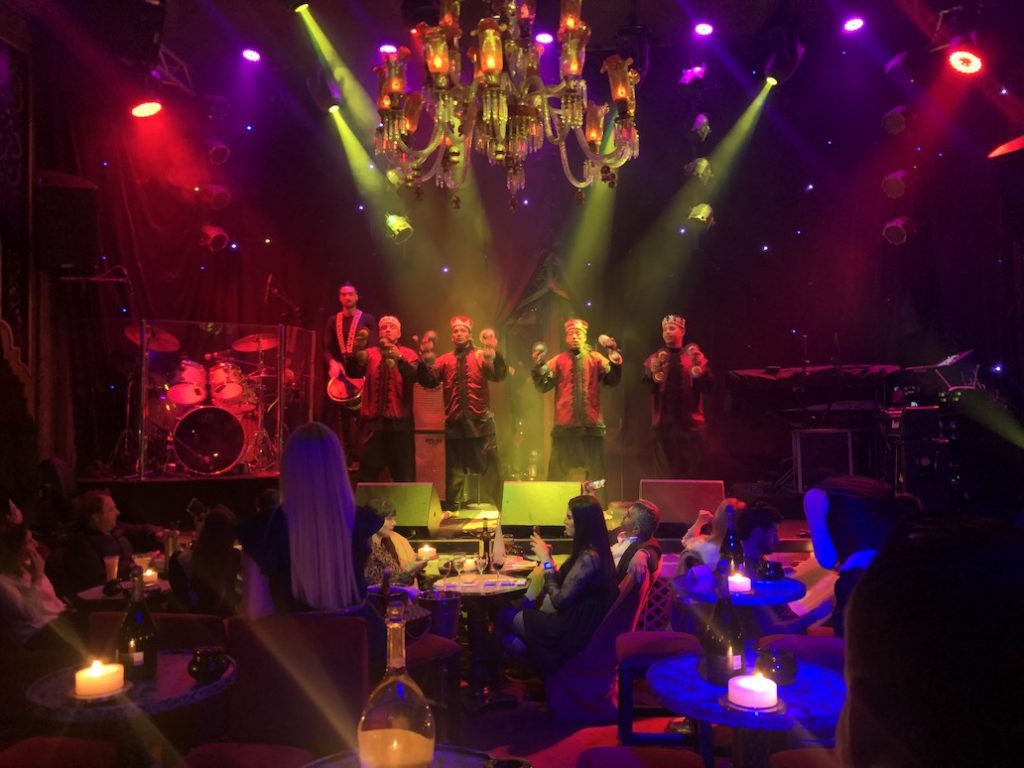 Private shopping excursions to the artisan shops in the funky industrial quarter Sidi Ghanem (go in the afternoon when they are all open) with showrooms of up and coming designers, and the bustling souks in the Medina. Each trade—spices, carpets, jewelry, enamel, copper, brass, and cedar—is situated in its unique quarter. Bargaining is essential. We have our own special list of the places we love (a few can be found on our Fab 5 post here). 
Belly dancing show at Comptoir Darna. Comptoir Darna is a restaurant but can also be booked after dinner for a table with bottle service if you just want to see the belly dancing show. Loads of fun for a Marrakech getaway group trip, especially if you are willing to get up there with them.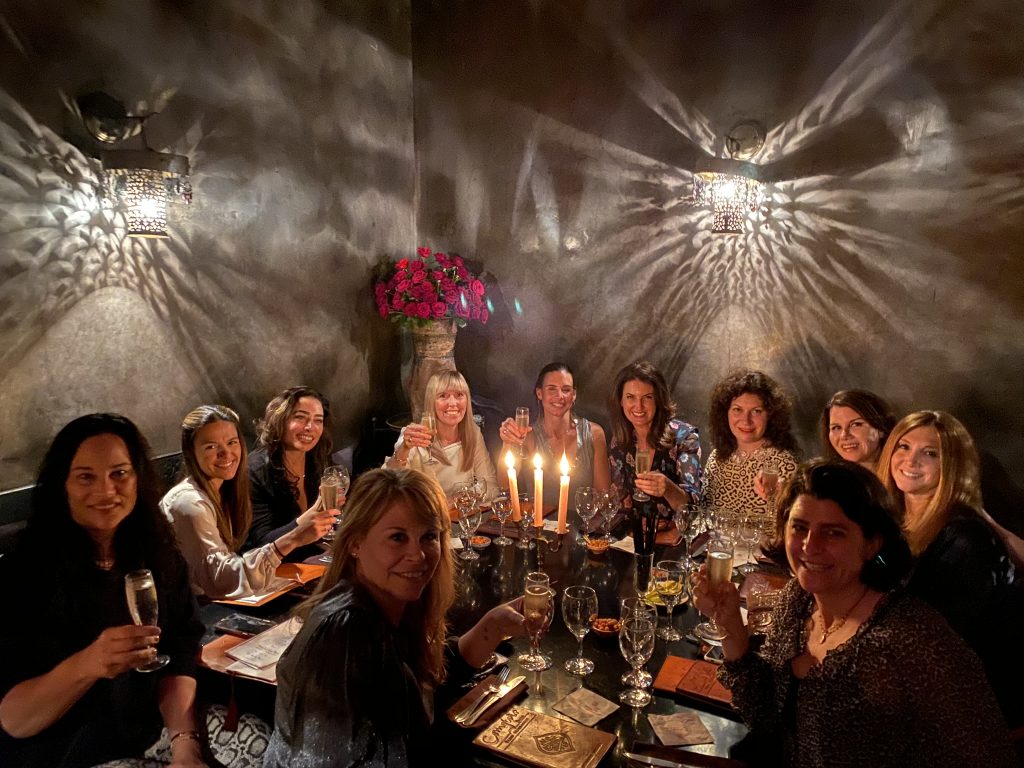 Rooftop lunches. We loved the chic ambiance of the rooftop restaurants Riad El Fenn (co-owned by Vanessa Branson and Madeleine Weinrib. Madonna bought out the hotel for her 60th birthday) and Terrasse des Epices. Wonderful diverse menu, great people watching and views. The boutique, which you must go through at street level, before heading to the restaurant, has wonderful items (like these towels which we bought home and are now using at our pool. I wish I bought more!)
Hammams at La Mamounia Spa.  When in Morocco, everyone should experience a Hammam, a process where you first soak in a pool or sit in a steam room and then are   rinsed, exfoliated, and massaged by someone). It is definitely not for everyone but most every hotel offers a variation of a Hammam as it is a regular weekly ritual and part of social life in Morocco. There are public hammams but I would definitely recommend the gorgeous spa at La Mamounia (Royal Mansour spa is stunning as well). Your skin will feel like a baby afterwords.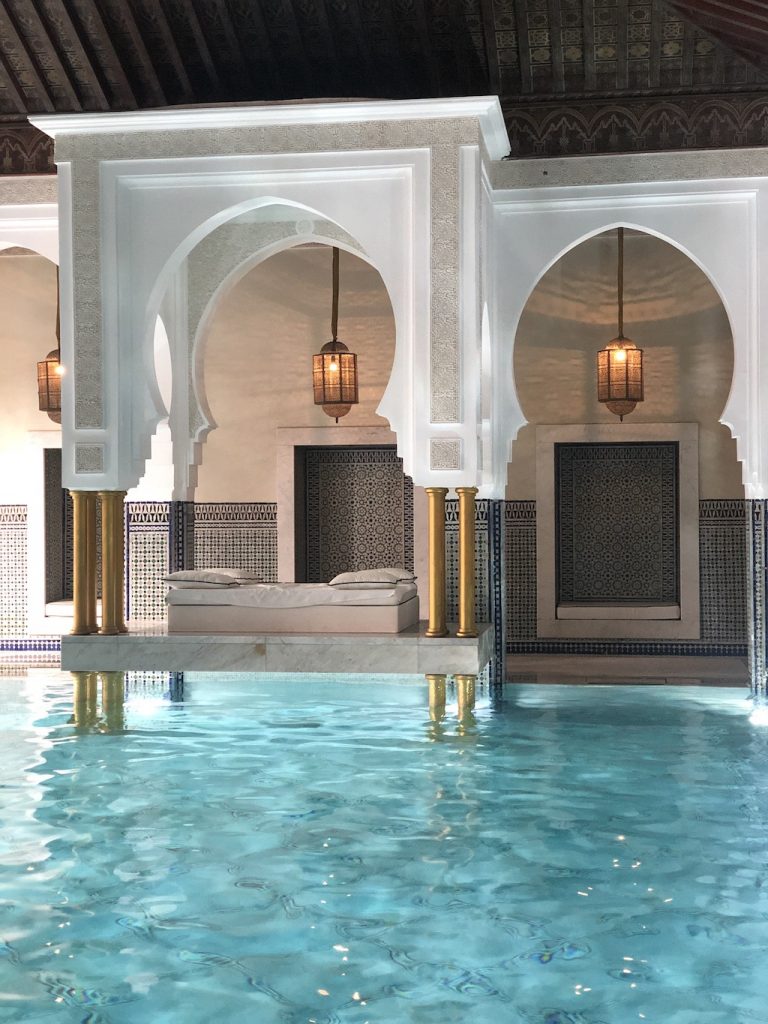 MOROCCO TRAVEL TIPS
When To Go. The best time to go to Morocco is March to May and Sept-November. Avoid Summer. Christmas is always popular but also very busy and minimum nights at many of hotels means you need to plan way ahead. During Spring, everything is in bloom (Kasbah Tamadot is lovely with all the orange trees) while in Autumn the weather is still warm.
VIP Airport services. Get the VIP meet and greet services when checking into Marrakech airport to expedite you through passport control. Otherwise you can be stuck in long lines.
Get a Good Guide. A good guide in Marrakech is indispensable, not just for transportation (essential) but for the ins and outs of the city. Especially as a woman, you do not want to be walking by yourself.  There are many incredible guides (which we can recommend and book) and they are not expensive.
Leave Time to Shop. You need a full day to explore the exotic souks and you will want to go back after absorbing it all the first time. If could do it again, I would do a walk through and explore all the different areas of the souk and then go back to hit the places I want after digesting it all. With a great guide, of course.
What To Avoid. Only drink bottled water (available everywhere, Sidi Ali is the best brand of bottled water in Morocco), stay away from uncooked vegetables and fruits (unless they can be peeled), food or fresh drinks sold from street vendors and avoid milk (often not pasteurized). Generally you are fine at 5-star hotels but it is always best to ask when ordering and for sure you need to adhere to this outside of your hotel. Avoid tap water (including ice) at all costs as it is the easiest way to ruin your vacation.  
Plan Your Meals Wisely. It is easy to get sick of chicken tangine pretty fast and by the end of the week, I was craving for salads. Balance out restaurants during your stay by cuisine. Restaurants like Cafe de la Poste and Bo-Zin offer wonderful European and Asian influences.
Make Sure You are Set in the Right Accommodations. Do you want a small authentic Riad in the heart of the Medina, a full-service resort outside the city with room to relax or something a bit in between?  Marrakech has many incredible accommodation options. Once you have your  place chosen, booking the right room is key.  Inviato is here to help find the right fit for you.