The Ranch at Rock Creek. The ultra-luxe guest ranch in Montana that is on the top of almost every list and earned every hospitality accolade (including a Forbes 5-star rating for six consecutive years) under the sun since it opened as a luxury guest ranch in 2020.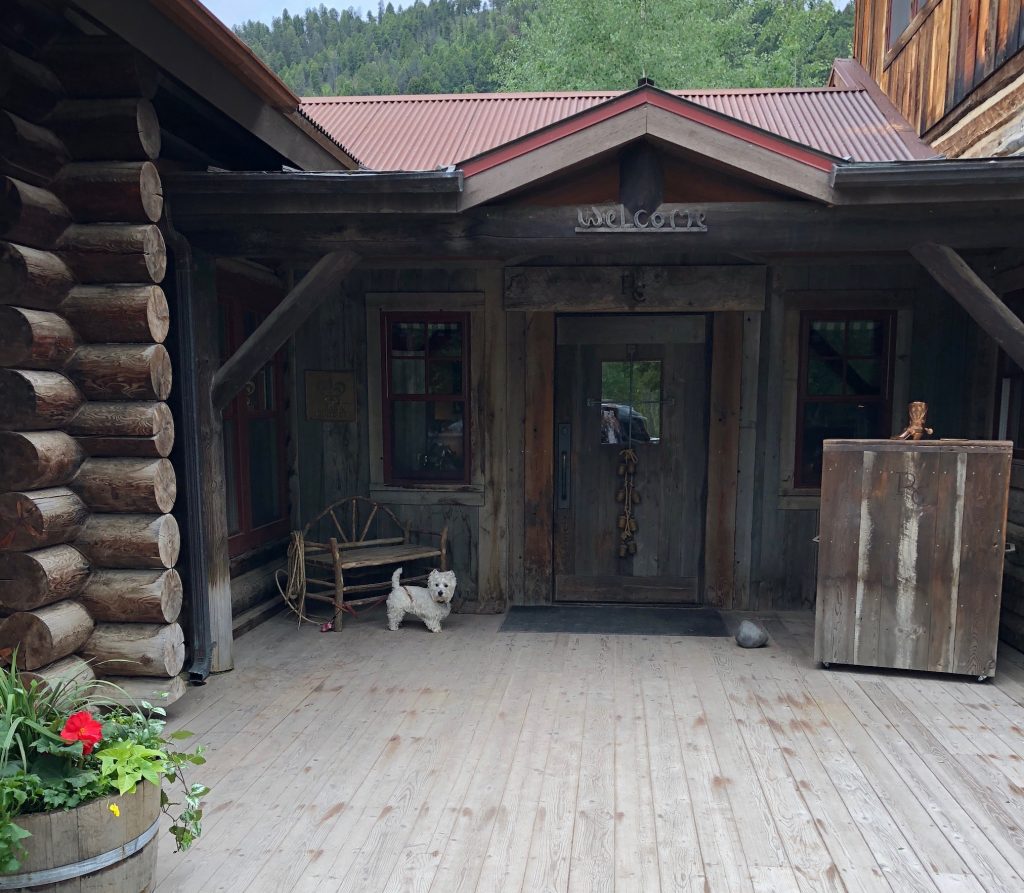 What is the all the fuss about it? Does this place really live up to its hype? And are all the ranchers really as hot looking as they appear in the photos? These were the things I was willing to get to the bottom of (for the sake of research of course).
So last Summer, I dusted off my favorite cowboy boots and hat from the back of my closet and gathered my family for a week-long trip to Big Sky country.  We arrived at the timber gates to the 6,000-acre ranch where a bald eagle greeted us, as if on cue.  Serendipitous? Perhaps. But I digress…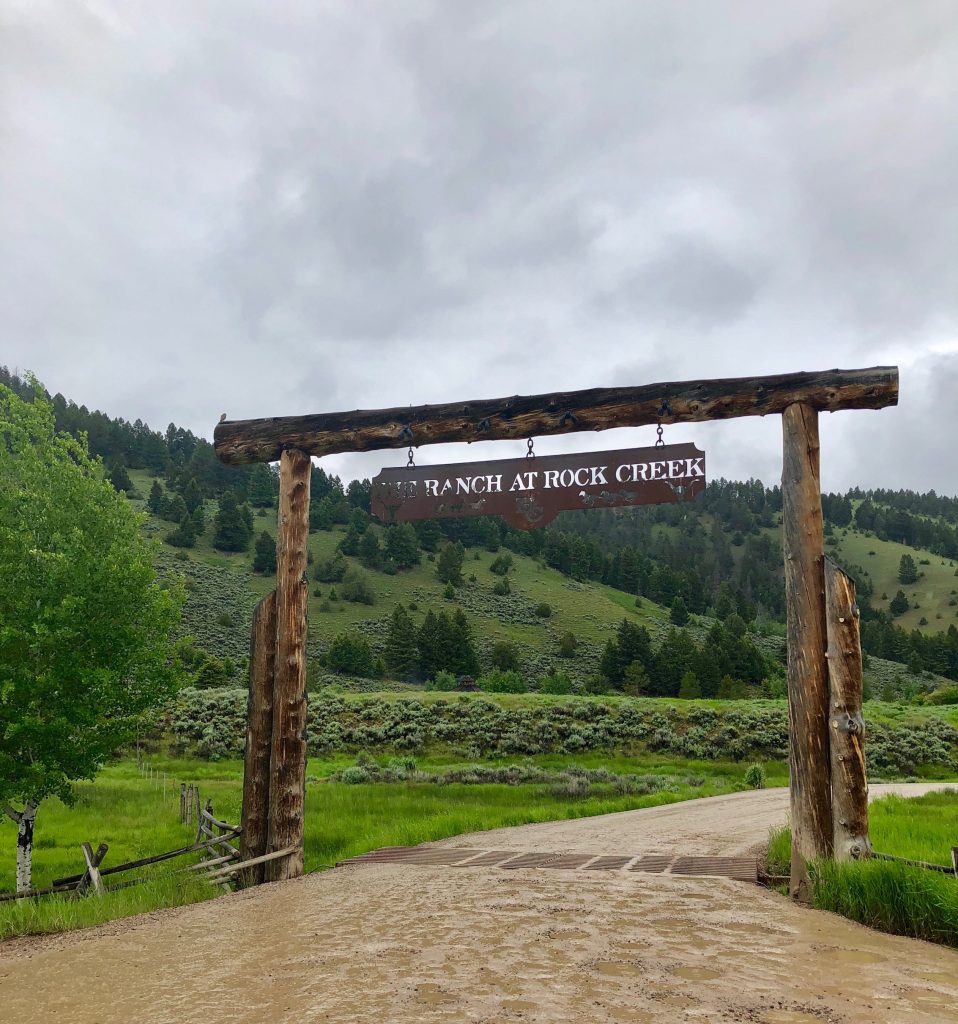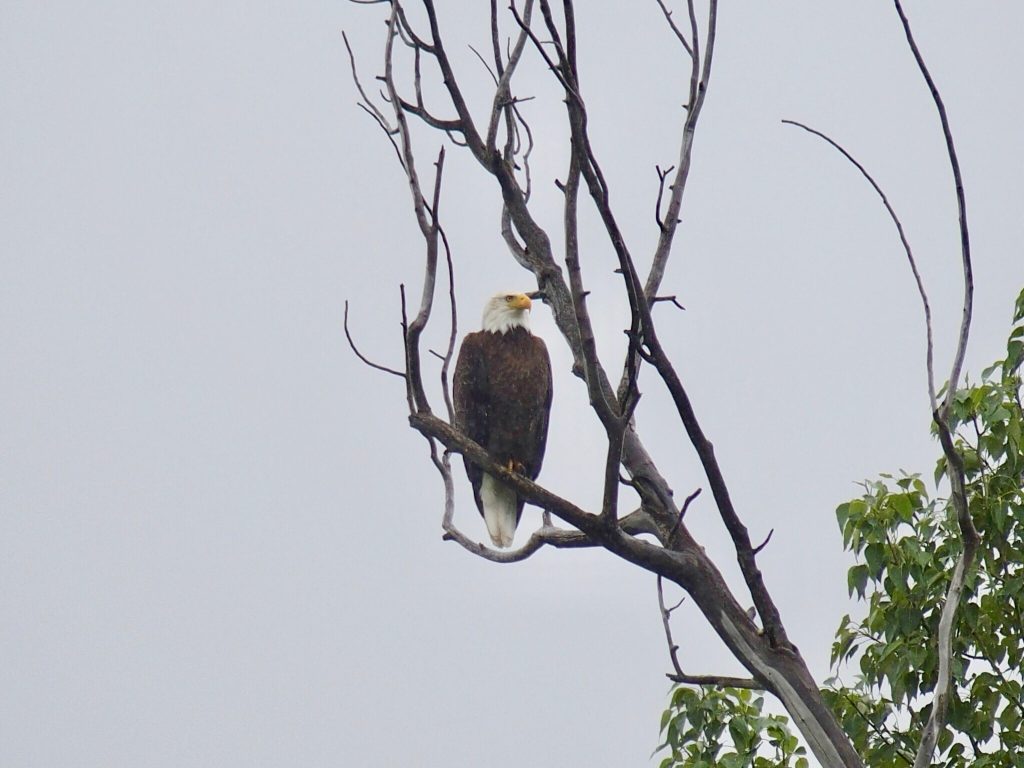 The answer to all of the above is a resounding YES.  The Ranch of Rock Creek was one of the best – scratch that – it was the best family vacation our family of five has taken together to date. And we have been to a lot of amazing places. A year later, my two daughters are still talking about their time on the ranch and asking when we are going back.  That rarely happens.
COVD-19 note: The Ranch at Rock Creek opens June 1 following solid procedures such as limiting the number of people at the Ranch at any specific time to 75 from 125 guests and following distancing guidelines. The remote location and separated accommodations and private guiding already makes RRC already a natural and ideal option this Summer and Fall. They are already very busy late this Summer (lots of repeat guests). 
The Silver Dollar Question: What Makes RRC so special?
So, the silver-dollar question is what is it that makes Ranch at Rock Creek so special and nearly impossible to get a reservation that you need to book over a year in advance?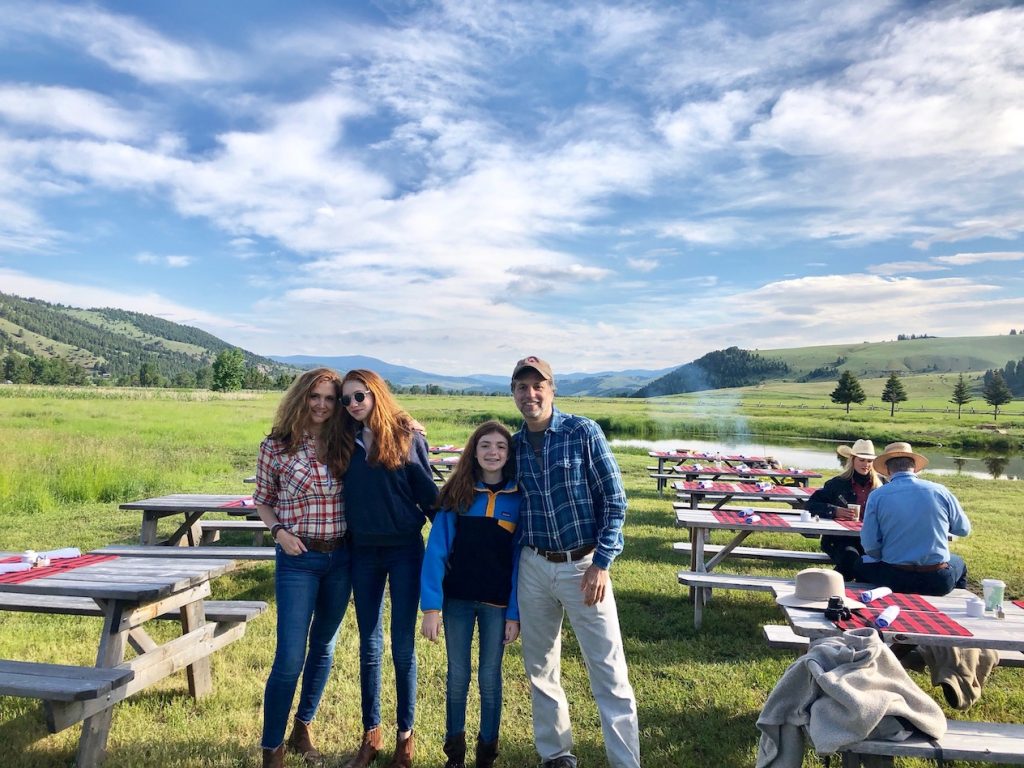 Well, I can't think of place where over the course of week we had so much fun and laughs together (some at my expense like when I fell completely in full gear in the river while fly-fishing), learned so many new activities, ate such incredible meals all with the backdrop of the most stunning scenery. Every day, we had a custom designed program ensuring no two days were alike. Our days were filled with such activities as clay shooting, riflery, 3D archery, fly-fishing and horseback riding with incredible personal guides whose passion and enthusiasm was infectious. Enjoy something a lot or want to try something new? You do it again in a different place or way.
Of course, for me, I was in 7th heaven just entering the barn. With over 80 horses and thousands of acres, there was no keeping me out of the saddle. While I ride with an English seat, this was the Wild West and when in Rome…
After watching a rodeo, I took a barrel racing lesson on a patient horse named Boca (newfound respect for these guys as it is much harder than it looks! Tip:  book a deep massage afterword as you will need it). The staff, at a 2:1 ratio for a maximum of 100 guests staying at any one time on the ranch, is here to work around your needs 24/7.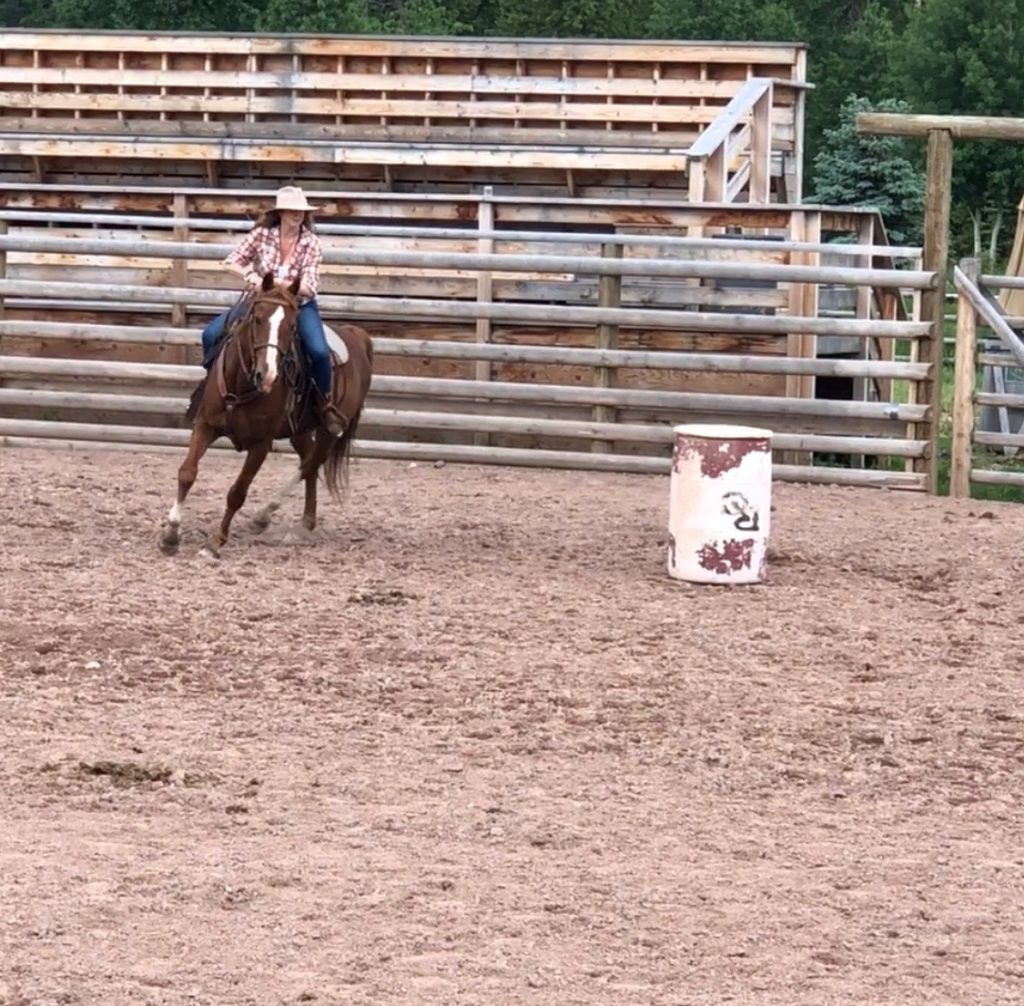 In between it all, we visited a ghost mining town, got a sugar high raiding a vintage candy store The Sweet Palace in town, biked along cattle and sheep in beautiful meadows, and hung out with four-legged residents such as Flint, the resident lab (who was grounded for rolling in too much dung), the new babies born in the Spring and Thelma and Louise, the resident trouble-making sheep duet. And yet there was still was plenty of time for heavenly massages at the spa and naps creek-side on our deck. How can one vacation be exhilarating and relaxing at the same time?
DID I MENTION The Food is outrageous?
All this activity works up a hearty appetite. You will be thankful for that because the food is outrageously good here (you ain't gonna find fruit loops on the breakfast menu at this ranch). We loved that the format for meals was ever-changing. One day it was a 5-course tasting menu in the Dining Room at the Lodge, another a down home barbecue with live music in the Buckle Barn.
Our favorite was the Cowboy breakfast at Piney Pond: a team of Belgian draft horses driven by wranglers takes you to a secluded picnic campsite in a stunning meadow where a dutch oven campfire breakfast is awaiting you. Despite all the activities you may do here, expect to leave with your jeans feeling a bit tighter.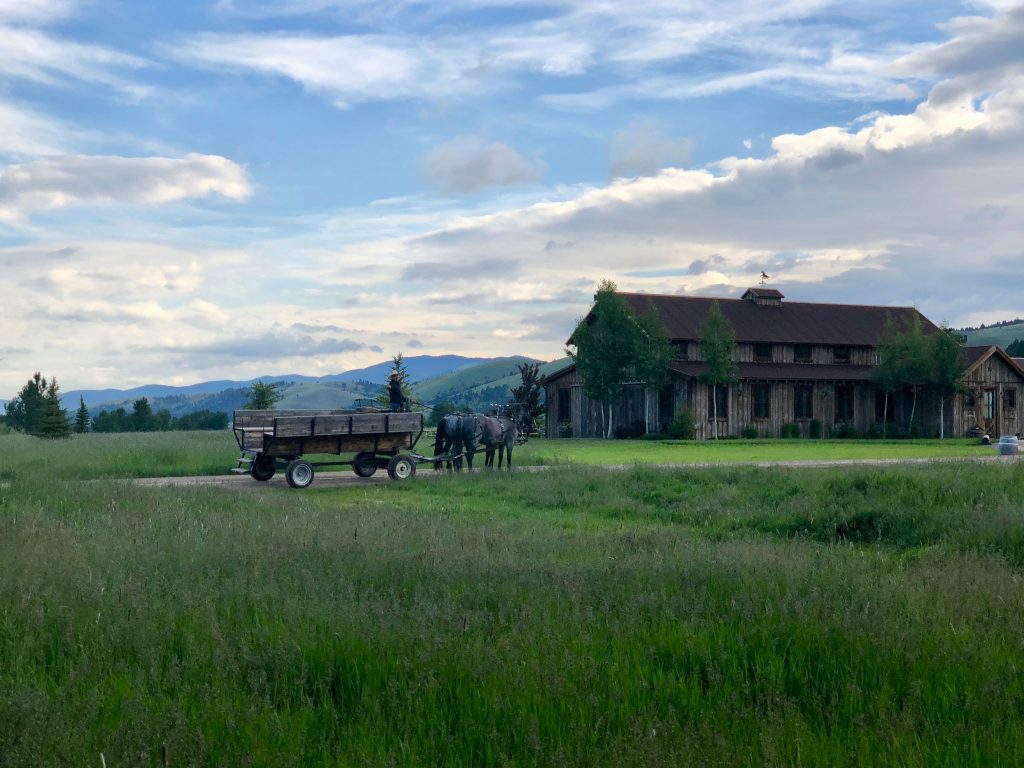 Saloon Style Evenings
We headed to the Silver Dollar Saloon after dinner every night to bowl, shoot pool, and mingle with the other guests. I can proudly boast that our family shut the saloon down each and every night.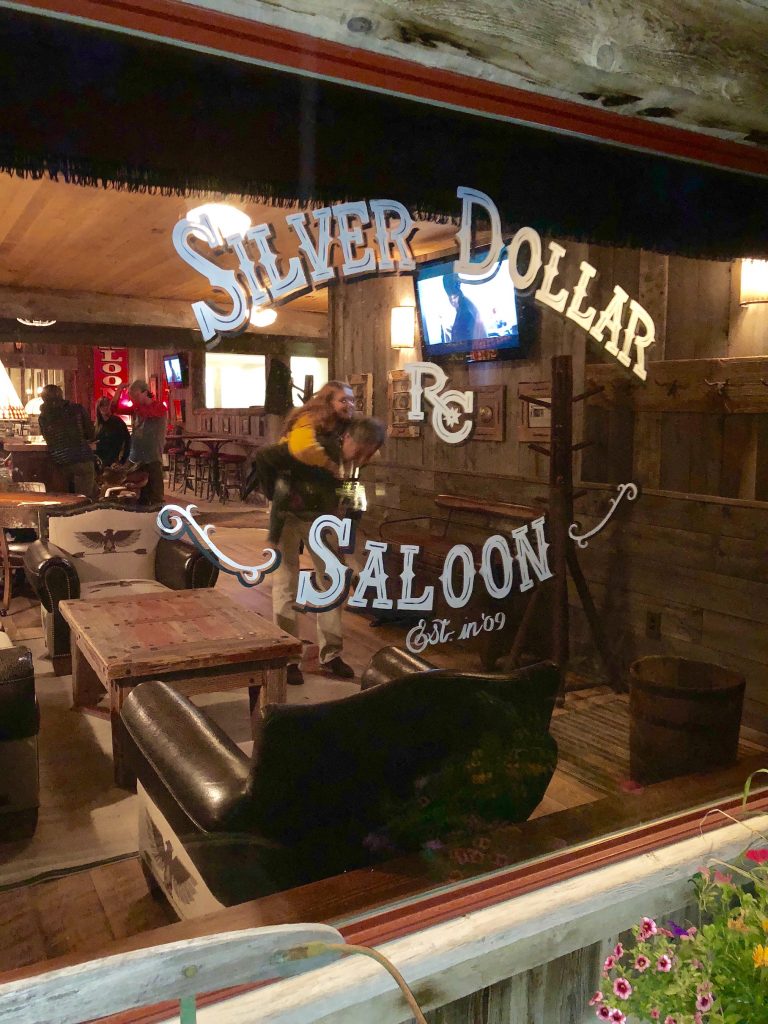 Where to sleep
There are a variety of unique accommodations to choose from at the Ranch at Rock Creek from multi-bedroom log homes for large groups and families to canvas glamping tents to cozy rooms at the main lodge.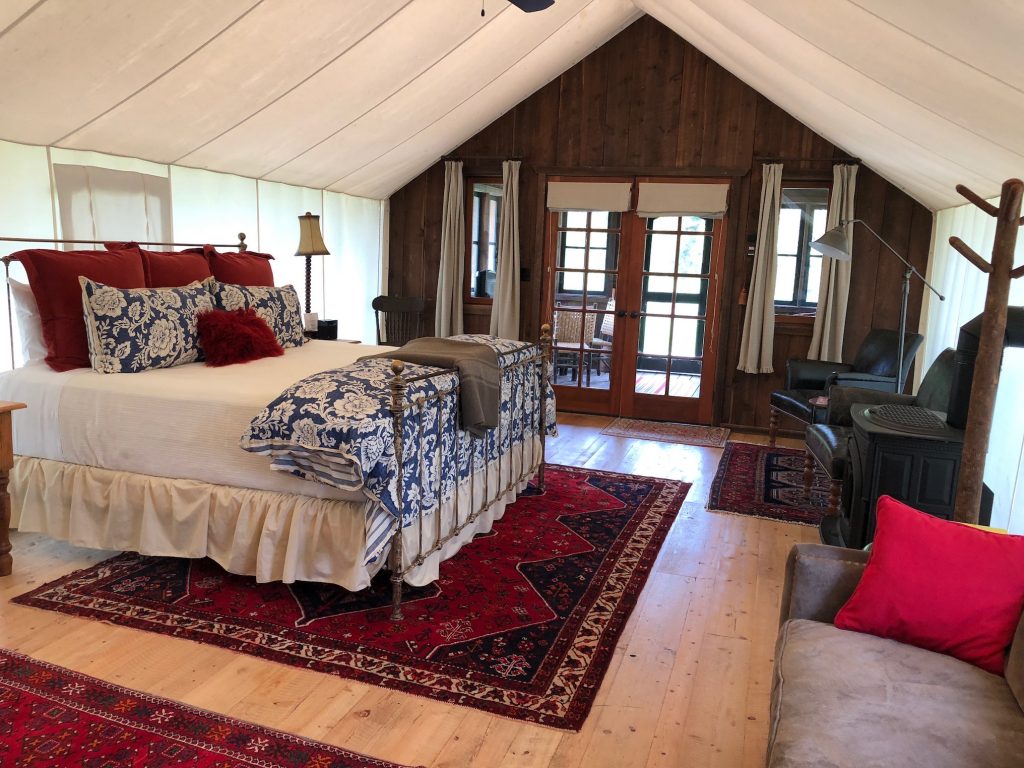 We had the opportunity to experience both the family wing (Springfield & Colt Rooms) at the Granite Lodge as well as the Bull and Apache riverside glamping tents along the river during our stay. The tents, with gas stoves and screened porches and decks facing the river, were our favorite. These are essentially the same price as the rooms at Granite Lodge but a different experience completely. No TVs!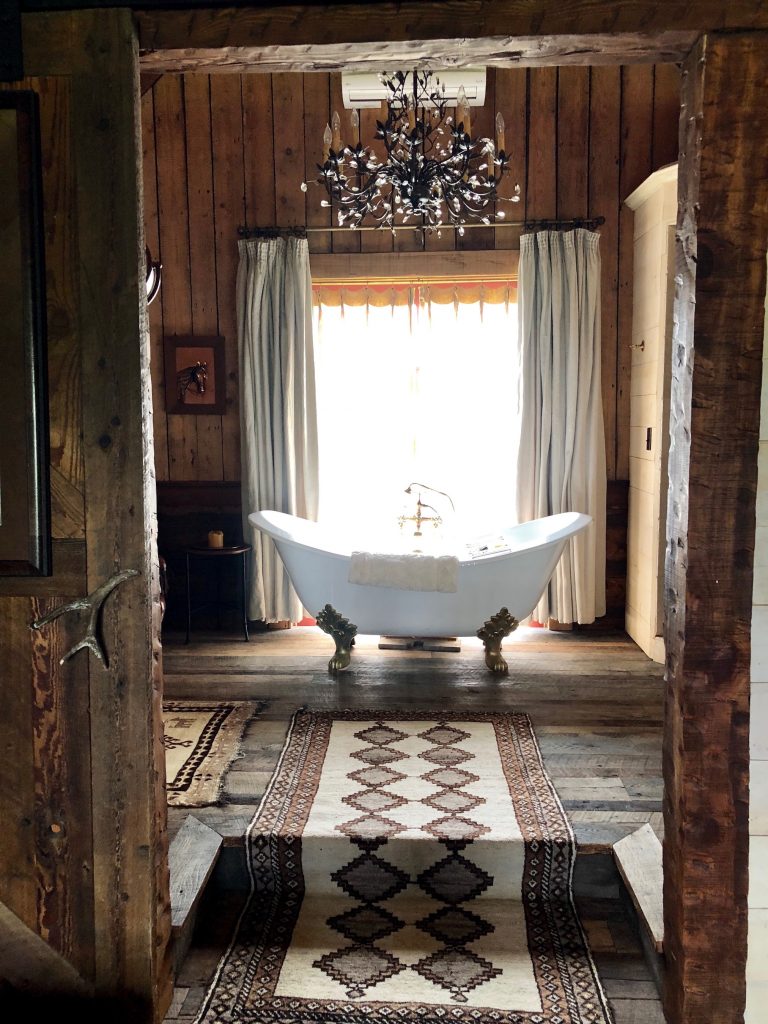 WHEN TO GO
We found June a great time to be at the ranch, before the kids were heading out to camp. The weather could be unpredictable however and chilly or rainy. We had rain the first day and then beautiful weather but it poured the entire week before. I would suspect late June through early July are amazing times when the weather is warmer.
last day at the ranch
On our last day at Ranch at Rock Creek, my husband and daughter went fly fishing again (a new passion she has continued after the Ranch) while I enjoyed a private two-hour horse ride in the mountains with my guide Matt (a carbon copy of a young Matthew McConaughey) atop best friends, Tank and Shorty. I don't recall taking in such magnificent scenery except perhaps the Masai Mara or Big Island, Hawaii. Afterwards, our family watched the inspiring sight of the 80 ranch horses gallop out in the sunset for the night. It was a sight to behold.
'What happens at the Ranch, stays at the Ranch'. Those were the parting words of warning to us from one of the guests (a repeat who comes to the Ranch at Rock Creek three times a year since it opened) after a night of bowling, bad karaoke and perhaps a few shots for us adults on our last night at the saloon.
Sorry dude. I just won't be able to keep my mouth shut.
Loved
Didn't Love

The glamping tents
The staff: their friendliness, expertise and proactiveness.  They are all working their dream job for the summer and their happiness is infectious.
All the sports and activities which are fully included unlike some other ranches which are extra charges
The scenery. Similar to the Mara in Kenya and Big Island in Hawaii, it is jaw dropping stunning.
The intimate nature of the ranch. With no more than 100 guests at any one time and a 3:1 staff to guest ratio, you pretty much have the ranch to yourself and are sure to be extra spoiled.
OMG, the food. You can't leave here with some extra poundage but it's worth every calorie. I also loved that they rotated the location of lunch and dinner every day with new scenery, menus and ambiance.

Getting here takes some time (we splurged and flew private for this trip so it was easy) with connecting flights and drives. But good things come to those who have patience. Direct flights are supposed to be coming soon.
The lighting in the Granite rooms are not the best.

Don't Miss
Skip

The Cowboy Breakfast. The horse-covered wagons, the campfire cooked breakfast, the scenery and fresh mountain air. Loved it all.
A visit to the ghost town and town one morning or afternoon. It will be hard to leave the ranch but its really a cool excursion with the kids.
Watching the horses (there are 84 or so on property) be let out during sunset each day. It is a magnificent sight to behold.
A massage or treatment at the spa.

Rooms to Get
Tips

If you are with a large group or family (more than 4), it is best to stay at one of cabins.

Smaller with young kids are best to stay in one of the two family wings at the Granite Lodge. There are nine rooms in all at the lodge. The rooms are cozy and convenient but if you wan't more privacy, stay in one of the cabins. There are TVs in the cabins and the lodge rooms but not the tents.

The glamping canvas tents along the river were my favorite by far.  Some can accommodate 4 people (family tents have two beds), but we did side by side tents . There is nothing that beats the atmosphere of being here – from the old fashioned fireplace stoves to the screened porches and sound of rushing river at night. These of course book up fast, sometimes a year ahead.

If you are a couple, the Trapper Cabin is my favorite. It is the most secluded and directly on the river with a fire pit in front and comes with its own jeep.

There are often specials so check with me on special offers as staying here comes with a hefty sticker price. Still with all your activities and food included, it is worth every penny

Book way ahead. This ranch gets a lot of repeat customers and it sells out quick due to the small number of accommodations. We booked a year ahead and the tents were sold out in June. 

Layer up as the weather can change dramatically during the day. 

Try a little everything in terms of activities while you are here. 

Diet before or after. The food is amazing and this is NOT the place you want to skip any of the amazing food.   
Ranch At Rock Creek, Montana
When you book the Ranch At Rock Creek with Inviato, you receive the following in addition to personalized service: 
• Daily full breakfast, for up to two in room guests (already included in the all-inclusive price)
• Upgrade on arrival, subject to availability
• Early check-in/late check-out, subject to availability
• One premium bottle of wine upon arrival
• $100 Ranch Credit (may be used at The Granite Spa or The Mercantile)
• Complimentary Wi-Fi
Book This Hotel
Why book Virtuoso?
Personalized travel assistance
24/7 online booking
Special rates & exclusive offers
Guaranteed Room upgrade*
Complimentary full American breakfast
Early check-in, Late check-out*
Exclusive on-site amenities (varies by hotel)
* based on availability on time of arrival