Hotel Review: Sao Laurenco do Barrocal. This Summer, our family had the unique opportunity to be all together in the summertime. As our oldest daughter was going off to college in the Fall, we wanted to spend some quality time together as a family.
Review by editorial contributor, Romi Howard.
Seeking a destination loaded with culture, natural beauty, fine wine and food, Portugal checked off all the requisites. This wasn't my first time in Portugal, but it would be the first time for all of us together. I selected four unique luxury hotels in over the course of our ten days in Portugal: Sao Laurenco do Barrocal, Sublime Comporta (reviewed here), One Palacio Anunciata (reviewed here) in Lisbon and, lastly, Six Senses Douro Valley.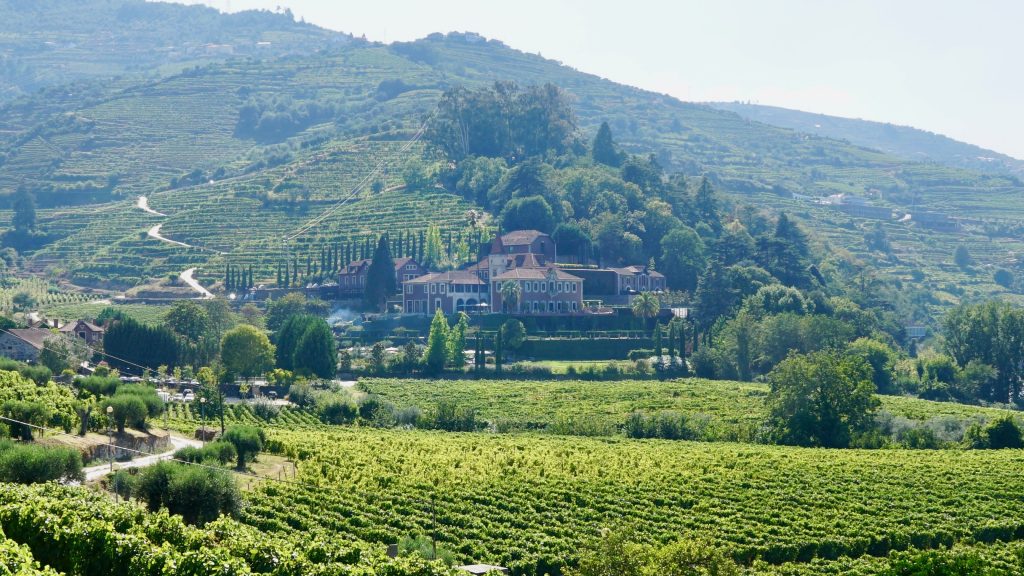 Road tripping with a car in Portugal is actually quite easy and fun (we named our BMW station wagon Regina being that we were going to be with her for over ten days). As a relatively small country, Portugal is easy to traverse from point a to point b in a relatively quick amount of time. The roads are well-marked and the highways are easy to navigate. Most of the time, the drives are beautiful if not breathtaking with the quick changing topography. One minute, you can be driving along the coast with soaring cliffs and insanely beautiful beaches of Comporta or further south in the Algarve, the next you might find yourself in captivating forests (especially the magnificent cork trees) or the vineyards in the Alentejo region or further north in the Douro valley.
Landing in Lisbon, we opted to not settle in town right away and head straight to our first stop just a two hour drive from the airport: Sao Lourenco do Barrocal. This year-round country retreat that only opened four years ago ended up being our favorite stay and biggest surprise of the trip.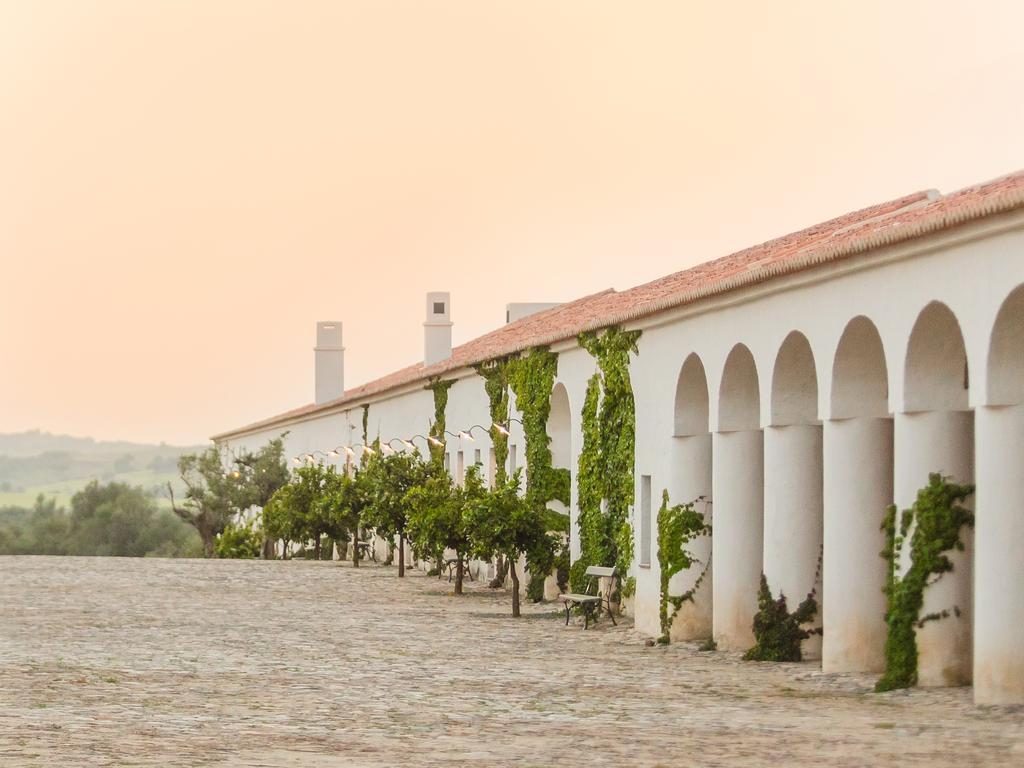 FIRST IMPRESSIONS 
About ten minutes prior to arriving at the property, we drove through small local nondescript towns whose cobblestone-laden streets were filled with cafes and people going about their day. Row after row of pottery stores and workshops preceded a very rugged non paved road leading to the main property. Parking our car, we admittedly had no idea what to expect.
But as we walked down the cobblestone path lined with cork trees towards the main entrance, it was if we had stepped back in time. Old fashioned bicycles rested on low-lying white-washed farm buildings and overgrown wisteria creeped up stone walls. We saw two pools in a meadows, built (almost carved) into the existing granite dating back who knows how many centuries. Everything has a sense of place here. We knew we were in for something special.
In fact, Barrocal is a farming hamlet that has been under the same family for over 200 years. Now, in its eighth generation under José Antonio Uva who spent 14 years transforming the property to his vision (with the aid of Portuguese architect, Eduardo Souto de Moura), Barrocal is almost otherworldly. The vineyards, cork trees, olive groves, heritage and old-world soul remain intact but the now 1,900 acre property is a country retreat and working farm for guests to thoroughly enjoy.
Rooms and cottages
As part of the farm's transformation, barns and workrooms have been renovated into minimalist chic lodgings of 22 guest rooms, 2 suites and 16 cottages.  All are designed using a combination of vintage and hand-crafted furniture, old photographs and trinkets, and custom rugs under the expert eye of Lisbon interior designer, Ana Almeida. Amid a backdrop of red-tiled floors, light woods and soft blues and greens to complement the exterior white-washed buildings, it works beautifully.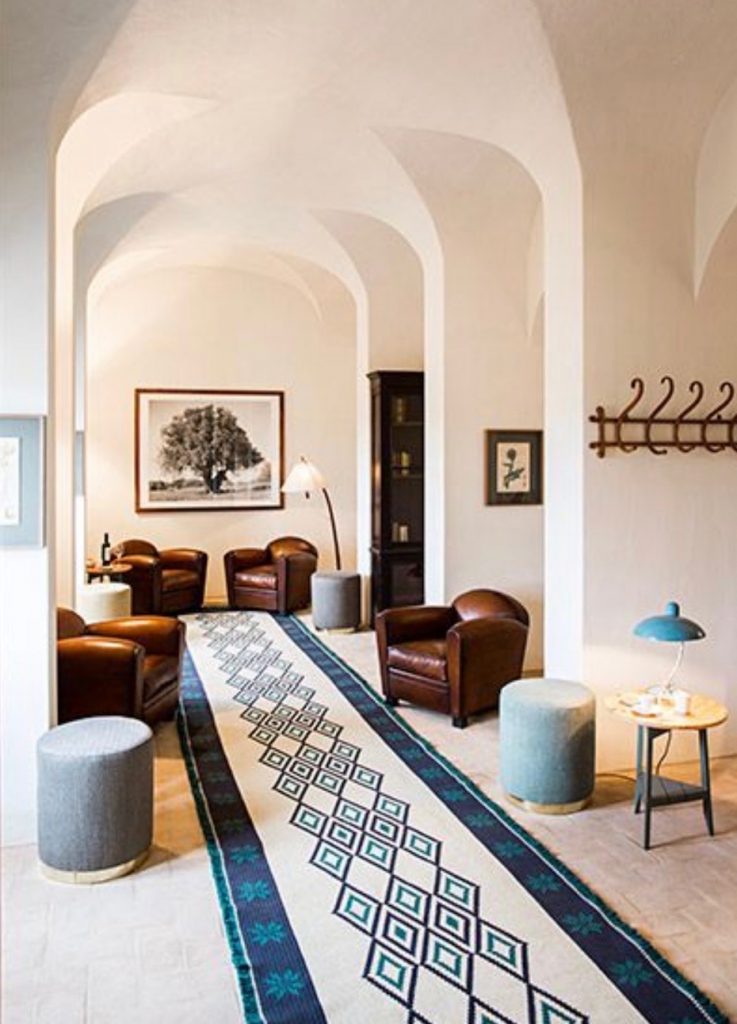 The 22 guest rooms come in various sizes and offer views of either the farm, courtyard or the vineyards.
The spacious cottages, fitting for families, range in size from 1 to 3 bedrooms with options for Barn Cottages (1-3 Bedrooms), Yard or Meadow (2 bedrooms). Some, but not all, have free standing bath tubs in the bathroom.
We were booked in a two bedroom Meadow cottage (#39) with wonderful views of the property extending out towards the pools and beyond. These cottages have an open concept living space with a fully equipped kitchen and a very long farm style dining room table. Our bedrooms each with its own spacious bathroom, were minimalist in style with comfy bedding.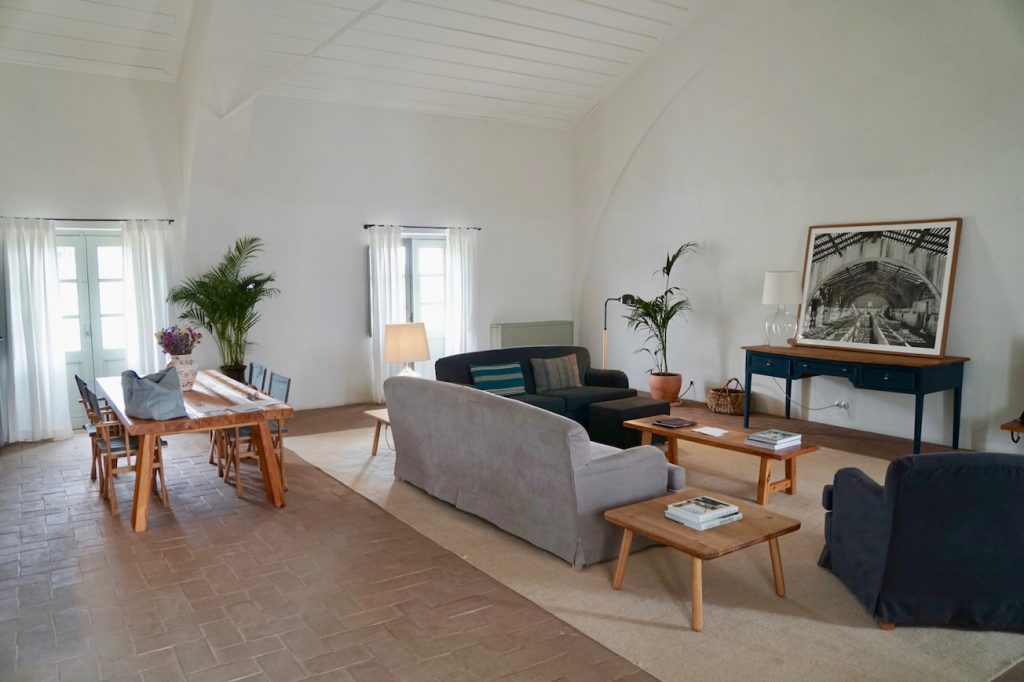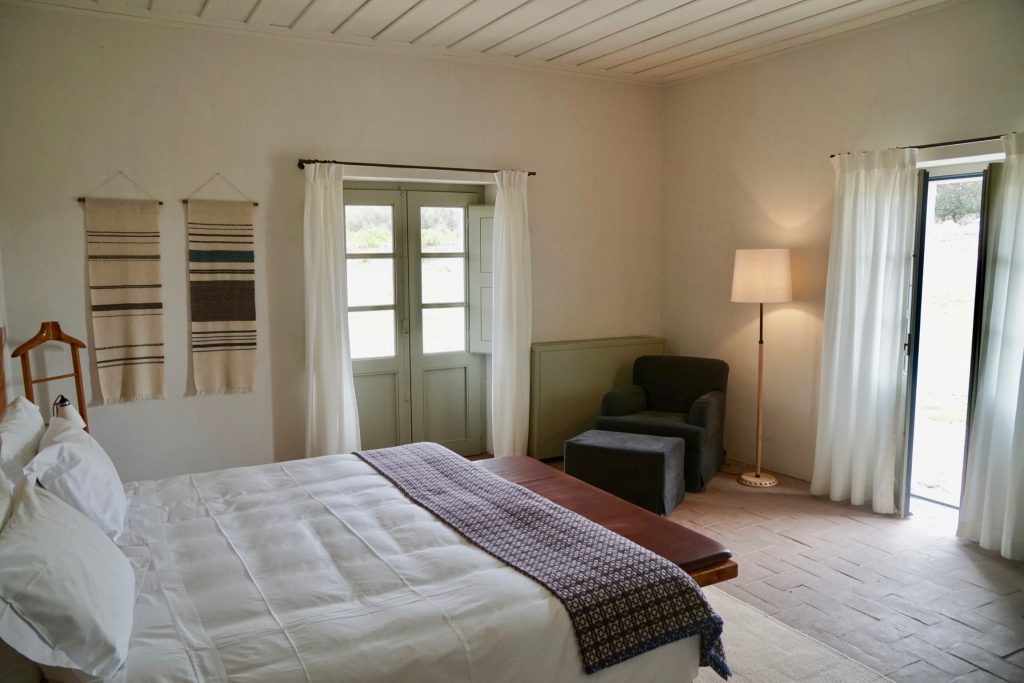 Restaurants
Barrocal offers two restaurants and bars. Most of the food and wine – the oils, olives, and vegetables particularly as they are produced in the groves, gardens and vineyards – are produced on the estate. Other ingredients are sourced locally wherever possible (the fish and seafood come from nearby Lake Alqueva). Here it is about truly living off the land.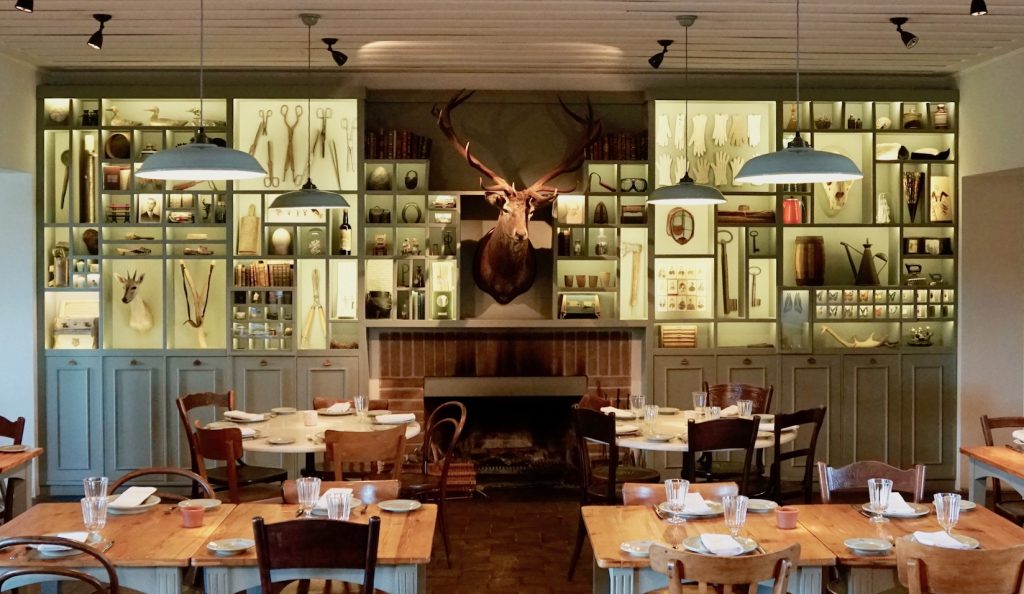 Hortelão is opened from mid spring through mid-autumn, features slow food, farm to fork and table.
São Lourenço do Barrocal is the main restaurant where breakfast and lunches are served daily.
The food at Barrocal was the best of all four properties we stayed at in Portugal. Both the breakfast and lunch offerings were amazing and delicious.
The Saturday night open air farm-to-table dinner with live jazz music was a highlight. The food was ridiculously good.  It was my husband's favorite meal of the whole trip.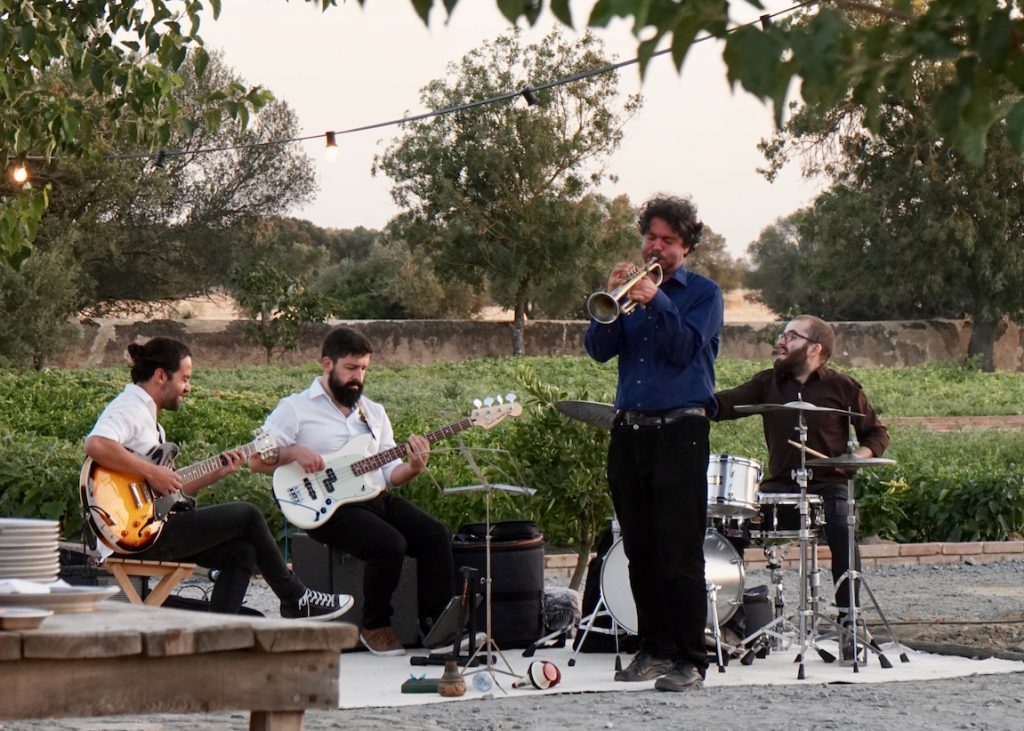 Activities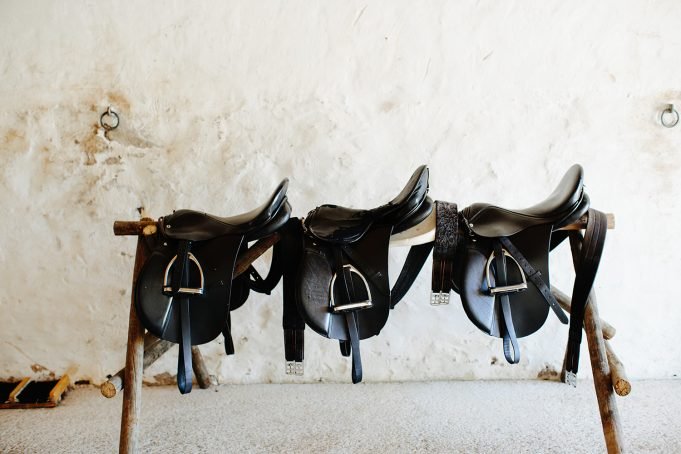 There are several 'countryside' pursuits you can do at Barrocal both on and off property and the staff is extremely accommodating to offer their recommendations. Activities here tend to gravitate toward either eating and drinking or outdoor activities on the 1,900 acre property.  You can bike or hike on their many trails, take a picnic, go wine tasting, ride a horse, go swimming. You get the picture.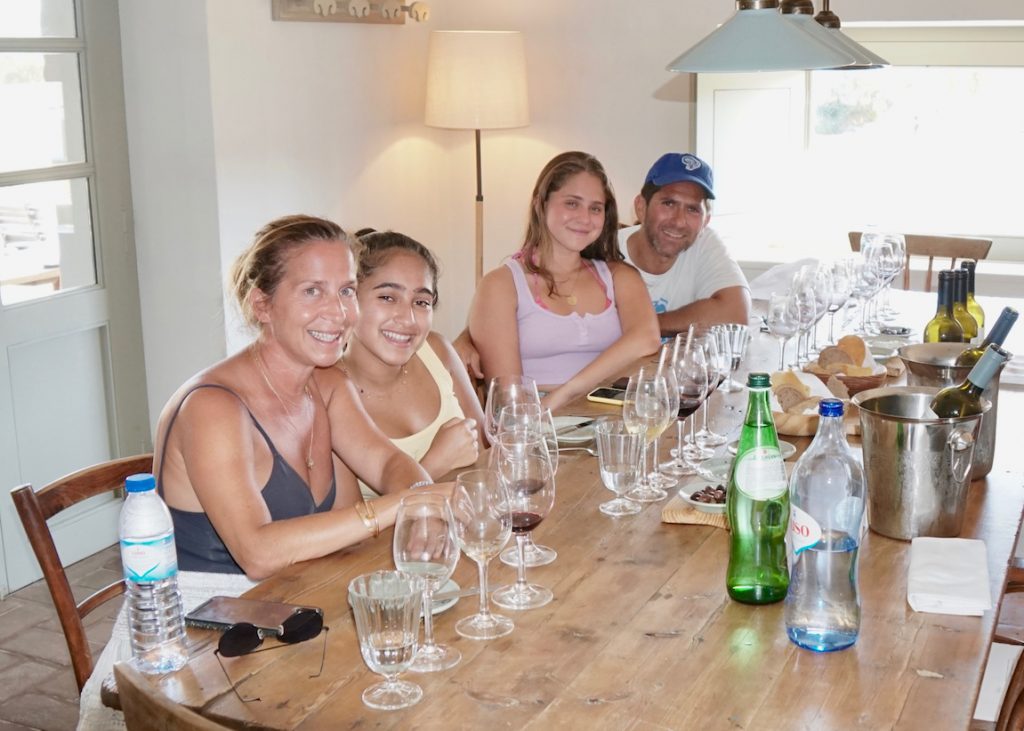 We particularly loved the wine tasting. Barrocal has an excellent wine tasting program. We enjoyed a private one in the room off of their main dining room which included two whites and three reds from their estate. All of them were excellent.
While it is not my thing, Barrocal is known for its exceptional stables and horses on property. Even if you do not ride, it is worth visiting the beautiful barn and their gorgeous Lusitano thoroughbreds, the oldest saddle horses in the world.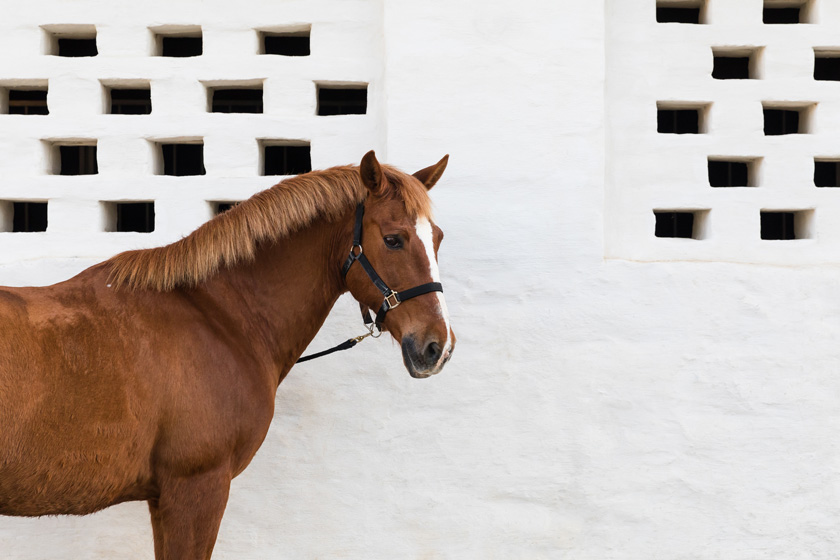 OTHER ONSITE FACILITIES
On property is an Austrian-based Susan Kaufman spa featuring plant-based, organic products. The minimalist style spa has four individual treatment rooms (one of which has its own shower) offering an assortment of treatments. Additionally, there is a private hydrotherapy room, his and hers saunas, a fitness studio for yoga and pilates classes and a fully equipped gym. The wonderful views from the gym extend out to the stone spires on the property and beyond.  A key component for me when exercising at a hotel gym, I was ecstatic!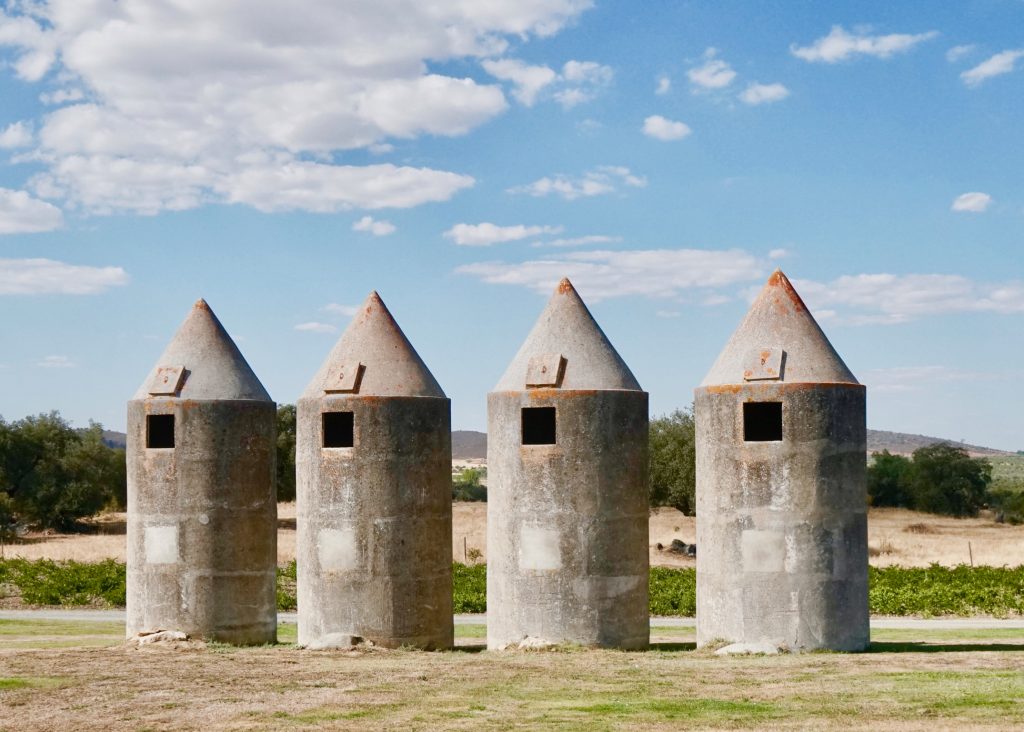 There are two beautiful swimming pools set in the meadows with giant granite boulders in the corners.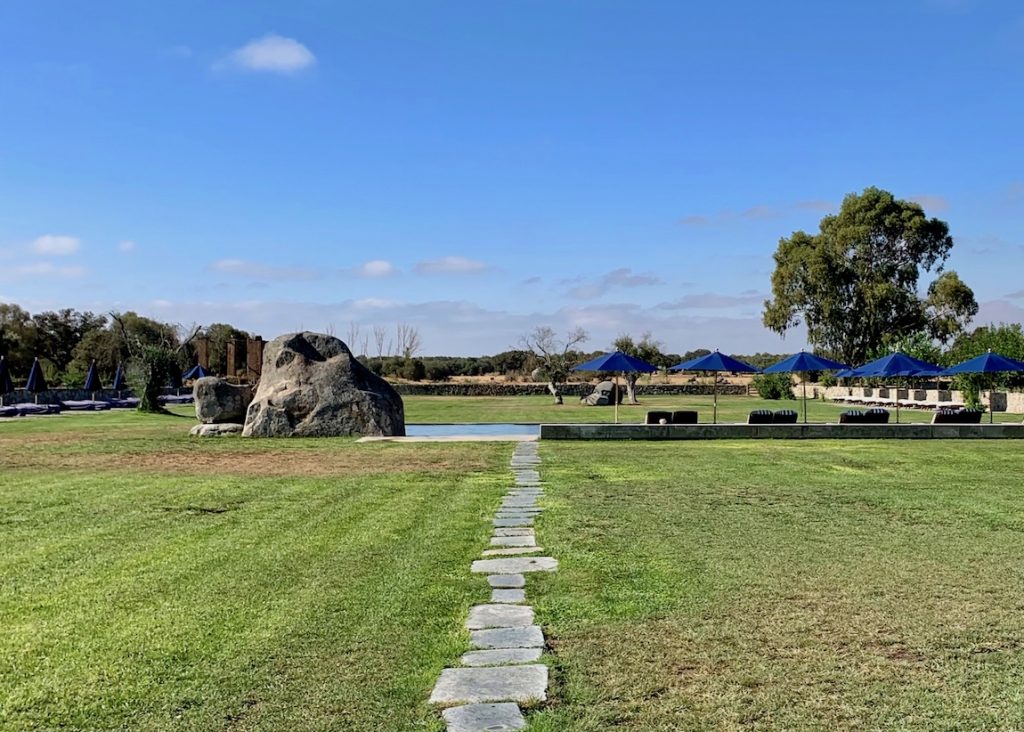 We loved the shop featuring all locally made products, such as throws, rugs and pottery. Their wines are for sale there too as well in the adjacent cellar.
Barrocal is a place to unwind and replenish, to go back in time and enjoy life's simpler pleasures but still be in touch with the present. It was absolutely magical! The setting, the architecture, the staff, the food – all of it. We will definitely be going back.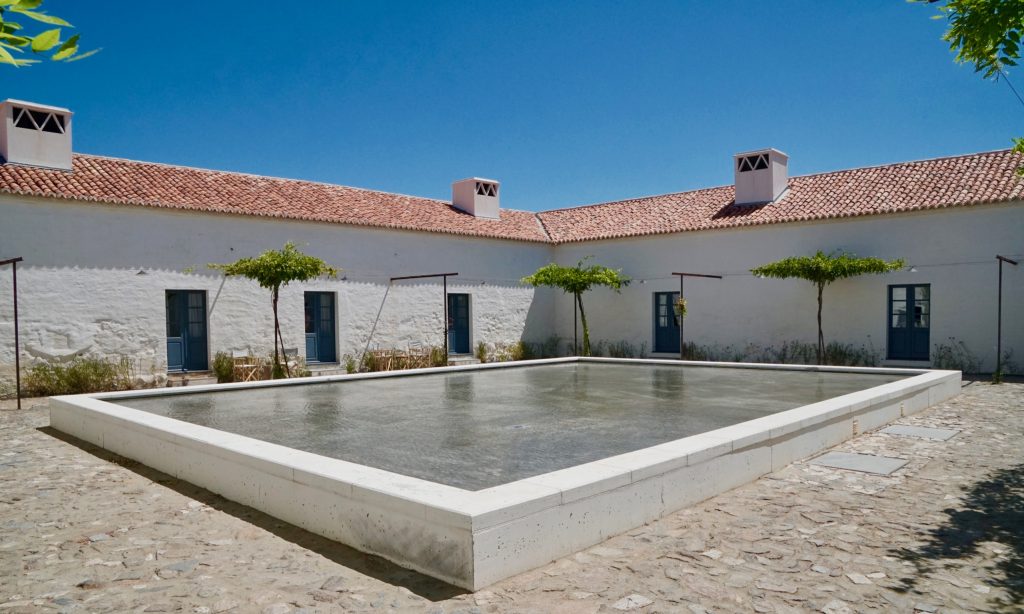 Out and About
For the most part, we stayed on property as we were only there for two nights (too short!) and had no interest or reason to leave.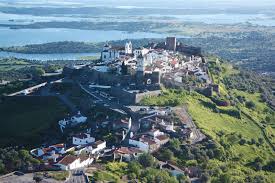 We did visit the nearby hilltop medieval town of Monsaraz. The hotel provides you with a guide of places to eat and shop and they suggest great options. We ate at a simple restaurant with incredible views and the most delicious plate of local Iberico style ham and tomato salad.
We did not get to the town of Evora, a 45-minute drive away. Some of the staff said it was a must visit (in addition to its UNESCO sites, it is known for its linen, wool and pottery) while others said not to bother.  It was simply just to far to drive at night.
Photo credits: Jeff Howard and Sao Lourenco do Barrocal. Copyrights reserved.
Loved
Didn't Love

The property itself is just incredibly well thought out, and beautifully landscaped.
The service was impeccable, the locally sourced food delicious. We could have stayed here easily for another two days. We felt like we were brought back in time to an exceptionally special place.
Our private wine tasting experience!

The bathrooms in our Meadow cottage, although spacious, felt cramped for the four of us. This cottage did not have a stand-alone bathtub which some of the other types of cottages have.
Food options outside the property in Monseraz were just ok. It was either very heavy, or fish, fish, fish with not much else for protein options. If you want to go to Evora which has more food options and to explore the medieval city, it is a 45-minute drive away which is slightly inconvenient, especially if driving back at night.
Not a complaint per se but once dinner is over, there was not much else to do and it was very quiet. You can have a nightcap in their lovely bar off the lobby but that is about it in terms of activities.

Don't Miss
Skip

Private wine tastings and tours of their wine making facilities are available and I encourage. Group ones available as well.
The Saturday night open air farm to table dinner with live music.
Olaria Patalim in Sao Pedro do Corval (opposite from Monsaraz). It's like a pottery row of stores where literally lined down the street. Patalim has the biggest, best and greatest selection of pottery.

Rooms to Get
Tips

For families, definitely go for the spacious cottages. Meadow cottages provide the most open views. Request ahead of time if you are interested in a free-standing tub as not all provide one.

Barrocal and Sublime Comporta have a reciprocity partnership where you can book a stay in either place and go to the other for wine tasting, spa services and dinner. This is ideal if you want to check out either for a quick experience if do not have the time in your itinerary to stay there.
Benefits When You Book Sao Lourenco do Barrocal With Inviato: 
Upgrade on arrival, subject to availability
Complimentary farm to table breakfast for two daily for duration of the stay
Choice of a $100 Spa Credit  or a complimentary 1-hour horseback ride throughout the estate
Early check-in/late check-out, subject to availability
Personalized Travel assistance
Book This Hotel
Why book Virtuoso?
Personalized travel assistance
24/7 online booking
Special rates & exclusive offers
Guaranteed Room upgrade*
Complimentary full American breakfast
Early check-in, Late check-out*
Exclusive on-site amenities (varies by hotel)
* based on availability on time of arrival