In my quest to hit my wanderlist of exciting new hotel openings last year, I took advantage of a small window of opportunity in August while my both my children were in summer camp to check out the newly opened Blackberry Mountain in Tennessee. Plus, a few chill days of yoga, spa, hiking and riding by myself sounded right up my alley.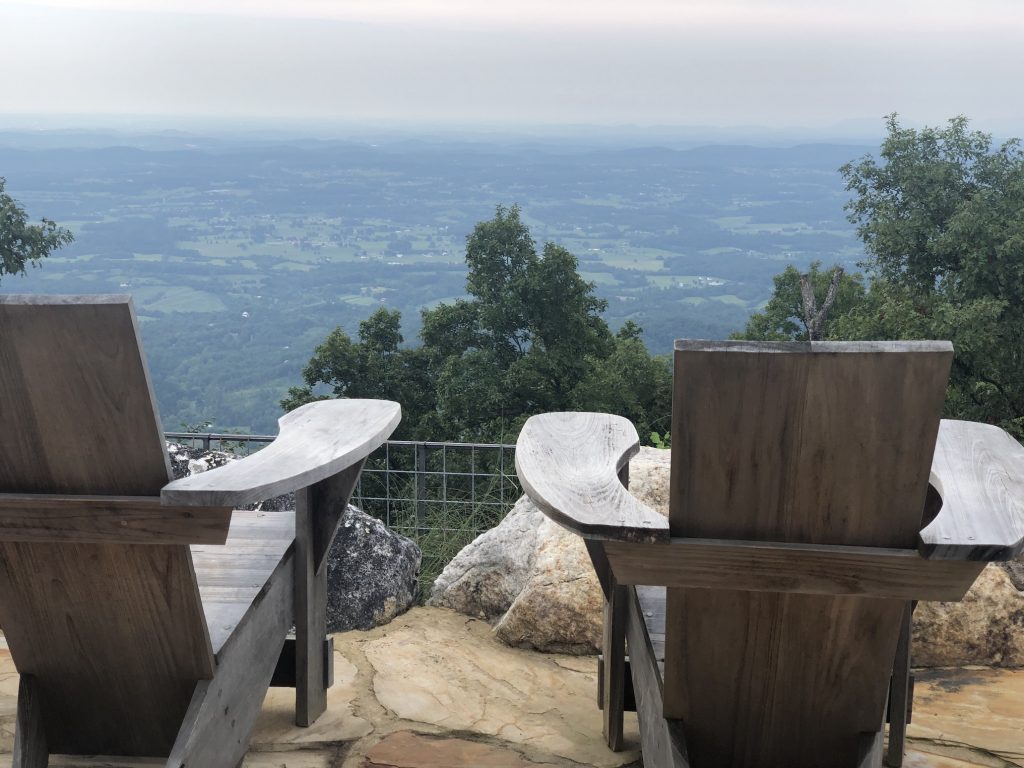 As a huge fan of Blackberry Farm (the well-regarded sister property just a 30-minutes drive from Blackberry Mountain), I had been eagerly anticipating the opening of Blackberry Mountain since it was announced a few years ago. When Blackberry Mountain opened in February 2019, it had already earned a Relais & Chateaux designation (as Blackberry Farm has), the first property I know of to earn one before it even opened.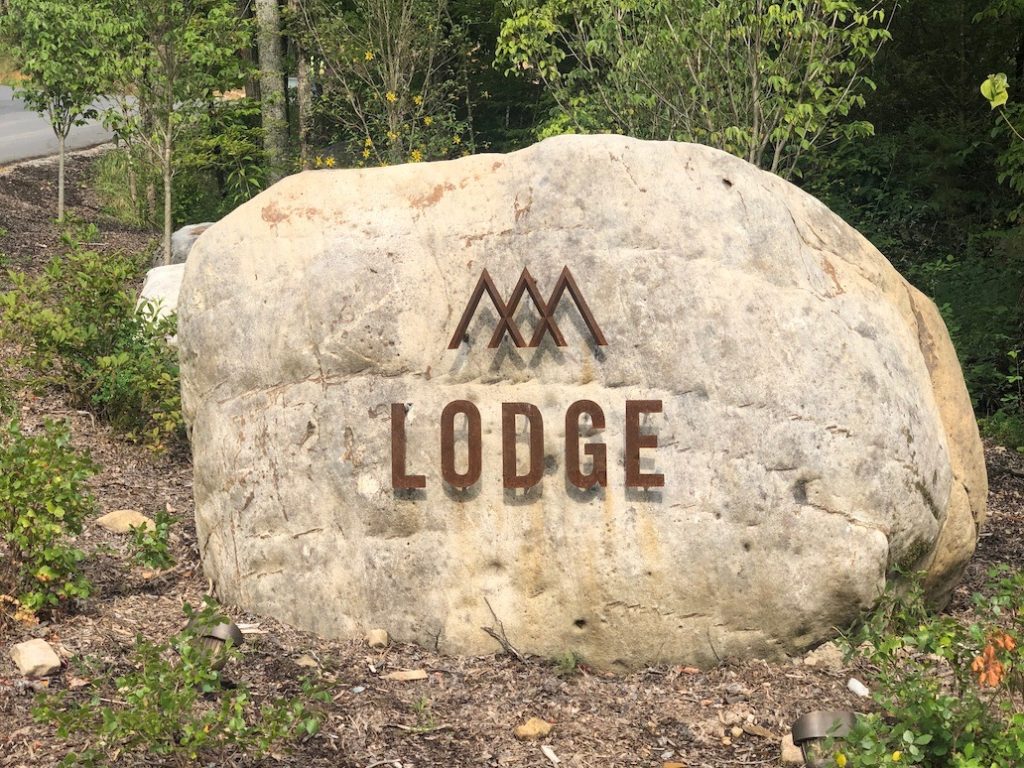 As my taxi ascended up the Great Smoky Mountains (my ears popped more than once as the altitude changed) to the 5,200 acre property, I checked out my rather ambitious schedule for the next three days.  I was excited to explore the property and have some ME time. This was, after all, a birthday present to myself.
COVID-19 Note: Blackberry Mountain re-opened May 14, and is following a strict set of procedures to ensure guests and staff's well being. 
The Property
Blackberry Mountain's expansive 5,200 acre property is essentially split in three sections.
The base is the Lodge where the reception, Whippoorwill lounge, Three Sisters restaurant, Nest spa and swimming pool is located as well as most accommodations. A tremendous stone deck wraps around this all, with telescopes strategically placed, looking out to the vistas beyond. You can even spot the farm (a 20-30 minute drive away) across the distance.
At mid-mountain, you will find the Hub where activities are planned and classes are located. Here, you will find the gym (with a rock wall), fitness studios, boutique, art studio, professional kitchen and Camp Blackberry (the kids club).
Finally, the upper mountain is where the Millstone Gap Look Out Tower (simply called the Firetower) built in the 1940s for spotting forest fires, is located along with another restaurant, library lounge and a small grouping of remote Watchman cabins.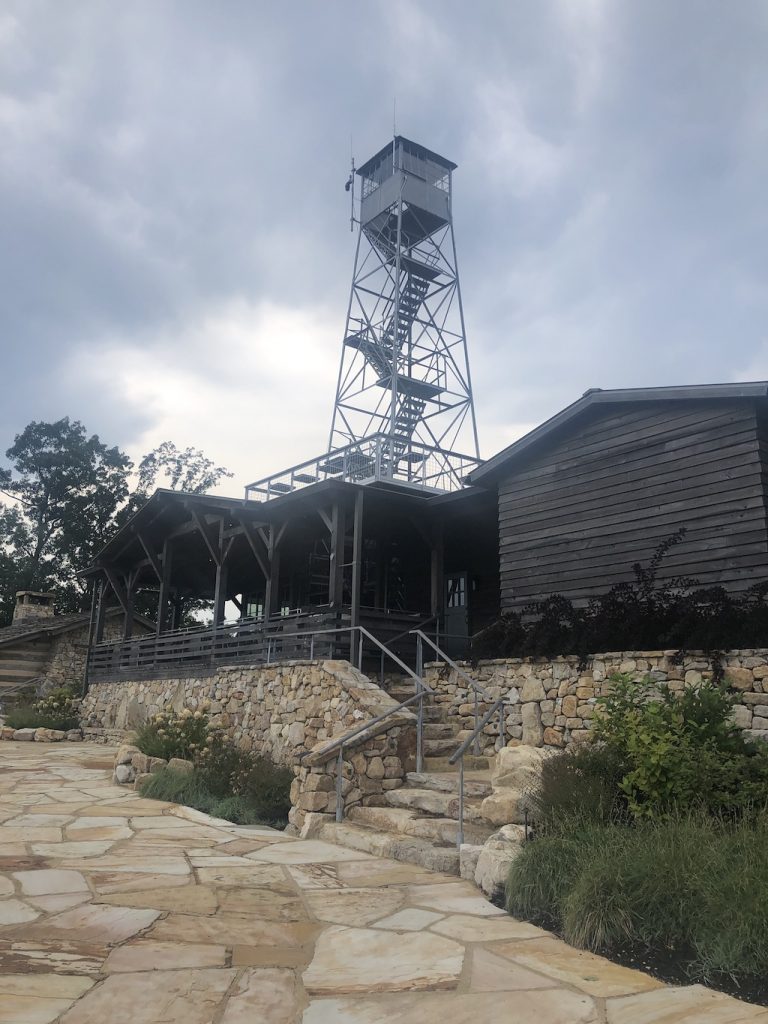 If you are not inclined to take your golf cart up and down, there is a fleet of Lexus SUVs that will transport you from the Hub or Lodge to the Firetower and back in a matter of minutes.
In between all this are multiple hiking and biking trails and residences being built. As I would learn during my stay, guests spend a lot of time in all three areas, maximizing their time outdoors.
FIRST IMPRESSIONS
Checking in quickly at reception in the Lodge, I was instantly wowed by the architecture and design which is as stunning as the views are from literally everywhere you turn.  The design of Blackberry Mountain was inspired by the great national park lodges in the Adirondacks and Canadian Rockies but the massive floor-to-ceiling glass windows (designed to bring the outdoors 'in') and chic interiors completely take it to a new level.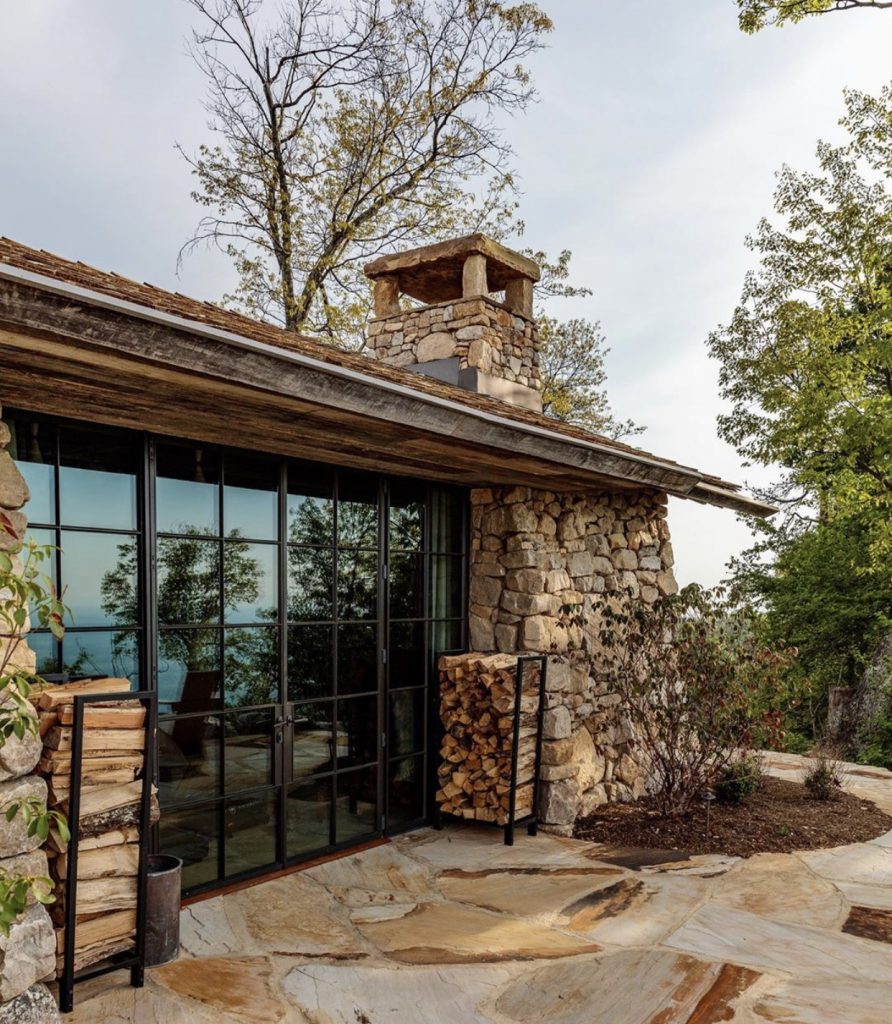 All the stone here was quarried from the area, making it feel like this was not a new construction but the gorgeous mid-century interiors says differently. If I could build a mountain home, this is what I would want it to look like (on a much smaller scale of course). It comes at no surprise that Blackberry Farm has already won Elle Decor's 2019 Best New Hotel as well as a multitude of other design awards.
Next, I was introduced to my 'cottage' named Bittersweet, one of the 14 Thunderhead accommodations near the Lodge. I could not have had a bigger smile as I got acquainted to my 1,200 foot home for the next two nights. Why? Well, first it was just gorgeous with atrium ceilings and floor-to-ceiling windows looking out to the mountains. Second, it had a huge bathroom (with heated floors and a stand alone deep sinking tub), generous closet space, pantry with all sorts of complimentary goodies and an outdoor fireplace. Third and most importantly, I had all of this to myself!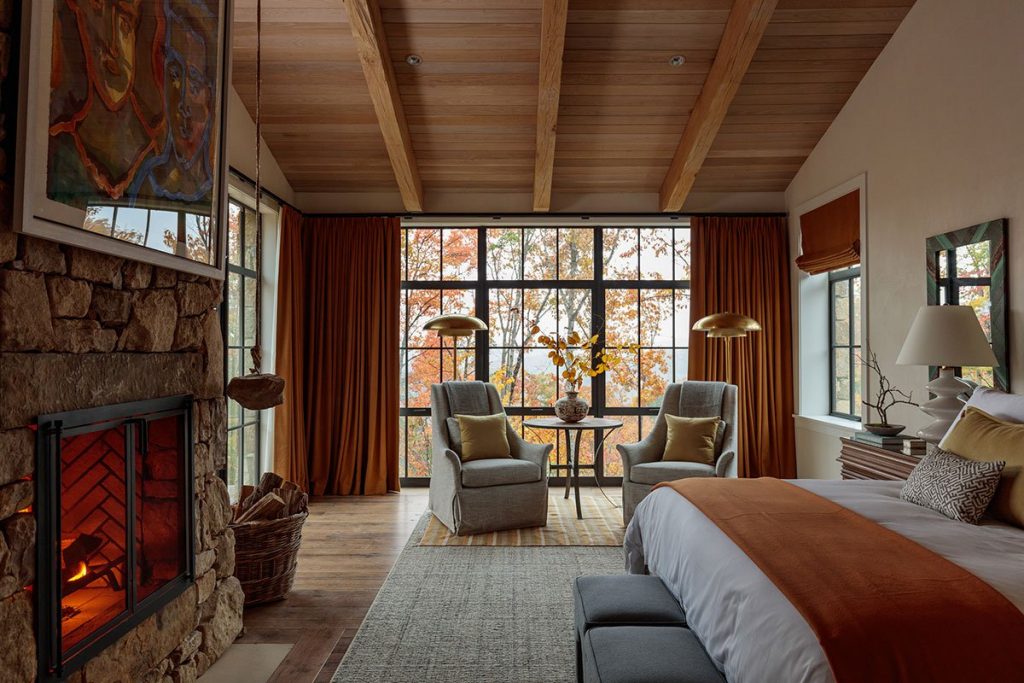 Before I could orient myself to the rest of the property, I was provided driving and charging instructions for using my personal golf cart (each cottage has one, as they are necessary to get from point to point. It was a 15 minute golf cart drive from my cabin to the Firetower). Conveniently, there are charging stations at at the Hub and Firetower in addition to each cabin. By my last day at Blackberry Mountain, I became quite adept at driving a golf cart with a wine glass in one hand. This is a new skill that might come in handy another time.
MY PROGRAM
Before your arrival at Blackberry Mountain, guests work with the Hub concierge to schedule activities they may want to do. Blackberry Mountain has a quasi-inclusive program, a bit different from Blackberry Farm, which includes breakfast, dinner, daily morning fitness classes and non-guided hiking and biking in your rate. Lunch, alcoholic beverages and guided activities (most of which are offsite) are not.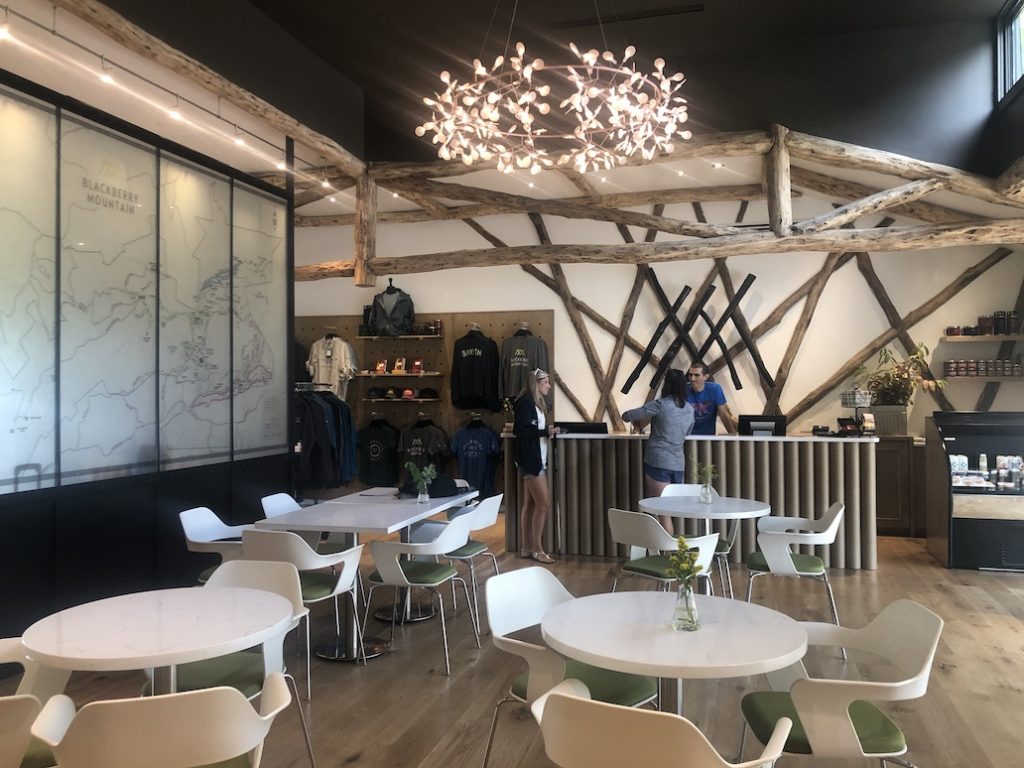 My plan was to start the morning with the daily pre-breakfast 8:00 a.m. guided hike from the lodge to the Firetower which I was told at the front desk was about a 40 minute hike uphill.  But once I saw the steep incline as I was riding my golf cart up the mountain the first day, I said 'Hells no'.  This is in fact a 1.4 mile serious 80-minute steep vertical hike up hill. I would instead take the golf cart to my coffee and breakfast, thank you very much. Maybe next time, with a few friends to encourage me.
Instead I checked into the Hub for a wonderful Vinyasa yoga class in a light and airy studio. It was just myself and the teacher that morning so it was a very personalized session.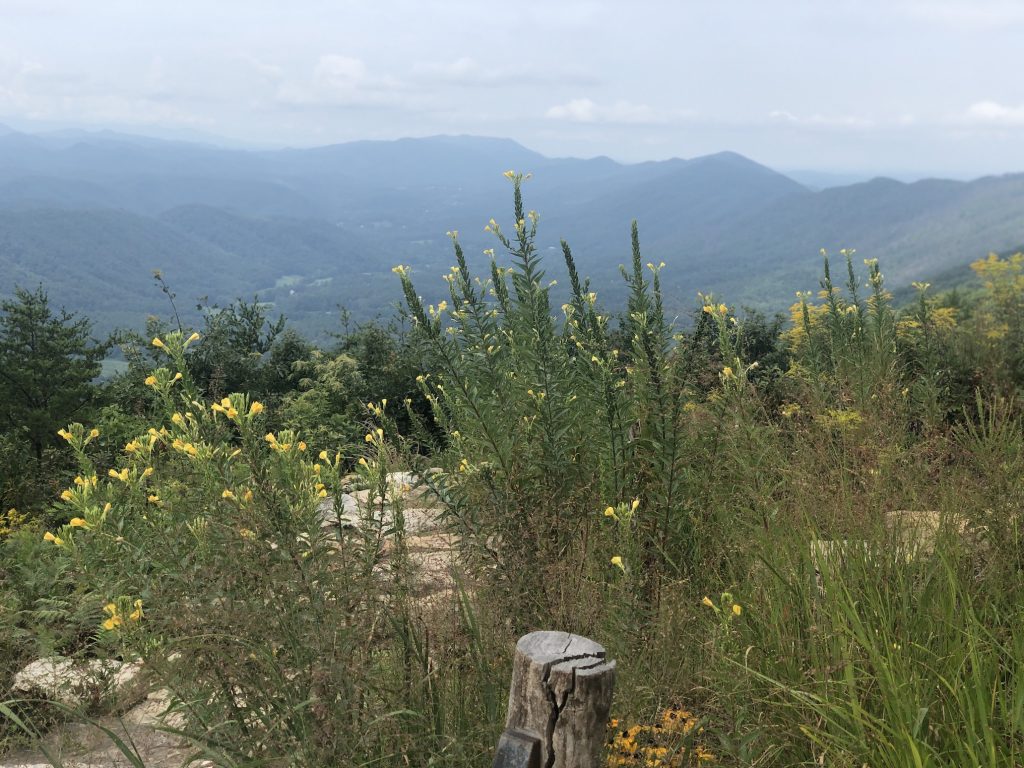 Then I went through the impressive trail map with one of the Hub concierges which has several hiking and biking trails ranging from one to four miles. Being solo, many of these seemed daunting, especially with warnings not to get lost with a wrong turn and what to do if you encounter any black bears, copperhead and rattle snakes that live in these parts. I chose the Goat Hill Trail, making sure I had memorized my steps if I see a bear (back away, don't run!) and watching where I was walking. Thankfully, I only saw a few wandering turkeys.  Goat Hill is a wonderful trail that rewards you with stunning stunning vistas. It is an ideal hike early morning to catch the sunrise or before lunch as there are picnic tables at the top for a wonderful post-hike picnic lunch.
I was most excited for my private Field & Stream ride, which I scheduled for the whole afternoon on my second day. The horse barn facility, which used to be located on property at Blackberry Farm, is now located in an isolated area two miles away from the Farm and about 30 minutes each way from the Mountain.
After a quick riding assessment, I was introduced to my horse, a massive but gentle guy named Thunder and my instructor, Kathleen Porter.  We spent the afternoon trotting in the dense forest and streams, and cantering through meadows. In the midst of this, Kathleen, who was also a wonderful historian, told me some ghost stories and took me to a supposably haunted cabin in the middle of the forest. The day was blissful. The amazing team here takes wonderful care of the horses and ponies (many of them rescues), spoiling them rotten.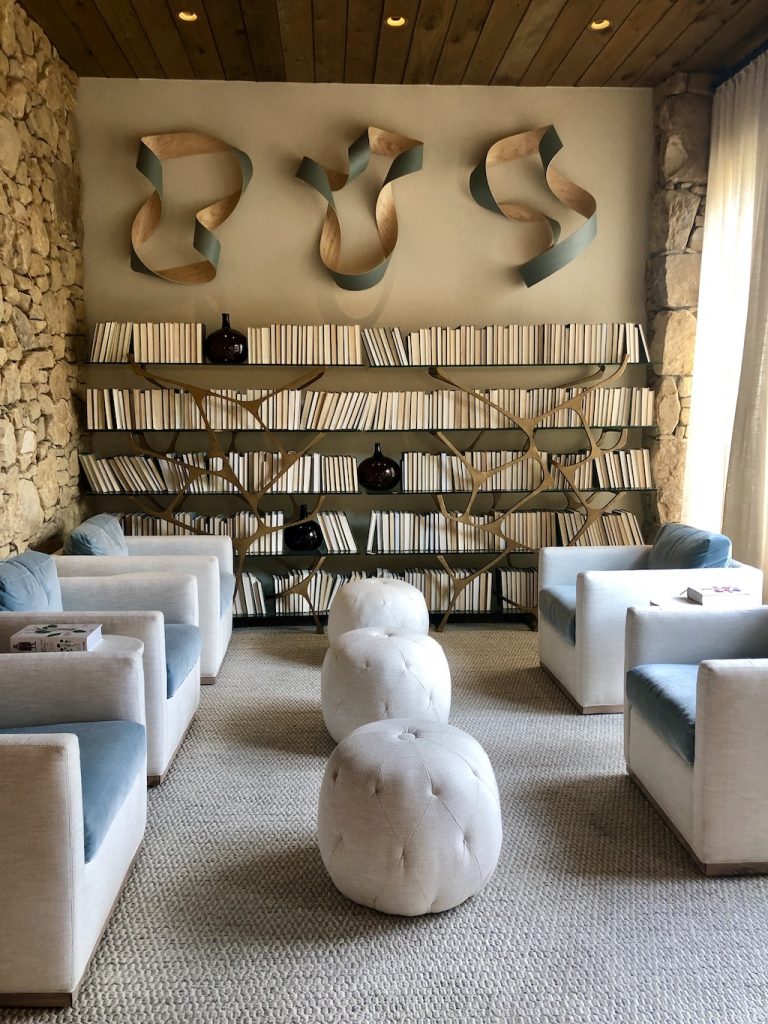 After my ride and hike, I was so ready for the therapeutic massage I had booked at the Nest Spa. The spa here is beautiful with an array of holistic treatments available. My spa experience was another highlight of my stay. My masseuse, Tiffany, deserves a big fat star. The heated bed and heated robe were just brilliant.
Accommodations
There are only 22 cottages plus a few homes currently at Blackberry Mountain which pretty much guarantees you have your own private mountain here. If there is one place you can be assured social distancing without worry, it would be here.
The cottages:
(14) Thunderhead cottages (where I stayed). These 1,200 foot cottages are a quick walk to the Lodge and two minutes golf cart drive to the Hub.
(4) Clingmans cottages. These 1,475 square feet cottages are right above the Thunderhead cottages. These are similar to the Thunderhead cottages but have a 2nd 'spa' room which really is a small second bedroom for those with young children. These cottage types also have bigger decks with outdoor hot tubs.
Thunderhead and Clingsmans cottages all have atrium ceilings with floor-to-ceiling windows, temperature controlled floors in the bathrooms, generous closet space, and hidden TVs with a creative rock pulley (very Fred Flinstone). Additionally pantries come filled with complimentary snacks and drinks with a personal YETI mug for staying hydrated during your stay (water refill stations are located throughout the property).
(6) Watchman cottages. The 400-675 square foot cottages are more secluded, located on the upper mountain near the Firetower, a 15-minute golf cart drive from the Lodge. These cozy accommodations are fully of character with wood burning stoves and ooze romance (No TVs). The views from the private decks are amazing as they are located at the top of the mountain.
(17) residences. 17 of the 81 residences multi-bedroom residences located throughout the property are in the rental program. Most residences at Blackberry Mountain have been sold but are still under various phases of construction as they are being built in phases. At the time of my stay last August, only six residences were finished. I viewed one of the four-bedroom homes, Red Birch (above), which is ideal for a family or group.
RESTAURANTS
The food at Blackberry Mountain is similar to the Blackberry's Farm signature fresh farm-to-table cuisine. The quality is just as extraordinary, just simpler and less fussy with a focus on wellness cuisine. As the Mountain is less about foodie experiences and more about wellness experiences, lunch is not included as it is at the farm. I actually liked this formula as you can select your own grab and go food to enjoy outdoors during or between activities.
While I was there, one one restaurant, Three Sisters located in the Lodge, was serving dinner but typically it would be available at both the Firetower and Three Sisters.
I enjoyed breakfast immensely at the Firetower both mornings (you can also have breakfast at the Whippoorwill lounge in the Lodge or on your deck). As I expected at a Blackberry property, you won't find a typical breakfast offering here although they will make you anything to order. Here you are presented with healthy,  unique options such as açaí bowls, avocado toast on sourdough (delicious), a sunnyside egg bowl (even more delicious, pictured here), or eggs on Pomodoro flatbreads.
For lunch, I did a grab and go salad at the Hub to be enjoyed during my hike and another time I sampled the artisan pizzas offered at the casual Firetower (I highly recommend the Ricotta pizza).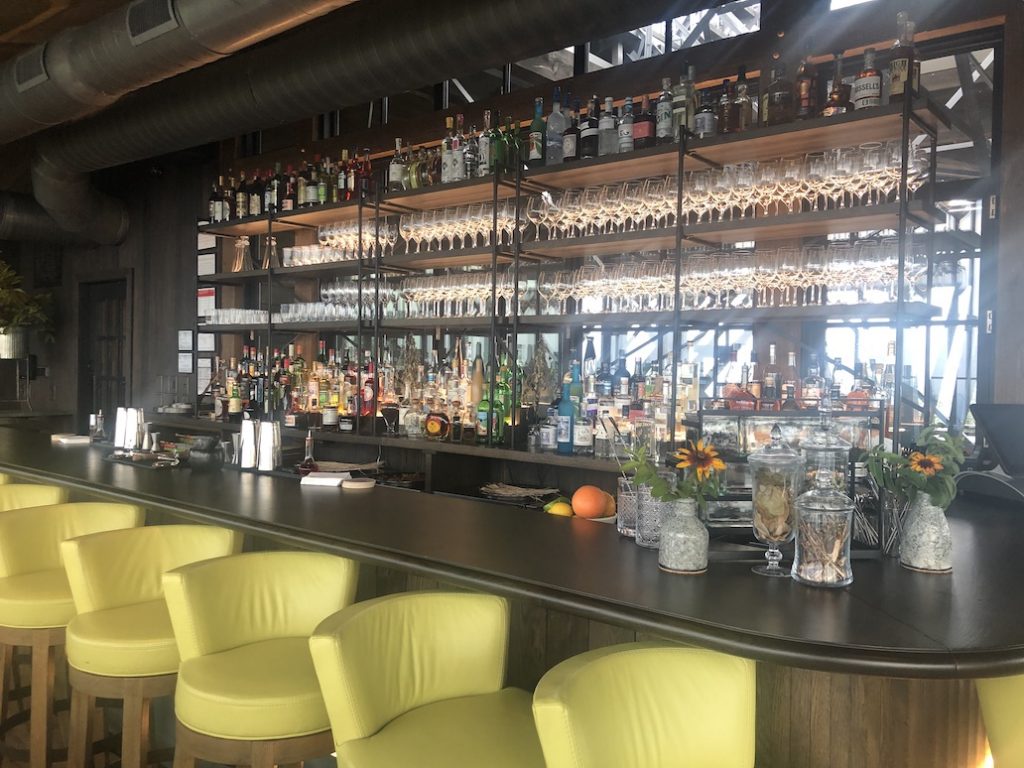 Dinner both nights was a four-course dinner at Three Sisters with an endless wine selection for pairing each course. There is an excellent wine cellar on property. While a four course dinner may sound heavy, the plates at each course were light and scrumptious. My last night I was treated to a thunder and lighting show while eating dinner next to the massive opened windows offering panoramic views of the mountains, making for an enthralling experience. It was very cool.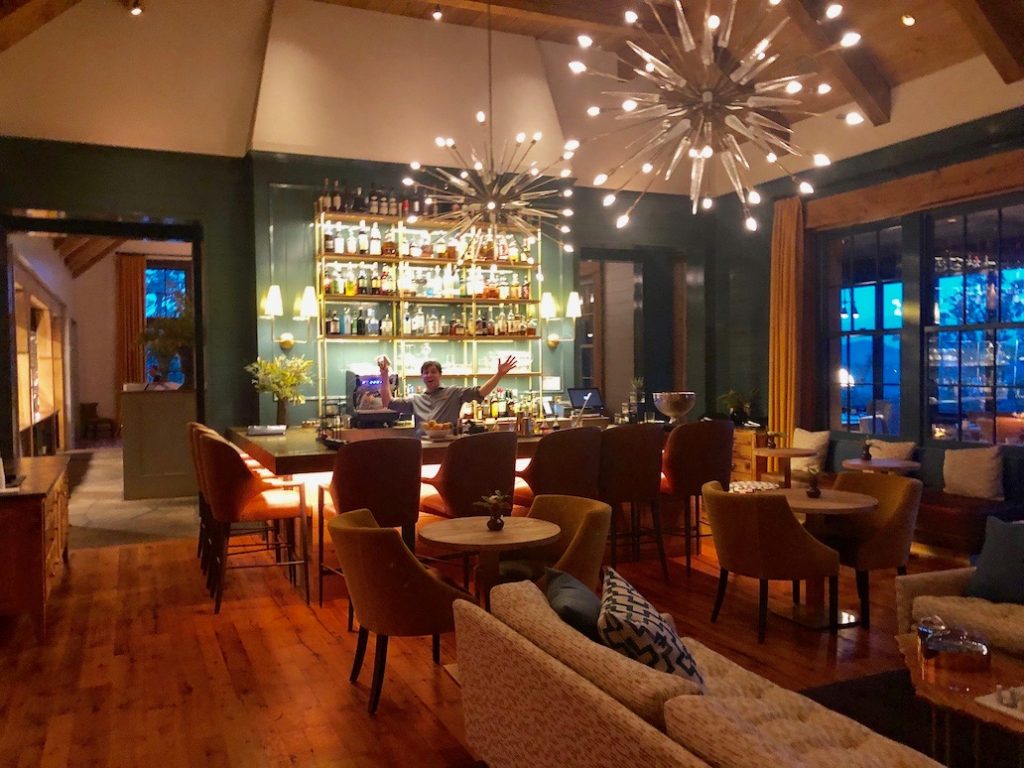 Pre-dinner, I enjoyed hanging out at the Whipperwool Lounge each night where Matt, the bartender, makes killer special cocktails. I recommend the Great Smokies Sour and Ridge Shandy.
ACTIVITIES
At Blackberry Mountain, there are are an assortment of wellness classes, yoga and pilates as well as outdoor sports:  hiking, biking, riding, fly fishing, paddle sports, MasterCraft boating, sporting clays (the list goes on) for every level.
Most morning activities start with array of complimentary classes (movement, spin lab, pilates, yoga, and some interesting Bungee Fit and Fly activity) at the Hub with an afternoon outdoor activity or two selected in the afternoon. Other than hiking and biking trails and the pool, most of these are offsite, an extra cost and require a three hour commitment due to the time to get there and back. At the off site sporting facility, archery, paint ball, clay shooting are the same price whether you are group or individuals, so it can be a bit costly for someone going solo.
At the time I was there, there was no way to do a shorter sampling of an activity so it is difficult to get more than one afternoon activity in a given day (other than an activity and spa or hiking). This was my only disappointment. If you are at Blackberry Mountain for a weekend, you just can't cram in everything you want due to many of the activities being far offsite. I imagine this won't be an issue as more facilities open (such as the man made lake) and more programming is added. Still, you are surrounded by beautiful wilderness all around you with plenty of trails. And that, joined with the Blackberry's signature farm-to-table cuisine and philosophy, is what the majority of guests are here for.
WHO SHOULD COME
Blackberry Mountain will appeal to those craving an active vacation but still want the luxury component, Couples and families come here to take advantage of what the Great Smokies has to offer (note, the trails here can be steep and you should be pretty fit before attempting them).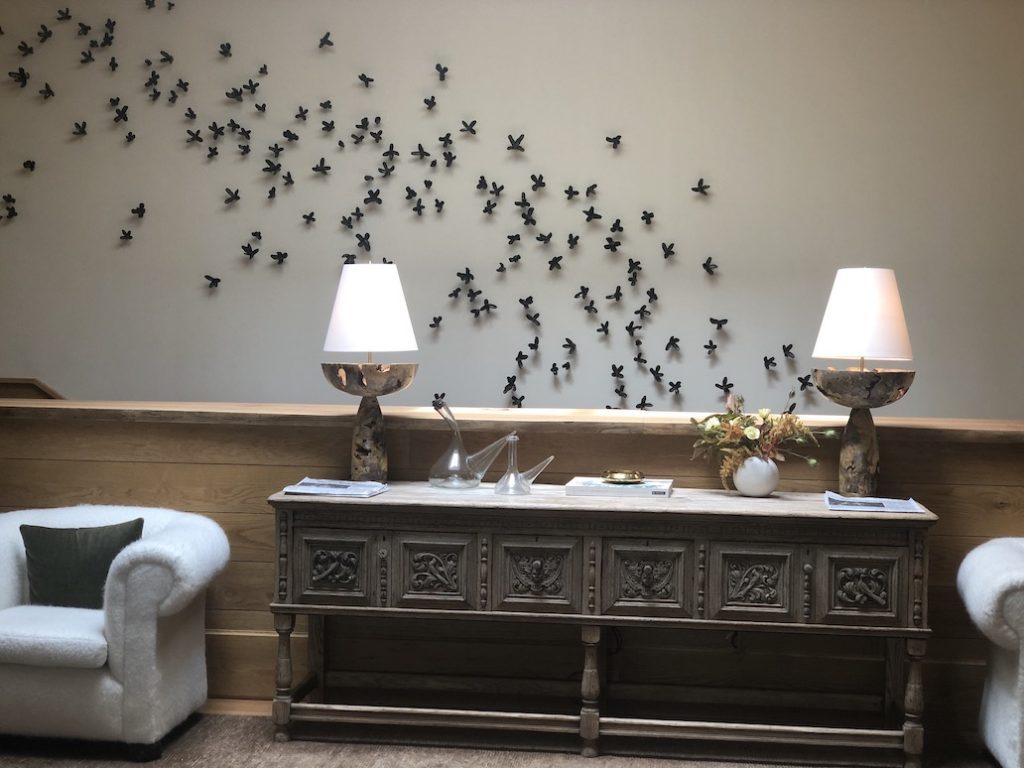 While there is a phenomenal kids club here, I think Blackberry Farm still is a better choice – for the time being – for young children due to the array of events and offerings.  The residences that are in the rental pool will be particularly ideal great for groups or families.   I would absolutely come back here for a girls group vacation.
BLACKBERRY FARM VS. THE BLACKBERRY MOUNTAIN
One of the inevitable two questions I continually receive since coming back from Blackberry Mountain has been: How is it different from Blackberry Farm and Which do you like better?
As my last visit to Blackberry Farm was over ten years ago, I decided to go back to the Farm for a quick visit and tour after I checked out of Blackberry Mountain. While the Farm was much as I remembered it visually, there was many noticeable changes: a gorgeous new event venue Bramble Hall, new family and adult pools, updated tennis courts, new and reconfigured accommodations, and an enhanced spa.
The two properties, only 30 minutes drive from each other in the Smoky Mountains,  are quite different in various respects despite both sharing the common Blackberry values and philosophy of providing an eco-luxury experience and excellent hospitality.  Based on my observations, these are the most distinctive differences between the two:
Focus

: While the Blackberry Farm focuses on farm tradition, wine & food, Blackberry Mountain concentrates on an active and wellness experience. While the food is excellent at Blackberry Mountain, it is not the primary focus.  

Inclusions:

At Blackberry Farm, breakfast, lunch and dinner are included whereas only breakfast and dinner is included at the Mountain. This is primarily because most guests are active and on the go and either choose to skip lunch or take it to go on hikes and other activities.

Topography:

Both are located in stunning settings but with nuanced differences. Blackberry Farm, at 4,200 acres, is mostly an open property with rolling hills that rests on the edge of the Great Smoky Mountains. It is, as its name, more farm-like (lots of animals!).  Conversely Blackberry Mountain is more expansive at 1,000 more acres, steep and deep in the forest with great Spruce and Fir trees.

Accommodations:

The Farm has 80 accommodations compared to 36 currently at the Mountain (this includes rental residences).  Therefore, the Mountain is a much more private and remote experience due its expansive acreage and less human density.

Design

: In general there is a more modern and airy aesthetic at Blackberry Mountain vs. the country house style at the Farm.

Programming:

As the Mountain is still developing more facilities and evolving, the Farm currently has more on-site programming and activities. Offsite activities are much closer to the Farm.

But as more residences are built and fill up, Blackberry Farm will its own impressive line up. But 

if you want to hike?  Whereas you have 9-10 miles of trails at the Farm, you have over 

30 miles of trails at the Mountain . 
Do I like one over another?  Both properties are equally fantastic with their own unique focus and traits, therefore I don't prefer one over the other.  I would go back to either in a heartbeat, but deciding which one would depend on the occasion, who I was with and what I wanted to get out of my time.  As the properties truly compliment (rather than compete with) each other, many guests, not surprisingly, have been asking to split their vacation time between the two.
The LAST WORD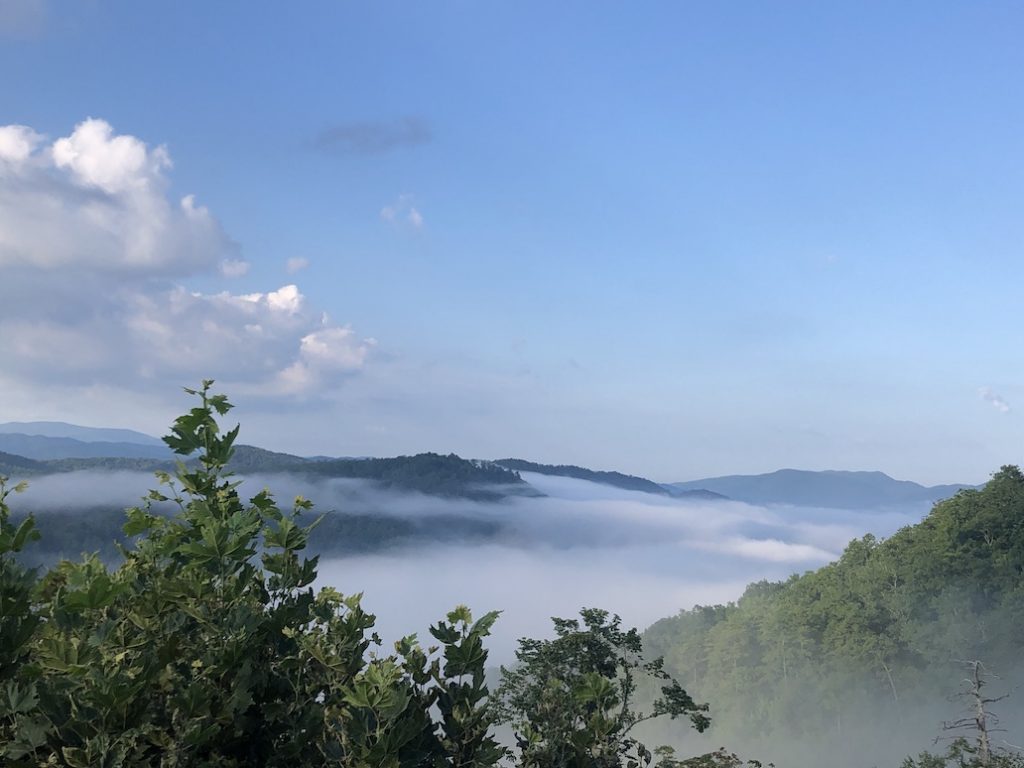 Blackberry Mountain is a luxurious wellness refuge in mountains where getting back in sync with nature, doing outdoor activities and focusing on wellness are the priorities. If you are looking for an adventure vacation in the great outdoors but don't want to sacrifice luxurious accommodations and exquisite wine and food, Blackberry Mountain is the real deal. 
Loved
Didn't Love

The design of the public spaces and the cottages. This would be how I would design my own mountain home!
The remote and dramatic setting in the mountains, all just three hours door to door from NYC.
Of course, riding. I could have done this every day.

My cabin, Bittersweet. I loved everything about it. I wish I had the time to use the outdoor fireplace. 

The food and wine. Anything coming out of Blackberry is phenomenal but I actually preferred Blackberry Mountain better as it was a bit more casual and wellness-oriented without the lunch inclusion.

If you are here for only three nights (the minimum), it is difficult to pack in a lot of off-site activities as each require an investment of time due to each being an hour round trip away and then a two hour minimum. As the property develops with more facilities and activities on-site, this will not be as big as a factor.
Some activities, like archery or clay-shooting, are the same price whether you are a group or solo. So if you want to do an activity by yourself or one person, if can be costly.
Although not a huge distraction due to the expansiveness of the property, there was a lot of construction of the residences during my stay.

Don't Miss
Skip

At least one hike. It's all about taking advantage of the great outdoors here and you essentially have the National Park to yourself. I recommend hiring a guide for many of them as you can get lost. Goat Hill is great for families and ideal for picnic lunch with the vistas.
The expert cocktails at Whippoorwill Lounge and the artisan pizzas at the Firetower restaurant.
The stupendous sunrises and sunsets. The sunrises are especially amazing from Goat Hill as are the sunsets from the library or firetower at the Upper Mountain.
A therapeutic massage or treatment at Nest Spa, especially after a hike or ride. If not alone for those heated robes.

Rooms to Get
Tips

If you want remoteness, solitude (no TV) and stupendous views, definitely opt for one of the charming Watchman cabins by the Firetower.
For convenience and spaciousness, Thunderhead and Clingmans cottages can't be beat. If you have young children, Clingmans cottages offer a second 'massage' room (ideal for young kids) and outdoor hot tub.
The residences, located between mid and upper mountain, are part of the rental pool and ideal for a larger family or group.

Many of activities like clay shooting, lake activities, and riding are off property and require a three hour time investment so plan ahead one each afternoon.
I loved that there was a 'no tipping' policy and I never had to worry about pulling out my credit card until the end of my stay. But know that there is a  19% service charge and 15 percent sales and occupancy taxes at check out that equates to 35% on top of your daily rate.
Blackberry Mountain
When your book your stay at Blackberry Mountain with Inviato, you receive: 
Upgrade on arrival, subject to availability
$100 USD Spa/Wellness credit to be applied towards a spa service or wellness activity
Early check-in/late check-out, subject to availability
The classic Blackberry Mountain experience includes:
Breakfast and dinner in all of the restaurants
Pantry snacks and non-alcoholic beverages
Property wide high speed Wi-Fi access
Access to swimming pool (seasonal), non-guided hiking, and access to The Hub including the indoor rock-climbing facility
Daily fitness classes from 9:00am – 11:00am and guided morning hike
Book This Hotel
Why book Virtuoso?
Personalized travel assistance
24/7 online booking
Special rates & exclusive offers
Guaranteed Room upgrade*
Complimentary full American breakfast
Early check-in, Late check-out*
Exclusive on-site amenities (varies by hotel)
* based on availability on time of arrival
Related Reviews