Reaching Ritz-Carlton's newest and most luxurious resort in Puerto Rico was easy. A mere 3-hour direct flight from New York followed by a 35-minute car ride through a forest of coconut palms and our family of three arrived at this exotic oasis just in time for lunch. Once the private residence of the Rockefeller family, the Ritz Reserve Dorado Beach opened in December 2012 in the midst of 1,400 lush acres and along three miles of sandy beaches.
Where:  Ritz Reserve, Dorado Beach Puerto Rico
What:     Ultra-luxury Caribbean resort on three miles of beach
Who:      Family of three
When:    March 2015
Why:      Birthday celebration/Spring Break escape
The first 'reserve' property in North America of Ritz's Reserve high-end hotels (currently there are 5 others in exotic locales such as Panama, Morocco, and Thailand. 15 more are planned), no expense was spared when building this $32 million, 114-room resort.
The resort is stunning: Grand architecture seamlessly blends into the natural beauty of its surroundings. Everywhere you look it is obvious that great care went into preserve and embrace the environment. The property is very zen in its spirit, architecture and natural
environment:  It felt akin to being in a 5-star resort in Asia.
Relaxing is the operative word here and most guests come here to do exactly that. Guests can hang out poolside overlooking the ocean or at the reserved cabanas at the pool (note you can reserve these in advance for extra fee) or on the beach. My family preferred to be set up on the beach.  The beach and poolside service was impeccable.  The staff was always available to set up your chairs with umbrellas, bring towels and a wood box filled with chilled water. My son's favorite place on the beach was in the white woven hammock stretched between two coconuts trees.  Complete bliss!  Every afternoon a little bike-driven cart would come along with fresh coconuts to be cut and served with a straw.
A special feature of the hotel that we particularly appreciated is the Embajores, a person dedicated to you and your families' personal needs during your stay – dinner reservations, spa appointments, activities trips off the property – you name it, they do it for you. A huge thank you to Jennifer, our Embajores.  Jennifer's generosity of spirit, kindness and discreet manner proved to be the caliber of service you would expect from a world-class resort.  In fact, all the staff at Ritz Reserve was exceptional.  They were always pleasant and took great pride in how they served their guests.
ROOMS TO GET
All the rooms and suites (ranging from 1 to 5 bedroom) are spacious and beautifully appointed, with unobstructed ocean views and situated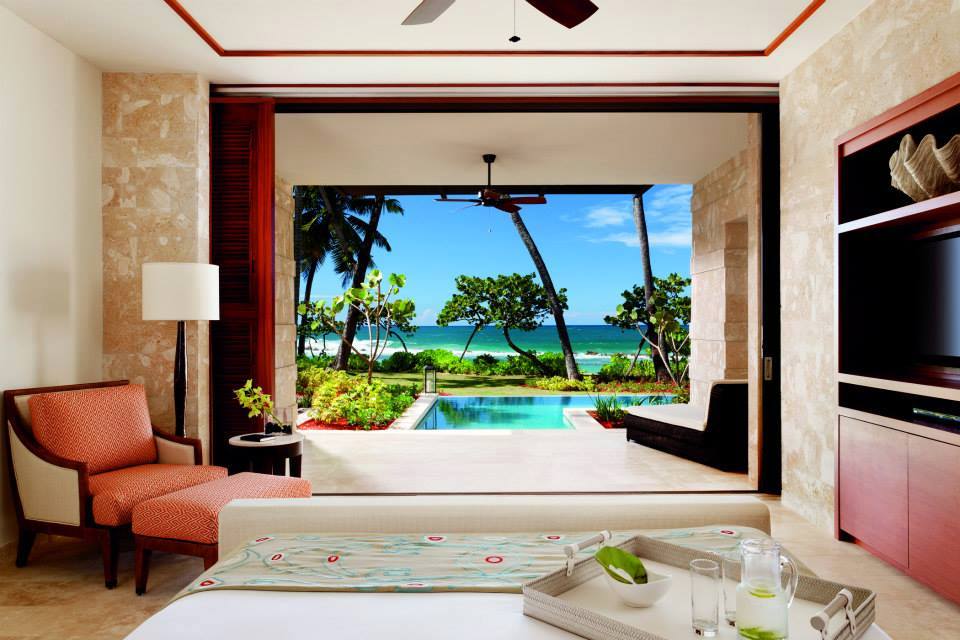 only steps from Dorado beach. Each have plunge pools (some on the roof) with indoor and outdoor showers and many have terraces.   Our family stayed in the 1 bedroom Ocean Suite with a terrace which was plenty comfortable for the three of us.
Rooms and suites are spread out in two buildings – West and East.  I would recommend the West beach rooms because West beach is a swimmable beach.  The East beach rooms are equally nice but the ocean is just too rough to swim.
An 8,000 square foot 5-BR private villa, Su Casa, is available to book if you want to splurge. Take note that Su Casa is not located on the beach like the other rooms at the resort but it is only a 5-minute golf cart ride to the beach.
THE RESTAURANTS
The food was very good overall.  We only wished there were more restaurant options on the property. Mi Casa and Positivo Sand Bar are both fantastic options for food.   We enjoyed our breakfast table at Mi Casa every morning while sitting outdoors overlooking the ocean.  Fresh cheeses, spanish meats, homemade yogurts with fresh compote, lox and bagels, pastries, fresh juices and local fruits.   A full breakfast menu was also available.  The strong Puerto Rican coffee was a welcome surprise.  I liked it so much that one of the morning servers purchased a bag of coffee for me to take home!
Mi Casa for dinner, where Spanish chef Jose Andres serves Spanish cuisine with flavors from Puerto Rico and the Caribbean, was incredible.  We preferred to dine outdoors for a more casual dining experience.  Positivo Sand Bar, located poolside and on the beach, is a little gem of restaurant serving local, fresh sushi and ceviches, tapas-style dishes and salads and burgers for lunch and dinner (we highly recommend the local Cajun grouper sandwich and Wagu burger).  We spent a truly memorable birthday evening here dining at the edge of the ocean, watching the sunset, barefoot in the beach.  The chef sent over a special birthday sushi plate as a birthday gift to me.  Beware of the local black crows though – these birds will swoop in and take what ever is on your plate if you walk away or are not looking!
THE SPA
The Spa Botanica is an exotic sanctuary located on five acres of lush, tropical grounds. When you enter the spa, you walk through a large, dimly lit herb room – an intoxicating experience with all the dried local herbs that they use in all of their treatments and natural products.   A special mention needs to be made of the of the separate women and men outdoor wet areas with warm and cold plunge pools, outdoor showers and sounds of nature all around you. Very peaceful and soothing!
ACTIVITIES
For those looking for more adventure than lying on the beach or getting a spa treatment, there is plenty to entertain you. The resort has four tennis 4 courts, plenty of water sports, a 'Rockefeller' walking trail, three Robert Jones, Sr. Trent Golf courses, biking, yoga, a nature program, and an aquatic playground called The Water Mill, designed after a traditional Puerto Rican sugar mill. That's just on property. There is plenty more to do off the property if you have the time or inclination. My husband and son played tennis every day with the very seasoned head pro, Adam Lane.  They also have two night-lit tennis courts – a real treat for my eight year old tennis-crazy son! The courts were good but could use some TLC.
LOVED
The Ambience – Understated elegance but without any formality. The naturally beautiful surroundings helped lend to an utterly serene atmosphere.
The Staff – always eager to please and go out of the way to create an incredible experience.
DIDN'T LOVE
We only wished there were more restaurant options on the property. While we loved Mi Casa and Positivo, we were underwhelmed with the food and service at

Encanto Beach Club Bar and Grill

.  
 DON'T MISS
The Coqui Coqui, the unofficial mascot of Puerto Rico.  These elusive little frogs – which only lives on the island of Puerto Rico – come out in the evening and will serenade you during your evening walks and lull you to sleep when you retire with their sounds "Koh-Kee".  A small parting gift of a silver Coqui Coqui was kindly given to me and I was told to please keep it warm!
The spa. My personal favorite was the Manos Santos service, request Claire! There are several unique treatments such as the tree house massage or a hammock massage in a private tree house and a citrus soufflé scrub. Give yourself at least three hours for a treatment and to relax in the wet area or by the pineapple garden or indoors in the relaxation room.  Bliss!
For us, this resort had it all: great natural beauty, tranquility, history, charm and a warm spirit.  It never felt crowded with the 100 rooms spread along the East and West Beaches.  We will see you soon Dorado Beach!
Photos courtesy of Ritz Reserve Dorado Beach and Suzanne Marwill-Cohen.  
Ritz Reserve Dorado Beach
100 Dorado Beach Drive,
Dorado, Puerto Rico
Virtuoso Benefits:
Upgrade on arrival, subject to availability
 Daily full breakfast
$150 Resort credit to be utilized during stay
Early check-in/late check-out subject to availability
Book This Hotel
Why book Virtuoso?
Personalized travel assistance
24/7 online booking
Special rates & exclusive offers
Guaranteed Room upgrade*
Complimentary full American breakfast
Early check-in, Late check-out*
Exclusive on-site amenities (varies by hotel)
* based on availability on time of arrival