After 10 months of adjusting to life with a baby, my husband and I were more than ready to take our first family vacation. We wanted a quick escape from NYC (four hours tops to minimize potential meltdowns) to someplace serving piña coladas that we've never been before. Hardly asking for much, right?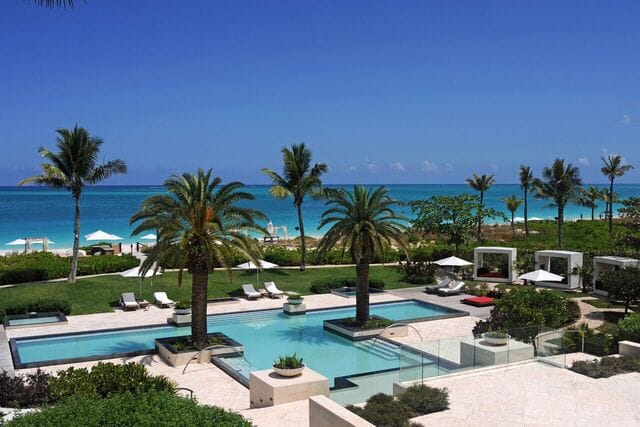 Weeding out the usual suspects – Miami, Puerto Rico, Dominican Republic, Bahamas – our search narrowed and Turks and Caicos stood out. Stories we gathered from friends (both with and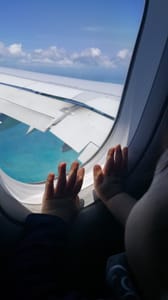 without kids) who had visited before were beyond positive, so we didn't hesitate booking the first JetBlue flight from JFK. For new parents, flying with a baby is like asking to be tortured in a confined space filled with strangers. So you can't imagine how relieved we were when we saw a handful of new parents and babies on-board.
We arrived to Turks and Caicos at two in the afternoon and were ready for happy hour on the beach by three (with carseat and stroller in tow!), that's how painless customs was during off-season. We checked into Grace Bay Club, an 82-suite property designed with a modern Caribbean flair thanks to Thom Filicia (Queer Eye for the Straight Guy). Even though this Virtuoso property was highly recommended to us, we would have discovered Grace Bay Club on our own because it is consistently ranked among the top hotels in key travel publication rankings. And, rightfully so. We were welcomed by the general manager upon arrival and offered rum punch the minute we stepped foot in the newly renovated lobby.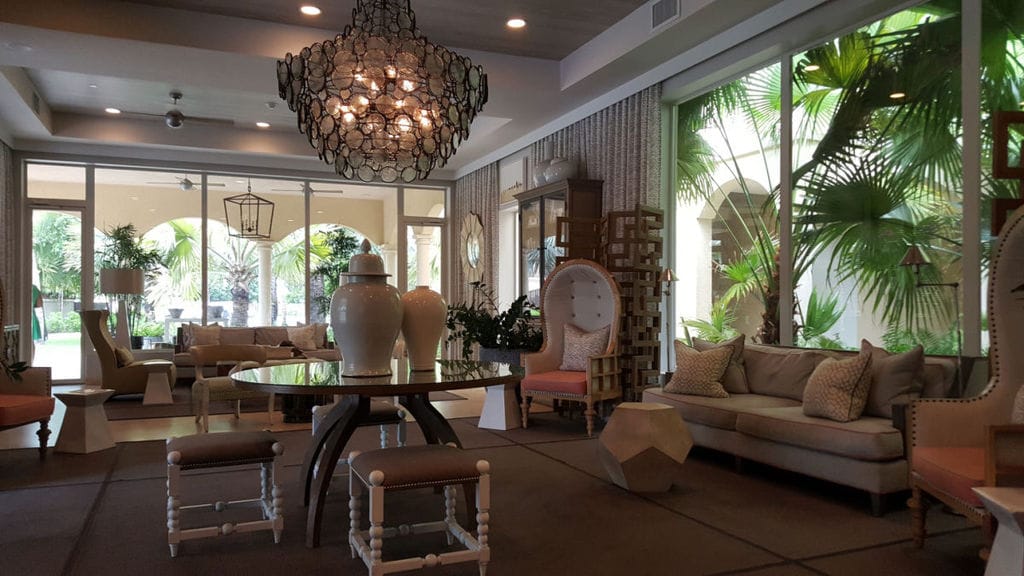 Thanks to Virtuoso perks (booked through our partner, Classic Travel), we were upgraded upon arrival without even asking. We originally booked a 1-bedroom Villa suite, but the 2-bedroom upgrade is by far the biggest room we've ever stayed in. All rooms at Grace Bay Club offer ocean views, but I'm convinced, our fourth floor corner room offered the best views of all (see below!).
The property is very unique in that it offers three different accommodations/spaces spread out through the property: Hotel, Villas and Estate. You could literally visit Grace Bay Club three times and have a completely different experience each visit. We loved that each space is tailored to a specific guest category and that each area has its own pool (three total on the property) and a dedicated bar. The other plus is that each room comes with a mobile phone where you can reach your personal concierge 24/7.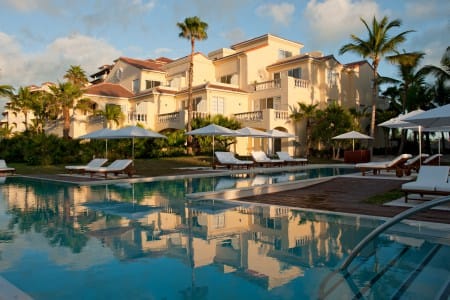 We're told by management that Grace Bay Club is always refreshing its looks and the latest major renovations to update rooms/spaces/restaurants began in 2014. The Hotel section is the most recent to be renovated (completed this past Fall). Its adults-only 22 accommodations is a popular choice for returning guests. With the new look, you could hardly tell that it is the original building of the hotel when it opened 23 years ago.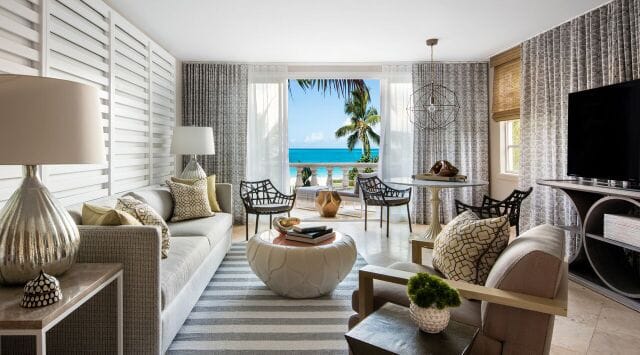 The Villas are geared towards families and we love that each room comes with a fully equipped kitchen and washer/dryer. Our oversized 2-bedroom suite was more than enough room for us (2,238 sqft!), but if your family rolls deep, you can opt for a 3-bedroom suite or even the 4-bedroom penthouse. Another plus was that we didn't have to walk very far to get to the kid pool or Grill Rouge (for daily breakfast).
While all rooms at Grace Bay Club have a modern Caribbean flair, the Estate rooms are by far the most grand, offering more privacy and the most space. If you want a family vacation, but don't want to see your kids every day, check out the 7,000 square foot Estate Penthouse with four ocean-front terraced bedrooms. Guests staying at the Estate have their own pool (no one staying at the Villas or Hotel can access) and dedicated staff. For an even more private experience, Grace Bay Club also has four free-standing beachfront villas that are off property. This would be a perfect option for a girls weekend (think Real Housewives beach getaways sans drama) or for a special party trip.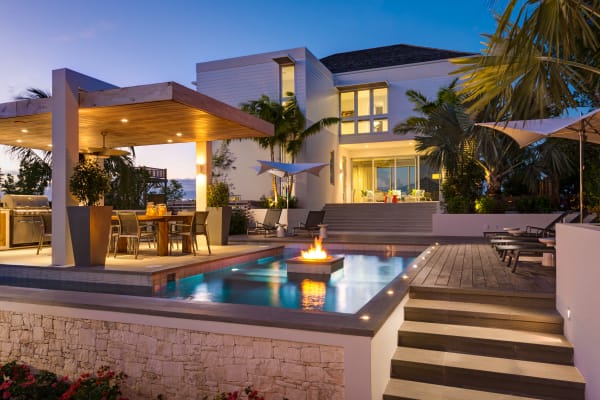 Traveling with a baby meant more time at the kids' pool, but we didn't mind spending the majority of our time on the property. We stayed in a few nights and cooked dinner (be prepared to pay top dollar for groceries) and also dined at three of Grace Bay Club's restaurants. Grill Rouge serves daily breakfast and offers Latin American cuisine for dinner, Infiniti is tapas during the day and Caribbean cuisine at night, and Kone is a pop-up restaurant (theme changes annually) on the beach serving everything in cones. Kone's was by far my favorite, especially the shrimp/mango salad and chocolate dessert cones (pictured below). I also want to give a shout-out to the restaurant staff at Grill Rouge for entertaining our son every morning at breakfast and treating us like family.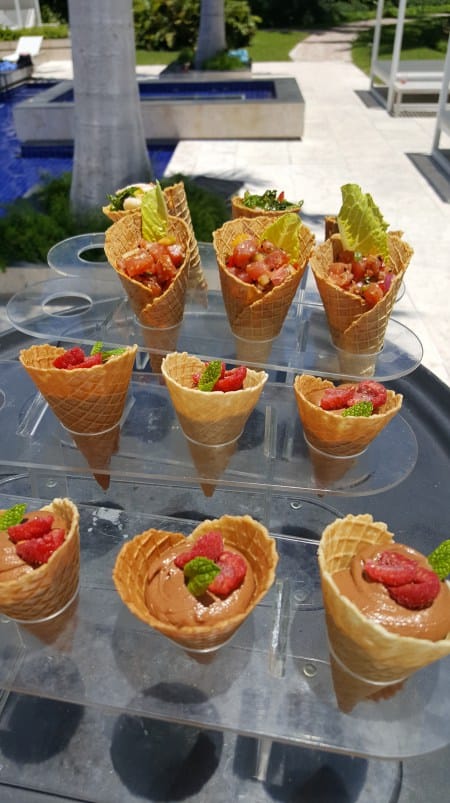 Although I'm not huge on shopping (I wasn't a fan of the touristy shopping plazas near the property), I really liked The Boutique at Grace Bay Club. Because Turks and Caicos is overseen by British rule, most all of the designers in the shop are British. It felt like a dream closet, I wanted everything in the shop!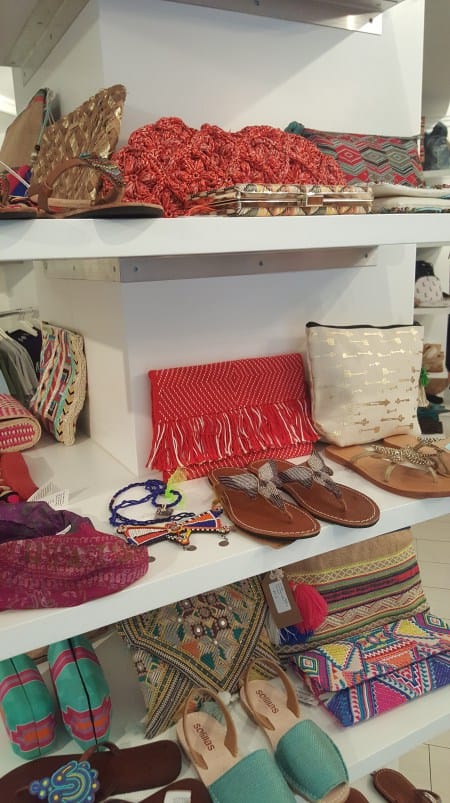 Since our trip was all about family, I can't leave out Kids Town at Grace Bay Club. There wasn't much for our 11-month old baby to do, but there's lots to of fun activities for the older ones – check it out here. Nevertheless, we did peek inside and played with giant LEGOs.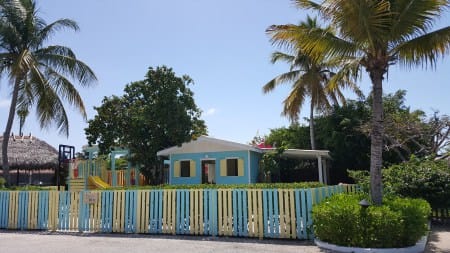 Our week-long stay was just the right amount of time for everyone to unwind. I would definitely welcome a return trip to Grace Bay Club and happy to report it is baby-approved.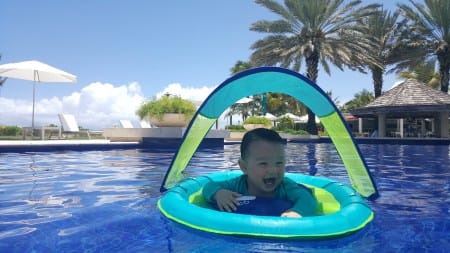 Review by Christina Meza-Kim
Loved
Didn't Love

The location – only steps to the ocean. Overall, the hotel is centrally located compared to other resorts.
The beach – it's really one of the best beaches I've even seen. The sand feels like powder and you can see your toes through the turquoise water.
Family Friendly – the entire island (even Provo airport staff) is family friendly, but Grace Bay Club goes above and beyond to accommodate its tiniest guests. Cribs, highchairs, sand buckets, all included (upon request), but the best part was the warm welcome our son Colin received every morning at breakfast from the staff and the fun he had hanging at the Kids Club.
Personal Concierge – every room comes with a mobile phone with direct access to your dedicated concierge. Many thanks to Hudson and Jon who helped us secure reservations, provided directions, made recommendations and took family pics.
The Boutique at Grace Bay Club is worth peeking into. Very cute (but pricey) collection of British designers and unique handbags. Bought a fun jumpsuit that I'll be wearing all summer!
The Virtuoso perks made us feel extra special during our stay.

Poolside service at the family pool by the Villas is not great. We had to seek out hotel wait staff every time we wanted to order a drink or food. Note: there is a swim-up bar.
Grill Rouge at Grace Bay Club – while the Latin American dinner options are delicious, the lunch menu could be refreshed. Overall, the outdoor dining area itself is in need of renovations.

Don't Miss
Skip

Complimentary Watersports. Take advantage of jumping in a kayak or windsurfer – it's included with your stay at Grace Bay Club (see sports desk located on beach)!
Special Offers. Grace Bay Club offers running specials outside of their blackout periods such as 4th Night Free, Stay 7 Pay 5, Advance Purchase, Romance Packages and a Couples Getaway Promotion for honeymooners and anniversary couples. We took advantage of the Stay 7 Pay 5 special. Combined with Virtuoso perks, it can't be beat.

Shopping Plazas – we checked out several shopping plazas off Grace Bay Road, but nothing worth going back to.
Danny Bouys Restaurant (down the street from hotel) – we were short on dining options one Sunday night and dropped in after seeing lots of people dining here. Maybe go for drinks, but skip the food.

Rooms to Get
Tips

The adult-only rooms at The Hotel (part of Grace Bay Club) are the most renovated.
Estate rooms are the largest and most private.
The Villas are best for families with their own kitchens and laundry rooms.
Regardless of which part of the hotel you're in (Hotel, Villas, or Estate), all rooms offer ocean views so you never have to worry about making the request.

Go during off season – not only did we benefit from discounted room rates, but we felt like we had the beach and the resort to ourselves. Caution: the Caribbean heat is no joke.
Rent a car if you're planning on staying for a few days. Yes, they drive on the right side, but on an island with no traffic lights, it's manageable. It's also cheaper than a private airport transfer ($110 each way!).
Spotty Wifi – although, you'll probably be happy to ditch your phone/computer when you're here.
NYC Prices – many things on the island are imported, so be prepared to shell out for dinning and groceries. If you're traveling with family, consider staying in and cooking a couple of meals.
Passport for Baby – don't bother waiting in line at the Post Office and applying for a passport weeks in advance. It's worth your sanity to pay a little extra and have your passport completed in one day (yes, less than 24 hours) through the NY Passport Agency. With proof of travel, you can make an appointment within 2 weeks of travel. No lines. No stress.
Baby Carrier – The Ergo 360 was a lifesaver for us and I highly recommend bringing any carrier if your baby isn't too old/heavy. Don't know why we bothered bringing the stroller.
Favorite SPF for Baby – I get asked this question a lot. I love RAW Elements because its an A+ on EWG, it's 100% organic and there's nothing on the ingredient list I can't read. Wouldn't recommend any other brand.
Grace Bay Club, Turks & Caicos
Virtuoso Amenities at Grace Bay Club:
• Upgrade on arrival, subject to availability
• Full American breakfast daily
• $100 USD Equivalent Resort or Hotel credit, OR you may choose to donate the $100 to Grace Bay Resorts Community Foundation
• Early check-in/late check-out, subject to availability
Book This Hotel
Why book Virtuoso?
Personalized travel assistance
24/7 online booking
Special rates & exclusive offers
Guaranteed Room upgrade*
Complimentary full American breakfast
Early check-in, Late check-out*
Exclusive on-site amenities (varies by hotel)
* based on availability on time of arrival