Ever since I saw Rick Steves' (gasp!) 2005 Christmas special on PBS, I've wanted to visit the famous Christmas markets in Germany and Austria. This December, that dream came true as we planned my 30th birthday trip. I was on cloud 9 channeling Rick from Munich to Vienna and stuffing my face with apple strudel and bratwurst.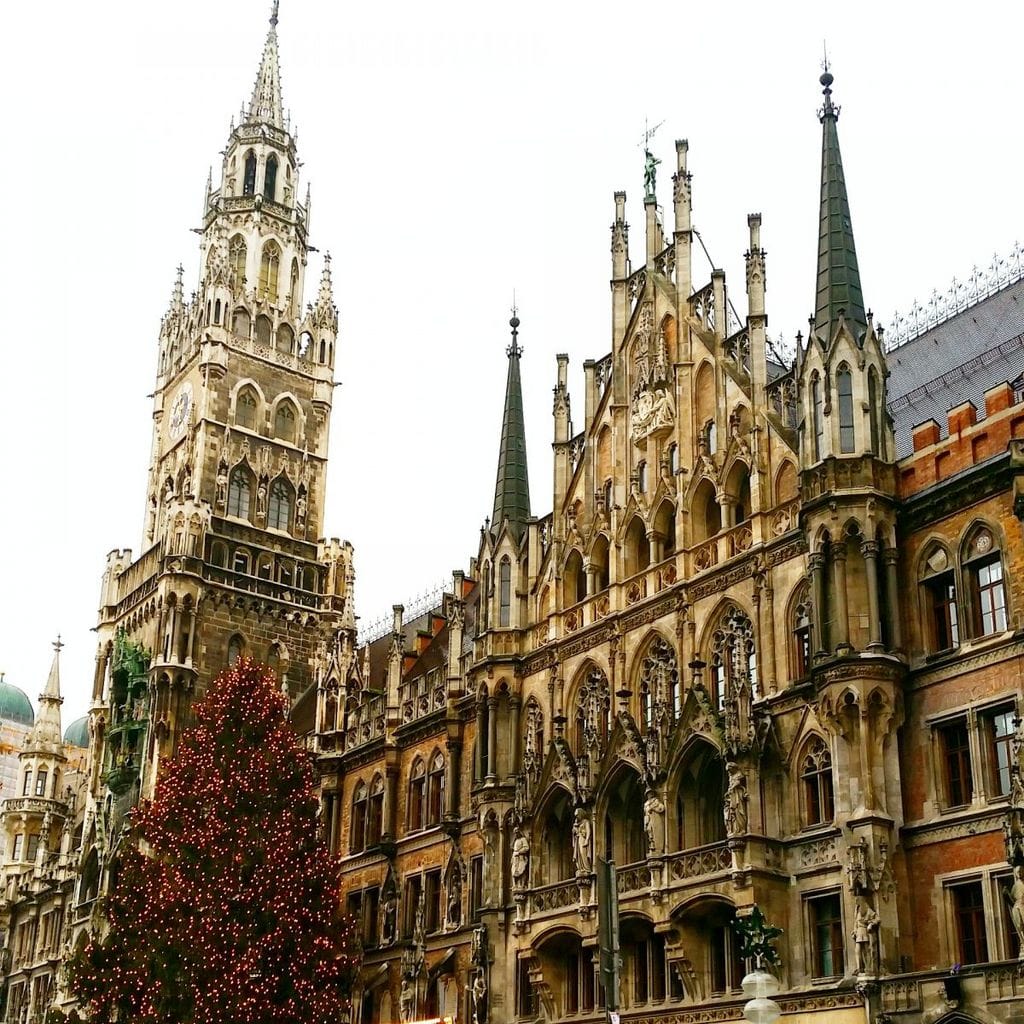 The first stop on our Christmas market tour was Munich. Although Rick didn't stop here on his PBS special, it was the perfect base to allow us to visit Nuremberg (where the most famous and oldest Christmas market in Germany is located) and travel to Salzburg (the second stop on our trip – only 1.5 hours away via train).
Unlike London, Paris, or New York, Munich is generally overlooked as a travel destination, but we certainly appreciated the lack of crowds during this busy time of year. This was our first time in the third largest city of Germany and we quickly fell in love with the abundance of nature in and around the city, the many types of sausages (had no idea there were so many), and the exceptional hospitality at The Charles Hotel.
We booked four nights at a hotel with strong Italian roots: the 160-room The Charles Hotel. This Rocco Forte property came highly recommended to us by our partners at Classic Travel, so we were eager to check it out. Having never stepped foot inside a Rocco Forte property before, I didn't know what to expect. (Now after experiencing one, I can't wait to visit one of their ten other locations in Rome, Edinburgh and beyond).
Most of all, we love that it is family-owned. Having grown up in my family's restaurant business, I always appreciate hotels that are run by a small group vs. big corporations. They feel more intimate because I know the owners (most of the time) are involved in every decision from food to design. Somehow there's always an inspirational story behind the  scenes and this is no exception with The Charles Hotel. (Sir Rocco Forte and his sister Olga Polizzi, Director of Design, pictured below).
Although most Rocco Forte properties are located in historical buildings from villas to old banks, The Charles Hotel (named after the late Lord Charles Forte) was built from the ground up and completed in 2007 with the help of local architect Christoph Sattler. It is directly in front of the Old Botanical Gardens and was once the former address of Munich University's natural sciences library.
Sir Rocco's sister, Olga Polizzi and her design team were responsible for all the touches inside. The hotel's interior pays homage to its former tenant (natural sciences library) and the outside garden, tying in the present with the past. The nature theme plays into the color scheme in each room where you can find green and brown earth tones from the silk curtains to the cotton bedspreads. In the restaurant there are Bavarian cherry wood floors and horticulture touches including wallpaper and light fixtures.
As mentioned, we didn't know what to expect once walking in, but we liked that the décor was soft, subtle and not overwhelming, or stuffy. Overall, it is a classy, yet comfortable environment.
COMMON AREAS
The Spa – The Charles boasts the longest indoor hotel pool in Munich and we loved unwinding here on cold nights. There's a gym, sauna, steam room, a variety of massages and facials available, and lots of high-end German-made products to choose from. Our favorite spot: the heated stone beds (pictured above) – a must to sooth sore muscles. (Note:  A button near every elevator bank will take you directly to the spa without stopping on any floors. It's perfect if you're in your robe and don't want to see anyone.)
Davvero Restaurant – This is the location where breakfast, lunch and dinner is served. In RF fashion, the dinner menu is traditional Italian and the chef is from Puglia. On the first Saturday of every month, the restaurant hosts an Italian Market night where vendors comes in and serve specialty cheeses, charcuterie and pastas.  We got a chance to dine during the Italian Market night and got to learn more about the different types of aging processes for cheeses and charcuterie. The live music playing Italian tunes was a lovely bonus. We almost forgot we were in Germany!
The Bar at The Charles Hotel – this is where my husband and I sat for over an hour debating whether or not we passed Alan Rickman in the lobby. What kept our debate lively for so long was definitely the cocktail menu. We love that it changes monthly, so regardless of any debate you may be having, there's a drink to please all parties. I am still convinced Alan was staying at our hotel (especially since my husband wasn't wearing his glasses that night). To give you an idea, here's the special for December: "Winter Warmer" (German liquor with herbs, homemade mulled wine syrup, apple juice, orange juice, lemon and fresh egg whites…strongly shaken).
ROOMS TO GET
There are a total of 160 rooms, 24 of which are suites (located on the top floor) and 1 presidential suite. Guests can choose between superior, superior deluxe, suites, juniors suites and presidential. View options include the park view (overlooking the Old Botanical Garden), city, or courtyard views. We definitely recommend high floor views facing the park. The fall colors of the treetops against the charming mid-rise buildings is still ingrained in my memory.
We booked 4 nights in the Superior Deluxe King (430 sqf) located on the 6th floor (considered a high floor given that there are only 8 floors). Our room included a small living area with a couch and arm chair, but what we loved most was enjoying breakfast with views overlooking the Old Botanical Garden. Our room was directly in the middle of the hotel with central views of the park. Coincidentally, we were 2 floors directly below the Monforte Presidential Suite (includes both park and Alps views).
I also want to call out the Monforte Suite because of its story. Before The Charles Hotel was completed, Sir Rocco Forte's father, Lord Charles Forte sadly passed. To honor his late father, Sir Rocco dedicated the hotel to his father by donning it with his name (it was actually supposed to have a different name). Taking it one step further, the presidential suite is named after the Italian town where Rocco's father was born: Monforte. The room has its own special entrance, telephone system apart from the hotel (for super high security), a HUGE bathroom that can literally bathe six at one time, and bullet proof windows, of course. Perfect for James Bond.
WHAT WE LOVED
Proximity to the airport. It was only a 30 min drive to the hotel (felt more like 15 on the Autobahn) which kept our metered taxi fare around 60 euros. A good tip is to take Uber if you can locate a driver. Our app worked, but there weren't any Uber drivers available.
Room service. Room service would always give us a time frame of when to expect our food. They even called giving us a 5 minute warning that our food was on its way. It was never over 25 mins which we were immensely impressed by and loved.
Customer Service. 5-star all the way from the restaurant servers to housekeeping and concierge. Housekeeping even knocked on our door one day to ask how everything was going. Our room was always made up by the time we got back from breakfast. Somehow they knew we were eating and managed to make up our room in record time. Absolutely impeccable.
Local beer stocked in the fridge. Definitely handy to have on a cold night we just wanted to stay in.
We loved the 24 hour room service because as we adjusted to the time zone the first couple of nights, hunger definitely struck at the oddest hours when regular restaurants were closed.

 

Breakfast is served until 2:30 pm – YES, 2:30 pm – on the weekends. My #1 complaint at hotels is that breakfast ends too early, but The Charles Hotel has outdone themselves in this category.
The heated stone beds in the spa. Melts away any foot aches or back pains you may have in minutes.
The snacks left in our rooms in the afternoon which ranged form anything like a chocolate Santa Claus to fruit and nuts.
Germans are known for their punctuality (so don't be late!), but we didn't feel like it at The Charles. When we were running behind to our dinner resos at Davvero, they were more than flexible with us.
Overall convenience. The location of the hotel is ideal for easy access for transportation (local subway, train to access cities outside of Munich, and the Grayline bus) and walking distance to museums, shops, and restaurants.
WHAT WE DIDN'T LOVE
There's very little to contest because we really did love our experience here. If I really had to nitpick, it would be:
Continually forgetting to put our key card in the key slot to keep our electricity going. We love that Europe is environmentally conscious, but finding the key slot in the dark to boot our electricity was hard.
The temperature control knob in our shower was hard to adjust (see, I'm really pushing for something here!).
TIPS/HIGHLIGHTS
We took the Grayline Sightseeing tour and for 15 euros each (no brainer) we were able to see all the major city sites in 1.5 hours. There are two bus routes: one is a city tour and one takes you to the country where you can see the BMW facility/museum and the royal gardens of Nymphenburg. We loved that it was 24 hours so we broke it up over 2 days and were able to revisit the sites that caught our eye. The best part, the bus pick-up is less than a 5 minute walk from the hotel.
If you are taking the train to Nuremberg (I highly recommend during the Christmas market season), the Munchen HBF station is literally a 5 minute walk away. If you don't go to Nuremberg, there are lots of day trips you can take from here including the Neuschwanstein Castle which inspired Walt Disney to create the iconic castle that represents Disney all over the world.
Marienplatz, aka Mary's square is in the center of the city and is a must-see, particularly during late November through December. There are over 100 stalls selling ornaments, local crafts and lots and lots of good food. We couldn't resist the smell of the different types of sausages and definitely ate more than our pants allowed (still feeling a bit wider in my midsection). There's a cuckoo clock that goes off three times a day at St. Mary's cathedral, but don't waste your time waiting for it (not worth the crowds in my opinion). Marienplatz is about a 15 minutes walk from The Charles… you will need a walk after eating so much.
To get a feel for local life in Munich, visit Viktualienmarkt, the gourmet food market which has been in existence since the early 19th century. What started out as a farmer's market has become the place where foodies can find rare ingredients not available anywhere else. Open Mon-Sat.
The city is very walkable, but the transit system is very convenient. There is a stop at most major sites and there are 2 stations by The Charles Hotel that can connect you to anywhere you need to go.
Museum lovers:  the hotel is close to over ten museums including the Antikensammlungen (state collection of antiques museum) and popular Lenbachhaus (contemporary art museum, only 6 mins walk away)!
To book a room with The Charles Hotel and receive special perks and rates such as:
Upgrade on arrival (based upon availability)
Daily buffet breakfast, for up to two in room guests

 (64 Euro value for each day!)

85 Euro food & beverage credit during your stay

Early check-in/late check-out subject to availability
Click here to secure these perks through our special partnership with Classic Travel.
Need a reason to visit this New Year's Eve? The Charles Hotel is hosting Night Of The Diamond in partnership with Swiss jeweler Bucherer. Guests are served champagne upon arrival and at the bottom of each glass is a gem. One lucky guest will have a diamond (yes, a diamond) at the bottom of their glass. Includes an 8-course dinner, live music and enough champagne to make you feel silly (395 euros per person). Cheers!
Photos courtesy of: The Charles Hotel
The Charles Hotel, Munich
Sophienstrasse 28,
Munich, Germany
Book This Hotel
Why book Virtuoso?
Personalized travel assistance
24/7 online booking
Special rates & exclusive offers
Guaranteed Room upgrade*
Complimentary full American breakfast
Early check-in, Late check-out*
Exclusive on-site amenities (varies by hotel)
* based on availability on time of arrival