On my last trip to Mexico, each time I passed the Grand Velas Riviera Maya on the way to or from my own hotel (see my previous post on Esencia), I would attempt to peek beween the vast white walls marking the entrance to the hotel just to get a glimpse what was beyond the impressive stone facade.  Our friends had stayed there the week prior to our own trip and came back raving about the place and I wanted to know more. My curiosity was piqued.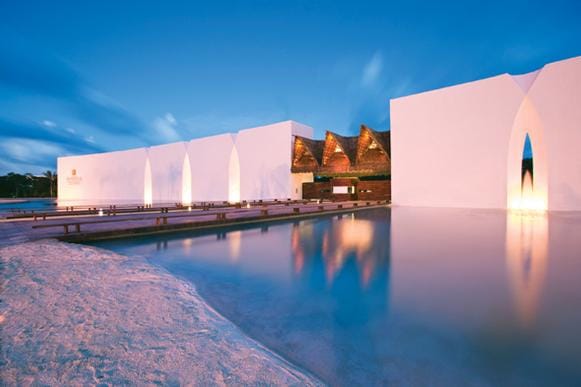 Typically, I shun away from "all-inclusives" – they usually conjure up images of Club Med (a blur in the post-college years that I'd prefer to forget), Sandals or Beaches – large resorts with mass-produced food and cheesy pool party games.  Certainly, Grand Velas is not intimate with 491 suites resting on over 200 acres… but, with five diverse restaurants, spacious luxury accommodations and service befitting any 5-star resort, this fairly new property (built in 2008) appears to have taken the all-inclusive concept to a new level (another new all-inclusive worth checking out is The Veranda Resort in Turks & Caicos, the same owners of wonderful Grace Bay Club).  In fact, Grand Velas is the ONLY  all-inclusive family resort in the world to receive the coveted AAA's Five Diamond Award.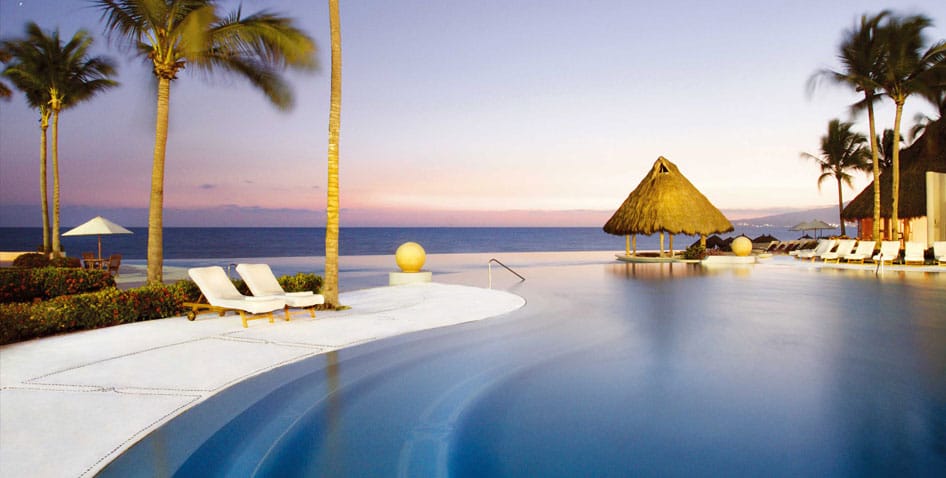 When two friends recently asked me for suggestions of family-friendly places in Mexico, I suggested they take a look at Grand Velas, which is only 30 minutes from Cancun and 5 minutes from Playa Del Carmen. They both did..and went there. Both came back with the same incredible reviews as our first friends.
A tremendous thank you to Roxanne Dowell for her thorough review below based upon her recent stay!
—————————-
"Because we live in New Jersey – where winters are long and cold –my husband, two children (ages 9 and 6) and I look forward to spring break with great anticipation. Which is why when we finally take a trip, we want our vacation to be perfect. Our last holiday at the Grand Velas All Suites & Spa Resort in Riviera Maya, Mexico met all our expectations and more, and quite possibly was the best holiday yet.
I must begin with the personnel. Whoever trains the staff at Grand Velas should do so for hotels and restaurants around the world. Every single person we met was smiling and friendly – whether it was the busboy, the concierge, the cabana staff, our personal butler (yes, every guest is assigned one), the front desk or the cleaning staff. We were constantly asked (politely) if our needs were being met, and we were never empty handed at the pool or beach (who doesn't love a frosty beverage while enjoying spectacular view?).
The hotel itself is breathtaking. There are two sections – an Ambassador section (near the beach, which is popular with families) and the Master section in the lush mayan groves  (which is a shuttle away but within the compound, and just as lovely).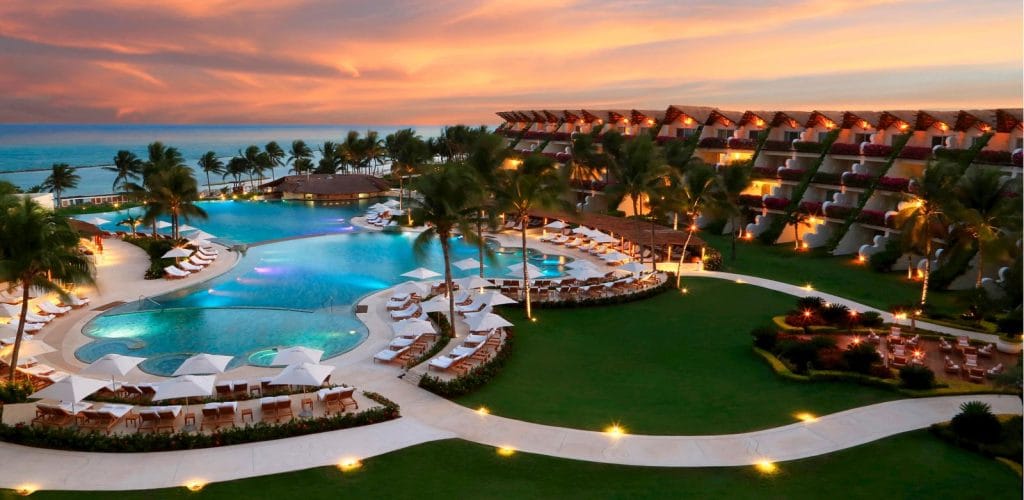 We opted to stay in the Ambassador section (a friend wisely suggested we do just that) and we were so happy we did. The pools overlook the azure waters and white sand beaches. Bougainvilleas decorate all the balconies and a manicured garden surrounds the poolside. Rooms are spacious and have awesome sea views. Beds are extremely comfortable (a first for me, who usually tosses and turns when staying in hotels), and because it is an all-inclusive, virtually everything – from the mini-bar to snacks and drinks on the beach – is included in the rate.
The pool and beach were both wonderful, but those who want to body surf or go swimming should know this is not that type of beach. Waves were small (perfect for my young kids but not for older ones who want more of a challenge) and the water was a bit rocky and rough (despite being beautiful to watch). However, the sand felt like flour between our toes. We enjoyed long walks along the beach, but a note to the hotel – there was a bit of litter in some places that had washed up from the sea.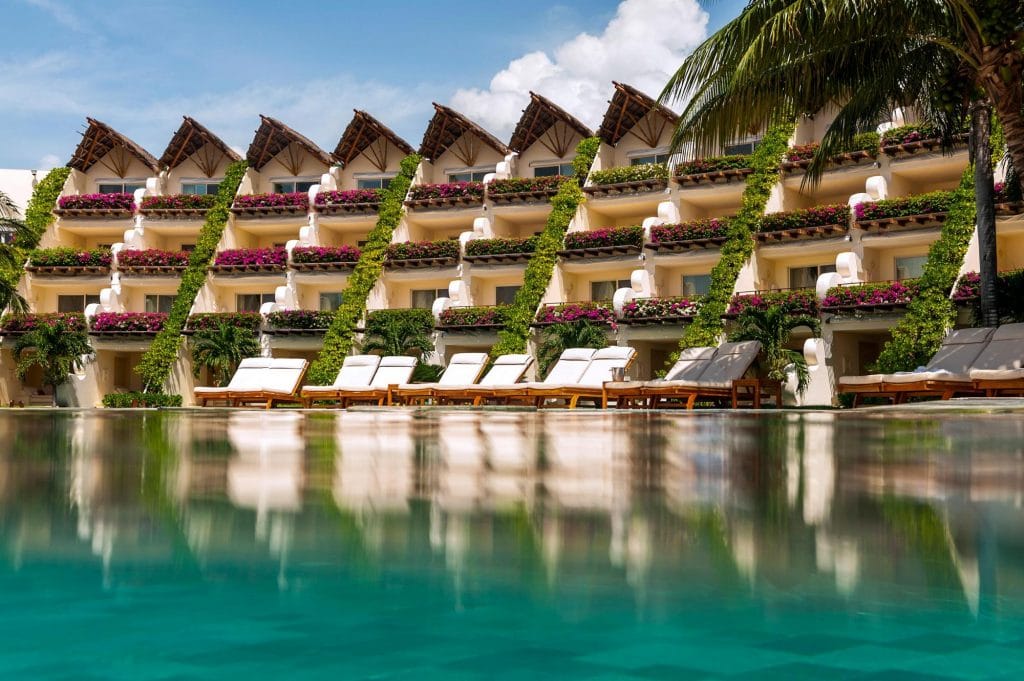 Now for the restaurants – we have never enjoyed so many delicious and varied gourmet meals in our lives (people with picky kids need not fret – there is something for everyone at each eatery). The food was simply fantastic.  Breakfast – which is a buffet served in the main restaurant – was always fresh and delicious, featuring fresh, ripe fruit (of almost every kind imaginable), various savory and sweet dishes, toasts, coffee and more. (In fact, it was the best breakfast hands down of any hotel we have ever stayed in.)
Travelers with young children will be thrilled with the Kids Club. My husband and I felt very safe leaving our girls with the staff because they entertained them well and were so friendly and polite.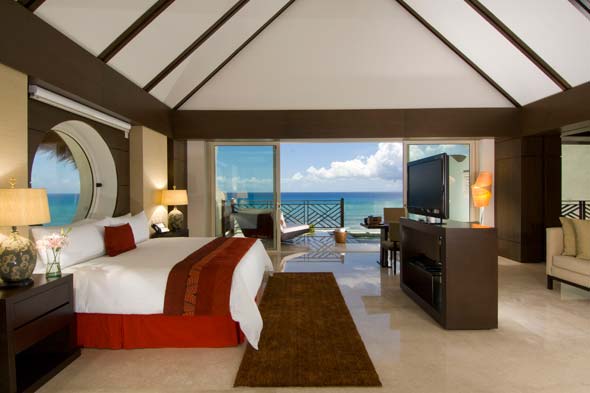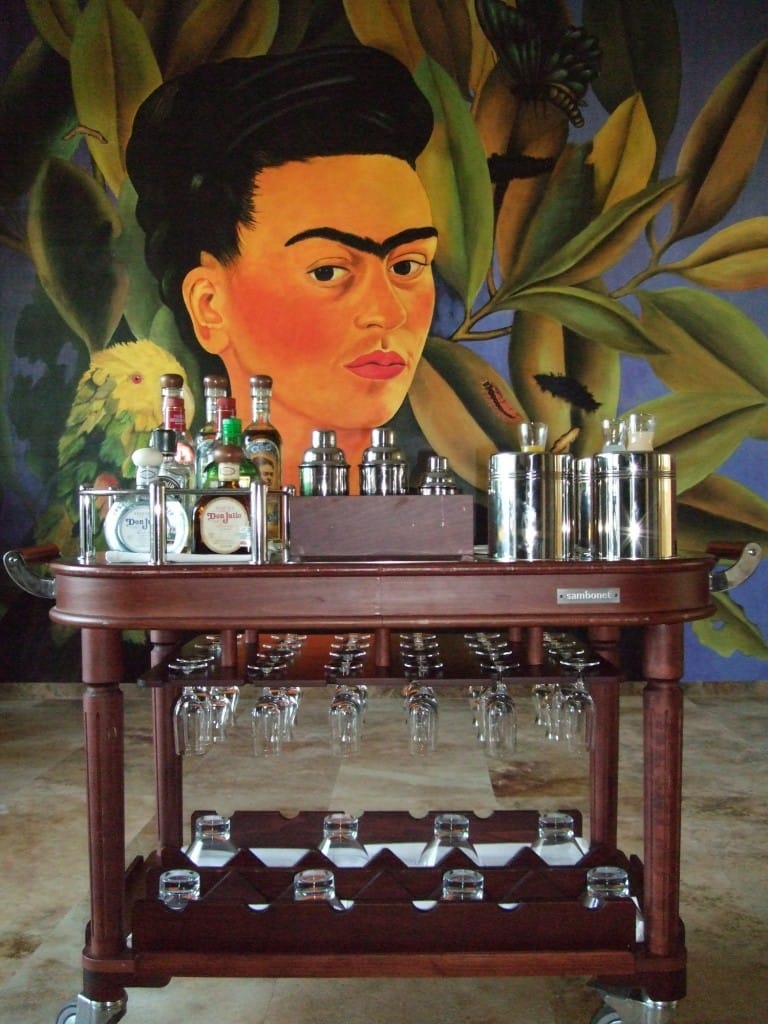 Loved
Didn't Love

Almost everything!  But specifically laying on the comfortable beach loungers watching the surf and stunning views while being handed frothy beverages from the attentive waitstaff; taking a long walk along the soft sand; the pool and its gorgeous view of the sea; the food! (Thankfully there were two gyms and exercise classes for everyone!)

Although the hotel is all-inclusive and we paid in full prior to our arrival, we spent an additional $200 to $300 in tips on top of what we already paid for the room. Whenever we ate, we were presented with a "bill" featuring incredibly inflated "prices" for each of our dishes (we did not have to pay for the meals, as they are part of the all-inclusive, but we were required to sign our name and room number each time). These "bills" made us very uncomfortable as we were never sure how much money to leave as a tip since the prices were obviously exaggerated. This was the one part of the experience we didn't like.
You must reserve a spot at each restaurant before you arrive to be sure of getting a table. Some restaurants are adults-only, but the diverse menus are enough for everyone to enjoy a meal. Meals often take about two hours to be served, so if you have very small children, keep this in mind.
Guests often reserve chairs at the pool and never use them, even though management advises its patrons to not do this. If you want a chair, get to the pool very early in the morning and reserve one.

Don't Miss
Skip

We didn't go to the spa but some people we met did and told us they enjoyed it immensely.
The Margarita trolley at Frida restaurant
We have young kids and could not enjoy all the restaurants, but we were never disappointed with what was offered. Our two favorites were Frida and Sen Lin. Some people did not want to go to the Azul restaurant for dinner because it is the same place breakfast is served, but we had one of the better meals here and it offers a very kid-friendly menu.

We paid for a trip to Chichen Itza but discovered it would have been an all-day trip and decided not to go. With only five days to relax, the last thing we wanted to do was sit in a minivan for several hours in the hot sun. I would suggest travelers stay at least a week if they want to venture outside the hotel. We also heard someone complaining about a trip that was supposed to take only an hour taking more than three (each way!).

Rooms to Get
Tips

There are two sections – an Ambassador section (near the beach, which is popular with families) and the Master section in the lush mayan groves (which is a shuttle away but within the compound, and just as lovely).

The attire at Grand Velas is dressy for dinner.  Men are required to wear closed-toed shoes and slacks to dinner, for instance.
The sun is incredibly strong in this part of Mexico (sunscreen is sold for more than $20 a bottle in the gift shop!) so make sure to bring plenty of sunscreen with you. We brought almost five bottles of 50+ waterproof spray sunscreen and went through most of it.
Grand Velas, Riviera Maya
For 2019, Your Virtuoso Rate Includes:
• Upgrade on arrival, subject to availability ( From Zen Grand to Zen Grand Pool / From Ambassador to Ambassador Pool / From Ambassador Pool to Grand Class )
• Daily Buffet breakfast, for up to two in room guests
• Complimentary one-way private airport transfer ( From Airport to the Hotel ) .
• $100 USD equivalent Spa Services credit to be utilized during stay
• A welcome bottle of Mezcal
• Early check-in/late check-out (Upon availability at Check-in)
• Complimentary Wi-Fi
Book This Hotel
Why book Virtuoso?
Personalized travel assistance
24/7 online booking
Special rates & exclusive offers
Guaranteed Room upgrade*
Complimentary full American breakfast
Early check-in, Late check-out*
Exclusive on-site amenities (varies by hotel)
* based on availability on time of arrival