Figuring out where to spend a few nights in Europe last summer was a simple process of elimination. We wanted a European coast location an easy, direct flight from New York that offered serious tennis for my husband, great shopping and restaurants for me and a beach and pool for my daughter. That there also had to be a fabulous hotel, goes without saying.
Not an easy an order as you would think.
But with a direct flight from New York to Malaga, world class tennis at sister property Puente Romano, and the historic old town of Marbella minutes away, the legendary beachfront resort Marbella Club Hotel practically fell into our hands.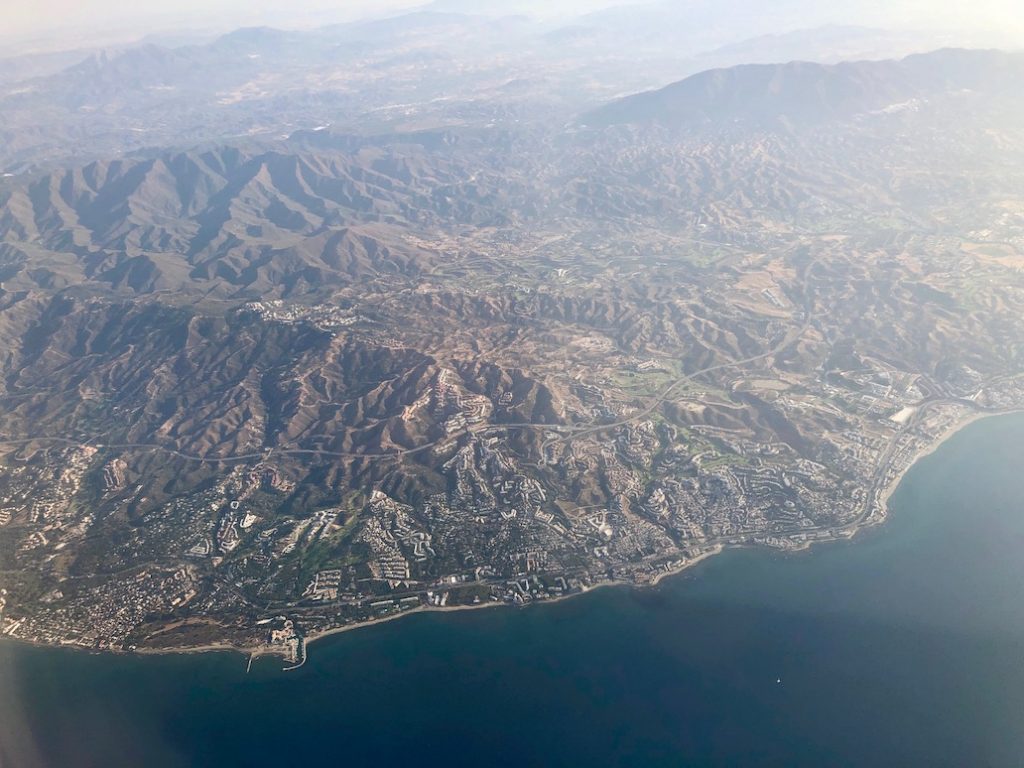 In all honesty, I didn't know too much particularly about Marbella, the Costa del Sol or the resort's legendary status until I flipped through a book dedicated to the hotel in the hotel lobby.  You know when a hotel has a book written in its honor (Il Pellicano, La Mamounia or Hotel du Cap Eden Roc, for instance), you are at a special place.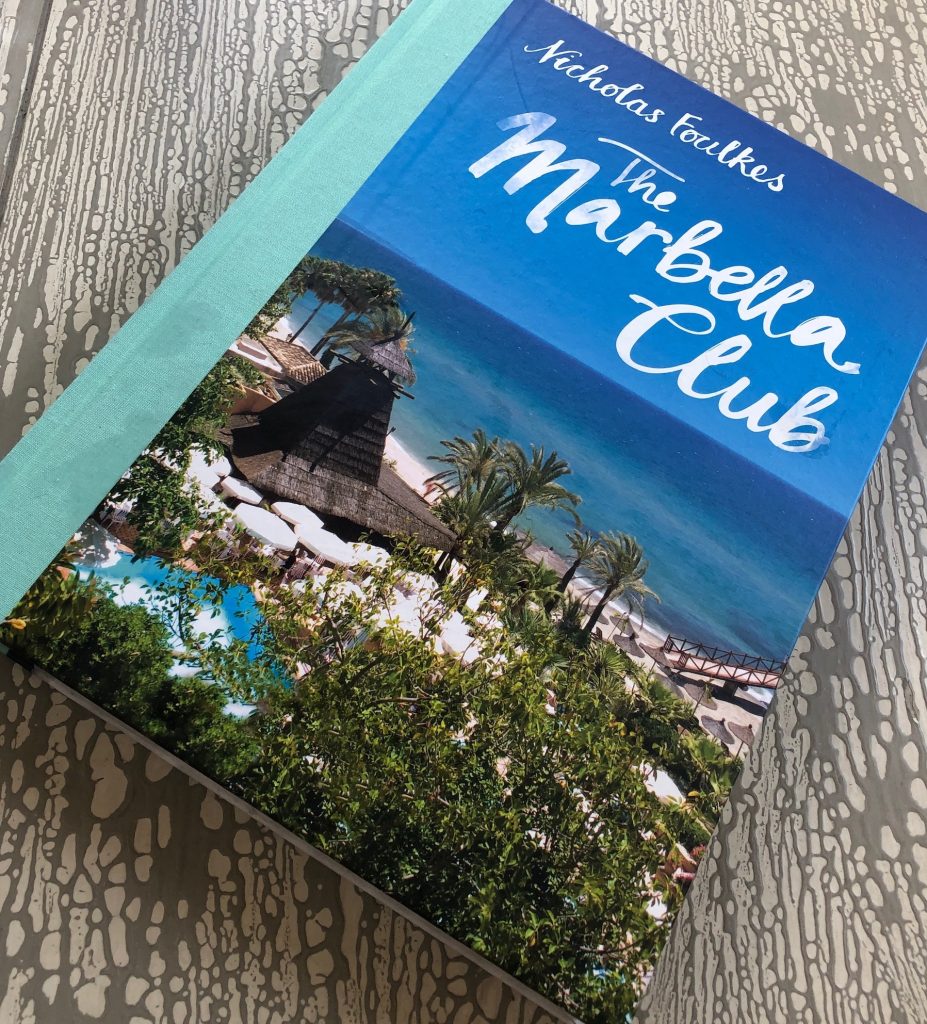 The story behind The Marbella Club Hotel is actually a fascinating one. The story goes that Prince Max von Hohenlohe became so enthralled with Marbella (then a rural area known more for donkeys than sports cars) while picnicking in a pine forest along the coast in 1947 that he instructed his son Prince Alfonso a year later to purchase the very spot which include a farmhouse Finca Santa Margarita and 44 acres. Prince Alfonso, inspired by his travels, slowly transformed the property into a hotel, importing and planting all varieties of flowers and trees: honeysuckle, orange trees, palm trees, hibiscus and jasmine.  Seven years later, he opened up the doors of the Marbella Club Hotel with just 20 rooms and invited all his jet set friends. Marbella was discovered.
Today, 66 years after its opening, Marbella Club Hotel, is arguably the most famous hotel in Spain and one of the most legendary resorts in the world.  The Duke of Windsor, Jackie Kennedy Onassis, Brigitte Bardot, Audrey Hepburn, even Farrah Fawcett were just a few of the famous guests over the years here. Framed photos of a few adorn the shelves of the main lounge of the hotel.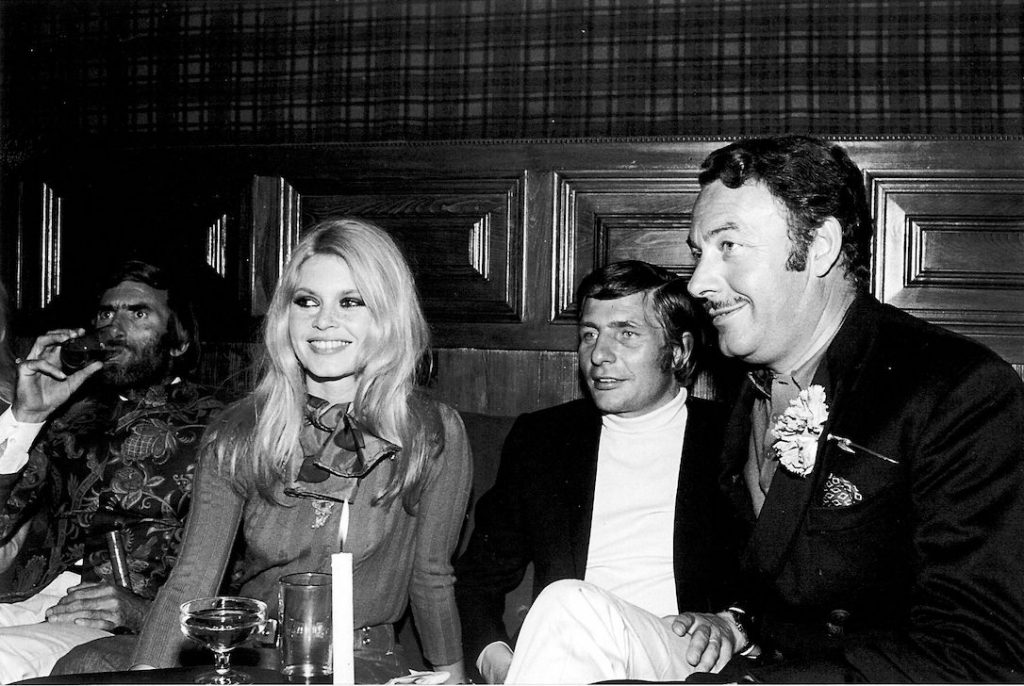 FIRST IMPRESSIONS
After a packed itinerary in Seville and the beginning of a continental heat wave, we were excited to make our way to the Costa del Sol and its balmy ocean breezes.
Arriving to Marbella by car from Seville with my 12-year old daughter and husband, we hoped to make an uneventful, quiet entrance to the Marbella Club Hotel.  But my daughter couldn't find her iPhone and that was that. A frantic search top to bottom of the car ensued with clothes flying out of bags, finger pointing and tears (my daughters, not mine) before we even walked inside. Definitely not the elegant entrance as I envisioned.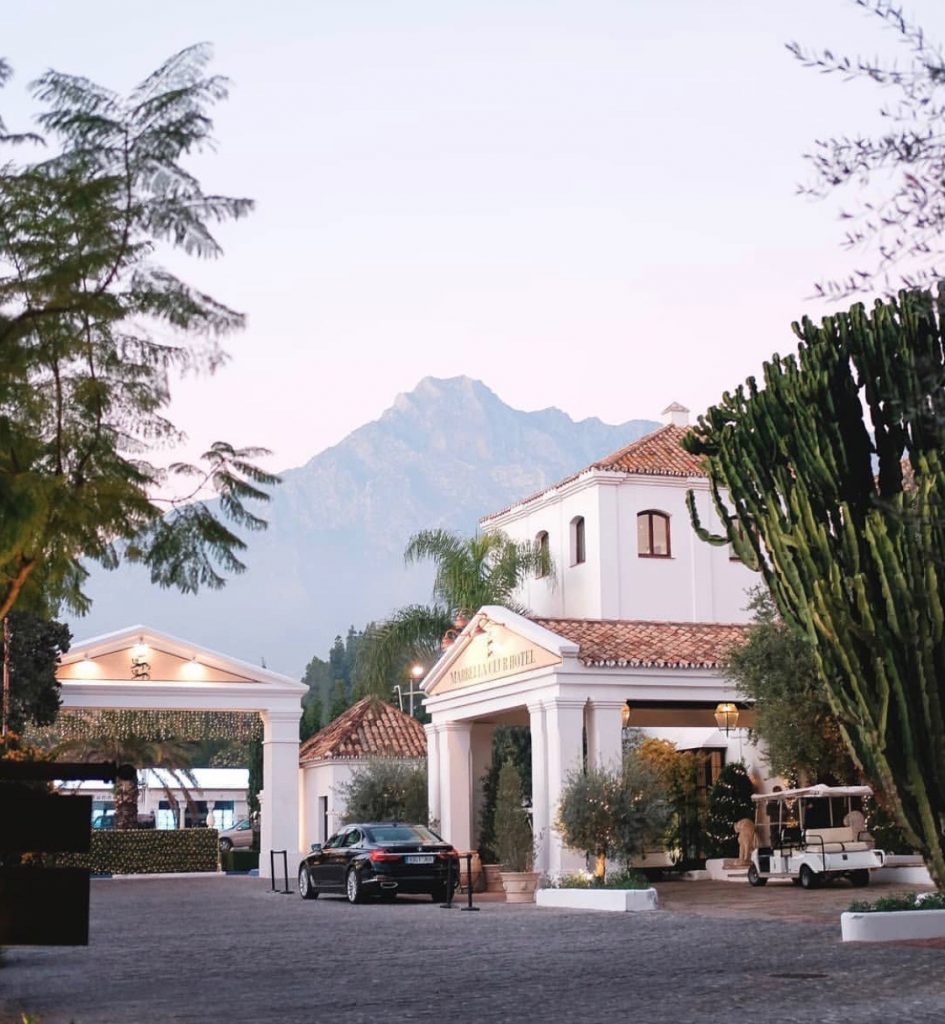 But the staff was very gracious, and things went only up from there after we check in.  As we walked down the main path to our suite passing Mediterranean white-washed villas covered with vibrant bougainvillea, honeysuckle bushes, and groves of olive, orange and pine trees, memories of the lost iPhone (which, deep sigh, was in her backpack all along) quickly dissipated.
Marbella Club Hotel, located on the 'golden mile' of Costa del Sol, has long been synonymous with glitz.  And sure, judging by the vintage rolls Royces, Ferraris and Maseratis parked in the driveway during our stay, immaculately dressed staff or the chicly dressed clientele, you can say there is some of that. But Marbella Club is much more than that – it's unique beauty, rustic charm and character is undeniable. And it swooped us right in from the moment of our arrival.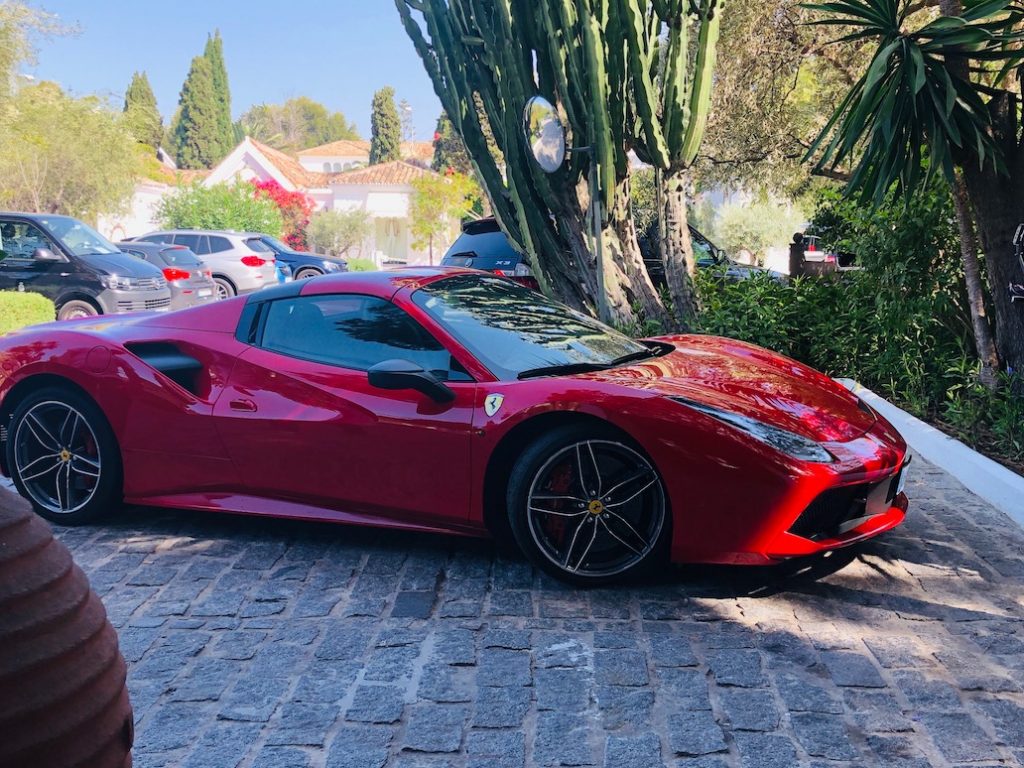 For me, it was the property that impressed me the most. The grounds took my breath away each time I stepped outside during my stay. As you walk through the paths of the tropical gardens you come upon an astounding variety of trees- orange, lemon, avocado, fig and banana –  not to mention the tall pines that dot the property.
As you can imagine, then, the scents are just as wonderful. Every turn at the resort is met with an unforgettable scent, a mix of orange blossom, jasmine, salt and aromatic herbs.
Our sunny days at the Marbella Club Hotel were filled with pool, beach, Pilates and spa (me), tennis (my husband), biking the boardwalk, visits to the Old Town and eating, eating, eating. Mediterranean life is sweet. It was a perfect three days of everything we individually and collectively wanted to do.
ROOMS
There are just 132 accommodations at the Marbella Club Hotel, ranging from guest rooms to suites and villas. In the room and suite category, more than half of the accommodations are suites. The 18 special Grand Suites, which are especially spacious, are located throughout the property with a few of them enviably being directly beach front.
The 16 Andalusian-style villas, with distinct names like Romeo & Juliet (a pair of villas), range from two to five bedrooms (with the larger ones having their own kitchen and private pools) are set in the heart of the resort and are ideal for families or those seeking privacy. La Paz, closest to the beach, was favored by the Duke and Duchess of Windsor.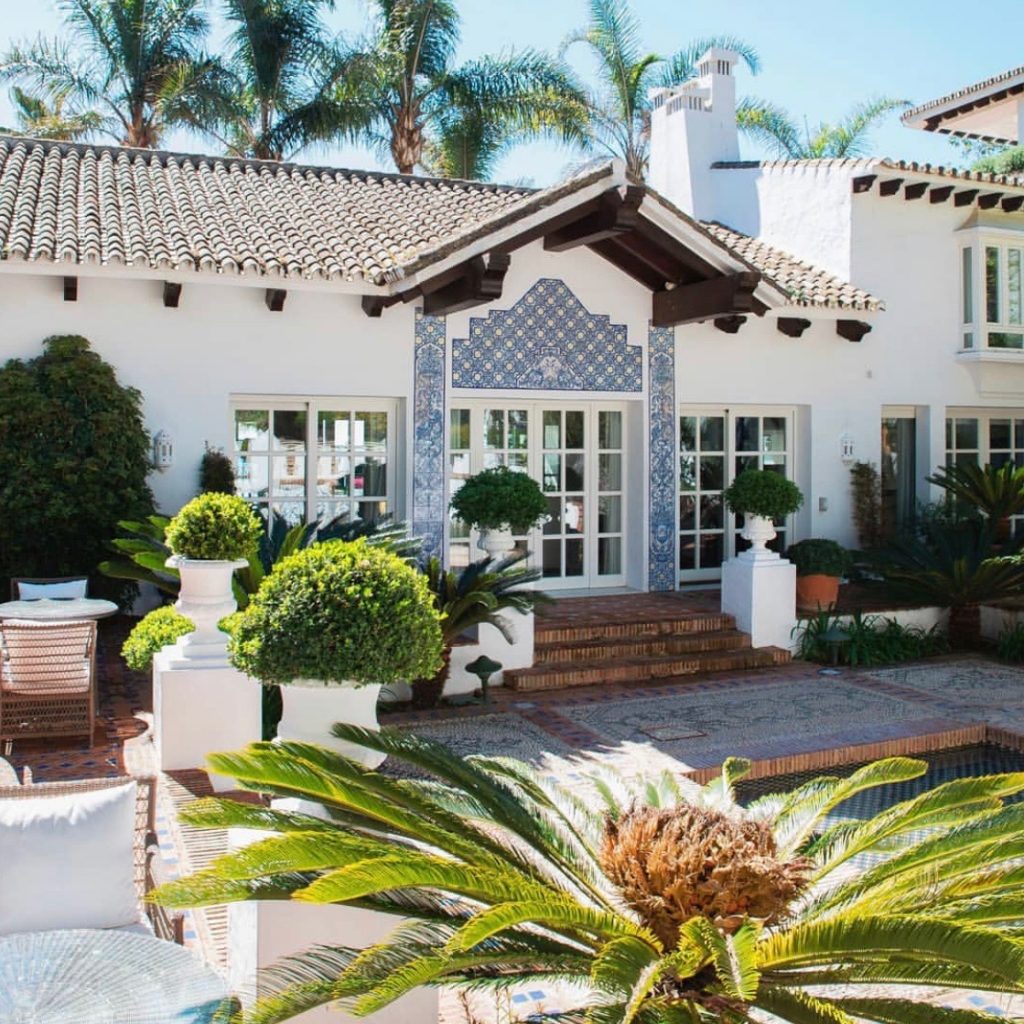 If you are going to the Marbella Club Hotel, I recommend you splurge and go for one of the suites, particularly a beach front grand beach suite as the view is worth waking up to. The higher the floor, the better (there are only three). If you want privacy or are with a larger family or group, definitely look into one of the private villas scattered throughout the property.
I wanted a beach view and terrace looking out to the sea and booked one of the few Grand Suites located beachfront way ahead as I knew these were in demand. The location and views did not disappoint. Our suite, named Marco Polo, was on the 3rd floor (there is an elevator or stairs) and offered superb beach views over the pool from our full-size terrace.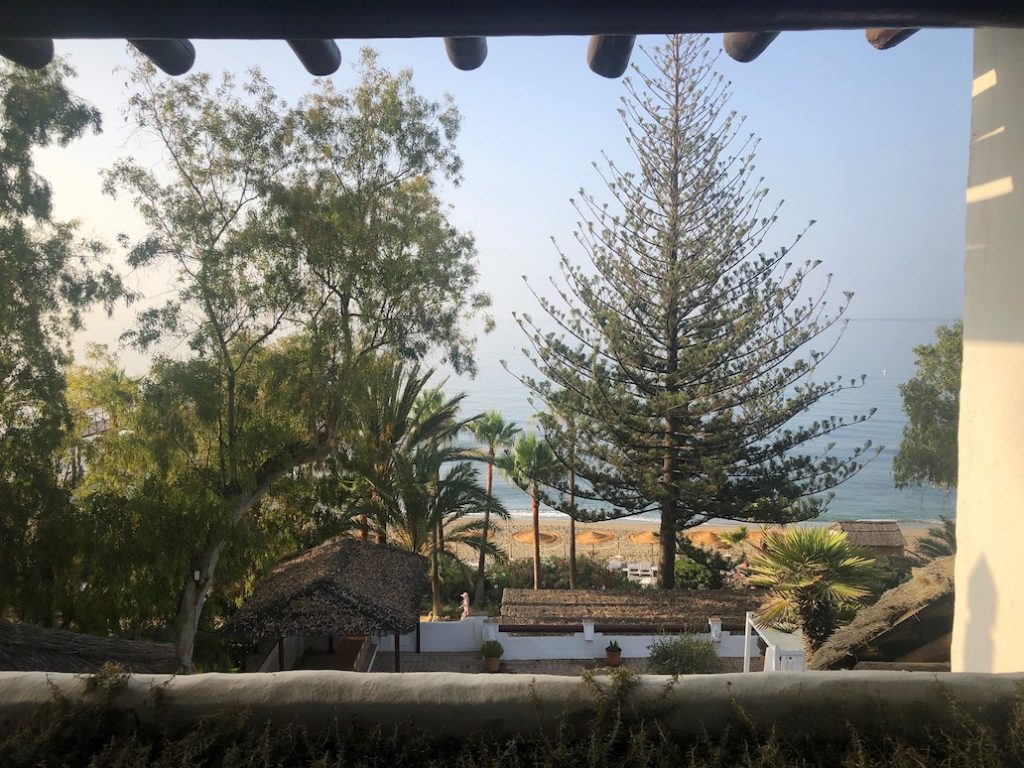 Our suite was perfectly comfortable and spacious, ideal for two people but a bit tight for three as my daughter was on a rollaway cot in the living room and there was not much walking space left). We honestly did not spend too much time in our suite, other than the terrace, as we spent most of our time outdoors. Looking out at the sea at night, you can see the distant lights of Tangiers in Morocco (fun fact: Morocco is actually closer to Marbella than Madrid – Marbella is located at the southernmost tip of Europe)!
ON PROPERTY
There is so many offerings at the Marbella Club Hotel, there is almost no need to leave this oasis (although that would be a shame as Old Town of Marbella is charming).  The resort feels intimate as some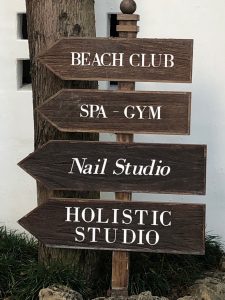 facilities like the Kids Club and Spa are tucked away in the lush foliage while others, like tennis, golf and equitation are off property.
Spa.  Marbella Club's comprehensive and impressive spa and wellness facilities are the cornerstone of the hotel. You could come here just for one of the Spa's six wellness programs, which many do. At the spa itself, there are 12 treatment rooms with a hammam and sauna, where you can get an extensive list of facial and body treatments as well as consultations. There is a beauty and nail studio, a modern windowed gym, and a pilates studio (where the amazing instructor, Ana, did wonders for my back). A board with a list of complimentary fitness activities and events is updated daily.
Pools. There are three pools on property – one at the beach club, one close by at the garden, and the indoor seawater pool at the spa. Many of the bungalows of course have their own private pools.
Kids Club. For kids 4-14, this is no ordinary club. Set in the center of the grounds is a fully staffed miniature village with facilities such as a boutique, kitchen, garden and aroma lab.  Creative daily programming includes pottery, flamenco dancing, gardening and cooking in addition to beach activities. Needless to stay, the club is very popular with families.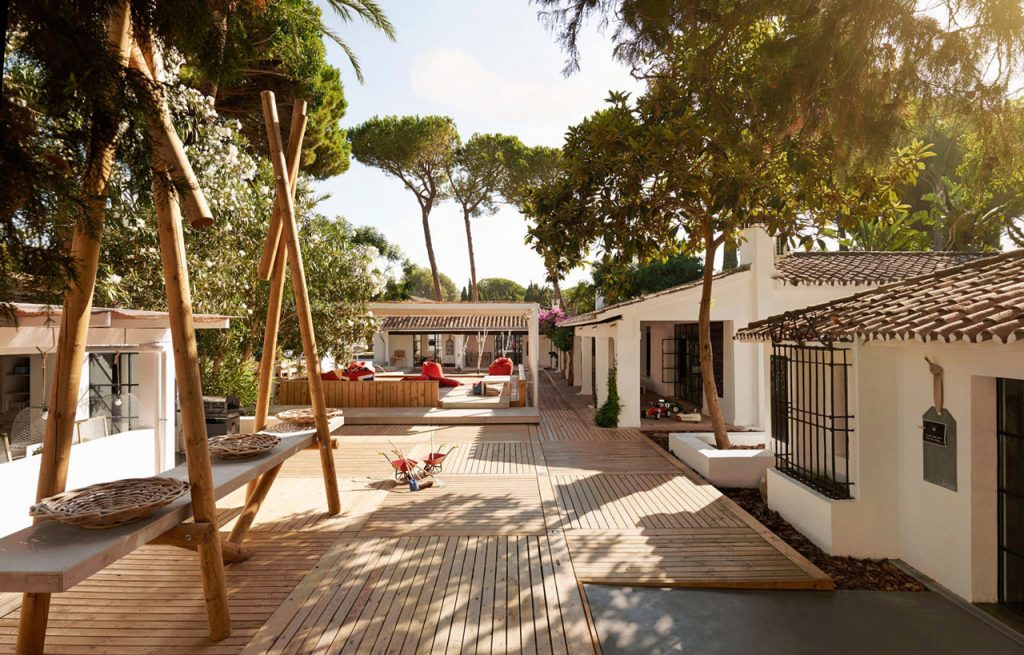 Puente Romano Tennis Center. One of the main draws to the hotel for us was the stellar tennis club at sister resort, Puento Romano. Opened by Bjorn Borg in 1979, it is a seriously impressive facility with 10 courts and amazing pros where many international matches are held. I had a very happy husband!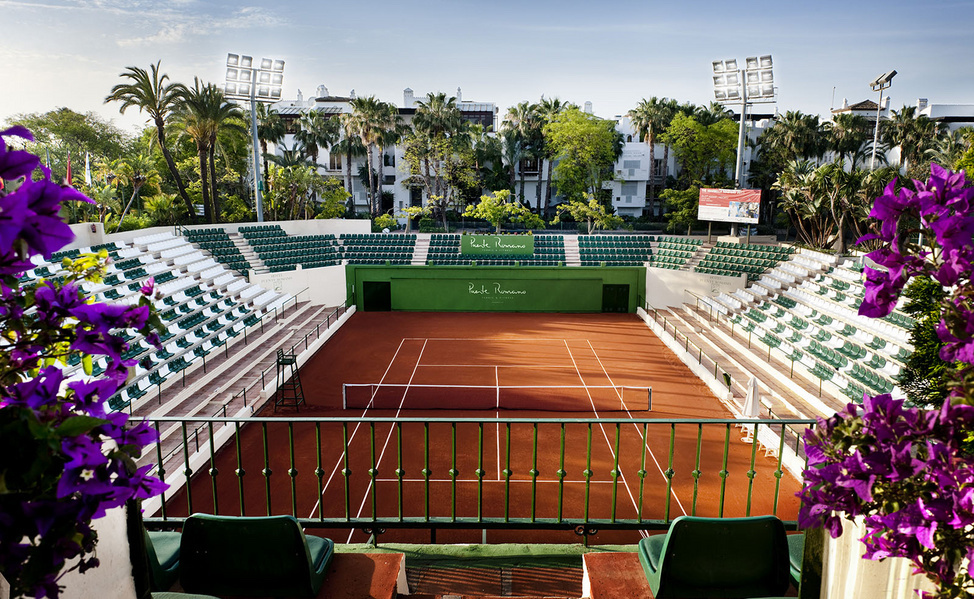 Golf Course and Equestrian Center (which I sadly did not have time to visit) are both located 20 minutes away in Benahavis. Guests have complimentary green fees at the beautiful 18-hole golf course during their stay while riders can take lessons at the center on any of the resident Arabian, Spanish, German or French horses. Reason enough for me to come back!
Botanical Gardens. Ask for a tour of the gardens with one of the gardeners. In addition to orange, lemon, avocado, fig and banana trees, some have a story behind them like one the Prince found on safari in Kenya. He took a small root from a tree he admired while on safari and today it is a beautiful full-grown tree.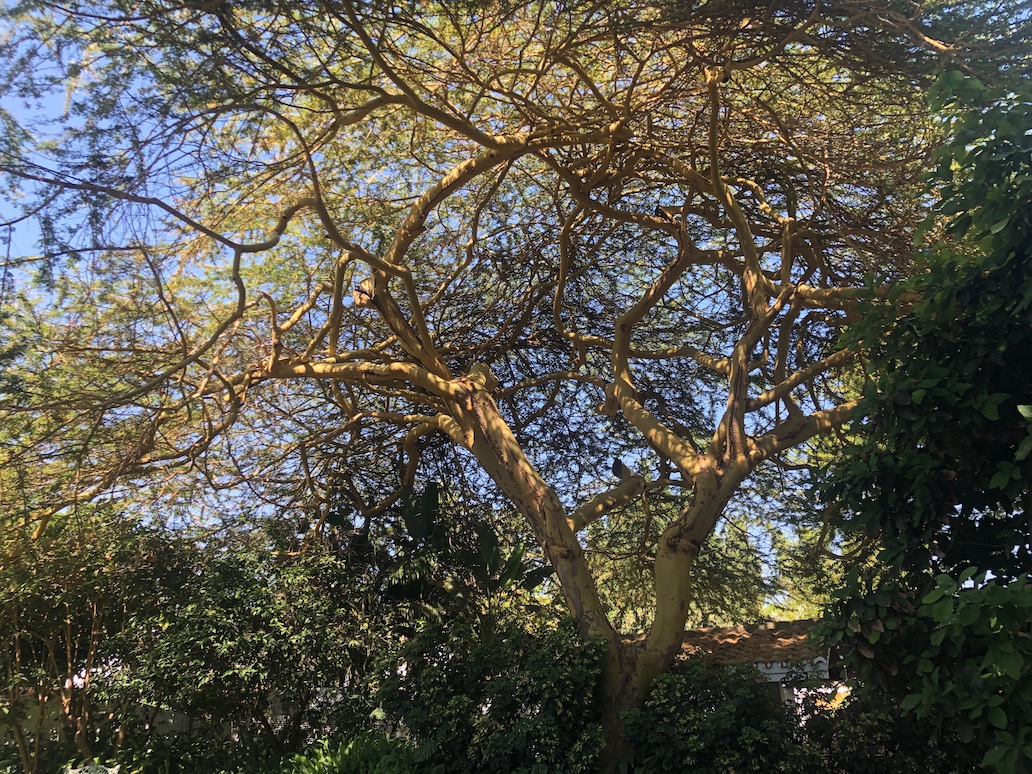 There is an also an assortment of tropical plants and an herb garden that flavors the dishes, teas and cocktails at the bars and restaurants of the hotel. Make sure to try the hotel's own vitamin-enriched tea MC Te Botanico.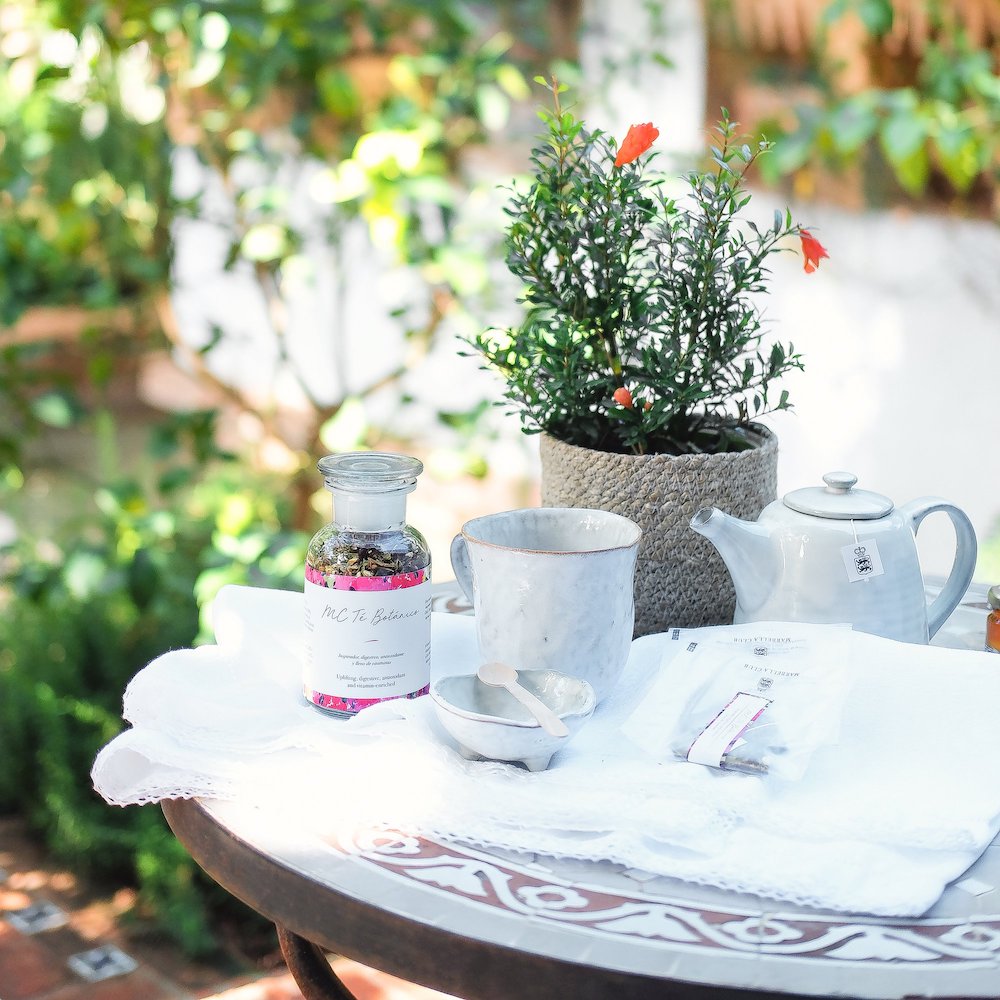 RESTAURANTS
There are several restaurants on property.
The Grill (the mythical restaurant of the hotel). An old-school restaurant that is an affair for dinner where everyone gets dressed to the nines. It is set on the terrace with twinkling lights and candelabras creating a magical scene.  In the mornings, breakfast is served here as well as the famous Sunday beach club buffet (get the sizzling Paella) that we sadly missed.
MC Beach  Located right on the beach, this is the best 'over the sand' lunch you can have. Sushi, paella, salads, grilled seafood – it is all here. We loved it so much, we ate here for dinner and lunch.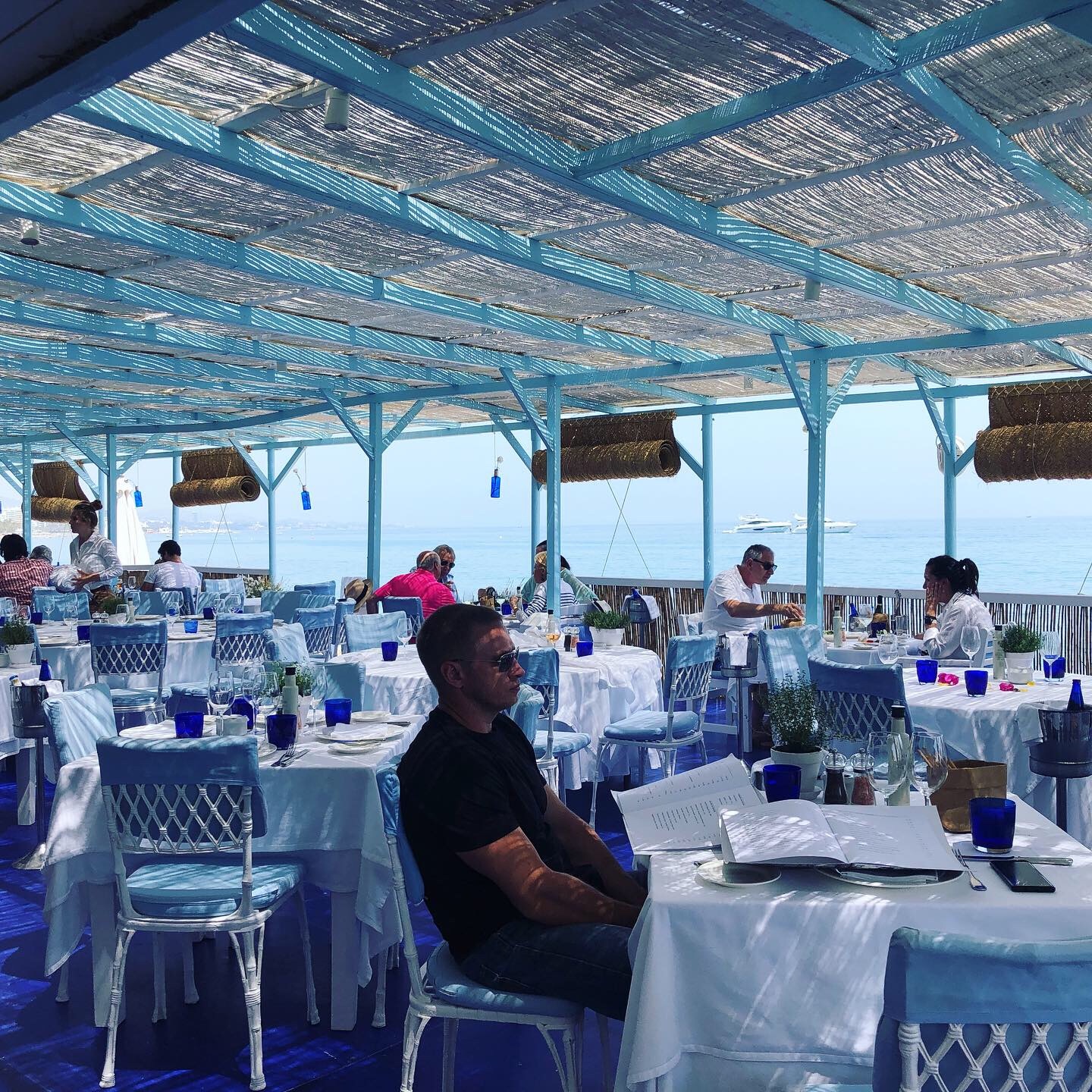 MC Club Located next to the pool is convenient and good but we preferred MC Beach much better.
Summer Bar This open-air bar that is part of The Grill is a must stop. The bartenders are awesome. Ask them to make you their famous refreshing Sau Sau concoction (Vodka, mint, lemon, sugar and soda).
WHO SHOULD COME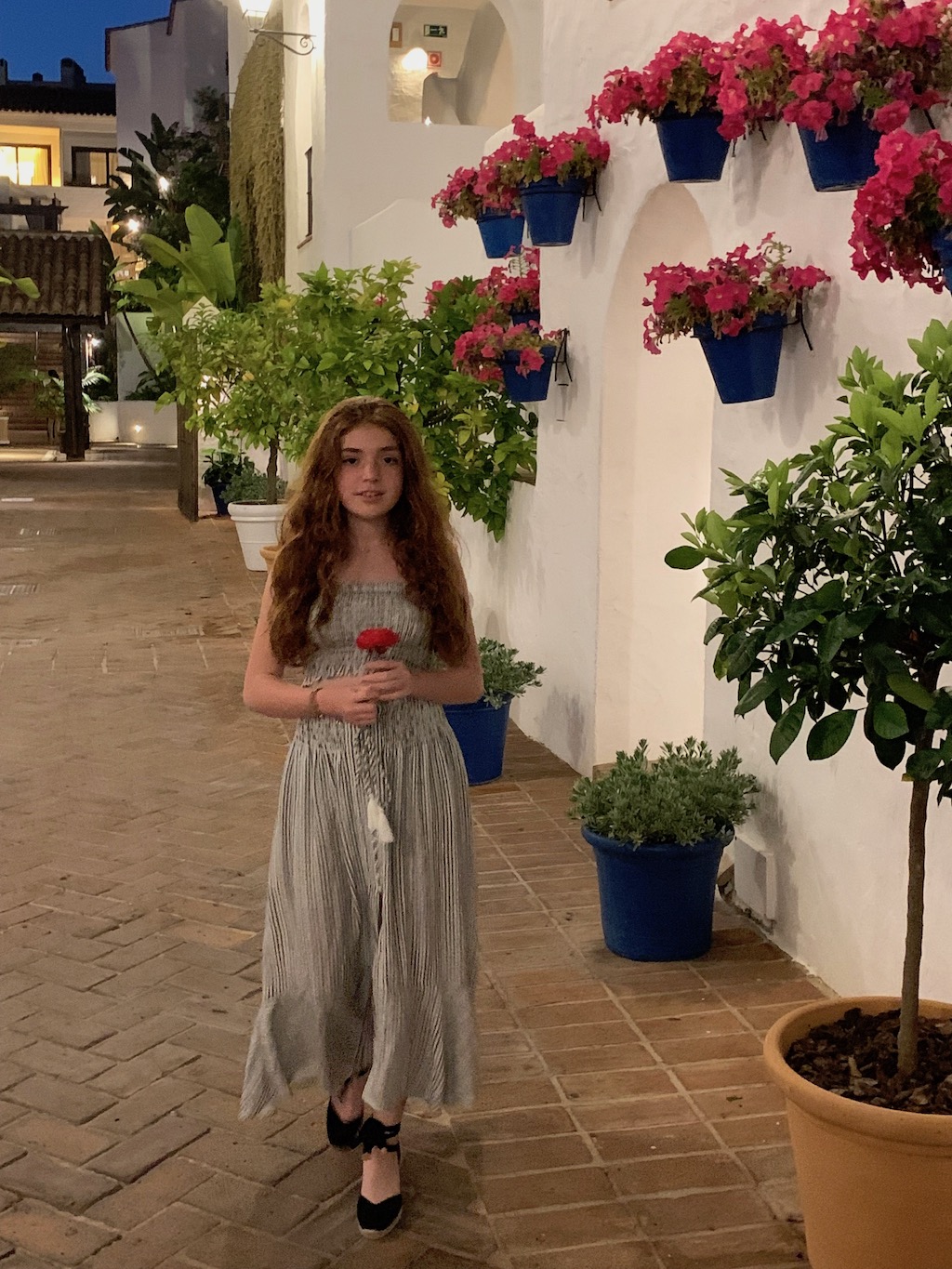 Marbella Club Hotel attracts a smartly dressed, sophisticated international clientele as has it has since its heyday. My daughter commented she had never seen so many great looking people in one place – even our repair man was a Nacho Figueras look-alike (maybe that is why we called him up to the room twice).
If you are looking for more action at night or a hipper vibe, sister property next door Puento Romano or Nobu Hotel (the hotel within their hotel) might be a better choice. I personally liked having them next door and coming back to the peace and tranquility of Marbella Club.
When we were there, there was a mix of mix of ages, couples and families (with children from to teens). A variety of languages could be heard at breakfast but it was predominantly Russian British and American to my ear.
WHEN TO COME
Marbella enjoys a balmy micro-climate and the weather is pretty much always awesome here. The springtime (March through May) is known for the blooming of orange trees – the resort as well as the Old Town in Marbella fills with the scent of oranges. I am told it is the best time to come!
The Summer of course is the most popular season. We found June ideal when it wasn't too overcrowded – the flowers were all in full bloom, and it was warm but breezy (while the rest of the continent was baking).
THE LAST WORD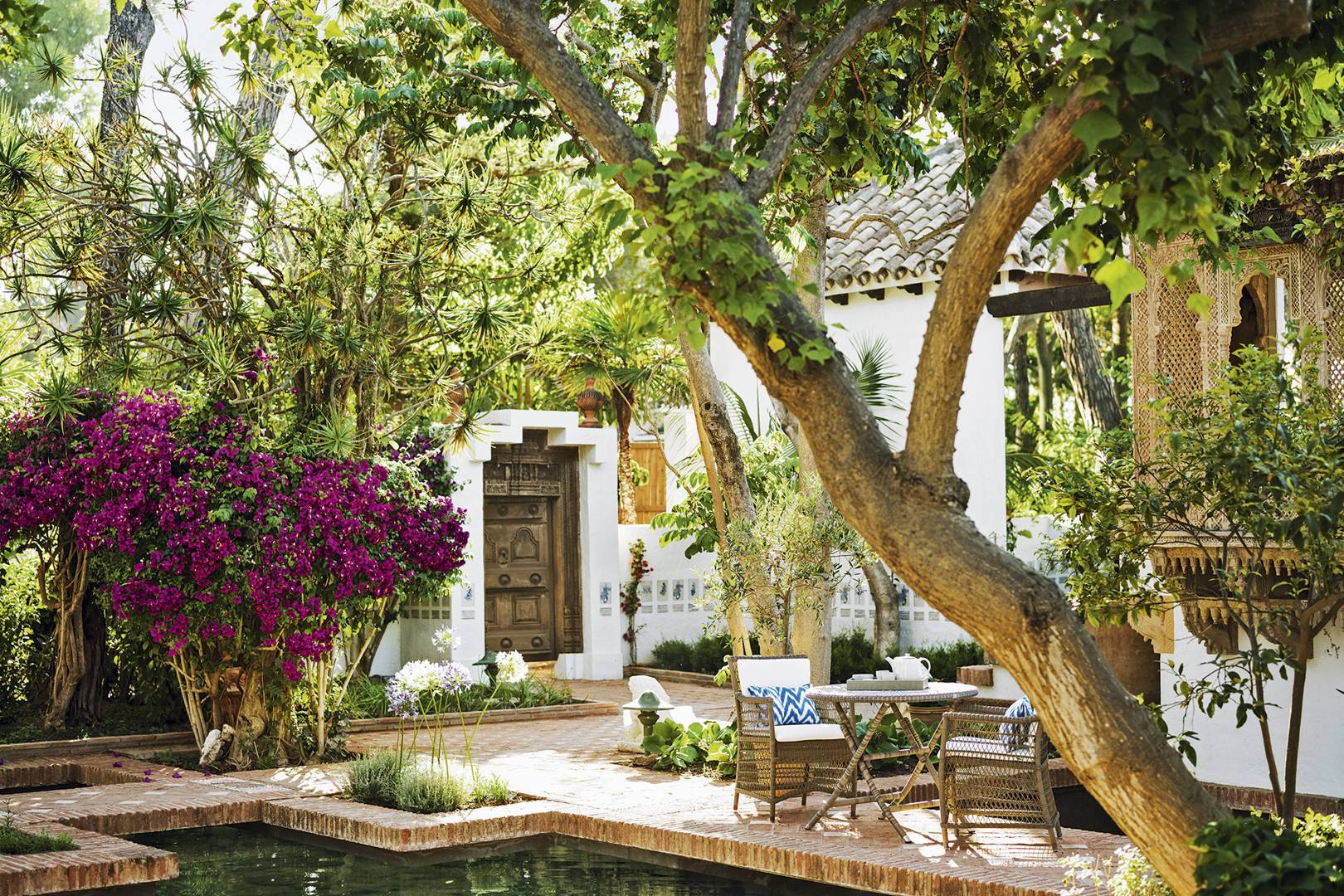 The Marbella Club Hotel is one of the legendary hotels that has definitely not lost its luster since it opened in 1954. In fact it seems to only be getting better even amongst all the new resort openings in recent years. Marbella Club is one of those timeless places whose character has remained intact.
There are so many reasons to draw you here – it is a stunning Mediterranean beach-front property that is easily accessible, with all the cultural, culinary and sports and health offerings you could ask for. Four nights was ideal for a small taste but left us wanting for more.
OUT AND ABOUT IN MARBELLA
Only a 15-minute walk (or 3-minute drive) from Marbella Club Hotel, the Old Town of Marbella is not to be missed, with its maze of charming winding streets, wonderful small boutiques and restaurants, and the famous Plaza de los Naranjos (Plaza of the Orange Trees).
This is a town to just stroll down the narrow flower-filled streets where you will see old white-washed buildings with beautiful hand-painted tiles and wooden carved doors. The famous square has magnificent trees (which bloom March to May) and is always filled with entertainment, music and outdoor cafés. On Saturdays, there is a Nueva Andalucìa flea market for smaller antique items.
SHOP
Déjà Vu A vintage boutique in Old Town that sells everything from 19th-century furniture to 1970's Gucci luggage. Calle Pedraza 8.
Lagoon Beach Boutique on the beach boardwalk on the way to Puerto Romano is a shack with all the latest bikinis and cover-ups.
The hotel's on-site boutique Carolina Martinez de las Rivas has a wonderful array of beach dresses, bathing suits and tunics.
EAT
We have a more comprehensive list but these are our favorites.
At the Puente Romano Plaza Village next door:  
Bibo A laid-back Spanish Brasserie great for tapas.
Nobu This Nobu opened the same time as the one in Ibiza and has a great vibe. The menu has fan favorites along with unique items (the clams!). Very buzzy and great people watching. Book way in advance and request a table on the outdoor patio to take in all the action in the plaza.
Namazake for sushi and sake.
Serafina for modern Italian.
Dani García Michelin rated restaurant for creative Andalusian dishes.
Los bandidos in Puerto Banus, overlooking the yachts and the ambiance in Puerto Banus.
In the Old Town
Altamirano Very casual, good simple food, very authentic and traditional. Located outside in a plaza where you can watch all the action in town while eating.  Afterwards, there is often spontaneous flamenco at Flamenco in Tablao de Ana Maria.
Casanis  A wonderful small French restaurant run by a friend. Ask for a seat outdoors. There is now an outpost, Casanis Beach.
Paco Jiminez in Plaza de los Naranjos.
Loved
Didn't Love

The setting of Marbella Club Hotel is just stunning. I loved the intoxicating combination of white-washed Andalusian villas, bougainvillea-covered arches, lush greenery and the Mediterranean Sea as my backdrop. The resort is just the right size with easy access to everything and it never felt crowded.  I love that the rooms and villas are all low and spread out on the property and blend in seamlessly with the setting.
Likewise, the hotel's location is idyllic. Marbella Club Hotel is an easy walking distance on the beach to Puente Romano (where Nobu, shops and restaurants are located on the Plaza as well as the tennis club) and also a 15-minute walk or quick taxi to the Old Town of Marbella. The airport is just a 40-minute drive away (and did I say New York is a direct flight?).
The spa facilities are outrageous. You could spend a week here just focused on wellness.
The buffet breakfasts on the outdoor terrace here are divine, particularly the fruit selection.
MC Beach, located on the beach. I could have eaten here every day, lunch or dinner!
I loved the charm of Old town Marbella with its cobblestone streets, wonderful restaurants, white-washed houses and flowers everywhere.

While our suite was spacious and comfortable with stellar views, the style of our particular one (Marco Polo) was too traditional in design for our taste. We had a few technology glitches with our closet light that required a technician up to our room twice (although he was very cute!) very late at night.
I was disappointed by the lack of USB ports in our room: the outlets are cramped under the bed side tables (especially frustrating with adaptors) and inconveniently located. This is a sore spot for me when staying at luxury hotels. I don't want to bring adaptors with me anymore when I travel!

Don't Miss
Skip

Rent bikes (at the front of the hotel for guests at a small fee which was a bit surprising) for the day and bike along the scenic beach boardwalk, stopping along bathing suit shacks and beach restaurants.
Lunch or dinner (or both) at MC Beach Club.
The famous Sunday Brunch.
The hotel's signature Sau Sau (vodka lemon juice and sugar) cocktail.
A visit to the enchanting Old Town of Marbella and its famous Plaza.
Dinner at Nobu in the plaza at Puente Romano. The Nobu restaurants in Marbella and Malibu are our favorites of the many Nobu restaurants we have frequented.

Rooms to Get
Tips

There are just 132 accommodations at the Marbella Club Hotel, ranging from guest rooms to suites and villas. In the room and suite category, more than half of the accommodations are suites. The 18 special Grand Suites, which are especially spacious, are located throughout the property with a few of them enviably being directly beach front. We recommend splurging (I mean, if you are coming here you might as well) and go for one of the suites, particularly a beach front grand suite as the view is worth waking up to each morning. The higher the floor, the better (there are only three).
If you want privacy or are with a larger family or group, definitely look into one of the 16 private villas scattered throughout the property. I loved the entrance to Villa Casabel. 

Dinner at MC Grill is a glamourous affair where all of Marbella's finest come to dine and see and be seen.  Wear your chicest outfit and do a selfie when no one is looking against one of the Ferraris, Maseratis, or Bentleys in the front.
Book Nobu in advance. It is very hard to get a reservation here during the summer months although the excellent concierge team at Marbella Club have clout (you may have to slip a few dollars to get a table outside which provides the best people watching).
Marbella Club Hotel
Book The Marbella Club Hotel With Inviato Travel And Receive The Following Perks:
• Upgrade on arrival, subject to availability
• Daily full buffet breakfast, for up to two in room guests
• $100 USD Equivalent Food & Beverage credit, to be utilized during stay
• A complimentary round of golf once during stay, per person, including greens fees
• Early check-in/late check-out, subject to availability
• Complimentary Wi-Fi
Book This Hotel
Why book Virtuoso?
Personalized travel assistance
24/7 online booking
Special rates & exclusive offers
Guaranteed Room upgrade*
Complimentary full American breakfast
Early check-in, Late check-out*
Exclusive on-site amenities (varies by hotel)
* based on availability on time of arrival