Ever since I watched the 2004 film Sideways, I have wanted to visit California's Central coast. Over the last few years, I have seen a few friends and colleagues migrate to Santa Barbara and its nearby towns, remarking on the relaxed lifestyle, Mediterranean-like weather and it's many other outdoor and cultural attractions. It was due time to visit the 'American Riviera' – as Santa Barbara is often referred to for its fine wine, hilly landscapes and oceanfront views.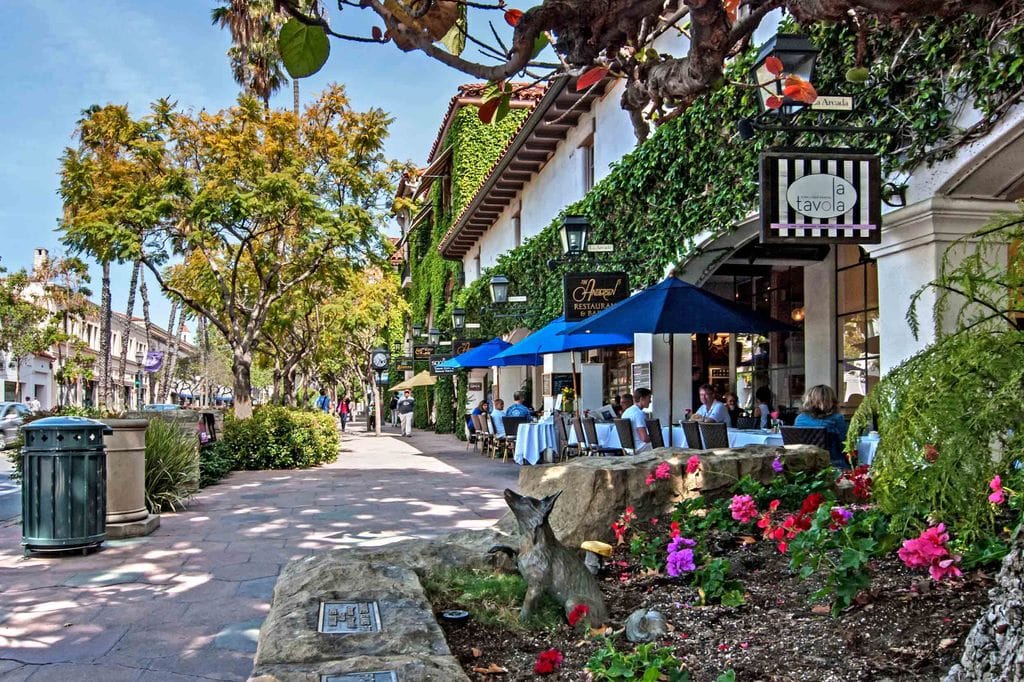 A girls getaway originally slated for Scotland (we are unabashed Outlander fans) was scrapped without hesitation for a more 'rejuvenation-style' type trip to sunny Santa Barbara.  The timing in late April worked well for both of us as we both had nearby business to attend to afterwards. The plan was simple – relax, hike, drink some fine wine, and spa over three nights. A girls version of Sideways, if you will, without the drama.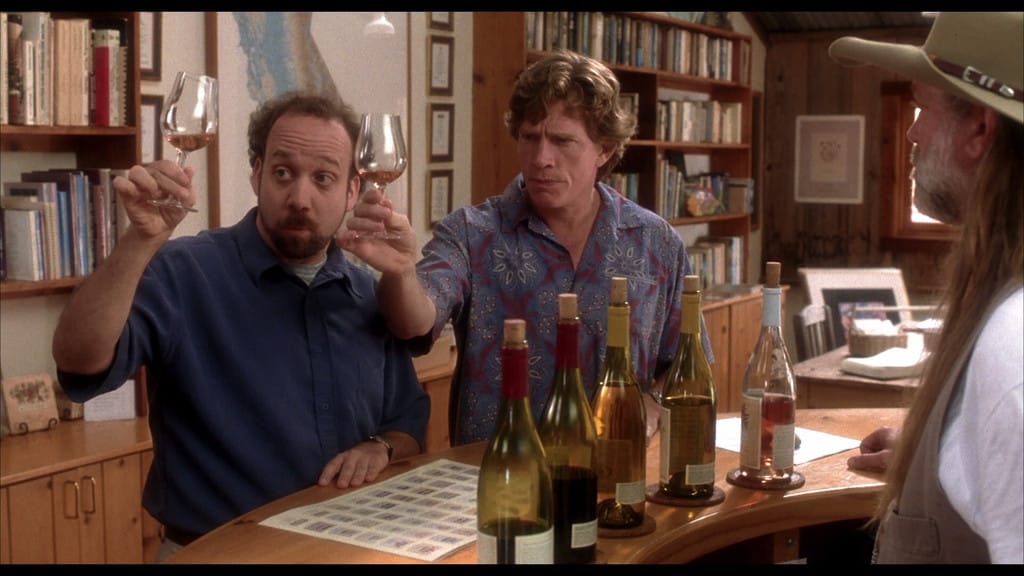 I considered a few places for us to stay, from Bacara Resort and Spa in nearby Goleta to the romantic San Ysidro Ranch and ocean-side Four Seasons Biltmore, both in the outskirts of Santa Barbara. But it was the legendary 100-year old Belmond El Encanto hotel that captured my attention. The location of the 7-acre property, the only 5-star Forbes hotel in Santa Barbara, with drop-dead views (or so it appeared on the website) of the Pacific ocean made it an easy choice.
Facing a 97-mile drive after we landed at the Los Angeles airport, we picked up a Mercedes convertible (after all we were in 'getaway' mode. The convertible turned out useless however as it was a hard-top that had to be physically removed) for a two-hour journey to the hotel.  We experienced the infamous L.A. gridlock which was a bit of buzzkill to start a vacation. But after we got out of bumper to bumper traffic, the last hour of our drive on the 101 North, which hugs the coastline, was breathtakingly gorgeous.  Following recent heavy rains, literally everything was in bloom.
FIRST IMPRESSION
A quick detour to Jeannine's Bakery in Montecito for a bite on the way and we arrived at El Encanto after a few winding streets up the into the hills of Santa Barbara.  The entrance is so inconspicuous, we literally drove right past it.  In hindsight, it's a fitting introduction to the essence of El Encanto as this hotel basks in its understatedness. As we arrived at the tail end of the weekend, the hotel was seemingly quiet except for guests attending a small wedding in progress (I snuck around to take the picture below because the setting was so pretty) and a few people from Los Angeles staying over to see Willie Nelson perform at the nearby Santa Barbara Bowl (which features an impressive roster of upcoming concerts this summer including John Legend, Blondie, Tears for Fears, Depeche Mode and Boston – am I giving away my age?).
But even at full capacity, I doubt this serene sanctuary would ever feel crowded.  That is one of the reasons El Encanto has long been a popular discreet hideaway for celebrities looking to escape for a few days. When it opened its doors as a hotel in 1918, El Encanto quickly became a favorite mainstay of silver-screen stars Clark Gable, Carole Lombard and the like.  I am sure there a lot of good stories behind the walls of these ivy and wisteria-lined bungalows and cottages at this 100-year old property, Maybe even a ghost or two?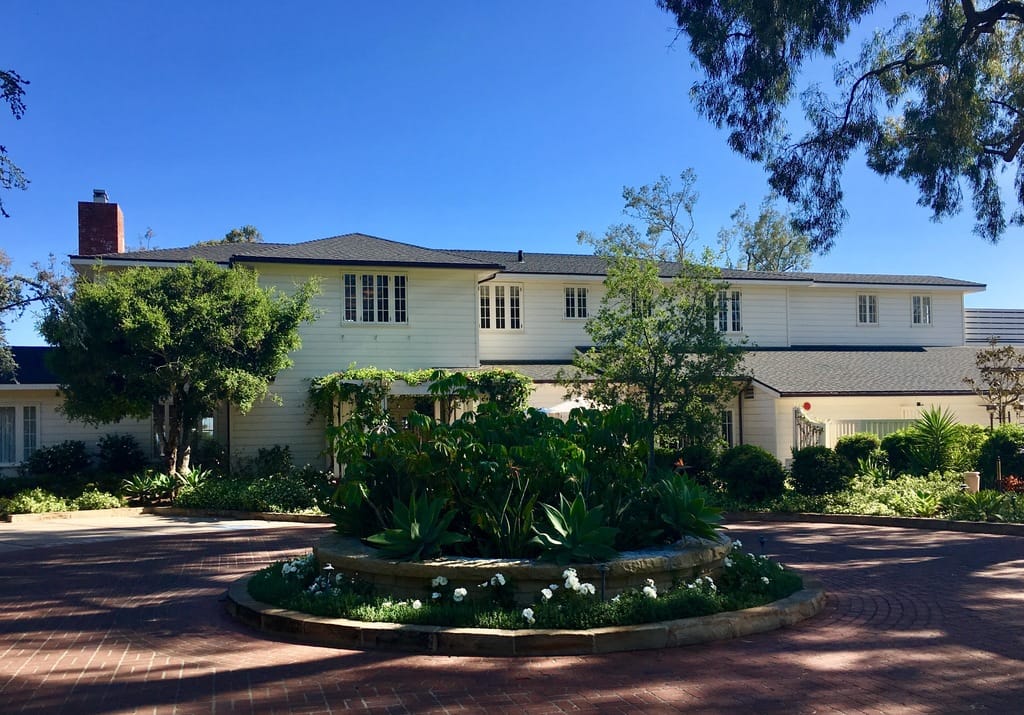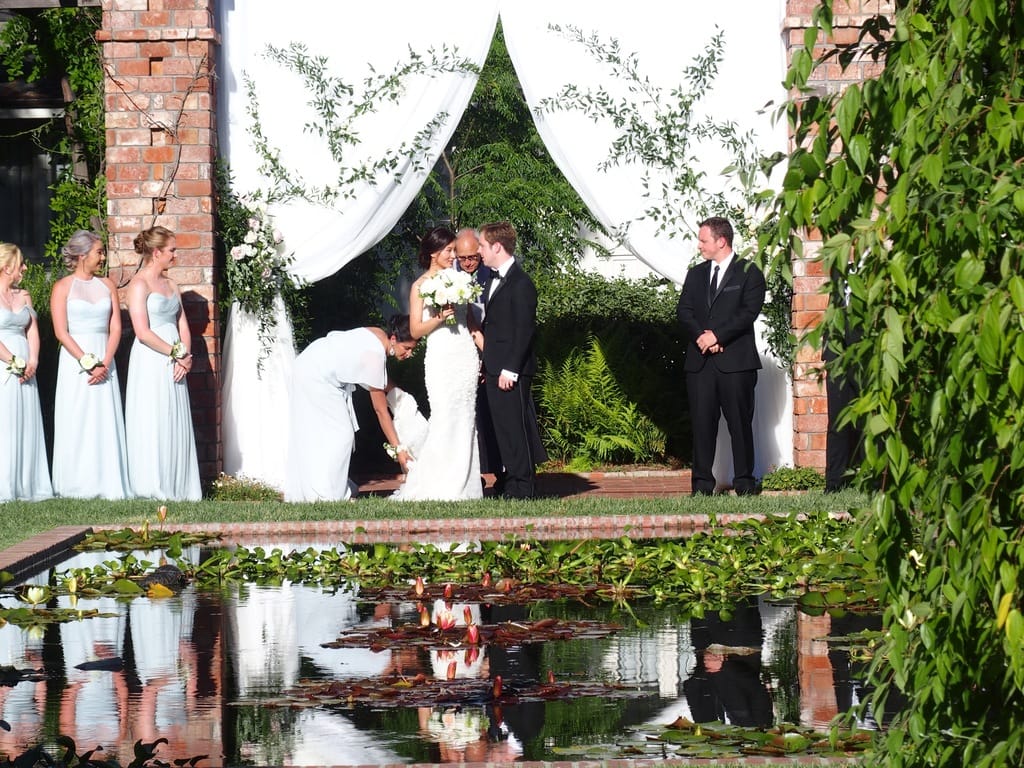 From the moment we left our car at the valet, all stress from everyday life (and admittedly watching too much CNN) dissipated. It is supremely difficult not to feel immediately relaxed here. Taking in the fresh air, with the sun on your face and contemplating the postcard-perfect views of the Pacific Ocean directly beyond the expansive hilltop terrace – which, in my view is the crowning glory of El Encanto – will do that for you. But it is the intoxicating scents of honeysuckle, lavender, jasmine and bougainvillea that descend upon you from the moment you step on to the property that enthralled us ('How can I bottle that smell?' my girlfriend asks). It was like being in one big outdoor spa.
HOTEL HISTORY
To truly appreciate Belmond El Encanto, you have to know a little about its origins. Back in the 1870s (that is when the eucalyptus trees on the property were planted), the original 4-acre property was used to house faculty at a nearby college (the old UC Santa Barbara campus is across the street) . The ten-room Craftsman and Spanish Colonial-style houses and cottages are all still intact and used as guest accommodations today. Not until 1918 did the property turn into a hotel. It operated as one until 2004 when it was sold to the Orient Express Hotels (now Belmond). A long seven years transpired before the hotel re-opened in 2012.  During that period, Belmond put significant funds into restoring all the original architectural details, updating accommodations and adding a spa, fitness center and saltwater pool.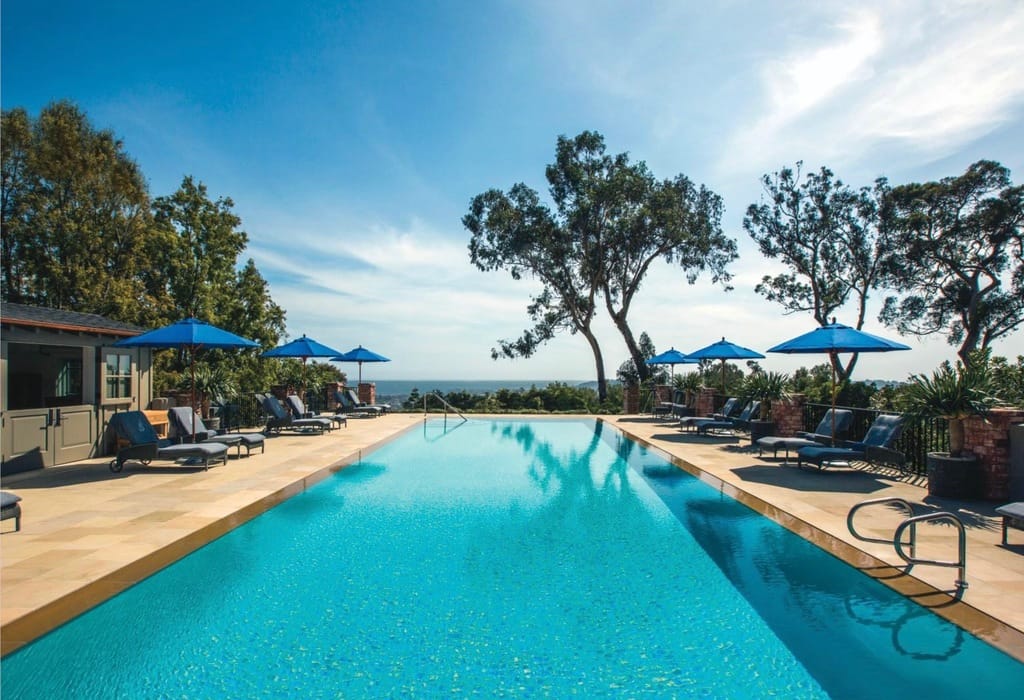 It was evident, as I walked the brick winding paths that take you throughout the property, that Belmond went to great pains to keep the historical integrity and charm (incidentally this is the translation  of 'encanto' in Spanish) of the property intact. The hub is the main house which contains reception, an attractive small bar and lounge area, and the indoor/outdoor dining spaces. Other than the spa and fitness room, these are the only indoor spaces. Here, the outdoor setting is the star. Sitting on the terrace with a glass of wine in hand as the sun sets over the Pacific Ocean is a pretty special place to be.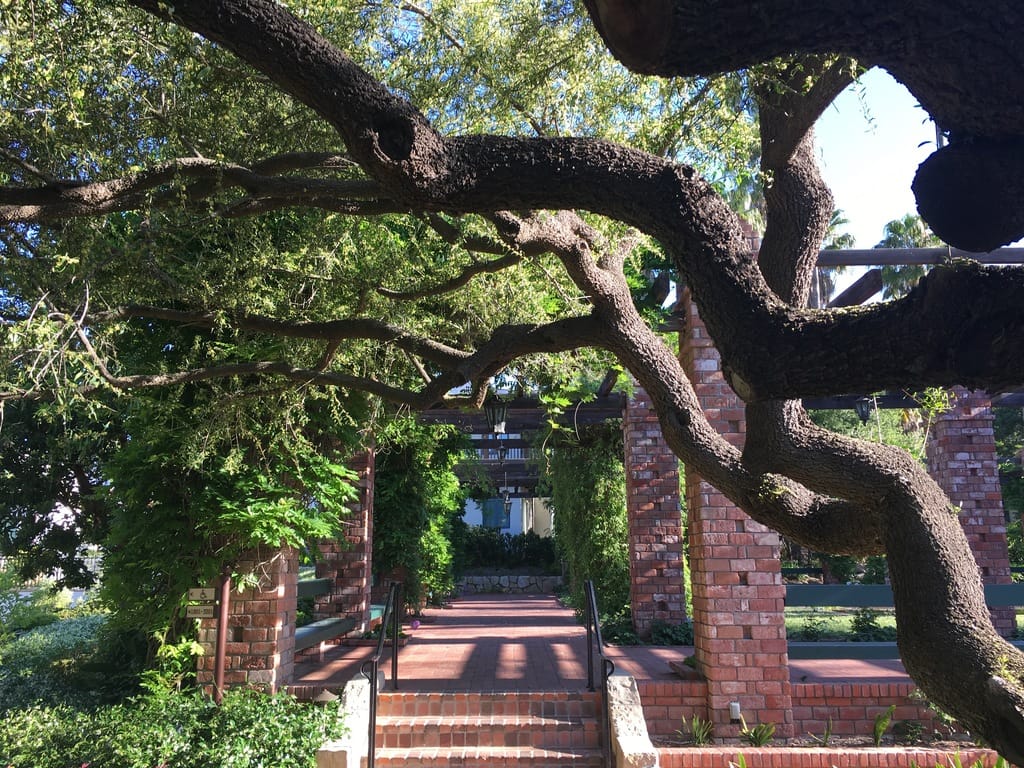 THE GROUNDS
When not chilling at the pool or getting a massage, I enjoyed exploring the property, checking out the arbor-covered cottages tucked throughout the 7-acres. In one short walk, I encountered a 1928 wishing well (original to the property) the Arbor and Lily Pond where you can feed the turtle and Koi residents during the day (at night, the frogs come out and get pretty vocal serenading their mates) and five beautiful ceramic pigs, gifts from the Belmond Maroma property scattered throughout the property.  But wherever you turn your head, the glistening Pacific ocean is always visible to remind you to go outside the property to check out the beaches!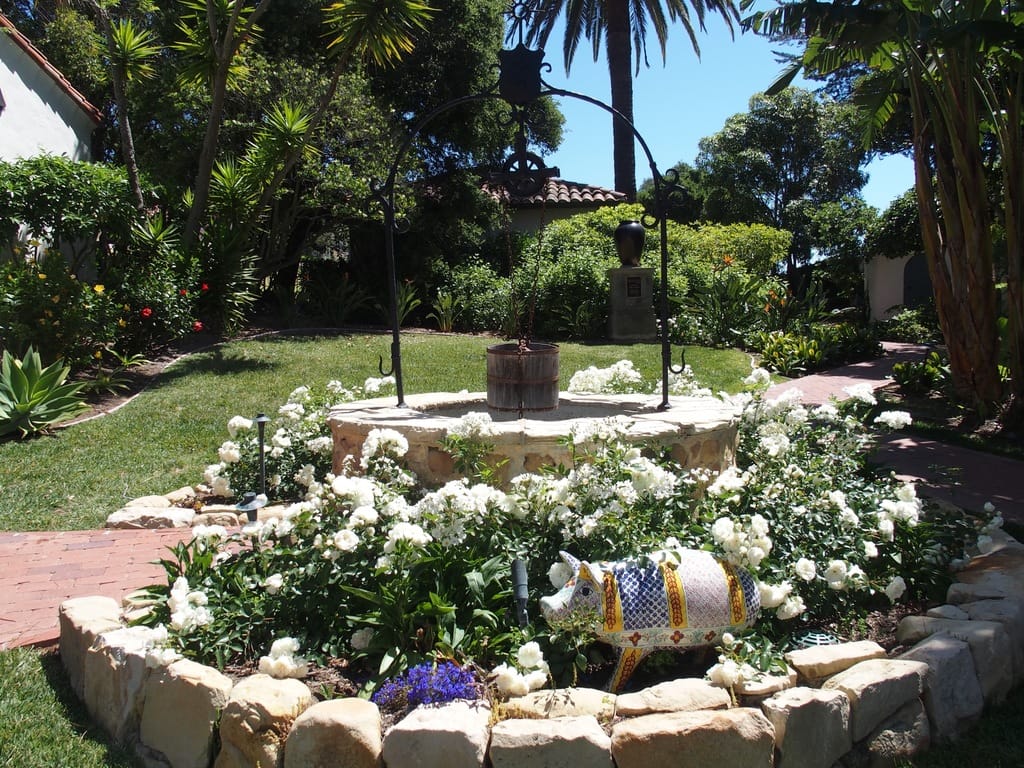 ACCOMMODATIONS
Cottages and bungalows are spread widely across property. While many are stand-alone, there are some that are adjoining or in quads (like ours).  All the original cottages are spacious at an average of 560 square feet and were updated before the hotel re-opened in 2012. It should be noted, however, that strict landmark guidelines apply to the property and, as such, the structural design has stayed intact. For sure, that is part of the charm and personality of the hotel but in some rooms, the small original windows do not bring in enough natural light. 
Our accommodation was a top floor Premiere Deluxe double-bed bungalow (although not a bungalow in true sense as was part of a 4-suite complex). #1804 was a comfortable room with a very spacious bathroom outfitted with a deep soaking tub and shower. It was simply designed, similar to other bungalows I inspected, with a large flat screen TV, fireplace, and terra-cotta floors. While perfectly comfortable, the terrace was too small to fit more than a small chair and the room felt particularly dark as only one window. The room was also very close to the main entrance which, while convenient, doesn't have the charm of being further immersed in the lushly landscaped property. Which is the whole point of being here.The next time I return to El Encanto (and I will), I would definitely upgrade to a stand-alone cottage or at least request a lower floor bungalow which feature spacious patios (see Rooms to Get below). 
We appreciated the deliveries of delicious fruit plates, cheese, wine and champagne during our briefly stay. We did have a few glitches with our room upon check-in which were addressed quickly but I believe were due to some staff communication/training issues when we were there. This is one area that could have been improved during our stay.  It felt understaffed in many areas and the service just fell short of my expectation for a 5-star property.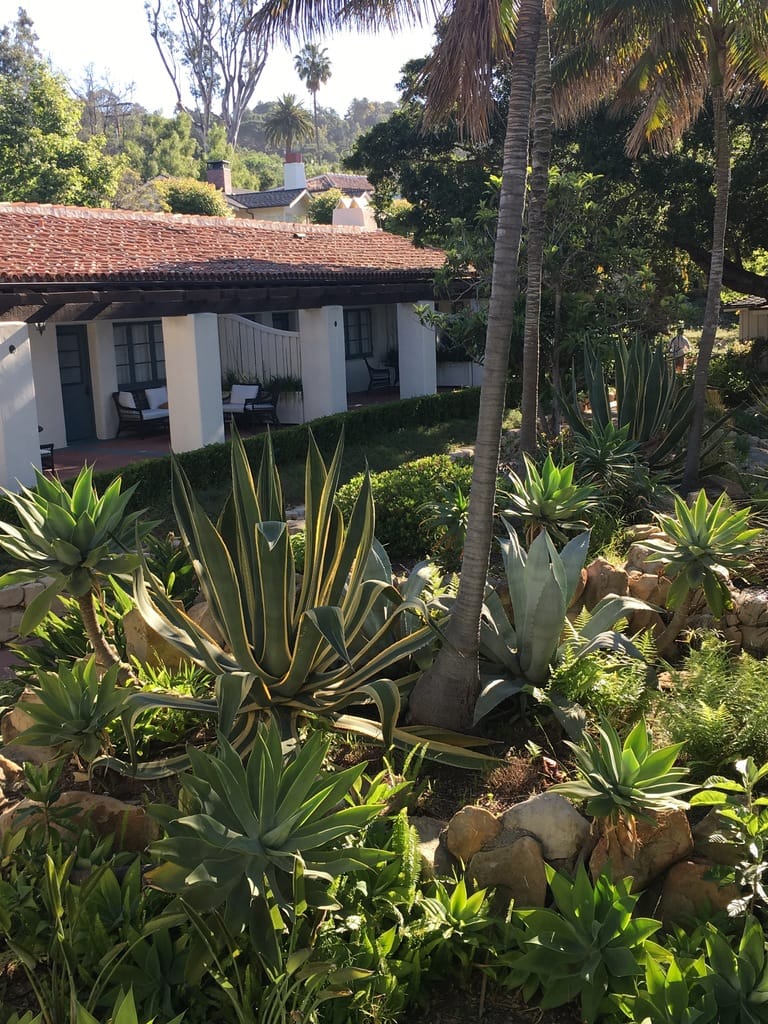 THE LAST WORD
During our brief time here, we accomplished what we set out to do – hike, relax, eat great food, and drink great wine.  Belmond El Encanto could not have been more ideally located for our mission as it is within 5-10 minutes of the incredible beaches, hiking trails, the authentic town of Santa Barbara as well as within 30 minutes drive from the Santa Ynez valley and its many wineries.  It is a place that feels private and remote yet it isn't as you are smack in the middle of one of the most beautiful places with so much to do and see.  What sets it apart from many other properties I have visited is that it hasn't strayed from its original style which is lost in so many renovations I have seen. Aside from modern conveniences, it simply feels timeless. 
OUT & ABOUT IN Santa Barbara
For a relaxing outdoorsy girls getaway, Santa Barbara is about as good as it gets (although I can do without the LA traffic. Note to self: next time fly directly into the local airport). There is no shortage of things to do. Wineries, beaches, mountains and amazing restaurants are just a starting point.  Here is a small sampling of suggestions.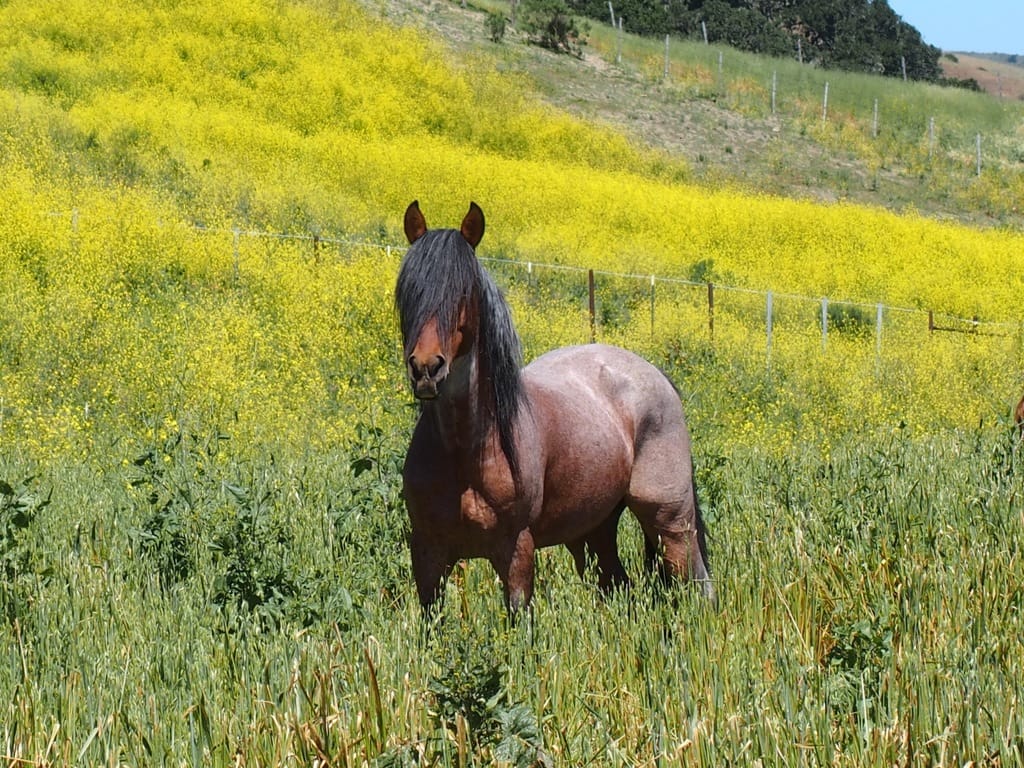 Whale Watching. The Santa Barbara area offers some of the best whale watching in world with 20 different species of whales. Spring is sure bet for whale watching – even from the Pier – especially when new calves are on display. Ask the concierge about the 2-hour cruises that take you right from the marina.
Wild Horses. Just one hour drive North and you can visit Return to Freedom, a 300-acre wild horse rescue and sanctuary, that opens one Sunday every month to allow visitors to see and learn about the 175 wild horses it rescues and takes care of. 
Historic District and State Street. The town of Santa Barbara is host to great restaurants, cultural attractions, great shopping, and a wonderful farmers markets on Tuesdays. 
Hikes. (see Tips below)
Wine Tasting. This is a given as you are in the heart of one of the best wine regions in the U.S. Napa and Sonoma may be better known but Sideways has uncovered the secret of the Santa Ynez region, along with the towns of Los Olivos, Solvang and Los Alamos, less than an hour drive North of the hotel. If you are deprived of time, no worry. Hit the Funk Zone and the self-guided Urban Wine Trail  and check out the many wine tasting rooms in an old industrial complex (Riverbench, Whitcraft, and Santa Barbara Wine Collective are some notable ones recommended to us).
OUR FAVORITE PLACES 
Cocktails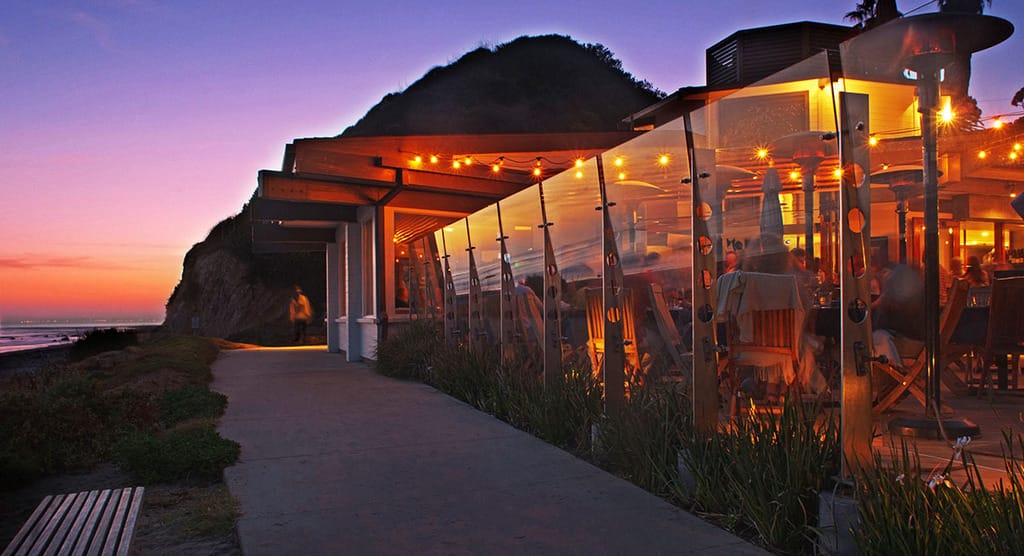 Test Pilot – A tiki-inspired craft cocktail bar in the Funk Zone.
Good Lion – A swanky speakeasy serving tapas and inventive cocktails.
Boat House at Hendry's Beach (unofficially known as 'Dog Beach') – a must at least once during cocktail hour from 3-6 or at sunset. Located right on Hendry's Beach, this is where you can get your dog fix or just watch the surfers.
Bakeries (breakfast, lunch or picnic fare)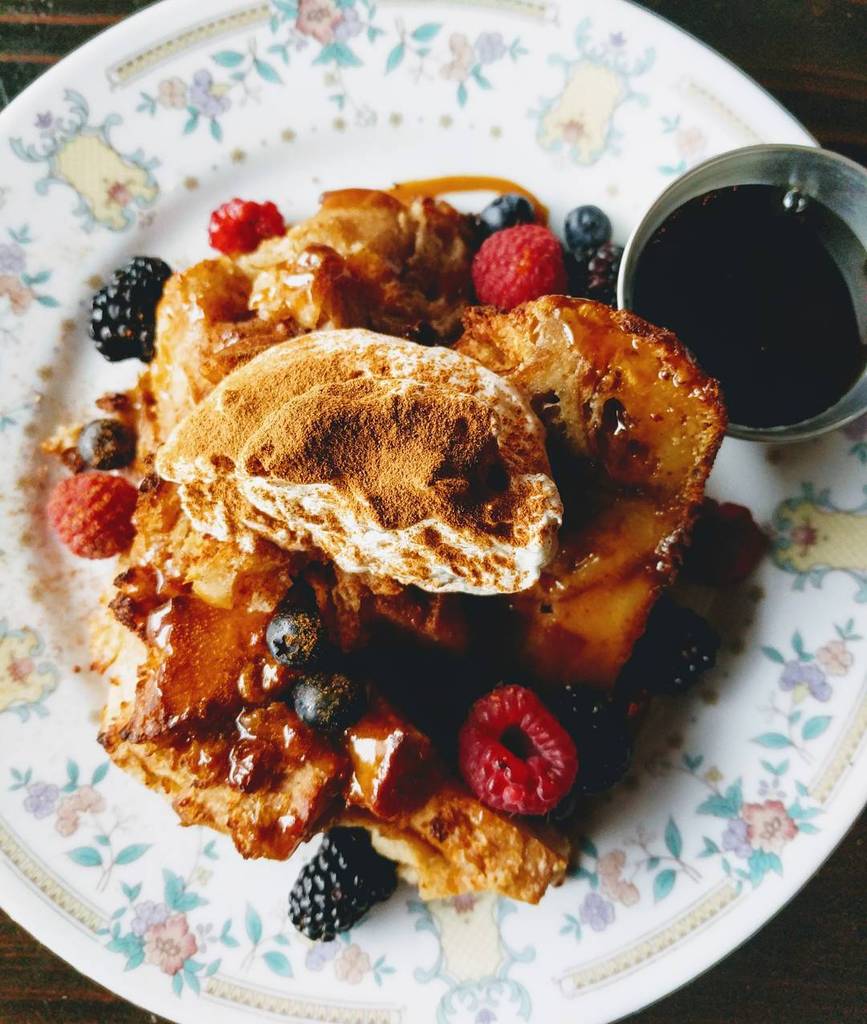 Renaud's Bakery. On State Street, this Parisian style bakery is known for having the best chocolate croissants.
Jeannine's Bakery. Located on Coast Village Road in Montecito as well as in Santa Barbara. Known for their breakfasts.
Helena Avenue Bakery. Decadent French toast.
Restaurants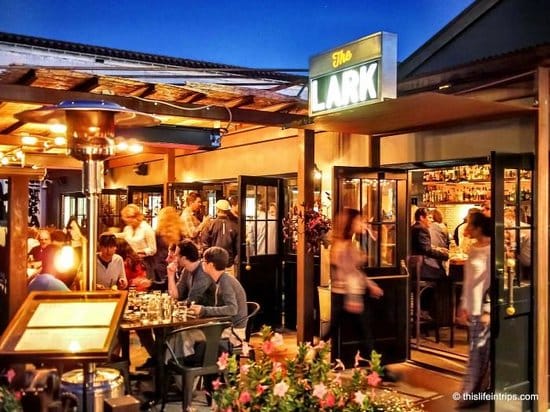 The Lark. Named one of the top 100 Hot Spots in the country on Open Table, The Lark is a very popular urban eatery housed in a former fish market in the Funk Zone. Always packed and very good! Make reservations well ahead of time and ask for outdoor seating when the weather is nice.
Loquita. A hot new tapas joint in the Funk Zone and sister restaurant to The Lark just around the corner. Sit at the bar or the beautiful outdoor (and heated) garden with fire pit. Loved it here!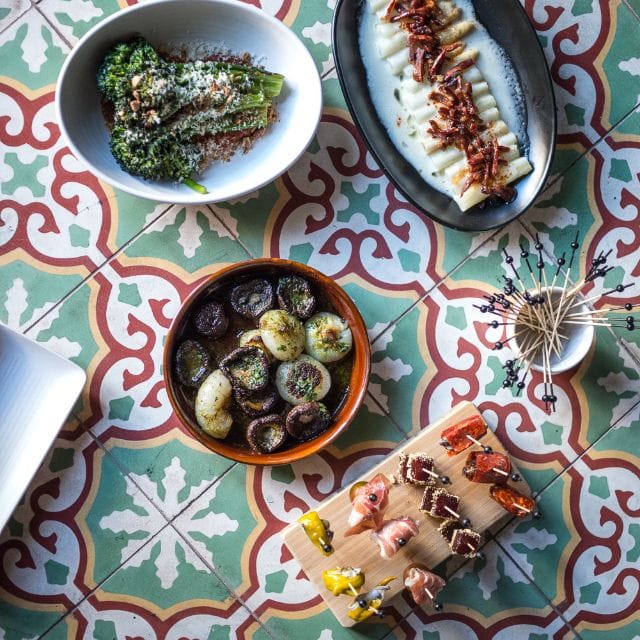 Olio e Limone. Italian restaurant that is a favorite of many locals and considered one of the best Italian restaurants in the area.
Mony's Mexican. Very casual Mexican in the Funk Zone. Known for their tacos and salsa bar. Most always packed.
La Superrica. One of Julia Child's favorite restaurants when she lived in the area, this cash-only small shack serves excellent but simple tacos. Usually a line out the door. Highly recommended by a foodie friend!
Loved
Didn't Love

The setting of the hotel is just beautiful. Lush grounds with flowers in full bloom and intoxicating scents of honeysuckle, and jasmine.  Stunning views overlooking Santa Barbara and the Pacific Ocean particularly from the outdoor terrace – the centerpiece of Belmond El Encanto.
Location. Close to town via car or electric bikes but removed enough that you feel completely in your own world.
Breakfasts on the terrace (included in our rate) were fresh and delicious.
The complimentary shuttle service that will take you and pick you up anywhere within 5 miles.
The complimentary Electric Perego bikes for guests who want to explore the area by bike but need a bit of a push getting up those hills!
The Spa. A small but luxurious spa that offers wonderful massages (particularly accompanied by a foot rub after a morning hike!). I used my $100 spa credit for a traditional deep-tissue massage but there are a myriad of massages and body treatments including a Bamboo Charcoal Wheatgrass Body Wrap or Strawberry Blossom or Cacao Coffee Scrubs.
The hotel is extremely dog-friendly, accepting all shapes and sizes and thus attracts guests coming with their furry children. Dog sitting and walking services, dog beds and treats and even canine menus! In-room canine massage services are in the works.

During the time we were at the hotel (part of it mid-week), the hotel felt a bit understaffed. After we checked into our room, some remainders from the previous guests were still present (including food outside the front door) and there was no welcome note or Virtuoso amenity. Most times when we called reception, the phone was not picked until several minutes if at all.  There was no attendant at the pool one of the days we were there. I felt that there needed to be a bit more of a management presence during our few days as there seemed to be someone new in training at the front desk who definitely needed some help.  However, I want to point out the friendly valets (also acting as shuttle drivers) at the door were eager to please and offered indispensable tips for restaurants and hikes.

Don't Miss
Skip

Funk Zone -A variety of wine-tasting rooms, breweries and restaurants housed in a former industrial complex just two blocks from the beach is the de facto hip scene in SB. Here is where you will find local wine rooms of Santa Ynez wineries that is part of the Urban Wine Trail, a self-guided tour of 27 wineries in downtown Santa Barbara. River bench, Whitcraft and the Santa Barbara Wine Collective are just few of the best places to go.
If you want to spend the day visiting the wineries in the nearby Santa Ynez Valley, you can hire Wine Tasting Designated Drivers for about $35/hour to drive you in your car or for a more luxury experience, use Coastal Concierge which includes private tours and tastings, gourmet picnic and a luxury SUV)!
A stop-by, particularly during happy hour (3-6) or before sunset at Boat House at Hendry's Beach. Cocktails right on beach and heaven for dog lovers like me.
Exploring the charming authentic Spanish town of Santa Barbara and its historic district, particularly the main thoroughfare of State Street. The town hosts five theaters (there is a reason why the 11-day Santa Barbara Film Festival is here) and over nine museums alone. Tons of retail stores to satisfy teens and adults alike – a mix of brand name stores and local retailers all with store-fronts meeting strict architectural guidelines. On Tuesdays, don't miss the all-day farmers market comes and some of the street turns into one large pedestrian area. Local vineyards and farms bring almost every delicacy you can imagine.
See our restaurant recommendations above – there is no shortage of great restaurants in Santa Barbara and its environs. We checked out

The Lark

and

Loquita

– both sister restaurants located in the Funk Zone both which I highly recommend and are considered two of the best restaurants in SB. Informal, delicious food and atmospheric.

Rooms to Get
Tips

There are 92 accommodations at the hotel, ranging from 70 Bungalows to 22 Cottage suites in Mission Style and California Craftsman styles spread across the 7-acre property. Most are original to the property and comply with strict landmark guidelines.
We were upgraded to a top floor Premier Deluxe Premier Bungalow double (#1804), slightly larger than the Deluxe Premier Bungalow double that I originally booked. I would recommend in this category or higher but request a bottom floor King (there are more accommodations in Kings than Doubles) which provides a more spacious patio than the small terraces on the upper floor bungalows at this level.
I prefer the cluster of bungalows in clusters 3-9 (301, 401-5, 501-502, 601-2, 701-3 and 801-4) which offer the most privacy and reside in a particularly beautiful area of the property.
The most exclusive and private suites are the ultra-spacious Oak Tree Suites 801-4 (popular with celebrities as they have their own parking area) and the 2-bedroom 1,450 square foot Wishing Well bungalow.

Definitely take advantage of the hotel's complimentary shuttle system which will take you and pick you up anywhere within a 5-mile radius. Especially helpful if you are heading to the Funk Zone and doing some wine tasting!
Yes, The L.A. traffic is bad as everyone says so if you are driving to/from the airport cushion in extra time and use Waze as you approach LAX to find quicker routes. There are several other transportation options other than renting a car ranging from the scenic Amtrak train ride from Los Angeles Union Station to Santa Barbara (3 minutes from the hotel) on the Pacific Surfliner (a little over 2 hours) to private car service (expensive) or the efficient

Airport Airbus Shuttle

which drops you off/picks you up at the nearby Hyatt Hotel in Santa Barbara (one way is about $49).
There are plenty of places to hike in Santa Barbara and its environs given its location between the Santa Ynez Mountains and the Pacific Ocean. Ask the concierge (or better yet the valets who seem to be more knowledgable in this area)  for a few suggestions. We took the medium-level hike to

Inspiration Point

which offers great views up at the top. Longer full day hikes are at Rattlesnake Canyon Park, and San Ysidro Trail and Seven Falls – good trails with waterfalls. We also did a shorter and scenic beach hike along the bluffs of Carpinteria and walked into town. Here you can view the Harbor Seal Colony, only one of two publicly accessible seal colonies in Southern California.
It's worth a quick stop in the nearby charming towns of Solvang and Montecito.
While child-friendly, Encanto feels distinctively adult. Leave the kids at home for some R&R (but maybe bring the pup – you will be among the many guests who do).
Belmond El Encanto
For 2017, Virtuoso Rates at Belmond El Encanto include:
• Upgrade at time of booking, subject to availability
• Continental breakfast daily, for up to two guests
• $100 USD Resort or Hotel credit
• Early check-in/late check-out, subject to availability
Book This Hotel
Why book Virtuoso?
Personalized travel assistance
24/7 online booking
Special rates & exclusive offers
Guaranteed Room upgrade*
Complimentary full American breakfast
Early check-in, Late check-out*
Exclusive on-site amenities (varies by hotel)
* based on availability on time of arrival
Related Reviews