I made it my personal mission that when each of my daughters turned ten years of age, we would to go on a mommy-daughter trip. My oldest daughter and I enjoyed an amazing bonding trip in Paris. When I asked my other 'soon to be of age' daughter last Spring where she might like to go for our trip, she had only one thing on her mind: a cruise. Horrifying images of a huge ship with massive water slides, hordes of people and endless buffets flashed before my eyes. Recent news stories of nasty outbreaks on cruise ships with no place to escape didn't help either.
Not wanting to disappoint my daughter, I did some sleuthing and struck gold in my research –  the debut of a new ship with a family-oriented itinerary called 'Jewels Along The Danube' was sailing exactly the same week in July we were looking to travel. Only 170 passengers sailing on the calm waters of the Danube river passing through the four countries of Germany, Austria, Hungary, and Slovakia in seven nights. Land visible at all times. Not a slide in sight. I could do this!
The particular cruise that caught my attention was a new venture created in early 2016 between Adventures By Disney (known as ABD, they offer distinctive family guided tours in almost every country– not to be confused with Disney Vacations which is tour and cruise packages associated with the amusement parks) and the well-regarded Swiss river cruise company, AmaWaterways. Together, they created exclusive sailing dates with special 7-night (shorter than typical river cruises) itineraries designed uniquely for families. I loved the idea that we could see several countries and locales in one week and only have to unpack our bags once.  The fact that the ship, AmaViola, was spanking new with (relatively) spacious accommodations and the latest sailing technology didn't hurt either.   We would be on the 3rd sailing of the AmaViola and one of only the first four family cruises offered that entire summer.  In a way, we were test guinea pigs to see if the new concept of 'family river cruising' held merit. Up to now, river cruises have been demographically targeted to more mature guests who had more time for longer sailings and preferred more sedentary itineraries.
What finally sealed the deal for me though was that I didn't have to do anything but pay for the trip and buy our plane tickets. Everything would be taken care of for us – meals, itineraries, entertainment, tips and transportation. For someone who meticulously likes to plan my own trips, I would be out of my comfort zone but admit it was quite liberating to hand over the reins and let someone else take care of all the work.
THE CRUISE
A week before our trip, ABD sent a large box containing a bunch of branded merchandise (from suitcase tags to water bottles and t-shirts) that I would never use along with a backpack and a thick leather-bound planner. Impressive but bulky so we left everything but the itinerary behind.
Flying to Budapest, we headed straight for the ship where the AmaViola begins its journey down the Danube ending in Vilshofen, Germany. ABD recommends leaving a day early to enjoy Budapest (and offers an add-on option to include hotel and a tour), which most of the passengers on the ship did. This was not an option for us as my daughter was just returning from summer camp although we did spend an extra night in Vienna at the end of the trip (see my review here).
We were the first ones to arrive on the AmaViola as the other passengers were still on their day tour of Budapest.  This gave us time to walk around this beautiful Hungarian city a little ourselves, settle into our cabin and unpack, and check out the ship. I was a bit apprehensive when I first saw Mickey Mouse ear-shaped cookies on display in the lounge and music from 'Frozen' piping through the speakers.  I am not anti-Disney but I had my fill of Disney World when the kids were younger and was assured this was not a 'branded' Disney trip. I am happy to say the Disney presence was mild and character-free for the remainder of the trip. I actually got to grow fond of the ear-shaped pancakes and sandwiches.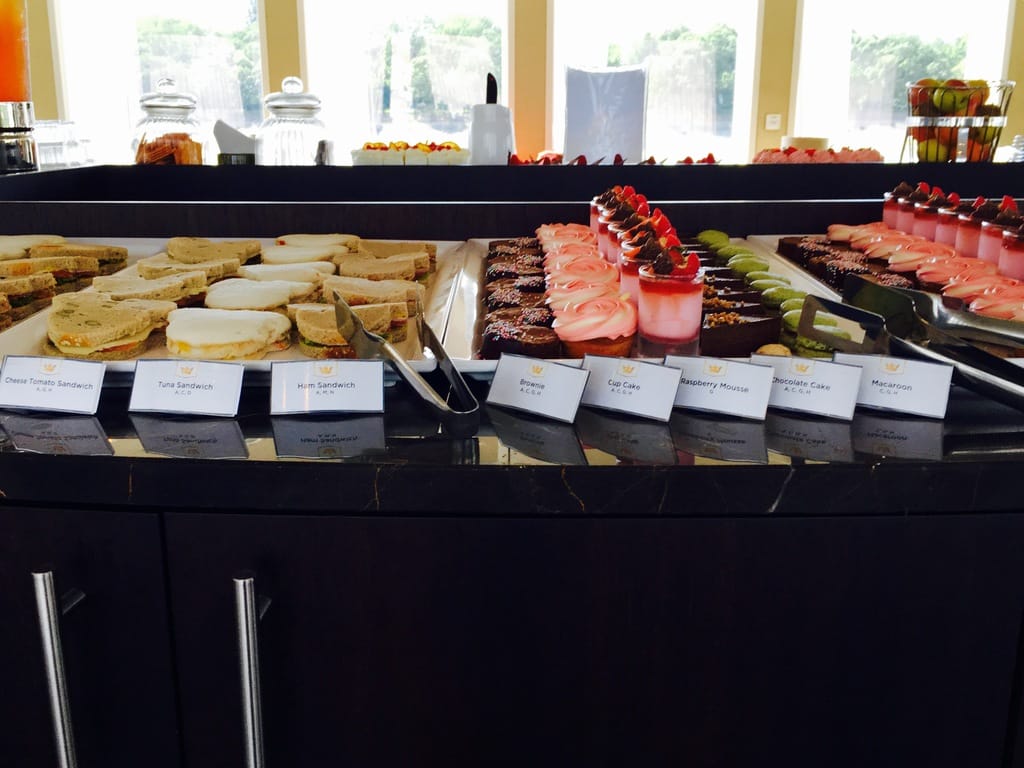 During our seven nights on the cruise, we encountered some hurdles such as back-to-back terrorism incidents in Germany and a particularly bad case of strep/scarlet fever that my daughter caught just one day into the cruise. Despite this – and things could have been worse as we had to contemplate disembarking the ship at one point given the intensity of her fever – I am pleased to say it was a wonderful experience for both this mother and daughter. In a week, we were able to experience quaint towns, tour through beautiful cities, enjoy some cool, educational experiences (I now know how to make marzipan and apfel strudel, sure to come in handy one day) and meet new friends with a wonderful staff to keep us comfortable, happy AND safe.  It was not perfect – there were definite areas that need to be tweaked and refined which was to be expected –  but I can now preach certain benefits of family cruising. ABD has found a sweet spot in the cruising market – evident by the fact that they have expanded their family cruises vastly on both the Rhine and the Danube.
THE SHIP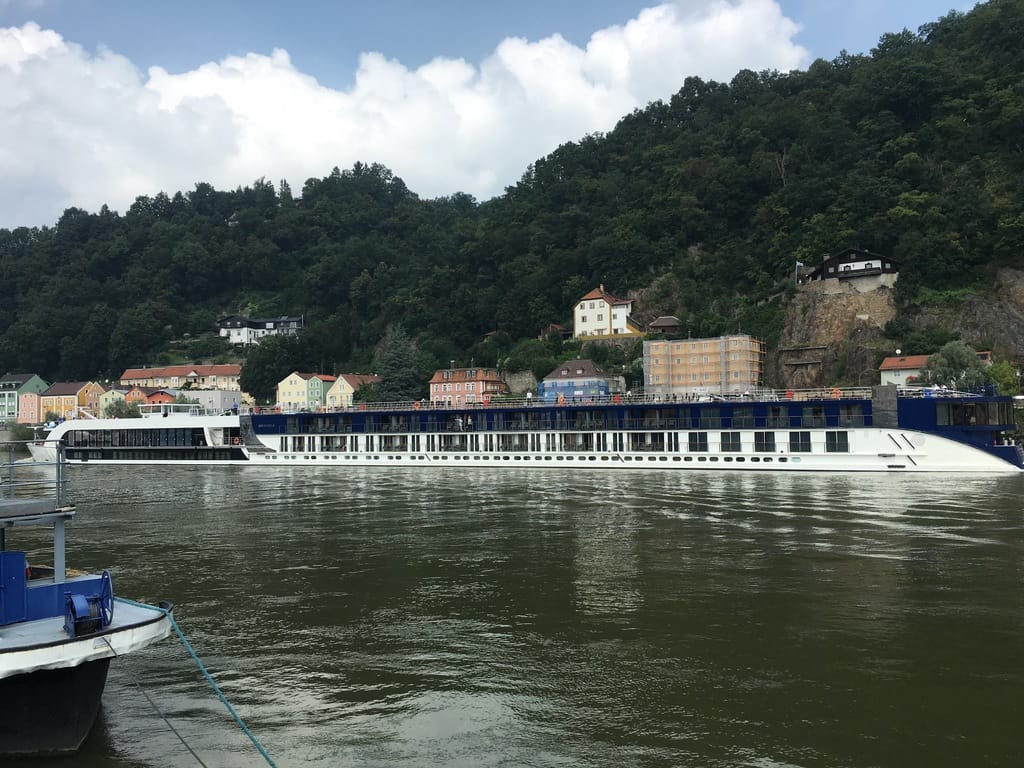 AmaWaterways operates 20 ships which sail throughout Europe, Africa, and Asia. The AmaViola, one of the new ships to debut this year, is quite impressive and by far the nicest ship on the Danube. It has the most advanced design of all its ships with modern and streamlined interiors in both the guest rooms and public spaces with large floor-to-ceiling glass windows to take in the views and public spaces. New bikes are provided on the ship to cater to active guests. And for families, a small pool is a nice new addition to the otherwise typically 'pool-less' river cruises.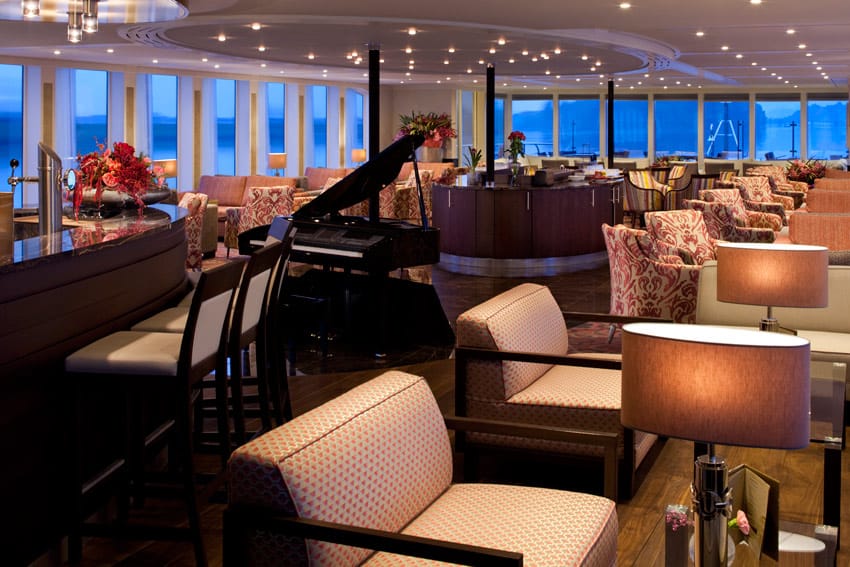 With only 79 rooms and four suites, the AmaViola is an intimate ship.  A spacious lounge (serving as the hub of activity), outdoor deck spanning the entire length of the ship and two restaurants prevented it from ever feeling claustrophobic. There are four decks in all with the internal decks named after musical instruments: Cello, Viola and Piano.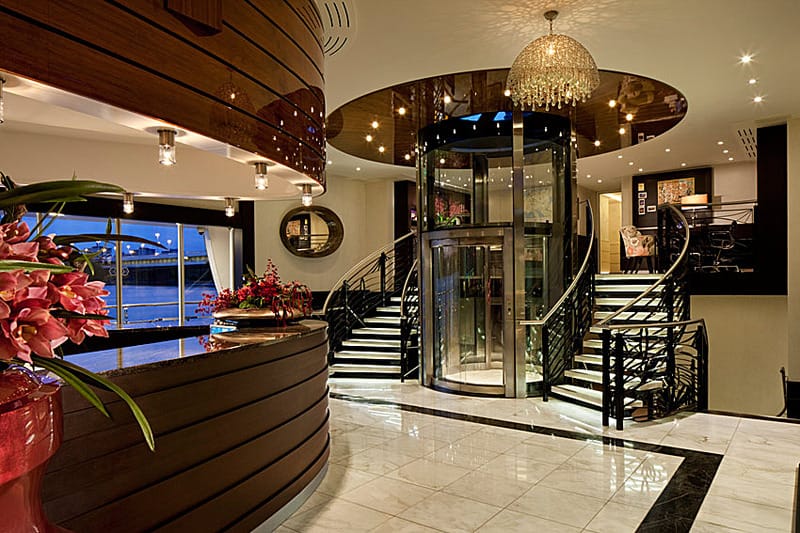 I was most impressed by the Sun Deck, the top open-air deck.  Modern in design with a small pool (more suitable for children than adults) oddly with a swim-up bar (I'm not sure this was even open during our cruise), the deck offered plenty of lounging areas, both shaded and unshaded, to enjoy the beautiful scenery and float by the river towns. A jogging/walking track, which can only be used certain hours so as not to disturb sleeping guests in the deck underneath, was a nice feature although I never saw anyone actually run or walk on it. Except for the first evening as we left Budapest and everyone came  to the Sun Deck at night to the stunning lit-up sights of the Neo-gothic Parliament and Buda Castle and bridges, the deck was sparsely used during our cruise. It could have been the heat wave we experienced that week or that everyone was tired, as we were, after long activity-filled days and dinners. Switching between the lounge and the deck for daily evening entertainment and providing more staff service on the deck could solve that problem easily for future cruises.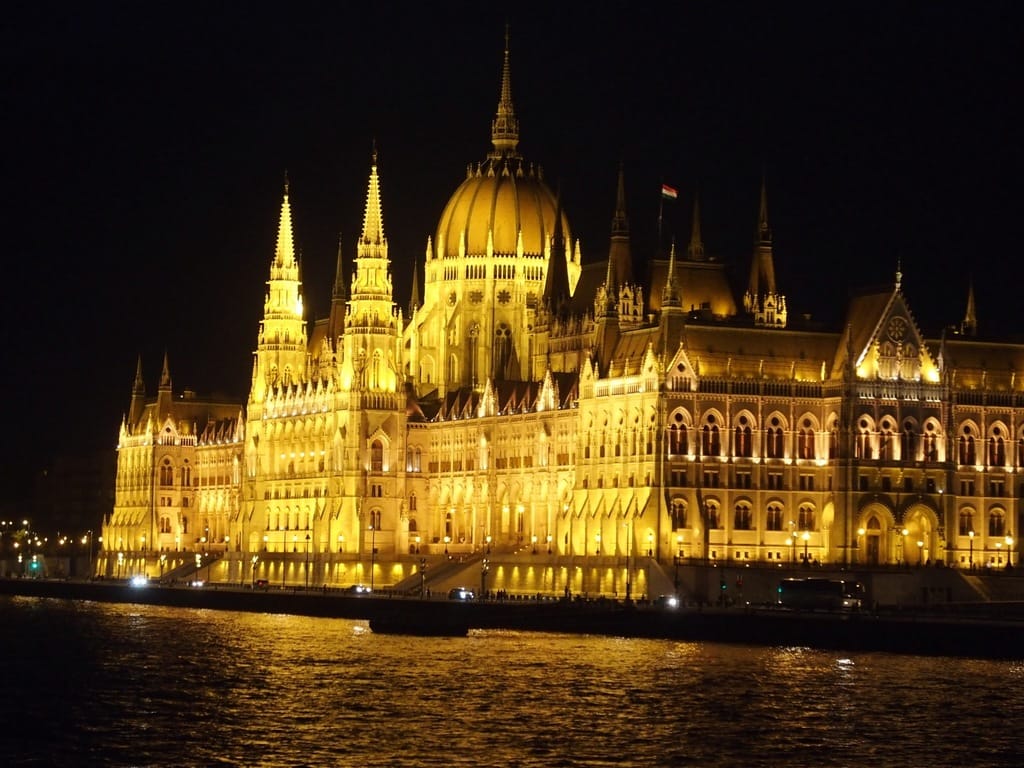 The AmaViola website mentions a fitness room and hair salon, good to have but they were pretty negligible in size. The small on-site Gift Shop offered a few souvenir type items but was definitely missing some basic but essential items, particularly for those who have children on board. The website also mentions a library which offers a 'selection of games and books' – in reality this area only held about 5-6 board games and a handful of books on the shelves. As the AmaViola is geared for an older audience outside of these few special 'family' sailings, I don't want to be too critical here but I found it quite a stretch to call this a library.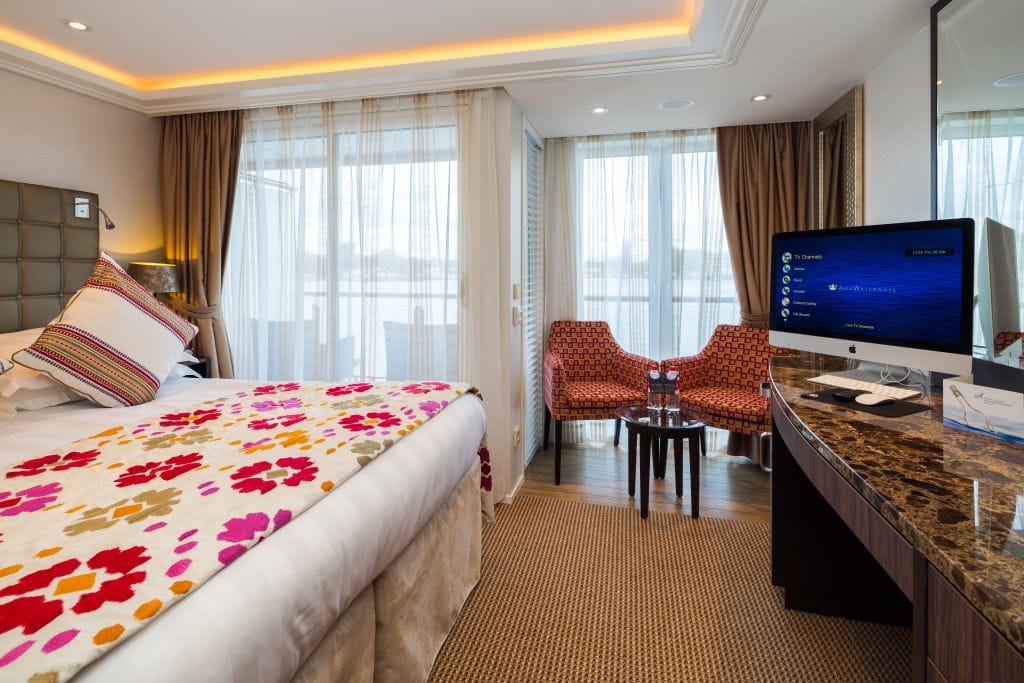 THE CABINS
The cabins were cheerfully and tastefully decorated  with floor-to-ceiling glass walls and decks to enjoy the scenery. There are various levels of rooms (see our Room Tips below). We chose an BA category room on the Cello Deck (the top deck with rooms) and selected our specific room #319 at booking (which looked exactly as pictured above).  Our cabin was ideally situated in the hall – midway between the Chefs Table Restaurant and the Concierge Desk – so it was never noisy.  I would, however, recommend upgrading to the more spacious AB category rooms or suites if your budget allows.
MEALS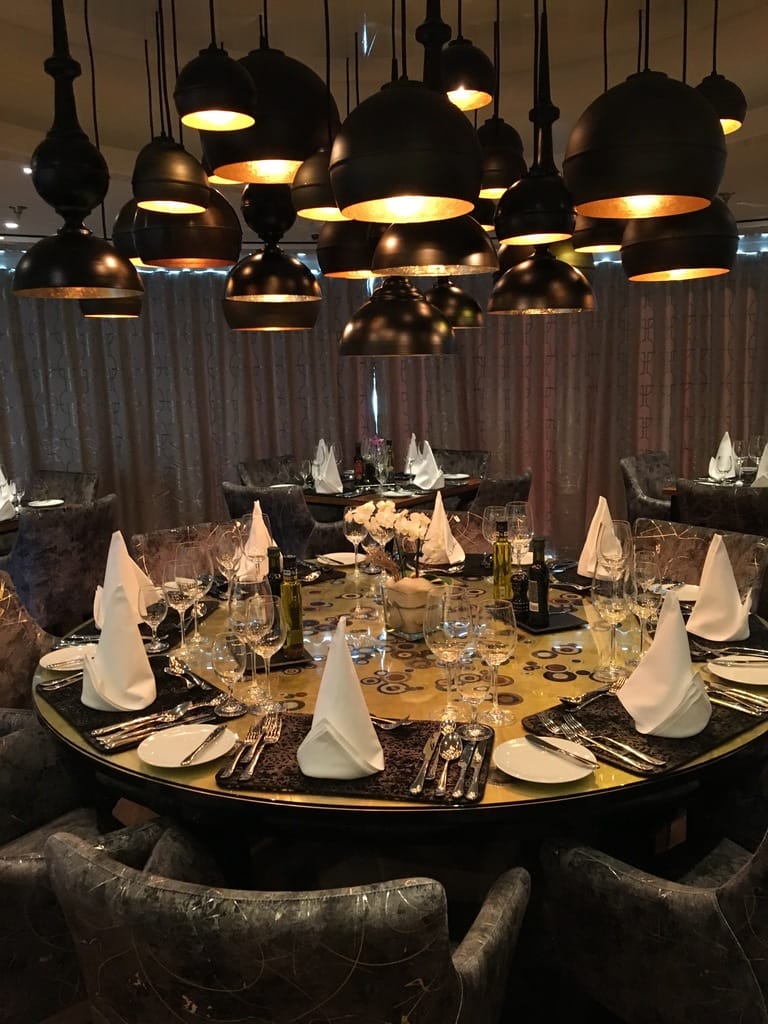 There are two restaurants on board the AmaViola: a main restaurant and a smaller 24-seat (and a bit more formal) Chef's Table restaurant which needs to be reserved a day in advance. Children have the option to eat with their family in the main restaurant or join other children in the lounge where a small children's buffet is served and sometimes entertainment is offered. Most of the children wisely preferred to do the latter on our cruise.
The dinners at both the Chef's Table and main restaurant serve multi-course meals and tended to be longer affairs than I would have liked. I felt that many of the meal selections were more fitting for European than American taste buds. But for the most part, the food was tasty and fresh and the staff aimed to please. As most of the the tables are configured to accommodate eight people or more, passengers are encouraged to mingle and get to know other guests on the ship. To break up the monotony of eating on the ship every night, I preferred going out to dinner in whatever port where were docked whenever possible.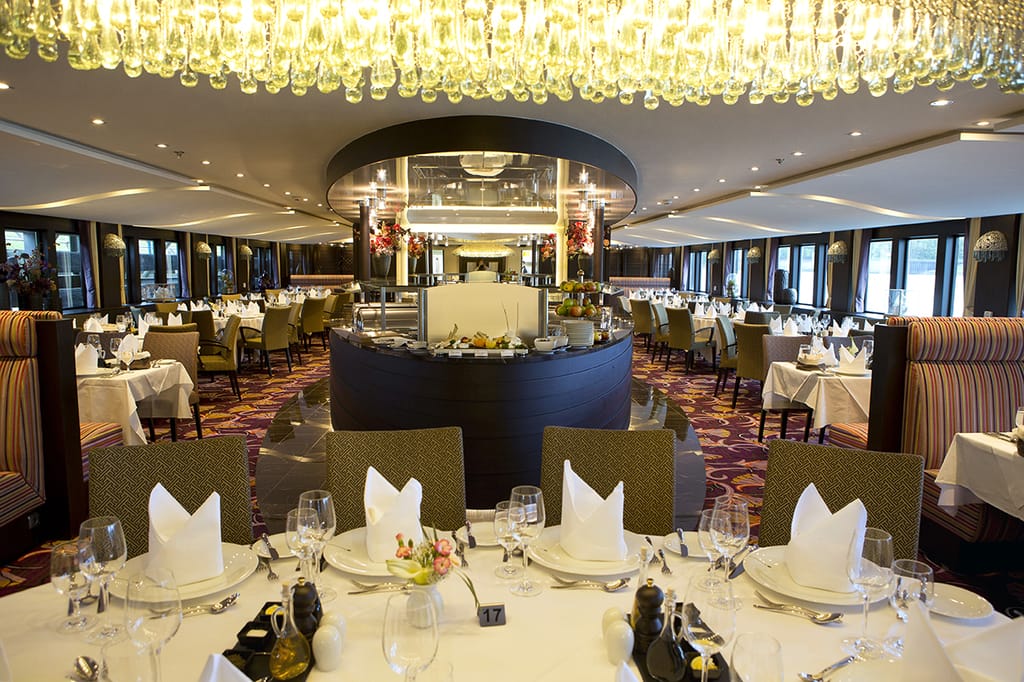 Breakfast is served buffet-style (along with a custom omelette station and made-to-order eggs or pancakes) in the main restaurant as well. I would have liked to have seen a more diverse and better quality fruit selection here as well as a grab-and-go option for those who want to sleep in a little more and quickly get a bite before the touring starts for the day. 
ON-BOARD ENTERTAINMENT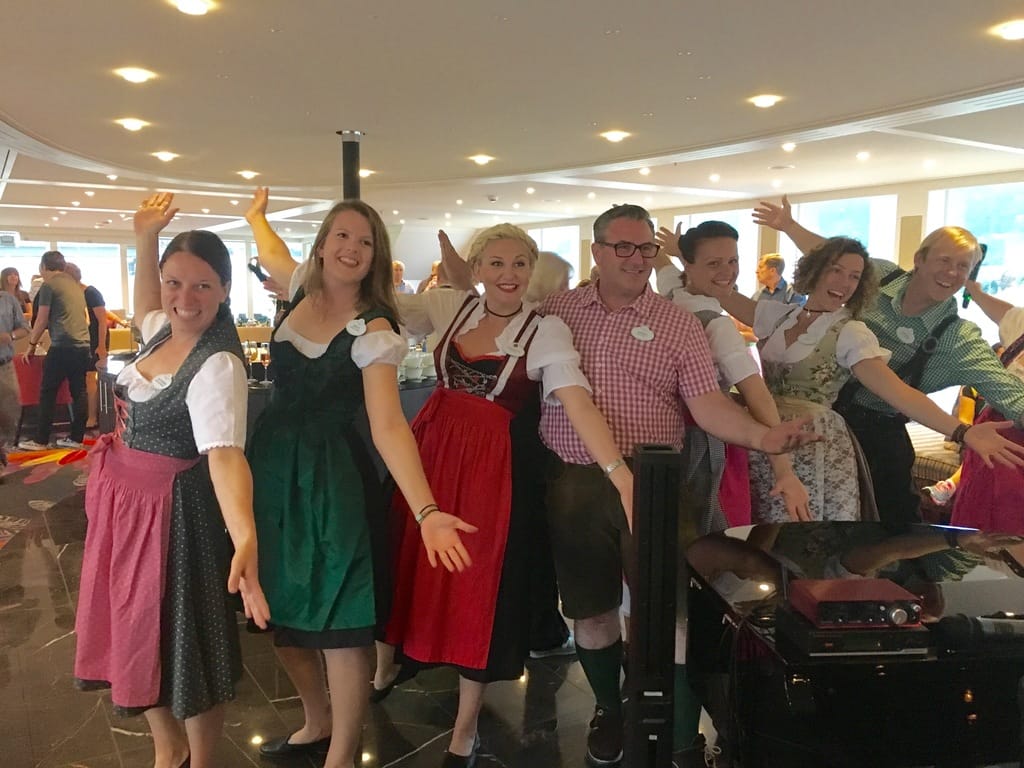 Almost every evening, entertainment in the Lounge was provided and most times these were local performers – musicians, dancers and the like – coming aboard the ship from wherever we were docked. None were memorable enough to remark upon but they generally kept the children (and some adults) on the ship entertained. The Oktoberfest celebration on the last evening on the ship at our last port, Vilshofen, was my favorite.  Staff from ABD and AmaViola joined with guests for beers, Bavarian folk dancing and music. It was a wonderful and happy way to end the cruise.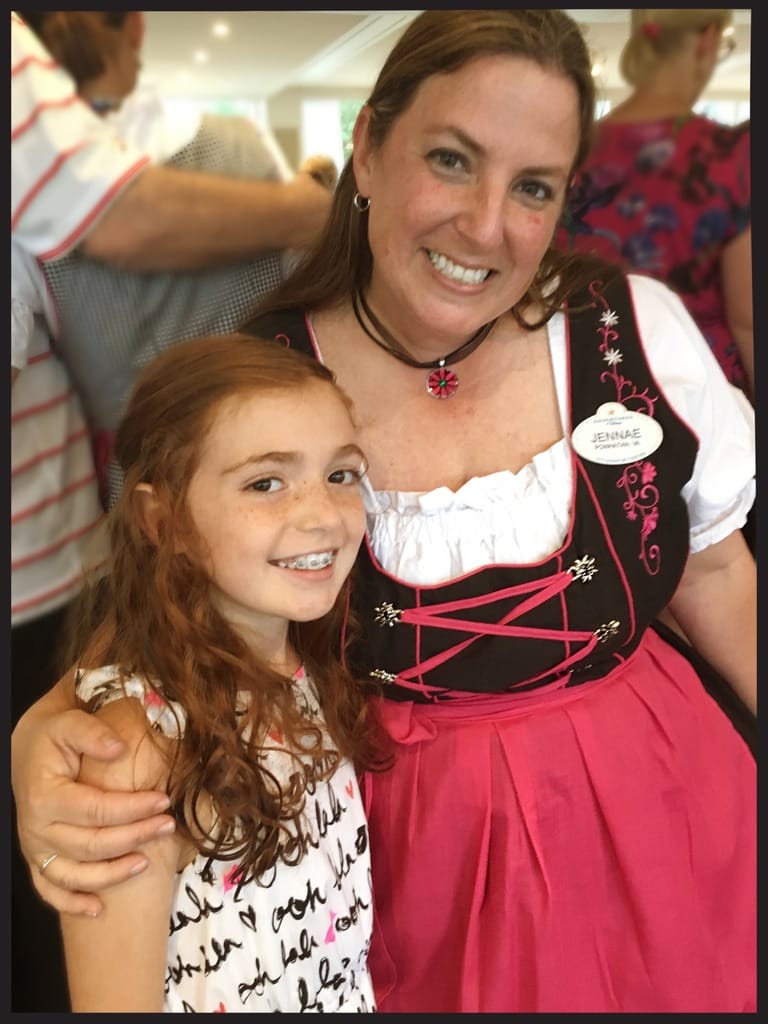 CLIENTELE
As we were on one of ABD's first cruises, I am not sure our particular cruise was indicative of what a typical mix of clientele might be. Ours was a real hodgepodge of guests, both new and old to cruising as well the ABD brand. There was some press and Disney PR and marketing staff on board to both review the ship and check on what was working and what was not. The majority of guests were multi-generational families, many of who were Disney Vacation Club members or who had taken a few Adventures By Disney land tours (they had a lot of Disney collectible pins) in the past. Surprisingly, there were also quite a few adults without kids who were cruising aficionados and wanted the vibrancy of a younger-skewing audience and more active schedule than previous cruises they had taken. Others, like me, were desperately seeking a family-friendly cruising option and just came upon this itinerary during their search. While there were a handful of teenagers on board, most of the kids (about ten in all) were 6-10 years of age and quickly made friends with each other.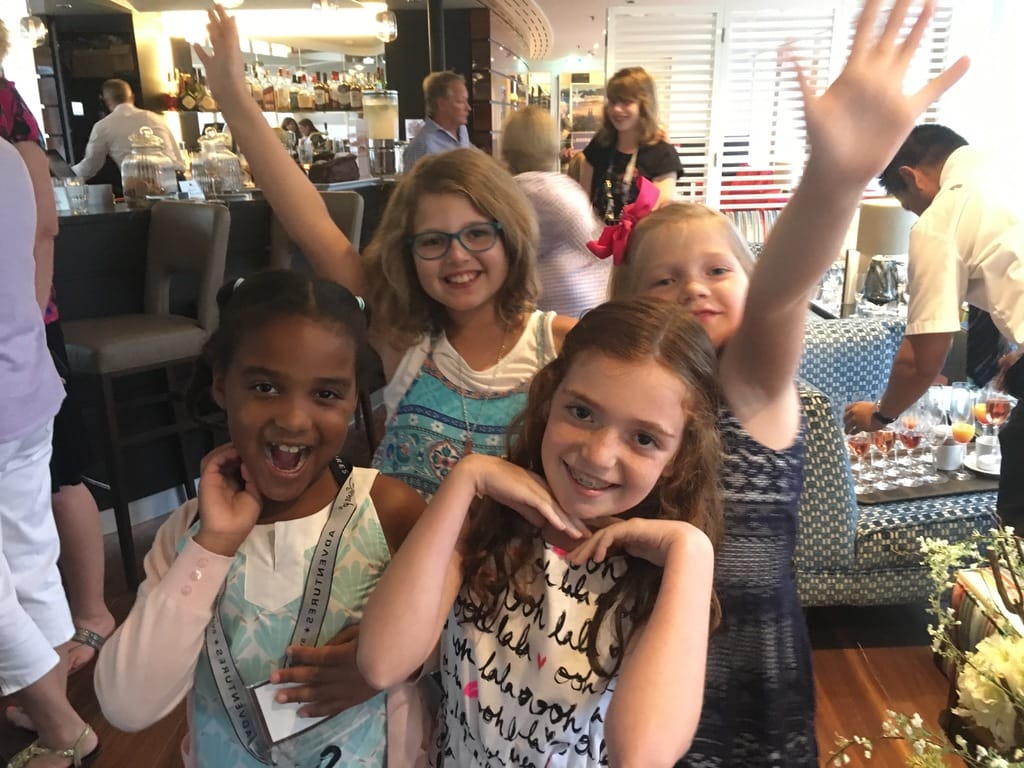 EXCURSIONS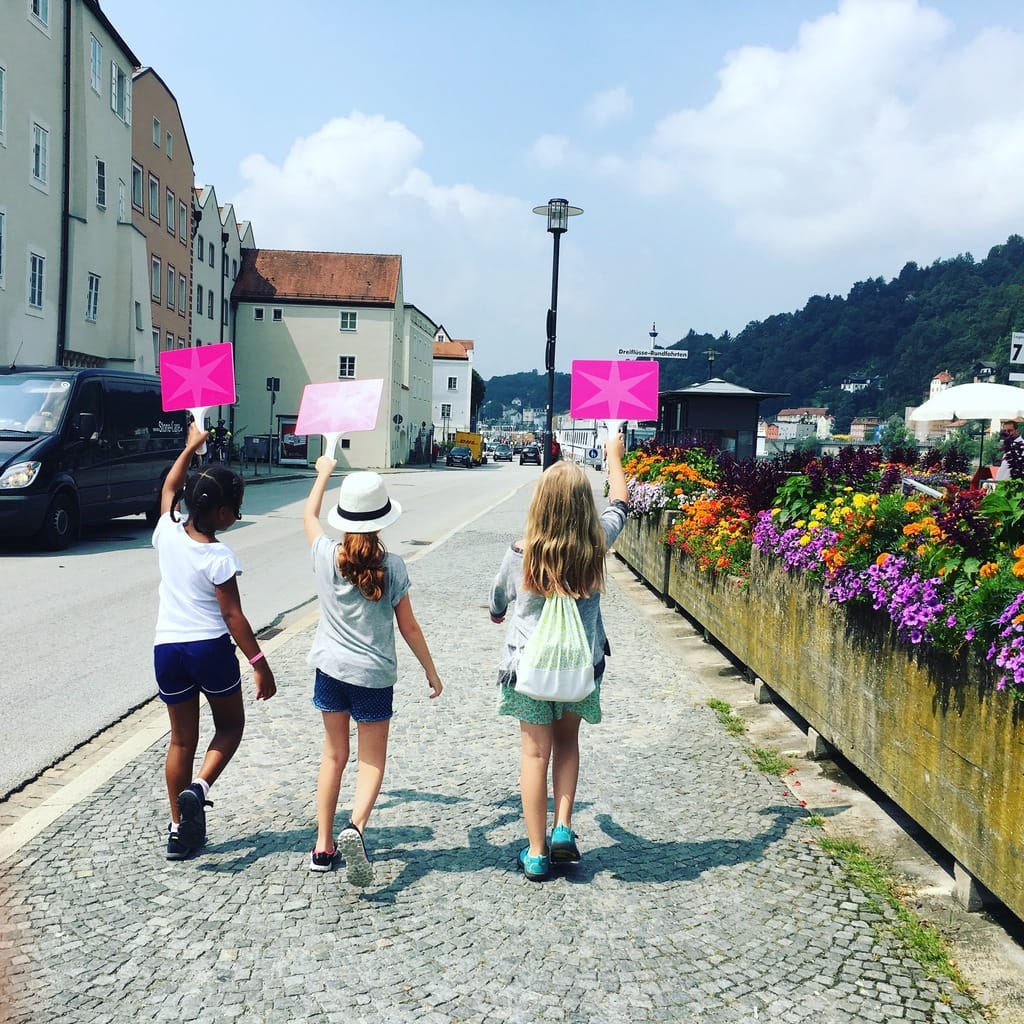 When you arrive on the AmaViola, you are asked to make your optional tour selections for the entire week.  One of the features we liked best about this cruise was the flexibility of having different options for the day. As the AmaViola typically did not leave the port until very late in the evening, passengers have the option to venture out into town for dinner. Which I did once or twice rather than eat on the ship. What needs refining is some of the itineraries themselves – some were certainly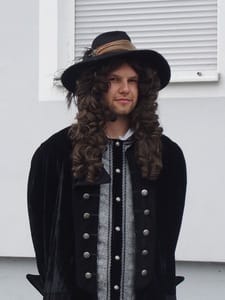 better than others. The Salzburg salt mines, Melk Benedictine Abbey and Schonbrunn Palace were general hits with everyone. Devin Castle in Slovakia was nice for the views but generally felt like a tourist trap. The Tree Path Kopfing in Passau was fun for an hour but not some place I would have wanted to spend half my day (in addition to the 2 hours roundtrip to get there). I enjoyed the small quaint port towns the most: Melk, Linz, Passau and Bratislava. I would have liked more time and options in the cities of Vienna and Salzburg but understand that there was limited time to do that with a shorter cruise.
Each night, passengers receive a 'Daily Adventurer' newsletter in their cabin, providing details of the day ahead. An on-board address system pipes into the cabins when the Captain or Cruise Manager needs to make an announcement – such as when dinner was being served, if entertainment was starting or if a specific sight we were cruising by was worth coming out for. I couldn't help but conjure up memories of Captain Stubing on The Love Boat (those of you of a certain age will know exactly what I mean).
The tours are guided by the ABD staff (who are great with the kids) and started usually around 9 a.m. Typically, there were breaks between morning and afternoon activities so that some passengers can go back to the ship and relax. Most of the time, though, we didn't return to the ship until late afternoon/early evening.
I would have liked to see 'on your own' tips of places to see, restaurants to eat and other sights in the locations we docked. It would have made it easier to venture out on my own for an hour or two and not waste time doing research on my own. For example, I found out accidentally that I was only 20 minutes away from the Mauthausen concentration camp at one of our ports. I would have preferred to visit here over the activity selected but it was too late by the time I found out. I do want to say however, the cruise manager, Dragan, was a terrific resource. Admittedly, I was not the typical passenger on board. Most of the passengers were happy to just pick from the tours that were suggested and eat onboard the ship every night.
Some highlights from our cruise:
STAFF
There is a crew of 52 Amawaterways staff in addition to 8 Adventures By Disney staff, most who have been with ABD for years guiding other land tours. Even though this was the first time for the two teams to work together, you would never know it. They worked seamlessly together. I could not speak highly enough about both crews. On the Amawaterways side, Captain Jan, Hotel Manager Guido and Cruise Manager Dragan were just incredible. We put them to the test when Justine came down with a particularly bad case of strep and scarlet fever. They could not have been more helpful or supportive.  On the ABD side, Jennae – a very enthusiastic and always cheerful leader who has been on most of the land tours- expertly headed the rest of the friendly and outgoing ABD staff.
LAST THOUGHTS
Get rid of any thoughts of river cruising being just for your grandparents – it is changing…booming, actually. In fact, river cruising is the fastest-growing travel segment and one of the hottest trends to hit the travel industry in years.  Seeing the uprise of multi-generational travel and trend towards more authentic and unique travel experiences, companies like Adventures By Disney are targeting the family market and introducing river cruising to a new generation. Healthier cuisine. More modern ships with bigger cabins and connecting rooms. Shorter sailings. More active and more itineraries specific for families.
There is a lot to river cruising that naturally would appeal to families. Particularly, it is a relaxing and convenient way to see several destinations in Europe without having to unpack your suitcase more than once. Guaranteed mates and onboard entertainment for your children will keep them happy at all times and give you the adult breaks you need.  I saw the benefits first-hand of how a river cruise would be a win-win for a multi-generational family trip. Everyone can tailor the trip their own pace (many grandparents stayed on board for a few activities while their children and grandchildren went out for the day and rejoined them at night). What's more everything is planned and paid for in advance. That reduces a ton of stress.
By now, Adventures By Disney will have (hopefully) worked out many of initial kinks and made any refinements to their upcoming family cruises. Already I know they have added bikes for younger guests (not just adults) and raised their minimum age from 4 to 6 and up. This summer, in addition to the AmaViola sailings on the Danube, ABD is offering family cruises on the Rhine aboard the AmaKristina, a 170-passenger ship.
Would I do a family cruise again? Perhaps. If it is the right itinerary and offers more of the flexibility I want, then yes.  I am not a lover of tour groups by nature where I am having meals in one place every day with the same people and walking around in a group every day. I prefer to discover places on my own, immerse myself more in a locale and make my own schedule.  But I definitely appreciated having everything being taken care of for us with specific activities that would appeal to my daughter, not necessarily myself. It's a trade-off that I was happy to make for this vacation.
Loved
Didn't Love

The ship itself is very attractive – inside and out – and new so everything was in perfect shape. My daughter and I both appreciated the wi-fi and flat screen TV in the cabins as well as the Sun Deck pool.
Not having to unpack and pack more than once during my stay – one of the best features of river cruising!
All of the ports where we docked were in beautiful, historic towns that I otherwise would never have visited. Most were easy to tour in a few hours. I particularly loved Bratislava, Slovakia and Passau.
The staff of both ABD and AmaViola were excellent – both were friendly and eager to please. The combination of the experienced and sophisticated staff of the AmaViola and the enthusiastic young staff of ABD worked really well and the two teams worked seamlessly with each other. Dragon, our cruise manager and Guido the hotel manager were particular stand-outs especially when my daughter was ill.
The scheduling in general. While still in need of fine-tuning, I liked that there was flexibility and time to go out on your own to explore and there was often more than one choice during the day to choose from.  The boat usually does not leave port until very late in the evening which allows people to leave the boat and go out to dinner in town. Which I did twice (and would have done more if my daughter wasn't sick).
No planning. Everything was taken care of for us. It would have been exhausting to visit four countries and all the places we visited without it being a logistical nightmare. ABD was also able to access unique opportunities such as strudel-making in the Schonbrunn Palace in Vienna, the Salt Mines near Salzburg or the classical Mozart concert in a beautiful concert hall.
Laundry service is included and very prompt!
A turn-down recipe or gift is provided in your cabin each night, reflecting the place we just visited or were about to visit. Nice touch.

The weekly itinerary could use some adjustments. Some places were 'meh' and others were amazing.  Time particularly felt tight and rushed to see the 'key' locations of Budapest, Salzburg or Vienna. I would suggest some more formal 'on your own' options and recommendations for those guests who might want to leave the ship for dinner or eschew a tour to explore on their own – restaurants, self-guided tours and optional sights.
Having had a sick child on board, I was shocked there was no basic medicine or even a thermometer on board the ship. Most river cruises, due to their size, do not have doctors on board and rely instead on a network of 'Danube Doctors' to call at each port. We had a doctor in our cabin fairly quickly after we called when we docked in Vienna but who spoke relatively little English.
I found the Disney music that sometimes piped from the speakers into the lounge grating.
The staff could find ways to make better use of the lovely top deck, especially at sunset and at night.
I would have liked to see more more adult and movie movie options (aside from Disney animated movies) on the flat-screen TVs in the bedrooms. It was way too-limited.
The pillows were lumpy and uncomfortable and sheets a bit rough to the touch. They could use a serious upgrade here.
I would like to see more healthy and fresh options generally and quicker meal options as the long multi-course meals got monotonous.
The 'library' could use a lot more books and games. It was pretty devoid of both.

Don't Miss
Skip

Schonbrunn Palace in Vienna, where we were treated to an authentic marionette show, apple strudel making demonstration and tour.  You have about two hours on your own after this to tour on own in Vienna. Don't miss the Reisenrad ferris wheel which has been operating since 1896 in the Prater park. It offers stupendous views of the city.  Make sure to stop in one of the old-time atmospheric cafes for a Viennese pastry. See our Vienna review for more tips.
Melk Benedectine Abbey was spectacular. Definitely do not miss this tour option.

Some of the activities were better than others or repetitious (ie. castles, petting zoos) and felt tailored for tour groups. I would like to see some new options or self-guided options for those who may want to go out on their own.

Rooms to Get
Tips

There are a total of 79 rooms (12 of these are connecting) and 4 suites on the ship, most with balconies.
Rooms new and nicely appointed with decks. Baths very small but expected.
If you can snag a suite, go for it -it is worth the extra cost for the ample space. Next best are the AB and AA suites at 235 square feet. The BA rooms are 210 square feet and the extra 25 square feet make a big difference. We chose cabin 319 in the BA category on 'Viola' deck which was a great location but should have opted for more space.
The top deck 'Viola' is the best. On this deck, 301-304 are the suites and the largest accommodations on board. Cabins 305-312 are the AB/AA category cabins.

This itinerary is best for ages 6 and up. Any younger is too young. Programming is generally tailored for the 8-12 age group (the sweet spot!) and as such I would not recommend for teens…yet.
Pack light – there is not a lot of space in the cabins for storage and attire is pretty casual on board. I didn't use half of what I packed. Evenings are a tad bit dressier but still pretty casual.
Definitely take an extra day in Budapest before embarking on the cruise as not enough time not covered there while on the cruise. I also recommend to go to Munich, Prague or Vienna after the cruise.