It's official: Travelers are looking for more unique, interactive experiences when they travel on vacation with their kids.  More and more families are forgoing standard "plop on the beach" vacations for activity-based vacations that include some culture, adventure, or volunteer/philanthropic activity. Instead of using your holiday breaks as a time to just rest and relax, this is a great time to do something memorable with the kids while they are still interested in hanging out with you.
The trend has not gone un-noticed by the travel industry. Almost everyone, from tour operators such as Abercrombie & Kent to cruise lines like Holland America, is developing unique, interactive programs for families.  Among the ones I find most fun and fascinating  are the family culinary programs that are cropping up everywhere. Most of these can be added on to existing itineraries or designed as custom packages around a family's interest or appetite (bread-making, pasta-making or chocolate tastings, for example).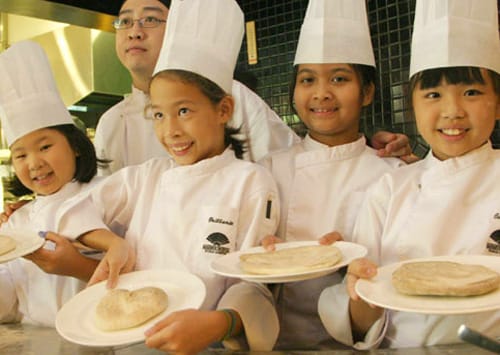 I spent the past several weeks looking into various programs and have found culinary experiences that I thought were among the most interesting: they extend from Tennessee to Paris and Positano to South Africa and even at sea!  There isn't one that I wouldn't love to do with my own daughters – the challenge is to pick one over another.
BLACKBERRY FARM, TENNESSEE: "Kitchen Full of Kids"  
As you know from my recent post, I'm a big fan of Blackberry Farm. Blackberry Farm holds many exciting culinary events throughout the year, but the Kitchen Full of Kids program caught my eye.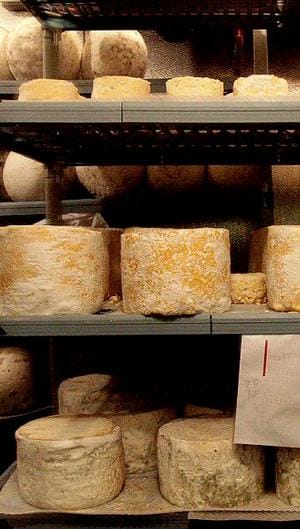 Cookbook author and kids' culinary instructor Helen DeFrance teaches this annual hands-on cooking class with the kids to learn basic techniques and have tons of fun. Last year's event included a cookout under the stars, and classes in both the garden and dairy barn (a similar outline is planned for this summer, but with new themes and activities). Camp Blackberry counselors participate so moms and dads can rest easy.   
The event tuition is $600 per child (ages 4-16).  This is in lieu of the regular $250 per night fee for children at the resort and includes all activities as well as Camp Blackberry during any free time – a great deal! 
For more information, contact Kelley Clark Harris, Food & Wine Coordinator at Blackberry Farm at [email protected] More information about culinary events can be found on the website culinary events page.   
PARIS, FRANCE: "The Secrets of French Chocolate Making"   
For those of us (and kids) who are chocoholics, French Links (a paris-based tour company also known for their behind-the-scenes shopping tours – girls take heed) now offers a private behind-the-scenes tour of chocolate makers in Paris.   Wait a minute — chocolates and shopping? The daring can combine the two,  but I advise you to do the shopping component before the chocolate tour as lots of tastings are involved.
The tour includes a visit to one of the top artisans in the Paris region, who lets you inside his "chocolate factory" to see how molded chocolates and ganache are made. Best of all, you can take home freshly molded "Eiffel Towers" and other Parisian monuments in the finest dark and milk chocolate.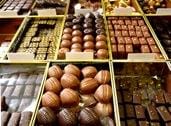 French Links also organizes chocolate tastings at the top chocolatiers in Paris who don't have stores in the United States (such as Patrick Roger and Jacques Genin, two of the hottest chocolate creators in Paris) as well as bread baking and "pain au chocolat" programs.    
The chocolate tour lasts 4 hours and is 550€ plus VAT  for 1-4 people and 700€ plus tax for 5-8 people (a shorter 2-hour tasting tour for 300€ plus tax for 1-4 people is also available). The tour includes a professional, expert driver-guide (who will take your group from and to your hotel) and an interactive demonstration of the making of french chocolate at a renowned Paris chocolate workshop.  Readers will receive a 5% discount if they mention Inviato Travel upon booking.   
Contact [email protected]  for more information or refer to the French Links website.   
PARIS, FRANCE: Ritz Escoffier and Le Cordon Bleu Cooking Schools   
If you want a more disciplined approach to cooking for your child while in Paris,  here are two excellent options:    
The Ritz Escoffier Cooking School located in the grand Hotel Ritz Paris offers two different workshops for children. "Marmiton", located in the Ritz Escoffier kitchen, is for children ages 6 to 11. These 2 1/2 hour classes are held most Wednesdays from 2:30 to 5 p.m and cost 95 Euros.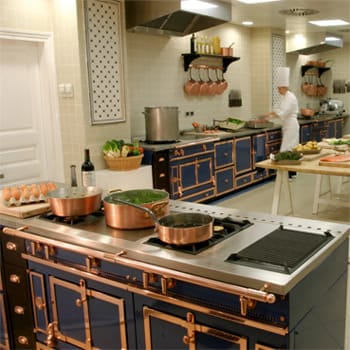 Toque Juniors, for teenagers, has limited but seemingly more creative classes with interesting titles such as "Grand Mother Tart", "Black Forest" and "Crazy Christmas". 
I can not forget to include Le Cordon Bleu (where Julia Child trained. Check out the DVD  "Julie & Julia") which offers a more traditional culinary program appropriately named "Le Petits Cordons Blues".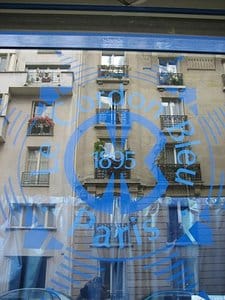 Children  between 8 to 12 years old learn to prepare a recipe step by step. The Chef reviews each dish and children bring home their dish to taste with their parents. The 2-hour class is usually held in the mornings and cost 55 Euros (Parents can take a demonstation cooking class for 45 Euros while waiting for their children). 
Hint: If you want to immerse yourself in the whole Cordon Bleu experience, you can purchase a uniform for your child at the boutique.