With 'one night only' in Los Angeles after my recent visit to Laguna Beach, I was looking for a fun place to stay that was reasonably priced. Although tempted to return to The Beverly Hills Hotel where I had stayed previously (or any of the other grand luxury hotels such as the Hotel Bel-Air, Montage, or Beverly Wilshire), I really wanted to try something new and hip in the West Hollywood neighborhood where I had plans to shop and dine.
I asked around and gots lots of different recommendations of places to stay – all wonderful suggestions from sceney Chateau Marmont (cool to visit for drinks but small rooms, I am told) to boutique hideaways such as the Chamberlain or Avalon. When two Hollywood insiders both suggested the same place – The London West Hollywood (where I was likely to see a celeb or ten), I was intrigued. Attractively priced at $319 a night for a king suite with views along with American Express FH&R privileges (it is not a Virtuoso hotel), selecting The London was a no-brainer.
The 225-all suite hotel, which opened in 2008, is tucked in an idyllic location nestled between Sunset Boulevard and the tony shops and restaurants of Melrose and West 3rd Street. Although so much is just a short stroll from the hotel, no one seems to walk in this town! The streets were oddly quiet on Sunday afternoon for a New Yorker used to walking shoulder to shoulder down the Manhattan sidewalks. Valet parking is everywhere and we got a look of surprise everywhere we went when I said we were just walking. Understandably, Uber does very well here!
After a short drive from Laguna to Los Angeles, I arrived at The London via a discreet driveway to the hotel entrance. There I was greeted by stylishly dressed porters and a life-like English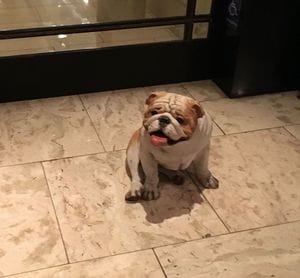 bulldog sitting by the front doors that is often mistaken for the real thing (you may catch the real resident bulldog and hotel mascot, Garbanzo, around the lobby). Guests were strolling in and out with their own well-coiffed canines at this pet-friendly hotel.

I have been told that The London is a hotel favorite of many celebrities and I could see why. Many screenings and junkets are held in the hotel's beautiful 110-seat screening room, junket suites or on the panoramic rooftop deck . As I was in L.A. during awards season, one day after the SAG awards, the lobby was bustling with activity with more than a few people who looked like they were nursing wicked hangovers. During my stay, I glimpsed Katie Holmes there for her new film screening "Touched With Fire" and Neve Campbell (now on 'House Of Cards'!).
There is a lot to love about The London other than celebrity sightings though. Just coming out of a $25 million dollar renovation, the David-Collins designed (he also designed The Berkeley in London) public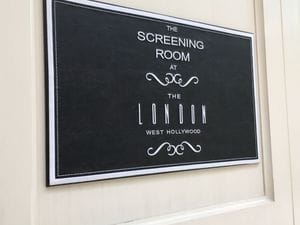 spaces are modern and luxurious with glamorous mirror and brass accents evoking old Hollywood but also whimsical touches (like the elevators pictured above) to not take itself too seriously.
The 2,600 square foot fitness center and the gorgeous Screening Room (the latter which I snuck into during a screening) are both spanking new.
At Boxwood and The Sitting Room, the hotel's main restaurants, I enjoyed the beautiful views of the Los Angeles skyline while having a late snack and delicious early breakfast. A buffet at breakfast offered yogurt parfaits, croissants and every kind of mix-in imaginable along with juices with plenty of à la carte options as well.
All of the hotel's 225 accommodations are modernly designed suites with open floor plans consisting of a separate living area, sleeping area, private terrace and oversized marble baths. Even the basic rooms are spacious, starting at 1,250 square feet. I was upgraded to a spacious Deluxe One-Bedroom King Suite (#818) with expansive views of the city. I appreciated the ergonomic work desk, fitted with iPod docking stations, LCD flatscreen TV and complimentary Wifi. The L-shaped couch was very comfortable and the beautiful Waterworks-designed bathroom was huge by any standards.
There are many variations of specialty suites to choose from, including three new 1-2 bedroom Metropolitan Suites ranging between 1,600-2,200 feet in size, that are part of the new renovation. The renovation also introduced a new bi-level 11,000 square foot 10th floor Penthouse inspired by Vivienne Westwood that includes 6,000 square feet of living space and a 5,000 square foot private outdoor terrace. It can be yours for $25,000 a night!
For me though, the pièce de résistance was The London's roof top deck. With a heated swimming pool, cabanas, lounge chaises, and outdoor fire pit alongside 360 degree views of the Los Angeles skyline, the roof deck is just itself a reason to stay at The London.  Sadly,  it was windy and rainy the day I was there and everything on the deck was covered and soaking wet. I could only imagine how incredible it would be on a sunny day.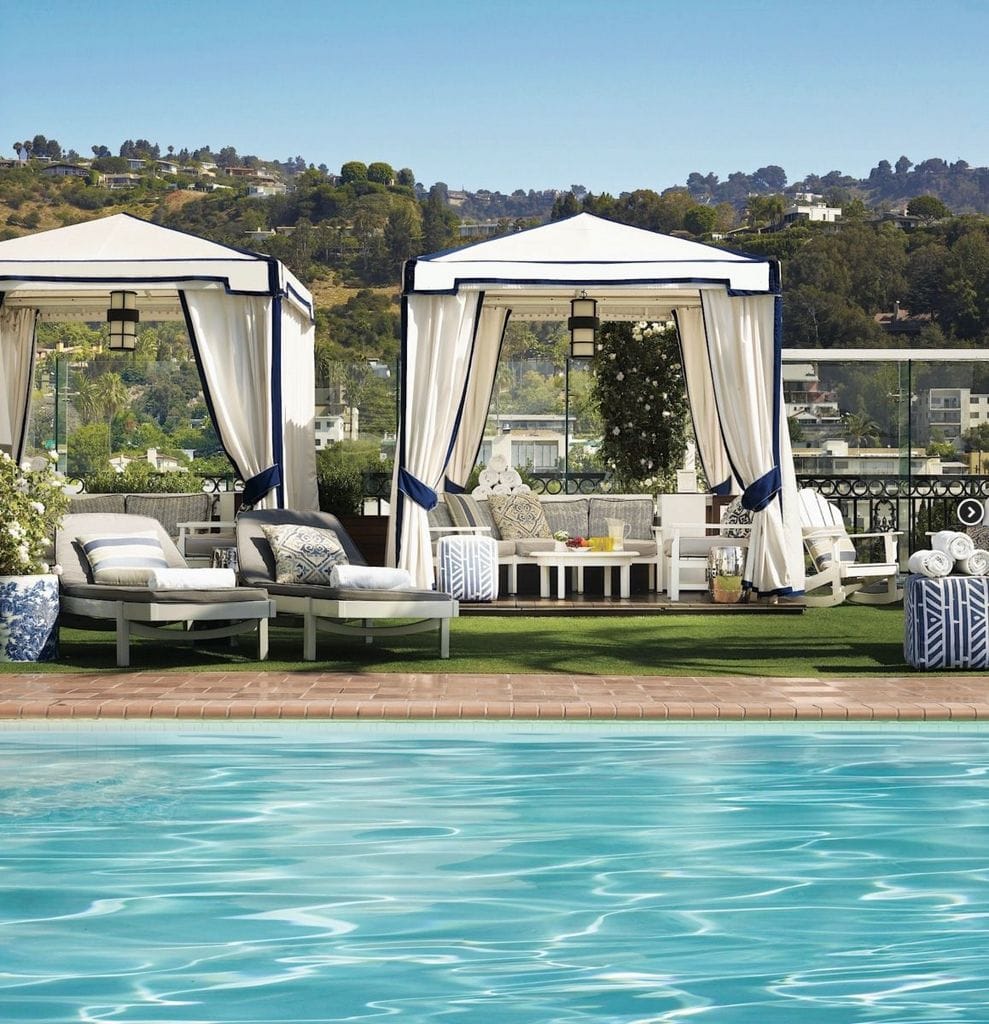 While The London would not be my first pick if vacationing as a family with young kids (I still have a soft spot for the Beverly Hills Hotel for that), for a couple, single or girls weekend, it is really the perfect find.
Loved
Didn't Love

The spacious suites and baths with open layouts and views.
Location, location, location – you are in the heart of West Hollywood with the best boutiques, restaurants and bars all within blocks (although no one walks in this town).
The onsite gift shop has quirky and fun gifts – worth checking out.
The price. Compared to the expensive rates elsewhere, room rates here are very reasonable.

My room was not turned down the evening.
There was an unsightly rust stain around the faucet at my bathroom sink.

Don't Miss
Skip

A peek inside the Screening Room and a dip in the pool on the rooftop terrace.
A visit to old school but insider-favorite

Craig's

on Melrose for dinner (if you can get a reservation. ) and

A.O.C.

on West 3rd Street for brunch – excellent people watching at either place.

Urth

Caffé 

A.O.C.

for casual fare on Melrose is busy as ever with lines out the door for more casual fare.

We were disappointed to see that Kitson is permanently closed down but Maxfield (Across the street from Craig's on Melrose) is a unique luxury shopping destination (where you can find items from $15 to an $83,000 necklace) worth checking out (if you can figure out where the entrance is – we were baffled until the valet escorted us there). The Tower Bar in the Sunset Tower Hotel and Chateau Marmont are good bets for drinks.

A simple blowout at the on-site Alex Roldan salon was a disappointing experience – too expensive and too long.

Rooms to Get
Tips

It's hard to get a bad room even at the basic level. I was upgraded to spacious Deluxe One-Bedroom Suite, #818 which included a terrace and incredible views of the Hollywood Hills. If you want a specific view, you can request it at time of booking.
At a mere $25,000 a night, you can book the The Penthouse inspired by Vivienne Westwood, a new bi-level 11,000 square foot (including a 5,000 square foot private terrace) residence that includes a private shopping experience at Vivienne Westwood.
The 1-BR Regent Suite, connecting to the two-bedroom

Park Lane Suite

, is ideal for families

Don't bother with renting a car if staying in L.A. and accruing those valet parking fees. Uber is the way to go here and fast and efficient.
The London West Hollywood
1020 N San Vicente Blvd, West Hollywood, CA
Book This Hotel
Why book Virtuoso?
Personalized travel assistance
24/7 online booking
Special rates & exclusive offers
Guaranteed Room upgrade*
Complimentary full American breakfast
Early check-in, Late check-out*
Exclusive on-site amenities (varies by hotel)
* based on availability on time of arrival