This month, we booked guests, self-proclaimed 'aman-junkies' at the Amanera in the Dominican Republican for a spur of the moment Winter Getaway weekend. Having been to five other Aman properties already over the past few years, they were chomping at the bit to check out this property a little bit closer to home.
Amanera, open only since 2015, is Aman's second property in the Caribbean (Amanyara in the Turks & Caicos is the first). Perched on a dramatic clifftop overlooking a crescent-shaped Playa Grande beach, Amanera sits on 2,000 acres of virtually untouched land of jungle, mountains, and palm trees along seven miles of Atlantic coast on the northern shore of the island.
Here is their postcard of their recent stay:
Thanks to the winter blahs and a paid-off credit card, my husband and I took off and visited Amanera ('meaning 'peaceful water') in the Dominican Republic. Being quite familiar with the Aman brand, we had very high expectations, and the contemporary resort, perched on a cliff overlooking the Playa Grande, didn't disappoint. In fact, we did something we've never done before at a resort. We never left it.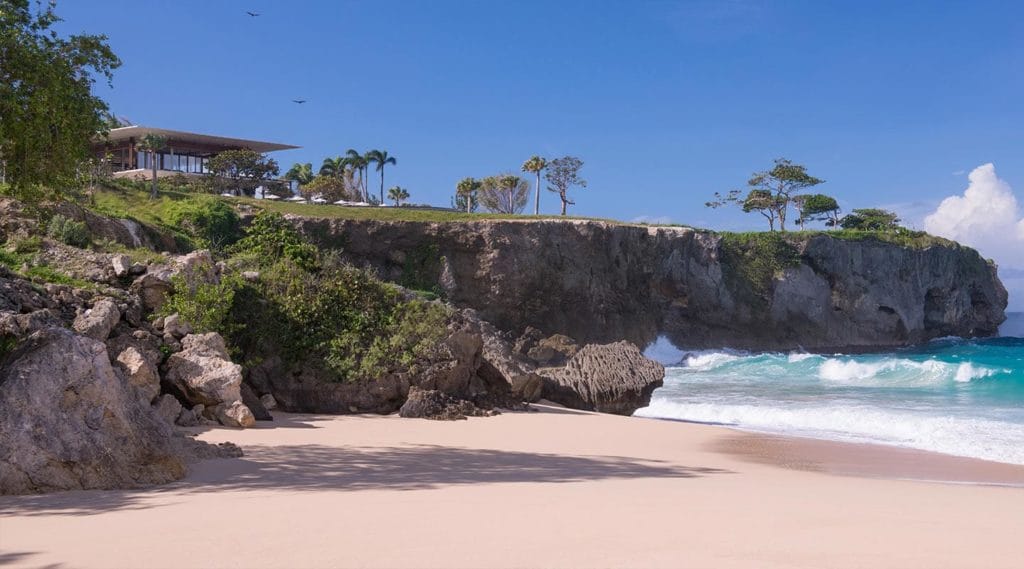 Upon arrival at the airport in Puerto Plata, we were greeted by a fast-track agent (a service that is provided by the Aman) who whisked us through customs and hooked us up with our Aman driver. The ride to Aman is a little over an hour, so we nibbled on tasty tropical treats as we passed thru quaint fishing villages. We were humored by the frenzy of the locals racing around on motorbikes as there are no traffic lights to slow things down. Our driver handled the chaos like a pro and delivered us to Aman scratch-free.
There are no signs anywhere announcing Amanera. Exclusivity, privacy and VIP service is the overall intention of the Aman team. Our welcome was gracious, with an offering of refreshing hand towels and drinks. Then, a  'buggy' awaited to deliver us to our Hilltop Casita, our home for the next few nights, and where we were checked-in.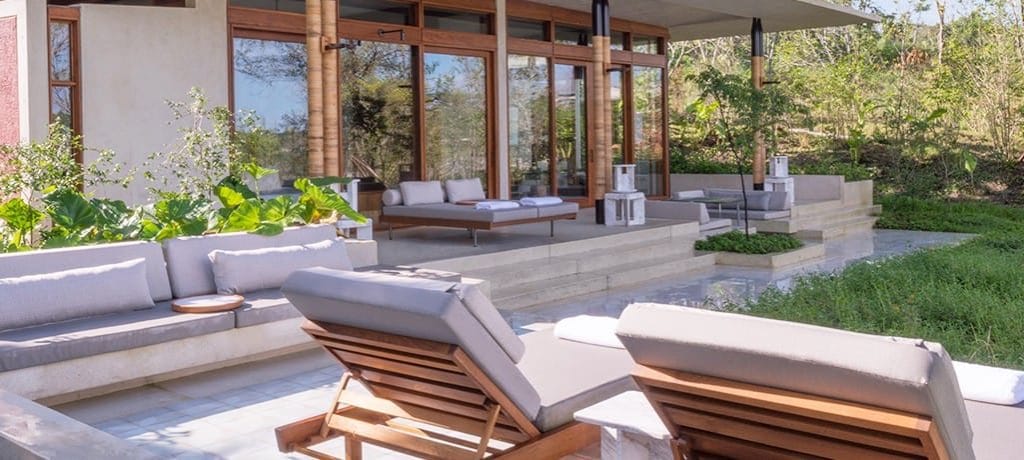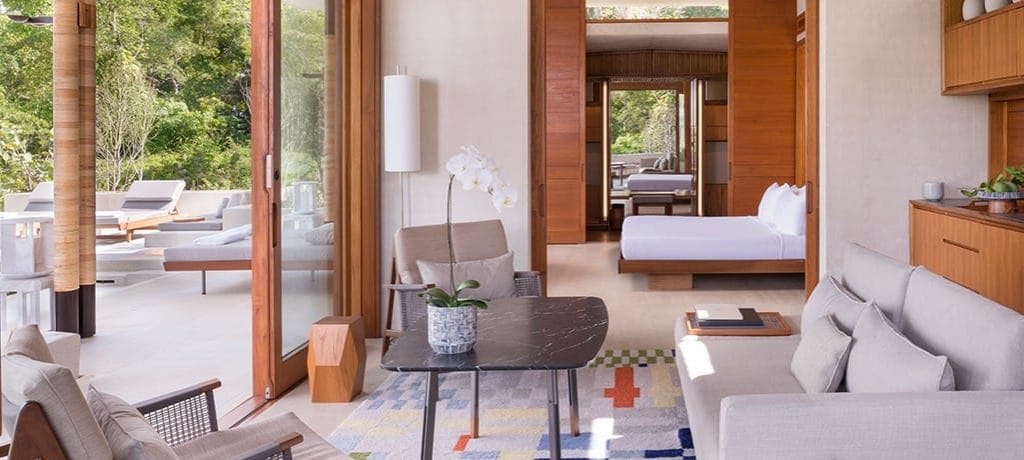 Our immediate impression was "wow." The casita interior/exterior could win a design award and probably has, in truth. Expansive sliding glass walls provided a seamless flow between indoors and out. Multi-level patio nooks with ocean views inspired reading and yoga practice. The sleek wood-paneled living room/ bedroom totally set the tone for relaxation. Natural stone, pastel tiles, and waterfall shower (along with a freestanding bathtub) framed by tropical gardens made the bathroom an oasis of calm.
The property consists of 24 casitas (12 with private pools), each with a unique view of the sea. The Casa Grande is the bi-level central hub of the resort where the cool infinity pool, main restaurant, library, open-air bar and lounge, cigar lounge, and fitness center are located.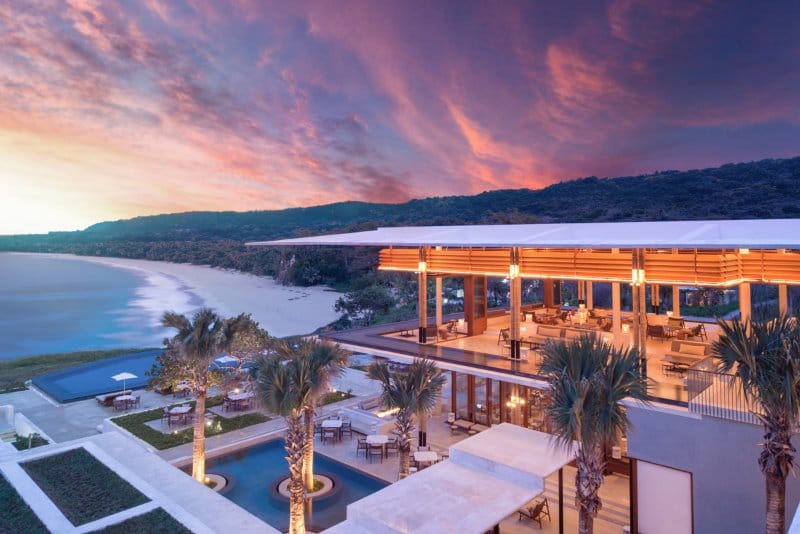 Club de Playa, the beach club, also has a restaurant serving lunch/dinner on the beach. We liked mixing it up between the two restaurants – the beach club served more Mexican style fare compared to Casa Grande which served Italian-fusion and local dishes.
There's also a kids' pool for those with families. Surfboards, kayaks and kiteboards are lined up if you're so inclined to get up from your lounge chair.
I would recommend you not to miss out on the Wellness Casa which offers holistic spa treatments. Even my husband, who's not a massage fan, raved about his two-hour Moon-Waning purification treatment. I opted for the marine algae scrub, organic coconut oil massage and facial to perk up my winter-weathered skin. The therapists were wonderful, the treatment rooms beautiful. A divine state of bliss accompanied us to dinner each night.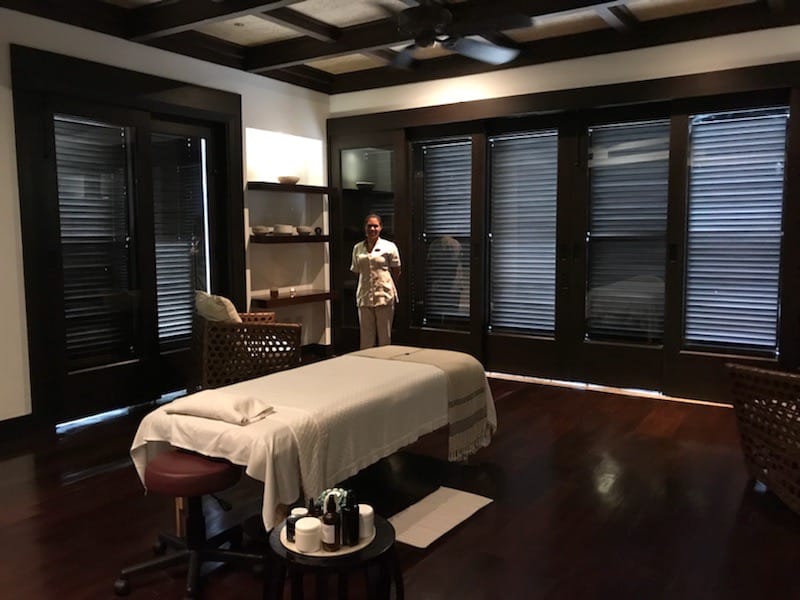 There are two clay tennis courts and a spectacular golf course (under repair from Hurricane Irma, the 72-par Playa Grande Golf Course boasts the highest number of ocean-side holes in the Western Hemisphere) which is scheduled to reopen in June.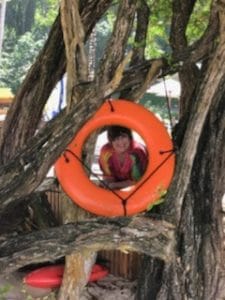 There are off-site excursions, but once we fell under Aman's spell, we didn't want to leave the property. The classes sounded like fun, but we preferred to putter around instead, lounge by the beach to read and watch for whales. We did hire Jess, a delightful yoga instructor from Manhattan for some yoga. We enjoyed practicing with her on our casita patio, talking about meditation and her singing career.
Overall, Amanera is an unparalleled experience. Tranquility, adventure, romance, sports, cultural excursions and culinary experimentation…. this getaway it has it all!
Loved
Didn't Love

The stunning location and views, views, views! The resort has the best beach surrounded by dramatic 60-foot cliffs and tropical jungles
The gorgeous Spa (Wellness Casa) and its high-level professional therapists
Open air living concept and architecture: sleek, glass modernist buildings flowed seamlessly
Extraordinary service
Musicians at dinner
Trinkets left at night turn-down service (also robes, hats, bags to take home)

The meals in the Winter Getaway Package, which includes daily breakfast and three-course dinner, was varied and deliciously prepared but only certain menu items were included in our package. The best dishes for both breakfast and dinner were an extra charge. This is one area where I think improvements could be made, especially as it is not mentioned in the package details to guests prior to booking.
The Dominican Republic 18% sales and 10% service tax charges…ouch!
The fitness space a bit small for classes

Don't Miss
Skip

The wellness villa.
Hard for us to say as we never left the resort and were content to just lounge doing nothing!

Rooms to Get
Tips

We had the Hill Casita which all have ocean views, an enclosed private garden and an expansive terrace with a dining area. We loved the Hill Casitas (#20 has the best views) but if you want to be closer to the water and want completely unobstructed views, opt for Pool Casitas.

Complimentary assistance at the airport, from gate to car, is part of the Amanera experience. Guests are met at the gate by an agent, assisted with tourist cards and luggage, and fast-tracked through immigration. Guests also have access to the VIP lounge during arrival and departure. The cost for car transfers to Aman (which we recommend) is $200 +18% of taxes each way.
Amanera
For 2018, your Virtuoso rate at Amanera includes:
• Upgrade at time of arrival (subject to availability)
• Complimentary full American Breakfast for two daily for duration of the stay
• A complimentary la carte lunch for up to two people per room, once during stay (excludes alcohol, taxes and gratuities)
• Early check-in/late check-out (subject to availability)
Book This Hotel
Why book Virtuoso?
Personalized travel assistance
24/7 online booking
Special rates & exclusive offers
Guaranteed Room upgrade*
Complimentary full American breakfast
Early check-in, Late check-out*
Exclusive on-site amenities (varies by hotel)
* based on availability on time of arrival