Paris for Rent (or finding an apartment rental in Paris). It's spring time in Paris and every so often I must come back to my favorite city and sing her praises in some way, especially if I can not be there for my annual expedition. Many Paris aficionados (is there an official name for this like Paris-phile?) like me experienced Paris for the first time as a student, returned often with a boyfriend/husband (not always the same one), then upgraded to girl-friend weekend shopping trips and are now getting prepared for mother-daughter or family trips.
As the clan grows, so does the need for size. Anyone who has been to Paris knows all too well how hard it is to get a spacious room or connecting rooms in Paris in the right location without breaking some serious dough.
That is why we named this post Paris for Rent. Why not rent a beautiful apartment and live like a real Parisian (or your version of it, anyway)?  What you may miss out on room service (over-rated IMO) and daily housekeeping, you make up in space
(much more of it), price and the new feeling of no longer being a tourist.
Renting an apartment can give you and your family the pleasure of feeling like you are in a home away from home  (it's important to use a good company to make sure it is the home you want).  You also no longer have to go out to eat three times a day, every day, which can get tedious after a while (not to mention fattening!). If you like to cook, just go to the market. If not, then just hit your local boulangerie and bring back some fresh croissants to your awaiting family! A few of our favorite places can be found in our post Paris With A Tween.
Two great online resources that provide indispensible insider information and resources in Paris are Parisien Salon and The Paris Kitchen – do check them out!
So, if you are ready to go to the other side this summer, there is still quite a good selection of apartment rentals to choose from. Here are a few of my favorites (all have air-conditioning, cable and WiFi!) from reputable companies to whet your appetite (if you have a specific date in mind, contact each company for availability).
Rameau (Haven in Paris) a 2 bedroom/2 bathroom contemporary, ultra-chic apartment centrally located  in the Palais Royal (2ieme arrondissement) district and short walking distance from Opéra, Louvre, and Faubourg St. Honore. Has all the amenities (including WiFi and cable) you could possibly need and a fully equipped kitchen. A butcher, a baker and grocer (no candle-stick maker) are all next door for your culinary needs and many trendy boutiques and cafes are nearby. The only downside is you have walk up 3 flights of stairs (alas, no elevator).  Price this summer is 2,625  € weekly.

Availability at posting is limited

(see below) but there are still a few great apartments still available this summer (a well-designed site with a great selection) from Haven In Paris. More information on this apartment including  location map, floor plan and pictures is here.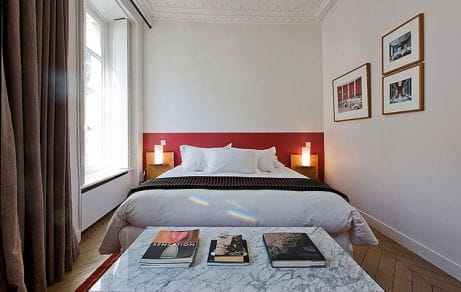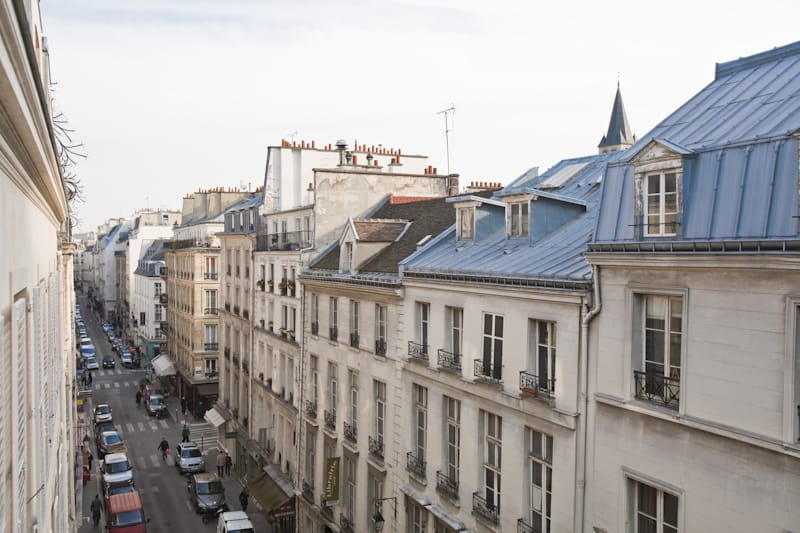 St. Germain (Paris for Rent) – This 2 bedroom/2 bathroom contemporary designer apartment is a winner by itself but its top draw in my opinion is its location.  It is located directly in heart of the Left Bank on

Rue Jacob

, a bustling street of restaurants, cafes, markets and pastry shops where Ernest Hemingway wrote "A Moveable Feast".  It is also dangerously close to Laduree (oh those macaroons!) . Located on the 5th floor (there is an elevator), this modern apartment includes a renovated kitchen, and floor-to-ceiling windows in addition to a long list of amenities. Contact Inviato Travel for more information about this apartment and other alternatives (they have a terrific selection of apartments).
La Grande Dame (Paris Perfect) – For a  larger space (up to 8 people), this 1,600 square foot 3 bedroom/3 bathroom apartment with a balcony and direct views of the

Eiffel Tower

 from most rooms is definitely worth a look-see.  Its location in the 7th arrondissement (the neighborhood is regarded as one of the safest in Paris)

La Grande Dame – View of Eiffel Tower

and proximity to the famous Rue Cler open-air market and gorgeous Champ de Mars park with its playgrounds and gardens makes it ideal for young families. Located on the 5th floor of a grand Haussmanian building (elevator included). 5 flat screen TVs (with cable) included! Contact us for more information.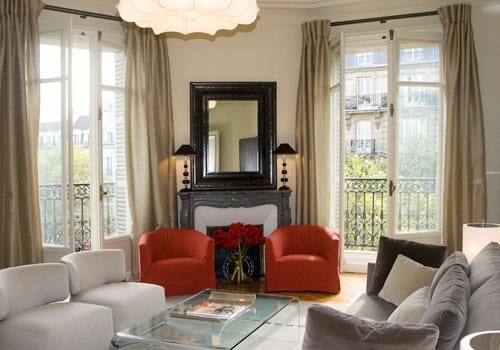 L'odeon (Chez Vous) –  A modern and visually stunning 3 bedroom/3 bathroom (sleeps 6-8) apartment housed in a classic 19th century building on the 3rd floor (elevator included) overlooking the Carrefour de l'Odéon, hub of the Left Bank.  18 foot ceilings and furnishings make it dramatic yet comfortable – I found this apartment one of the most appealing. The location, at the corner of the Blvd. St. Germain (so you can get your $20 espresso fix at the legendary Café de Flore and Les Deux Magots – check out the

Café De Flore

website – never saw waiters there smile in person!) with the Odeon metro across the street, couldn't be more ideal

.

Contact us for more information.