Less than 48 hours after my daughter's school doors closed for summer break in early June, I was on a plane to London with two daughters in tow. My husband, who could not part with his beloved Rangers seats for the season playoffs, saw us off at the terminal and would meet up with us a few days later. Comfortably settled in their Upper Class beds on Virgin Atlantic while being fussed over by the flight attendants, my 7 and 11 year old daughters were in heaven.
Anticipating the events ahead – seeing Buckingham Palace ("a real palace with a Queen?" asks my little one), reuniting with all their British friends from Carlisle Bay, Antigua and most importantly, visiting the Harry Potter Warner Brothers Studio Tour – my girls were giddy with excitement.
WHY LONDON?
As our first trip to Europe as a family (my tween having gone to Paris with me the year before), London was an easy choice. No language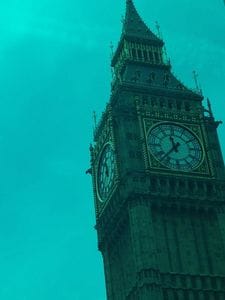 barriers. Plenty of diversions to keep each member of the family happy. Lots of friends to see. And the timing was ideal: most of the other schools were still in session so there were few crowds and the weather was atypically warm and sunny EVERY day. Our rain jackets and umbrellas never left our luggage.
PICKING A HOTEL
Preparing for our trip to London was another matter. There is a mind-boggling list of great hotels to choose from in London. The perennial classics such as The Berkeley, Claridges, The Langham and The Ritz are all perfectly nice choices. Plentiful are the luxurious boutique hotels such as the Sanderson, The Halkin, the St. James (see my review) and any one of the excellent hotels of the Firmdale Hotel group . And then there is the flurry of new hotel openings all in the last two months – each better than the next – such as the Rosewood, The Beaumont, Shangri-La at The Shard, The London EDITION and Ham Yard Hotel.
How's a girl to choose?
Well I didn't exactly. First, I narrowed our already short list based on location to Mayfair and neighboring Soho. Having familiarized myself with the area last year when I checked out the St. James Hotel, I knew I wanted to stay in this central location that hosts so many solid shopping and restaurant options as well as Buckingham Palace and St. James Park.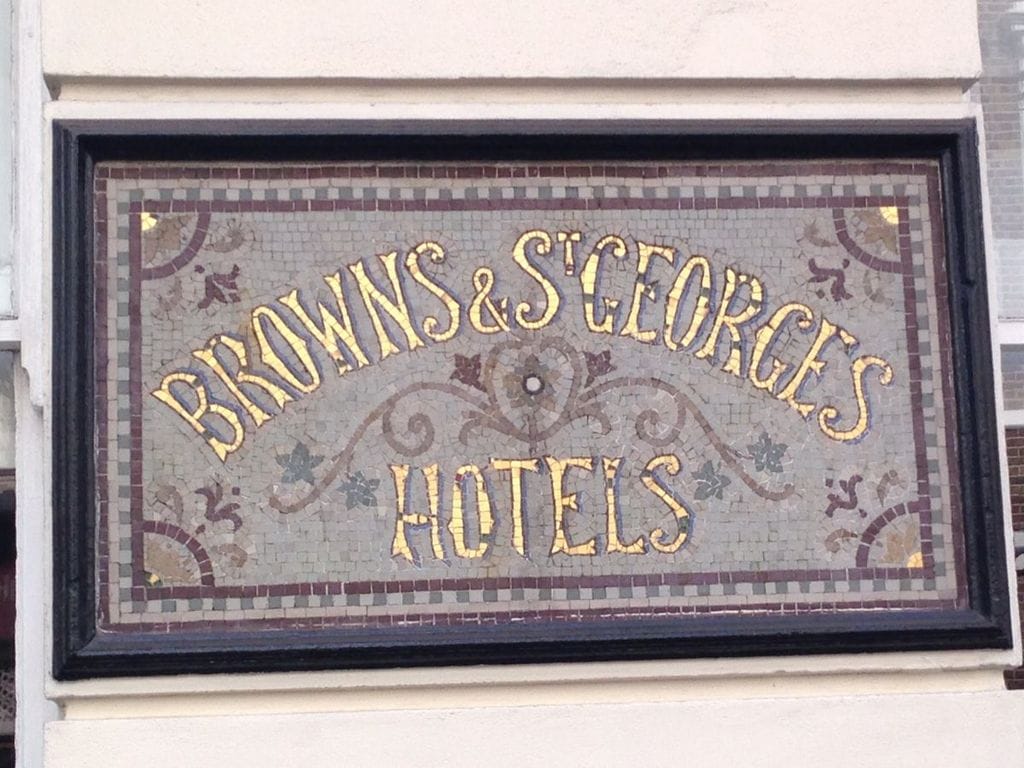 Then, after reviewing accommodations for families, I zeroed in on two hotels – close in proximity and service butmiles apart in personality: the very-British but stylish and family-friendly Brown's Hotel in Mayfair (highly recommended by a globe-trotting friend) and the newly opened Ham Yard Hotel in Soho (The 7th and most exciting hotel to date by Tim and Kit Kemp's Firmdale group).
Why have to choose when I could experience both? Aside from the nuisance of packing and unpacking mid-trip, mixing it up enabled us to experience two places while allowing us explore uniquely different neighborhoods. It felt like two trips in one.
Neither hotel disappointed. In fact, both exceeded our expectations. Visit our insider hotel reviews of each hotel for an in-depth look at each hotel.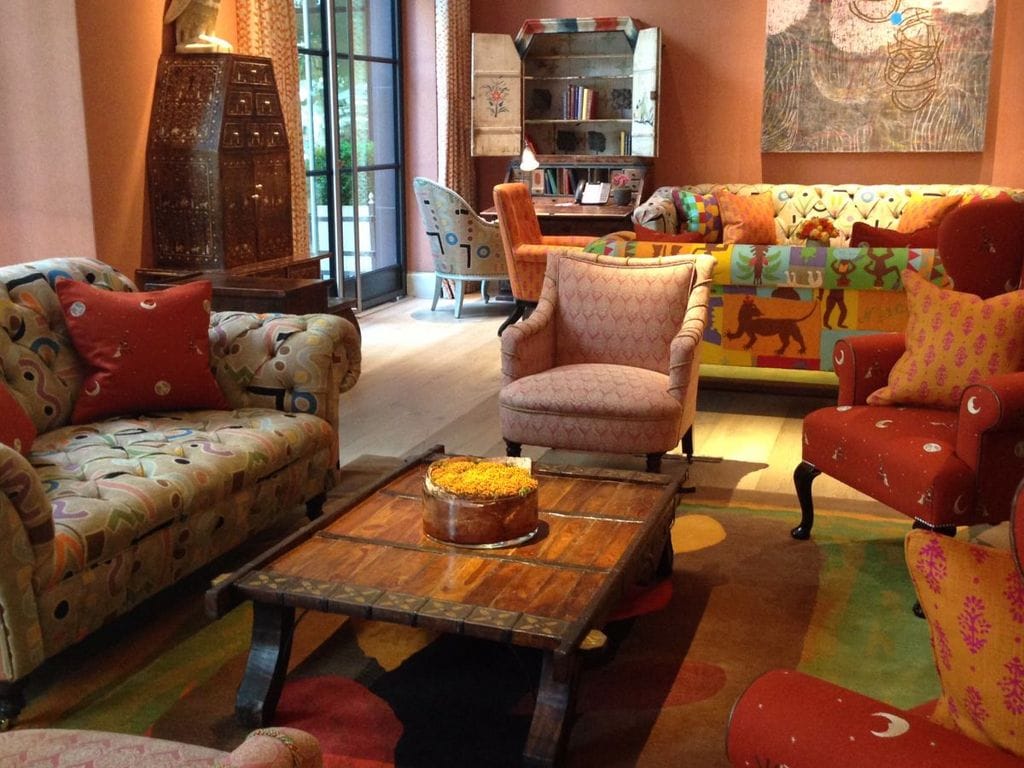 Some tips and suggestions for those heading over the Atlantic with the kids: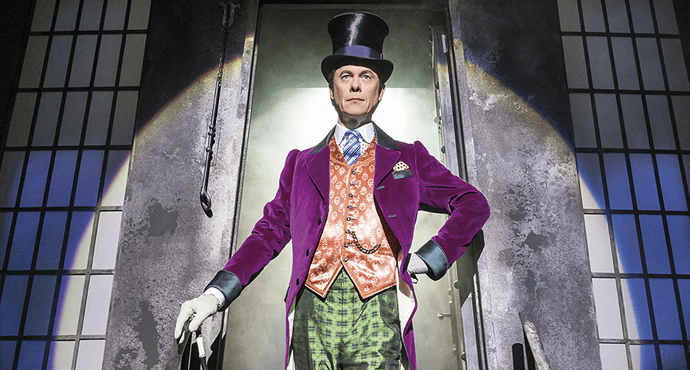 BEFORE YOU GO
Our week in London was a whirlwind of activity – hitting tourist spots, seeing friends, shopping and lots of eating. Planning ahead day by day – even though we often deviated off schedule  – was key to getting the most of the city and maximizing our time. So was giving pockets of time every day for the girls (and us) to relax. Hitting all the museums? No interest. One or two was plenty before our kids lost total interest. Our only regret was not having any time to explore the countryside. We will just have to come back another time.
Onceyou choose your dates, it would be wise to reserve things that tend to book up fast such as private tour guides, hot theater tickets, teas and dinners (

Chiltern Firehouse

and

Berners Tavern

are some of the hardest to get reservations right now), the London Eye and  the Harry Potter Warner Brothers Studio Tour.
If you don't want to confine yourself to a specific time or day, opt for the Flexi Fast Track online package for the 

London Eye

which you can use anytime during a 7-day period and gain fast track entry.
Popular for the whole family (and not yet stateside) was the entertaining musical, Charlie and the Chocolate Factory at the Royal Drury Lane theater in Covent Garden. You can buy tickets directly online. While you are at it, you might as well book

Balthazar

for a pre-theater dinner which is located across the street and books up very fast (reservations online can be made 60 days in advance). The menu and ambience is same as the New York location but I had the extra pleasure of  of a Jude Law sighting there ("is that one of the beatles?" asks my little one, unimpressed).
To avoid the massive crowds at the Harry Potter Warner Brothers Studio Tour, pick an early tour in the 9:00  -10:30 a.m. time slot online and get the Full Studio package which includes the digital guide (a must) and souvenir guide.
Finding and booking a great tour guide ahead of time is essential, especially when traveling with kids. A good tour guide not only knows how to bring history to life for the children but also whisks you past the crowds (essential especially for

Westminster Abbey

and

Tower of London)

. The guide we were referred to, Henrietta Fergusun

was excellent

 – young,very knowledgeable, (she is a qualified Blue Badge guide – the highest qualification in Britain for tour guides) and terrific with kids. Not surprisingly, she also books up several months ahead so don't procastinate.
Whet their (and your) appetites by ordering London-based films and fun reading material. Cruel Kings and Mean Queens (suggested by Tour Guide) is a book providing amusing but historical facts about the monarchy that we all enjoyed passing around. Reading Agatha Christie's At Bertram's Hotel (published in 1965 and inspired by her stay at our hotel, Brown's) was quite enjoyable. For movies, take your pick: Harry Potter, Notting Hill, An Education, The Diary of Bridget Jones, My Fair Lady, and Oliver are all great films showing off the city.
WHILE YOU ARE THERE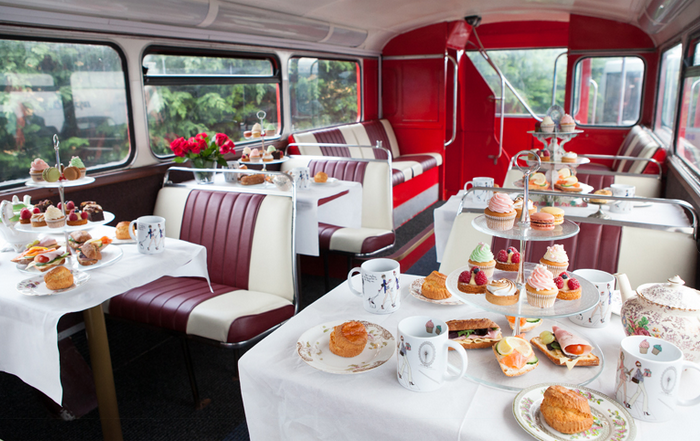 Double Decker buses are a fun way to get a visual of all the London monuments on your first day. Just a 5-minute walk from our hotel, we were able to hop on the bus at Piccadilly (to save time, purchase a ticket with your hotel's concierge).  You can hop on and off at any time as doing the whole route from start to finish is very long.
If you
have a large group or younger tots, there is a NEW option I highly recommend that combines tea with sightseeing. The BB Bakery Bus Tour, run by the BB Bakery Tea Salon in Covent Garden, is a vintage double decker bus that takes you past all the major sights in 90 minutes while having sandwiches, pastries and cakes. We had a ball doing this with friends and children. (Note: there is no announcements or information about the places you are passing like the double decker buses).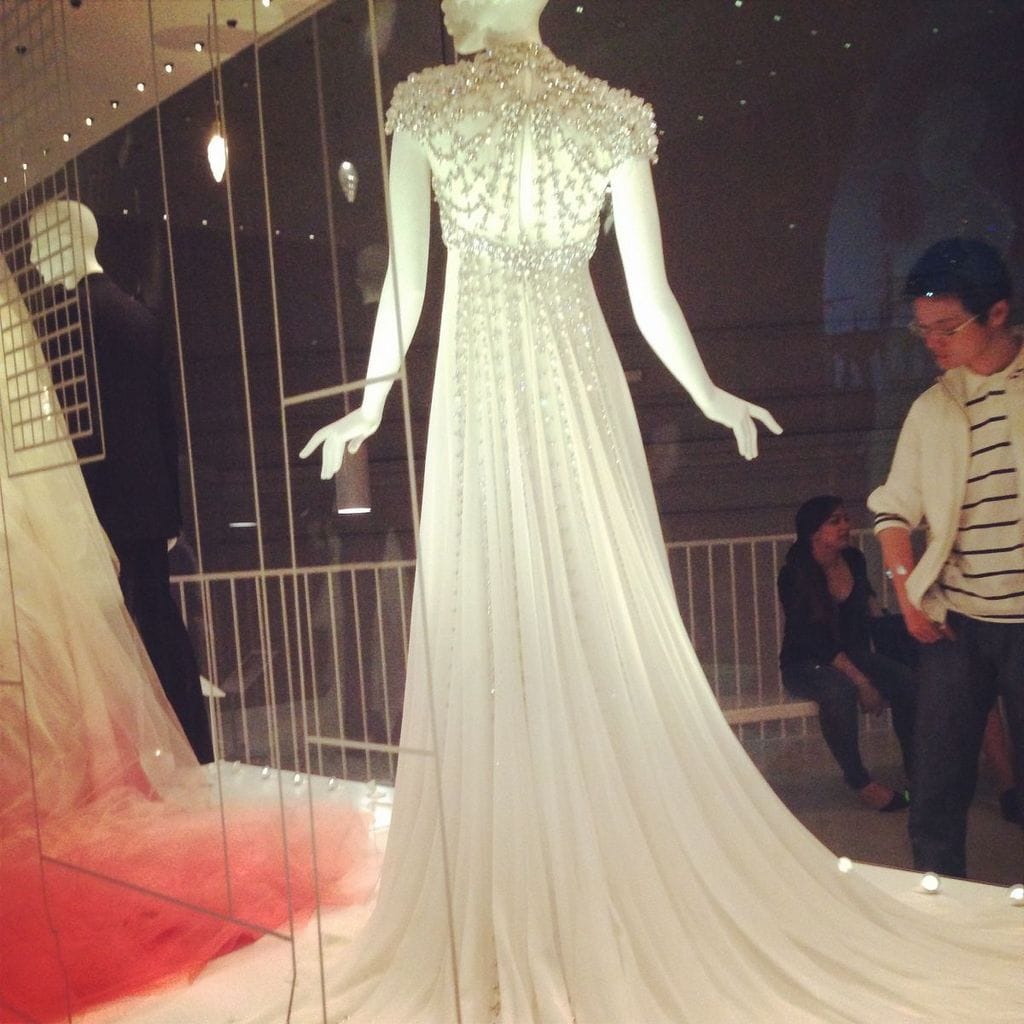 For a girls-only fashionista outing, run don't walk to the

Wedding Dres

s

es

exhibit currently showing through March 2015 at the

Victoria &  Albert Museum

. We all drooled over the stunning wedding dresses on display from 1775 through present day (where Kate Moss and Gwen Stefani's dresses mixed in with royalty). We reviewed our favorites after at the Prêt -À-Portea tea at

Berkeley Hotel

(You would be wise to leave the boys home for this. My husband couldn't escape fast enough to the War Rooms).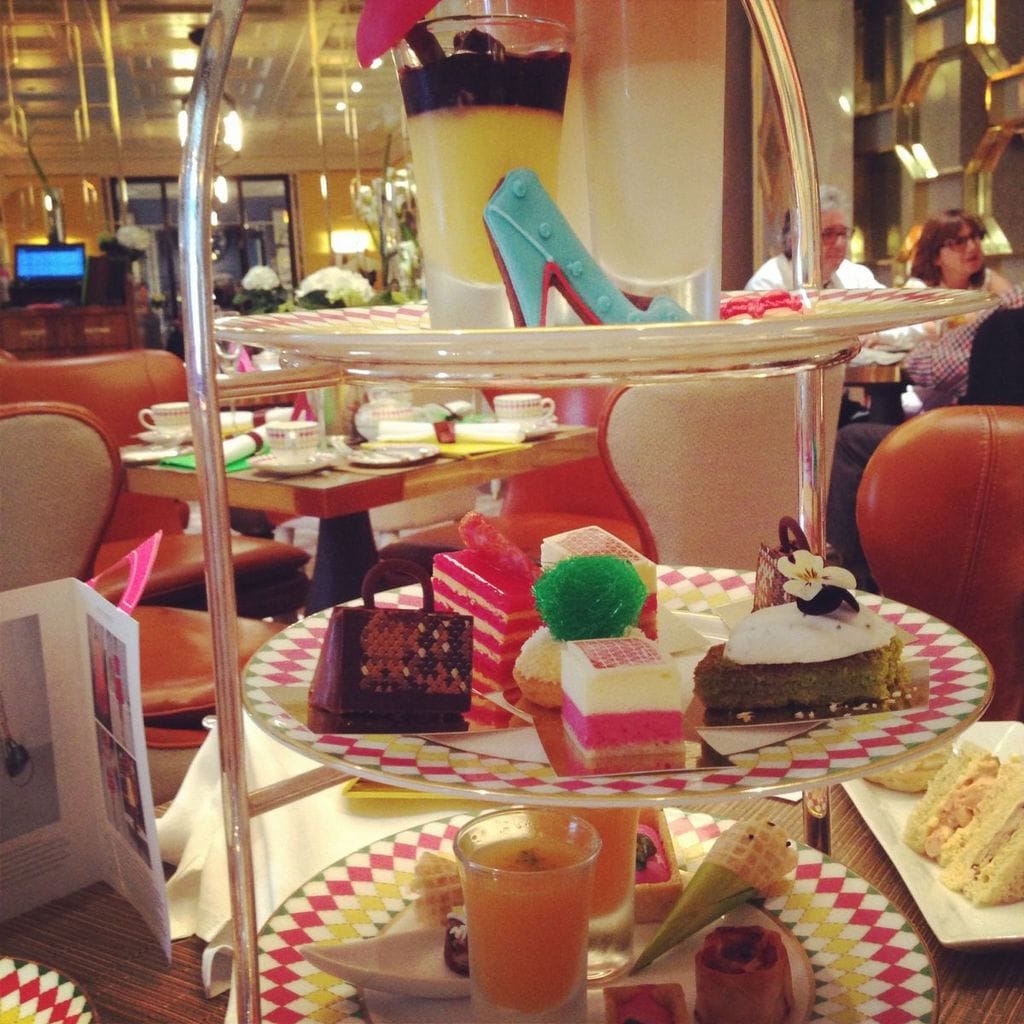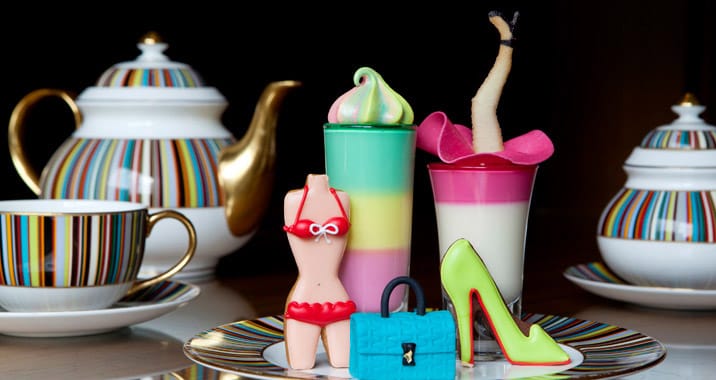 Leave yourself three hours minimum to get through the

Harry Potter Warner Brothers Studio Tour

. I was surprised how much I enjoyed the tour. While most people take the shuttle or one of the bus tours, it can use up your entire day.
We hired a driver which enabled us to linger on our own time and enjoy a delicious lunch after at The Grove, a luxurious country estate and resort on 300 acres, only a 5 minutes drive from the studio. There are a variety of
options for lunch but we recommend the casual Stables (fittingly in the original Stables) which has a  children's menu and stone-baked pizzas and backgammon tables overlooking English gardens.
The Grove is a very popular weekend retreat for London families with a golf course (it was recently voted the #1 golf resort in England by Golf Monthly), spa, beach, 3 swimming pools, croquet and chess court, to name a few perks. Once Queen Victoria's country retreat, this 18th century mansion is an ideal place to spend a night or two if you want a little bit of country just 18 miles outside of London.
The streets of Notting Hill, particularly Ledbury Road, Portobello Road, and Westbourne Grove, provides for an ideal afternoon of strolling with something for everyone with a mix of trendy and vintage/flea market shops and restaurants.  Stop at

Hummingbird Bakery

on Portobello Road to get your cupcake fix after having lunch at Electric Diner, an atmospheric diner-style eatery with delicious food (adjacent to one of the oldest cinemas in London:

Electric Cinema

– worth peeking inside or better yet watch whatever film is playing) at 191 Portobello Road.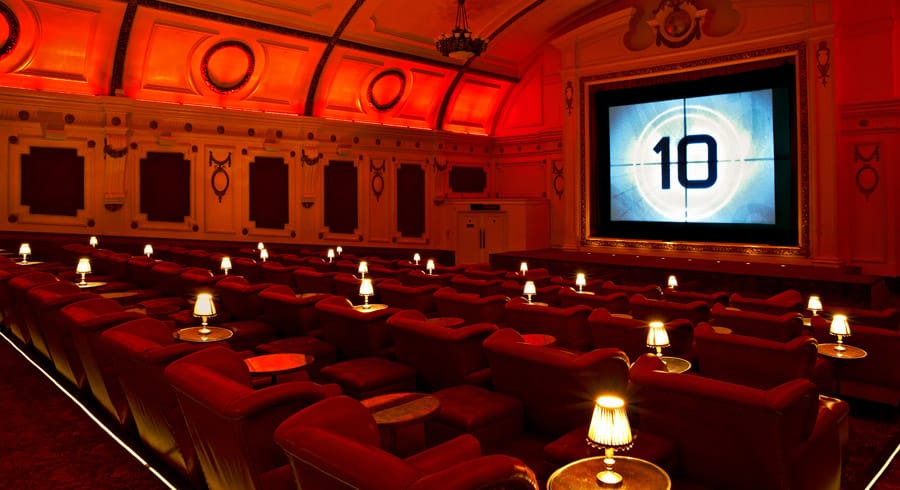 Everyone has

Hamleys

, "the oldest and largest toy store in the world" (founded in 1760!), on Regent Street on their to see list but we found the store hectic and over-crowded with over-priced toys that you can buy on Amazon. We much preferred Harrods Toy Kingdom (6 different toy zones spread across 26,000 square feet) much more civil, atmospheric and interesting with unique toys. After or before a visit to the 3rd floor, explore the stupendous food halls on the lower floor – a destination in its own right. Just watching the girls mouths drop on the sight of the candy and ice cream halls alone was worth the trip.
On the topic of department stores,

Liberty

, housed in a Tudor-revival building off of Regent Street, is one of my favorite places to browse each time I visit London. Compared to

Selfridges, Harrods

, and

Harvey Nichols

, it is  much smaller and navigable with a very distinctively British feel. The 3rd floor, which houses all their different fabrics, wallpapers and haberdashery, is particularly always fun to check out (especially when you have girls who like to sew).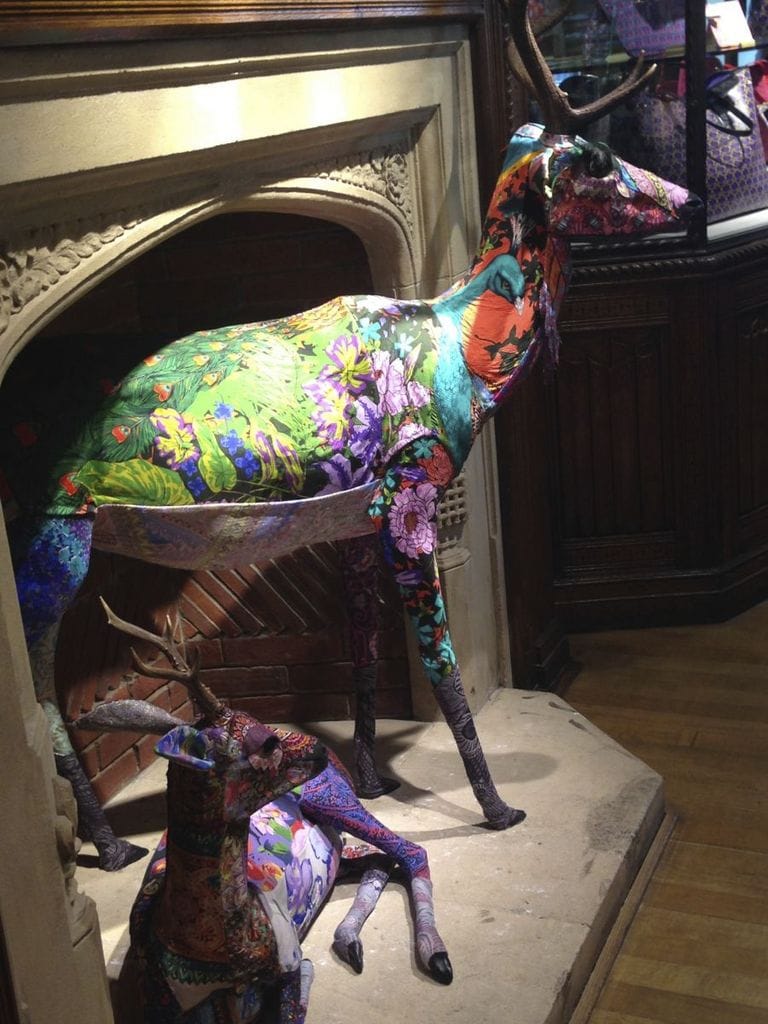 What would a trip to London be without a viewing of the

Changing the Guard

at Buckingham Palace?  Performed daily at 11:30 am, this ceremony is always crowded and difficult to get a great view unless you are lucky. Put your kids up on your shoulders and let them soak it in – there really is nothing like it anywhere in the world.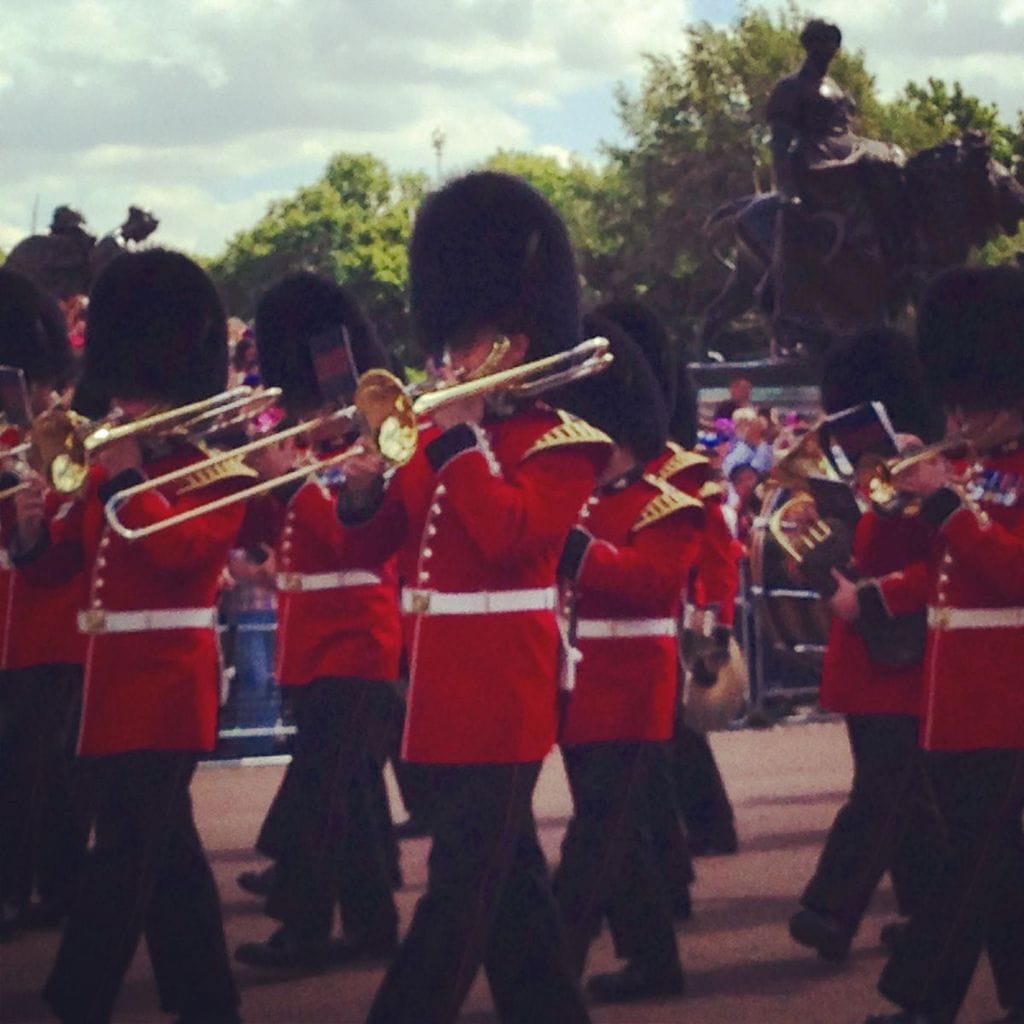 WHERE TO EAT
20 years ago, there were not many exciting food options in London. Now, London's restaurant scene is vibrant and growing with a host of wonderful restaurants. We started with a 2-page list of restaurants based on clippings and recommendations from friends. Here are some of the notables that we tried aside from those above (and didn't get to but are staying on our list for next time!). For some, its best to leave the kids with a sitter.
Everyone seems to love 

La Petite Maison

in Mayfair which serves French Mediterrenean cuisine in a pretty dining room. We liked it but didn't love it – an odd night as it felt as all of Dubai was there (An offshoot of the restaurant opened there in 2010).

Hakkasan

 in Mayfair. Loved but difficult to find something appealing for kids. Better for adults.

Lobster and Burgers

. Located on the 5th floor of Harvey Nichols (there is a separate elevator entrance), this is a fun place for lunch (after or before neighboring Harrod's?) for the family just serving – you guessed it  – lobsters and burgers.
Have a craving for oysters?

Scott's, Wright Brothers, J. Sheekey

and

Geales

 all get high marks. We found Geales in Notting Hill particularly family-friendly.
Looking for the hot spot of the moment?

Berner's Tavern

at the London EDITION  and

Chiltern Firehouse

are some of the hardest tickets to get in town.

Colbert

, a very attractive French brasserie in Chelsea, provides great people watching but that's all. We all found the menu was very limited and unappealing.

The Wolseley

– a great Viennese cafe/institution on Piccadilly. Nice for a diversion from your hotel breakfast. Beautiful interiors.

Sketch

restaurant in Mayfair is actually a collection of restaurants, bars and tea rooms, each more decadently designed then the next. Worth a stop by. The newly designed Gallery (by India Mahdavi) below was just opening the day we checked it out … Pretty in Pink!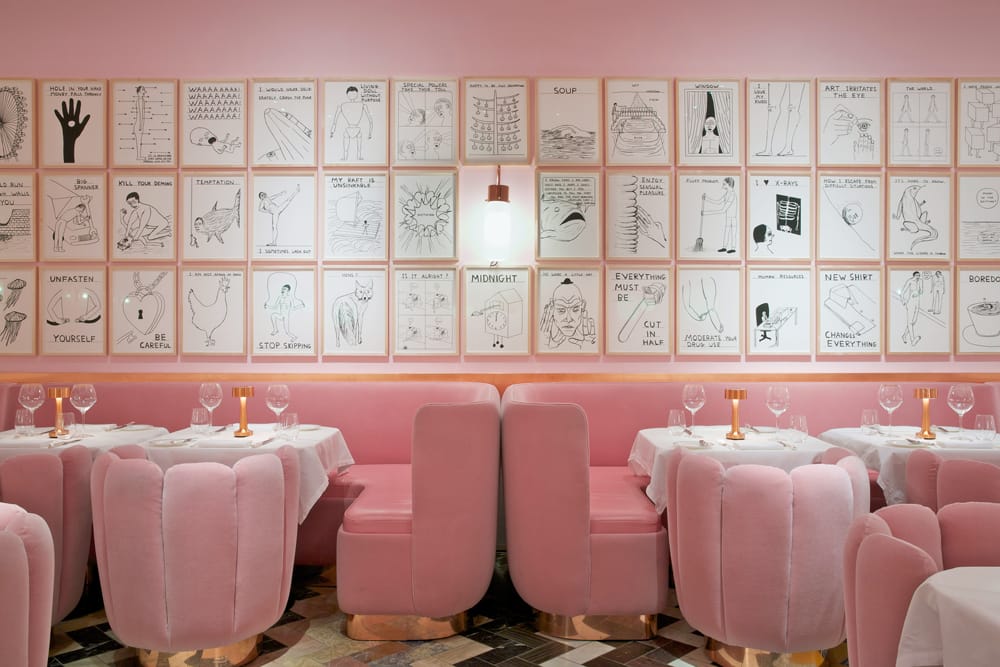 You have to do one High Tea in London.

The Ritz, Connaught, The Berkeley

(girls only) or the Mad Hatter's Afternoon Tea at the

Sanderson

(another fun themed tea to bring the kids) are among the best.
Still, we preferredthe quintessential British tea in the atmospheric English Tea Room at our own hotel – Brown's.
Rumor has it that it was the inspiration for the 1965 mystery  "At Bertram's Hotel" by Agatha Christie, who was a frequent guest of the hotel (as was Winston Churchill). Read it while sipping one of 17 tea variations (and fruit herbal infusions for the girls) and all sorts of mouth-watering scones, sandwiches and pastries while discreetly people-watching in the cozy wood paneled room with Paul Smith designed sofas. Quintessentially British and our girls loved popping in here each afternoon to get their fix. Can't wait to go in the winter when the fireplaces are in use!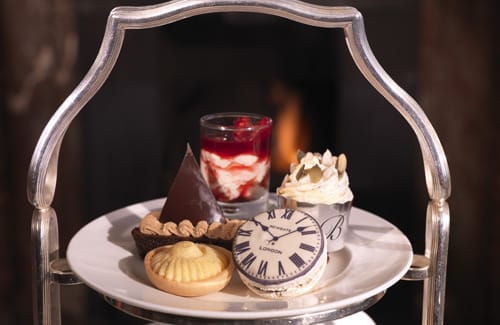 Tea-time at The English Tea Room
The Ivy

. A standby celebrity haunt located in Covent Garden serving modern British food (we passed based on the menu selection).

The Ledbury

. 2 Michelin star rated classic French restaurant in Notting Hill.

Dabbous.

 Industrial-style restaurant in Fitzrovia neighborhood. Has a buzz.
For the most up to date list of restaurants, Check out the latest from my alma-mater,  Zagat Survey.
Related Reviews